In the space of two months, NASCAR has gone from having one of its diversity programme graduates use a racial slur on an iRacing live stream, to having a driver that is leading the whole of motorsport – and arguably sport altogether in America – in what he is standing for; including competing with a 'Black Lives Matter' livery in a live race.
It's an incredible story.
Kyle Larson was one of NASCAR's future stars, everyone was sure of it. Formerly a regular title contender, his career now remains in tatters after his live stream antics and although he has apologised, the damage has been done. The incident inflamed those wishing to criticise NASCAR and its connections to the 'Deep South', and call it out for not doing enough for inclusion.
However, NASCAR – along with its only top-tier African American driver Bubba Wallace – has led its motorsport counterparts in recent weeks following the death of George Floyd and the resulting outcry for racial equality.
— NASCAR (@NASCAR) June 1, 2020
It was one of the first motorsport series to issue a statement supporting the cause – something most sports have shied away from in the past and took a while to do this time – and put on a fantastic spectacle at Atlanta last weekend. Seven-time champion Jimmie Johnson led a number of drivers in calling for equality in a video titled 'I will listen and learn' featuring some of its biggest stars including Dale Earnhardt Jr.
I will listen and learn pic.twitter.com/XWgautn4cy

— Jimmie Johnson (@JimmieJohnson) June 7, 2020
Before the Atlanta race, 12-year-old Keedron Bryant performed the national anthem. He went viral in the aftermath of Floyd's death for his song 'I just want to live'. Following that, the drivers lined up on the main straight and in the most poignant of moments, NASCAR president Steve Phelps gave a stirring speech played on TV through the intercoms of the cars. The muffled sound gave it a somewhat harrowing effect.
NASCAR President Steve Phelps addressed today's competitors prior to today's race at @amsupdates. pic.twitter.com/7fZLUMkWxj

— NASCAR (@NASCAR) June 7, 2020
While other sports have put out statements and loosely supported drivers speaking out, NASCAR has gone above and beyond to help its drivers feel empowered, and not just support one person speaking about a cause. To make the drivers actually feel like the series is leading the cause, or at least fighting alongside them.
Wallace wore an "I can't breathe" shirt before the Atlanta race – a slogan that has been used by supporters of the Black Lives Matter movement, tragically inspired by African-American Eric Garner who was killed after being put in a chokehold by a New York police officer. Floyd echoed the same words in his last moments too.
It's because of US history, in and out of NASCAR, that race is such an important topic related to the stock car series
Wallace's crew held up the t-shirt in further support after he had got in the car and while Phelps gave his statement, in another poignant moment. Such was the stress and the heat, Wallace appeared to faint during a live TV interview after the race showing just how much the current situation is taking its toll on him.
In the last week, NASCAR has also banned the Confederate flag; a sign of southern heritage for some, a slogan supporting – or at least turning a blind eye – to the era of the slave trade.
NASCAR has also loosened rules on kneeling during the national anthem before the race, once seen as an unforgivable offence – but now it is becoming more accepted as civil unrest in the United States gathers pace.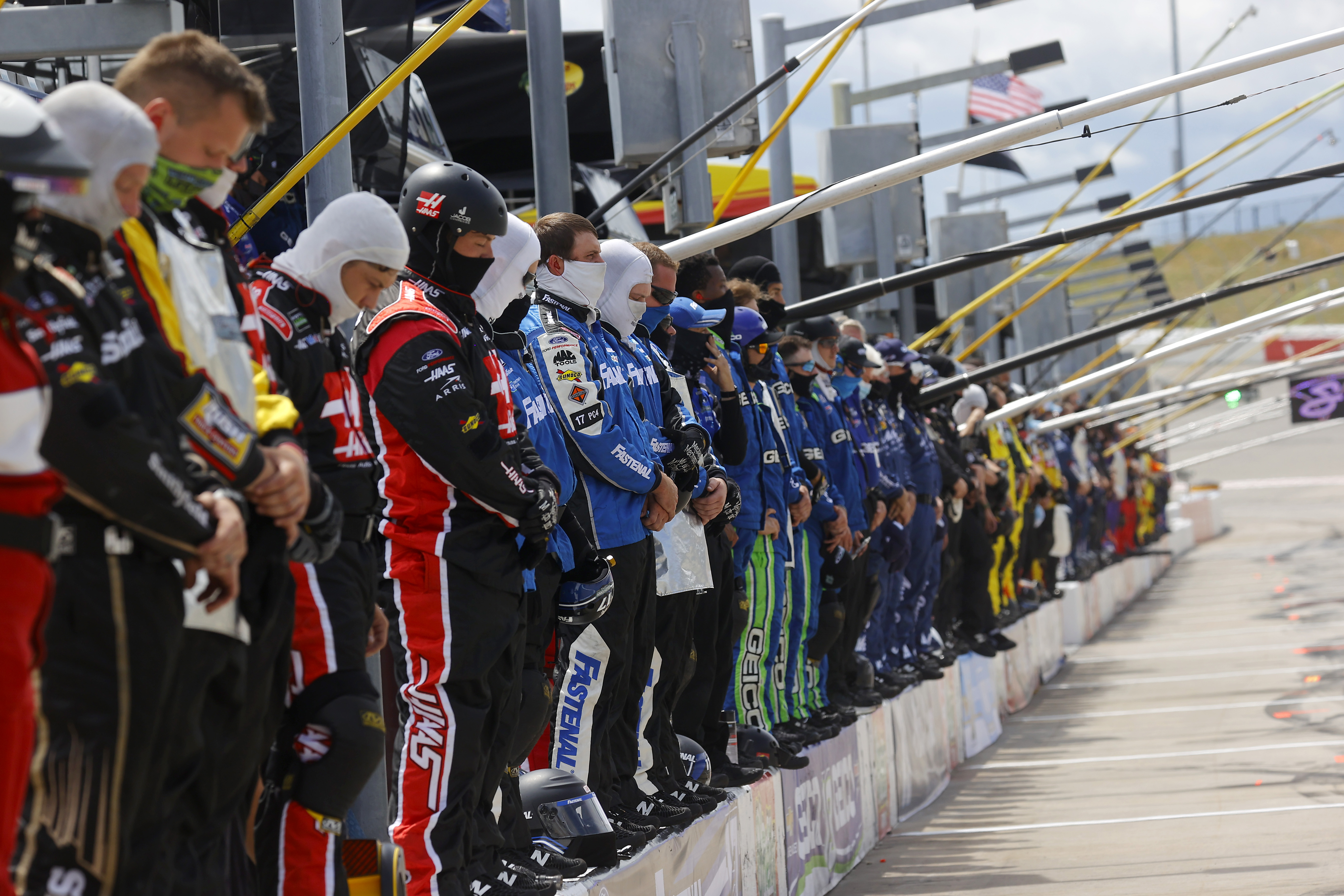 To understand why NASCAR is often at the centre of debates like this, you have to understand the heritage of both the championship and its geographical roots.
Let's start with the Confederate flag. The seven secessionists states – later joined by others – that formed the coalition did so in reaction to Abraham Lincoln's ascendancy to the Presidency in 1861, as he was against slavery. The American Civil War ensued, which was won by Lincoln's 'Union' – the opposition to the Confederacy, in 1865.
The Confederacy was made up of southern states where slaves were used – primarily to pick cotton as a key part of the region's economy – and has been a hotbed for racism throughout its history. Even if the 'Deep South' is less racist than it once was, prejudice and discrimination is still reported on, week in and week out. It's still there.
You only have to listen to the stories of the likes of Wendell Scott, an African American NASCAR driver who was racially abused, robbed of a win, and received death threats for his attendance at tracks in the 1960s and 1970s.
Looking sharp my brothas!!!! https://t.co/rERjocqXbL

— Bubba Wallace (@BubbaWallace) June 11, 2020
Willy T Ribbs encountered similar behaviour when he signed up for a race in 1978. Even white track promoter Humpy Wheeler received death threats for helping Ribbs gather an entry.
It's because of this history, in and out of NASCAR, that race is such an important topic related to the stock car series. Its current drivers – many of whom haven't contributed to a culture of racism and have even fought for the opposite – have to fight even harder than other motorsports or even general sports because of those geographical and historical roots connected to the series they race in.
However, the series, teams, and drivers records are not spotless.
NASCAR has traditionally taken politically conservative stances, but in this instance, its proactive and progressive approach is at odds with how the protest movement is being handled by the current US president – with whom NASCAR has had links in the past and has welcomed to its races as recently as the Daytona 500 in February. Despite his questionable stance when it comes to racism, some drivers supported his Presidential candidacy.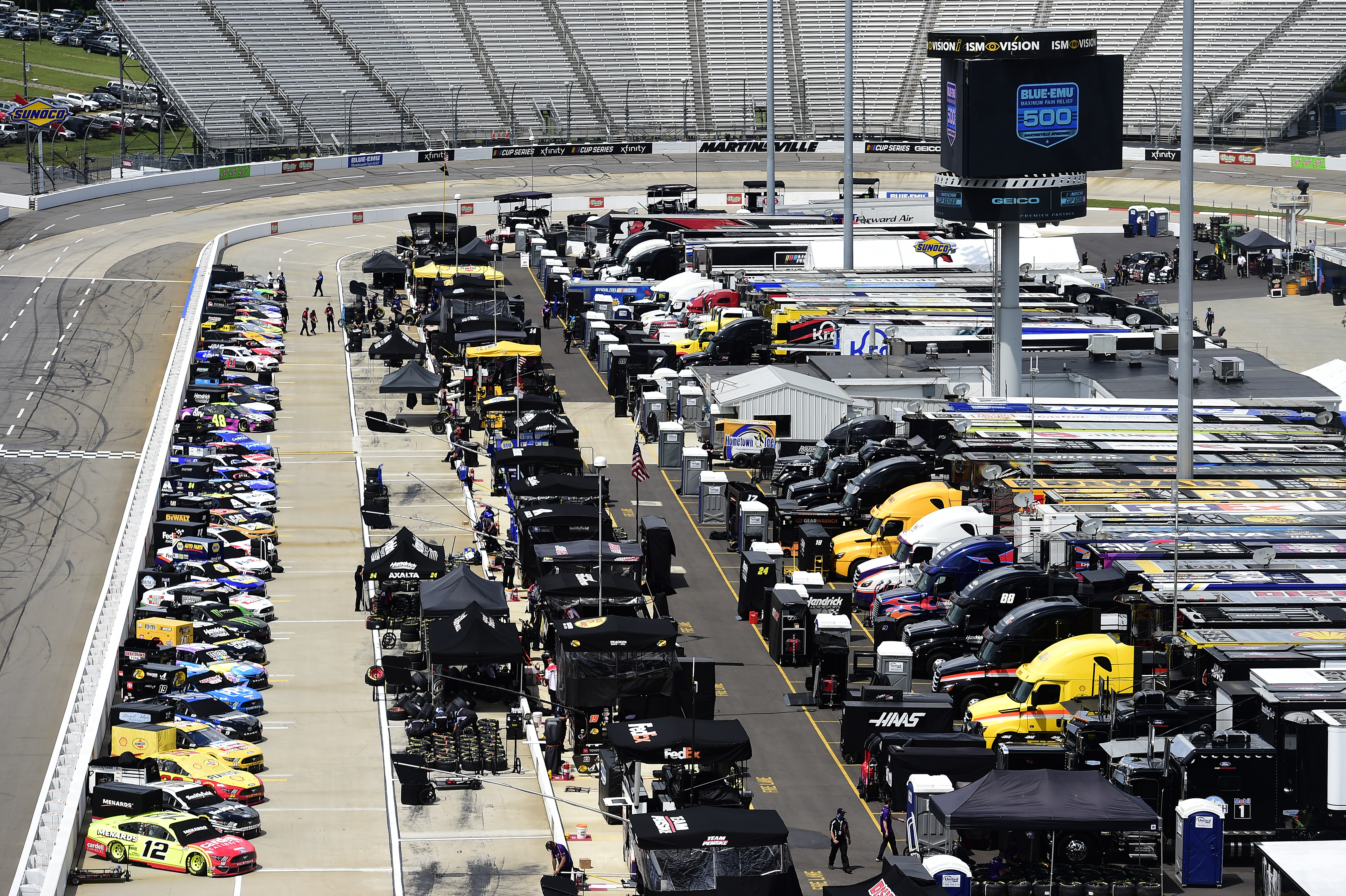 Sure, you can't tarnish all drivers with the historical brush. But it means NASCAR always has to do more in these situations and its reaction to social issues is always going to be under the microscope.
The Confederate flag and the banning of it was – and is – a defining issue for NASCAR.
Calls for the Confederate sign to be banned have been made before, most recently in 2015 when Dylann Roof murdered church-goers in South Carolina in a vicious massacre, and wrapped himself in the flag. At that time NASCAR did not ban the flag from its venues – as indeed, other sports chose not to – but tracks did offer to swap it for an American flag for fans attending NASCAR tracks. However, it has still been regularly seen at race venues since then.
Recently, the likes of the US Armed Forces have looked to clamp down on its use – despite, for example, the fact that 10 army bases are still named after Confederate generals – but that has given NASCAR precedent. Whether the banning of the flag was already something NASCAR was looking to do, or whether it was spurred on by Wallace's damning of the symbol earlier this week, it took the sanctioning body just days to condemn it to the history books.
NASCAR drivers have joined the growing list of athletes and sports leagues throwing their support behind the nationwide protests against police brutality.

"We are trying to deliver the message across, listen and learn," says NASCAR driver Bubba Wallace. https://t.co/dP88eNKB2i pic.twitter.com/vSsu4UrRUM

— CNN Tonight (@CNNTonight) June 9, 2020
It was such a big decision for NASCAR, as it will undoubtedly be so unpopular with many that form part of its fanbase and its custom. But in this case, it has made the correct move, placing the rights of people above what its customer may or may not want.
Now, if we could only get governments to make similar bold decisions…
For that bold decision, equal credit must go to Wallace. He's not constantly campaigning for black rights in a regular NASCAR season, but in the current climate, he's used the tools available to him to push the agenda and do his bit for equality.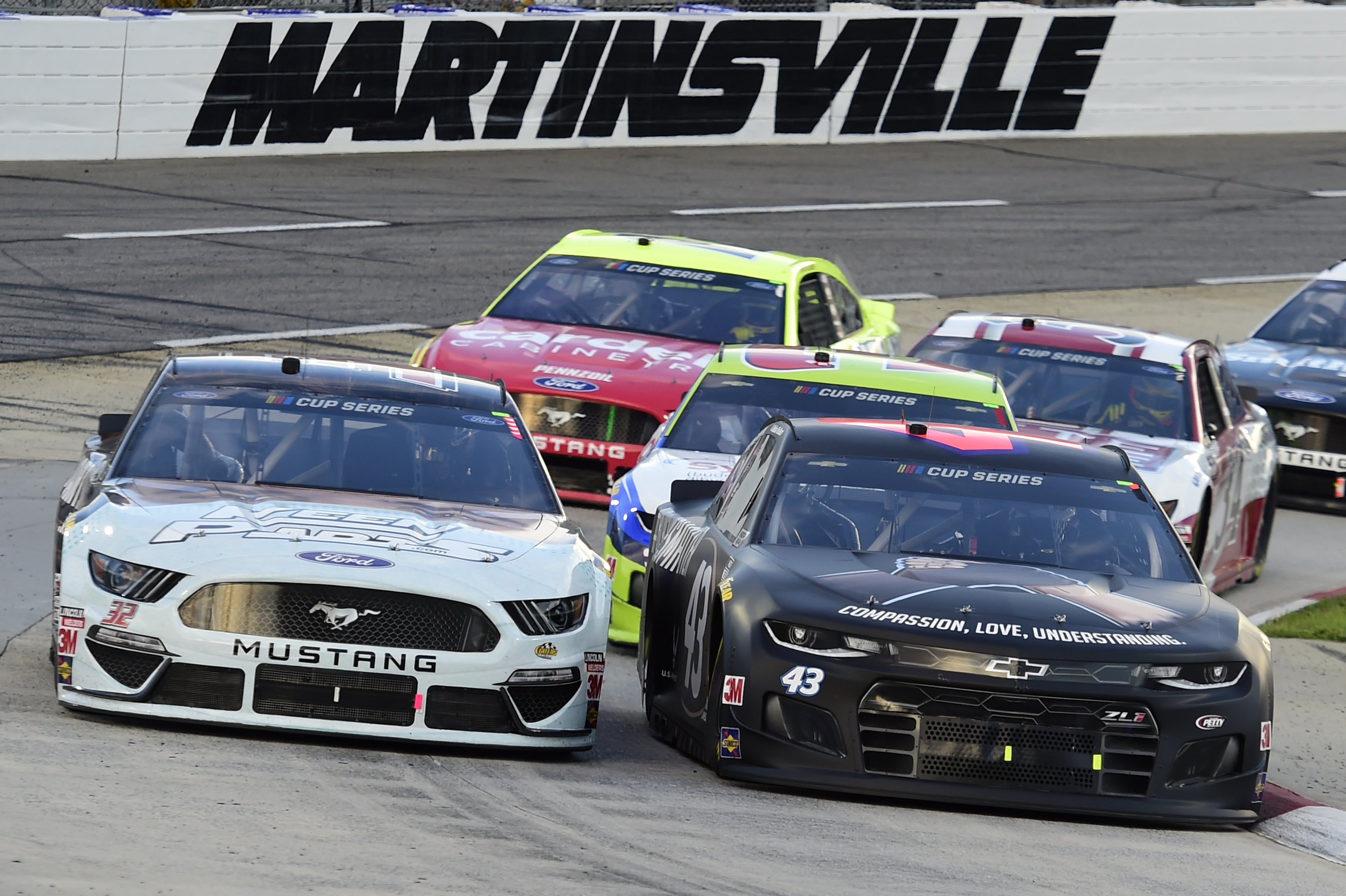 What's important to remember here is NASCAR – motorsport – is pretty much the only major sport happening in the United States right now. That was another area NASCAR has proved a leader in.
Wallace, his actions, and his campaigning may have been much less impactful if the National Football League, National Basketball Association, and Major League Baseball were playing every week.
But as the stars of those sports are less accessible to the public and the media without any action going on, Wallace has had the opportunity to use his platform. Millions of people are watching NASCAR races at the moment. Lebron James, arguably America's biggest sport star, retweeted Bubba's Black Lives Matter livery for last night's Martinsville race to his almost 47 million followers.
BIG S/O @BubbaWallace!! 🤜🏻🤛🏾👑 https://t.co/0zIlidbQOi

— LeBron James (@KingJames) June 10, 2020
Wallace could have easily shrunk in this time, worried about how the NASCAR fanbase would receive a campaign for the rights of black people – something pretty much never done or attempted certainly on this scale before. But he didn't. He stood up and has fought for the cause. And even better – he's done it respectfully. He may not be motorsport's biggest star, but the current situation has put him on the stage. And he's just played the sweetest tune.
As well as praise from the likes of James, Wallace even helped get new fans involved, with Alvin Kamara – widely regarded as one of the best young players in the NFL – asking when the next race was following Martinsville, and former player Bernard Pollard Jr effectively live-tweeted the race, asking questions about how NASCAR worked and getting excited about fire coming from the wheels under braking among other things. And he wasn't the only black supporter who was drawn to NASCAR thanks to Wallace last night.
Wow! This was pretty awesome. Watching my first race the entire time and asking questions. I'm humbled at the responses and thankful for your patience. @NASCAR fan base is off the charts and I'm happy to call myself a FAN. Congrats @MartinTruex_Jr on the win! #NASCAR

— Bernard Pollard Jr (@Crushboy31) June 11, 2020
As well as joining Wallace on the video which aired before Sunday's Atlanta race, his fellow racers have been quick to back what he has achieved.
"It was really cool to see what Bubba was able to do," said 2018 champion and Penske driver Joey Logano following Martinsville.
"I didn't see where he finished, but he should be proud of the movement he's made for the African American community in our sport.
"He always has just by being here, but when you look at the comments he made on CNN the other day [calling for confederate flag banning] and then NASCAR completely answered it.
"Kudos to NASCAR. Kudos to Bubba for bringing it up and using his platform for something good. That's the most important thing.
"I say this all the time, winning a championship is nice, but what is it? It's an empty trophy, it's an empty cup. That's what it is. If you do nothing with it, it's really pointless at the end of the day, so kudos to him for really stepping up and being a leader and not just a race car driver."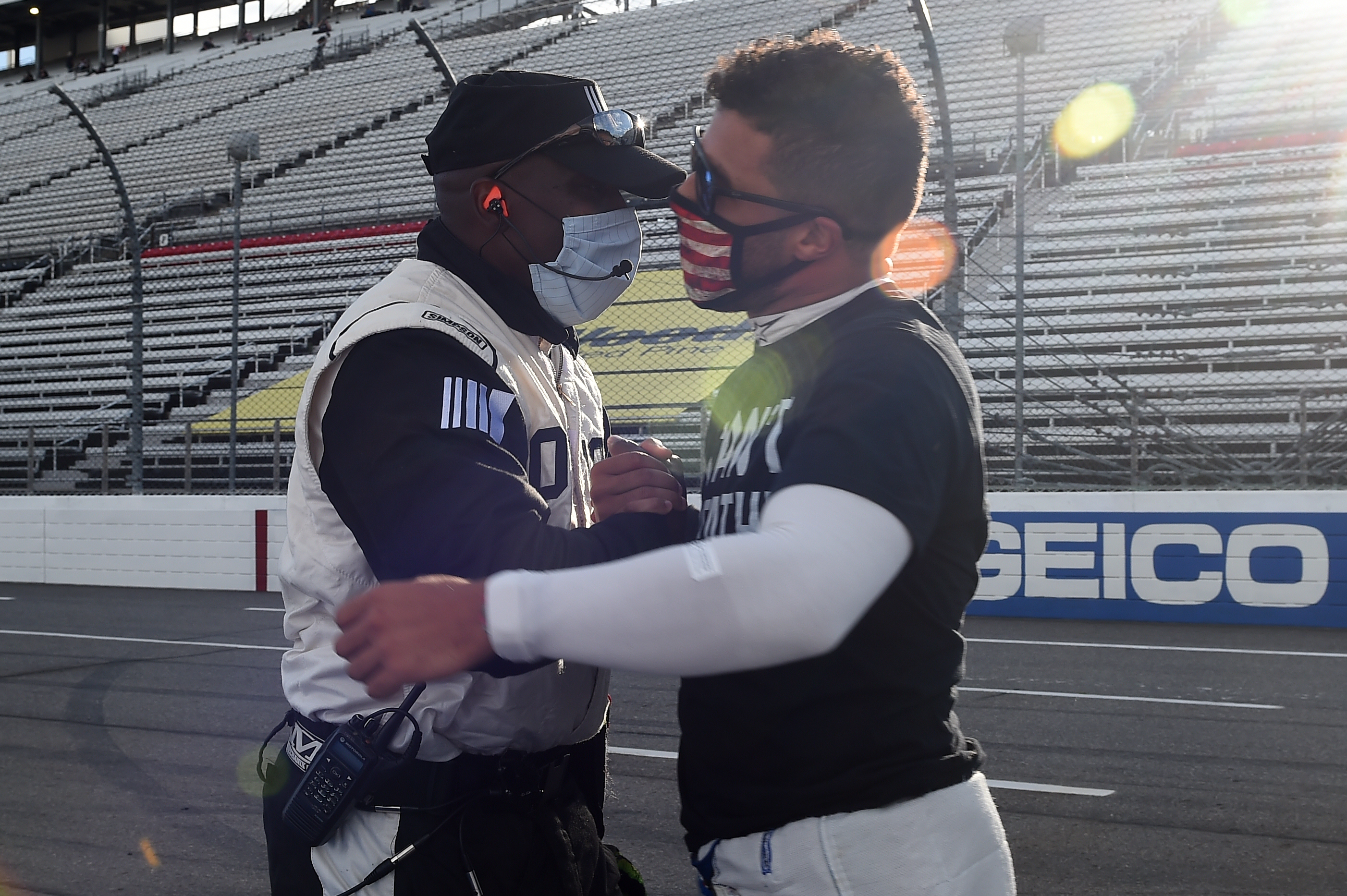 However, as expected, the banning of the flag has proven an issue even within the driver and team ranks.
Ray Ciccarelli – a part-time competitor in the Truck Series – said he wasn't willing to "participate in political BS" with regards to the flag banning.
"Well it's been a fun ride and dream come true but if this is the direction NASCAR is headed we will not participate after 2020 season is over," he said.
"I don't believe in kneeling during the Anthem nor taking people's right to fly whatever flag they love. I couldn't care less about the Confederate Flag but there are people that do and it doesn't make them a racist all you are doing is f—ing one group to cater to another and I ain't spending the money we are to participate in any political BS! So everything is for SALE!"
Back to a more positive note, Richard Petty mustn't be lost in this or the partners in the #43 car.
Petty – a seven-time NASCAR champion who shouldn't need any introduction – was one of the NASCAR team owners who decried kneeling during the national anthem in 2017, when the San Francisco 49ers' quarterback Colin Kaepernick started the protest by kneeling before a game.
Petty's team gave up sponsorship space for Wallace to put this message out there. Whether Petty or the sponsors bore the brunt of the cost, what it symbolises is progress
He hasn't played since he was pushed out by that organisation, and many believe it's because of his actions – given that his ability took the team to a Super Bowl – that he hasn't landed a contract at another team and remains in exile. If the NFL can do that to Kaepernick, you have to be worried as a black individual and sportsman speaking out. Another reason to celebrate Wallace's recent actions.
As for Petty? He told the AP in 2017: "Anybody that don't stand up for the anthem oughta be out of the country. What got 'em where they're at? The United States."
It's important to point out at this time that none of the major people who spoke out condemning kneeling for the anthem, appeared to criticise fighting for equality or black rights. Back in 2017 it was still outrageous to some that someone would offend the country and patriotism by kneeling, and that there were other ways to protest more respectfully.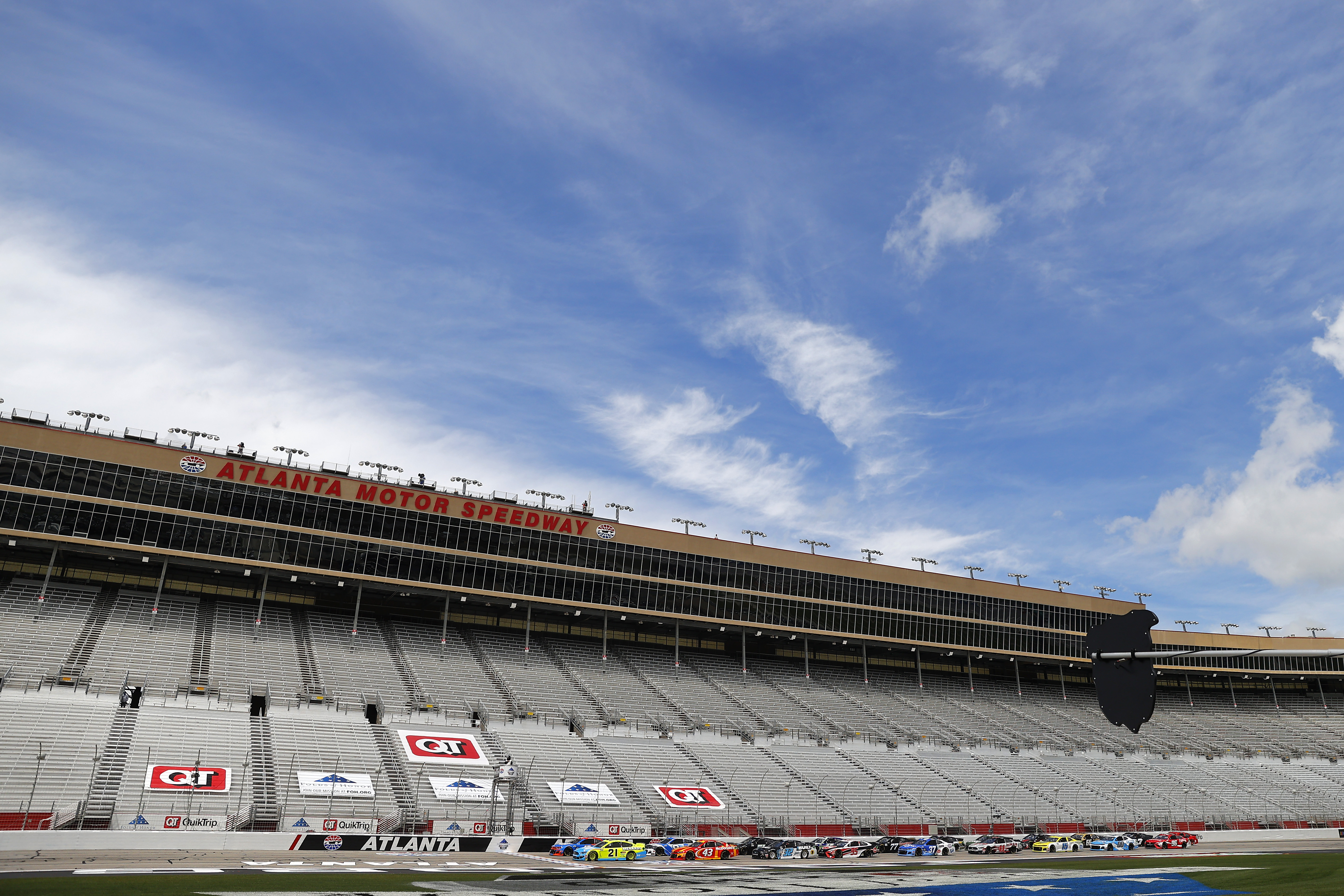 But, for many, kneeling for the anthem felt like the ultimate way to express anger at the government for failing to defend black people from racially motivated police brutality. 2017 marked 25 years since the Rodney King beatings, a black man viciously beaten by a pack of police officers, which then launched rioting in Los Angeles deemed to be the biggest in the country's history when those police officers were not ordered to jail. That was 25 years ago. Little has changed when minorities are still being beaten and killed by law enforcement. It simply must not go on any longer.
So, kneeling during the anthem – which felt unthinkable when Kaepernick did it three years ago – has now been accepted, and although Petty decried it then, he has now allowed Wallace to run a Black Lives Matter livery on one of his race cars.
That's something that means Petty's team – a relative minnow nowadays compared to the likes of Hendrick, Joe Gibbs and Penske – has given up sponsorship space for Wallace to put this message out there. Whether Petty or the sponsors bore the brunt of the cost, what it symbolises is progress. A small team rallying together around a cause bigger than NASCAR, the #43 team, Wallace or Petty.
While other motorsports shy away from the issue of racism – or don't feel they are the correct outlet to speak during this situation, which is understandable if frustrating – NASCAR leads the way.
You could argue it has to, given its past and the links it has to the Deep South. But the series has been so much more than just 'good old boys' and root beer for decades now. It's driven by sponsors and manufacturers just like every other motorsport and even if most teams still reside in North Carolina and the south is its home, the series races all over the country now.
"Kudos to @NASCAR… for pushing the message across that we want change. It starts with us."@BubbaWallace joined the @TODAYshow to talk about the confederate flag ban at all events and facilities. (Via TODAY Show) pic.twitter.com/cQgY8cM79a

— NBC Sports (@NBCSports) June 11, 2020
Those sponsors and manufacturers that make the sport possible should be proud of their association with the championship given what's happened in the last two weeks; a seismic shift which should be celebrated in decades to come.
But for now, there's no time for celebration. There's more campaigning to be done. This cause is not over and the fight continues.
Thankfully, Wallace and his peers have shown they will stand up and capitalise on this moment, and they have a championship that is willing to put morals and the cause above what some of its customers may think about it.
That's about as close to a dream team as you can get.