Jenson Button will start eighth for NASCAR's first ever street race in Chicago on Sunday – but the 2009 Formula 1 world champion's performance wasn't quite as impressive as fellow guest star Shane van Gisbergen's effort, as the triple Supercars champion claimed third on the grid.
Button had predicted that he would be at less of a disadvantage to the Cup Series regulars in Chicago than on his debut at Austin in March given he at least had substantial street track experience, but still felt his rivals' greater series and stock car experience would outweigh that considerably.
He also suggested that the longer braking distances in stock cars might actually make the new Chicago street course tougher to drive on a flying lap than Monaco and Singapore had been in F1.
Chicago is Button's second of three 2023 outings in a Rick Ware Racing Ford run in collaboration with Stewart-Haas Racing, while van Gisbergen is making his Cup debut in the Trackhouse Project91 Chevrolet that Kimi Raikkonen has used for his 2022 and '23 NASCAR exploits.
In the sole practice session that ran immediately before qualifying, the two guest drivers looked like they might upstage the Cup regulars to a spectacular degree – van Gisbergen actually topping that 50-minute session and Button going third quickest despite feeling initially that he was well off the pace.
When it counted in qualifying, the full-time drivers' greatest experience of maximising a flying lap showed, though Button and van Gisbergen both made it through their groups into the top-10 shootout for pole.
That was wild 😀 Straight from Practice into Qualifying, the guys jumped a lot quicker and took me a bit to match it, but to start tomorrows race P3 for @THProject91 is pretty exciting!! pic.twitter.com/62IT5HNFu0

— Shane van Gisbergen (@shanevg97) July 1, 2023
Button's path was smoother – he was fourth in an uneventful group A, while van Gisbergen had to squeeze a lap in between one red flag for Chase Elliott crashing and another for Kevin Harvick crashing, but that lap was good enough for second behind Denny Hamlin (below).
Hamlin then took pole ahead of Austin road course winner Tyler Reddick in the final segment, but van Gisbergen was just 0.153s from the top spot in third.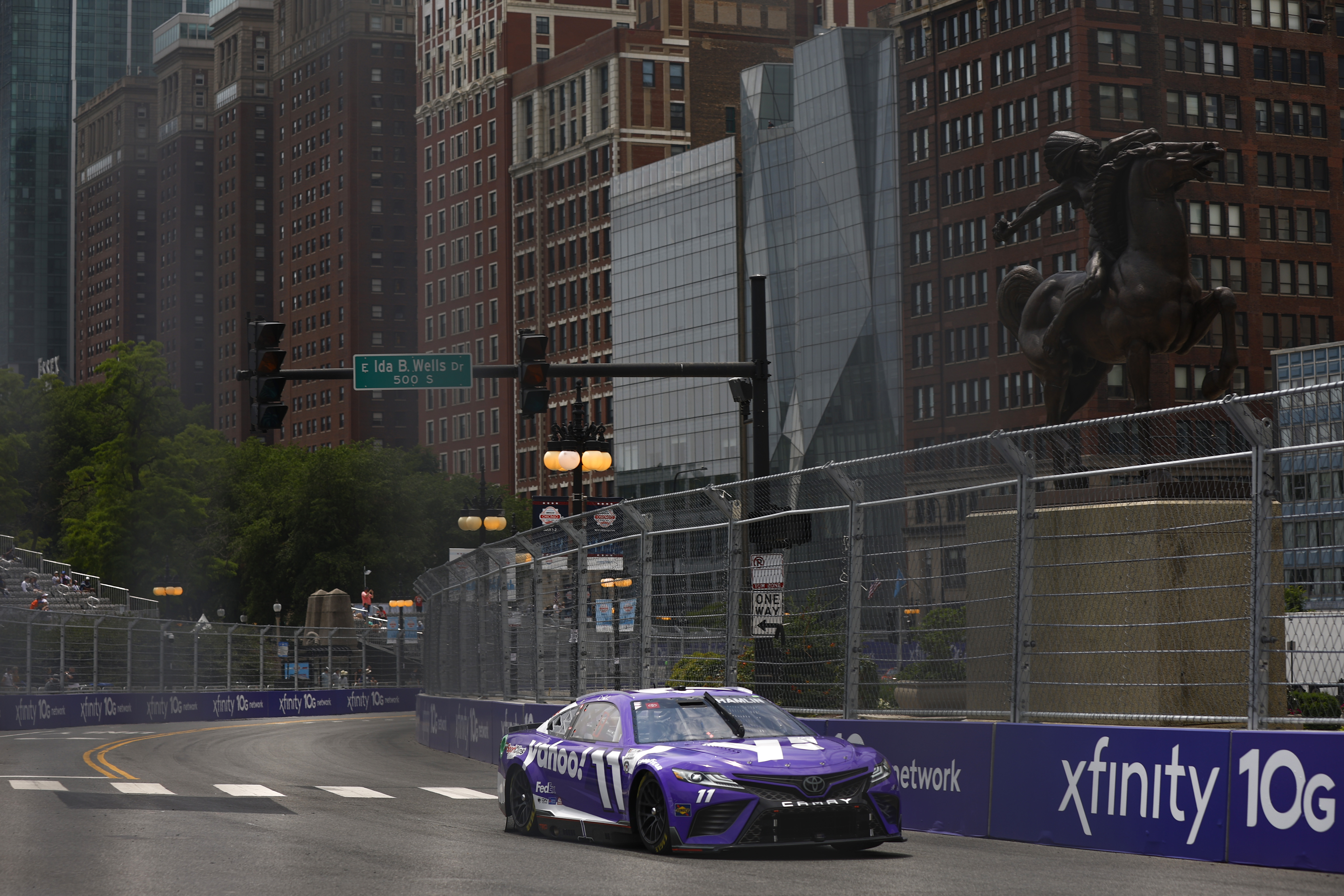 Button was 1.1s off the pace in eighth in the 38-car field.
He came through a particularly bruising Austin race with an 18th-place finish from 24th on the grid on his Cup debut, and predicted pre-weekend that the racing in Chicago would be "out of this world and exciting" even though it would be relatively tough to overtake by NASCAR standards.
He suggested earlier this week that his race day plan will be to stay out of trouble and be patient.
"You're definitely going to see different styles of racing here," said Button of the restarts in particular.
"You have the aggressors, and you are going to have the drivers that sit back and just let it unfold, knowing that there's going to be another restart anyway at the end of the race.
"I think survival is the main thing. Having a car at the end of the race that's still working, and everything's pointing in the right direction.
"If you're quick enough and right at the front, you're going to be aggressive from the word go.
For Sunday's race, @jensonbutton will start 8th in the No. 15 @mobil1racing Ford Mustang and @AndyLally will start 30th in the No. 51 @campingworld @fordperformance Mustang. #nascar #chicago #streetcourse pic.twitter.com/17JtvmpVbW

— Rick Ware Racing (@RickWareRacing) July 1, 2023
"But if you're in the middle of the pack, you're going to be trying to stay out of trouble until two thirds of the race is done, and you're still pointing in the right direction.
"And then you can push on, hopefully to a good result.
"I think we're all excited about this race. We have no idea how it's going to go, but I think we have to, as much as we should, be respecting each other more than we probably did at COTA – respecting the track is a big one as well."