Seeing the tears roll down Bubba Wallace's face as the whole, united, NASCAR family pushed his car to the front of the queue before the Talladega race capped off a rollercoaster 48 hours.
But it also showed NASCAR – as a governing body but also as a community of people – means business in its fight against racism. The rhetoric has been matched by repeated action, regardless of any consequence.
Wallace has been thrust into the wider limelight since he began using his platform as the only African American NASCAR Cup Series driver to push for equality in the wake of the death of George Floyd at the hands of Minneapolis police officers.
His efforts have included a 'Black Lives Matter' livery at Martinsville, and a campaign to have the Confederate Flag banned from races, which it took NASCAR just three days to do once Wallace had called for it.
Wallace has proved an inspirational character in America beyond motorsport now too. As other major sports are yet to return in full, he has attracted the attention of members of the public and a number of athletes that would be unlikely to associate with NASCAR normally.
Those include Lebron James, the NBA basketball star known as much for speaking out for racial equality as for being one of the highest paid and best sportspeople on the planet. The list of those speaking out directly in support of Wallace is now a very, very long and significant list indeed.
So, when a noose was found in Wallace's garage, it caused outrage. Whether it was a death-threat or a disgusting pointer to the history of the Ku Klux Klan and its lynching of African Americans, either possibility is sickening, vile, outrageous and completely unacceptable. That hopefully goes without saying.
NASCAR could have attempted to keep the details of this incident private, but the sanctioning body's president Steve Phelps himself was the one to tell Wallace about it. NASCAR issued an extremely uncompromising statement condemning the behaviour. That was met by a similarly aggressive statement from Richard Petty, a NASCAR legend and Wallace's car owner.
Not content with a statement, Phelps gave an impromptu pre-race press conference to address the incident. He confirmed the FBI was and is involved in bringing the person responsible to justice. With reduced access to the garages due to coronavirus-induced social distancing measures, the FBI has a small pool of people to sift through and with cameras and security in the garage area, there's no way this story is done. There's a good chance this person can be found.
Together.#IStandWithBubba pic.twitter.com/achL5H70Ng

— NASCAR (@NASCAR) June 22, 2020
"We're going to use every effort we can to determine who has done this, whether it's a single person or multiple people," said Phelps prior to the race.
"I know that the director of the FBI has informed the Birmingham office to use all their resources to find out, as well as all the resources available to NASCAR.
"The teams and drivers and anyone who would have any access to this have all said, 'hey, we want to make sure we figure out who has done this vile act'."
The sanctioning body could have shied away in the face of some previous criticism of its backing of Wallace, but it has been steadfast, firm, decisive and fleet-of-foot throughout Wallace's campaign, and has backed him accordingly. This while some other motorsport bodies, teams and drivers remained quiet on an issue that requires more from them.
NASCAR stepped up Wallace's security around the race to ensure his safety. But that's just one aspect of his health. There's no doubt the combination of campaigning and racing twice a week – which is extremely physically exhausting for the drivers – could take a toll on Bubba's mental health as much as his physical condition, even before the horrendous Talladega incident.
Together pic.twitter.com/D4zW3jA5y5

— Bubba Wallace (@BubbaWallace) June 22, 2020
This is why motorsport must back Wallace sincerely and completely. He is risking his health – and some believe his life – for the good of the future of all African Americans in NASCAR, and hopefully in turn, in society in general.
There's no doubt what Wallace has done would not be possible without the unequivocal support of the NASCAR organisation, his team and his fellow drivers.
In that sense, NASCAR has been united. The rhetoric all the way through is that NASCAR stands behind Wallace. There are some motorsport championships that wouldn't even dream of backing one of its drivers in any politically-charged campaign. Especially if that championship knows some of its fans and customers are likely to disagree with some of the decisions it has made, or at least dislike the concept of its involvement in a political issue. But, like Wallace, NASCAR has stood firm.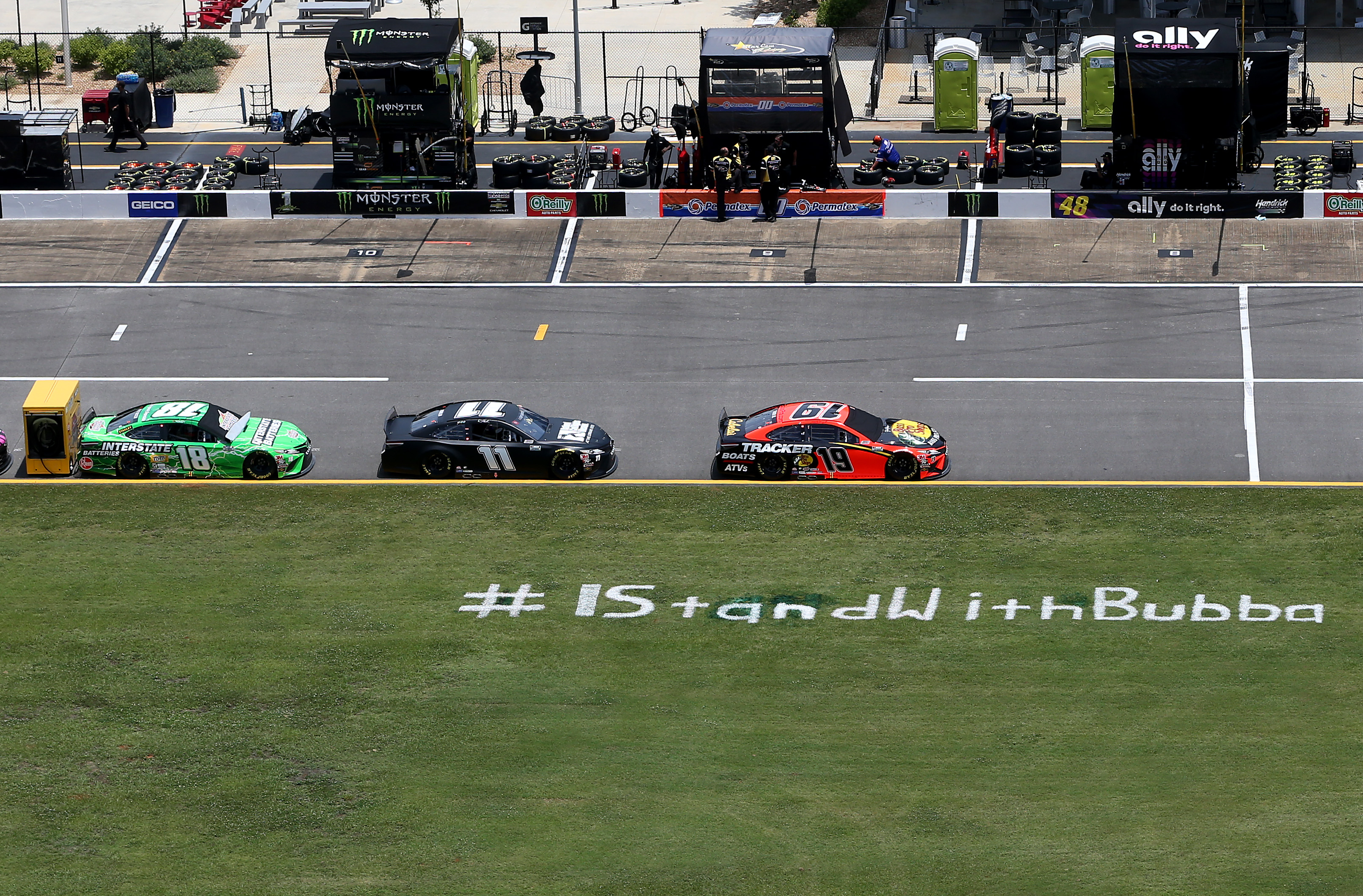 Luckily, so has the community. The most amazing moment of the past few months came on Monday at Talladega. After the noose incident – which also led to the governor of the 4.9 million population state of Alabama issuing a direct and public apology to Wallace – something incredible happened. The drivers and teams organised for the whole paddock to walk behind and push Bubba's car to the front of the queue in the pits before the race.
It symbolised three pillars.
NASCAR – the organisation – and its backing of Wallace in any way possible.
NASCAR – the community – its drivers and teams showing that Wallace being threatened is unacceptable, and that they are behind Wallace in his fight. They have repeatedly come out in support of their fellow competitor.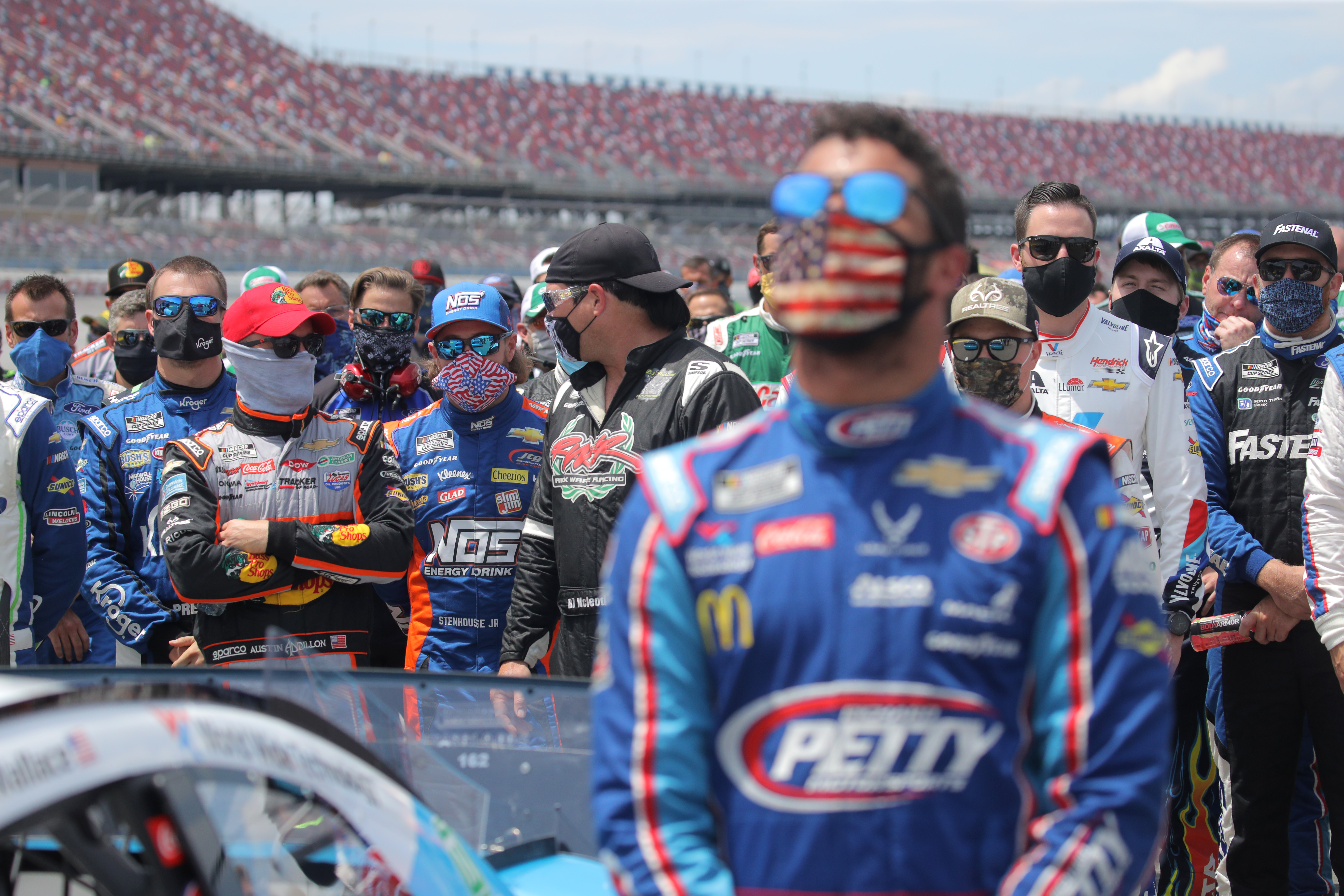 And last but definitely not least, a teary-eyed Bubba himself. Risking his health and his reputation to fight for something much bigger than himself, something he knows many have done before, and yet in 2020 something that is still being fought for. But he, like so many others, remains undeterred.
I hope that in the future, people will look back on the pictures of Wallace being pushed to the front of the queue as motorsport's Jesse Owens moment.
While Owens was obviously protesting a Nazi government and Hitler – and I'm in no way comparing any current government or leader to either – the sprinter raising his fist in solidarity with his African American brethren was a seminal moment and an image everyone has seen, even though it happened in 1936. It sent shockwaves around the world and made people think about how they treat African Americans. That was 1936. Why on earth is this still having to happen now?
The fact that one of Wallace's closest friends, Penske's Ryan Blaney, won the race was secondary. There were no outlandish celebrations from Blaney after his second successive win at a track that's difficult to achieve consistent success at. It was clear, the day was about Bubba.
You're my brother and always will be. Don't let the people who are lower than life to try and bring you down. They won't scare you because you're strong. I stand with you pal. Forever. https://t.co/fiIALd9XCE

— Ryan Blaney (@Blaney) June 22, 2020
Wallace's race went typically of his Cup Series career really. Fast, made some good moves, led a lap in the closing stages but ran out of fuel with a few laps to go. It was perhaps more poignant that his race was saved by his "brother", fellow competitor Corey LaJoie, pushing his car into pitlane. In the end he finished 14th.
While Bubba is a competitor and would rather be winning races, he seems to be able to acknowledge that he is racing for something bigger, and that is helping him to stay strong.
We've written before about how NASCAR's heritage and historic roots have been problematic for how it's regarded in discussions over racial equality. But NASCAR, spearheaded by Wallace, has become a leader, its roots long forgotten and disassociated.
As if any of the other things Wallace has done to promote equality hadn't been enough, I still hope Monday's images of NASCAR uniting behind him are the biggest breakthrough so far – because it rammed home the support of the championship and his peers. NASCAR has proven its unity in the face of division.
The person who left that noose in Wallace's pit just inspired one of motorsport's most united and powerful images of anti-racist determination. We can all enjoy that person's failure, and celebrate the images the response to it produced.
It's moments like this that make us proud to have @BubbaWallace in the garage every weekend. pic.twitter.com/pJKQievxjP

— NASCAR (@NASCAR) June 23, 2020