Kimi Raikkonen's return to racing and NASCAR Cup Series debut ended with a crash while running 25th at Watkins Glen that left the 2007 Formula 1 world champion nursing a possible wrist injury.
But that abrupt exit rather undersells how impressive Raikkonen's weekend had been, and how interesting the ambitious Trackhouse Racing team's Project 91 effort to get more international racers trying NASCAR could become.
The race-winning team launched its plan to get "global champions" into the Cup field in May, with team co-owner Justin Marks arguing NASCAR's new-for-2022 Cup car made the transition from other racing series more accessible than had previously been the case, suggesting it now had more in common with a GT car or Australian Supercar.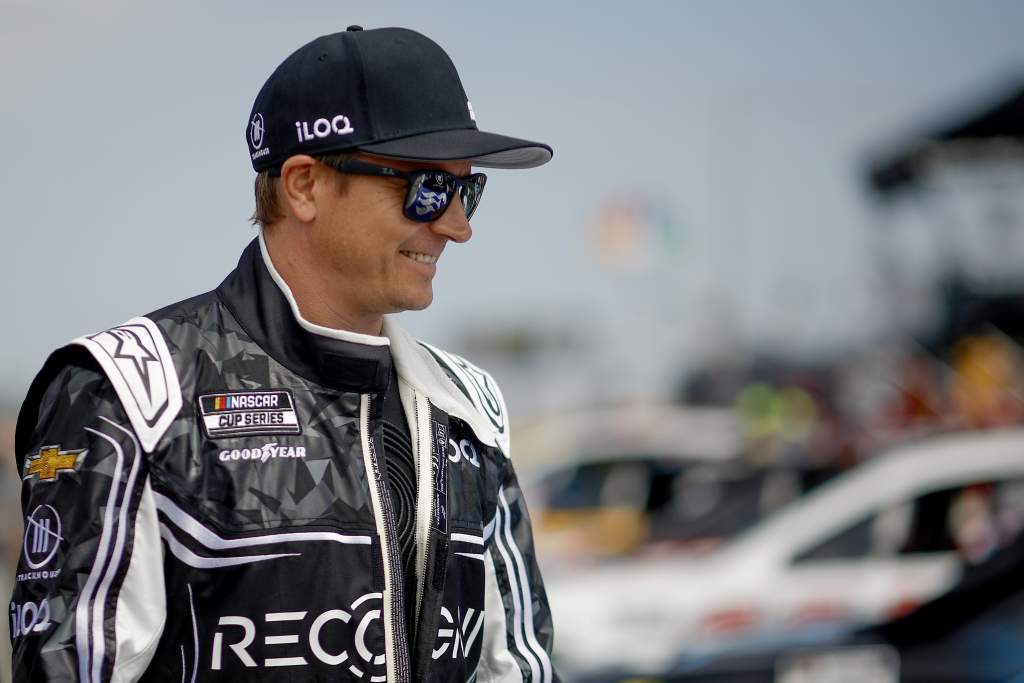 Raikkonen said pre-race that he liked NASCAR's post-COVID trimming of practice mileage as a concept, even though it put him massively up against it on his first stock car appearance since his 2011 toe-in-the-water second-tier and Truck series outings, and his debut at both ex-F1 venue Watkins Glen and in the Cup Series.
He'd been allowed an acclimatisation test in Trackhouse's Chevrolet at Virginia International Raceway the previous week and had learned Watkins Glen in a simulator, but then only had one practice session on Saturday that went straight into qualifying.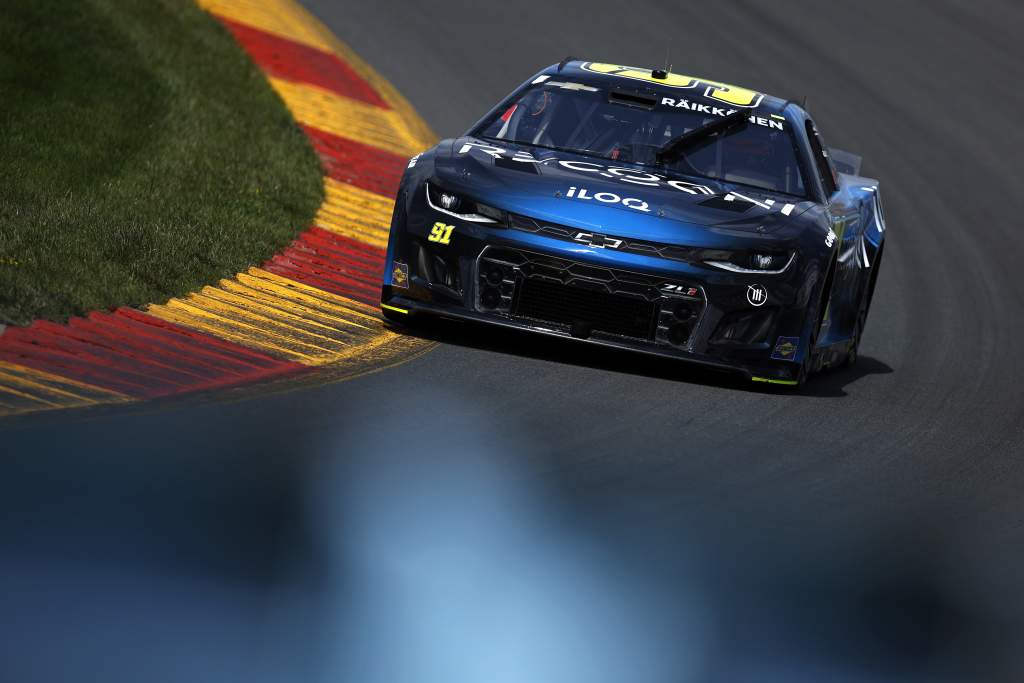 Given that, to be within 0.952s of the pace in his qualifying group – which translated to 27th on the 39-car grid – was impressive.
"Obviously, I wish there would have been more laps," Raikkonen said.
"I felt like there was a lot of potential. I'm just not sure which lines to take and there weren't enough laps to put everything together. But it was fun.
"It's quite a lot like I expected after the simulator. There's always a difference, the fine details aren't shown in the simulator, but at least I knew the track.
"I needed to be a bit better in a few places and in some places I was pretty OK."
The race start on Sunday afternoon was delayed by first lightning in the area and then the amount of standing water on the track following a heavy shower.
Though NASCAR now races in the rain on road courses, the level of aquaplaning and poor visibility was felt to be too problematic to get the race underway after the initial pace laps.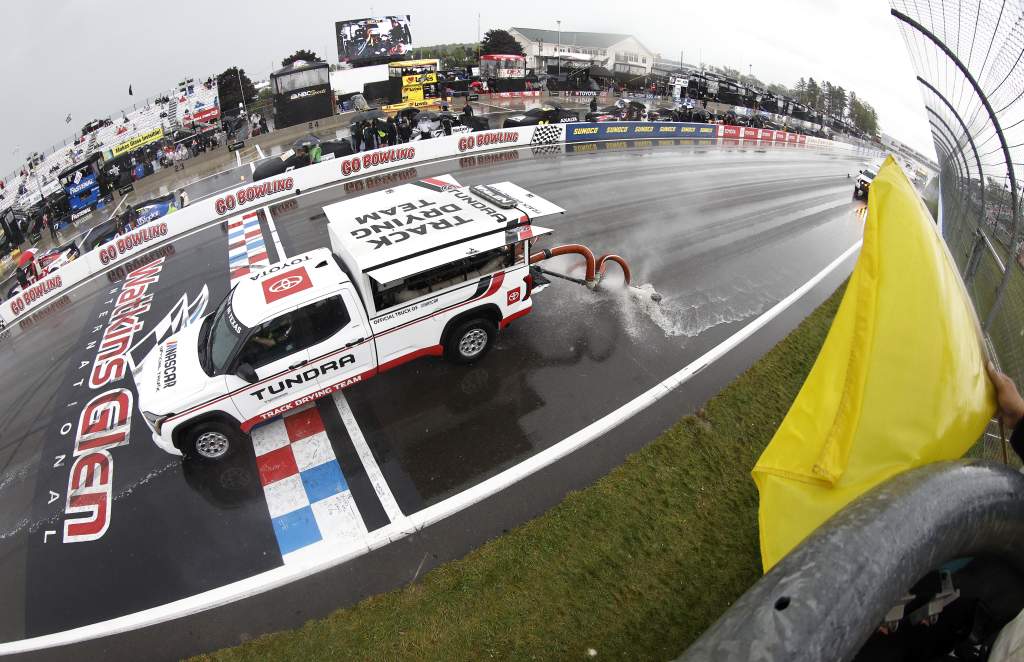 Raikkonen agreed with that decision, though he suggested on team radio that NASCAR would have been better off keeping the field circulating behind the pace car rather than sat in the pits because "the best way to clear the track is to keep the cars out there".
Drivers dropping to the back after post-qualifying component changes and early mess ahead meant Raikkonen was swiftly into the top 20 when the race began.
He wasn't among the first flurry of drivers swapping to slicks but nor did he extend his stint on wets as far as some did in the hope of saving a pitstop later.
While his tyre change initially dropped him from the 13th place he'd risen to as others pitted right back to 31st, he ended stage one of the race in 19th after passing 2012 champion Brad Keselowski.
"The beginning was pretty nice on the wets, but then the rear got very loose," was Raikkonen's summary. "All good on the slicks. No complaints."
For a man famous for a "leave me alone, I know what I'm doing" rant, Raikkonen sounded like he coped well with a constant flow of team radio chat. It ranged from useful strategy suggestions and vital information from the team's spotters, to some slightly vague observations on the speed of leading cars and general encouragement that may not have been needed by this particular character.
Beyond an early promise to "be careful" in the wet conditions, the odd "understood" in response to rules and procedural reminders and feedback on the car's handling during yellows, Raikkonen himself stayed characteristically quiet.
Staying out during the caution period between stages one and two meant Raikkonen found himself just inside the top 10, battling with the Cup Series' most recent champions Chase Elliott and Kyle Larson (the eventual winner).
Have a day, Kimi Raikkonen!

The 2007 #F1 champ is running inside the top 10 in his #NASCAR Cup Series debut. 📺 : @USA_Network pic.twitter.com/ttUwR1lhU5

— NASCAR on NBC (@NASCARonNBC) August 21, 2022
Trackhouse chose to make its next pitstop late in stage two, which dropped Raikkonen back to 28th.
The degree to which he was still learning on the hoof was clear as he reported "it felt like I had understeer on these laps but I'm not sure if these tyres weren't up to temperature" but was reassured that actually his times after the pitstop had been extremely competitive given he was on cold tyres.
Trackhouse felt confident it could get to end with just one fuel-only pitstop from there and that now 25th-placed Raikkonen would be in much better shape than many of the cars around him as the next segment began, telling him he wouldn't need to worry about fuel conservation at all so could attack those that did.
He didn't get much chance to, though.
A traffic jam caused by his team-mate Ross Chastain tangling with and spinning Austin Dillon led to Raikkonen being fired into the barriers by Loris Hezemans – team-mate to another F1 veteran in Daniil Kvyat at Team Hezeborg.
Kimi Räikkönen's day is over at @WGI after this incident on Lap 46. pic.twitter.com/TwfEBjlrRQ

— NASCAR (@NASCAR) August 21, 2022
"I had a good line there but everybody seemed to come on the left," said Raikkonen.
"Unfortunately I didn't have time to react.
"The impact was small, but on the first impact somebody hit the tyre directly and the [steering] wheel spun and there's something wrong with the wrist but that's how it goes."
Unfortunately, our race is over. What a bummer way to end a strong day.

— PROJECT91 (@THProject91) August 21, 2022
Given how competitive Raikkonen was with so little preparation, that really shouldn't be the end of the story.
Watkins Glen is the only planned outing for Trackhouse's 'international' car in 2022, but team co-owner Justin Marks wants it to feature at all road course rounds and some other high-profile Cup races in 2023.
Raikkonen replied with a "we'll see, I don't know" when asked if he might be back for more.
"It was good fun," he said.
"I felt more confident all the time and had some good battles.
"It's a shame [to retire early]. The car felt like it had a lot of speed but that's how it goes sometimes."
Regardless of the end result, it was a weekend to remember.

Thank you Kimi. pic.twitter.com/9PAujy32W0

— PROJECT91 (@THProject91) August 22, 2022
Trackhouse's competitive package definitely helped, though Marks was quick to point out that getting the third car on track relied on his existing crew "doing time and a half" rather than being a sign of the team having resources to spare.
But Trackhouse has won three races this season with regulars Chastain and Daniel Suarez, and Raikkonen was certainly able to get closer to the pace than other recent international guests such as Kvyat and Hezeberg, though 2010 Le Mans 24 Hours winner and 2013 DTM champion Mike Rockenfeller had a solid run to an unlapped 30th at the Glen for Spire Motorsports.
And even if Raikkonen doesn't fancy giving it another go, there might be a queue of drivers at Trackhouse's door ready to step in.
IndyCar title contender and Indianapolis 500 winner Marcus Ericsson (whose Ganassi team sold its NASCAR operation to Trackhouse last year) threw his hat into the ring on Twitter while watching the race, and 2009 F1 world champion Jenson Button – who'll be racing in the United States in Nitro Rallycross later this year – joined in.
Rock Paper Scissors for the seat?!!! https://t.co/KNkqV34q9X

— Jenson Button (@JensonButton) August 21, 2022
While there's a long way (and a lot of logistics to consider) between playful tweets and actually lining up on the NASCAR Cup grid, Raikkonen and Trackhouse's efforts have not only brought a lot of fresh international eyes onto NASCAR but proved that the new-for-2022 cars really will give "global champions" chance to be competitive and have fun if they want to give it a try.