Kyle Busch has called Chase Elliott's imitation of him – a bow celebration after ending Busch's seven-win streak in the NASCAR Truck Series – 'cute', following the duo's on-track duel for $100,000.
In recent years NASCAR has restricted how many races Cup Series drivers can do in the second-tier Xfinity Series and third-tier Truck Series.
Reigning Cup Series champion Busch had won the last seven Truck Series races he had entered extending back into 2018, prompting a friendly 'bounty' from fellow Cup racer Kevin Harvick and Truck Series sponsor Gander RV & Outdoors CEO Marcus Lemonis.
For any driver that could beat Busch, $100,000 would go to charity, otherwise that money would go to Busch's Bundle of Joy Fund, set up in conjunction with his wife Samantha.
The location for that duel was Charlotte on Wednesday night, where Busch lamented broken parts on the car run by his eponymous team, while Elliott held him off in the closing stages to take his third win in 13 Truck Series starts, racing the #24 car for GMS.
The two drivers had recently ended a feud after Busch took out Elliott in an incident during the second Darlington race since NASCAR's resumption, which prompted Elliott to raise his middle finger to Busch as he drove around the circuit while Elliott's car had been halted on the inside of the track.
Busch then apologised for his role in the incident, despite Elliott's gesture and strong words from his crew chief Alan Gustafson – who had worked with Busch near the start of his career – including a profanity-laced exchange after the race.
Despite the incident, Busch was then one of the first drivers to console Elliott after the latter had dominated one of NASCAR's biggest races – the Coca Cola 600 at Charlotte – only for a late strategy call to pit under caution was not copied by his rivals and he tumbled down the order.
Kyle Busch describes why he felt compelled to talk with Chase Elliott after the Coke 600: pic.twitter.com/yjpPcJZEpu

— Bob Pockrass (@bobpockrass) May 26, 2020
Following his Truck Series win, Elliott mimicked Busch's trademark bow celebration – but both drivers passed it off as good-natured.
"No, this is the first I'm hearing of it," Busch said on hearing Elliott had bowed in a post-race Zoom call.
"Imitation is the strongest form of flattery or I don't know what it is. But that's cute."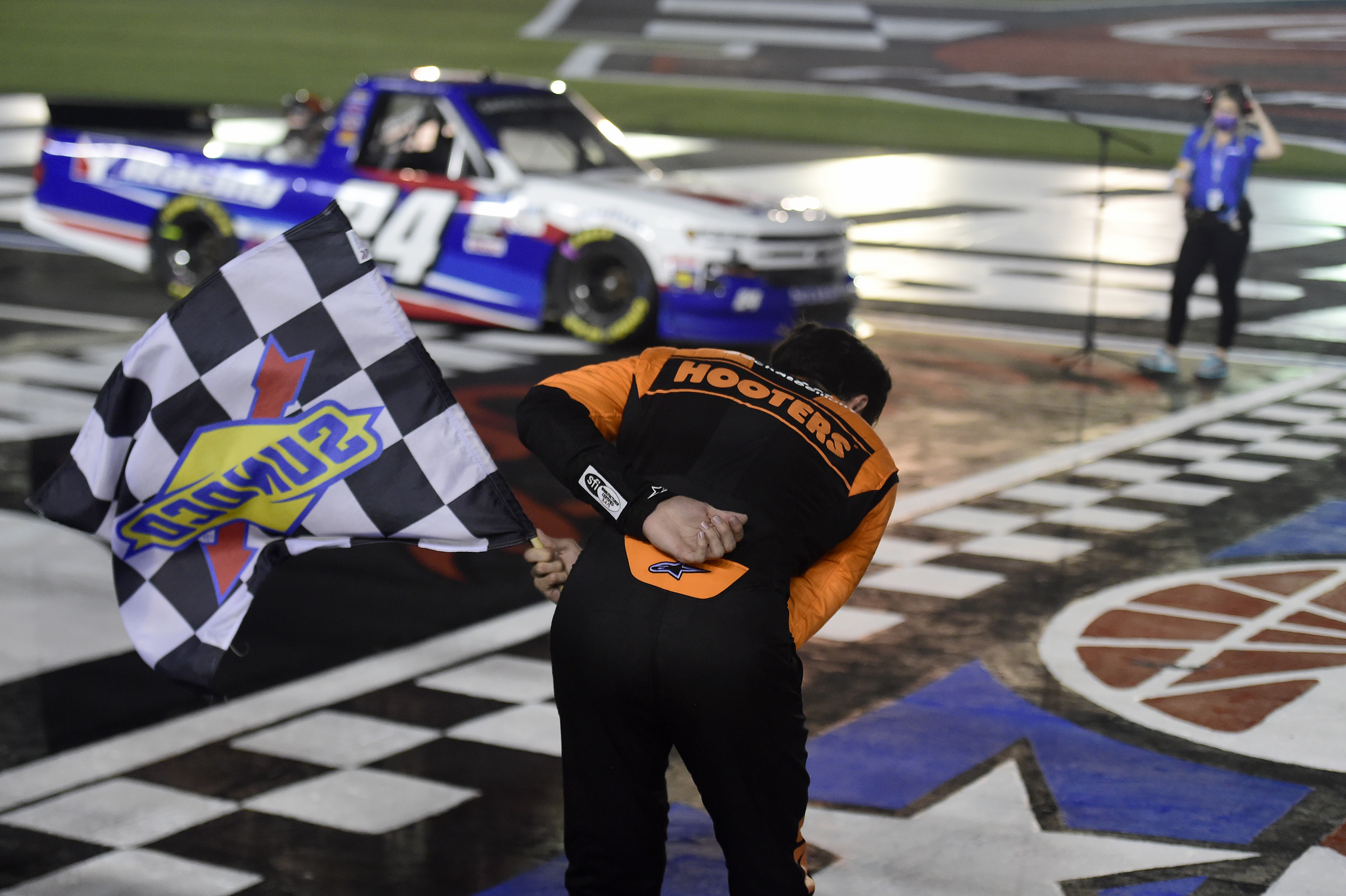 Elliott added: "It was just a spur of the moment thing.
"I thought we've had so much fun with it with Kevin (Harvick) and putting up the money, Kyle was a good sport about it."
Busch cursed his team – a multiple champion and race winner in Trucks – following his issues during the race.
Immediately after the race he told Fox Sports: "It sucks when you start the race with broken pieces after sitting for six months. There's going to be some f*****g talking when I get home. That's not acceptable.
"We got beat. Just one time, that's all it takes.
"Don't have any charity money for Samantha and I's charity, the Bundle of Joy fund and being able to get more babies out there.
"There's bigger problems in the world right?"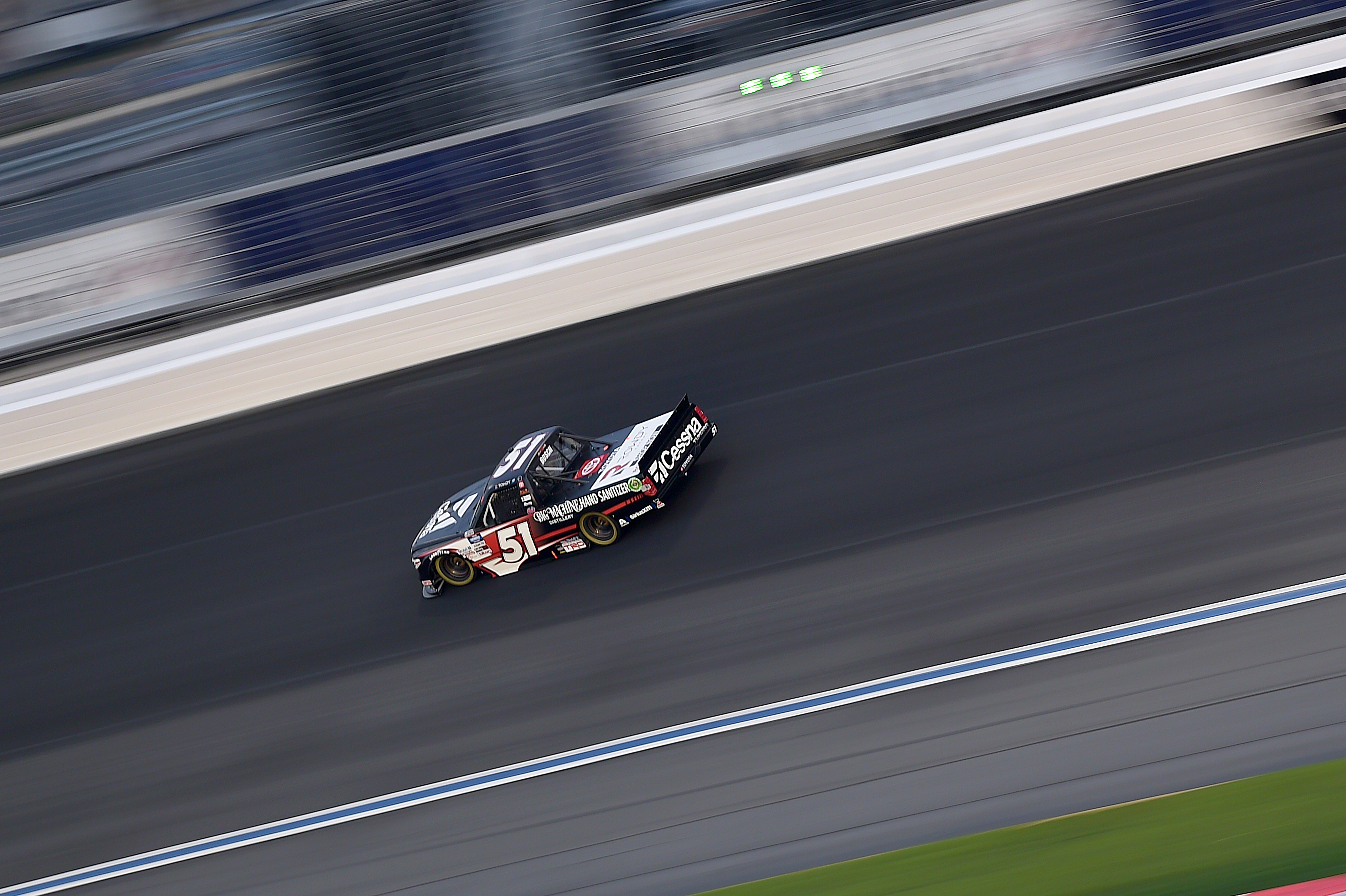 Despite Busch's sentiments, Elliott reckoned Busch had the better car at the end of the race.
"It was a lot of fun," Elliott told FS1. "It'd been a long time. It doesn't make up for Sunday (finished second in the Coca-Cola 600) but it was still a really good night. I
"I'm glad to win and do some good for the relief efforts for this virus.
"He was a little better than I was there at the end.
"I had gotten a little tight and I don't think we adjusted enough on the last pit stop.
"Luckily, the right front stayed on it long enough to get to the end.
"To be able to come out and out-run him and he finishes second, I'd rather have him finish second than wreck or something, so I feel like I did something right."
Harvick confirmed before the race that the money would go to "a COVID-19 relief effort" of the winner's choosing.