NASCAR fans have gone nuts. A seemingly minute rule change for 2021 and beyond has sent the community spiralling into a civil war.
But behind the debate is a reminder that NASCAR shares one common, fundamental problem with the rest of motorsport: staying relevant to both fans and the car industries that make the sport possible.
Earlier this week, the news emerged that NASCAR will move from five wheel (or lug, in the States) nuts to one single centralised fitting. The reaction it has caused appears completely mind boggling on the surface to people outside the NASCAR world.
Because normal road cars don't use a centralised wheelnut, this move for the Gen 7 car being introduced for 2021 has caused social media angst to an extent we haven't seen for some time in NASCAR.
The championship is still considered a form of 'stock car' racing. Any move away from the 'race on Sunday, sell on Monday' mentality of keeping the same fundamentals from the showroom through to the racetrack is considered by traditionalists as another nail in the coffin of the formula.
Let's address the change and why it's been made first. The Gen 7 car will switch to 18-inch aluminium wheels from a 15-inch steel variant, and that brings challenges with it. NASCAR claims that on an aluminium wheel, durability is decreased by 30% if you left a lugnut loose. So a big part of the move has been made for safety.
NEWS: NASCAR moving to single lug-nut design for Next Gen car.

Details: https://t.co/pEZsqytsQr pic.twitter.com/rF8vGqbMKx

— NASCAR (@NASCAR) March 2, 2020
In the past, NASCAR teams have deliberately experimented with not tightening all five wheelnuts in a bid to save time in pitstops – a practice the rulemakers have clamped down on. Couple that with the fact that races can be heavily influenced by the speed of a pitstop and the pressure that induces, human error is also possible. It doesn't happen that often, but it can lead to loose wheels.
NASCAR legend Dale Earnhardt Jr discussed the lugnut change on his podcast and recalled a hairy moment from his Cup career.
"I've had wheels fly off my car before," he said during The Dale Jr Download. "This is not something that happens often, and I know the single-lug wheelnut is not foolproof. But if it is any safer than what we have, I'm all for it. As long as it keeps the tyre on the car.
"When we say single lugnut, people fear that it's an open-wheel style pitstop where people will be on their knees waiting for the car to come in. We don't intend to change anything with respect to how the pitstop flow is executed" :: NASCAR's John Probst
"I went down into Turn 1 on the restart [at Atlanta in 2007] and lost a left rear tyre and spun out, took Jamie McMurray with me, it was a hard, hard crash. It terrified me from that moment on, every time I got a vibration. Terrified I was going to have a wheel come off because you can't slow a car down without a wheel on it.
"I don't watch the race to see guys changing five [nuts] versus one, it doesn't matter to me. Pitstops are still going to look the same, guys are still going to have the potential to make mistakes, do it wrong, do it better, do it faster."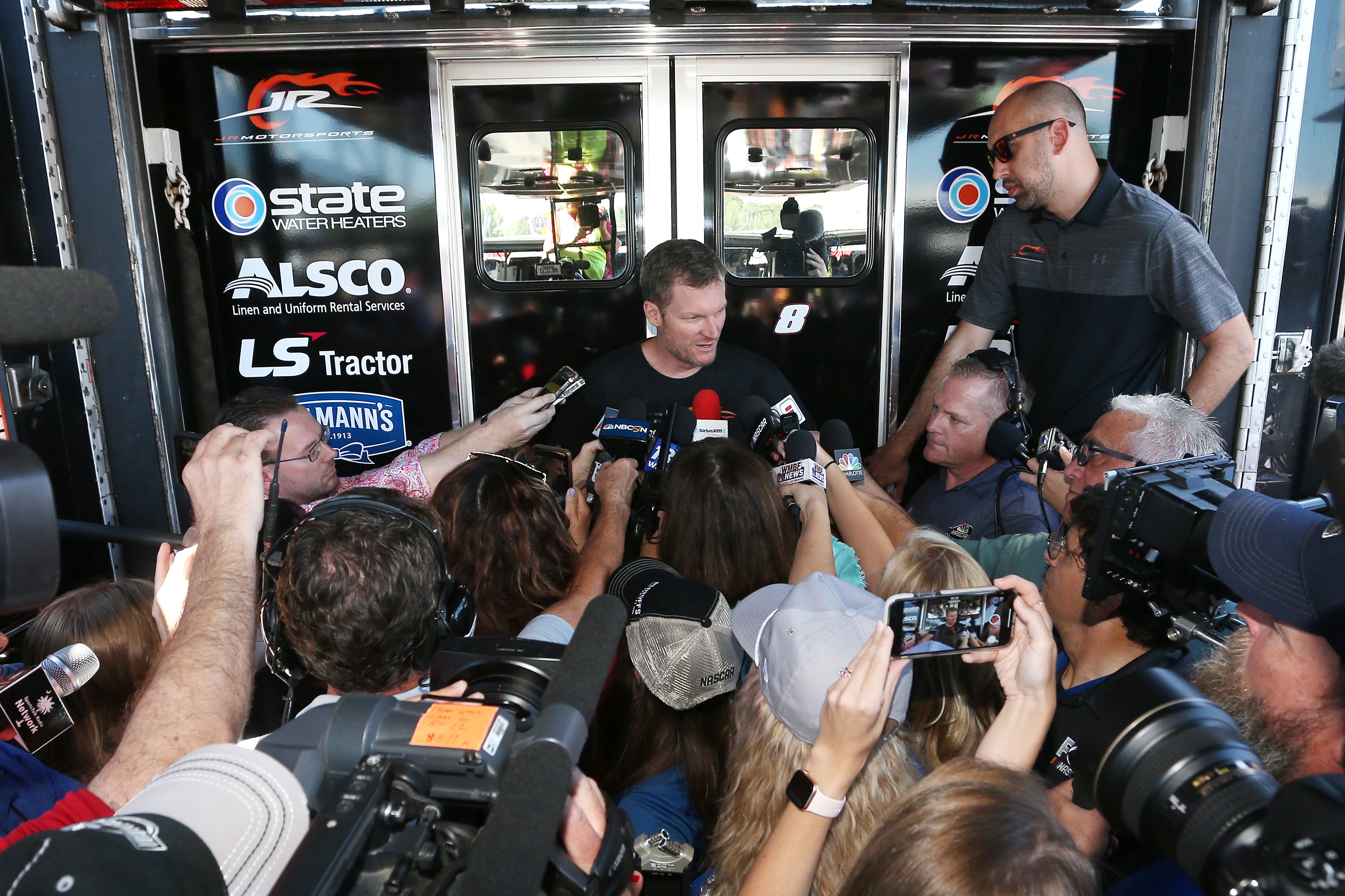 Hendrick's William Byron tested the Gen 7 car and became the first driver to try the centre-locking nut on the machine during two days of running at Fontana at the start of this week. But of course, it made no difference to him or how the car is driven. The changes are all outside the car.
Some fans jumped to the conclusion that the change is going to fundamentally alter NASCAR pitstops – giving them another reason to hate it. Since future four-time Cup champion Jeff Gordon and his crew chief Ray Evernham burst onto the scene in 1992 with Hendrick Motorsports, the modern pitstop has remained similar.
Evernham's quest for a more efficient race team led to him installing a professional pit crew – trained weekly – often consisting of giant ex-American Football linebackers to help lift the car and wheels quicker. The move forced other teams to mirror Hendrick's 'Rainbow Warrior' (named after the paint scheme of Gordon's car) pit crew's antics.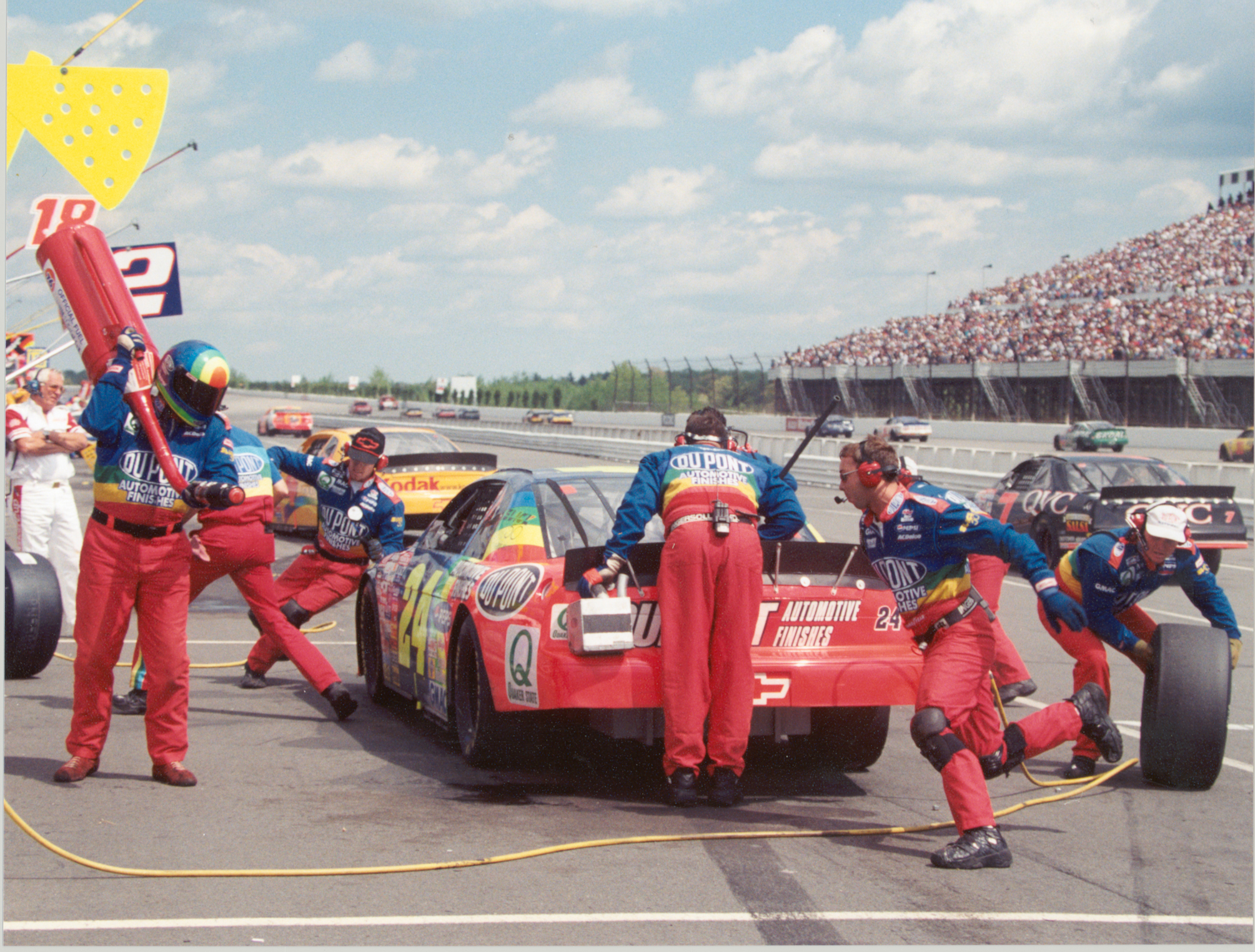 Since then it's been pretty much the same. One person adds fuel, while the front and back of the car each has two people assigned. One person lifts and carries the wheels, the other kneels to remove and then re-apply the wheelnuts as the wheels are being changed. Only five people are allowed 'over the wall', into the team's stall where the car is serviced.
"I'd love to go back to looking out across the racetrack and seeing what looks just like a production car going around there but it's really not, we're so far removed from it, it's an impossible ask" :: Dale Earnhardt Jr
While some fans were worried about the impact the single lug will have on the style of pitstops, NASCAR has moved to quash that theory.
"I think from a fan standpoint, the choreography of the pitstop will look unchanged," said John Probst, NASCAR's senior vice president of innovation and racing development.
"I think that a lot of times when we say single lugnut, people fear that it's an open-wheel style pitstop where people will be on their knees waiting for the car to come in. We don't intend to change anything with respect to how the pitstop flow is executed.
"There will still be guys coming off the wall, there will still be a premium for that athlete to come off the wall, get to the right side of the car, make that tyre change, get over to the left side of the car and make the tyre change. From the look and feel of the pitstop, we don't see any significant changes.
"On the on and off, they still have to keep the gun on – they can't just cap it, it's got to actually ratchet a few times before it actually gets tight. So today, good tyre changers can take five lugnuts off or put them on in less than a second, say eight tenths of a second to a second.
"They're going to have to leave the gun on for probably at least a half a second, so if anything, they may be three tenths [quicker] here and there, but it shouldn't dramatically change the timing on the pitstop."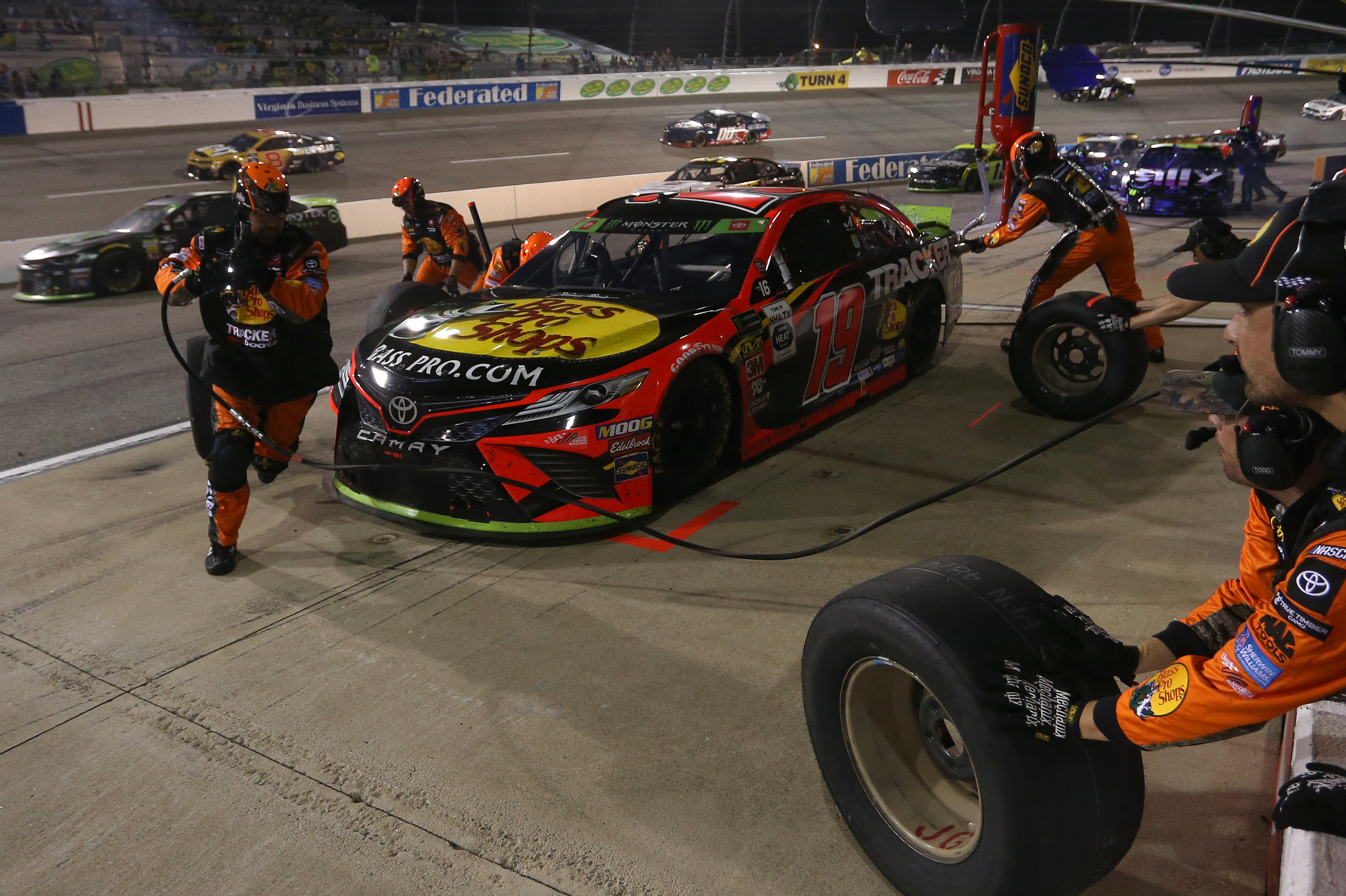 There's a cost implication to factor in too. Some fans immediately – and rightly – pointed to an increase in costs for the wheelgun that will be used. But the investment in guns is a matter of thousands of dollars. The amount some teams spend on lost nuts during the year is more in the tens of thousands for the big teams, reportedly some spending over $30,000 per year on replenishing stock.
Lost nuts can be pretty dangerous when they come off a car, burning hot, and go flying across the pitlane. The central locking nut will last for multiple races, and there's no need for glue as there is with the current five-nut set-up.
So, yes, it's true, the move to a centralised lug nut does signify another step away from stock cars. But, more from Dale Jr on that…
"The 'stock' in stock car has been gone for decades," he continued on The Download.
"I'd love to go back to looking out across the racetrack and seeing what looks just like a production car going around there but it's really not, we're so far removed from it, it's an impossible ask.
Next Gen goes West. @WilliamByron | @ACSupdates pic.twitter.com/XvCeV3p8nC

— NASCAR (@NASCAR) March 4, 2020
"This is just such a small menial thing in the grand scheme of what makes the sport work and not work, what we need to really concern ourselves with. Single lug or five lugs is a blip on the radar. The real concern is about the future of the sport, how we get better, how we improve.
"This car is completely different, it's not similar at all to the car they drive today. It's going to be a huge shift away from what we know as a stock car and what we know as a NASCAR stock car.
"It's funny because people are making such a big deal out of this single lug thing. There's a long list of things changing from the car we know today. I hope we don't have to have that conversation about all of these items."
Sequential gearboxes, being one of them. That move included in the Gen 7 car seems to have gone by the wayside on social media, and that's a lot further away from stock than a wheelnut arrangement…
What Dale Jr does touch upon is what this means for the championship moving forward. His mantra appears to be 'pick your battles', which is incredibly apt when it comes to the Gen 7. NASCAR fans have been calling for brand identity. For more manufacturers in the series. For a safe future for the championship they love.
In the grand scheme of things, the change to a centralised nut will save teams money, be safer for competitors and not change the visual nature of a pitstop, and it will still be hard to get it right.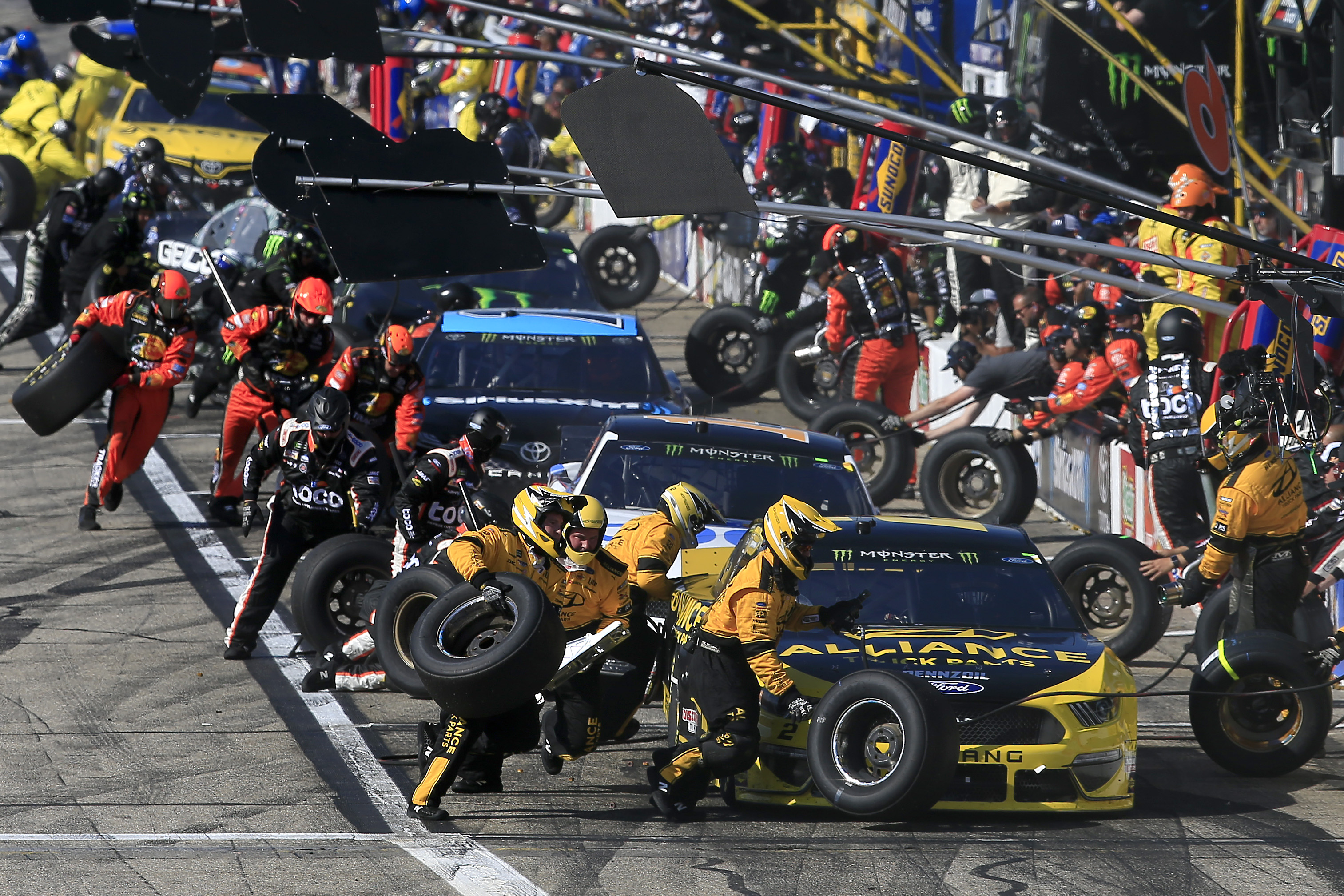 It's such a small thing – that isn't even that bad – that it isn't worth the infighting it's created. Not to mention that the move to 18-inch wheels makes NASCAR much more road car relevant when it comes to the likes of the Impala and Mustang, much likely to be booted with bigger rims than 15″ in 2020.
Look at it from this perspective. Imagine you are Honda, a manufacturer that's been rumoured to be looking at NASCAR in the near future, and you see thousands of NASCAR fans arguing about wheelnuts. Is that likely to make you want to enter the fray? That's a question Honda only can reply to, but I know what my answer would be…
It's easy to appreciate those who aren't happy with the new wheelnut layout, and it is more than just a wheelnut. It's about the core of NASCAR remaining stock, even if the cars aren't anymore. About maintaining tradition.
But you have to pick your fights, Dale Jr is absolutely correct. This isn't one worth fighting over.