NASCAR was one of the nice surprises of 2020 as it fought for equality, led motorsport back to competition after COVID lockdowns and scored a big win with its 'no practice or qualifying, just race' format.
This year, the changes have come thick and fast again and the big headline is that there's a Bristol dirt race on the schedule. Yes, you read that correctly. After a rain delay, the Truck and Cup Series are both set to race on Monday afternoon.
This is so, so awesome! @BMSupdates | #ItsDirtBaby pic.twitter.com/ydE7TmseDq

— NASCAR (@NASCAR) March 26, 2021
We've broken down the key questions and what you need to know ahead of the March 28 event.
Dirt? I thought that happened in 1960s NASCAR
It's true, the last NASCAR Cup Series race on dirt took place in 1970.
However, this isn't a rabbit out of a hat moment for NASCAR, it feels like something it's been working back towards over the last decade or so.
Dirt racing has had somewhat of a stock-car themed renaissance in recent years with Cup Series drivers giving big events like the Chili Bowl Nationals – a short-oval competition for winged midgets in January – a go. Many drivers who haven't come from dirt racing backgrounds have also tried it recently, like reigning Cup champion Chase Elliott (below, right), and enjoyed the experience.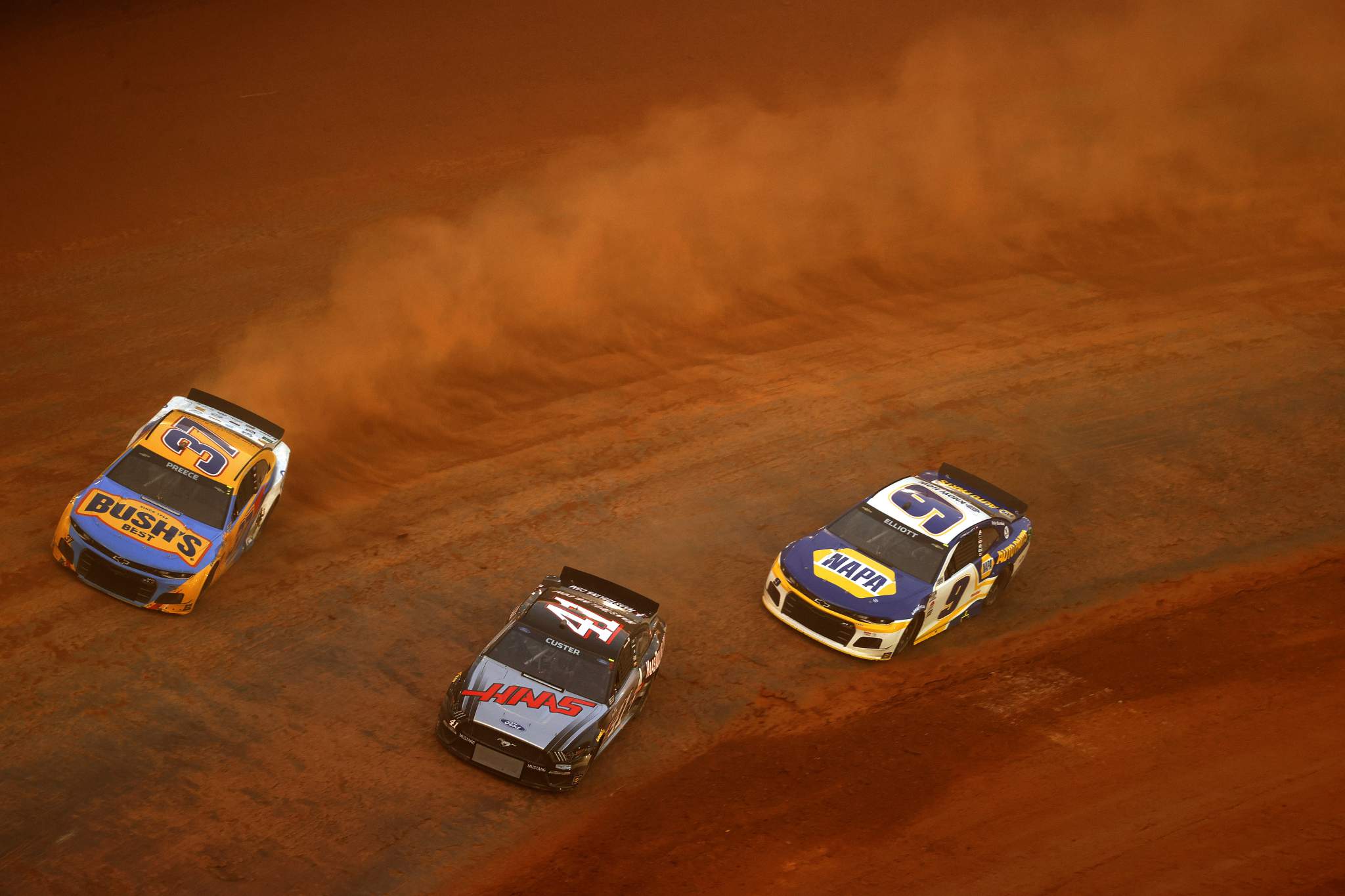 Back in 2013, NASCAR took the plunge to race on the dirt at Eldora – owned by loose-surface enthusiast and treble Cup Series champion Tony Stewart, (below left, with Bubba Wallace) – with its Truck Series, opening the door for many to ask when it would give Cup the same chance.
Some people love the idea of racing on dirt, some hate it, but the way the NASCAR playoffs is structured – basically win and you're in – it matters little if one race is a bit out of the ordinary. What it might do is give an experienced dirt racing driver the chance to make the playoffs when they wouldn't have before, but more on that later.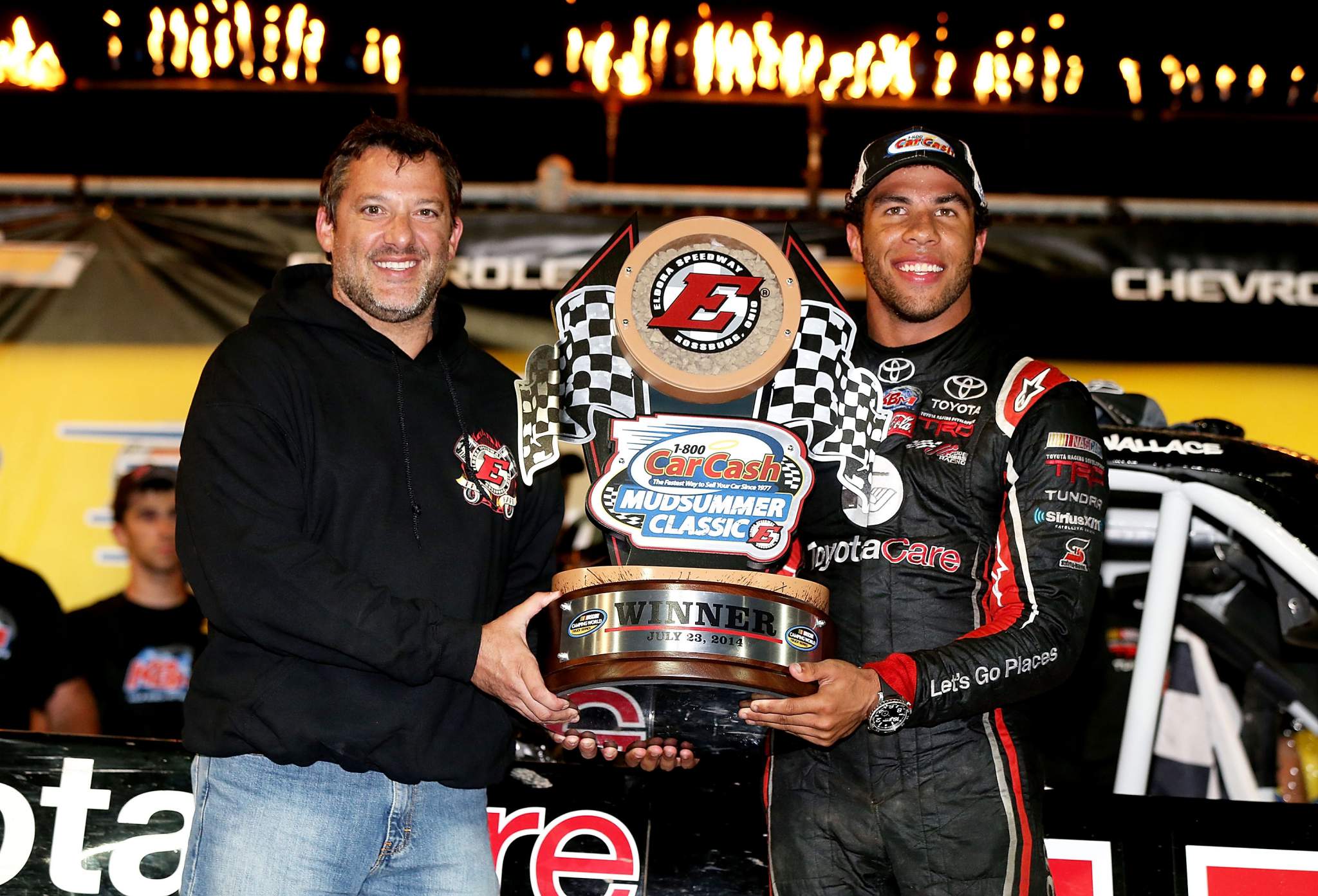 With NASCAR having seven road course races this year – a dramatic rise from the traditional two per year and three last year – it's shown that, as always, it's willing to mix things up. With so many Cup drivers giving dirt a try in their spare time, why not make the top series host a dirt round and watch the ingenious brains behind the teams go to work as well as the drivers?
Seemingly declining numbers of spectators at this race in recent years plus Fox's apparent interest in a more unusual event for TV purposes – coupled with the influx of NASCAR drivers trying dirt – made now the perfect time to throw another spanner in the works of an already radical NASCAR calendar for 2021.
Getting dirty
Building a dirt track 101

Read Here: https://t.co/Q3fP1X7VEN#ItsDirtBaby #ItsBristolBaby #NASCAR pic.twitter.com/pNJHaTTMcZ

— BristolMotorSpeedway (@BMSupdates) March 12, 2021
It's worth pointing out that most national and grassroots dirt-based series race on purpose-built venues that have dirt layers under the top surface, as opposed to Bristol which is effectively having dirt poured over the concrete.
However, it's not as simple as just getting some dirt and spreading it on the track. Scientists and experts have been consulted on what dirt to use and how to lay it. Over 20 samples of dirt were tested before one was picked and then 2300 truckloads were dumped in the 'Last Great Colosseum'.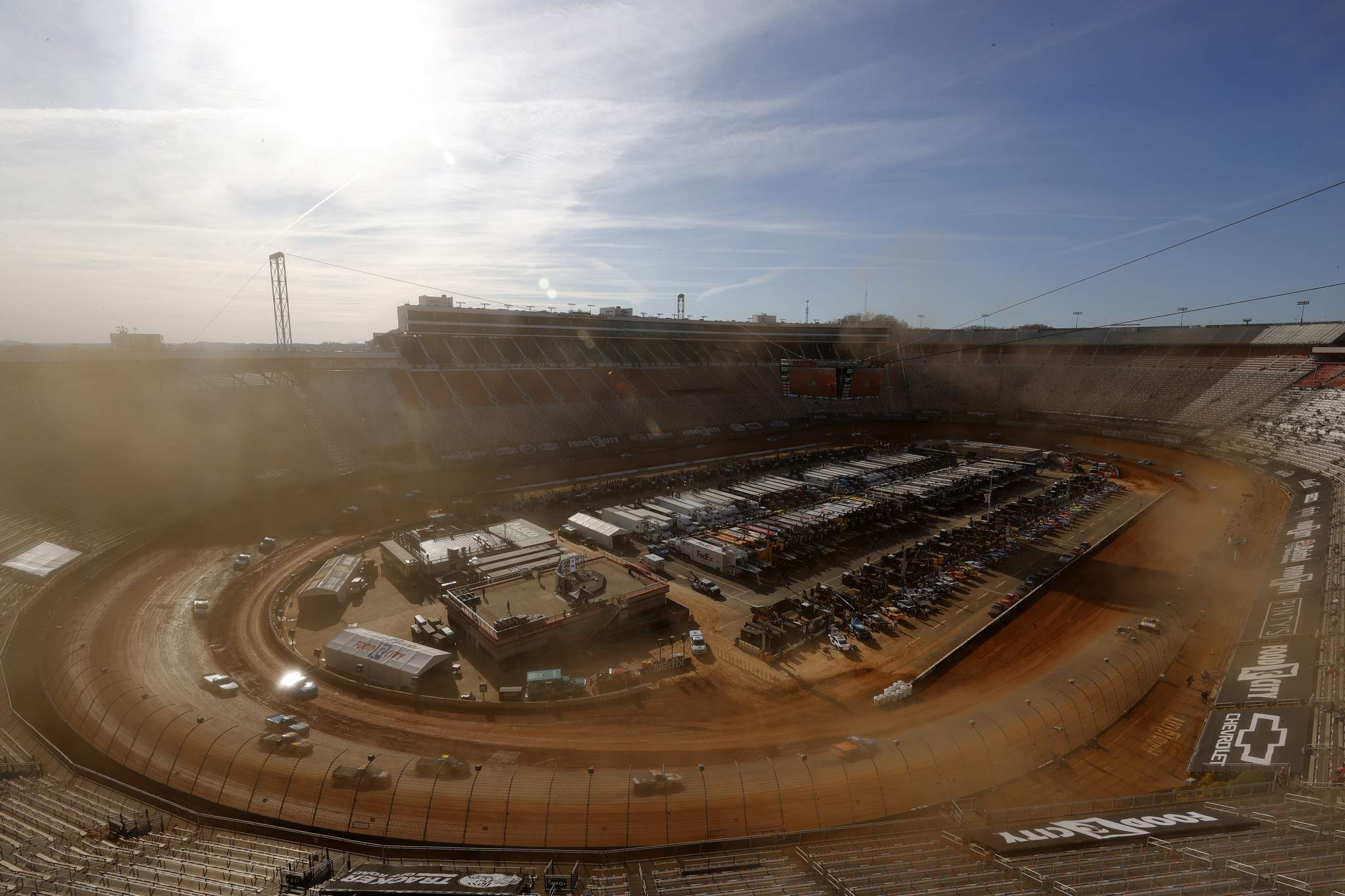 Because of the way the track's being formed, it's possible and even likely the 23,000 cubic yards of dirt will wear away until we have what is effectively dirty concrete by the end of the Cup race on Monday, giving drivers and teams a set-up conundrum to have a fast car in vastly different conditions from start to finish.
The big question mark is now relating to the weather as heavy rain curtailed the Saturday heat races and Truck Series action too, delaying everything on Monday. How much rain there's been and how much the dirt has been compacted back together will influence how the track evolves through the races.
Surely dirt drivers have an advantage?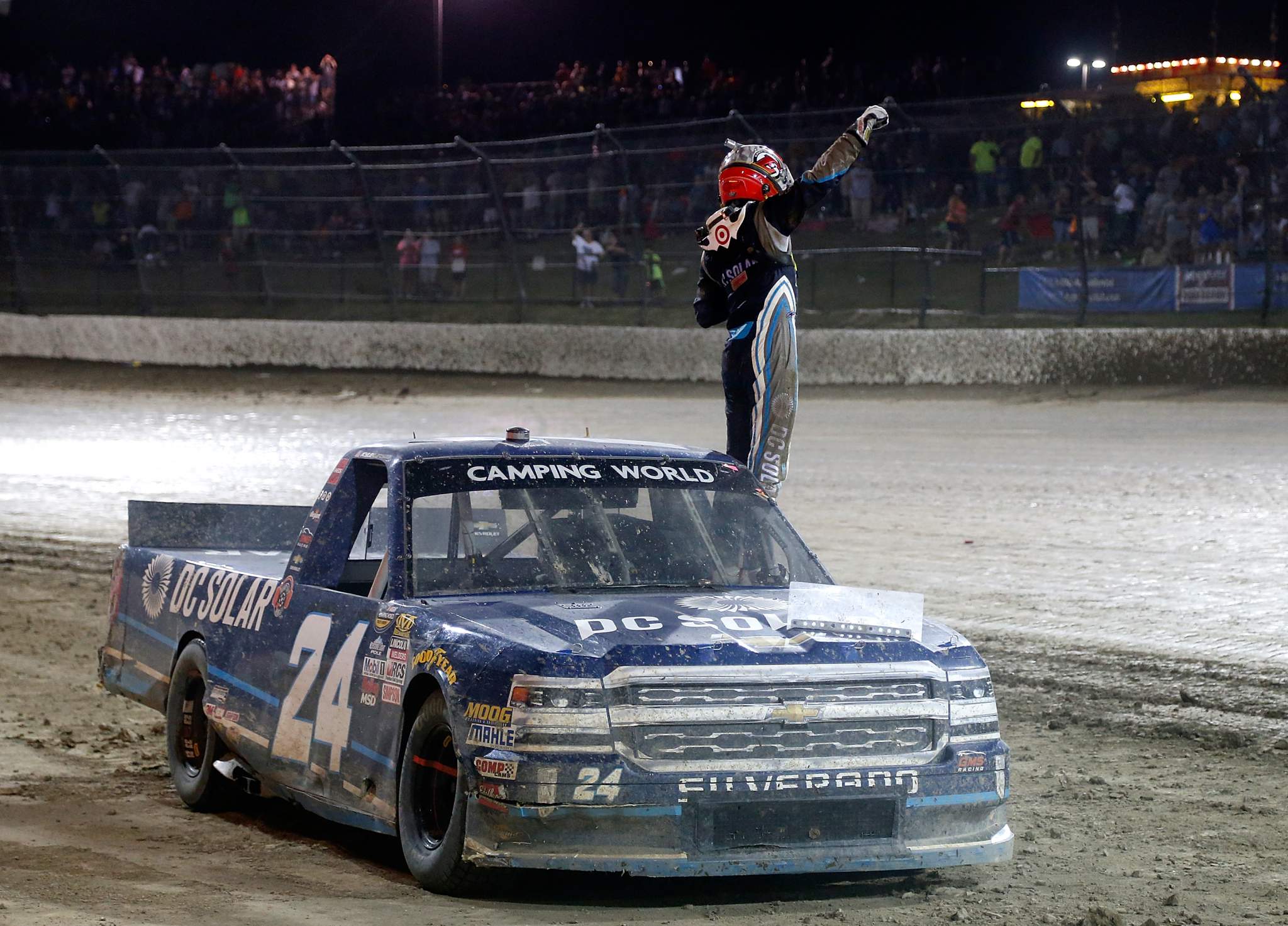 A lot of this depends on how the race plays out. People who have seen sprint cars race sideways on dirt in something like World of Outlaws (below) should note that those cars have 950bhp and weigh 1400 pounds while NASCAR Cup cars weigh 3500lbs and have 750bhp.
The Cup Series cars were not super-sideways in Friday's practice and that will reduce the advantage dirt racing regulars may have.
"I think the things that will maybe give us an advantage over other people is just being able to read the dirt and notice how it's changing and how to, or when to, adapt and change your line and things like that," dirt racing legend and Cup Series driver Kyle Larson told The Race earlier this year.
"We'll be able to look out for little things. But as far as driving the race cars, I think we're not going to be out there sideways or anything like that.
"I hope we are, because it will help me!
"But I really think it's going to look like a slower, kind of pavement race in a way. On a normal weekend, those guys up front are probably the same guys up front at Bristol."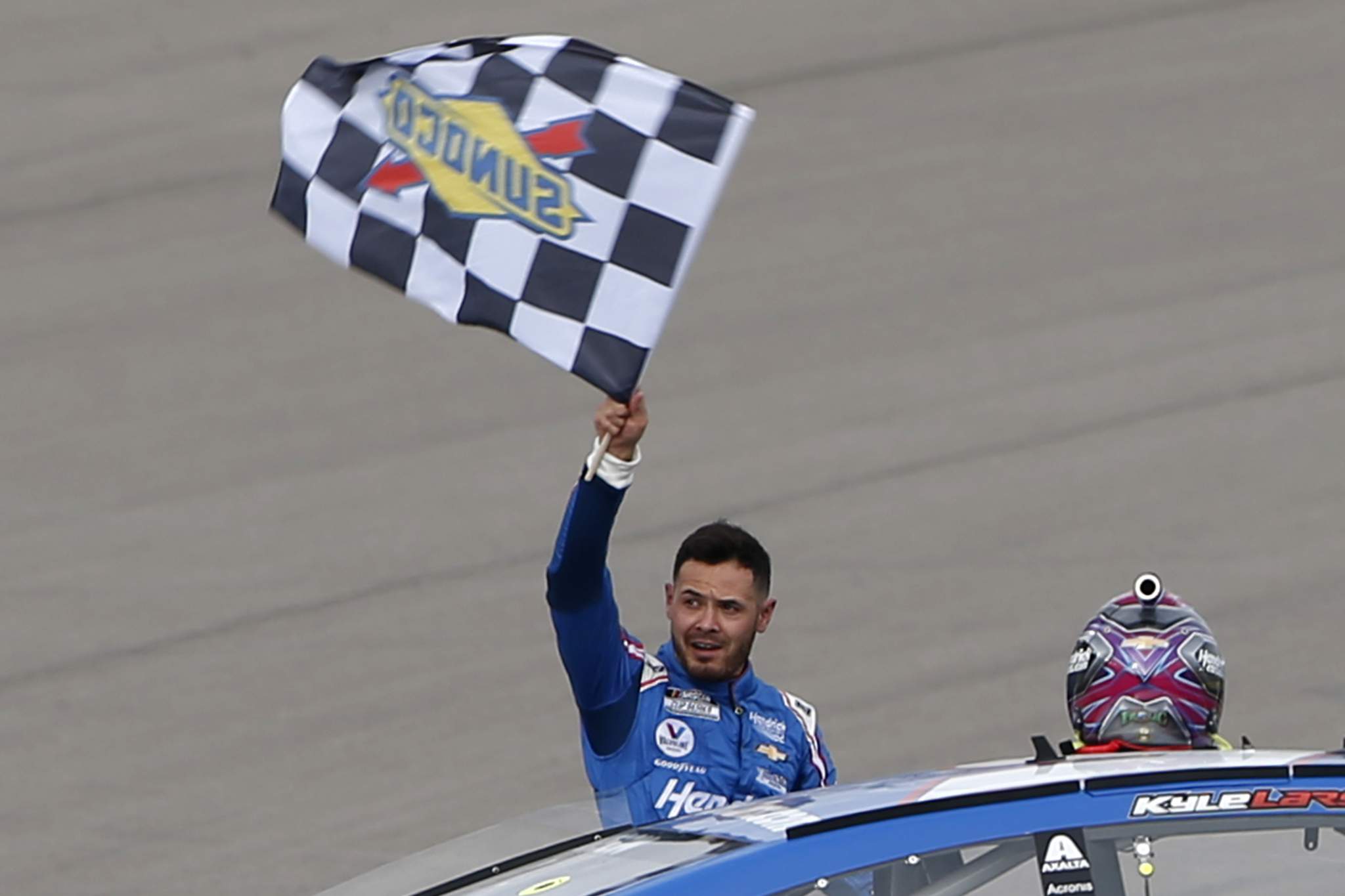 Someone like Joey Logano will be glad to hear that. A NASCAR Cup Series champion in 2018, he's never really raced on dirt as that wasn't the path he trod to the top level.
But one thing Logano was clear on when discussing the race recently was that getting out in a car on dirt would be essential to learning more about the transition of the surface.
"I'm planning to try to get out on a dirt track a little bit and just try to understand, how the track changes, I think that's probably the biggest thing," said Logano at the end of January, and he has now managed that.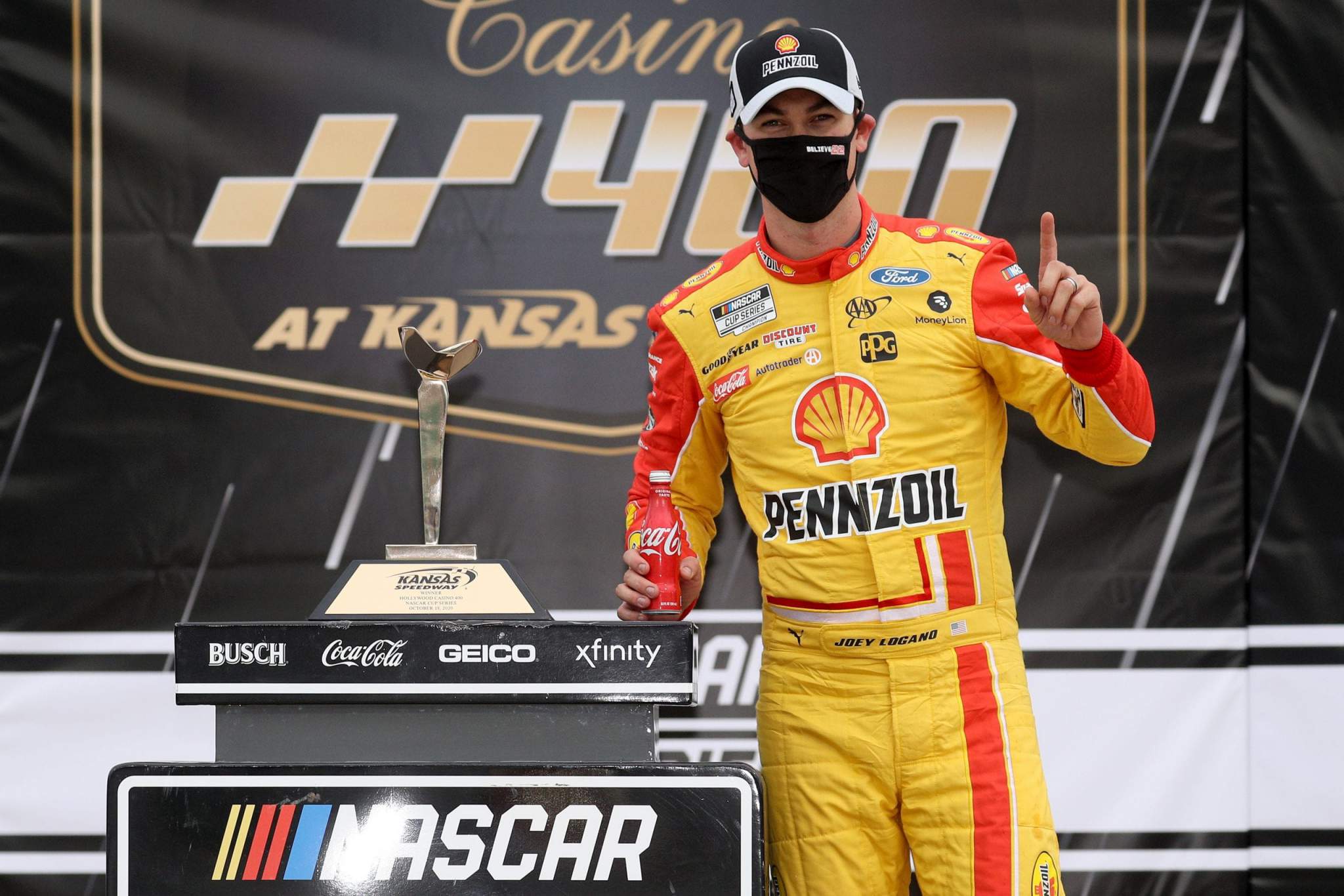 "Obviously, the car is going to drive differently with it being very slick and all that, but understanding how the dirt moves, whether there's a cushion, or when it dries out, or when it rubbers up. There's all this lingo that I don't really know a whole bunch about and you have to see it, and you have to experience it, I think to understand that."
But, he adds: "I can win it. I 100% think that, otherwise why else would I show up if I think I can't win a race? I may as well stay at home. That's no fun at all!"
Who are we to argue with a Cup Series champion! The Race is 90% sure that a dirt racing regular or at least someone with a bit of dirt experience will win, but if the cars are single file and not moving around a whole lot someone like Logano could deliver an upset.
How are drivers preparing?
Ok i'm sold on @BMSupdates dirt on @iRacing tons of fun! We streaming. Come hang 🏁#TurfSellers #BristolDirt #ProInvitational #Twitch pic.twitter.com/7qLgMqoF5g

— Garrett Smithley (@GarrettSmithley) March 18, 2021
Online platform iRacing has become a strong tool for driver preparation, and thanks to Bristol's dirt track being added to the platform, they'll be able to use it here too.
Many drivers have looked to put deals together to race in the supporting Truck Series race which could be vital for learning how the dirt evolves and wears away to be in contention at the end of the Cup race. That's become even more important now the racing has been moved to Monday as the Cup drivers will get a Truck race's worth of experience of the dirt before jumping in the Cup car. Other than that it will help drivers hone dirt racecraft.
The Truck race actually presents an intriguing proposition, with previous Eldora winners Larson and Bubba Wallace taking part, as well as drivers looking to adapt to the surface like Martin Truex Jr and Ryan Newman.
Yo, AD! @austindillon3 with a last-lap pass for a heat win. @RCRracing #BristolDirt pic.twitter.com/s6SLj6omGT

— Karl Kustoms Bristol Dirt Nationals (@BristolDirt) March 16, 2021
Some drivers have also moved to race in the Bristol Dirt Nationals in late model cars in recent weeks, with the likes of Austin Dillon winning a heat on Tuesday last week for example.
Apart from watching some of those late model races, practicing on iRacing and learning about the heat races there's not a lot more drivers can do to prepare until we get to the event itself.
What's the format for the weekend?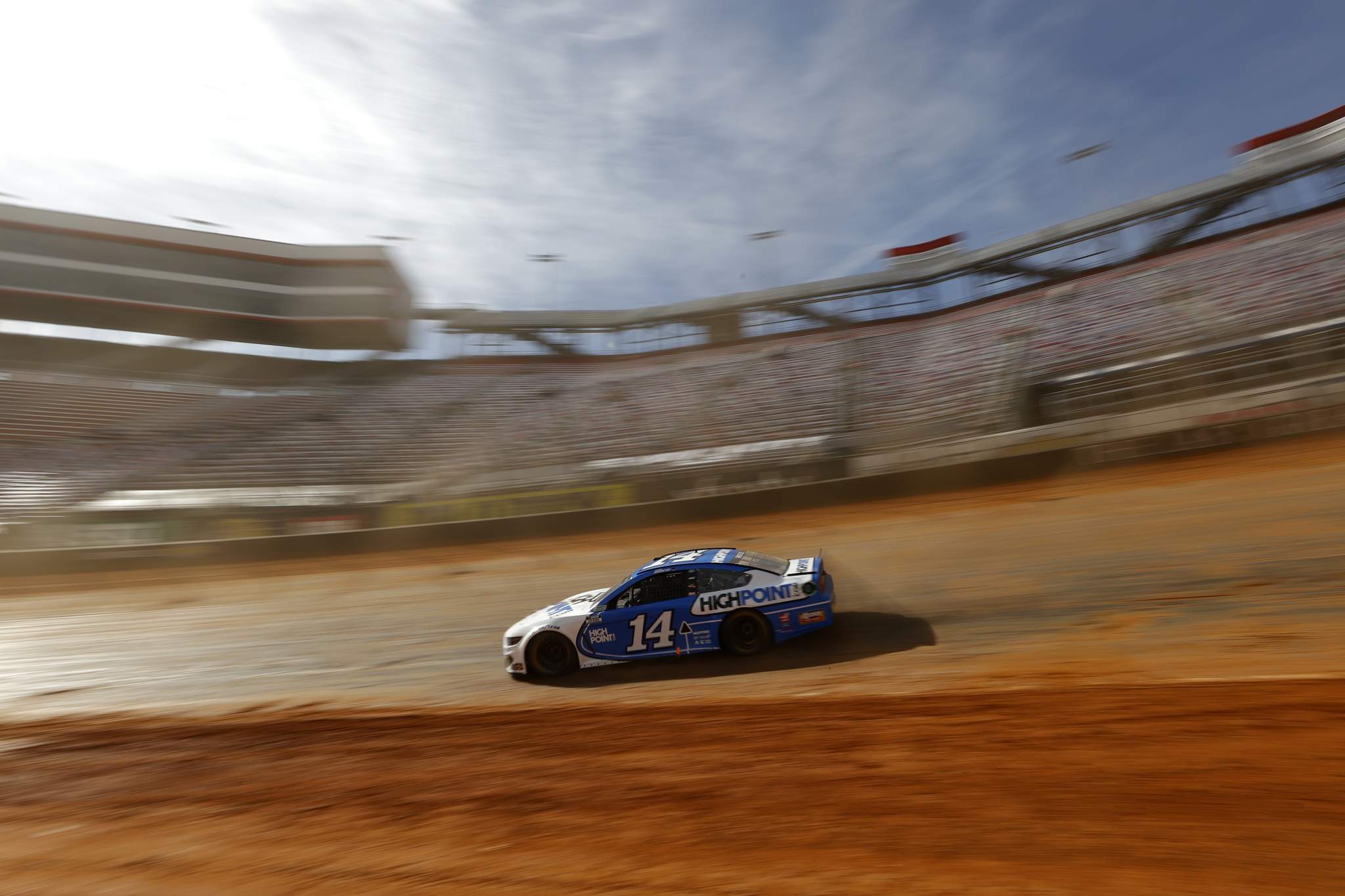 Four heat races of 15 laps should have happened on the Saturday before the Cup Series race to determine the starting grid for Sunday's main event. A random draw was due to decide the starting grid for the heats. During those heats, points were to be awarded for finishing position and bonus points combined to decide the starting order of Sunday's race.
Rooftop Views #ItsDirtBaby #ItsBristolBaby #NASCAR @BristolDirt pic.twitter.com/gGKD3BJlF2

— BristolMotorSpeedway (@BMSupdates) March 17, 2021
Those bonus points are called 'passing points'. Basically, you get a point for every position higher you finish than your starting position. So if you start 10th and finish ninth you'd get one passing point. If you go backward or finish where you started you score zero passing points.
The Truck races work in the same way.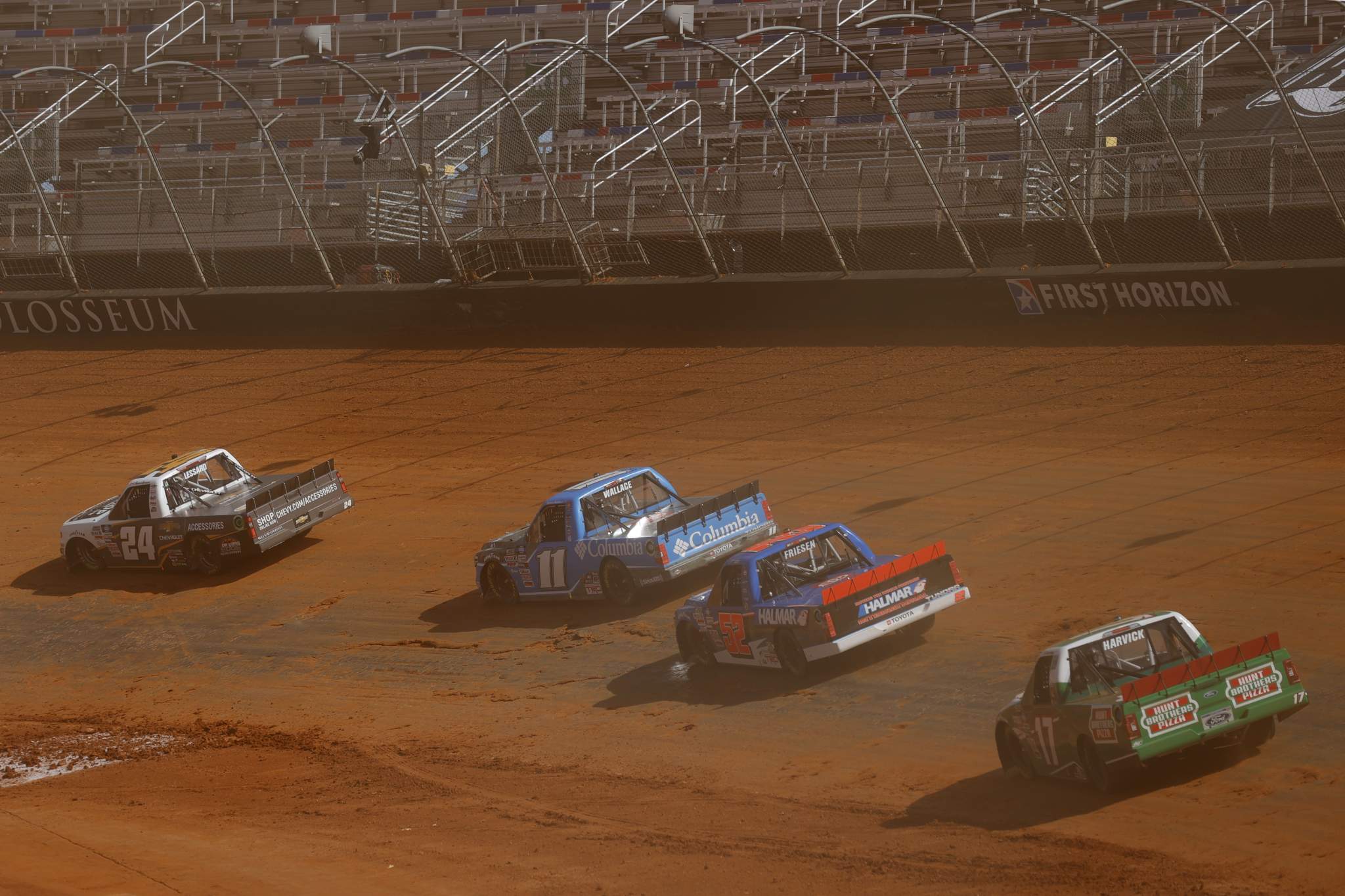 However, due to the cancellation on Saturday, NASCAR has had to decide the order of the grids using its performance metric system which has been in place since the return after the pandemic lockdown last year.
Larson is on the pole but changed engines on Friday so will likely have to go to the rear. You can see the full starting line up here.
Updated Bristol Monday schedule
Truck Race: 1200hrs ET
Cup Race: 1600hrs ET
The race format is as follows. There will be a competition caution at Lap 50. Stage 1 ends at Lap 100 and there will be another competition caution at Lap 150. Stage 2 ends at Lap 200. Teams will get six sets of tyres for the race.
Can the cars handle it?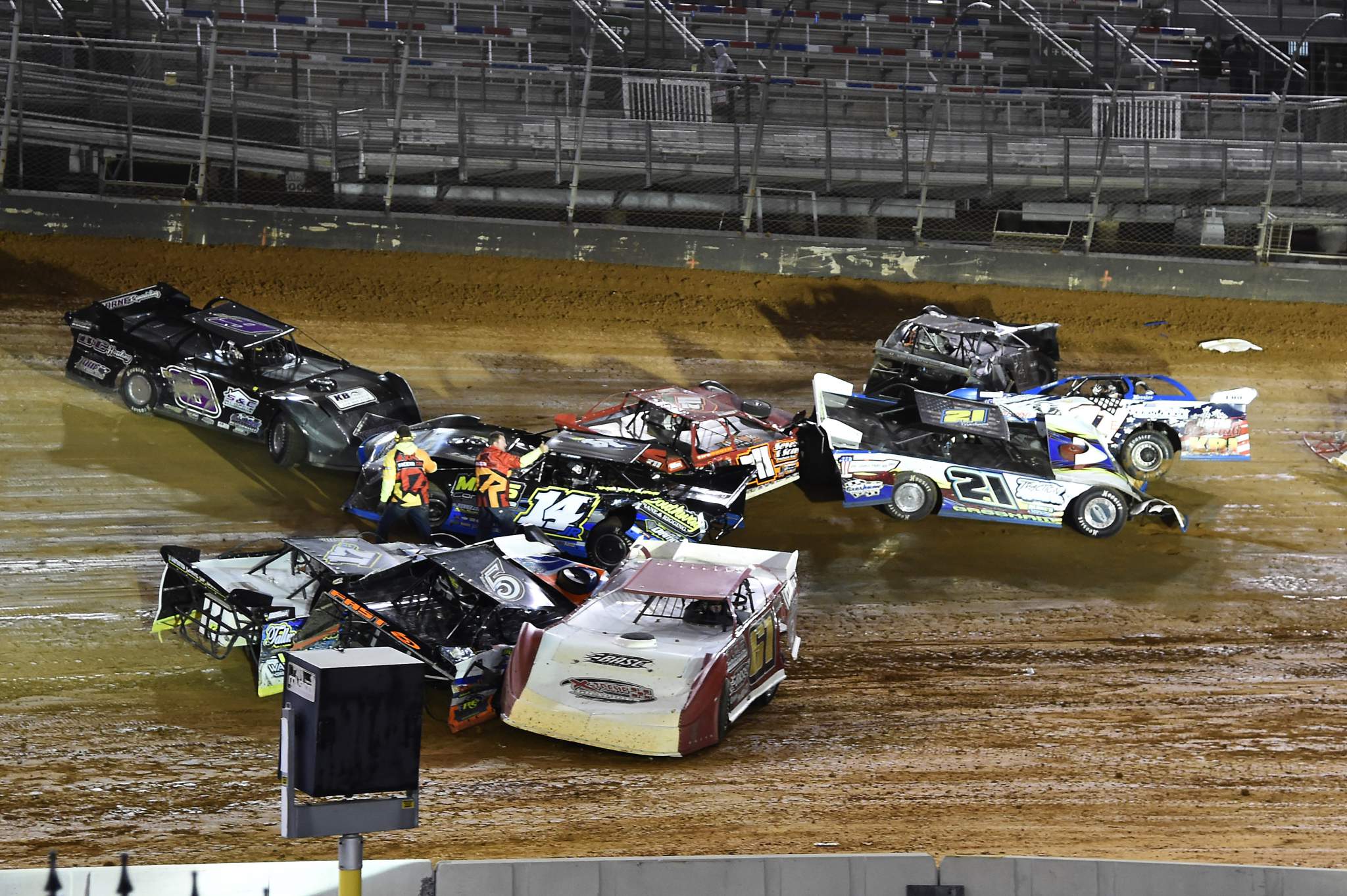 Usually, no! But teams will make a number of changes to their cars. It's nothing exciting, just blocking up vents and entry points where dirt can get into the extremities of the car, and also strengthen the right hand side for the extra stress dirt racing will cause and a dirt splitter at the front.
Will Bristol ever be asphalt again?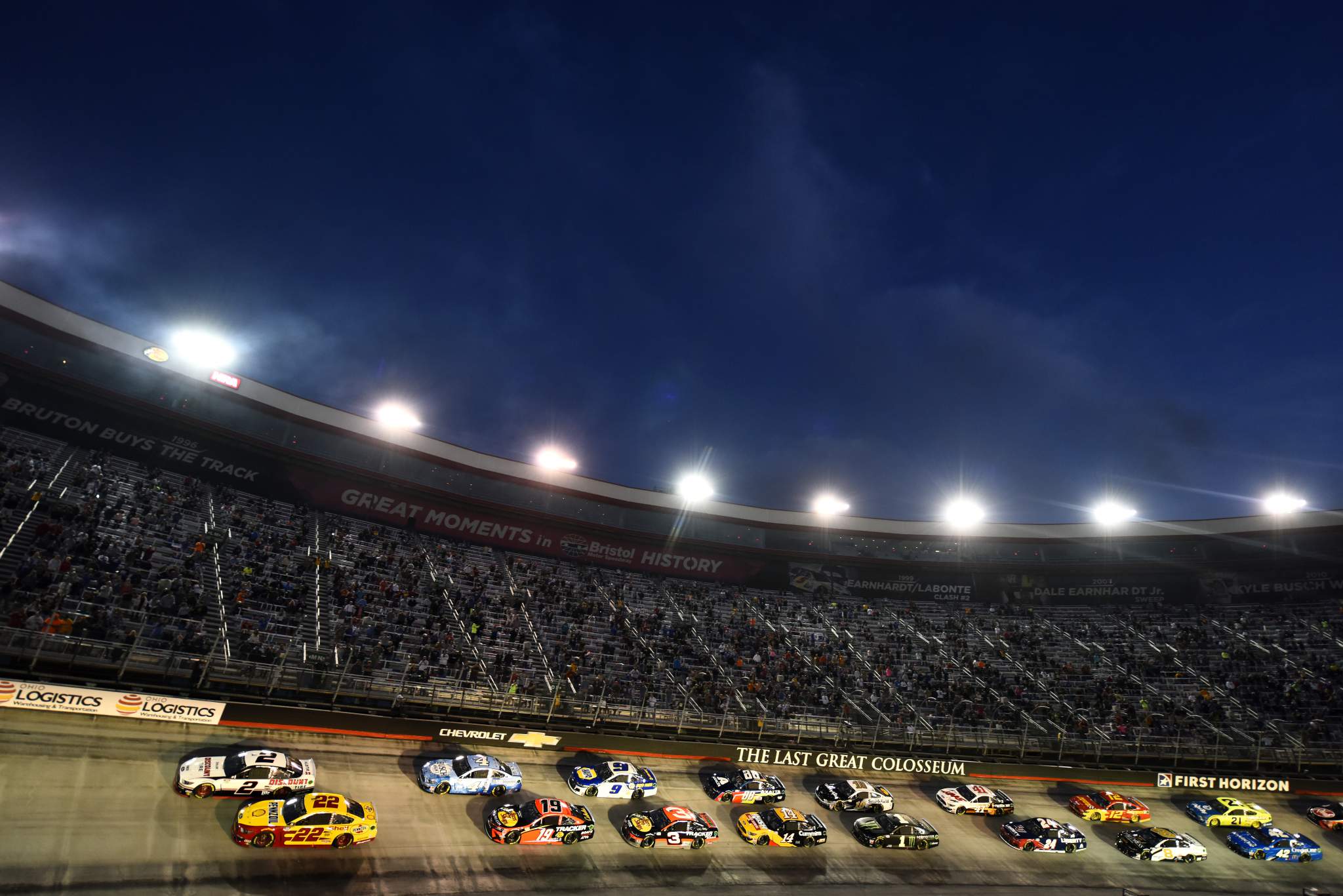 Yes! The September race which is included in the round of 16 during NASCAR's playoff format will be the traditional night race on the Bristol asphalt. So fans of the short oval track and the racing it provides needn't worry if dirt isn't to your taste.
Who is The Race picking to win?
It's a no-brainer to pick Larson who is the best dirt racer in the field and has already won in the Cup Series elsewhere at Las Vegas this year – even if he starts at the back at Bristol.
Another elsewhere in 2021 winner, Christopher Bell, has every chance if Larson falters, Bell being another class act on dirt.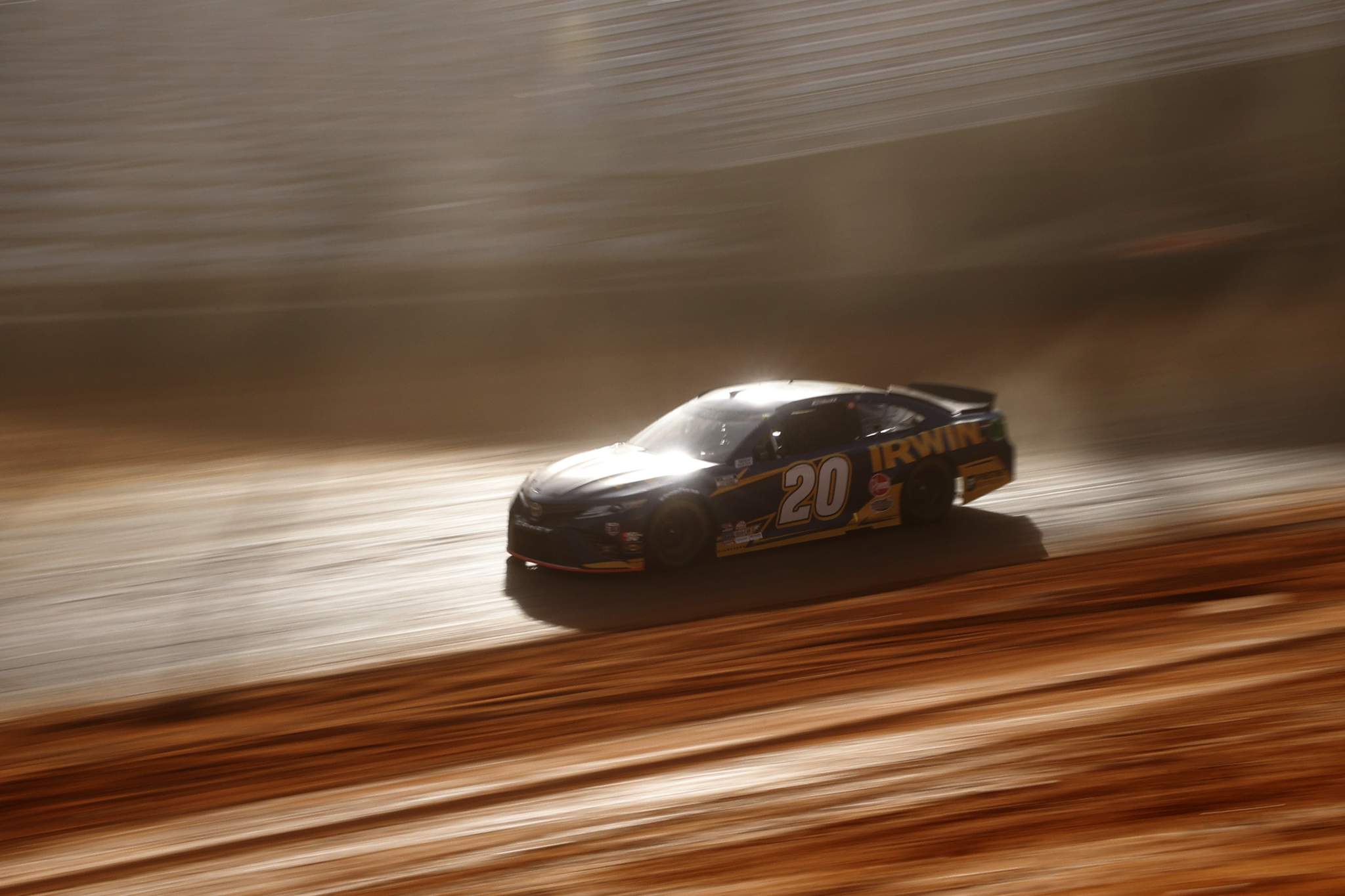 If the race moves a bit more as Larson predicts and the dirt doesn't have too much impact, Kyle Busch won four races in a row at Bristol between 2017-19, while Denny Hamlin and Brad Keselowski have won the last two respectively.
Images courtesy of Bristol Motor Speedway and NASCAR