Lewis Hamilton has cast aspersions on the quality of Max Verstappen's Formula 1 team-mates, saying that "all my team-mates have been stronger than the team-mates Max has had".
Tension between Hamilton and Verstappen is nothing new of course, given the close and controversial title fight between them in 2021 and the multiple collisions between them on track.
But things have been more muted this season, as Verstappen has walked away with the championship and Hamilton has spent his year trying to convince Mercedes to alter its aerodynamic philosophy.
After Red Bull dropped Nyck de Vries from AlphaTauri to bring back Daniel Ricciardo two races before the August break, Hamilton did take aim at what he perceives as "the Red Bull way" – ie ruthlessly cold when it comes to hiring and firing drivers.
And now he's gone on the attack again in a Sky Sports F1 interview, describing Red Bull as faultless so far in 2023 but suggesting in the same breath Verstappen's achievements in dominating F1 right now are no more impressive than what Michael Schumacher, Sebastian Vettel or Fernando Alonso achieved at their respective peaks.
"In my personal opinion Valtteri, and all my teammates have been stronger than the teammates Max has had" 💬

Strong words from Lewis Hamilton 👇 pic.twitter.com/PhqMdLkVgk

— Sky Sports F1 (@SkySportsF1) September 1, 2023
Hamilton is obviously no stranger to dominance himself, having racked up the majority of his own success in F1 from 2014-21 when Mercedes dominated hybrid-engined F1.
But Hamilton also argued Verstappen has had a much easier ride in terms of internal competition than he himself has faced.
"In my personal opinion, Valtteri [Bottas], and actually all my team-mates, have been stronger than the team-mates that Max has had," Hamilton said.
"Jenson [Button], Fernando, George [Russell], Valtteri, [someone says Nico Rosberg] Nico. Yeah, sorry, no, I've had so many. Yeah, absolutely.
"All these guys have all been very strong, very consistent, and Max is not racing against anyone like that."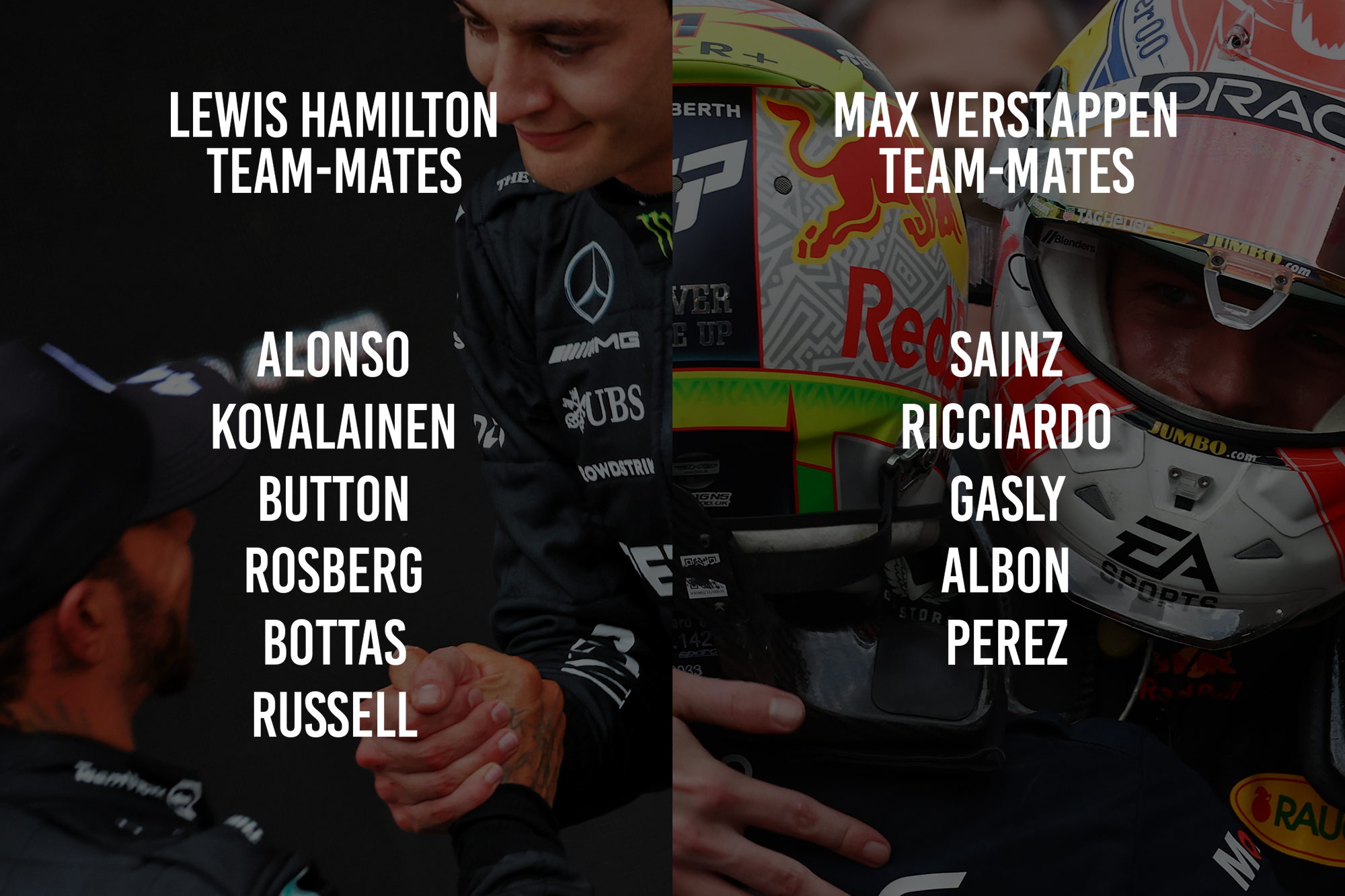 Well, let's compare their respective team-mates throughout their F1 careers so far and see how that contention bears up under scrutiny.
We've given a score out of 10 for how tough a challenge each team-mate was, and then averaged them out to account for Hamilton having had more team-mates than Verstappen so far.
Hamilton's F1 team-mates
Fernando Alonso (2007)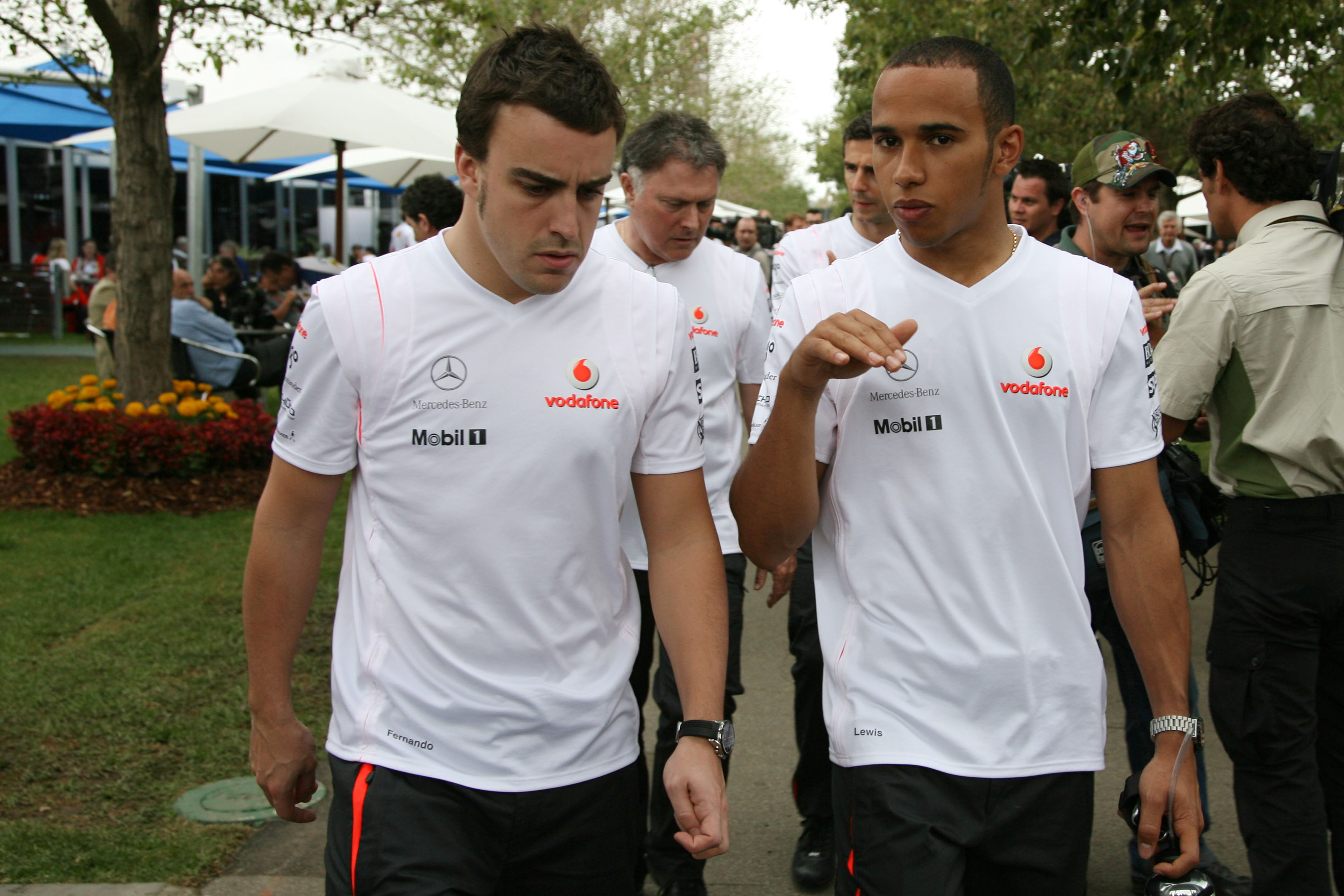 It doesn't get much tougher than going up against a double world champion – and conqueror of Michael Schumacher – in your rookie F1 season. Alonso, even back then, was clever, experienced and relentlessly competitive.
It helped that Hamilton was already embedded at McLaren, but even so to match Alonso for points and beat him 6-2 for pole positions stands as probably the greatest rookie season by anyone in F1 ever.
The Race rating: 10/10
Heikki Kovalainen (2008-09)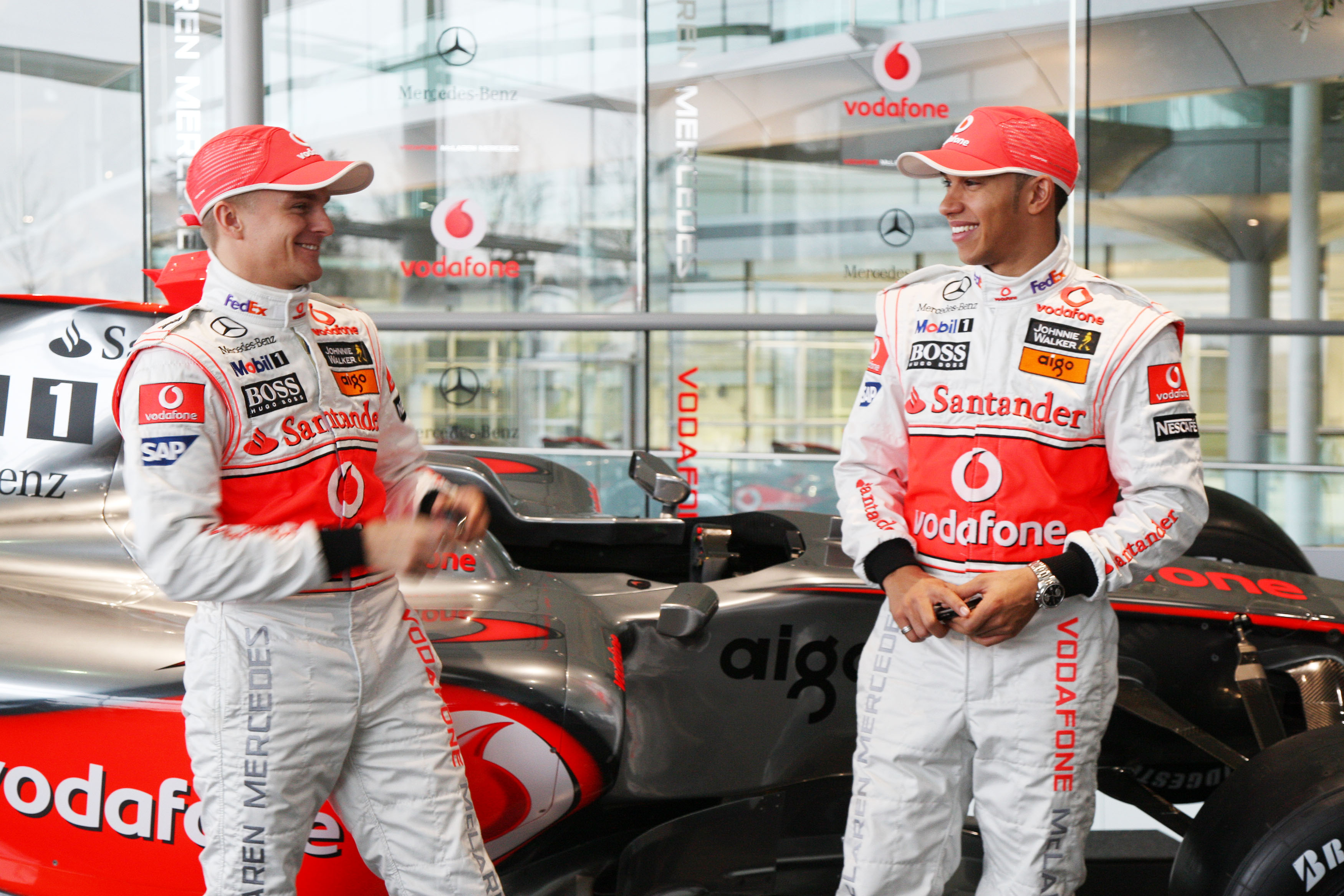 Kovalainen was selected by McLaren to be a much more benign presence than Alonso had been, meaning McLaren naturally gravitated around Hamilton's superior driving talent.
Hamilton's driving style meshed particularly well with a 2008 car possessed of a stiff and super-responsive front end combined with soft rear for traction. Kovalainen's less acrobatic driving style – tending to U the corners rather than V them – tended to overwork the tyres, making him increasingly ineffective in races.
In 2009's globally poor McLaren, Kovalainen's issues were magnified. In comparison terms, Kovalainen looks to Hamilton what Pierre Gasly/Alex Albon/Sergio Perez were/are to Verstappen – no real threat at all.
The Race rating: 3/10
Jenson Button (2010-12)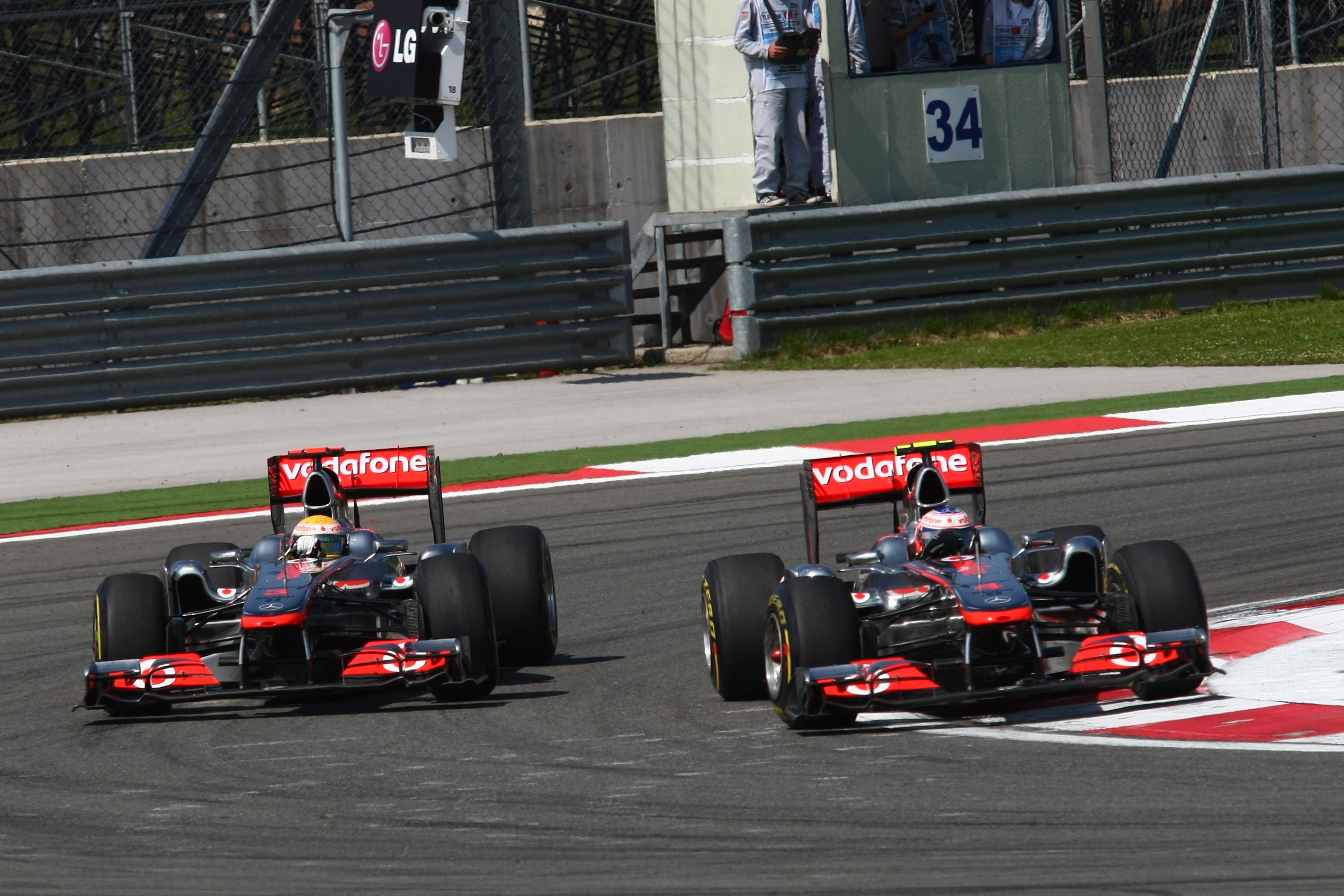 Hamilton went up against Button when Jenson was arguably at his peak – riding the wave of confidence created by his unlikely 2009 world championship success with Brawn GP.
It's probably fair to say Button doesn't quite belong in the absolute elite category of an Alonso, but he was a very smooth, consistent and effective operator during this phase of his career – and Hamilton was somewhat erratic, particularly so in 2011 when Button's deft touch at managing the delicate Pirelli tyres in a car that actually fitted him properly was also especially pronounced, while Hamilton struggled to balance his high-profile personal life with the relentless demands of F1.
The Race rating: 7/10
Nico Rosberg (2013-16)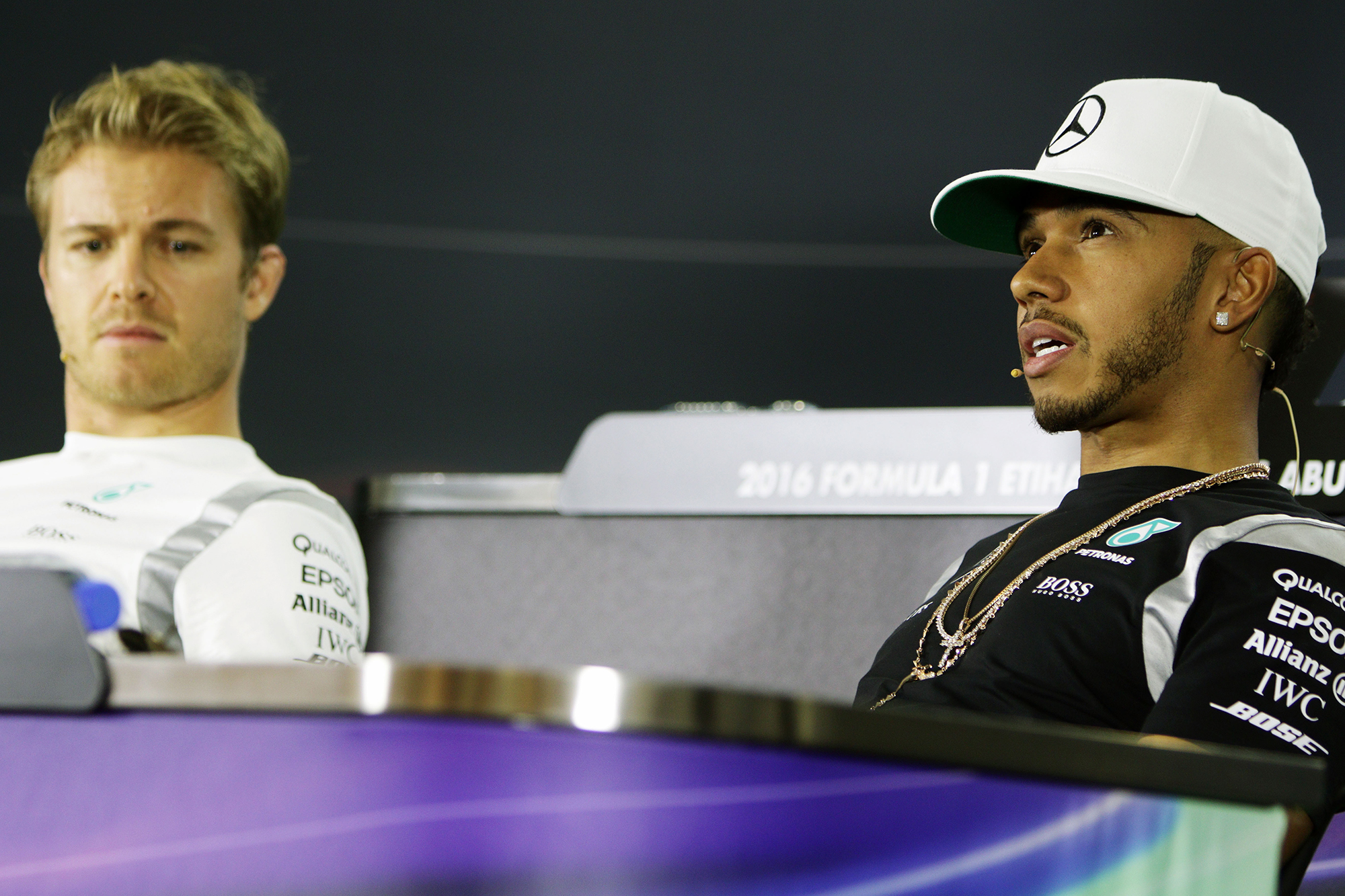 Hindsight suggests Rosberg was one of Hamilton's tougher team-mates – simply because he made a proper fight of the world championship in 2014 and '16 and Rosberg got better through that period, rather than being crushed under the weight of Hamilton's brilliance – in 2015 in particular.
Rosberg came up against a better-balanced version of Hamilton than Button did and also unsettled Hamilton like no other team-mate has, using all of his wit and guile to get under Hamilton's skin and destabilise him sufficiently to get the 2016 title over the line (with the aid of Hamilton's unfortunate reliability record).
Rosberg is also the best qualifier Hamilton has faced in his career – in 2014 and '16 Rosberg was enough of a consistent threat that Hamilton had to spend the subsequent winters evolving his own approach to be more rounded, rather than relying simply on being the better natural driver most of the time.
The Race rating: 8/10
Valtteri Bottas (2017-21)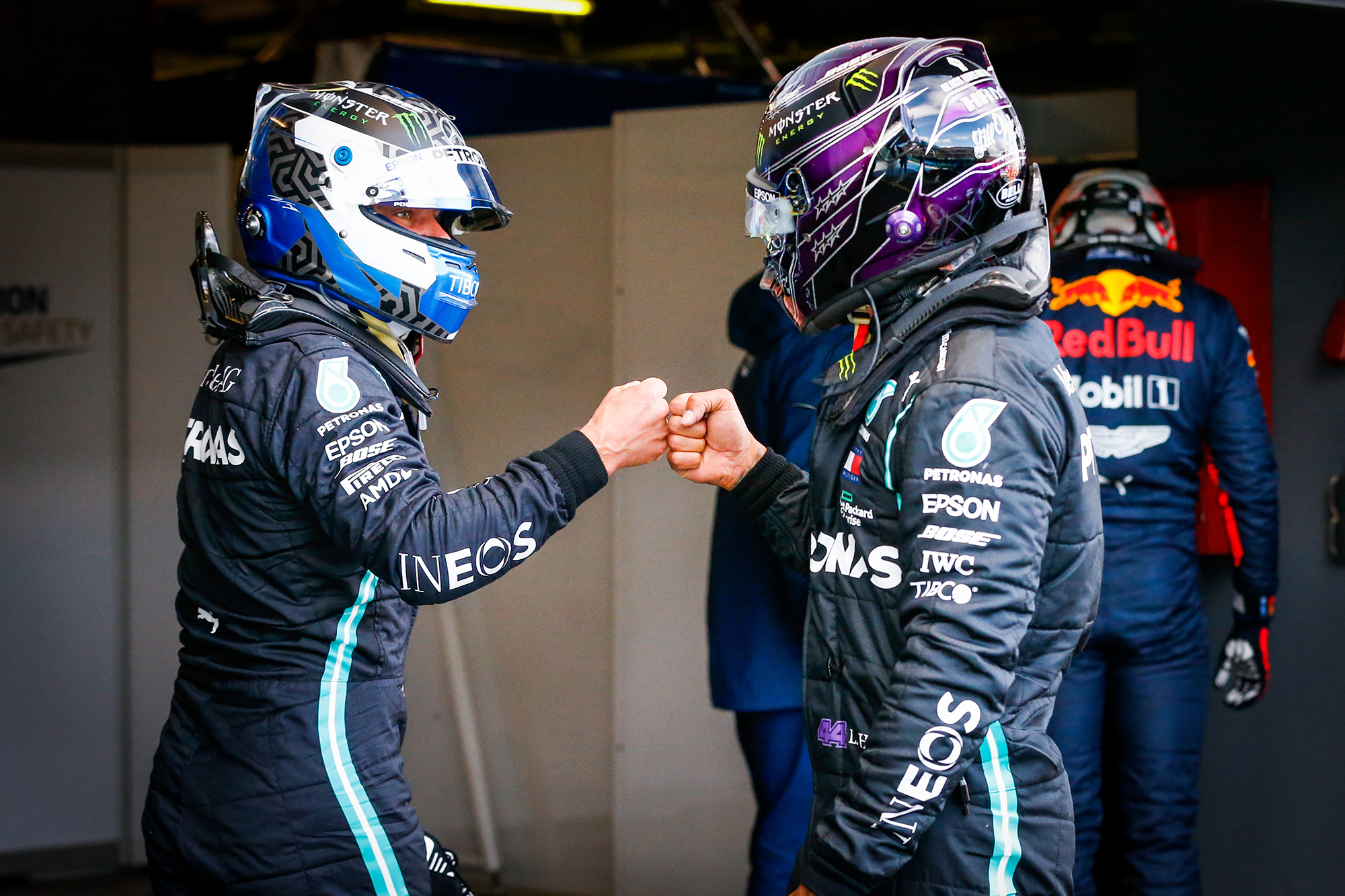 Hamilton never tires of telling people how much he loved having Bottas as his team-mate – and that's about as damning with faint praise as you can get in this game.
No doubt they got on brilliantly and the harmony inside the team improved, but Bottas' apolitical 'let the best man win' approach meant Hamilton nearly always won.
Bottas started decently but faded quickly as a force on the other side of the garage, then struggled a bit (who wouldn't?) to deal with being de facto number two driver on a very short Mercedes leash.
A decent qualifier, capable of going blow for blow with Hamilton in a predictable car with consistent track conditions, though not on Alonso's or Rosberg's comparative level – and consistently much weaker than Hamilton in terms of tyre management, racecraft and maintaining pace in dirty air.
The Race rating: 6/10
George Russell (2022-present)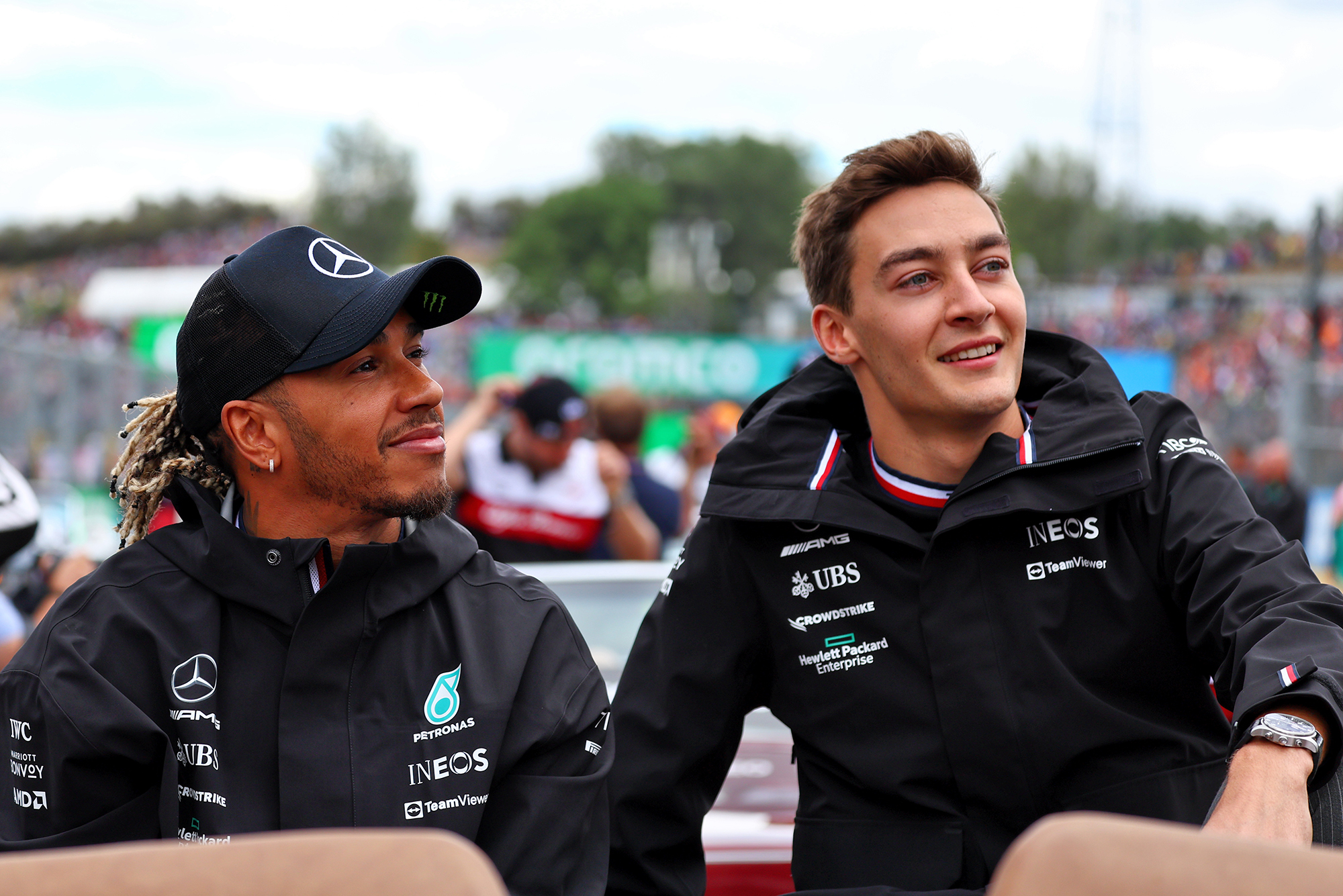 We've yet to see this battle reach the gloves-off stage but Russell has already shown us a few hints that he is likely to become Hamilton's toughest test since Rosberg.
The dynamic is different, because this time Hamilton is the established driver and also Mercedes' competitive standing is much diminished, so it doesn't make sense for them to fight it out while the focus needs to be on rebuilding.
Given 2022 was skewed a bit by Hamilton taking on the brunt of the experimental set-up/development work, it's probably fair to say he maintains a slight edge on pure pace, as well as making fewer mistakes, but the potential for Russell – already operating at an extremely high level – to improve is much greater than Rosberg's. Hamilton has certainly got it tougher at the moment than Verstappen has.
The Race rating: 8/10
Max Verstappen's F1 team-mates
Carlos Sainz (2015-16)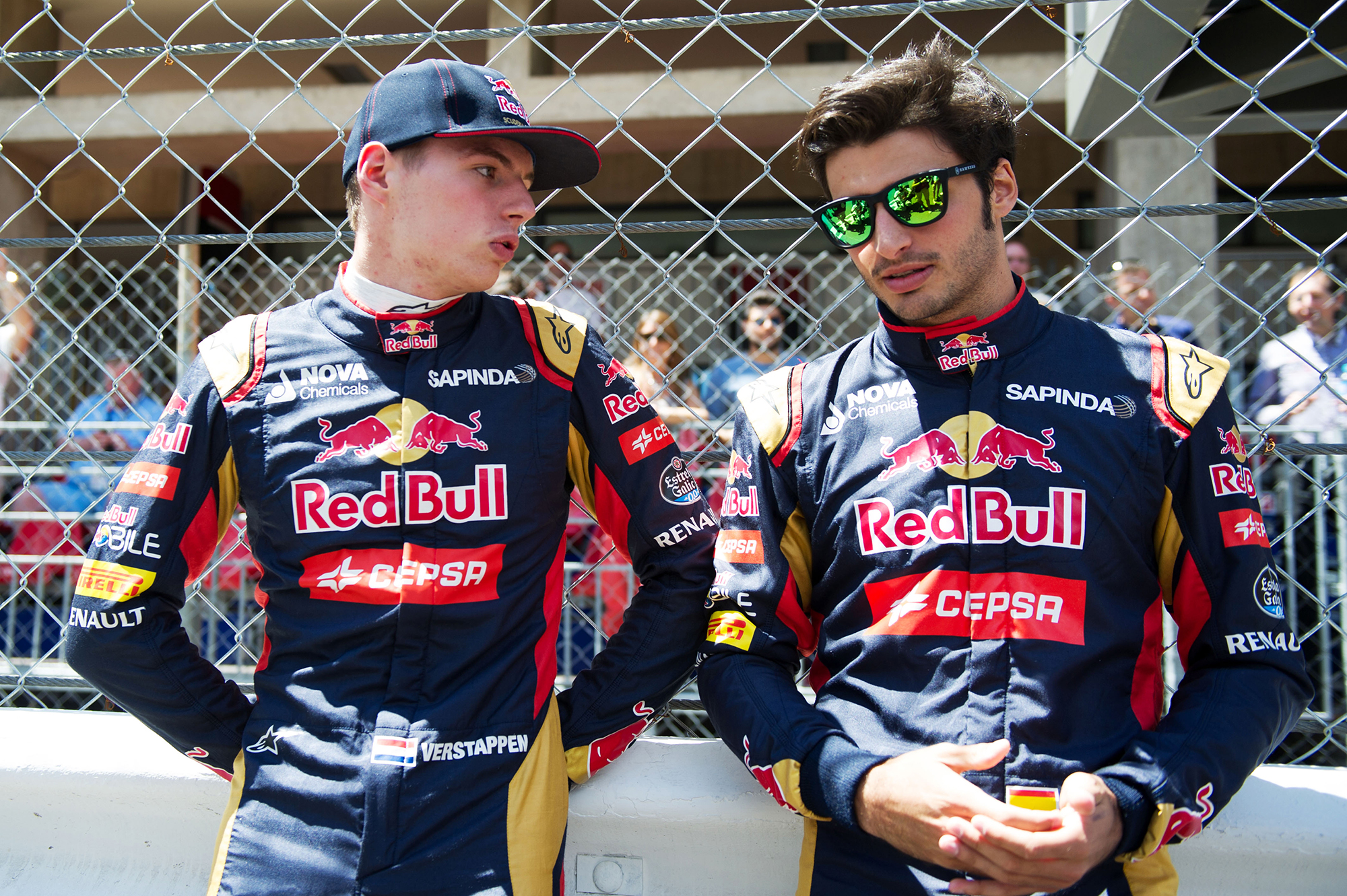 There's no way you could objectively argue Verstappen had a tougher team-mate as a rookie than Hamilton did, but Sainz deserves a high score because he has shown himself to be someone who is near the front of the group of drivers right behind the absolute top tier – Rosberg-esque in terms of relentless self-improvement, and also one of the fastest team-mates Verstappen has faced.
Sainz was plenty quick enough to create tension that Toro Rosso struggled to contain – until Red Bull whipped Verstappen out of there to replace Daniil Kvyat.
The Race rating: 8/10
Daniel Ricciardo (2016-18)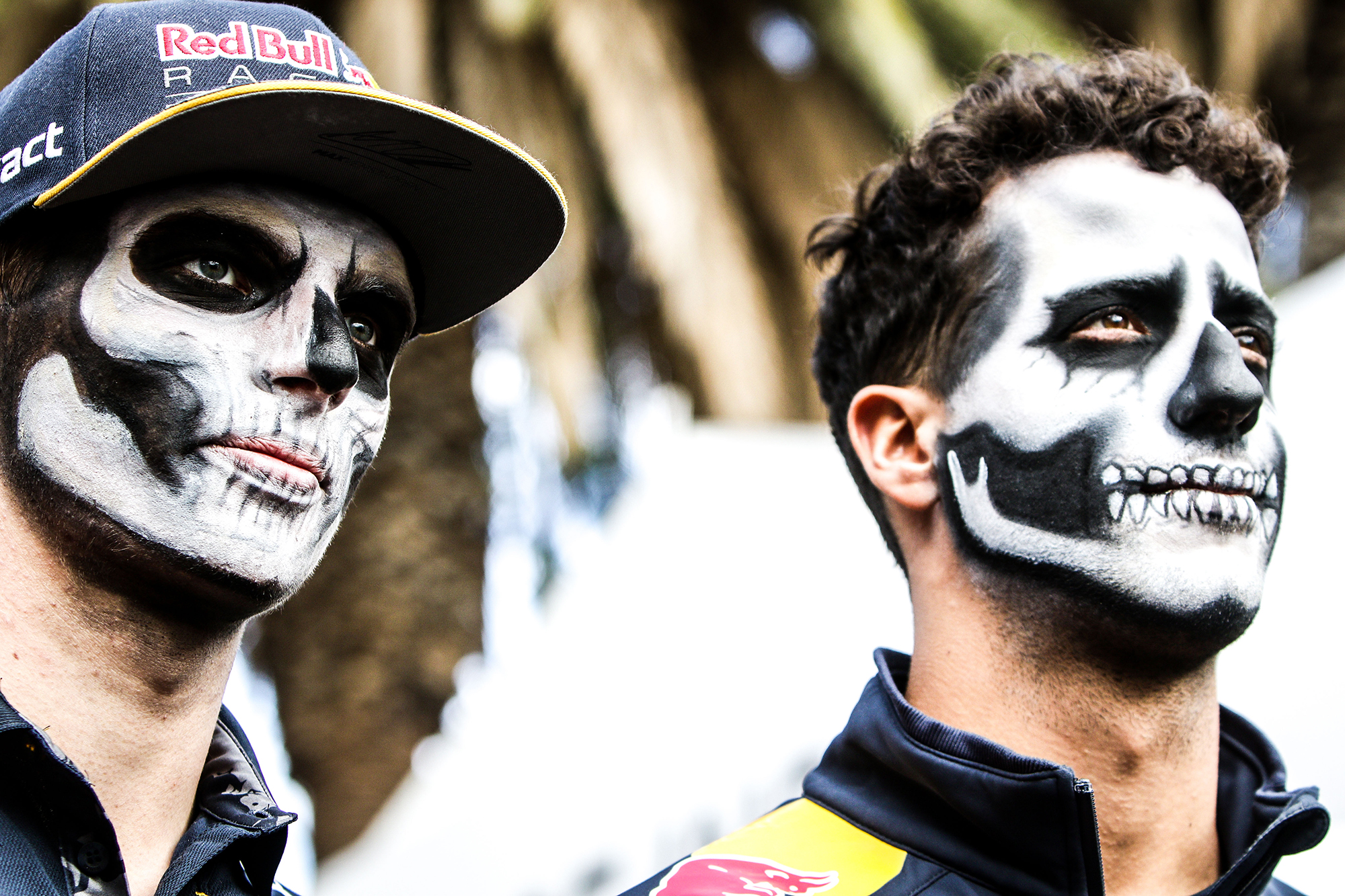 Ricciardo is Verstappen's most decorated and celebrated team-mate so far in F1, and in 2016 was consistently among the absolute top performers on the grid.
This version of Ricciardo was probably the best we've seen in F1 – a confident, established frontrunner with a deft touch on the Pirellis.
Verstappen was right on his case from their first race together, though, and by the end of 2017, it was clear the wind was blowing firmly in Verstappen's direction.
Overall, he was clearly the stronger of the two, but it was always a closer run thing than it has been since for Verstappen.
The Race rating: 9/10
Pierre Gasly (2019)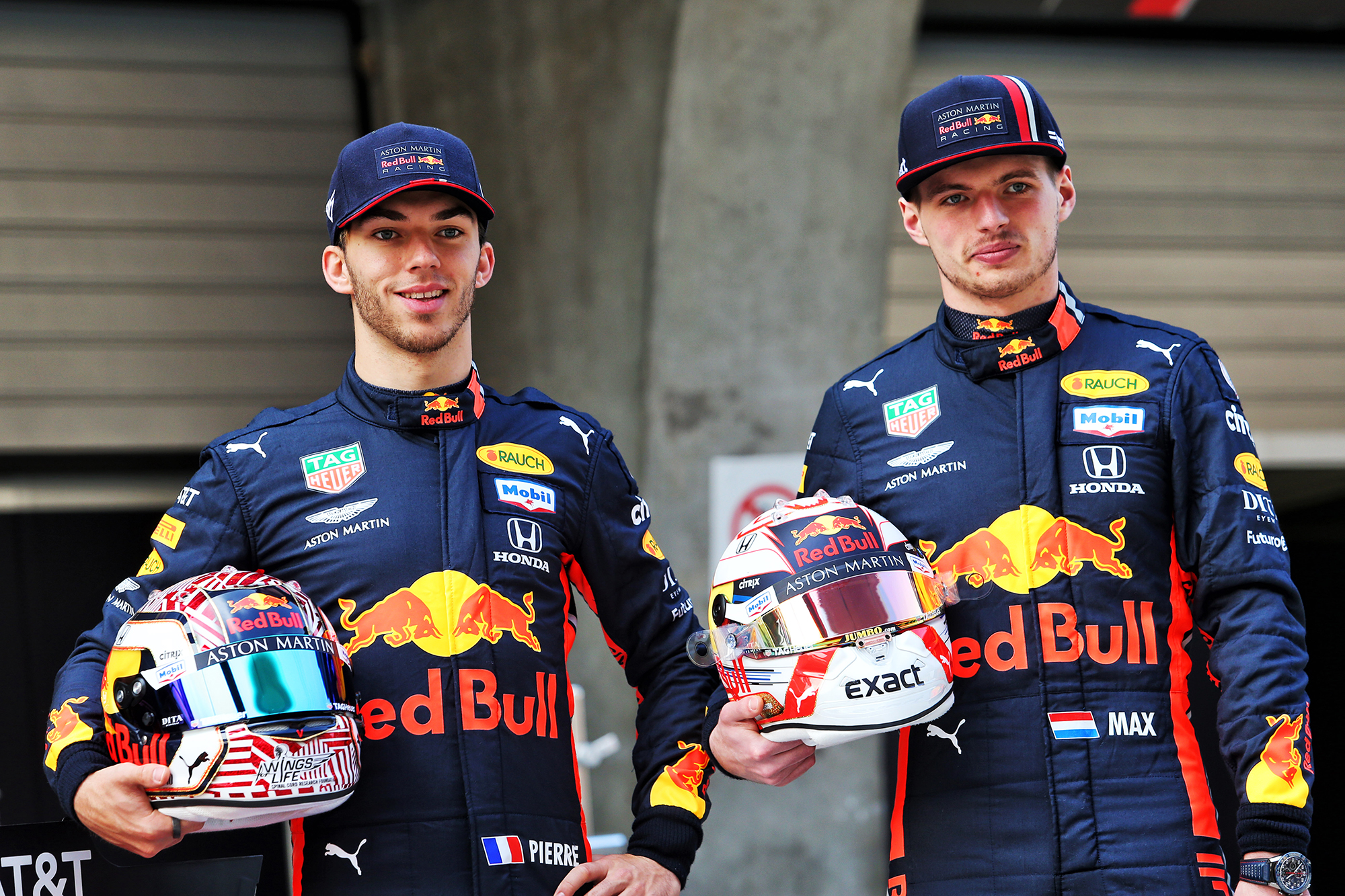 Gasly has to get a lower rating than the comparable Kovalainen simply because Kovalainen at least lasted two inferior seasons alongside Hamilton whereas Gasly barely made it through half of one season alongside Verstappen.
Objectively, Gasly might be considered a better driver overall than Kovalainen was, but not this version. This period was especially difficult for Gasly, who focused too much on trying to beat Verstappen, didn't adapt well to the car or team, and tended to overdrive – particularly in the corner-entry phase – leading Red Bull to quickly lose confidence in him.
The Race rating: 2/10
Alex Albon (2019-20)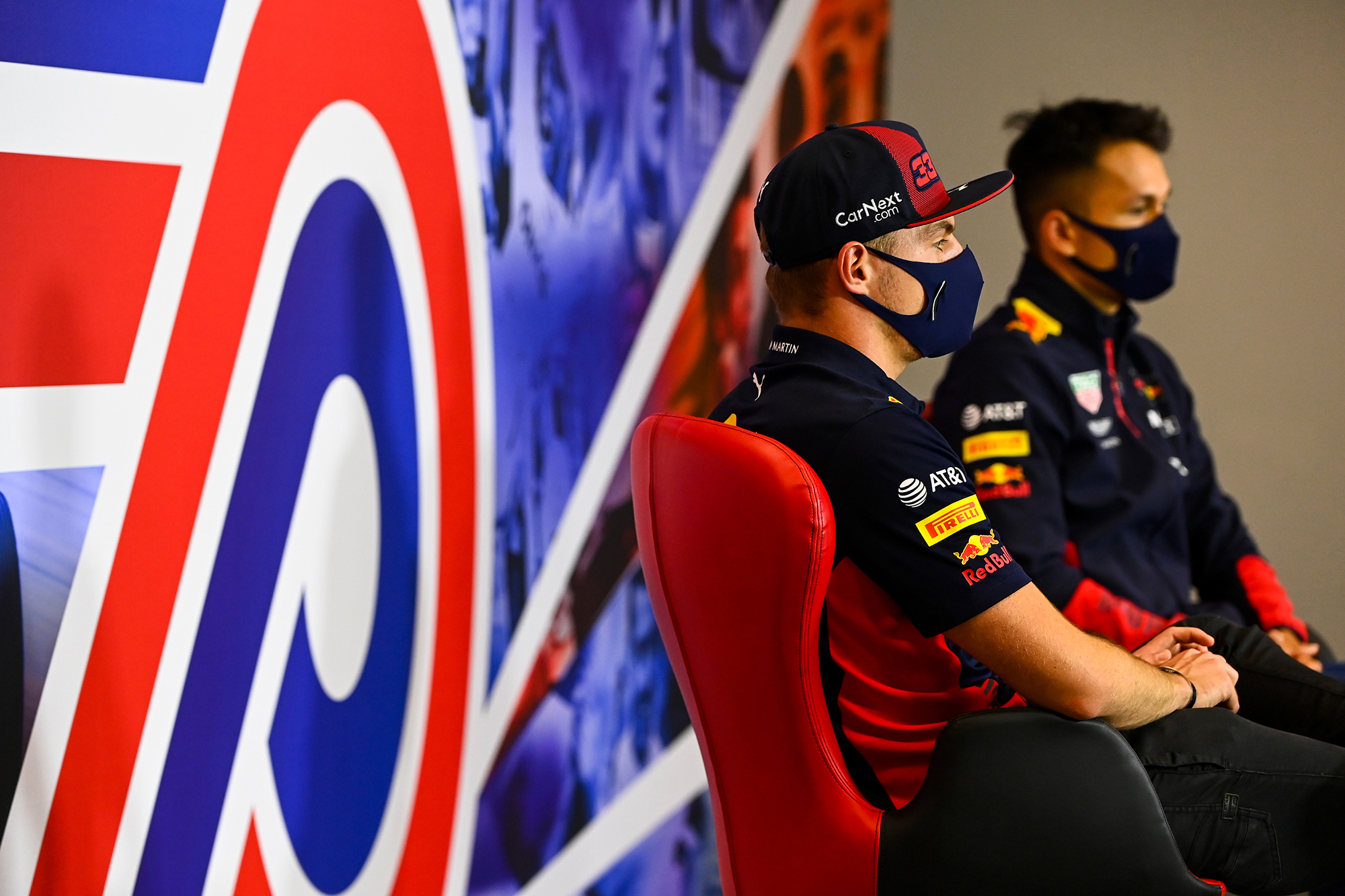 Did a slightly better job than Gasly, evidenced by the fact Albon was kept on for a full season and then retained as a reserve driver after being dropped from the race team at the end of 2020.
Albon's driving style more closely resembled Verstappen's, but at a lower threshold of sensitivity – meaning he couldn't live with corner-entry instability to quite the same degree and by mid-2020 was looking visibly tentative and shorn of confidence in what Red Bull admits was a very difficult and unpredictable car.
Albon showed some signs of life in the final few races of 2020, but by then Red Bull had decided greater consistency and experience was required for a potential title fight.
The Race rating: 4/10
Sergio Perez (2021-present)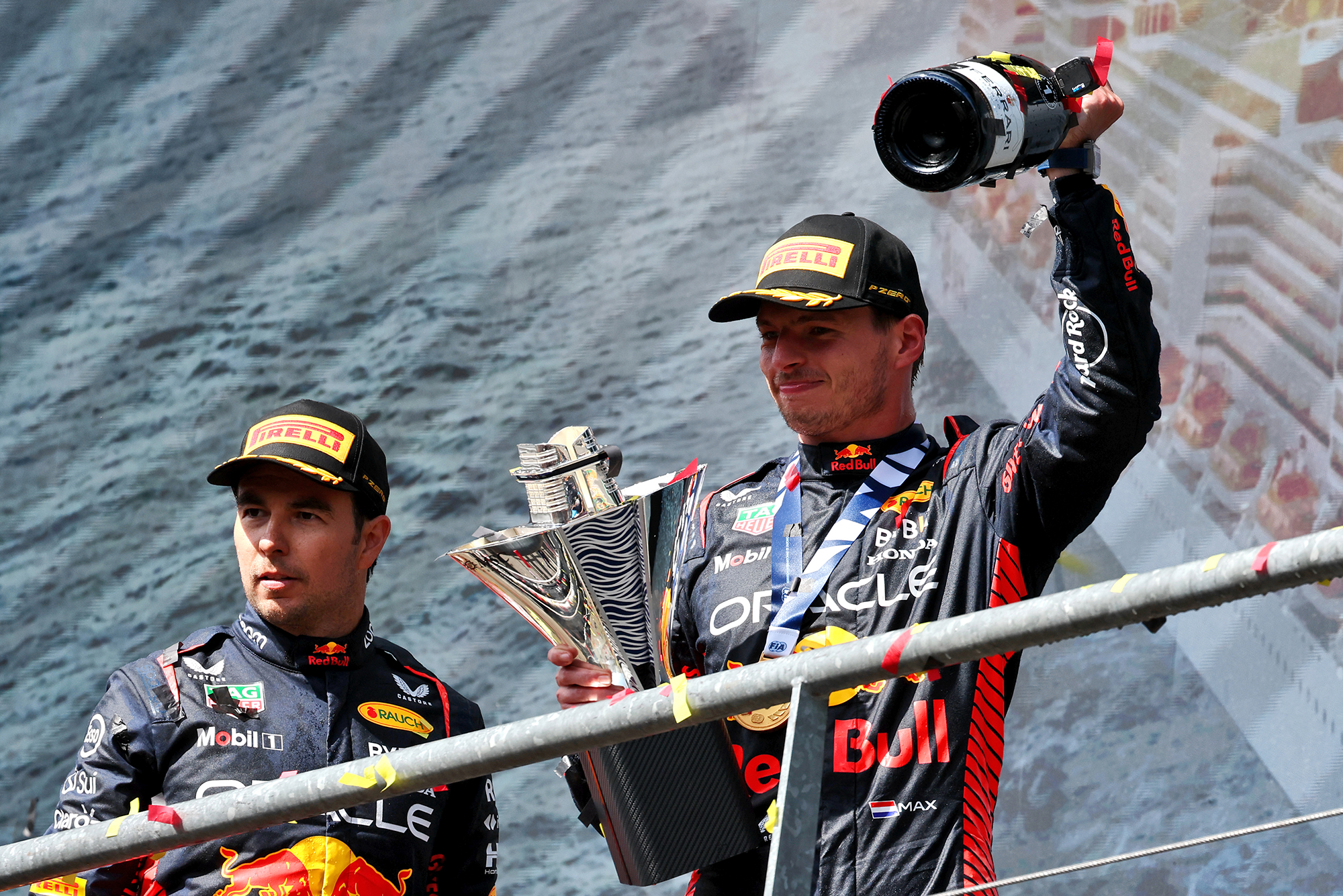 Perez is just about rated the best of the recent bunch of Verstappen 'victims' because he's the only one since Ricciardo who has shown he can go blow for blow with Verstappen – albeit in very specific (street circuit) circumstances.
Perez is very similar to Bottas, in that he does relatively better compared to Verstappen when the car is some way below its potential but struggles to adapt as the team raises the performance ceiling.
Bottas was probably a tougher team-mate only because he was more consistently effective across a wider range of circuits – as his Q3 appearance record attests. Perez's peaks have been similar, maybe even slightly higher, but with a much greater variance the rest of the time.
The Race rating: 5/10
---
HAMILTON'S TEAM-MATES TOTAL SCORE: 42/60
Hamilton's AVERAGE TEAM-MATE LEVEL: 7.0 out of 10
VERSTAPPEN'S TEAM-MATES TOTAL SCORE: 28/50
Verstappen's AVERAGE TEAM-MATE LEVEL: 5.6 out of 10
It's clear from our ratings that Hamilton has overall had a tougher set of team-mates to deal with than Verstappen has so far, but it's also fair to say Hamilton has stretched his point by claiming all his own team-mates were stronger than any Verstappen has faced.
That summary conveniently ignores Kovalainen – and also overestimates Bottas to a degree, as well as underestimating what Sainz and Ricciardo achieved in the early years of Verstappen's career.
And it also ignores the incredible job Verstappen has done to progress to Red Bull so quickly and make that team his own through sheer force of will and ability. Ricciardo was very much ensconced at that outfit, having seen off four-time champion Vettel, yet couldn't ultimately live with Verstappen once Max tempered his exuberance and became a more rounded driver.
It is true to say that in going up against Alonso, Button, Rosberg and now arguably Russell too, Hamilton has overall had it tougher than Verstappen has. It's incredibly rare for one driver to have collected such an illustrious set of team-mates, three of them world champions in their own right.
Hamilton is certainly having a tougher time of it than Verstappen now too – but when a great driver is operating at the peak of their powers in a team that's operating as effectively as Red Bull is right now, it almost doesn't matter who is in the other car.
And you can bet Verstappen would be similarly as effective as Hamilton should he have faced someone like Alonso in equal equipment. All three will go down among the greatest talents F1 has ever seen.