Nowhere was Sergio Perez's inability to match the pace of his Red Bull Formula 1 team-mate Max Verstappen more evident than in a rain-affected Dutch Grand Prix.
Perez had seized the lead of the Dutch GP thanks to his push for Red Bull to bring him at the end of the opening lap to switch from slicks to intermediates as a pre-race downpour intensified.
In hindsight, this was the perfect call and it allowed him to eradicate the damage of qualifying seventh on the grid on Saturday (1.3s slower than Verstappen) as he took the lead of the race and enjoyed an advantage of nearly 15 seconds over Verstappen, who had Alpine's Pierre Gasly and Alfa Romeo's Guanyu Zhou in his path.
Verstappen didn't take long to dispatch either and by lap seven he'd passed Zhou on the inside of the banked Turn 3, the same place he'd overtaken Gasly one lap prior with a particularly aggressive but legal move.
On the lap Verstappen overtook Zhou he was a sensational 4.229s quicker than race leader Perez. In fact, he'd already taken 2.4s out of him on the previous two laps while in traffic.
---
Verstappen's lap-by-lap advantage over Perez
Lap 5: 0.639s quicker (while behind Gasly)
Lap 6: 1.889s quicker (including pass on Gasly into Turn 3)
Lap 7: 4.229s quicker (including pass on Zhou into Turn 3)
Lap 8: 1.367s quicker
Lap 9: 1.182s quicker
Lap 10: 0.885s quicker
---
This devastating turn of pace never put in doubt which Red Bull driver was going to emerge on top and ensured that when Red Bull brought Verstappen in first for the switch back to slicks on lap 11 he was unable to undercut Perez – in part thanks to an in-lap that was 1.4s quicker than Perez and an exceedingly good out-lap.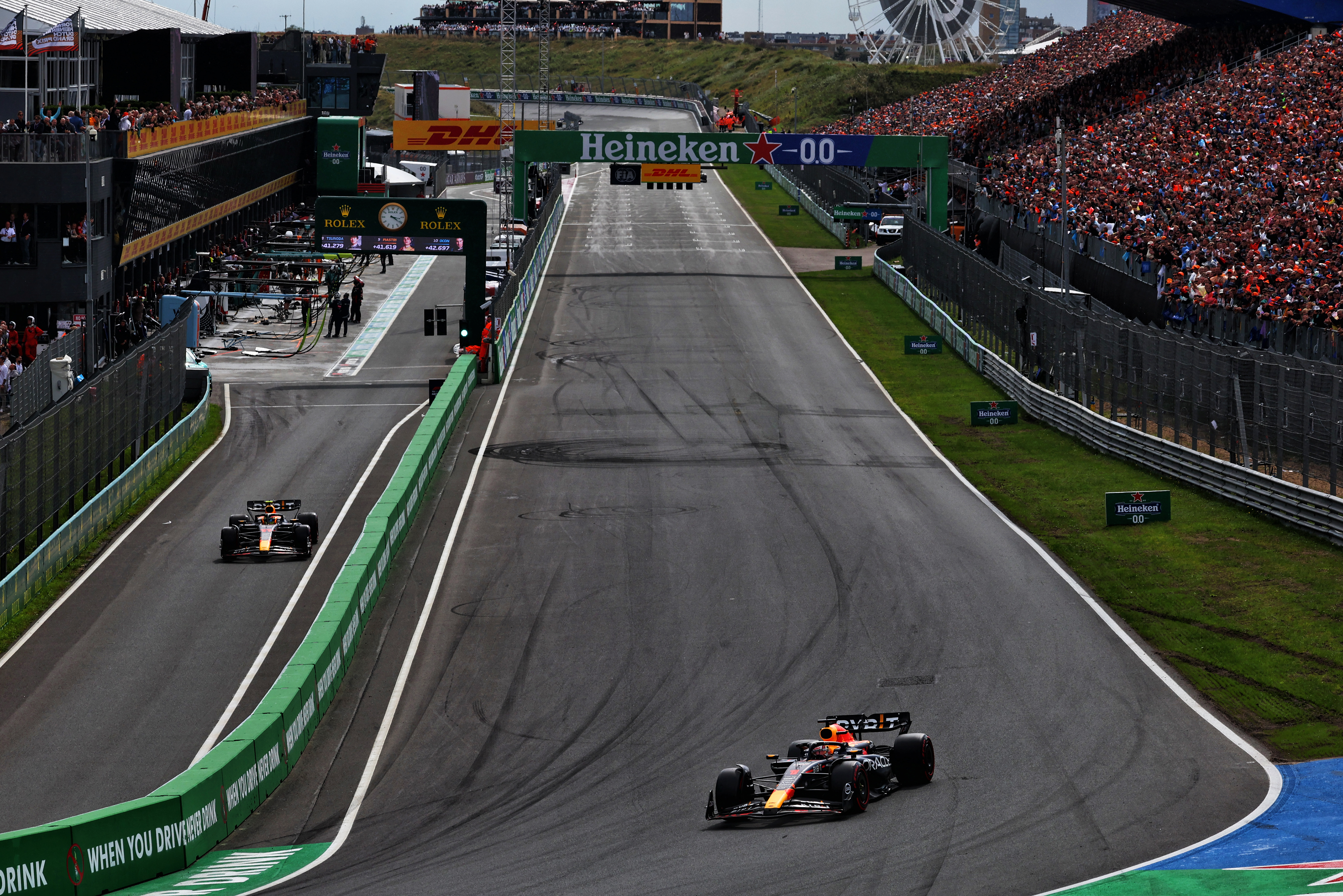 Verstappen rocketed away from Perez thereafter but the damage had already been done during the first rain-affected phase of the race.
So just how was Verstappen able to demolish Perez's sizeable advantage so quickly? That's a question that was popular among The Race Members' Club, which provides questions for The Race F1 Podcast's crew to answer in their post-race episodes.
---
Find out how you can join The Race Members' Club here
---
Thomas Knights asked whether even with Verstappen's wet weather prowess, Perez lapping sometimes as slow as four seconds off is "surely too much"? While JK asked "How on earth did Verstappen catch Perez so quickly after the first switch to inters?"
On lap seven, when Verstappen was 4.2s quicker than Perez, there was no visible mistake from Perez – just a great deal of tentativeness.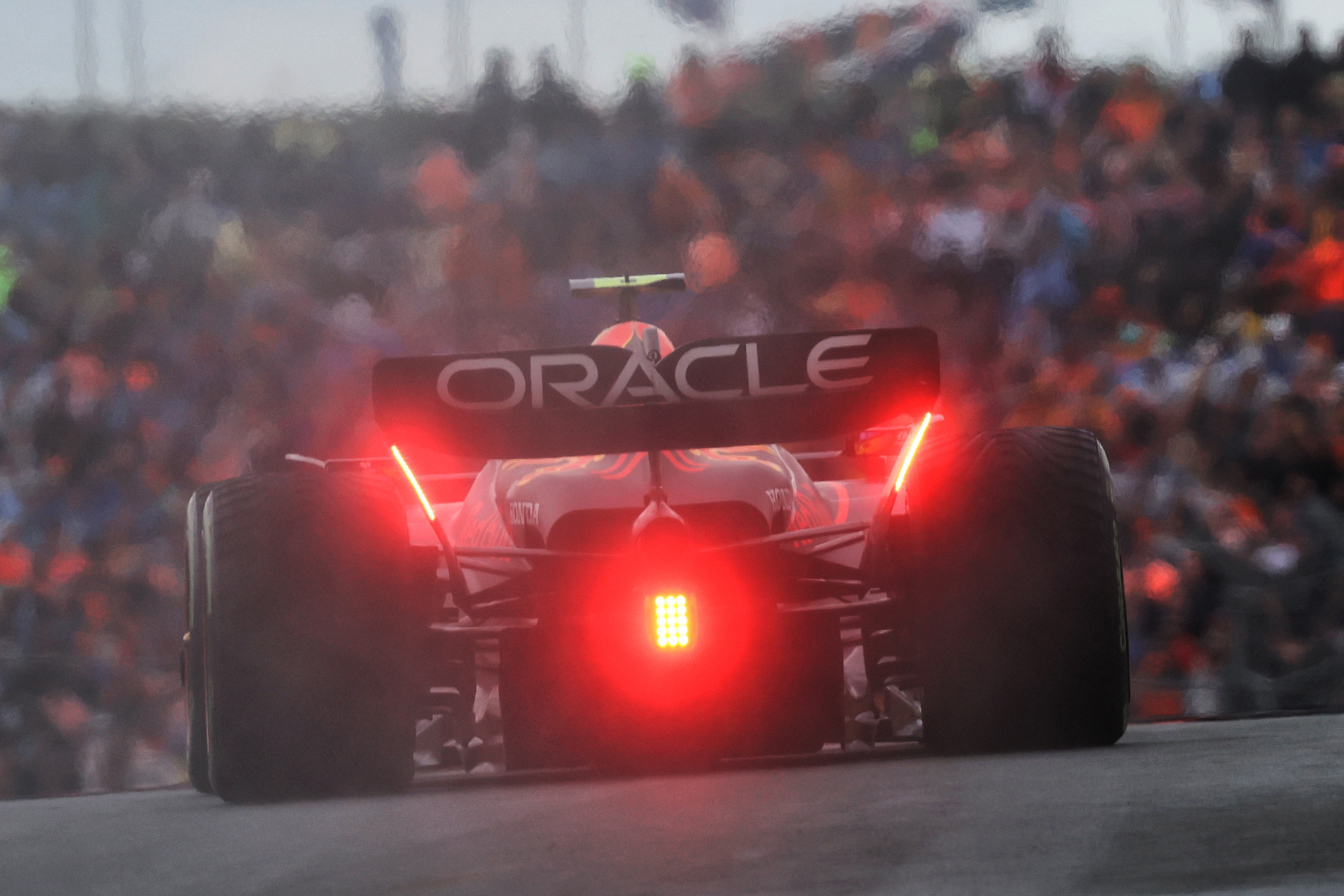 That was partly down to the radio communications Perez was receiving. On lap six his engineer Hugh Bird told him "exaggerate the management, we're expecting more rain. You need to look after these tyres now".
Perez did so on lap seven so much so that Verstappen was suddenly within eight seconds of Perez, who when told of the reduced gap said "I'm managing a lot, a lot".
When he asked when the rain was expected Bird told him "three laps" and then shortly afterwards urged "use the tyre more" as Verstappen continued to close.
That tallies with Perez's account given after the race.
"We were expecting rain, the team was telling me there was more rain coming," Perez explained.
"The track was on the dry side, so if I were to push I would've just destroyed completely the inter tyre.
"Unfortunately we didn't get right that there was more rain coming on the inters, otherwise we could have pushed more on that first stint, probably keep the lead for longer."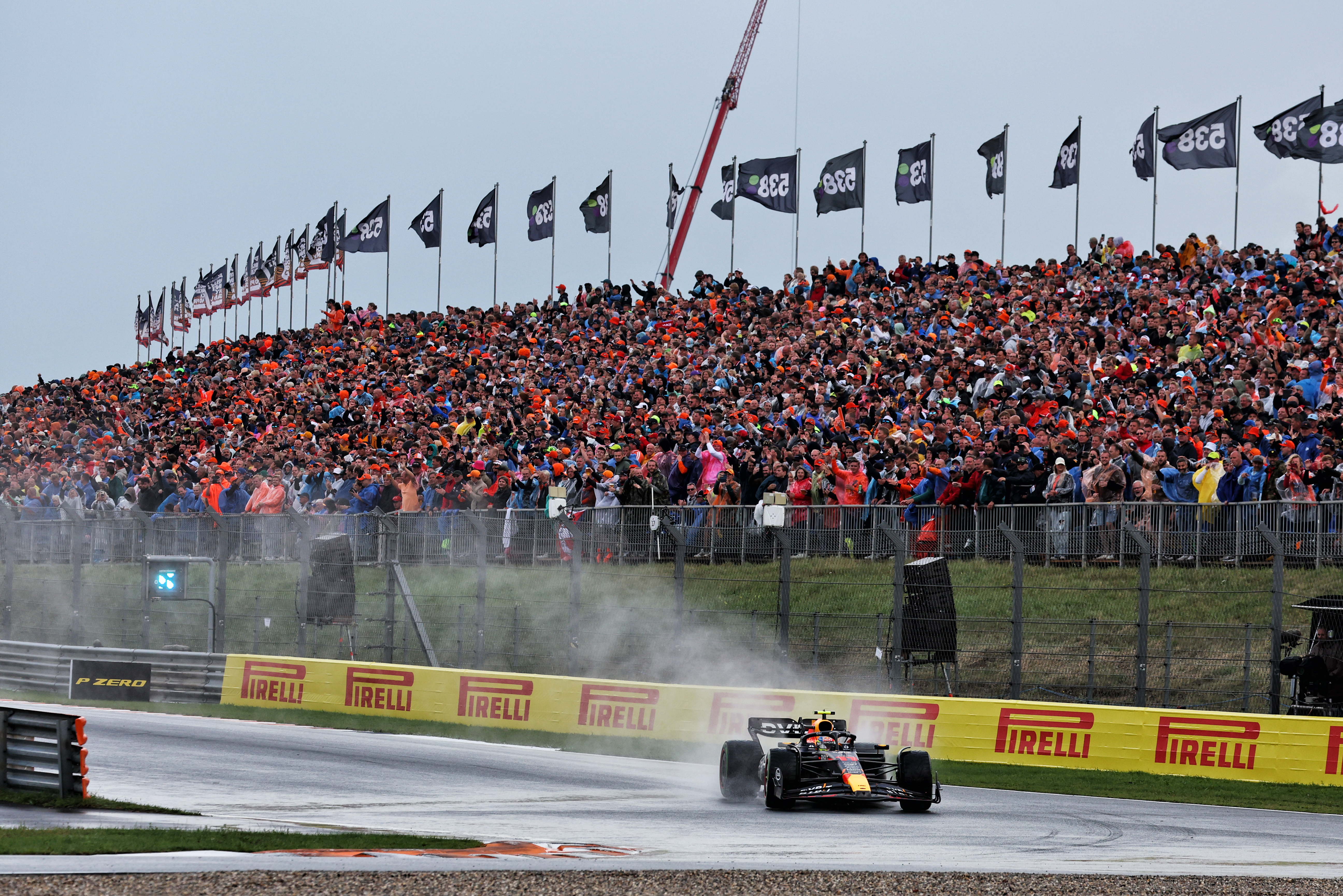 It's reasonable to believe Perez could have stymied some of the time loss to Verstappen had he pushed more but he was always fighting a losing battle given Verstappen's typical advantage is even further exaggerated in mixed conditions.
"The difference between drivers in the wet can be exaggerated immensely," Mark Hughes explained on The Race F1 Podcast.
"It's not just a case of how quick you can drive a car like it is in the dry, it's more how at ease you feel with it because you can throw it off the road in a fraction of a second if you don't have that keyed-in feel with it.
"The differences are amplified massively; it's unusual but not at all unheard of, [for] a driver to be that much quicker in the wet than a 'par driver' like Perez.
"That just played out in those early wet laps on the inters as Max had a task to do and set about doing it and Checo was just hanging on the best he could, trying to build up a lead over the cars in between him and Verstappen but that was just the difference laid bare.
"I'm absolutely certain if you swapped them around then put them in different cars you'd see the exact same pattern of Max being that much faster than Checo in the wet."
The side effects of one of the crucial ways Red Bull unlocks so much laptime with the RB19 is something Perez has particularly struggled with since his troubled Melbourne weekend.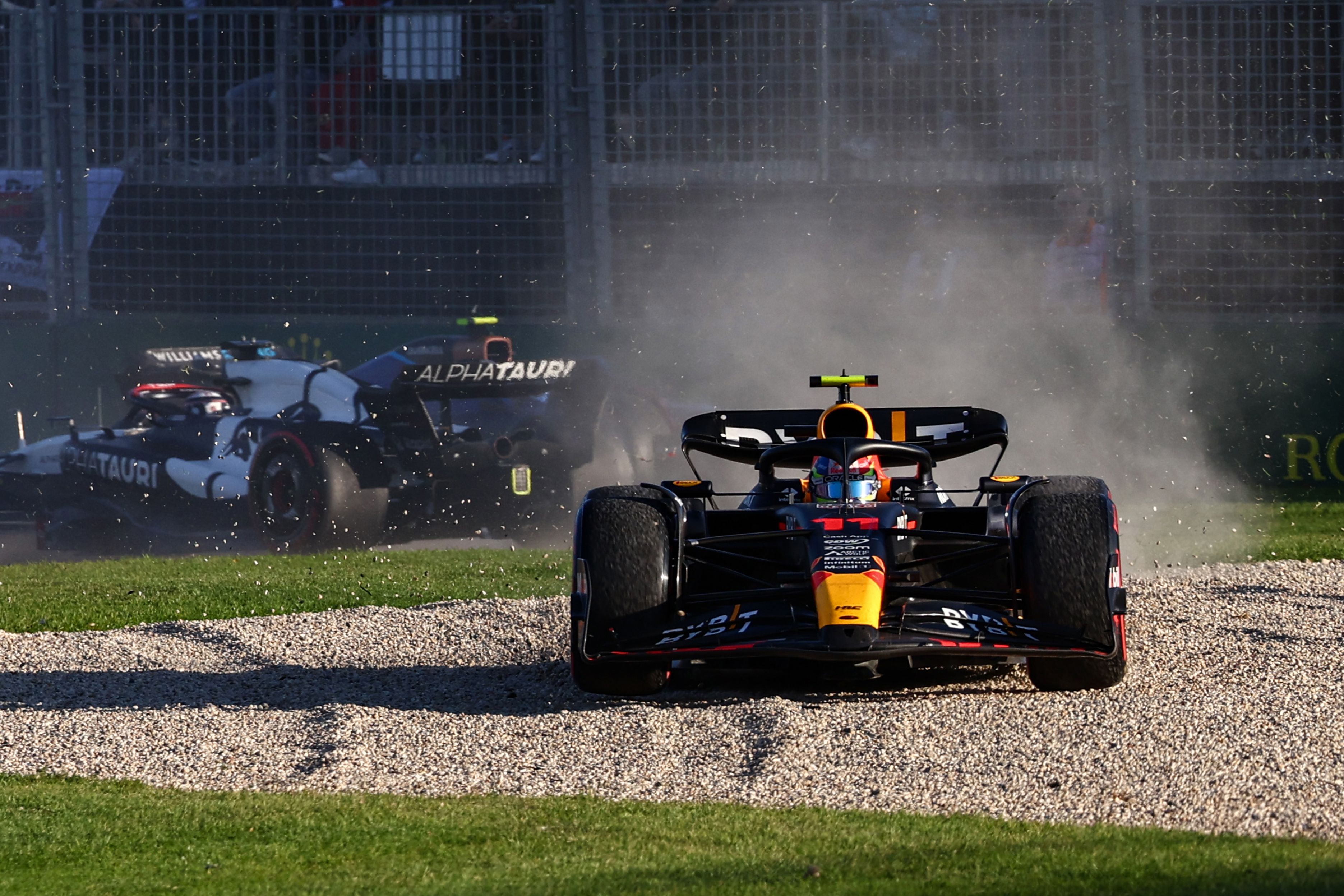 "We talked a lot earlier in the season about the amount of anti-dive in the front suspension in order to give it this great control of the aerodynamic platform. It's not a new thing, it's been around for decades but one of the downsides is that it leads to a different feel on the brake pedal," Hughes explained.
"It's not a conventional feel on the brake pedal so grading what pressure you should be using isn't as easy. That becomes even more difficult when you reduce the surface grip, as happens in the wet of course."
Edd Straw also pointed to Perez's own wet-weather record prior to Red Bull as part of the explanation for the increased deficit.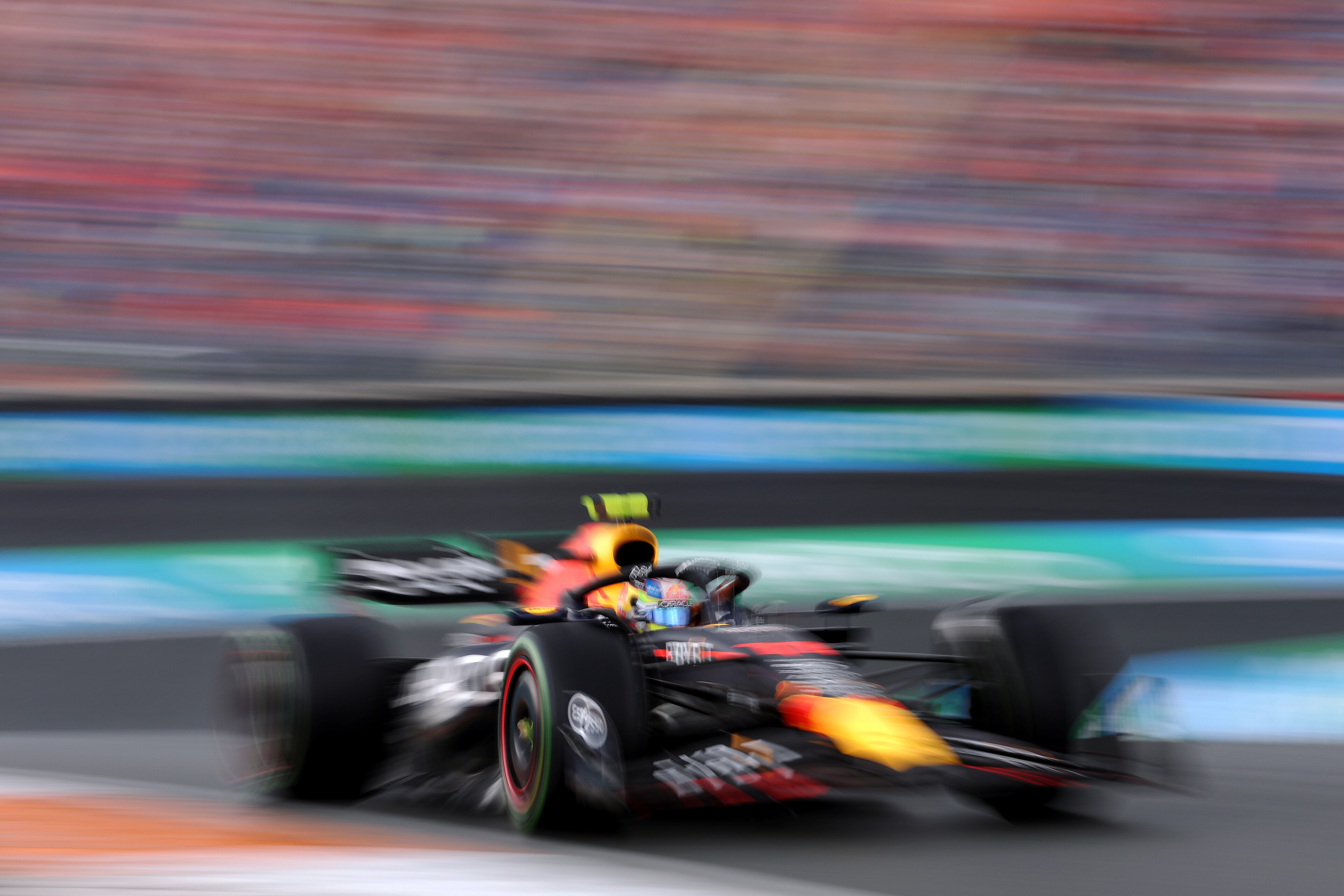 "When it comes to Perez it's not just a this year thing, he's never been a brilliant driver in the wet by F1 standards," Straw said.
"He's fine but he's perhaps not somebody you would bet the mortgage on thriving in wet conditions."
For your chance to have your questions answered by our journalists on The Race F1 Podcast, to get an ad-free version of The Race, early access to content including every episode of Bring Back V10s, suggest features you'd like us to write and other benefits, click here to join The Race Members' Club.