Unusually for the 2023 Formula 1 season, there was no rain to interrupt Friday running ahead of the Italian Grand Prix at Monza, but it was interrupted nonetheless.
Two red flags in practice two, the second of them in the middle of the long runs, restricted the amount of data gathered.
Which makes things all the more intriguing – because Monza being very much an outlier of a circuit, poses some interesting questions.
Wing levels and their effect on both qualifying and race pace, for example. There's a great variation here – in some cases even among teams – in the level of chosen downforce. As a generalisation, the traditional Monza skinny wing will buy you qualifying lap time around this elongated track. But race pace is something else. McLaren showed as long ago as 2005 that you could turn up here with something much bigger than that and be race-winning competitive.
It's a tricky balance to hit, because the prime race strategy here is to one-stop because a) the tyre degradation is low and b) the pitlane loss is big. But to comfortably be able to do a one-stop strategy requires low tyre wear. Degradation – the amount of lap time lost as the tyre loses its energy – may be low, but wear of the left-front can be uncomfortably high for a one-stop. If you cannot adequately control that, you will likely be forced onto the slower two-stop strategy.
Bringing a traditional Monza skinny wing means balancing it out with heavily cut-away flaps on the front wing, which in turn will increase the wear of that critical left-front. But such a wing – like the one Ferrari has chosen – can buy you valuable grid places around a circuit at which that can be gold dust.
Is it better to grab the grid position and try to manage the tyre wear? Or to run a slightly bigger wing (like Red Bull, Mercedes and Aston Martin) and run the race aggressively?
It depends upon what the strengths and weaknesses of the car might be relative to the others. Red Bull gave itself the option of a quite loaded wing by Monza standards – or a very loaded one. The difference was the size of the upper flap.
Max Verstappen ran the bigger wing in FP1 and Sergio Perez the slightly smaller one. The comparison was interesting. Perez made up 0.65s on Verstappen down the straights but Verstappen made up 0.827s in the corners to be faster over the lap by 0.177s.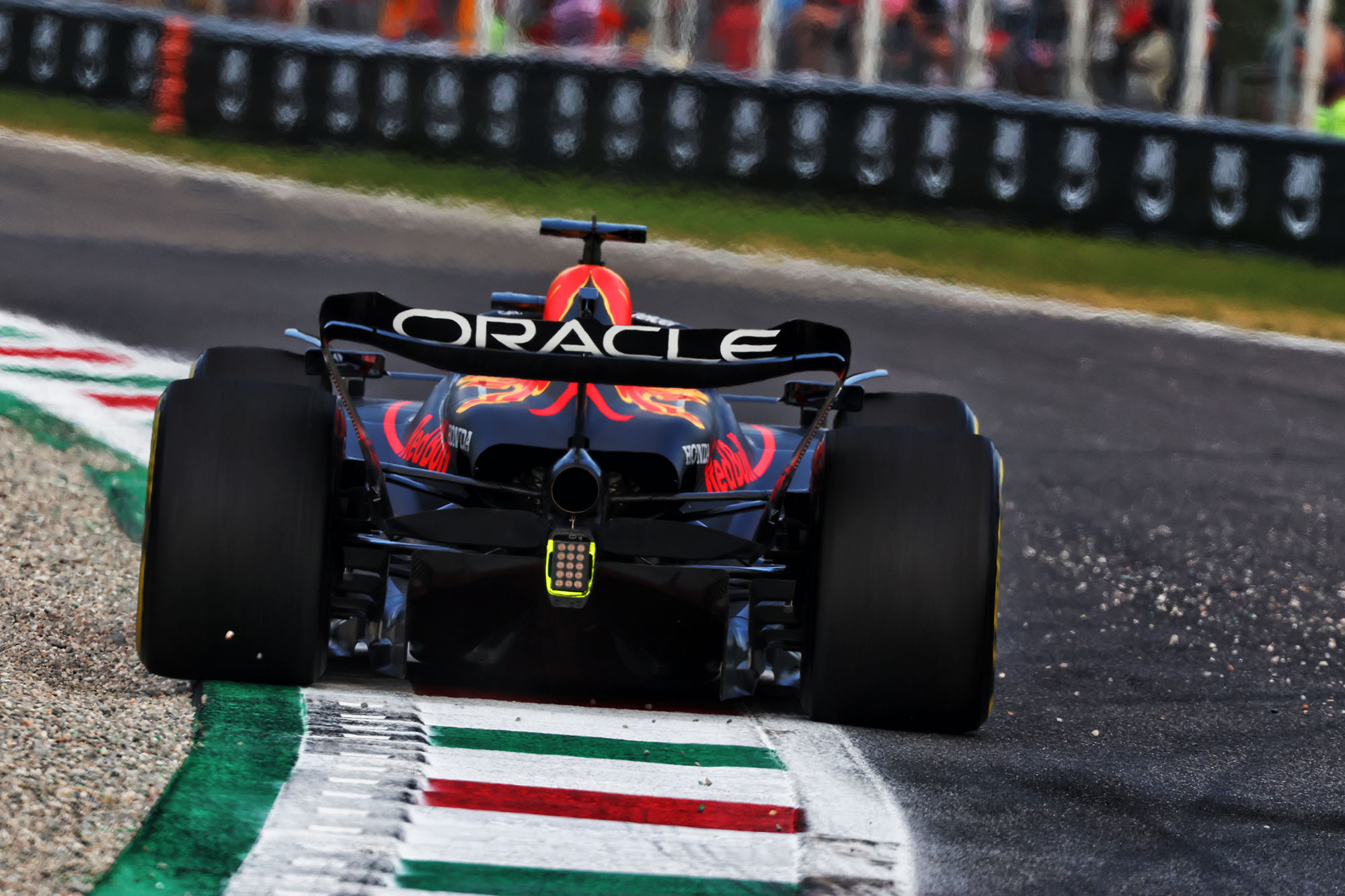 The smaller of the two Red Bull wings was chosen for both cars in FP2, suggesting that's what the team is going with – perhaps reasoning that it could be too vulnerable on the straights to the Ferrari if it went with the larger one. With this smaller wing Verstappen did not get a clear lap in on his soft tyres in FP2 and we can safely ignore the fact that he's only sixth in the fastest times list, 0.3s behind Carlos Sainz's Ferrari.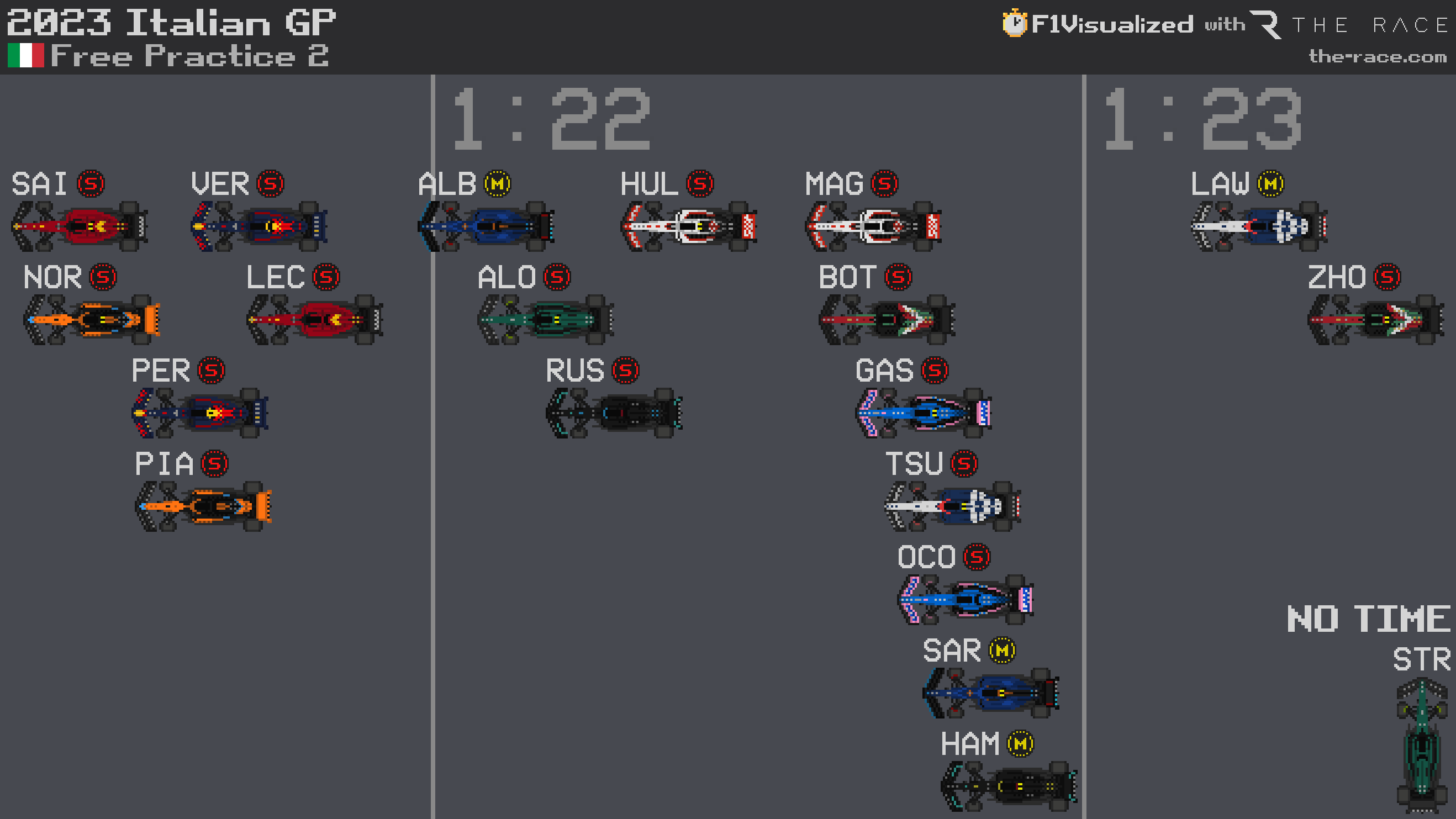 But the Ferrari is formidably quick here, just as it was last year (when Charles Leclerc took pole). It's fast on the straights and has great slow corner balance. The corners are not long and so it looks a completely different car to the unpredictable, unresponsive beast it was just last week at Zandvoort.
Verstappen isn't taking it for granted he can outqualify it.
"We're still trying to decide which way to go on a few things," he said. "We still need to fine-tune the balance between low-speed and high. I'm quite confident we'll get there but we still need a better read on a few things."
It was his team-mate Perez who brought out the badly-timed red flag with an off on the exit of Alboreto (the former Parabolica). Although there were seven minutes remaining when he did that, more than three of them were used up in clearing the track and another couple for everyone to get to the start/finish line.
Only Lewis Hamilton had started his long run early enough that he got a representative number of laps in. For everyone else, two or three laps does not reveal anything so the numbers mean less than usual.
FP2 'LONG' RUN AVERAGES
1 Leclerc (Ferrari) 1m25.221s (2 laps, medium)
2 Perez (Red Bull) 1m25.466s (4 laps, medium)
3 Hamilton (Mercedes) 1m25.587s (9 laps, medium)
4 Verstappen (Red Bull) 1m25.648s (5 laps, medium)
5 Albon (Williams) 1m25.847s (2 laps, medium)
6 Sainz (Ferrari) 1m25.869s (5 laps, medium)
7 Russell (Mercedes) 1m25.981s (3 laps, medium)
8 Tsunoda (AlphaTauri) 1m26.238s (2 laps, medium)
9 Norris (McLaren) 1m26.423s (3 laps, medium)
10 Alonso (Aston Martin) 1m26.700s (2 laps, soft)
11 Gasly (Alpine) 1m26.751s (2 laps, medium)
12 Piastri (McLaren) 1m27.113s (2 laps, hard)
Teams did try some long-running at the end of the first session. Sainz was actually faster on the hard tyre over 10 laps than either of the Red Bulls but again too much should not be read into that.
Mercedes and McLaren each look behind Ferrari here on single lap pace. Whether that holds true over the race probably depends very much on the Ferrari's front-left tyre deg – and we haven't really got much of a read on that, though there have been no obvious signs of trouble. Sainz got a much better run through the practices than Leclerc who always seemed to be in the garage making changes at the optimum track time.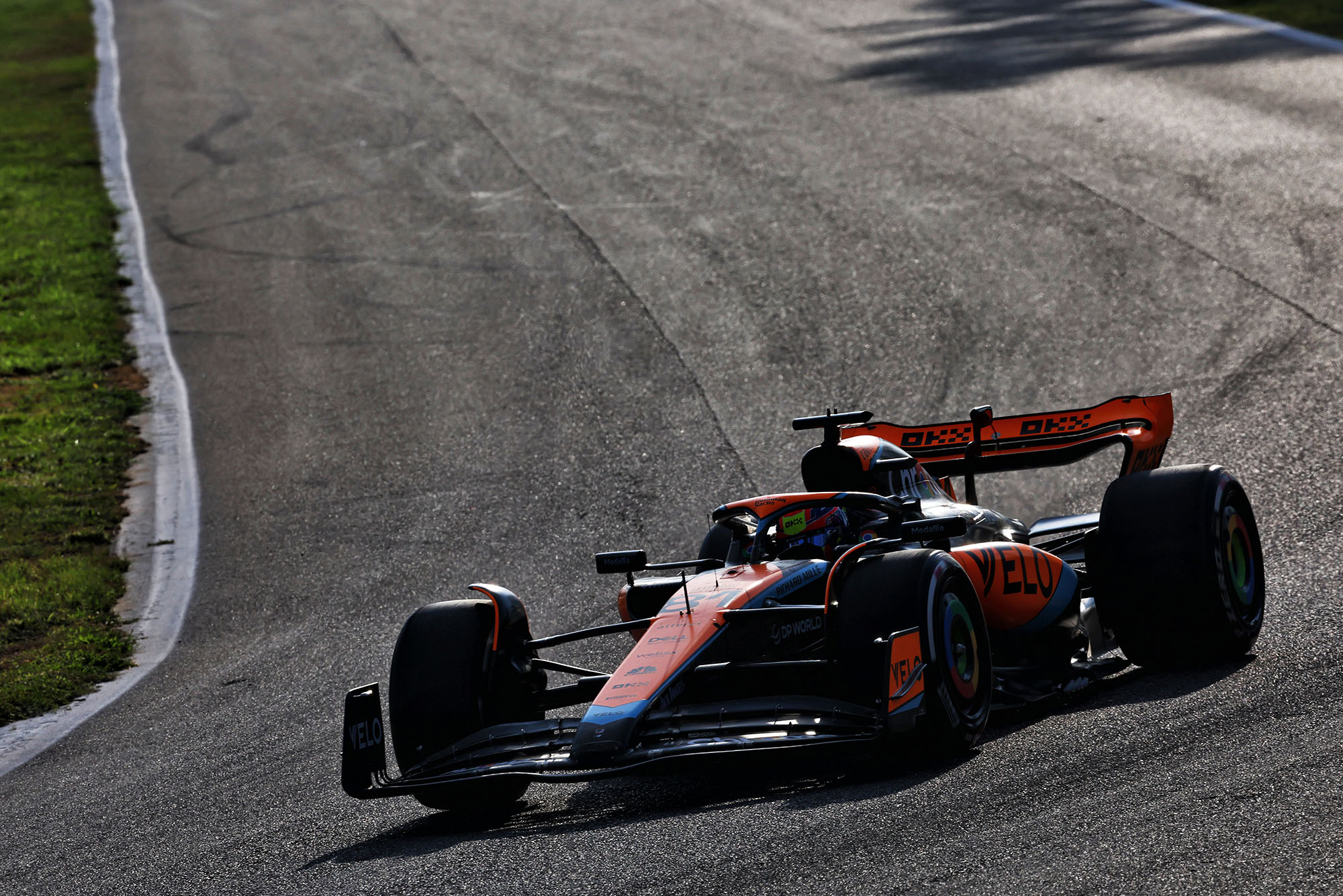 As at Zandvoort and a few of the preceding tracks, it looks like the McLaren may be quicker over a lap than Mercedes but there are question marks about the MCL60's race pace. It is relatively weak on the straights too, even compared to Mercedes and Aston Martin.
Fernando Alonso was the sole Aston Martin runner and on an offset tyre strategy to the others, the car's form is extra difficult to read.
Hamilton wasn't even confident of making Q3 in the Mercedes, saying after FP2, "It was a similar Friday to most. It started really well in FP1 where I was quite happy with the car, we made changes and car was more of a challenge."
One of the changes made was to a (slightly) bigger wing but it was found to be too costly in straightline to pay for the small benefit it gave in the corners. Finding the car unbalanced, he didn't bother doing a soft-tyred single lap run, hence him beginning his long run early.
"We'll see tomorrow if we are preparing the tyre properly and will try to dial in the balance," he added. "On our current pace I don't know how easy it will be to make Q3 whereas the morning we'd easily have made Q3."
George Russell was a little more upbeat: "On the medium and hard we look quite competitive but on the soft not as fast as we hoped, so we've not got it in sweet spot. The challenge with the skinny rear wings here is there is not much slipstream so there will be more of a focus on qualifying than usual."
That difficulty with the soft could be extra problematic this weekend given the tyre allocation of defined compounds for each session (hards, mediums and softs for Q1, 2 and 3 respectively).
"Normally Q3 is all about finetuning on the soft but we'll not see that soft in qualifying until we get to Q3," Russell added.
"It's really close in qualifying between us, Aston, Ferrari, McLaren, even Williams. Getting to Q3 is going to be tight. If we nail it we could be second row, if not P10."