As leftfield racing stories go, the true story of how one-half of a legendary 1980s pop group attempted a second career as a racing driver in the relative backwaters of French Formula 3 is pretty out there.
(lead image: Jeff Bloxham)
But the little known tale of Andrew Ridgeley – of hairspray intoxicated soul/pop sensation Wham! – sharing a grid with the likes of Jean Alesi, Yannick Dalmas, Perry McCarthy and Eric Bernard is much more than just a careless whisper in the pantheon of celebrity sports odysseys.
Ridgeley had already caught the racing bug with some Renault 5 UK races in 1985, the same year Wham's historic 10-day touring visit to communist China played out.
"I had no ambition to go on to do anything. I was simply interested in pursuing my interest in motor racing" :: Andrew Ridgeley
But by early '86 George Michael had announced the end of Wham! to millions of startled teenagers, saying; "I think it should be the most amicable split in pop history."
The rollercoaster of success ended, as quickly and as memorably, as it had begun. On a sold out night at Wembley stadium 72,000 adoring fans bade farewell to their lavishly coiffured heroes.
The very next day Ridgeley attended a Jackie Stewart organised clay pigeon shoot on the eve of the British Grand Prix at Brands Hatch and immersed himself in the racing culture that he believed would become his next profession.
He quickly set about trying to replace the buzz of being a popstar and made the seismic step from bit part Renault 5 fun to full-on F3 driver in one move.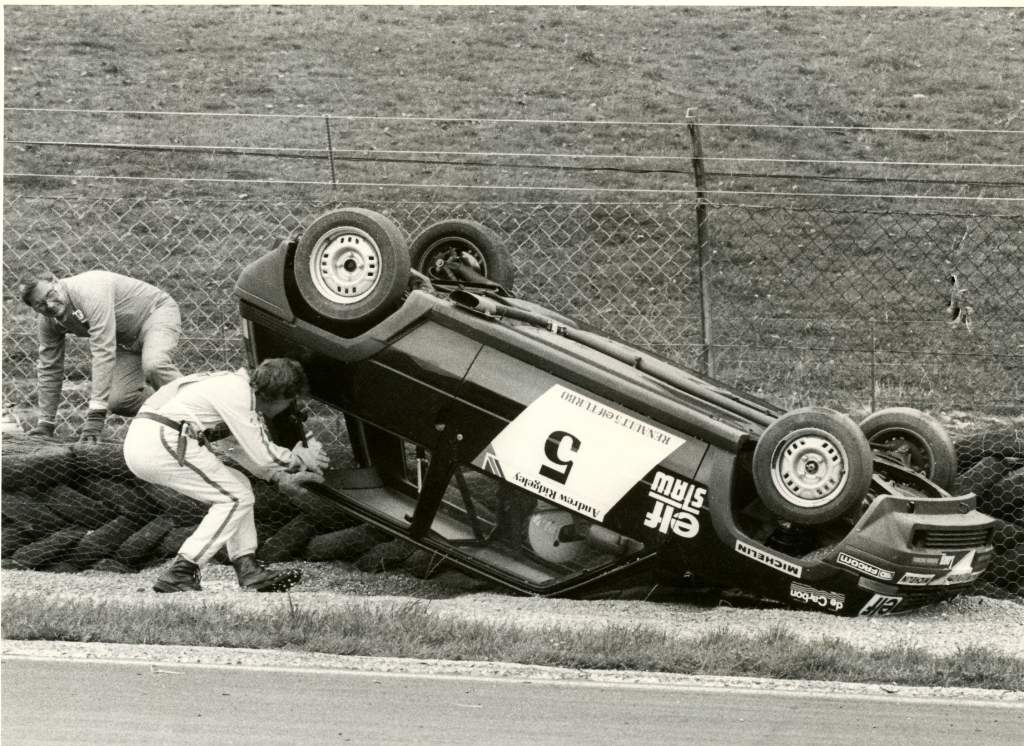 (Image: Jeff Bloxham)
"Girls throwing their bras and knickers on stage, was always memorable," Ridgeley recalled in an interview with celebrity magazine Hello! in 1997.
"It was a joint decision. Wham! was about being young and in a band and, in that sense, it was limited.
"I had no ambition to go on to do anything. At the time, I was simply interested in pursuing my interest in motor racing."
His racing started at Donington Park, which was then managed by former motorsport journalist Robert Fearnell.
Fearnell advised Ridgeley to contact David Price, who was then one of the leading entrants in F3 and had recently taken Johnny Dumfries to the British title. But more usefully for Ridgeley, Price also had a footprint on the continent, especially in France, where Ridgeley had taken up residence after the initial success of Wham!.
He had initially targeted the British F3 championship, which at the time was chock-full of talent, including Andy Wallace, Maurizio Sandro-Sala, Damon Hill and Johnny Herbert.
However Ridgeley didn't have the requisite number of signatures on his racing licence to fit the criteria for an entry. But he could race in France, where the FFSA had a much more relaxed structure to its administrative criteria.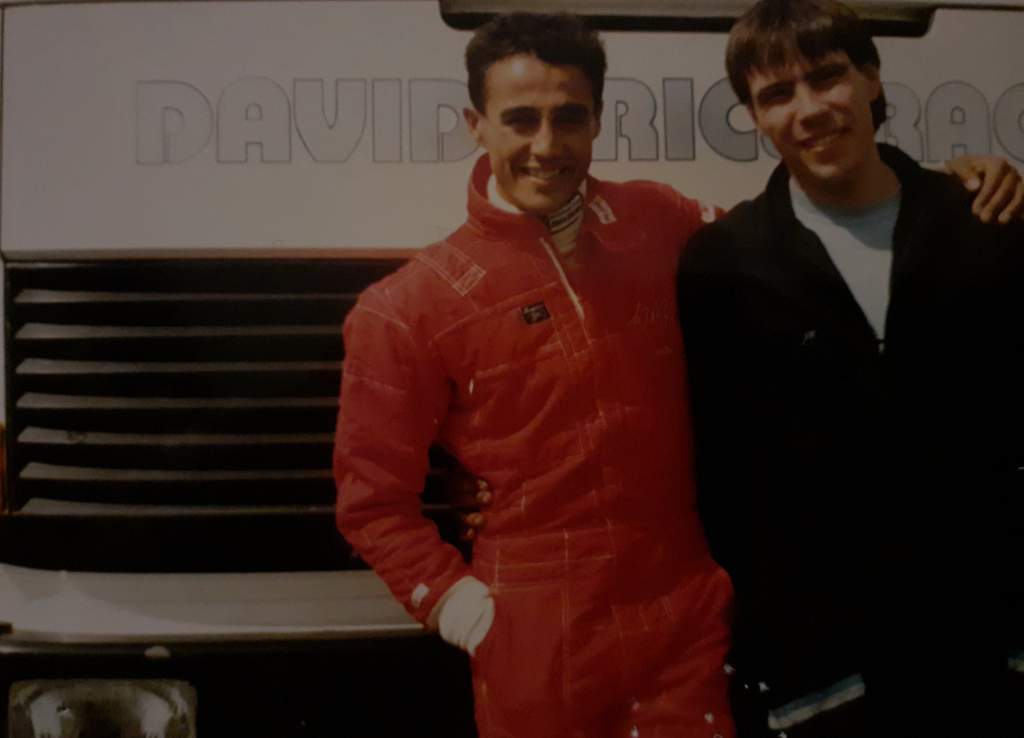 (Image: Jon Walton)
Through Fearnell, Ridgeley approached Price, whose continental campaigns had been running for several years and included the 1982 French title with Pierre Petit and wins with soon to be Ligier F1 driver Francois Hesnault a year later.
Ridgeley was thus fast-tracked to the requisite licence standards via attending the Claude Chantalla run racing school at the La Chatre circuit near Bourges.
"I flew down to Nice to meet him there to do the deal, and on the plane I sat next to Jerry Hall [then Mick Jagger's partner]," Price recalls to The Race.
"I thought I'd get myself warmed up for the celebrity world a little bit and all that!
"He came round to ours for tea a few times. I had young teenage girls at the time and he'd sit down and chat to them" :: Dave Price
"Anyway, what I remember about first meeting Andrew was that he was just so normal really, a chilled guy who obviously had a tonne of money to do what he wanted with, and luckily for us he wanted to go motor-racing."
Always one for a deal, Price soon had Ridgeley's signature on a contract. It was popular with Price's accountant but met with even more enthusiasm by his pop loving daughters.
"After we signed him up he came round to ours for tea a few times," says Price.
"I had young teenage girls at the time and he'd sit down and chat to them. There were no airs or graces at all, he was super nice to deal with."
The structure of David Price Racing was split between British, European and French F3 campaigns and utilised the skills of Andy Miller and Paul Crosby on the engineering side.
Both Miller and Crosby went on to work for the Paul Stewart Racing in the 1990s, and Miller with Stewart Grand Prix in the latter half of that decade.
It was he who was initially in charge of running Dave Scott in the 1986 British series but after that expired he spent more time with DPR's French operation, which was running the first Reynard F3 car – the 863.
"I remember Pricey phoning in from a test at Ledenon saying the Reynard was very quick, but fell apart every other lap with rose-joint issues," recalls Miller.
"It was a nice car but a little on the edge. Certainly not ideal for a guy coming from Renault 5s, let alone someone like [Paul] Belmondo or [Fabien] Giroix who had a few seasons of Formula Renault or whatever."
DPR mechanic John 'Boy' Walton, who went on to work for Tyrrell in F1 and lately Rebellion Racing in sportscars, was a first-hand witness to Ridgeley's lively career.
"I don't actually recall a race where he didn't hit something," says Walton, who majored on Ridgeley's team-mate Fabien Giroix's car.
"His chief mechanic was this massive bear of a guy, who we called 'Bam-Bam'. We didn't know his real name, just that he was a gentle giant. He'd haul around gearboxes like he was picking daisies."
Like Price and Miller, Walton recalls an easy going driver in Ridgeley, and also one whose popstar charms turned heads wherever he went.
"He was a nice fella and we treated him exactly the same as any other driver," says Walton.
"It was clearly a bit too much for him in F3, but he was always nice to be around.
"He had this girlfriend at the time called Donya Fiorentino. It was a bit of an eye-opener to a teenage mechanic like me when she came into the pits!"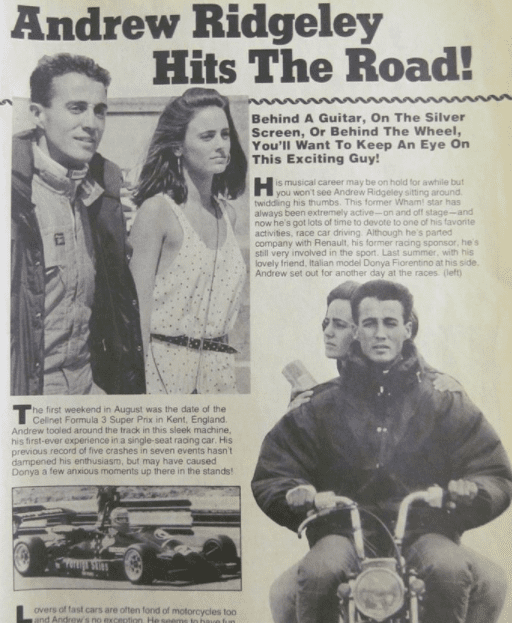 Just to add to the overwhelming 80s vibe, prior to her relationship with Ridgeley, Fiorentino had stepped out with Miami Vice star Don Johnson and then went on to marry Oscar winning acting Gary Oldman.
As Ridgeley undertook the first few races of his ambitious programme in the summer of '86 he struck up some unlikely friendships along the way, among them a young McCarthy, who was also on the French F3 grid a few times that season.
"I always admired the fact he was willing to race in F3 against a whole bunch of full-on career professionals totally focused on getting to F1," McCarthy tells The Race.
"Grids back then weren't for the faint-hearted. I remember we were racing in a round of the French F3 championship with drivers like Alesi, Bernard, Belmondo, [Michel] Trolle, [Philippe] Gache."
Off track Ridgeley didn't take himself too seriously and was more than willing to have a bit of fun with his new racing friends, among them the fun-loving McCarthy.
"At one event in France, Eddie Jordan joined us one night at golf club nearby which had a piano," McCarthy recalls.
"So, I played a few songs, Eddie played the spoons and Andy sung. We had a laugh but I'm not sure if any of the other guests did."
That particular 'super-group' was shortlived and Ridgeley started to ratchet up the spare parts invoices after having more than his fair share of on-track incidents.
By that time it was becoming evident Ridgeley was seriously out of his depth in F3 and the succession of shunts and coruscating performances showed no sign of going away.
In early August he made a one-off appearance on British soil at the Brands Hatch Cellnet Superprix by quirk of it being a one-off non-championship event.
While in France his presence had barely registered, at Brands clusters of 'Wham-ettes' mingled with perplexed lap-charting F3 'bobblehats' at Clearways and Paddock Hill Bend, providing a unique mix of clientele.
"There were a few girls at the other side of the circuit opposite the pits and he was waving and posing to them," remembers Miller.
"He was getting a bit full of himself and I remember Pricey saying, tongue in cheek: 'Listen, mate, we're the superstars around here and in motor racing you're a nobody.'
"He took it well and it was all part of the banter I guess. Generally though he seemed a decent guy and was quite popular within the team as I recall, even though we could see it was too much for him."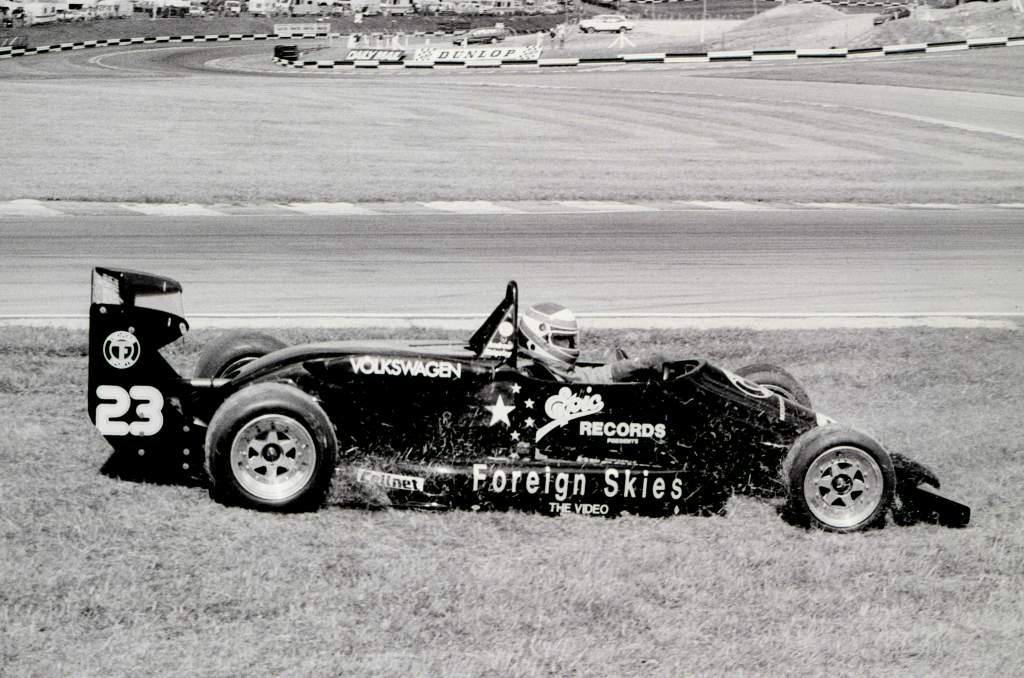 (Image: Jeff Bloxham)
That thick skin and quality of not taking himself too seriously was certainly required as the year went on. It soon became clear to those at DPR, the motorsport world at large and explicitly to Price that Ridgeley "just plainly didn't have the capability at that level."
He didn't make it beyond a semi-final heat race at a damp Brands that day after ending it in the Druids tyrewall between the already discarded cars of David Hunt and Ross Cheever.
Two appearances in German F3 that summer at Zolder and Nurburgring also brought little in the way of results. At the former he qualified almost five seconds off polesitter Bernd Schneider and ended the race again in the gravel trap.
In Germany he at least got to the chequered flag in the Group C 1000kms supporting event, albeit a distant 20th just ahead of Norwegian gentlemen driver Dag Rosthe.
"I think it suited where his life was just after Wham! had stopped" :: Dave Price
Returning to the French scene, Ridgeley's incidents culminated during the annual visit to the remote Albi circuit in September. Although this time little responsibility could be directed his way it perhaps provided the clarity he needed to call time on his new ambitions.
He became entangled in a six car first start melee that hospitalised Trolle and left future Larrousse, Minardi and Tyrrell F1 driver Ukyo Katayama barrel-rolling his unique Duqueine VG4 machine to destruction.
Blindsided by the shunt at the front of the field Ridgeley ploughed in to the wreckage and lucky to not have been injured himself. Perhaps this was the incident, combined with a distinct lack of progress through the year, that meant his appetite for racing faded away.
"I recall a massive bin crammed full of bits and pieces off his car. It was a proper dust-pan and brush job that one," remembers Walton.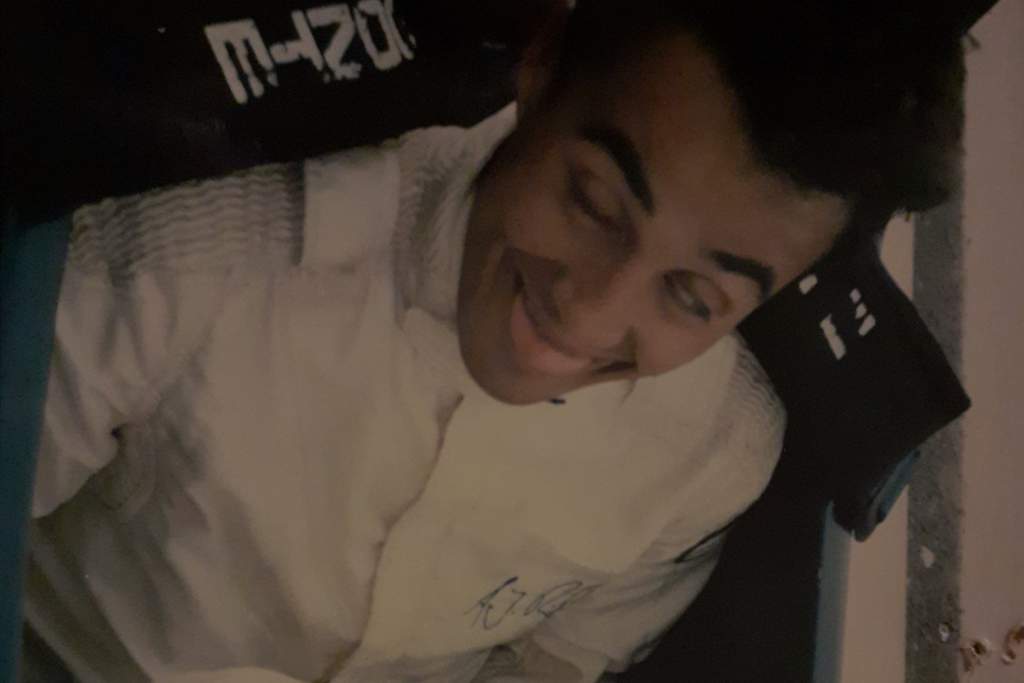 (Image: Jon Walton)
His last known activity came at a celebrity challenge race at that November's legendary F1 showdown between Alain Prost, Nigel Mansell and Nelson Piquet at the Australian Grand Prix in Adelaide.
Racing a Ford Telstar TX Turbo Ridgeley was entered along with other stars including the late great Clive James and Dire Straits frontman and guitarist Mark Knopfler, who shunted his car in the race and spent the night in Adelaide General Hospital.
From there Ridgeley headed to the US to strike out a solo career. His slightly whimsical and surreal jaunt in to motorsport had barely a blip at a time when even blanket coverage of F1 was still gaining momentum.
Since those days Ridgeley has gone on to run a surfing accessories/apparel company and also last year wrote a sometimes moving memoir about his friendship and relationship with George Michael, who died on Christmas Day in 2016.
These days Ridgeley lives with Bananarama singer Keren Woodward in Cornwall.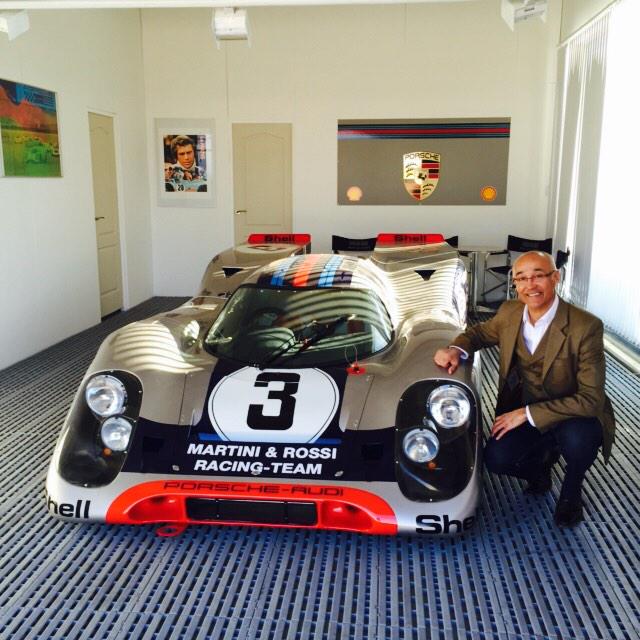 "It was a bit of fun for him really and he seemed to enjoy it, because I think it suited where his life was just after Wham! had stopped," muses Price.
"Looking back I don't think he was under illusions that he was going on to make a career from it to the best of my knowledge.
"He was much more successful at being a pop star than a racing driver but at least he had a go."