Jean Alesi's arrival in Formula 1 with Tyrrell across the second half of 1989 and 1990 was one of the most exciting debuts of the era.
At the time, he seemed like the talent who would dethrone the likes of Ayrton Senna and Alain Prost – who he was often taking the fight to with his underdog team.
That wasn't quite how Alesi's F1 career turned out, but it was an extraordinary time all the same. His 1990 race engineer Nigel Beresford talked Sam Smith through how it unfolded.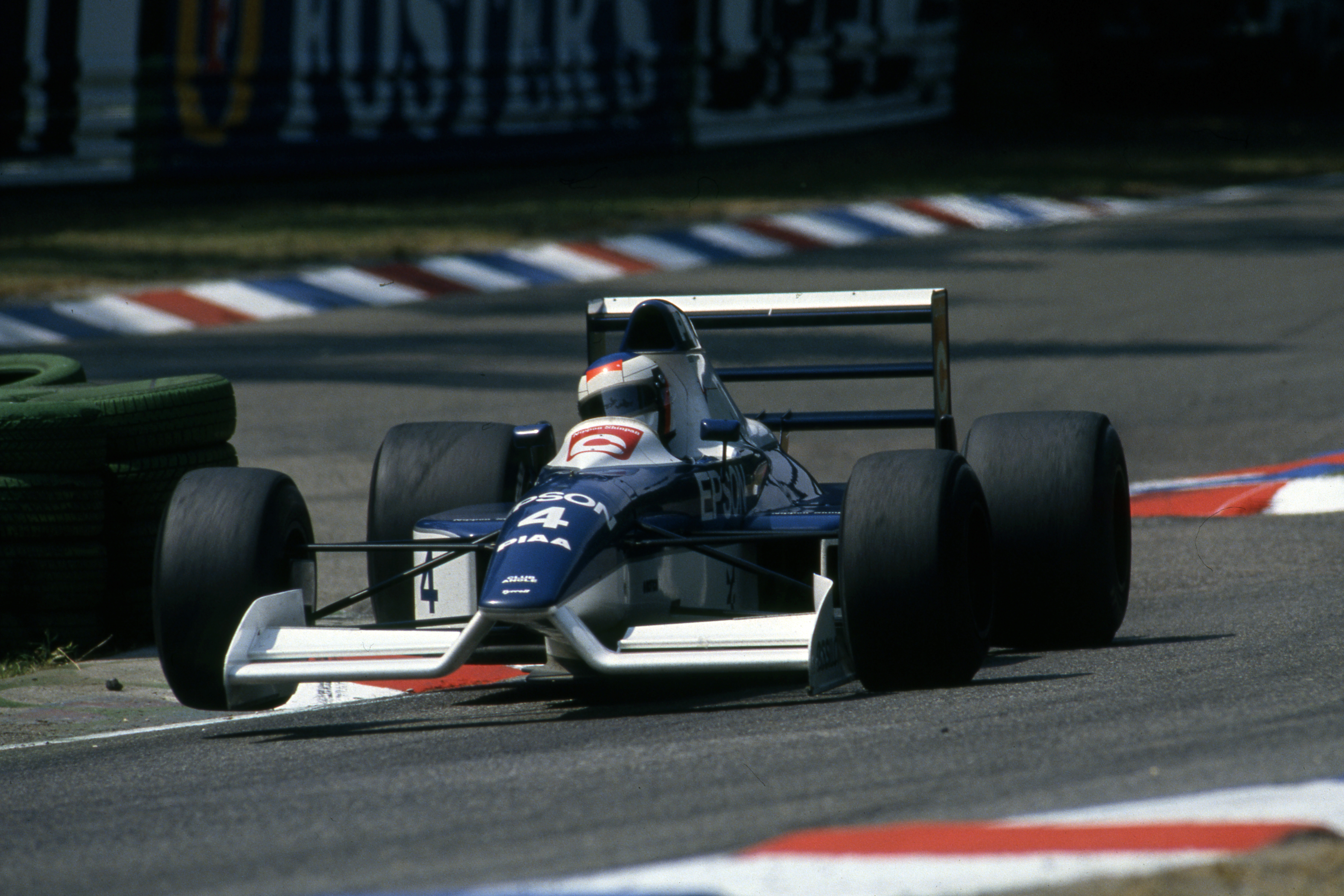 Part 1: The Ascent
How to handle a meteorite that burned as brightly as did Jean Alesi during 1990?
In F1 history, such a degree of establishment shaking by a new raw talent is rare.
There are few examples of a single driver defying the odds in such a spectacular way as Alesi and his Tyrrell 019 did in 1990.
Ricardo Rodriguez at Ferrari in 1962 perhaps? Maybe Alesi's great hero Gilles Villeneuve at Ferrari in 1978? Or what about Fernando Alonso in his mostly unnoticed, yet brilliant, rookie campaign in 2001 with Minardi?
Someone who counts himself privileged to have radiated in Alesi's white-hot talent is his race engineer from those seminal 1990 cameo performances – Nigel Beresford.
He has worked in motorsport since being part of the groundbreaking National Martime and Physics Laboratory's R&D work in the early 1980s.
This was where the McLaren MP4/1 was tested by young and ambitious engineers including Geoff Willis (future Williams and Mercedes designer), Chris Saunders (future Williams and McLaren aerodynamics chief) and a very young Spanish student by the name of Joan Villadelprat (who would end up being team manager at Tyrrell for 1990 – but more of that anon).
Since then Beresford has had esteemed stints at Penske Cars and Racing, Dragon and is now team manager at DS Techeetah in Formula E.
In 1990 Beresford was an eager, skilled but inexperienced engineer who was embarking on a second season of F1 as a race engineer with Tyrrell and had just moved over to work with Alesi.
"My first experience of him was walking out from the drawing office in what would have been end of June 1989 and into the workshop," Beresford tells The Race.
"There's this bloke with incredibly piercing blue eyes, sitting in the car on the set-up pad, and I thought 'who on earth's that and what's he doing sitting in Michele's car?!' "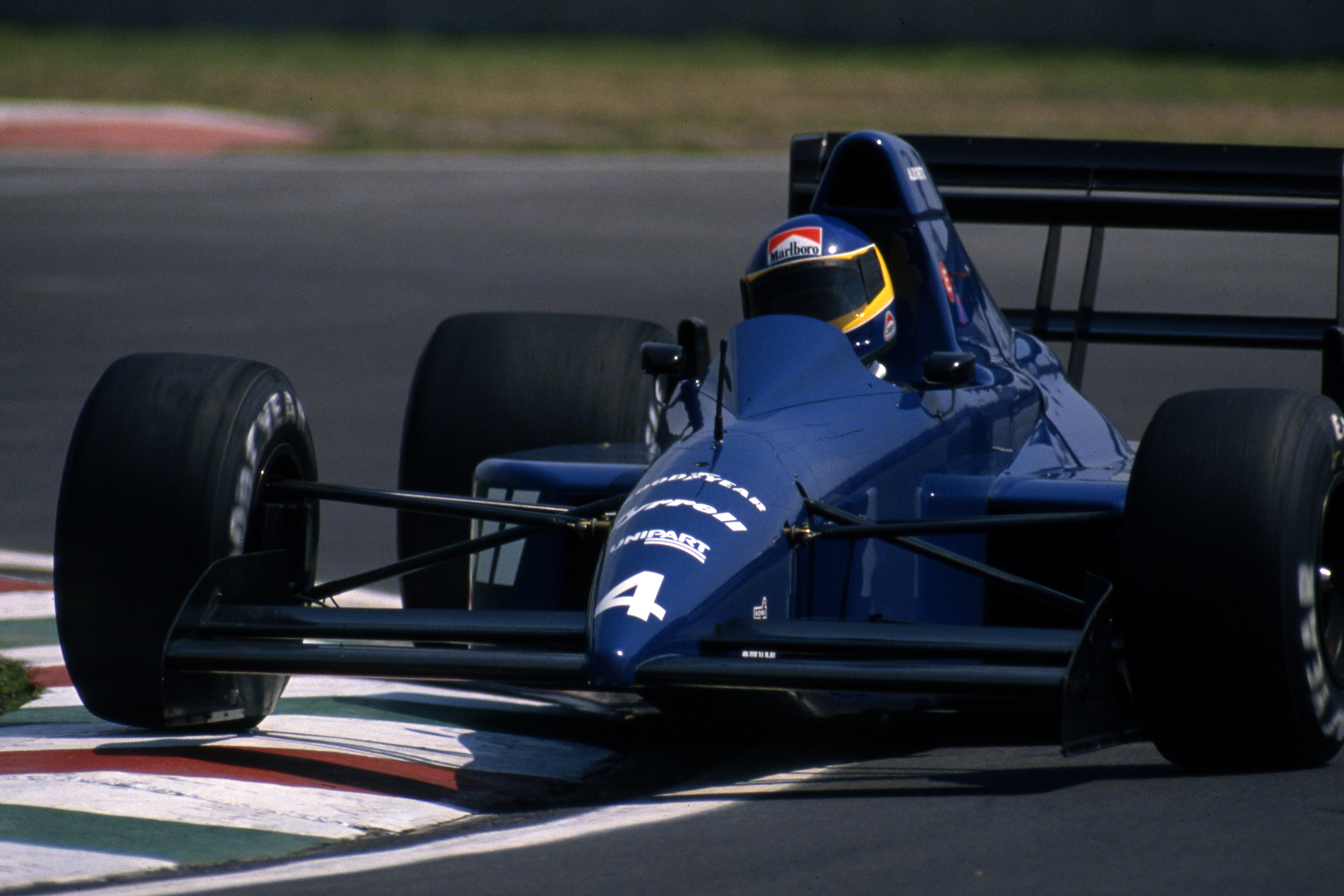 Unbeknown to Beresford and the team at large, Michele Alboreto's second stint at Tyrrell was to be a brief one. Just four races into his 1989 'homecoming', the five-time grand prix winner had vacated his seat at the team where he made his name at the start of the decade and not in the most cordial circumstances.
Officially the reason for the swift departure was over clashing Camel and Marlboro team and personal tobacco sponsorships. While there was some truth to this, the reality was that team owner Ken Tyrrell had been less than impressed by some rare histrionics from ex-Ferrari driver Alboreto in Monaco.
On that occasion Alboreto had refused to drive the old 017B on Thursday while he waited for his 018 to arrive for Saturday. His team-mate Jonathan Palmer was to get first dibs with the only new car that had arrived on time to the principality with a novel transporter driver!
"Ken drove it down in the truck himself," recalls Beresford.
"We only had one 018 for Thursday practice because we were waiting for the second truck. Ken drove the first one down as he still had his HGV licence.
"It was his 65th birthday week and I even remember that he managed to scrape into a toll booth on the way down!"
The literal scramble to get the car there was exacerbated by Alboreto's generally dour demeanour, which was a carryover from Imola where he had failed to qualify the old 017B while Palmer had excelled in the first-ever run of the 018 and given it a remarkable debut point.
"I think there was a fair amount of tension from Alboreto about Imola and Monaco, in that Palmer got the new car, but in reality it was just decided because Jonathan had his feet under the table and remember he'd also won the atmospheric championship in 1987 [when F1 had a one-off official class for non-turbo cars]," says Beresford.
All of this played into opening the door for Alesi to race for Tyrrell in the French Grand Prix. This was despite Alboreto having scored a podium with an immaculate drive at Mexico City just a few weeks after a fine out of the box fifth in his first experience with the 018 at Monaco.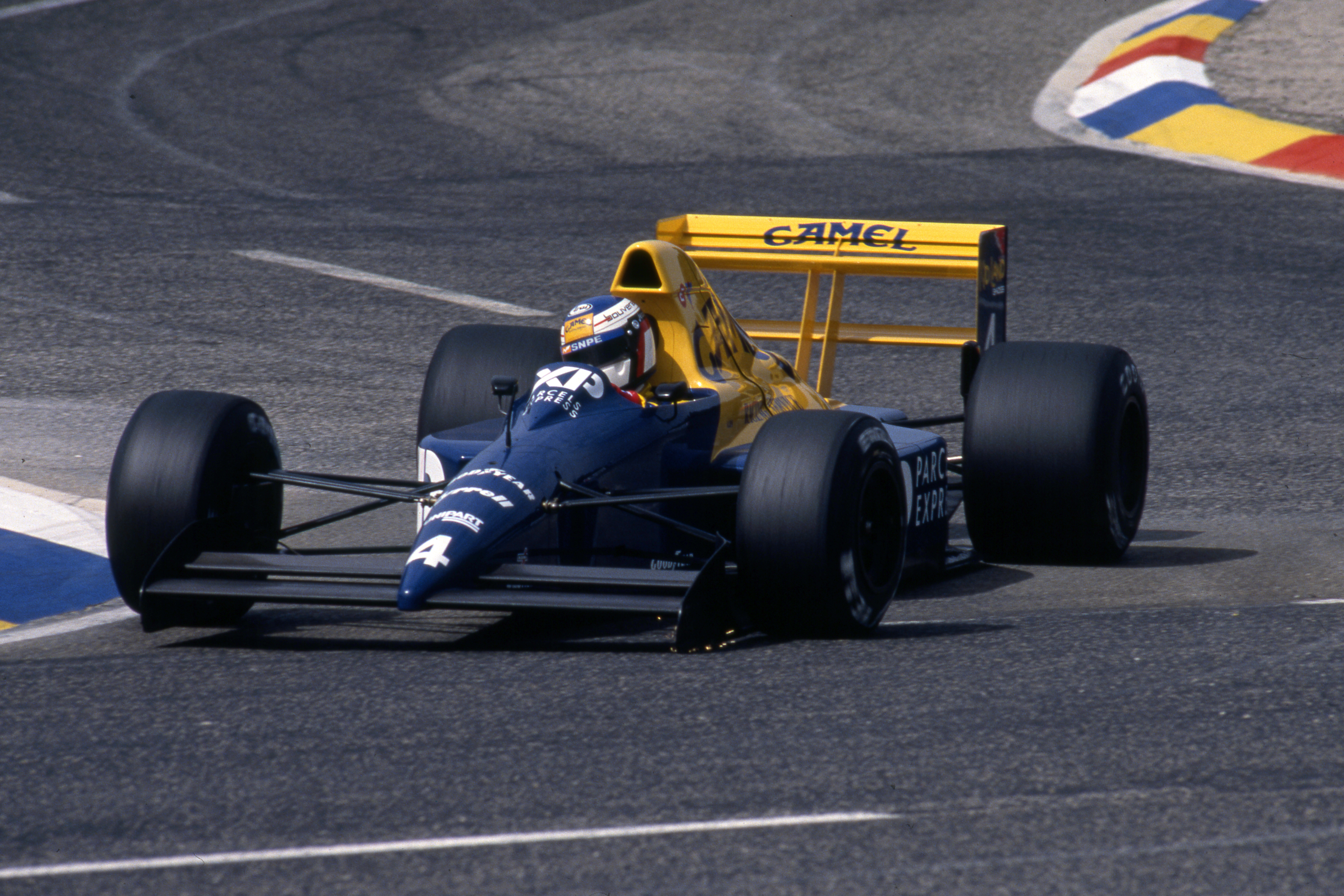 The commonly accepted story goes that Eddie Jordan – then a Formula 3000 team boss and driver manager – kicked the Tyrrell door down for his client Alesi, but in reality the truth is less spectacular.
"We were in the canteen one day after we got back from Montreal and Bob [Tyrrell – Ken's son] asked us who was leading the F3000 championship," recounts Beresford.
"Nobody really knew the answer to that question, so we looked in a magazine and found out this guy was on a bit of a roll – his name was Alesi.
"Frankly everyone's expectations were pretty much zero really because you just don't come into F1 and blow everyone away immediately.
"Prost didn't do that, he learned at McLaren, Senna didn't do that because he did the same at Toleman, so we were just thinking that if it was a one-off he might get to finish his first race and get a bit of experience."
"When you get to Formula 1 it's no longer just about applying intellect, it's also about having prodigious talent. Alesi had that in spades" :: Nigel Beresford
Alesi had different ideas though and from a solid 14th grid start he climbed all the way up to a brief second place before eventually finishing fourth behind Alain Prost's McLaren, Nigel Mansell's Ferrari and Riccardo Patrese's Williams.
Just an hour from his childhood home town of Avignon, Alesi had somehow created a dream debut and one that gained him global attention.
A somewhat shellshocked Tyrrell pit regrouped immediately after the race. "I remember [designer] Harvey [Postlethwaite] getting the whole team together afterwards in a huddle and saying 'listen, we've actually got something pretty special on our hands here, so we must not mess this up, because this could really be something good here'," says Beresford.
Alesi followed his dynamite debut up with further points finishes at Monza and Suzuka. In doing so he outscored the vastly more experienced Palmer by six points despite having competed in seven races fewer.
"He slowly deconstructed Jonathan's career really, as he hit his stride," says Beresford.
"I was still engineering Palmer in '89, then I moved over to Alesi for 1990. Palmer clearly was a tremendously impressive guy in terms of academic and sporting achievement, and now he's been a really successful businessman as well.
"But clearly when you get to Formula 1 it's no longer just about applying intellect, it's also about having prodigious talent and obviously, Alesi had that in spades."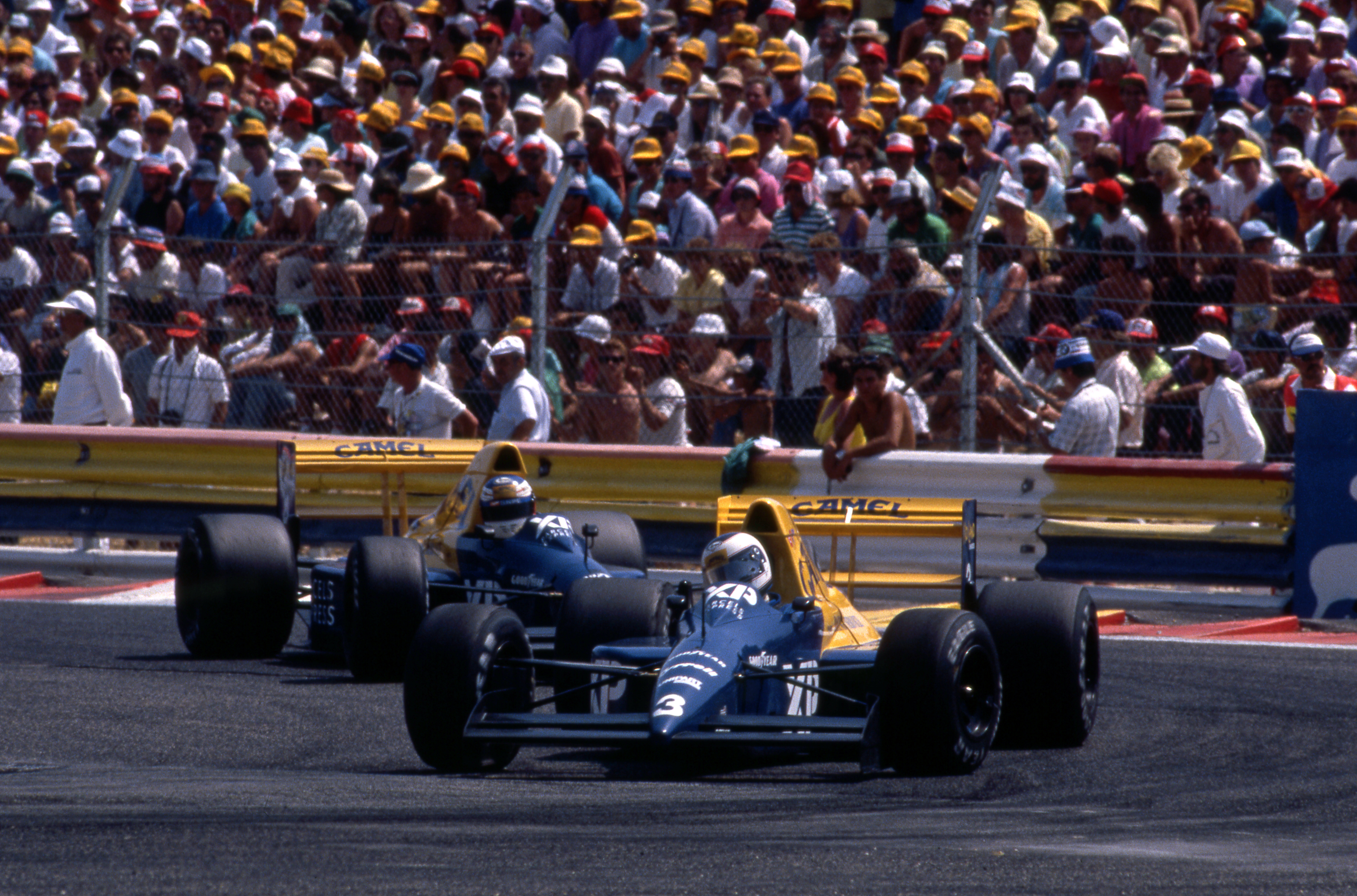 It was a perfect storm for Palmer, who buckled under Alesi's stratospheric ascent. The new arrival had extreme raw pace and helped Tyrrell understand the aero and vehicle dynamic capabilities of the 018 – which only allowed Alesi to impress even more.
"The facts are that to get the best out of the 018 wasn't that straightforward initially because it had a lot of understeer built into it," says Beresford.
"Then we figured out how to change that and get the best out of the whole aero map in order to optimise the set-up of the car.
"We had to fight against not having access to tyre data, as we weren't a Goodyear-favoured team. This meant when you are adjusting the ride height half a millimetre here and there, you don't know really how stiff the tyres are and it's like you're shooting in the dark to a certain extent."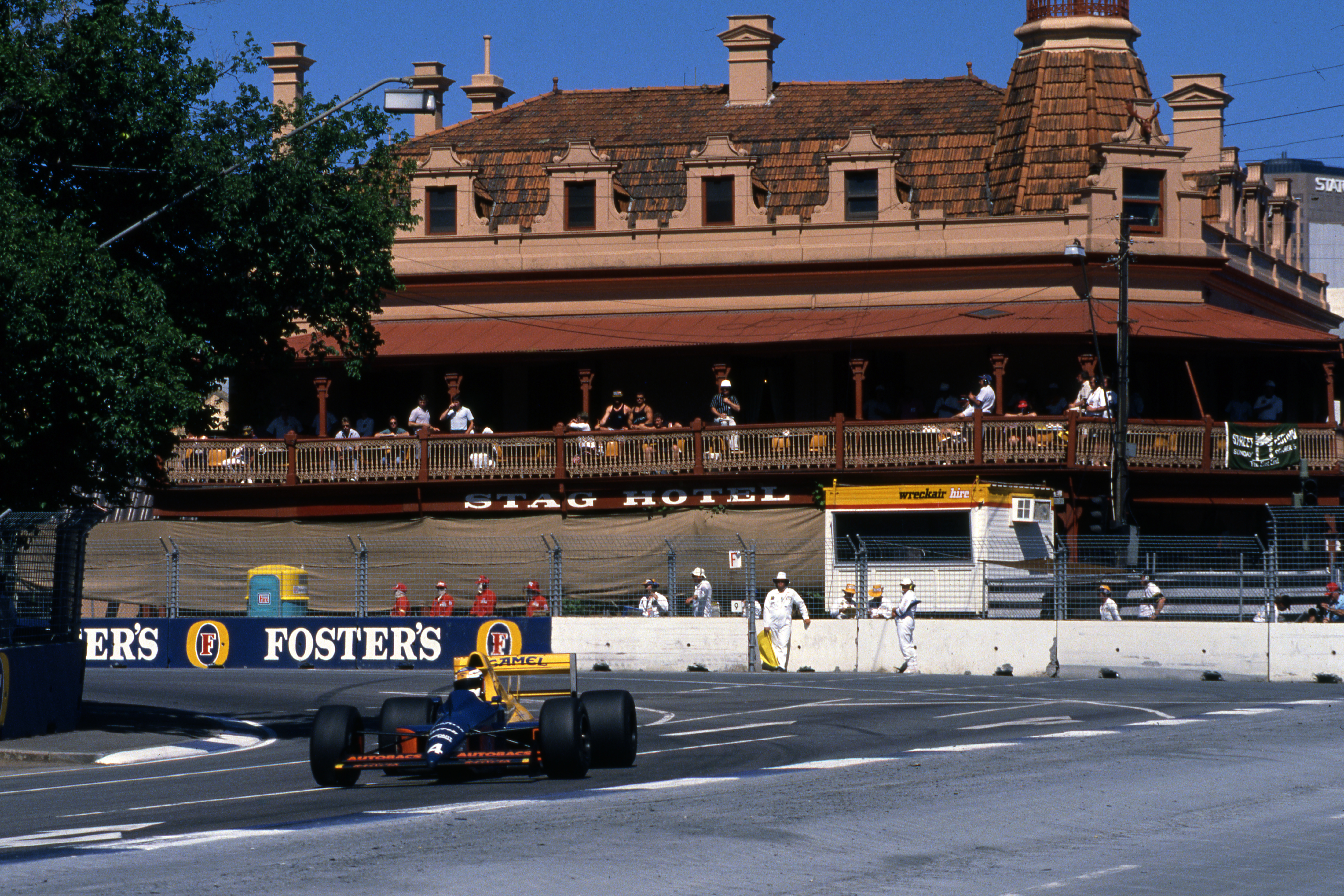 Part 2: The Peak
As 1990 dawned, Tyrrell's tight unit of a team was ram-packed full of engineering and organisational talent.
In addition to Beresford and the management/engineering leadership axis of Postlethwaite and aerodynamic guru Jean-Claude Migeot, there was also team manager Villadelprat, who went on to double title success in the mid-1990s with Benetton. Also, future Xtrac operations director Simon Barker was Alesi's new team-mate Satoru Nakajima's engineer on the other 019.
The new car designed by Migeot and Postlethwaite had a very different rear-end treatment to the 018, with an almost egg-shaped look to clear up the air flow.
Beresford recalls "Harvey and Migeot sitting around and talking for hours and hours about how to do things with the 019, just striking ideas off each other".
Postlethwaite gave Migeot the opportunity to exploit and explore his own imagination to the fullest and the 019 was prepared for its debut at Imola for round two.
This version of the car had a full-width front wing, with a traditional 'on hangers' look. Another visionary engineer, Mark Handford, had been working with Tyrrell since late 1987 and was managing the windtunnel testing.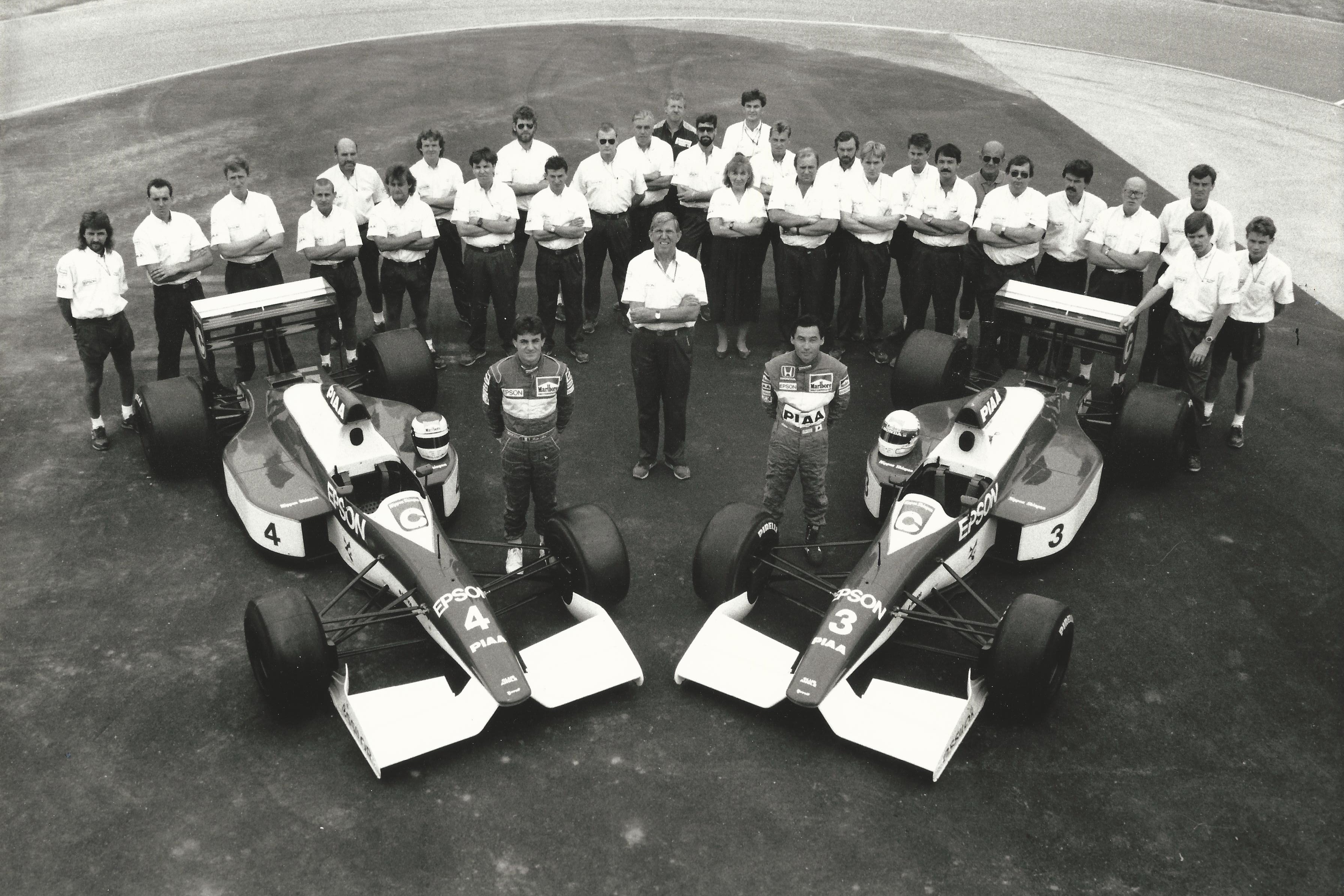 It wasn't until Tyrrell's designers actually cut out the middle of the front wing that it truly "lit it up", as Beresford describes.
"It let enough air through into the underwing, or undertray as we called it, to make a remarkable difference," he says.
However, the real game-changer came from a very unlikely source: Pirelli tyres.
The deal between Tyrrell and Pirelli came late, very late, and it caused a sensation at the Phoenix opener when Alesi qualified in fourth position. This though was still an astonishing 0.7s off the top Pirelli-shod runner – Pierluigi Martini in Aldo Costa's year-old Minardi M189 on the front row!
In the race Alesi famously blasted between Martini and Ayrton Senna's McLaren to take the lead at the first corner and later repel Senna's attacks – at least until a certain point, before following Senna home in second place – in as an unforgettable display of bold effrontery that F1 had ever seen.
"There was no expectation of what was then going to happen there," says Beresford.
"It was absolutely extraordinary with Jean taking it to Senna and leading the race. I clearly remember being on the pitwall and pinching myself that it was actually all happening.
"I was writing P1 and even P2 on my notes and I had no idea how it could all last."
It did last but the great irony was the fact that Ken Tyrrell had not been at all happy about the team – in a decision led by Postlethwaite – making its rubber supply switch.
Postlethwaite, having previously dealt with strong autocrat characters such as Lord Alexander Hesketh, Walter Wolf and Enzo Ferrari, held major influence and was able to argue with the sometimes obstinate Tyrrell, who "liked nothing more than a good argument", according to Beresford.
"Harvey was able to convince him of the need to go with Pirelli rather than Goodyear, and this was because we needed, or rather Jean-Claude yearned for, the data of the tyre performance and tyre stiffness for the aeromap programme," he says.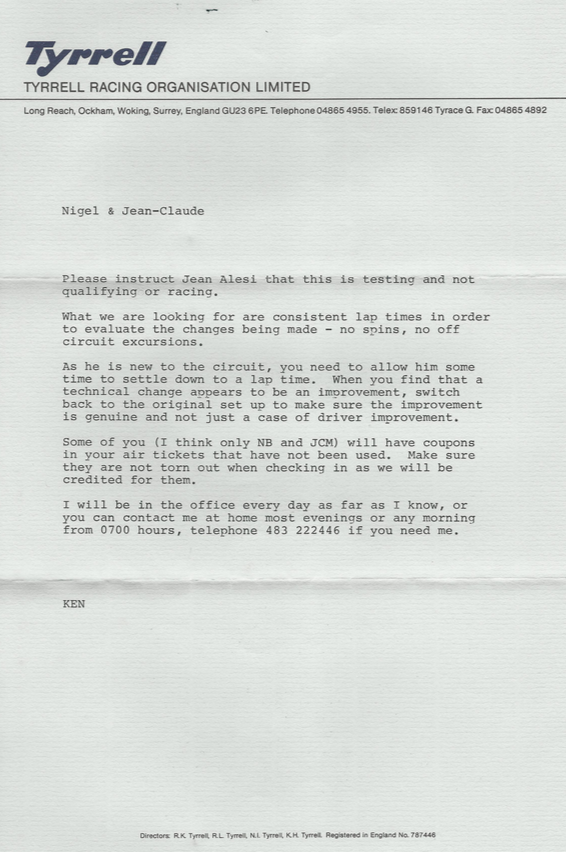 The basic principle of the way the 019 worked was remarkably similar to its 018 predecessor and suited Alesi down to the ground.
"The car essentially pivoted around the front axle, which meant that you'd set the car up to have a lot of rake in it," Beresford explains.
"Now, when a car has a lot of rake, you have a very pointy car, which is great, that's what you want for chicanes, etc. but it's undriveable at high speed.
"So what you do is to have a car which then heaves down more at the rear than the front, moving the aero balance rearwards, giving you a car which is nice and stable and comfortable for the drivers, but which has a trace of understeer for high-speed corners.
"The method by which you controlled that process was through obviously the springs and packers, but you needed to know the stiffness of the whole package, so you had to know how stiff the tyres were.
"We are talking about a car here that was sensitive to a millimetre ride height change, so you really don't want to be guessing at what your tyre stiffness, etc. is."
This had been the true impetus for Tyrrell leaving Goodyear and going with Pirelli, as Pirelli promised to help develop the tyres around the actual car.
Additionally, Migeot and Handford got the data they so craved in order for the aeromap programme to work efficiently and rationally.
"So then you've got a weapon, and when you put a guy like Alesi in the cockpit he's going to pull the trigger because he's young, quick and just can't help himself," says Beresford.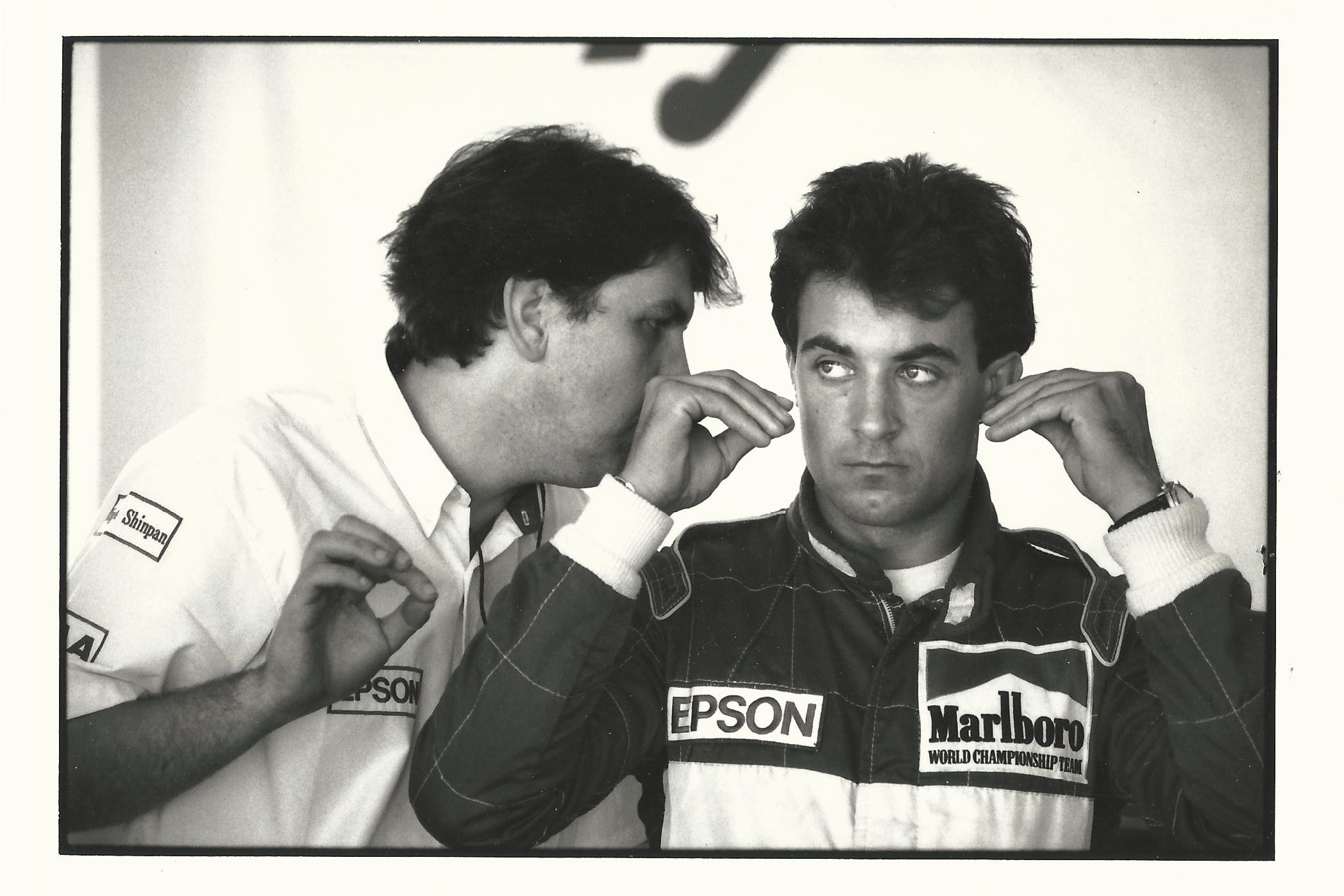 "So whilst you're going through that frightening process of figuring out, of polishing up all your estimates and your guesstimates and your assumptions, he's the guy that's going to be able to drive to the limit in order to help you further refine your model."
You most certainly knew that when Alesi was at the limit of the car. He left not a single crumb on the table. It was ardent and competitive charm but it also had a charming naivety.
"Harvey was apoplectic with me about the fact Alesi ignored the order, but you know, what can you do? He was just so in the zone, like in an ancient trance or something, so I wasn't going to stop him and nor was anyone else" :: Nigel Beresford
Beresford gives a wonderful example. "We did a test at Jerez, just prior to switching from Goodyear to Pirelli," he remembers.
"It was with the 018 and it broke down at one of the corners behind the pits. After 10 minutes we were like 'where's the car, where's the bloody car?'.
"We start to go out to get it but he's pushing it back to the pits, solo. Actually pushing the bloody thing!"
There was nothing of the superstar about Alesi, and there never really was in the behavioural sense. But there were one or two races where he was "more on edge" according to Beresford.
"Monaco was his real home race. It wasn't the French or the Italian Grand Prix, it was Monaco because he's from Avignon and he loved the track so much. He saw it as an almost otherworldly challenge in 1990."
Anyone who has seen Alesi's acrobatics in qualifying will attest to that. One particular clip depicts the 019 twitching mercilessly into Massenet and Casino Square so slenderly on the right side of adhesion that it looks like a crude early 1990s animation rather than actual film.
"On Thursday he went out for his first run in qualifying, came back and I was asking him how's it going. He kind of looked through me, didn't say anything and his hand just came out of the cockpit and started waving a sort of horizontal circular motion as in, 'put on the other set, don't talk to me, just put on the other set, I'm off!'"
Alesi also got Beresford in "deep shit with Harvey" after ignoring the strict one-lap-only systems check and attacking the track in the Sunday morning warm-up session!
"Harvey was apoplectic with me about the fact Alesi ignored the order, but you know, what can you do? He was just so in the zone, like in an ancient trance or something, so I wasn't going to stop him and nor was anyone else."
On Sunday, Alesi drove arguably his greatest F1 race, splitting Senna and Gerhard Berger's McLarens to claim a second podium in just his 12th F1 start and trail Senna home by just a second. It was the true zenith of Alesi and the 019.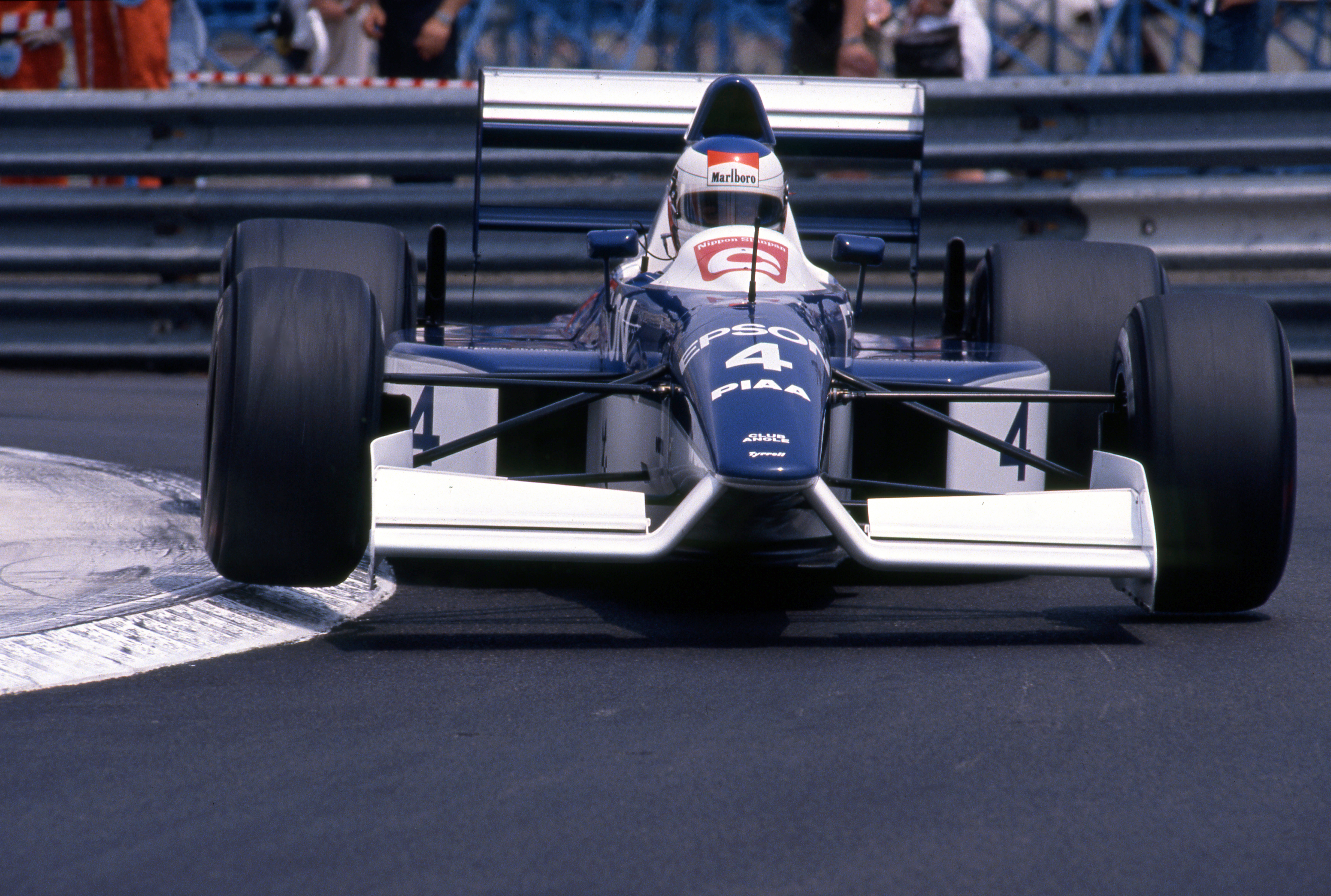 Part 3: The Farewell
There were other heroic performances from Alesi as 1990 progressed, notably at Monza and Jerez. He qualified fifth and seventh respectively at those races but lasted two laps in Italy and 200 metres in Spain, before spinning off in a hail of gravel.
Away from the cockpit all was not well as the mercurialness translated from feet to hands with multiple contract options signed with first Tyrrell, then Williams and finally, irresistibly (for one of Sicilian blood), Ferrari.
"It clearly did unsettle him and there was a sort of press conference at Hockenheim to try and explain a clearly complicated situation," recalls Beresford.
"Jose [his brother] was his manager and at first when you read about the rumours of the drive with Williams and then the switch to Ferrari, it was kind of upsetting because we felt he was such a deeply-loved part of the group and it was such fun.
"It really was the best of all worlds because Tyrrell was always such a fun place to be, there was always something happening and it was like living on a Carry On film set sometimes.
"But all of a sudden, not only were we living in a Carry On film, but we were actually running right at the front and you would look forward to every race because you knew something special could happen.
"Certainly, through that summer, Jean got a little more tense and fed up. You often see it where you have these young guys and all of a sudden everybody they meet wants to give them something, whether it's money or some material thing, and it does kind of change them, turns their head a bit."
Tyrrell, Beresford and the team accepted the inevitable and Alesi was a Ferrari driver by the autumn.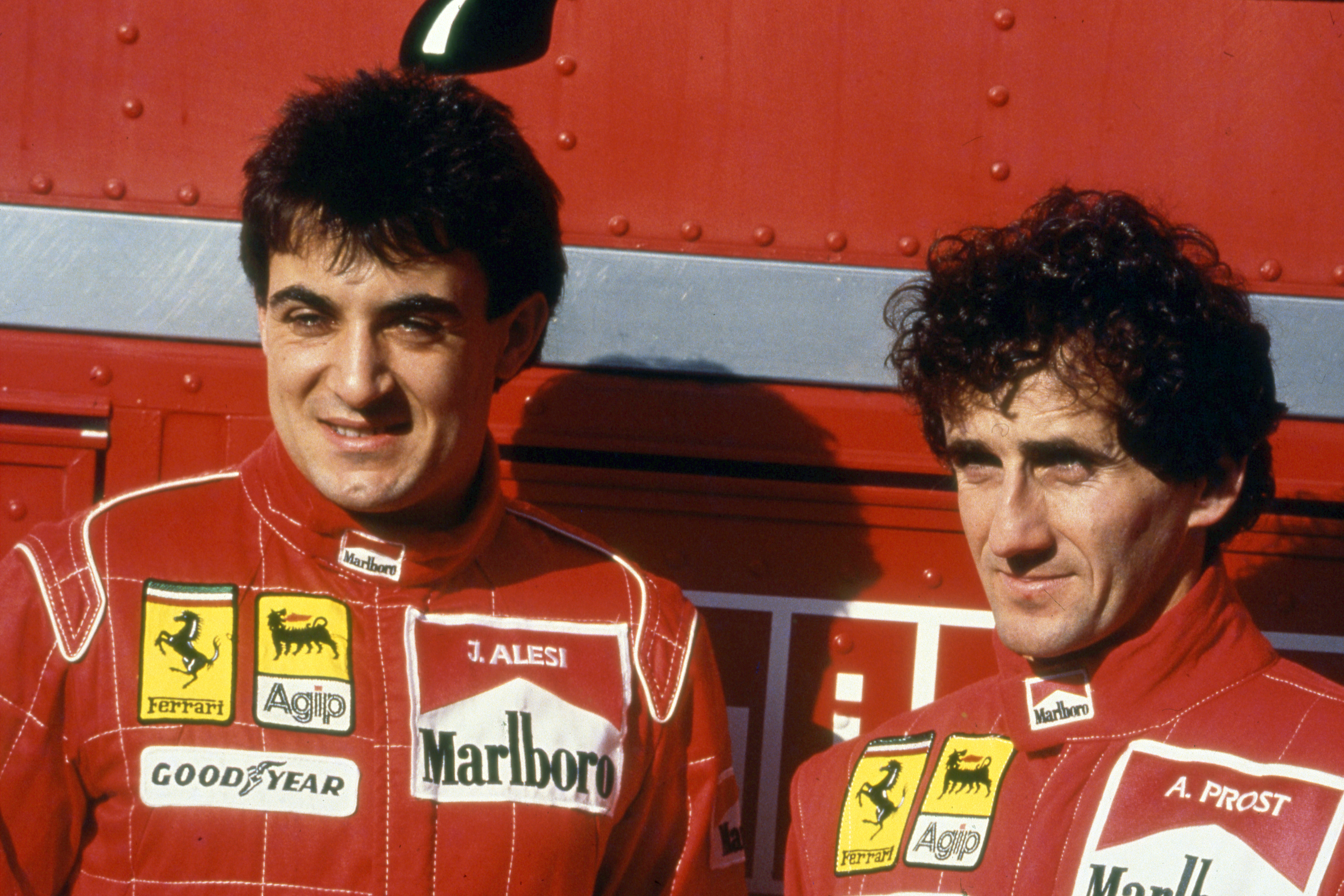 The truth was that Tyrrell's dream team was starting to erode anyway. In mid-summer Migeot had been lured back to another stint at Maranello, while team manager Villaldeprat was on his way to the emerging force of Benetton.
When Alesi's inevitable poaching by Ferrari was complete there were no hard feelings. Far from it.
"We couldn't help but feel happy for Jean because he was achieving what was clearly a massive lifetime's ambition, for essentially a Sicilian kid with a French passport, to drive for Ferrari was plainly a big deal," says Beresford.
"You'd be churlish to be pissed off about seeing somebody so happy in achieving that. So the team was actually happy for him when he told us.
"Jean was a lot of fun. The mechanics loved him and he was not at all haughty, not at all distant or diffident or anything. He'd take the piss out of you and he was a delight to have around, really.
"He wasn't on some sort of level where you had to be careful, he was just a team member, not exactly like a mechanic, but somebody who was very easy to talk to and very easy to deal with, no hassles, no aggravation.
"We loved him."