When as few as 7.5 points separate two drivers at the top of any championship you can always find plenty of justification for why the eventual finishing positions could have been reversed.
That's no different when looking back at a pivotal moment in the careers of Oscar Piastri and Victor Martins: the 2019 Formula Renault Eurocup season.
Going into that season, there wasn't much to separate them in plain CV terms. A runner-up finish each in a national Formula 4 series in 2017 (his native France for Martins, Britain for Piastri) and then fifth (Martins) and eighth (Piastri) in Eurocup rookie seasons in 2018, Martins the only one of the pair to win races.
Snatching the 2019 crown by a slender margin put Piastri on a path that has taken him to a highly impressive rookie Formula 1 season with McLaren while finishing as the runner-up led to Martins having to dig deep and forge his own path to win back Renault's approval.
That's something the Frenchman has done in style, but it's made the journey to the fringes of F1 far harder than it's ever been for his former Renault (then Alpine) contemporary Piastri who had the luxury of being at the centre of a fight for his services between two F1 giants last year.
But there's still plenty of solace Martins can take from the job his former title rival Piastri has done both on the path to and within F1.
"It's kind of showing that everybody who could have been in that situation could have been a bit like me," Martins told The Race.
"It's quite nice to see a driver who you were fighting with in F1 and performing like he's doing right now.
"It's personally showing you are maybe capable of doing the same or you're at this level because I was fighting against him for the Formula Renault title.
"He had his [title winning] F3 campaign and his F2 campaign after so for sure he stepped up, he became even stronger as a driver and as a person.
"I feel and trust that I could be maybe one day again fighting with him for some stuff like we did in Formula Renault, so it's nice."
That's no pipe dream for Martins either. He's shown an impressive turn of speed in his rookie Formula 2 season with the best qualifying record – an average of third – on the grid. His maiden F2 pole came as early as the second round in Jeddah where he was 0.744 seconds clear of the rest.
But it often hasn't come together in the races for Martins. An opening lap clash knocked him out of the Bahrain feature while that sensational Jeddah pole was followed by a spin out of the net race lead.
All the angles of Victor Martins' frustrating crash out of the net race lead 😫#SaudiArabianGP #F2 pic.twitter.com/2NFyQMkEgj

— Formula 2 (@Formula2) March 19, 2023
He collected a helpless Dennis Hauger at a late-race safety car restart and cost himself a potential podium in the Melbourne feature race and then finished fourth in the Baku feature race, only to be disqualified for a technical infringement on his car.
It meant his eighth place finish in the Monaco feature race in late May was the first time he scored in F2's main race, having picked up a couple of sprint race podiums prior to that.
All of that misfortune and those errors left a lofty points haul on the table, one that arguably could have completely eradicated the 48-point deficit he currently has to his championship-leading ART team-mate Theo Pourchaire.
While a similar case could be made for plenty of other drivers on the grid, none have a case for more lost points in the first part of the year than Martins.
He rightly accepts his portion of the blame for that, some of those lost points opportunities were down to his own needless rookie errors.
But he feels he's made a breakthrough in recent rounds and a double podium at Barcelona and a first feature race win from his third F2 pole at Silverstone (despite a five second penalty) are evidence of that.
"There was a moment where I was just going for everything and pushing," Martins explained.
"Every time we had the pace clearly to fight for pole position, but every time I was doing a little mistake or we were not maximising everything in terms of managing the tyres.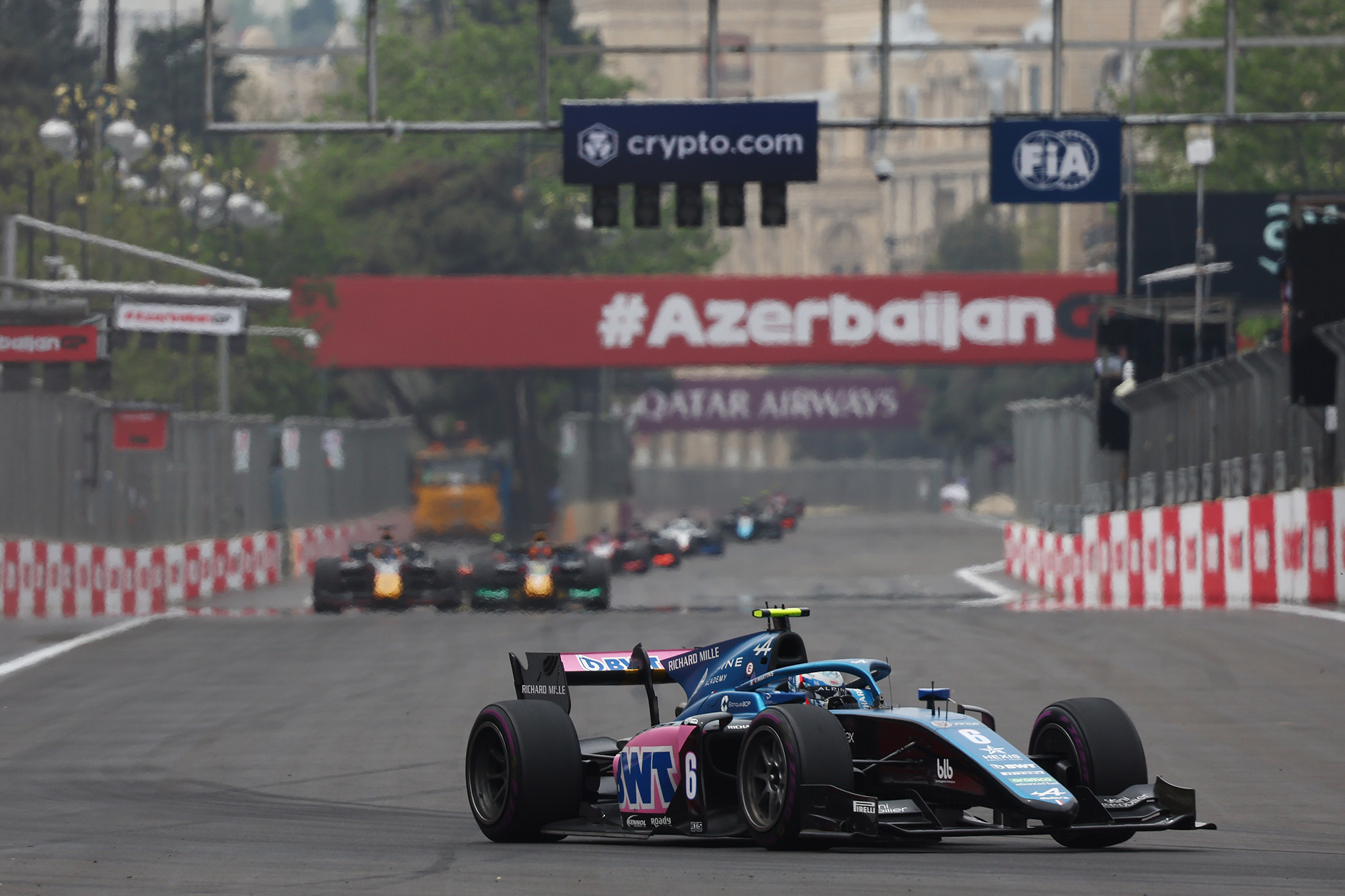 "Also myself in the car during the feature race, always a little mistake, like in Baku or Melbourne, was happening.
"Everything was coming from a reason that I worked on with the team to analyse what I could do better. In the last few rounds I really tried to understand and correct it, I know it was just a matter of putting the level of pushing a bit lower, to not always be 100% at the limit to try and chose when to be 100% and when to manage my tyres or myself in the car mentally.
"[At Silverstone] it was a matter of doing it, going to the end with a win and trusting that I can do it with the team until the end because we're always going and having a good weekend until the feature race and maybe until the last few laps of the race and then always a little mistake [ruins it] in the end.
"So it was a good moment in Silverstone to finally do it and put everything together, get the points, get the win and that's giving me confidence for the future that I'm capable of doing it and delivering."
Martins certainly felt like a driver pushing beyond the limit at times during the early weekends of the year but he was going through a harsh adjustment after three years in Eurocup and two in F3.
"Pushing at the limit even in F3 was always paying off because maybe the car can handle more because you can push all the way," Martins explained.
"The F2 car is a bit more complicated on the brakes, we need to keep them in temperature for them to work well and the tyres too obviously to not get too much deg.
"You can lose the car suddenly in a few milliseconds and it's really hard to catch it.
"At some point I discovered that if you push always 100% maybe in some of the conditions it will go to a mistake or you will not end up in a good situation like in Baku, like in Melbourne, locking up a bit and going into Hauger's car, little things.
"Not a big mistake always, always a little one with big consequences."
Martins has always been a resilient driver though so few were surprised to see him start to cut down on those small but costly errors.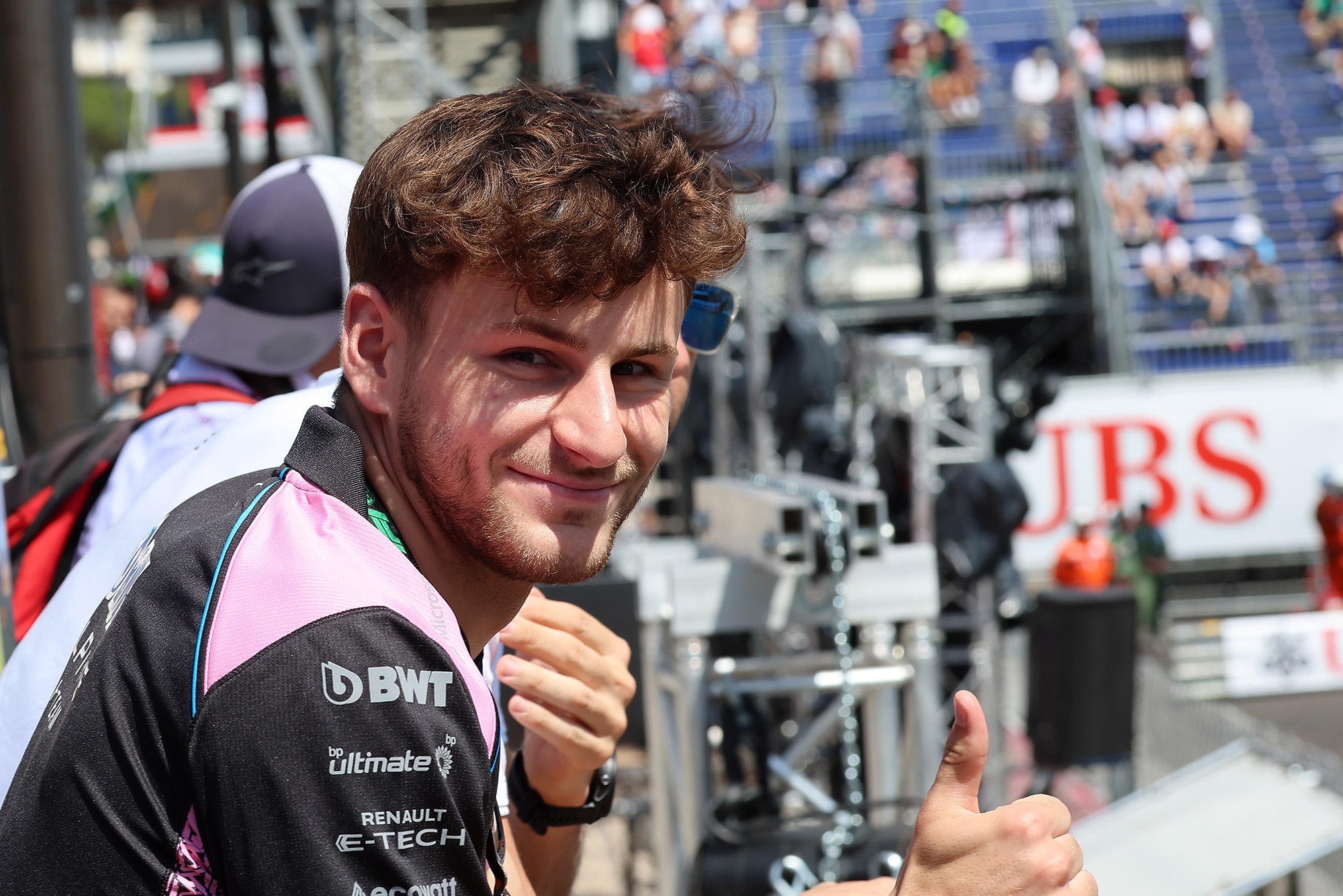 After all he lost his place in Renault's F1 academy after losing the Eurocup title to Piastri (who Renault then snapped up) and had to fight for both his place back in Renault's programme and to save his reputation as a future F1 driver.
Martins remaining in Eurocup for another year after losing to Piastri was a risk but he won seven race and the title, and earned his place back in Renault's rebranded Alpine Academy as well as promotion to the FIA F3 series that Piastri had won as a rookie one year prior.
You can't underestimate the mental strength it takes to bounce back from separating from an F1 academy. Some drivers never properly recover while Martins excelled and followed Piastri in winning the F3 title in 2022.
"It could be easy for me to look at it negatively because I see Oscar already there as an F1 reserve driver when I was still in F3," Martins added.
"I was more looking at my way, my path to F1 to try and maximise everything that I had in my hand. I'm trying my best. I'm confident that I have the right people behind me also. They actually put me in the best place possible to grow and to improve.
"I feel that we always made the right choice, the goal is to arrive in F1 fully prepared and not with any – we have still weaknesses for sure – but with the least amount of weaknesses possible.
"I could have been in F2 earlier, maybe one year before, but maybe I wouldn't have been that strong in terms of driving or managing myself mentally."
Martins isn't concerned about taking the slower path to F1 and it's only slow compared to the meteorically quick rise of the likes of Max Verstappen and Lando Norris.
The 22-year-old is ready to be patient – in part of course because there are few available opportunities on the F1 grid for 2024. But also because it will put him in a better position to actually stay there should be get onto the F1 grid.
"If it's not next year [getting to F1], it could be one year after, it could be in two years," he said.
"I'm not saying to myself I need to be in F1 next year because that will be a mistake, that will put me under pressure and not in the right mindset and approach so I'm just taking it step-by-step.
"Maybe before F1 there could be Super Formula, could be Formula E [where Martins tested with Nissan earlier this year], there could be so many things.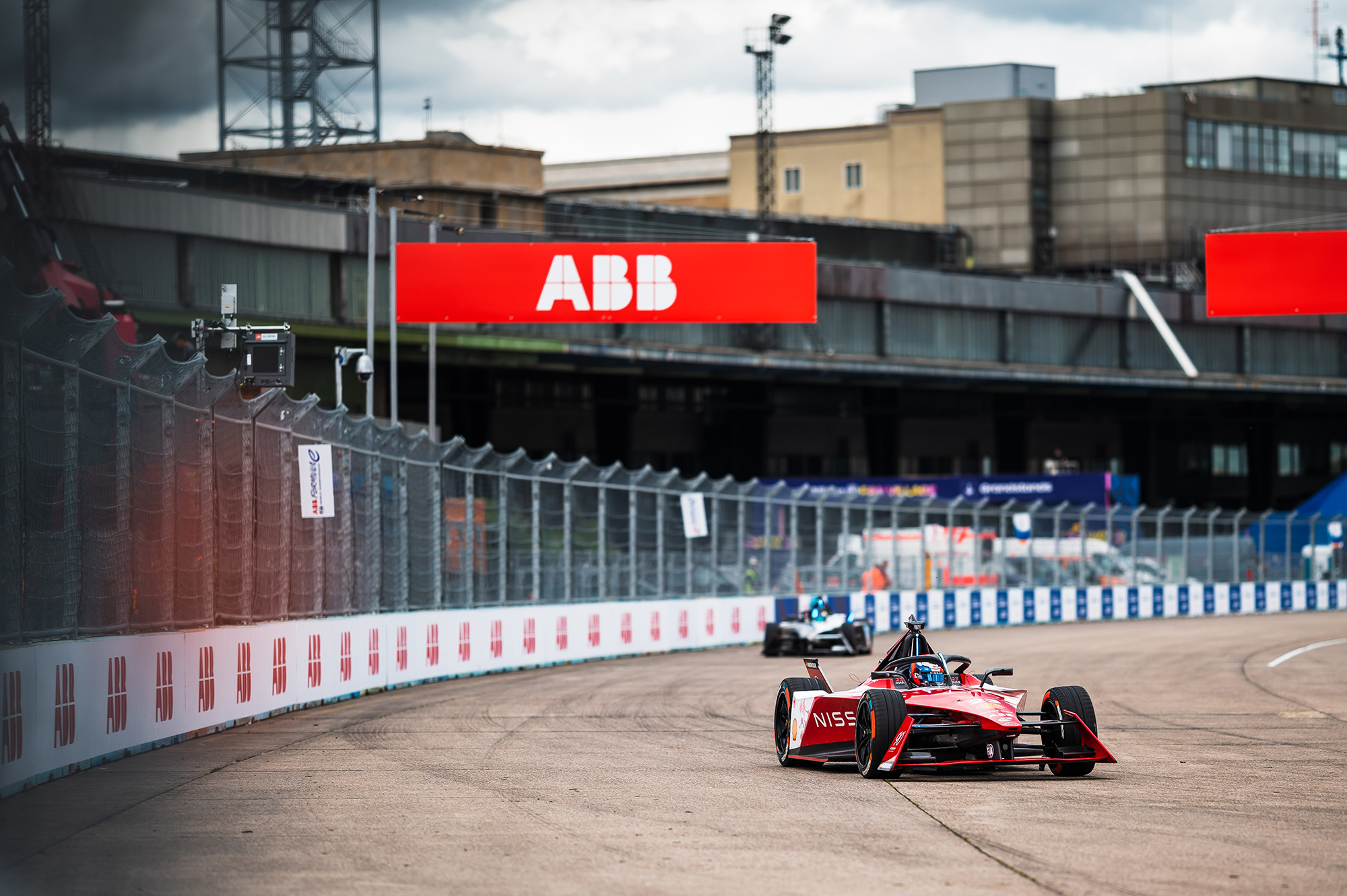 "Firstly if I kind of manage to get there in F1, I need to show to a lot of people that there is not only one way.
"I did three years in Formula Renault, which is a lot. Two years in F3. A lot of people say you have to do one year [in each series] and win every time to get to F1 but I will try my best to get there with my past which was not the easiest.
"But maybe was the best to be fully prepared for that kind of world because it's a difficult world to be there.
"To actually achieve the goal to be in F1 is less difficult than to stay there, to stay in F1 for many years is the most difficult thing in motorsport.
"You need to be fully prepared for that, need to have the shoulders and head to be there. That's the way I'm looking at it, all the difficult moments I take them as something not to go through in F1."
I just drove a Formula 1 car 😍

Today I realised one of my dreams, you can't imagine how happy I am right now, I enjoyed every second of it!

A huge thanks to @AlpineF1Team and everyone involved for giving me the opportunity!#VictoryLane #Formula1 #Alpinef1team #motorsport pic.twitter.com/QKKFVKfhB6

— Victor Martins (@VictorMartinsFR) May 8, 2023
Martins has already completed F1 tests with Alpine at Monza and the Red Bull Ring and along with a resurgent Jack Doohan, who has just leapfrogged Martins in the F2 standings with back-to-back feature race wins, is the team's leading protege.
It's hard to see where Martins fits into Alpine's short-term F1 plans but it did show a willingness to look outside of its own team when considering where to place its now ex-protege Piastri – who it tried to loan to Williams for 2023 before trying to keep him after Fernando Alonso's shock exit then losing him altogether.
Unfortunately for Martins he's not generating that immediate 'find him a proper F1 seat or someone might steal him' buzz that Piastri was generating even before Alpine noticed.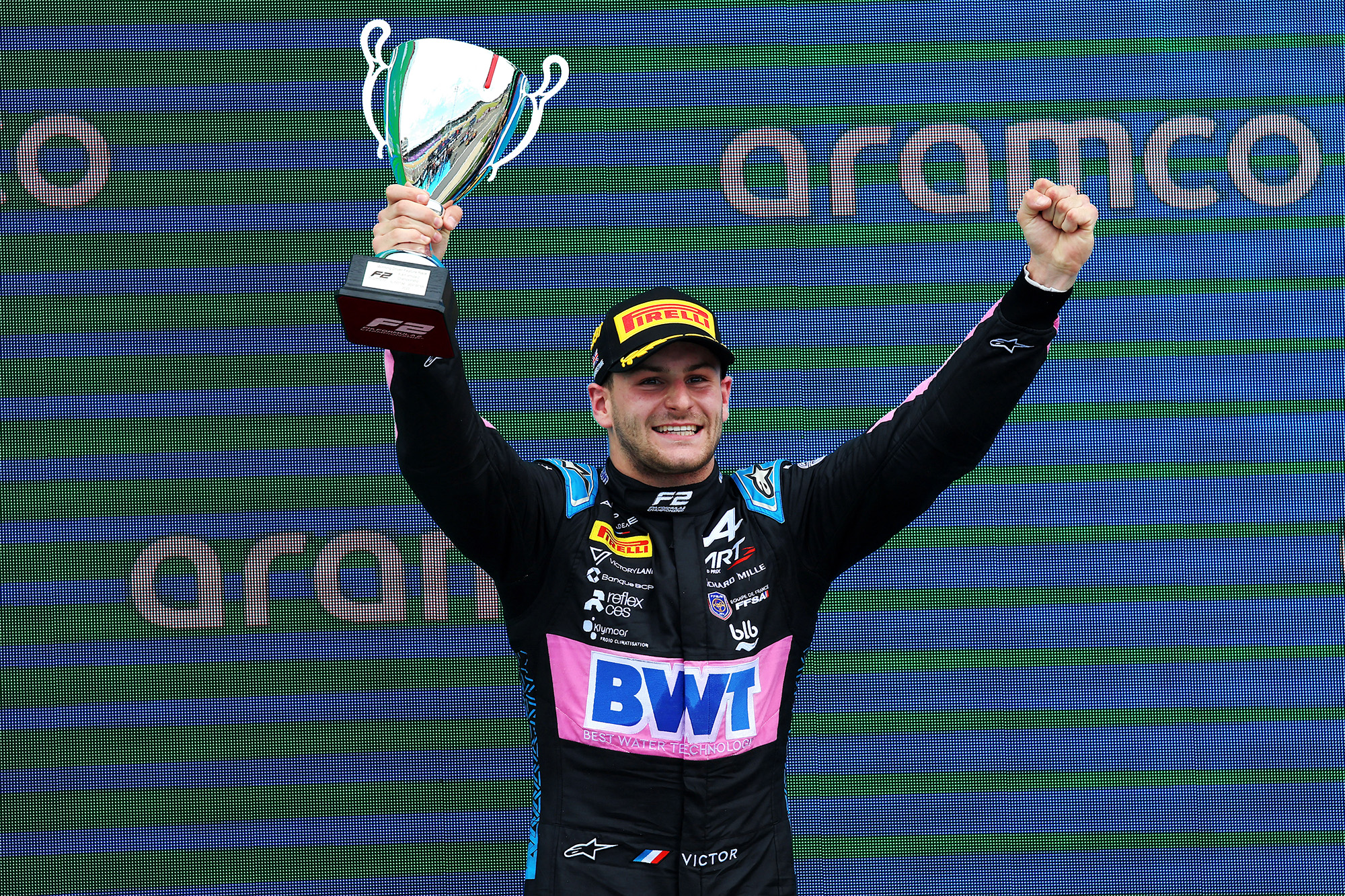 But there is still time. There might be only three F2 rounds left but a 48-point gap is not insurmountable. Doohan clawed back 64 points compared to the leader in the last two rounds alone so Martins isn't out of it yet and he's shown the kind of raw pace thus far that could lead to a late-season romp.
Whatever happens, Martins' recovery from the title defeat and Renault academy exit will always stand as an impressive achievement.
Now it's up to him to make sure a Piastri rematch in F1 one day becomes a part of that comeback story.