Max Verstappen's upbringing is a key part of his story, Earlier this year, Scott Mitchell explored Jos Verstappen's efforts to make sure his son – now the world champion – became a "better" Formula 1 driver than he had been:
Max Verstappen is a rare breed of Formula 1 driver, but he is not a freak of nature.
A simple view of Verstappen is that as the son of ex-F1 driver Jos and excellent karter Sophie Kumpen, he's made of 'the right stuff' for racing, and with an assertive father even by the standard of racing dads, Max was only ever going to go in one direction.
Meticulous, some might say extreme, preparation has enabled him to tap into the potential afforded by extraordinary racing genetics.
Still only 23, Verstappen is simultaneously one of F1's current leading lights and a driver who could maintain that prominence well into the 2030s.
He arrived in 2015 as a prodigy.
"He has unbelievable speed," Red Bull's motorsport advisor Helmut Marko said at the time. "He is very mature for his age, and he is a hard worker. He has all the ingredients you need to be an absolute champion."
Circumstances conspired to keep the title out of reach until 2021, but he had otherwise lived up to the billing.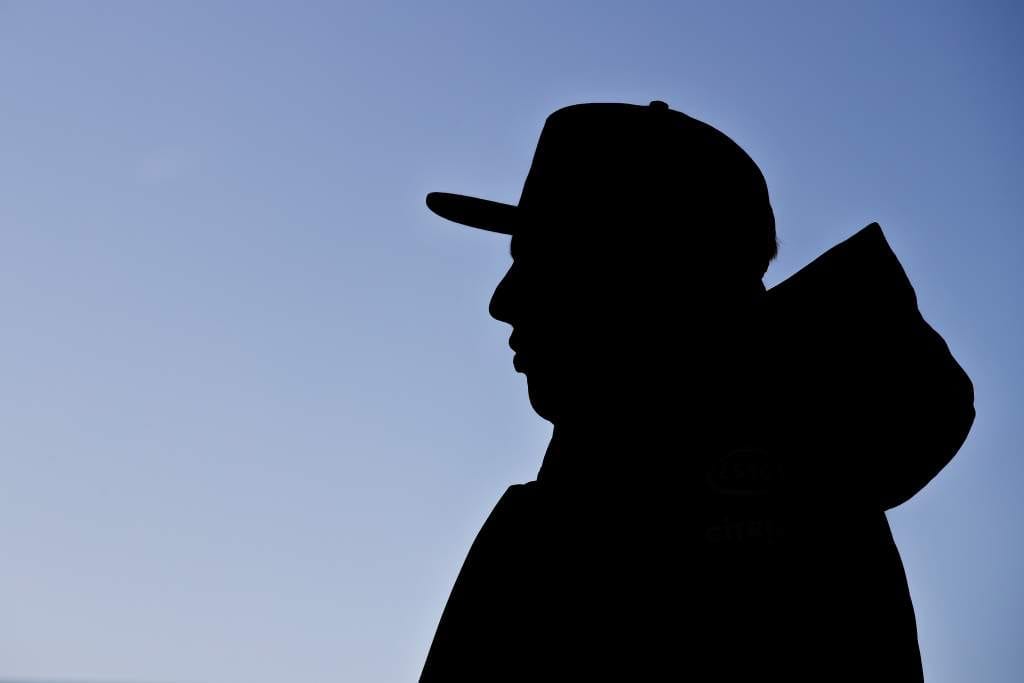 Verstappen made his F1 debut after just one year of car racing, stepping up from karts to European Formula 3. His journey to the top seems short, but it wasn't. He started on the path aged four.
His glittering karting CV, highly impressive rookie F3 season and tally of 10 grand prix wins also suggests Verstappen's talent is such that this has come rather easy. It hasn't. Verstappen's education was at times unconventional, and tough.
That said, it started with a familiar story of a kid fascinated with vehicles but restrained by slightly reluctant parents. Verstappen was driving quad bikes when he was still only two. Aged four, he saw a younger friend karting and asked his father if he could have a kart.
Jos resisted but incessant pleas – and some tears – helped get his mother on side and eventually the Verstappens relented, putting Max in a kart for the first time at four-and-a-half years old.
"It was at Genk, it was on the rental circuit, it was with a very small go-kart," Jos remembers in a 2020 Red Bull interview.
"We still have it. It's hanging in the shop where we sell the merchandise.
"But I remember after a few laps, he did the whole track flat out. And because of the vibration of the kart the carburettor was falling off all the time. We did it for one day, and then immediately bought him a bigger go-kart."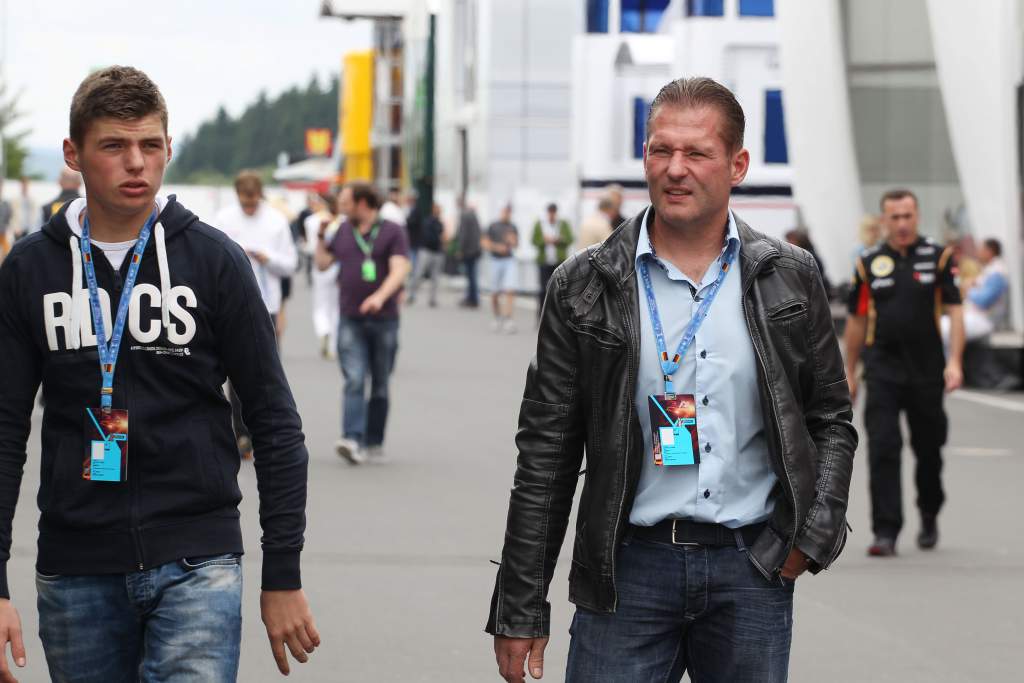 This begins the narrative of Verstappen as a prodigious talent. He won his first race, aged seven. Aged nine he was a champion in Belgium and the Netherlands, and he'd add more domestic titles over the next few years.
By 13 he'd swept to a hat-trick of WSK titles in his first year in Europe and finished runner-up in the CIK-FIA World Cup to future Red Bull team-mate Alex Albon. By 16, his final year in karting and into the senior categories, he was World and European champion in the discipline's two most competitive and professional classes.
"Max has an extraordinary mastery of the vehicle," said Verstappen's CRG team boss Giancarlo Tinini to TKART magazine in 2010.
"Few racers are able to make the difference in the first two laps of a race. He is one of them."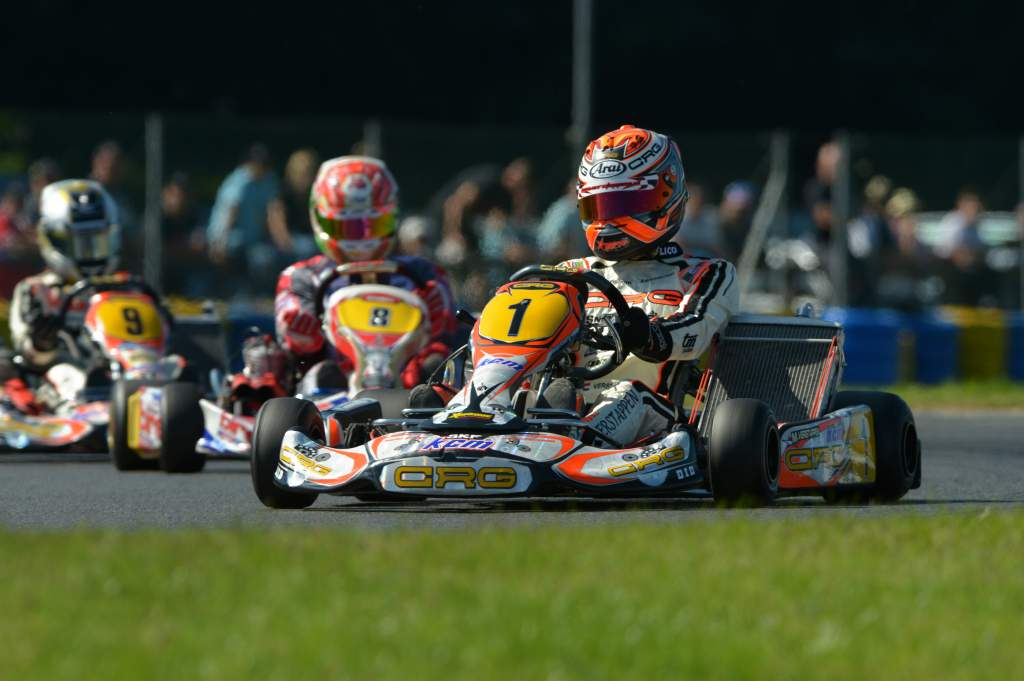 Between that first-ever kart outing and Max's final world championship success, Jos Verstappen threw everything at his son's career. He prepared his chassis and engines during the day, in his workshop, while Max was at school and they would test two or three times a week.
They'd drive upwards of 100,000 kilometres a year with each other in a van across the Netherlands, Belgium and beyond.
"We knew exactly which engine was the best and knew what carburettors were richer so everything was sorted," Jos says.
"I knew exactly which engine we had to use and things like that. And of course, Max had to set up the carburettors for that. That's a feeling a driver needs to have. And I think he was very good at that. He was very precise on what he liked to have in his kart."
This education was better received by Max than his school.
"Especially when you start driving internationally, it becomes quite difficult to keep up to speed with school," says Max.
"From when I was like 11, 12 years old, it became quite tricky.
"I'm not the person who likes to work on the engine. My dad really enjoys doing that. I always loved driving more. But I think it's really important that you understand what's going on.
"I was always involved, looking at what my dad was doing and understanding what he was doing. But I never had that feeling of doing it myself."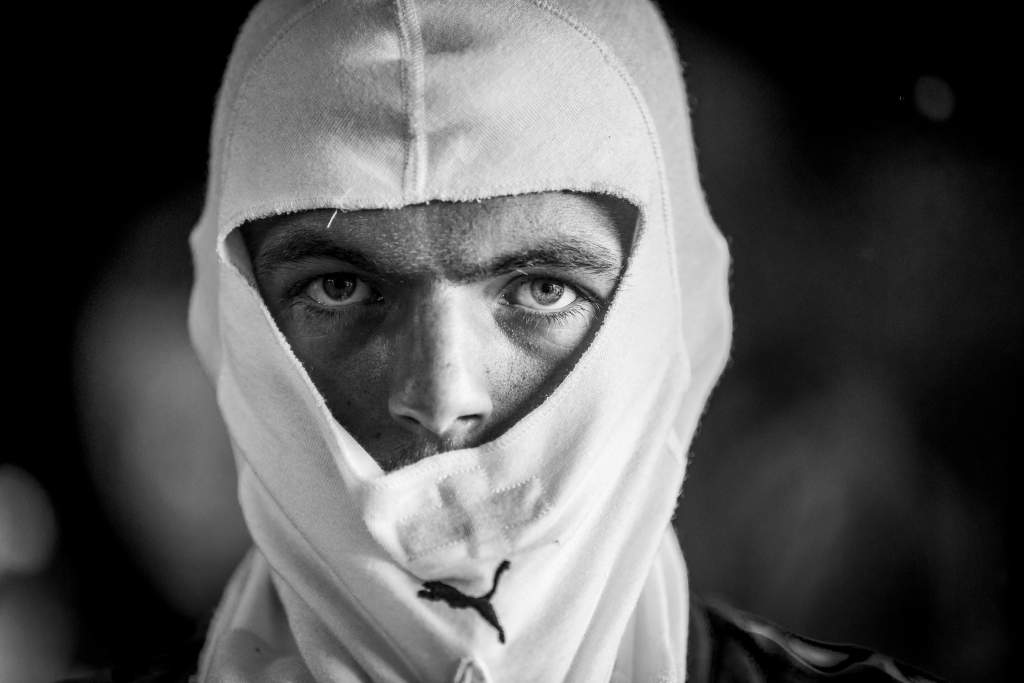 Verstappen was exposed to that way of working throughout his 'apprenticeship' in karting. The Verstappens teamed up with the Pex Racing Team, a CRG customer, running out of their awning, but father-and-son were still primarily in charge of their own machinery. Jos would still prepare the engines himself on his own dyno.
"I don't think many people had the guidance from a very young age, like I had," reflects Max.
"They catch up, they learn a lot. But from a very young age I just learned a lot straight away."
This extended beyond Jos insisting his son had an understanding of the mechanical side. Driving was the priority. Having never quite hit the heights he'd hoped for in F1, Jos (pictured below racing for Arrows in 2001) was determined to make sure Max became a superior driver to him.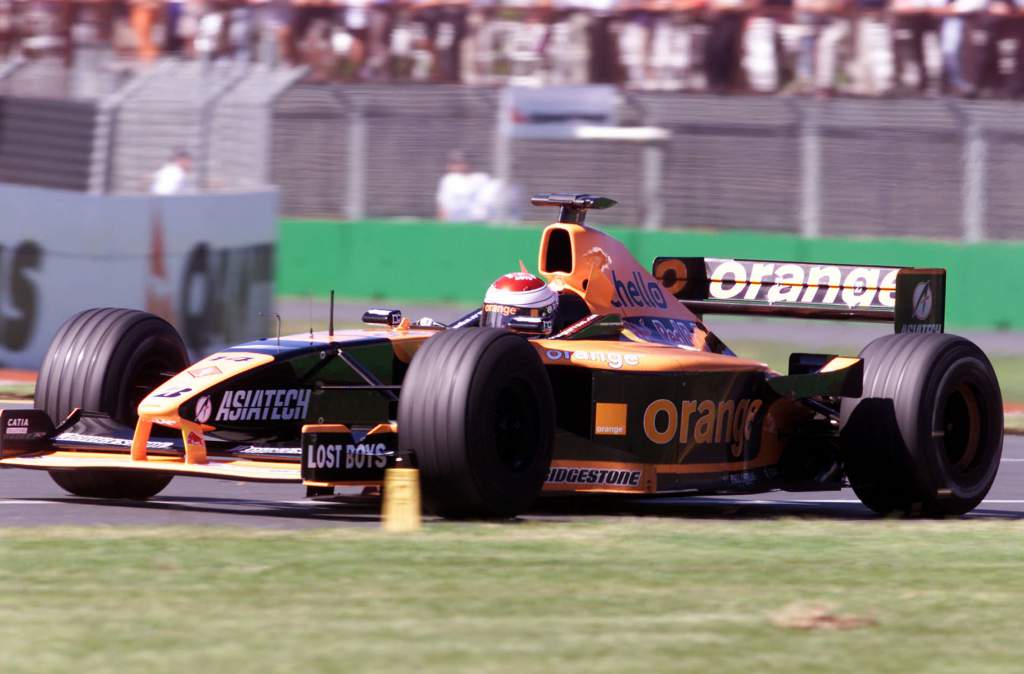 Some familiar-sounding anecdotes emerge from this time in the Verstappens' lives: Jos sending Max out changing certain things on the kart without telling him, to improve his feedback, or continuing to test even when the rain came, and most people packed up and went home.
But there were less conventional methods: "Even in races I told him because he was winning so easily, for example, that he couldn't overtake in a certain corner or certain part on track. So, he had to find different spots to do that. It was just to make it more difficult for him, to find other ways to overtake or not."
"Feeling" was important to Jos. "Especially when you are young." Data had been a rare commodity during his own junior career but he didn't want Max to become reliant on it. He wanted his son to know what to do in as many situations as possible, to understand where the grip was in wet conditions, what he could see with his eyes versus how it felt through the wheel, and how the kart would react on different lines.
Verstappen was taught to learn by doing, to figure out the limits on his own but also to understand where the kart could be faster as well. He was also told not to lie: if he didn't feel a difference, say that. And he bought into the process.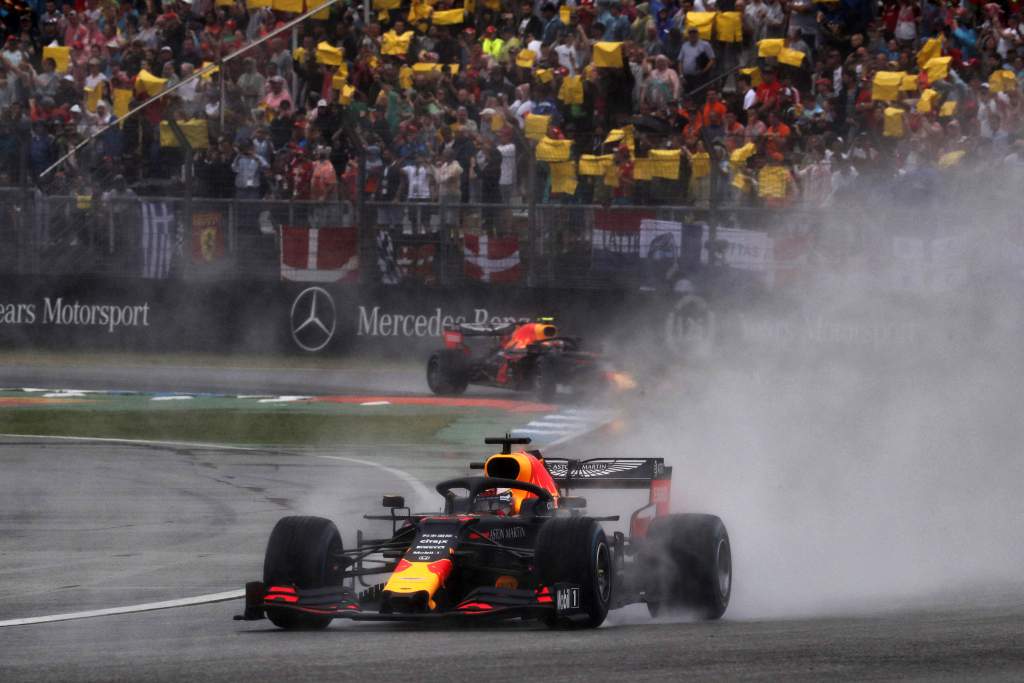 "It's funny, even in junior categories, there was quite a big difference in how the teams are operating in terms of the amount of time you spend on track," Verstappen says alongside his father in a late-2020 interview hosted by David Coulthard.
"Some people would spend more time on looking at data. I think we were a bit more of the 'just drive' [type] because you learn while driving."
"A lot of teams at that time, they're looking at data for 45 minutes," Jos adds. "I said to them, 'I don't want that. Five minutes is fine, but give him time on track'.
"That's what they need, they need to feel the car, make changes to it. But they were more into data."
Max replies: "You can look at a brake graph for 45 minutes but I'm not changing it am I, if I'm looking at it? I have to go out on track and understand and try different things."
Jos reflects on the lessons he tried to impart on his son in a simple way: "As a father, you always want to help your son as best as possible. I tried to push him in the right direction."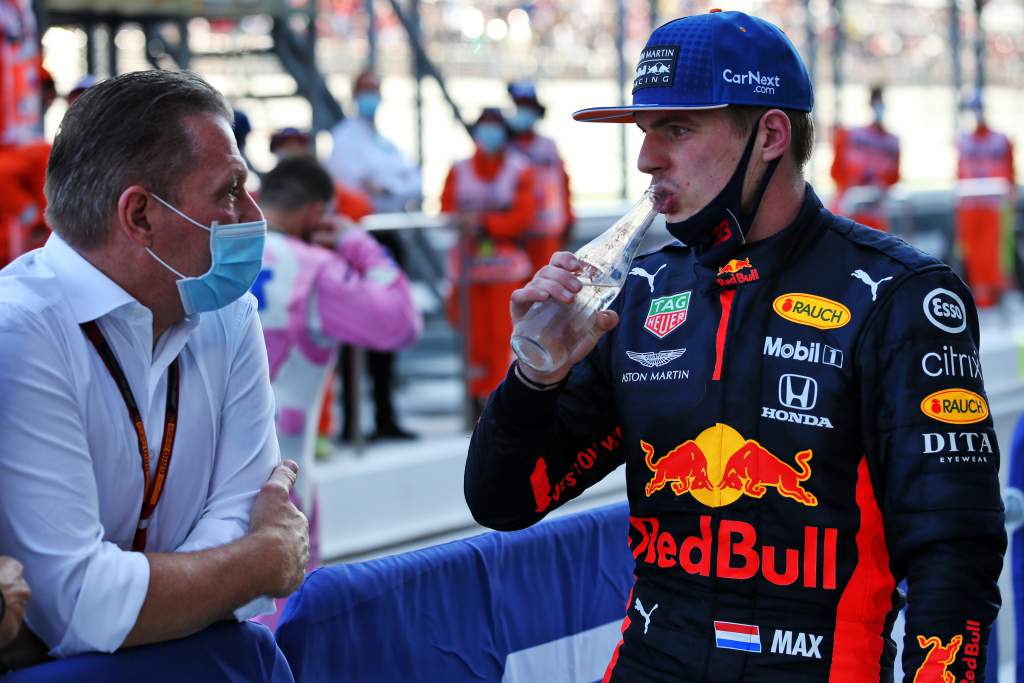 Sometimes that didn't manifest itself kindly. Doubtless there are many young aspiring drivers who have experienced similar. As hinted earlier, 'karting dads' can be a particular breed. With increased investments of time, effort and money come increased expectations.
That tested Verstappen in different ways.
"I remember he was probably eight or nine or something," says Jos. "Wednesdays, school was finished at 12, we went to the go-kart track, and in the wintertime it was freezing.
"So, I let the van run so he could warm up, and then we did 10 laps. He was cold. I said 'OK, go warm up', and then three minutes later [Max was not back] – 'f**k, where is he now…Come on!' [and Max would say] 'I'm still cold'. 'I don't care, drive.'
"And he couldn't move his fingers, and I didn't care. I wanted to test things, because I was building engines, and changing chassis, and I wanted to have a result because I wanted to move forward."
"I could barely hold the steering wheel," Max interrupts.
Jos adds: "And then, when the fingers warm up again, that's very painful. I said 'ah, shut up'."
"Trying to make me tough, I think," says Max, laughing.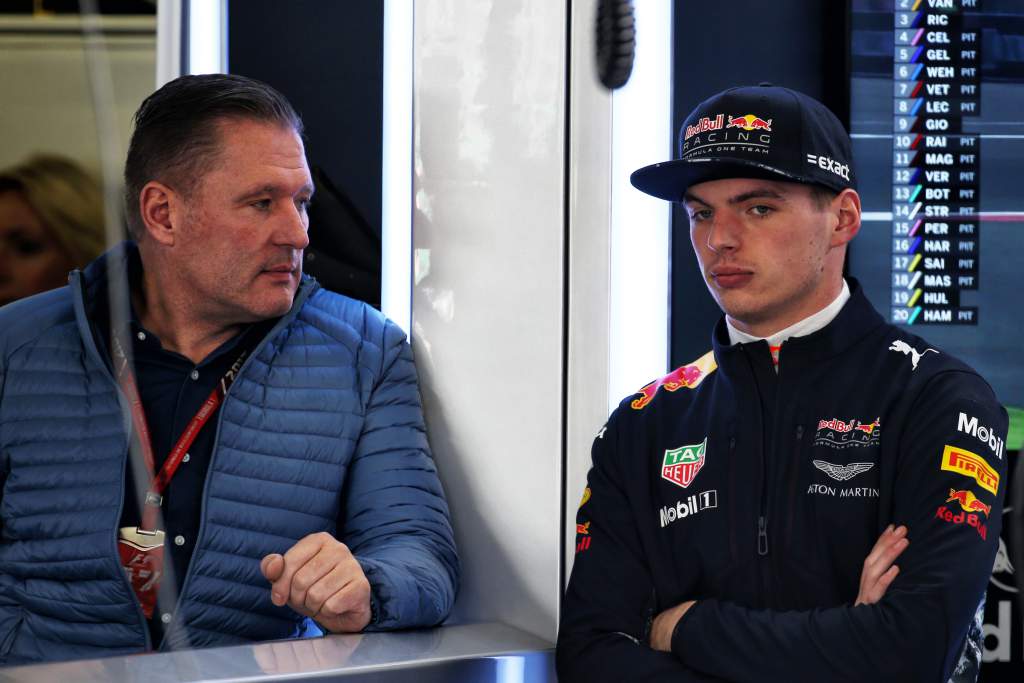 Some might view such methods as over-the-top. They do reflect an older way of doing things. "Tough love," is how former Red Bull driver Coulthard, hosting the interview with this particular exchange, describes it.
There are other stories in this vein. Max tells one, from his penultimate year in karts, where after one practice session in which he was "driving like a potato, I swear", he got a thump over the crash helmet by his dad in front of others.
Max, imitating his father, says the message was: "If you don't drive normal we go home, I'll pack up everything!" Jos points out that Max went on to qualify on pole, win all his qualifying races and the main events.
"A nice wake-up call. I needed it," Max claims.
"But I knew his driving style," insists Jos. "And I can see if he was making bad [choices] or driving bad, I could see it immediately.
"It woke him up. He needed that sometimes."
That has been explained as a difference in personality. In 2014, Jos described his son as "a very good character. He has a gentle character. When he puts his helmet on, it changes. He's more aggressive because he wants to win."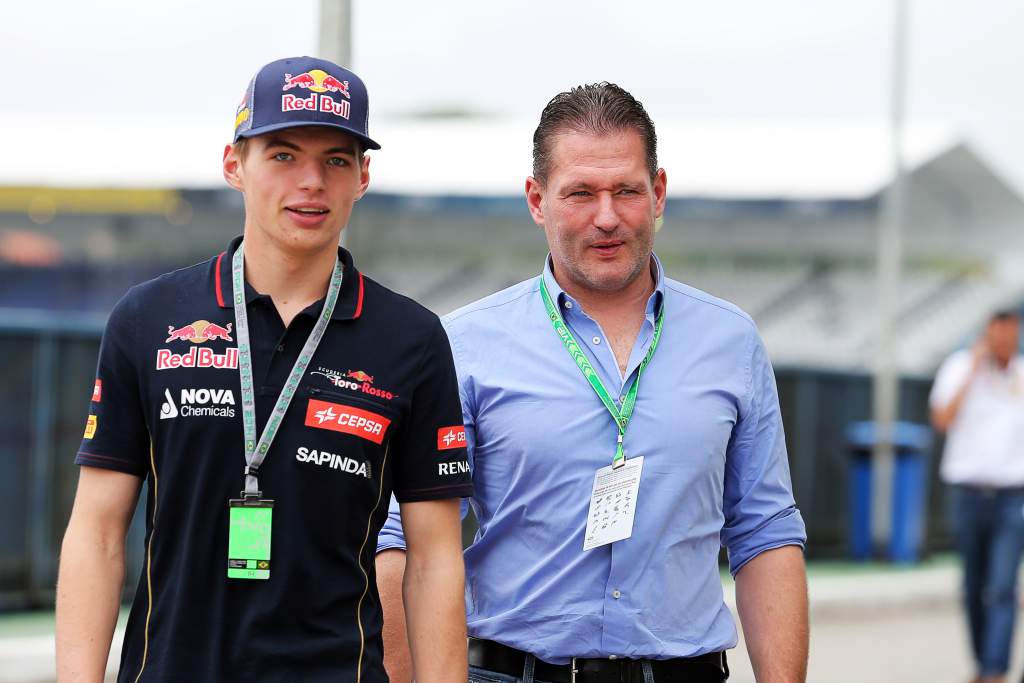 As F1 saw in 2020, a more mature Max was able to handle the frustration of not fighting for the world championship with humour and a relaxed demeanour. He even joked in an interview with The Race that it was a lot harder on his dad. For as long as Max can remember, his way of handling the expectation and getting the most out of himself was to shrug off disappointments and not get worked up about things – thereby preventing pressure from building in the first place.
That jarred with Jos. Max admits, especially in his younger days, "my dad sometimes thought I was too relaxed, too easy-going". Jos agrees. He says it was "all very easy for him" and felt that sometimes meant that Max did not care enough.
The stand-out example of this is the time Jos 'left' Max at a service station. It was after the 2012 CIK-FIA KZ2 World Cup, which Verstappen remembers as "one of the easiest weekends of my career". He overcame a burned clutch in a qualifying heat and 10th-place start in the pre-final to win and earn pole for the main race – but was wiped out on the second lap after crashing with a rival he was impatiently trying to immediately repass.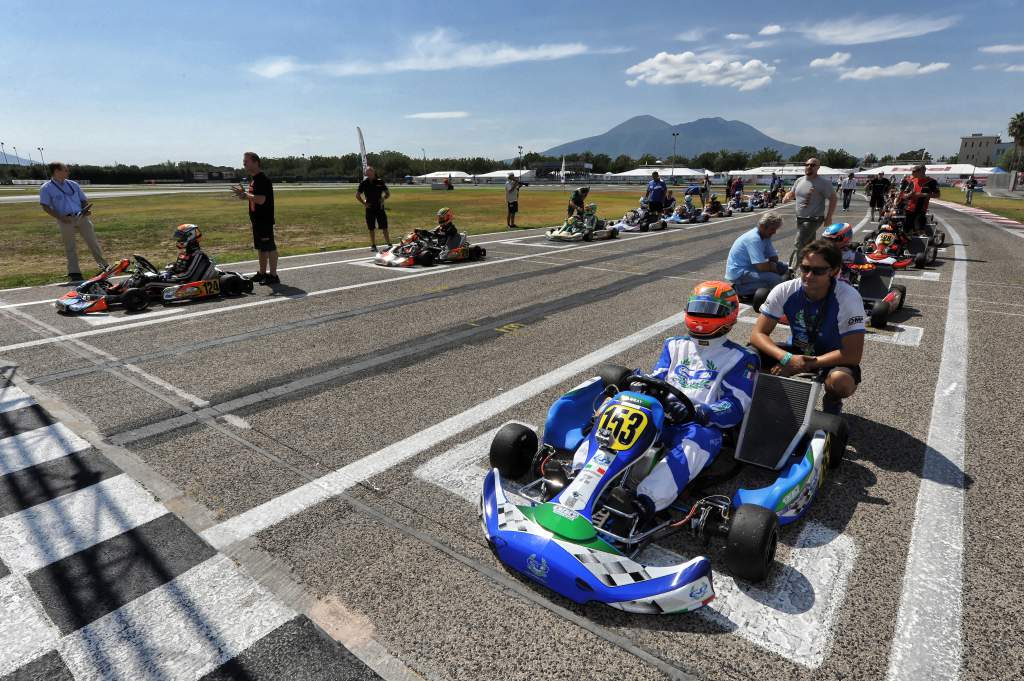 "It was a bit stupid and unnecessary," Max admits. "So I crashed. No world championship.
"My dad invested so much time already the years before, preparing the engines, making sure that once I stepped up to that category, that everything would be ready to go. So I was of course upset, but my dad was really upset and disappointed in me.
"He broke down the tent, everything, he threw it in the van. I had to pick up the kart with a friend of mine on the track after the race because my dad said I had to do it myself.
"We sat in the van on our way back home. I wanted to talk to my dad about what happened, my opinion about the incident, but my dad didn't want to talk to me.
"I kept trying and at one point he stopped at a fuel station and he's like 'Get out, I don't want to talk to you anymore'."
The full context is that Max's mother was in a separate car a few minutes behind and Jos says he never intended to outright abandon the teenager. At this point Max defends his father by adding: "You came back anyway, so it's all right."
"We drove about 1800 kilometres back home, I didn't say a word to him," Jos says by way of explanation.
"And the whole week after I didn't speak to him. And then we were sitting together, I explained to him how I felt.
"The whole week he didn't feel comfortable with the whole situation. But I wanted him to understand that he had to think. The season afterwards we won everything. We won two European Championships, the World Championship, we won every race.
"He was so focused, the way he was racing you could see he was thinking, and I think because of what happened at that race, it made him a better driver."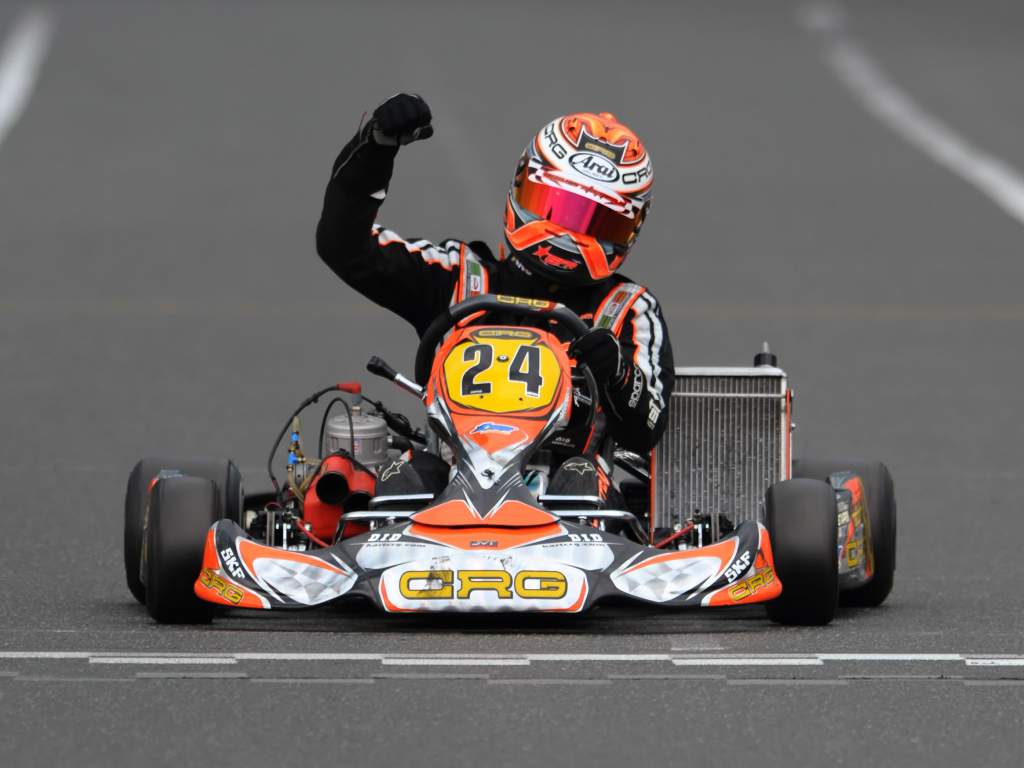 These are uncomfortable stories, especially with the suggestion that the ends justify the means. It reflects a tough parenting style, at least in the context of competition.
But the younger Verstappen reflects on those memories almost universally with a smile. And he believes he is undeniably a better driver for it. That, after all, was the driving force behind even Jos's most curious or questionable methods: influence Max as much as possible, but make him better than his father was.
"He uses his head more, and his driving style is more fluent," is Jos's appraisal.
"I can be aggressive," says Max. "I just like to race hard, I think my dad also did that. I think I just have a bit more finesse in my driving style.
"But that's also what we worked on from when I was very little. My dad wanted me to become better than him."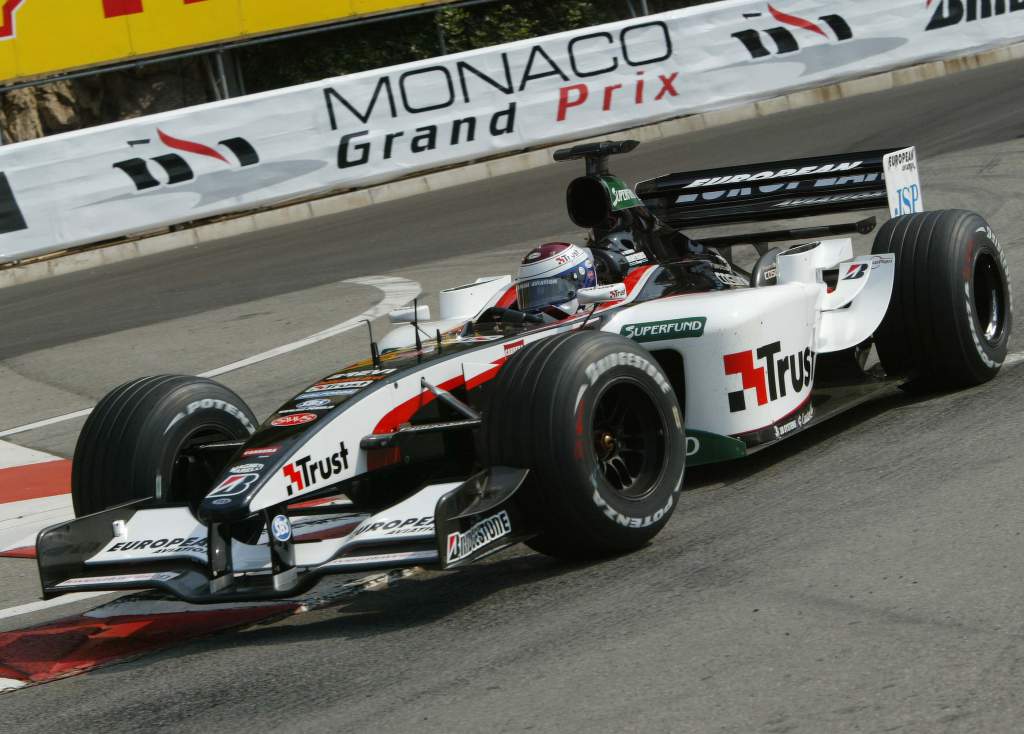 That objective has been accomplished. Max Verstappen has become a fast, instinctive driver with great adaptability, aggression and – with each passing season – more maturity and better judgement.
He is a strong embodiment that a driver's qualities do not come down to nature vs nurture, but both. Even if 'nurture' is too soft a word to describe his racing education at times – and the same end result may well have been achieved with kinder methods along the way.
The upshot is that he was seen by many as Lewis Hamilton's heir apparent – and in 2021, he halted Hamilton's title run.
And that's why father and son fully endorse the process that made Verstappen the driver he is, harsh and intense as it could sometimes be.