The straightforward Max Verstappen victory from pole at the Spanish Grand Prix was always just a formality at the first track of the 2023 Formula 1 season where high-speed corner performance is the dominant factor, even more so with the Barcelona circuit's new layout.
He's delivering close to perfection in a car he could only have dreamt about before. To see him in Turn 14, close-to-flat in seventh in what is essentially a 90-deg change of direction, just the briefest of lifts at 160mph, and the car just loading up, was to see a driver in perfect mesh with a dimension of cornering performance which would have been alien just a couple of years ago.
Starting from pole on on harder tyres than those around him, aggressively fending off Carlos Sainz's Ferrari down to Turn 1, Verstappen checked out for the afternoon. He won by 23s but it could probably just as easily been 33s or more.
You could almost have written that coming into the weekend. Of more intrigue was how the random order of the fruit machine rotating colours behind – green-red-black – played out this time.
Mercedes came away delighted with a 2-3 finish for Lewis Hamilton and George Russell respectively (the latter from 12th on the grid) in the sidepod version of the W14 introduced last week in Monaco. They did that purely on race day pace far superior to that of Ferrari or Aston Martin.
So the upgrade is working, right? It's almost certainly improved the car, yes. But is Mercedes now set to pull away from Aston Martin and Ferrari and regain the status of chief Red Bull chaser it enjoyed at the end of last year? Almost certainly not. There's a huge element of track variability in this three-team part of the grid anyway but the traits of the Circuit de Catalunya really muddied the waters.
As we discussed in our qualifying analysis, differences in tyre performance here can actually be even more important than aerodynamic performance. This track's long, high-speed bends have always demanded a lot of the left-front but that has been intensified by the replacement of the previous slow final section with a return to a near flat-out blast. Turning an 800kg car 90-degrees while flat in seventh gear at 160mph absolutely kills the left-front.
But combine that with cool conditions and the hardest range of compounds, and there's a supremely tricky balance to be found between qualifying and race. So cool in qualifying that half the field were struggling to switch on the fronts by the beginning of the lap (helping put Russell and Sergio Perez in the Q2 part of the grid and allowing Lando Norris to star in the McLaren to go third-quickest) but giving such big heat degradation that it was a two-stop race, with lots of temperature management.
The Mercedes works well relative to the field when temperatures are cool (even though that boost is not as extreme as the McLaren's) in both qualifying and race, though the demands of each are quite different. It allowed Hamilton to switch the fronts on relatively well in qualifying, but its degradation in the race was pretty good too.
Its balance is such that it can carry a lot of rear wing and still be driveable because its front works well. A low downforce wing setting around this new layout is probably faster over a single lap but definitely slower over a race stint – which is what Mercedes found in FP1 when Hamilton and Russell did a back-to-back comparison. Both drivers loaded the car up with plenty of wing for qualifying and race (as did Red Bull).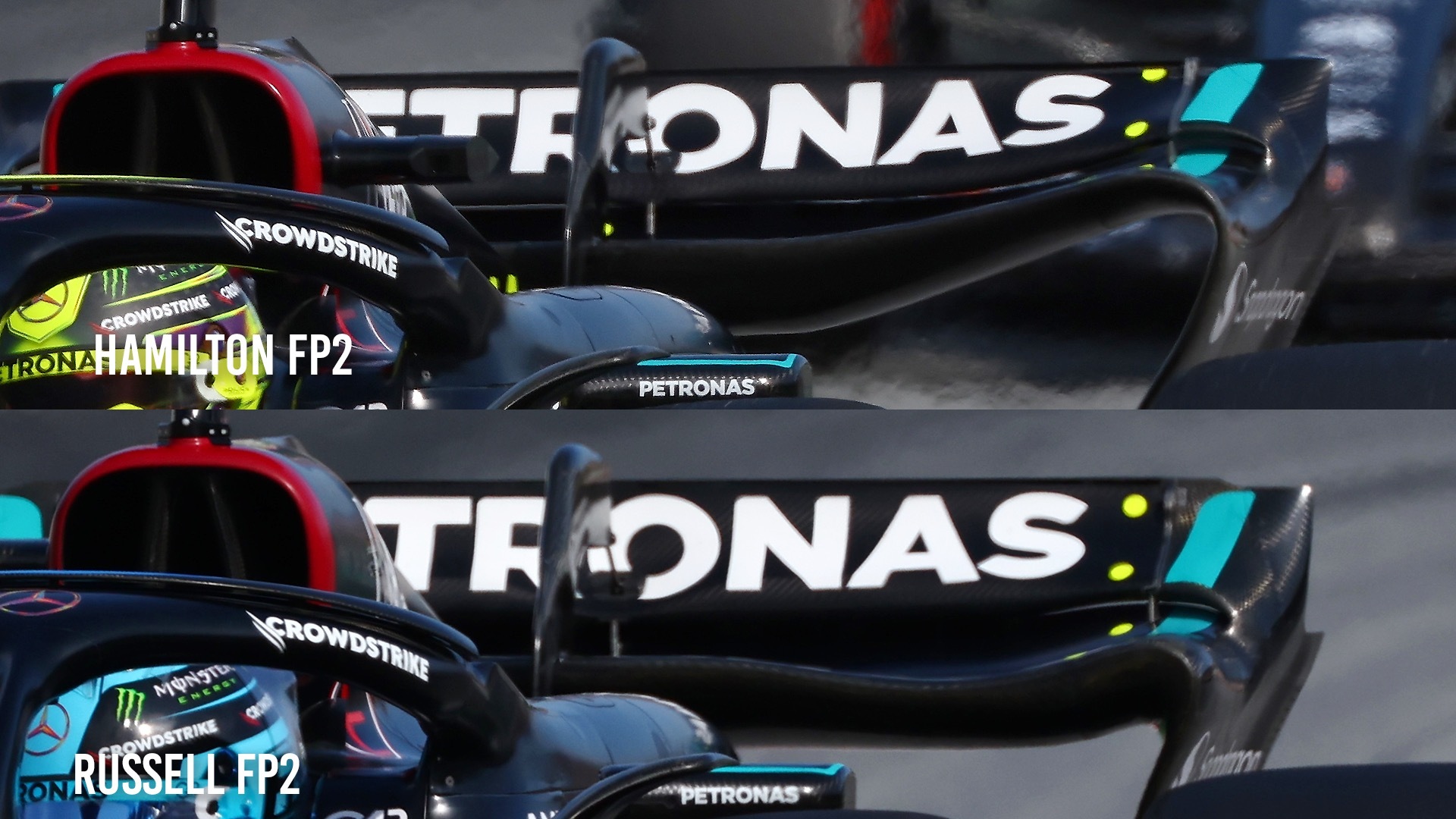 It had been a handful on Friday regardless of wing level, but a Mick Schumacher session on the team simulator on Friday evening helped bring a very productive change of set-up into Saturday. In hindsight, Russell's side of the garage then got a little greedy with how low they ran the car.
"At qualifying speeds the edge of the floor gets closer to the ground than in the race," explained George, "and you get bouncing. We got it wrong in qualifying."
But at race day pace, having to look after that front-left on a heavier fuel load, running around 7s slower, that point wasn't reached, and Russell enjoyed the same benign car as Hamilton which, allied to a very aggressive start and first lap, helped him make such great progress past a bunch of cars which had qualified ahead of him but were way slower in the race.
The Ferrari – a car which in the previous races already looked harder on its tyres than Mercedes or Aston Martin – could not be loaded up with wing in this way. All the team's numbers say the new sidepod and floor introduced here have significantly increased the aerodynamic loading on the rear. It is hoped that this will make the car less peaky and more predictable through fast corners. But that's still its weakness.
Its ride quality looked awful, just as bad as the old car's in Monaco last week over the kerbs. To squeeze the underfloor downforce from this generation of car requires it to be run as low as possible and it seems when Ferrari tries for that, its suspension cannot adequately control the aero platform.
It has the choice of bouncing or surrendering downforce by running higher. Loading it with more wing just worsens the problem. So both Ferraris ran relatively skinny wings here – thus flattering Sainz's pace in qualifying, but giving the car tyre degradation way worse than Mercedes'.
Forget, incidentally, Charles Leclerc's bizarrely off-the-pace car, in which he qualified 19th and even with a new rear end could not make it into the points from the pitlane. Something was clearly badly amiss with that car. Ferrari doesn't yet know what.
Sainz challenged Verstappen into the first turn, having used his soft tyre to help get him off the line better, but Verstappen was robust in fending him off. As the Red Bull simply disappeared up the road Sainz might have assumed his battle was with Hamilton just behind him (once Lewis had counter-attacked Lance Stroll, who'd put a great pass on him into Turn 5 on the opening lap). It wasn't. As the first pitstop window opened, so Hamilton quickly got himself onto the Ferrari's tail, threatening either a DRS-assisted pass or an undercut.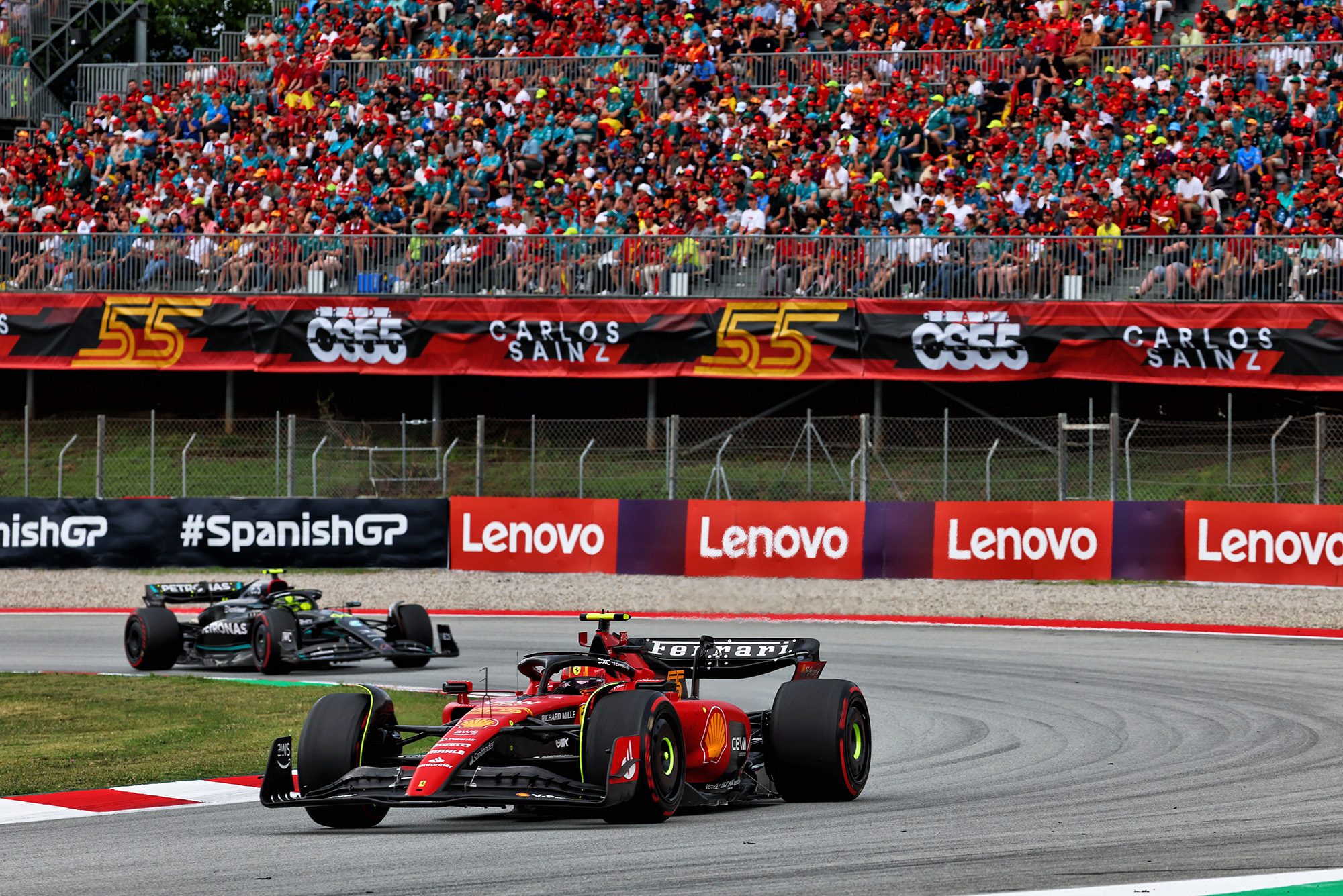 To defend this, Sainz was brought in as early as lap 15 of 66. Hamilton, on the same starting tyre as Sainz, ran another nine laps and lost virtually no time to the Ferrari in that time. In between his stop and Hamilton's, on medium tyres 15 laps newer than Hamilton's softs, Sainz made up no time. Hamilton rejoined after his lap 24 stop right on the Ferrari's tail and proceeded to put a DRS pass on it and pull far away.
At this stage Sainz was 9s clear of Russell, who had rejoined behind Stroll but would soon find a way past the Aston Martin. Once he'd done that it took just seven laps to make up 6s and to overtake. Partly that was because his tyres were 10 laps newer, but the reason for that difference was the early stop the Ferrari's poor pace had forced upon Sainz. Subsequently Perez came past too.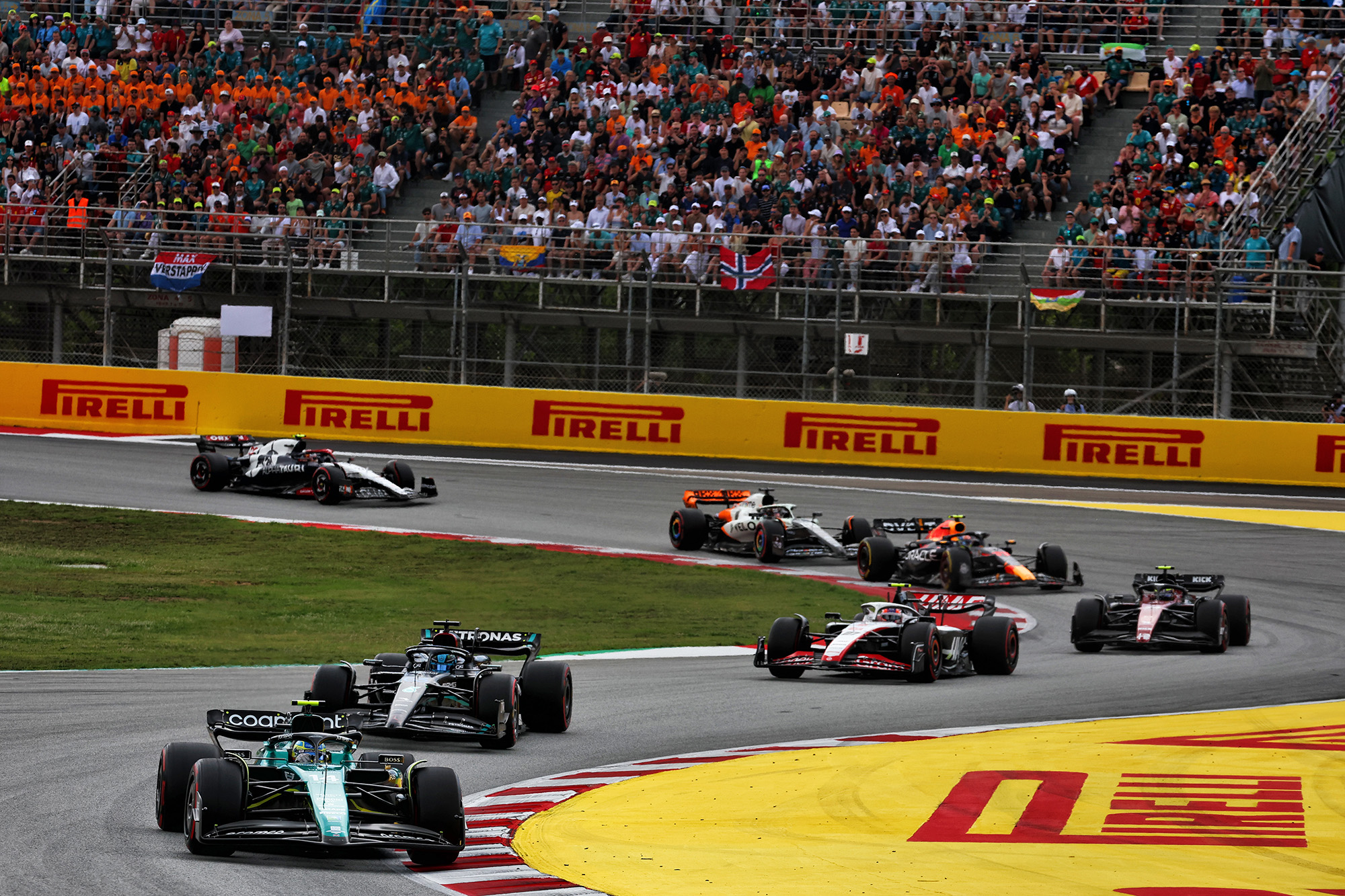 Aston Martin? Even if Fernando Alonso had not damaged his floor and had qualified second (which had looked perfectly feasible), the Aston had nothing like the Mercedes' race pace, especially on the softs.
"It would've been hard to keep the Mercedes behind in this initial phase of the race," said Aston Martin team principal Mike Krack. "Because I think at times we were five-to-six/seven tenths slower. And this is something that we need to understand.
"I think we were very strong at the end on the hards, but then the damage was done… George, like us he also had a lot of traffic but he just ran through it. So, it's true that as soon as the traffic was cleared we were in a much better place, but… we need to understand why we were there in that position. Because we were not in traffic all the time."
Sixth and seventh for Stroll and Alonso wasn't a disastrous result, but the 39s by which Stroll trailed Hamilton's second place Mercedes across the line (and 18s behind Sainz) said it all: this wasn't a typical Aston Martin performance. It was track specific on a weekend where the new layout made the tyre equation extremely difficult to understand for everyone.
Verstappen aside, this was a tyre-dominated result. Those Mercedes podium places were earned totally on merit. Because performance is relative and they were just way faster than either Ferrari or Aston Martin. But assessing how much of that is the upgrade, how much just Barcelona and Pirellis, is not really possible.