After a chastening Spanish Grand Prix in which Ferrari's upgraded Formula 1 car exhibited much the same limitations as its predecessor, its biggest confusion clearly remains unresolved.
There is an argument, put forward by Ferrari team boss Fred Vasseur post-race, that the upgrade package introduced at Barcelona hit its targets in terms of performance.
Carlos Sainz qualified on the front row at a time Ferrari's chief rivals Mercedes and Aston Martin have each introduced upgrades. Ferrari reckons its new sidepods and floor, plus a circuit-specific rear wing, brought it two or three tenths of a second of laptime – if so, then this qualifying result would not have been possible with the old-spec SF-23.
In the race, though, Sainz went backwards. And Charles Leclerc, starting from the pitlane, barely went forwards. Sainz slipped from second to a limp fifth while Leclerc failed to make it into the points, finishing 12th on the road and 11th after a time penalty for Yuki Tsunoda.
"The global picture is the same," admitted Vasseur. "We are there in quali and we are not there in the race. We are inconsistent on the same car between compounds and sometimes between the same compounds."
This upgrade package was meant to have an immediate impact as well as open a new development direction in pursuit of gains further down the line, and raw performance-wise we can give Ferrari the benefit of the doubt for now that it did.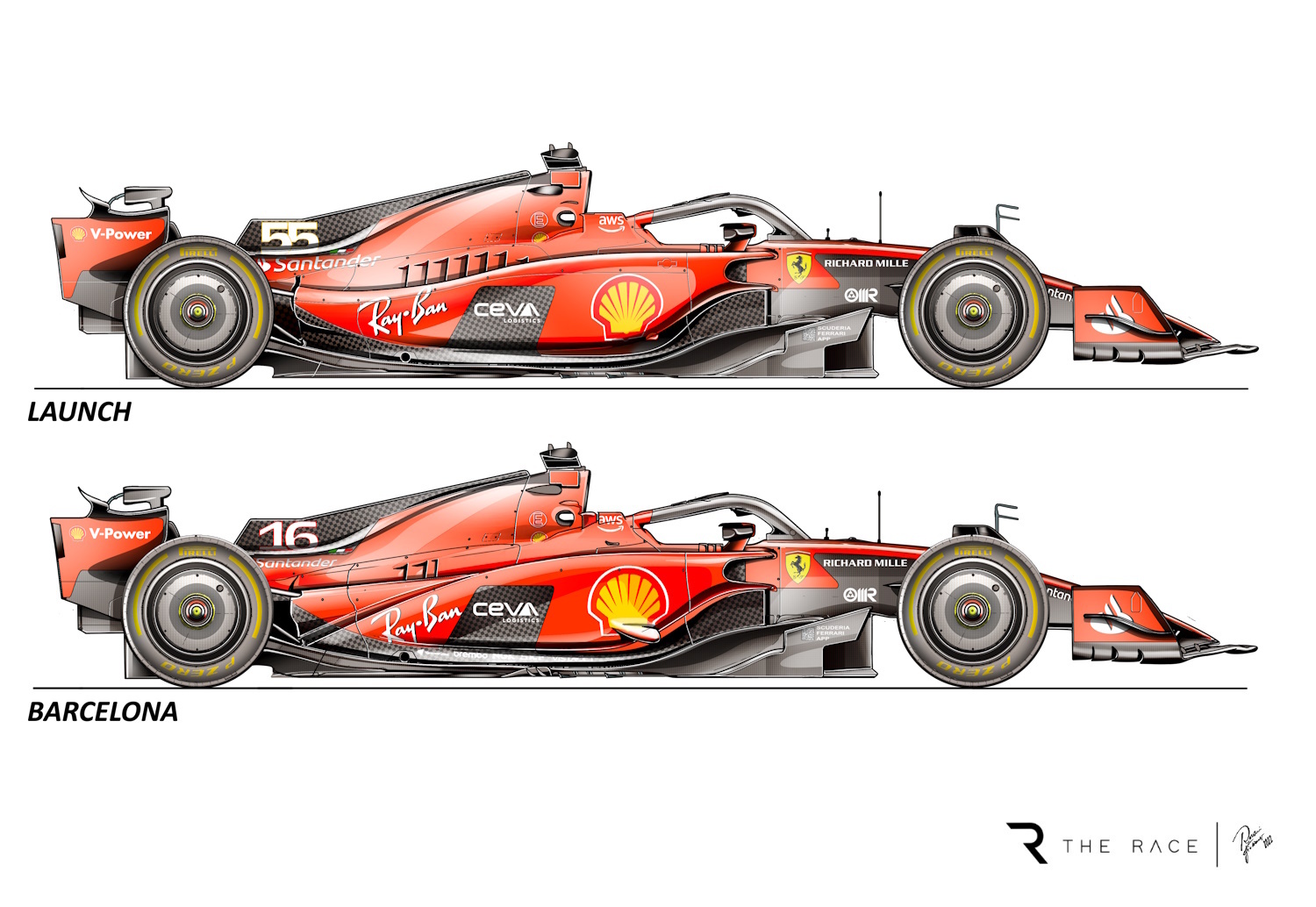 That's despite Sainz being almost half a second off the pace in what was Ferrari's second biggest deficit to pole of the season, because this was clearly a track that unleashed more of Red Bull's ultimate potential.
But the race is where things really unravelled for Ferrari, arguably even more than normal.
Rather than pushing to get the maximum out of the new-spec parts in a race situation, Sainz's race was all about tyre management. He did at least beat both Aston Martins, which Ferrari has only managed once previously in 2023, but this was an unusually uncompetitive weekend for Fernando Alonso in particular, and Ferrari was absolutely destroyed by Mercedes in this grand prix.
"You could consider it a major step forward compared to Aston but it's not far enough," Vasseur said.
"We still have a huge delta in terms of performance with Mercedes quali to race, and it's where we have to put all the focus of the company if we want to come back and to have good results.
"It's on Sunday that we are scoring points, not on Saturday."
And Ferrari clearly does not know why that is. As Vasseur said, if it did then it would be fixed because the 1000-strong workforce is working so hard at trying to do that already.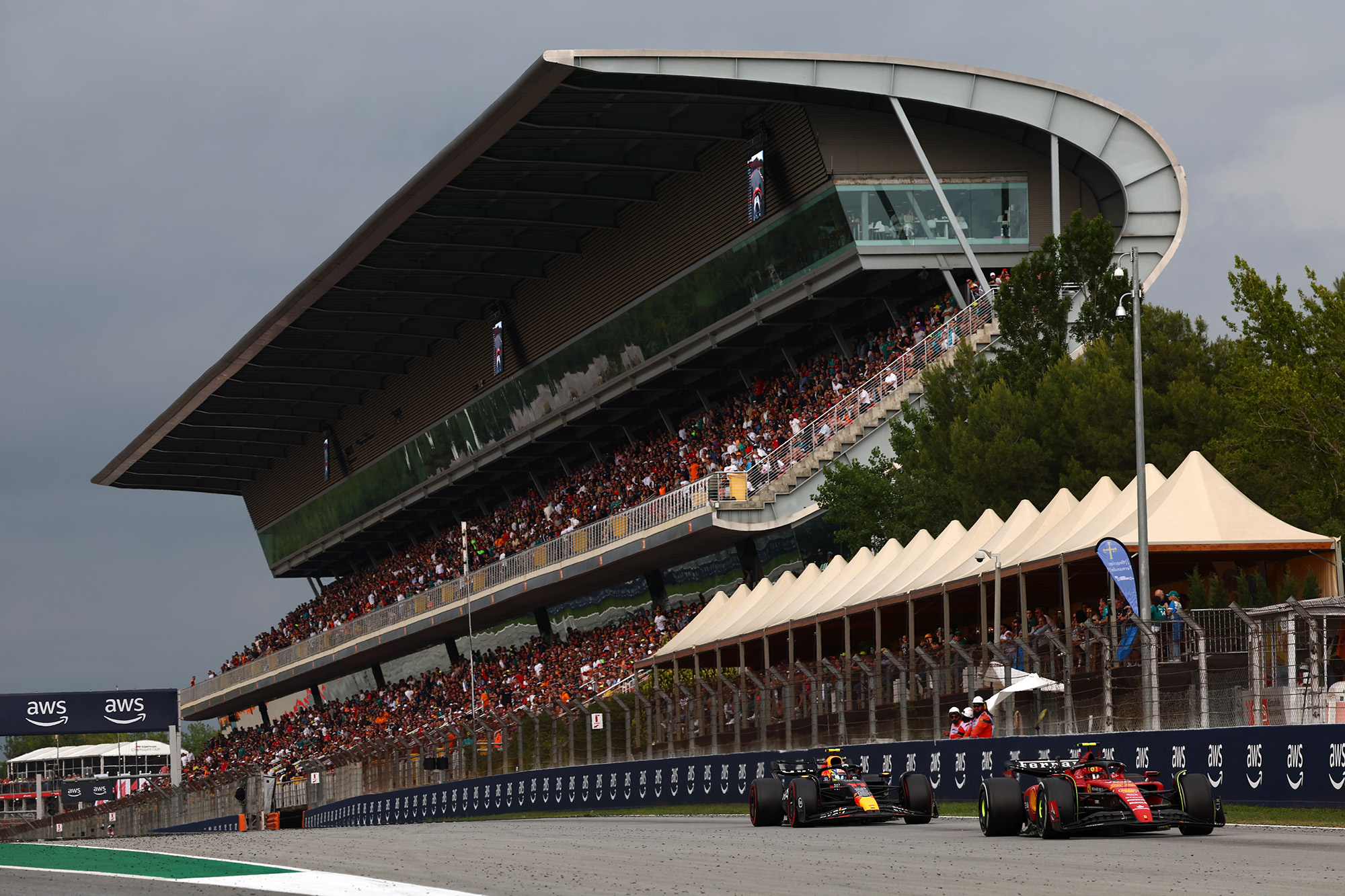 "It's very difficult to understand and to fix it because it's not always the same problem," he confessed.
The upgrade package was never going to transform Ferrari's fortunes even if, looking for silver linings for the team, it could be the start of a long-term solution.
But whether Barcelona was just a particularly unfavourable track for Ferrari or not, this race exposed yet again that Ferrari cannot get its car to work predictably.
"On Charles' car for example, with the first and third stint with the same compound one the balance was out of place and the last one was OK-ish," said Vasseur, referring to Leclerc's two vastly different stints on hard tyres.
"And Carlos he did a decent first stint and last stint, and in the middle lost 15 or 20 seconds on the competitors."
It's no exaggeration. Leclerc suffered awful understeer in the opening stint on hards but seemed much happier on the same compound in the final part of the grand prix.
"We had the hard, which we expected to be a good tyre, but for some reason it was so bad," Leclerc said.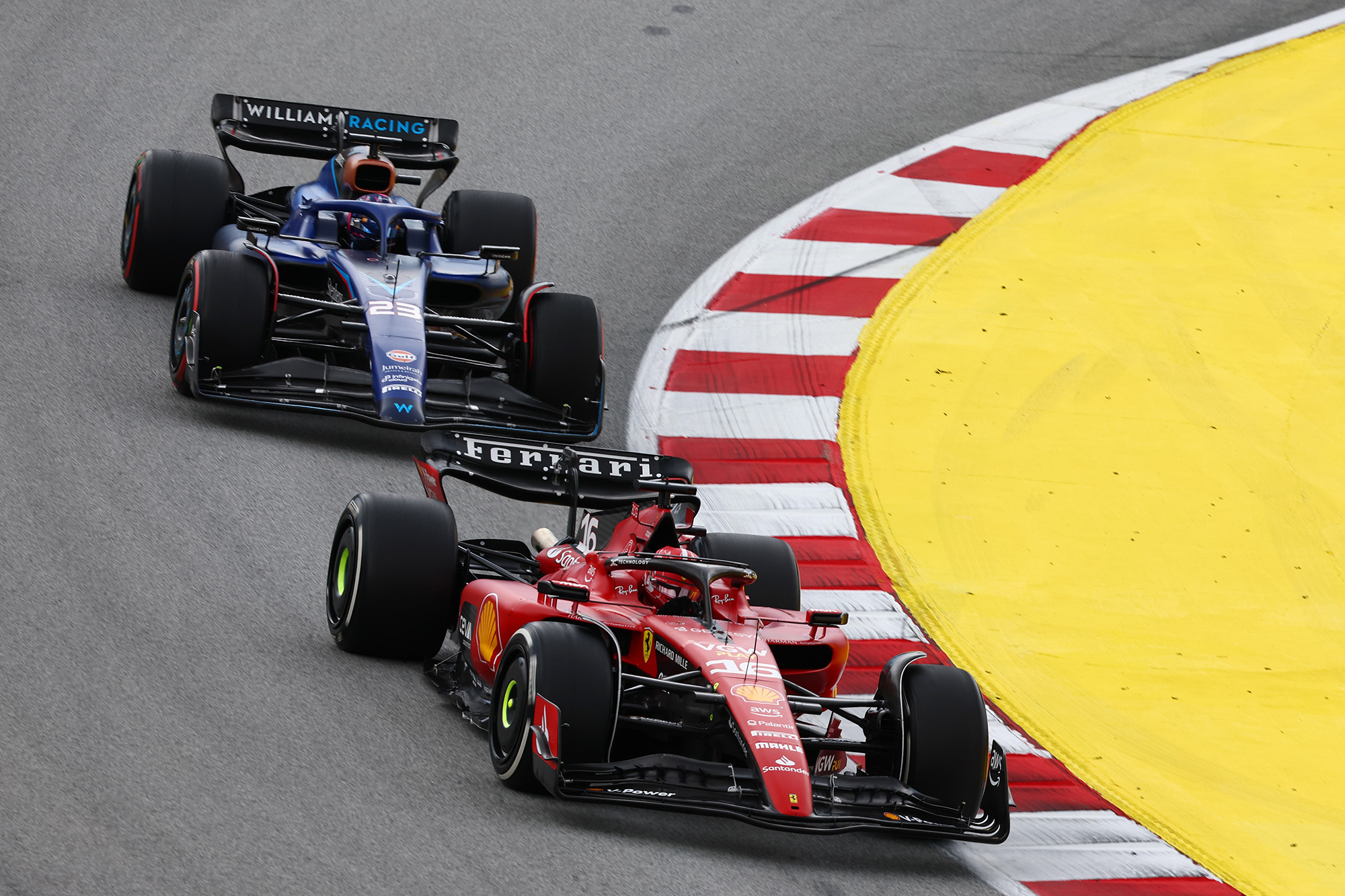 "Like, no grip at all, especially from the front. Then for some reason the second hard [stint] I just do exactly the same and it feels really good.
"For some reason we seemed to never really get in the right window of the tyre and when we do it's a bit of a surprise to us, so there is a lot of work we need to do."
Perhaps the fuel load reduction made a particularly dramatic difference to Ferrari, or maybe it has something to do with the car's sensitivities making it vulnerable in dirty air.
But neither of those theories would explain why Sainz, for example, had a bafflingly slow middle stint of the race with no traffic and a medium fuel load. He was just completely outgunned by the two Mercedes cars and easily caught by Sergio Perez's recovering Red Bull.
Vasseur rightly called that stint a "disaster" and it is immensely frustrating for the two drivers, who cannot trust what the car will give them.
When it works, it works well. But that's mainly reserved for qualifying. When it doesn't work, it's a real struggle. The harder the compound the bigger the risk – filling race stints with jeopardy.
"It's not like I've got understeer in the car and I can say, OK, it's a very understeery car'," said Leclerc.
"I've got an understeery balance on one tyre and then you get again, on the same hard compound, an oversteery balance.
"As a driver you just need exactly the same things. It's just inconsistencies but it's very difficult to work on inconsistencies."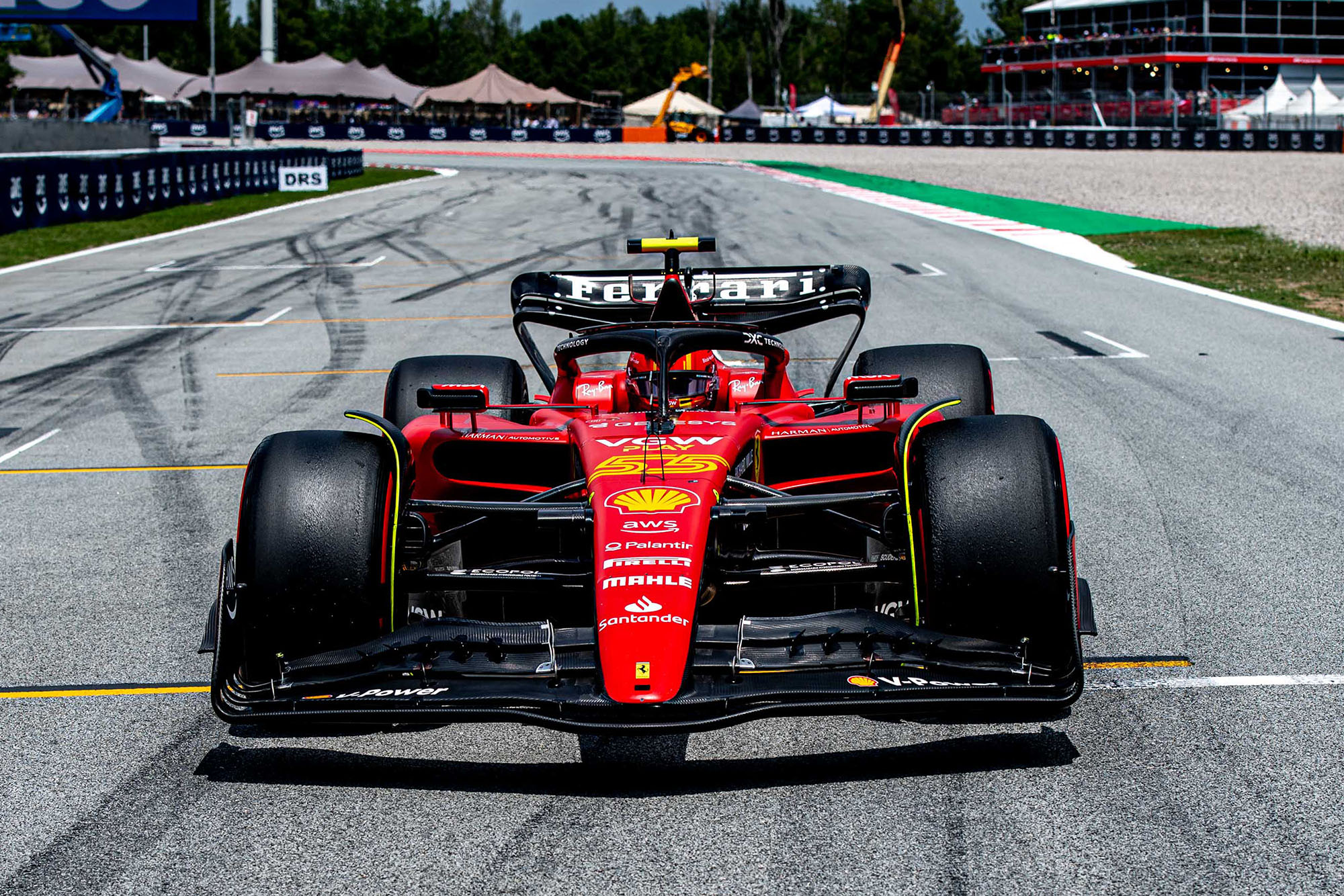 It all suggests that whatever Ferrari does to improve the overall performance of the car, its development potential and potentially broaden its working window, there are some fundamental evils within this SF-23 that are yet to be fully understood.
A track like Barcelona leaves nowhere to hide. It is entirely possible Ferrari will have a much more competitive grand prix in Montreal, where the demands are very different, in a fortnight. But that will only paper over the cracks.
The reality is that without real answers, Ferrari will not be able to convincingly turn around a difficult season. And it will just be adding more peak performance to a car that only taps into it very occasionally.
"We've had quite a few disappointing days this year, unfortunately it's just in line with the rest of the year," Leclerc said.
"We are struggling more than what I expected."