Failing to reach Q3 for the third time in seven races in Spanish Grand Prix qualifying is another blow to Sergio Perez's 2023 Formula 1 world championship hopes, surely denting the optimism he exhibited heading into the weekend that he could still fight for the title. That he'll start today's race 11th lays bare how big a challenge he faces in striving to get on terms with Red Bull team-mate Max Verstappen.
A line included in Red Bull's press release hinted at part of the reason for Perez's struggles. Amid the usual comments about the difficult weekend, he was quoted as saying "I've been trying to modify my driving style quite a bit this weekend" before returning to talk of being on the back foot thanks to Saturday's varying conditions.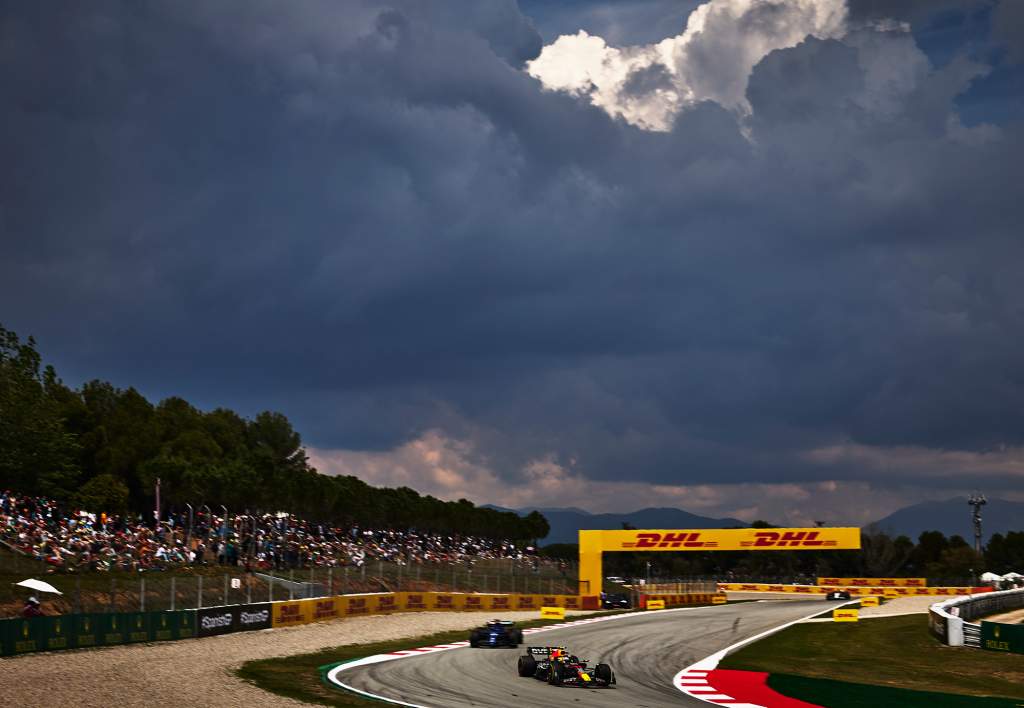 Perez hasn't elaborated on precisely what he's working on, but given the usual disadvantage he's at it's not difficult to make an educated guess. It likely lies in Verstappen's capacity to drive a pointy car with confidence and precision, a car dynamic that is difficult to handle but generally has enormous performance potential. At a fast, conventional circuit like Barcelona, this advantage is magnified.
Perez has pushed himself admirably this season with mixed outcomes, but given the relatively high-speed turns at Barcelona he will likely have put himself in an uncomfortable range on turn-in. Add to that the conditions, with rain hitting during FP3 and the damp conditions early in qualifying that hung around for some time, particularly on the kerbs and less visited parts of the circuit, and you have a recipe for trouble.
The upshot was that on a day where Verstappen cruised to pole position and could afford to abort what would have been a faster final Q3 lap to the pits and still be over four tenths of a second clear of nearest challenger Carlos Sainz, Perez couldn't even get into the top 10.
Like most drivers, he struggled to get the Pirellis in the right window and described it as "tough to get everything in the right place". And Red Bull team principal Christian Horner pointed to that trouble, discounting car problems, as explaining the deficit to Verstappen in Q2 of 0.574s (Verstappen didn't need a second run in that segment).
"The tyres are a crucial factor," Horner told Sky Sports F1 when asked about Perez's qualifying struggles.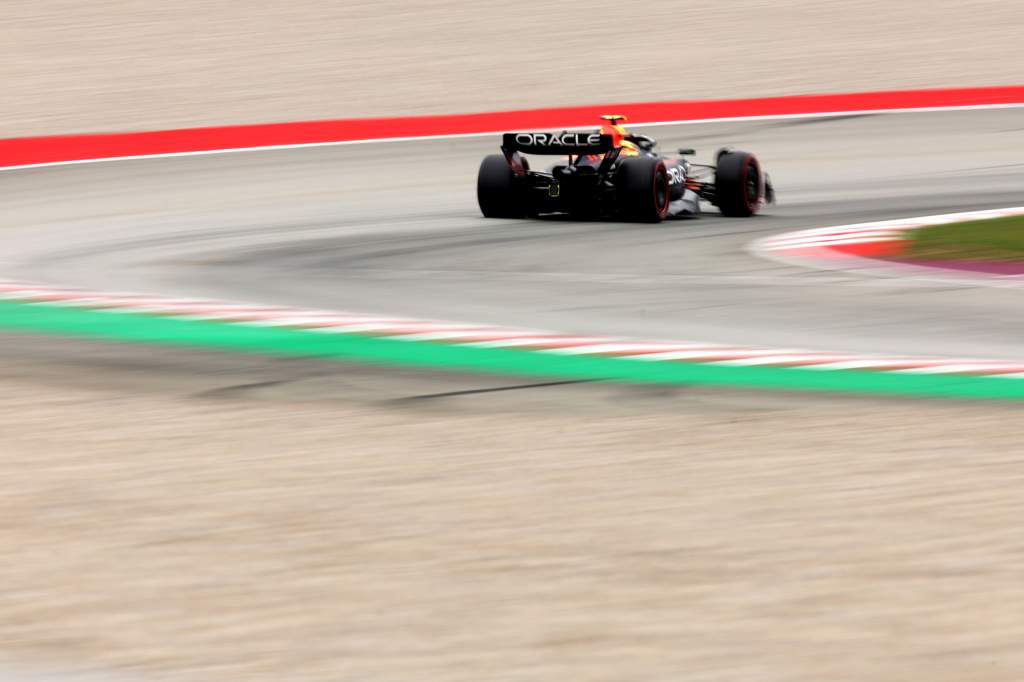 "We checked all the aero loads after Q1. With the support that we have back at the factory, they were able to look at the analysis between the two cars and see if they are generating the same amount of downforce, and they were like for like. So we couldn't see any part misbehaving.
"Obviously, we'll do a big inspection this evening, but I think it was just about getting the tyres in those windows because we know Checo's not that far off. It's just that he didn't get the car working today."
Perez even flirted with elimination in Q1 for the second consecutive weekend. His first run was curtailed through no fault of his own by yellow flags deployed at Turn 11 after Valtteri Bottas's spin.
He then returned to the track on the same set of tyres and posted a time that was some way off what would have been needed to reach Q2, with the team rightly calling him in rather than letting him have a third push lap after he predicted an improvement of half-a-second – not good enough – was possible.
That meant he used another set of tyres, producing a lap that allowed him to scrape into Q2 in 15th place. Had Bottas not struggled on his preparation lap, Perez could easily have been eliminated.
Sergio Perez is in the gravel but should have time for another go#SpanishGP #F1 pic.twitter.com/3UWY4uYgjQ

— Formula 1 (@F1) June 3, 2023
After a sighter run in Q2 running used softs, it all came down to the crucial final run. Heading out with sufficient time for a push-cool-push runplan, that came unstuck when he lost the rear on the entry to Turn 5. Potentially, dampness on the kerb contributed to this, although he had been pushing the rotation more on entry to that corner with each lap and possibly also took it beyond what he was comfortable with. After a trip through the gravel, Perez recharged over the rest of the lap and set his final mark next time round.
The tyres were past their best and too hot at the start of the lap. Realistically, it was the Turn 5 off that had cost him.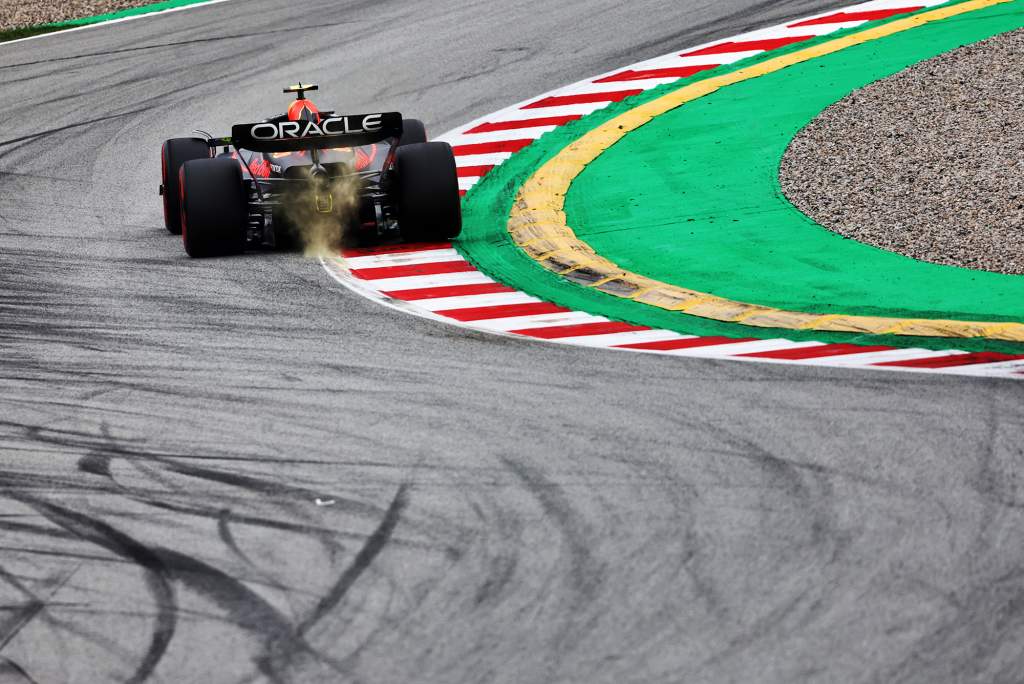 From onboard, Perez's confidence on turn-in was variable and lacked the sure-footedness of Verstappen. Based on their fastest Q2 laps, Perez was 0.132s down in the first sector (to the approach of Turn 4) and 0.124s slower in the final sector (Turn 10 to the line). The deficit was disproportionately in the middle sector, where he lost 0.344s. That perhaps reflects extra conservatism and resulting under-rotation into Turn 5, after which his pace on the final lap dropped away from his previous best.
If Perez is battling to adapt his driving style to more closely match Verstappen's approach, that could explain why he's not entirely comfortable on turn-in. There were multiple occasions when he added a hesitation, as drivers struggling slightly tend to do when having a feel of a potentially lively rear end they don't entirely trust before committing to the apex fully. It's not a big loss, but can be a tell-tale sign of a driver lacking in confidence compared to a team-mate.
What it tells us is how far Perez is going in the hope of staying in the championship hunt knowing that the F1 season is heading into a period compromising mostly more orthodox circuits.
He could yet recover well, with Fernando Alonso joking that it's a foregone conclusion Perez will breeze past. But given the nature of the circuit, you could argue Perez might have been wise taking a more conservative approach and trying to make sure of second place.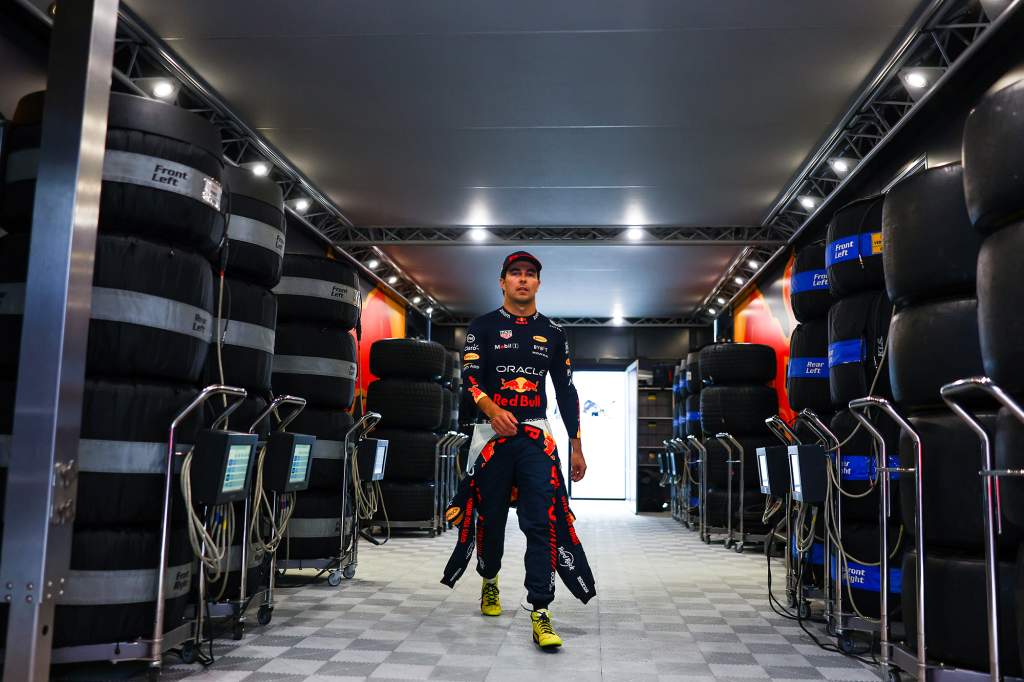 Then again, if he keeps doing that he has no chance of achieving his dream of winning the world championship this year. That's the fundamental bind Perez is in and everything we've seen this year suggests he's leaning towards a higher-risk, higher-reward approach.
In Spain, so far, it has backfired and could lead to his 39-point deficit stretching to beyond 50. Even with 15 races to go, it's hard to see him having much chance of getting back into contention.