Several Formula 1 drivers were caught out by "invisible" rivers of water on an otherwise dry track early in Spanish Grand Prix qualifying.
The first segment of the session at Barcelona featured multiple instances of drivers losing control through the simple left kink after Turn 10, some just about controlling big snaps but others spinning entirely.
As ex-F1 driver Jolyon Palmer observed during live coverage of qualifying following Yuki Tsunoda's 360-degree spin while on an out-lap, which was the first of these incidents: "It's not a place you'd expect to lose the car.
"Coming through Turn 11 it's just a kink that should be flat out in dry conditions."
🚩 RED FLAG 🚩

Bottas goes wide, but gets going again#SpanishGP #F1 pic.twitter.com/m87VhFbjio

— Formula 1 (@F1) June 3, 2023
Though rain fell in final practice and continued immediately afterwards, the track did appear to be completely dry by the time F1 qualifying began.
But a wet line across the track, which several drivers said was imperceptible, remained where it kinks left between Turn 10 and the long-right hander of Turn 12.
This was only really visible externally when the TV broadcast showed footage from trackside cameras looking back towards George Russell's Mercedes as it went through this section and kicked up some spray.
It's slippy out there! 👀

The red flag was due to gravel being dragged back onto the track by the drivers who went off#SpanishGP #F1 pic.twitter.com/kx1cYLieoK

— Formula 1 (@F1) June 3, 2023
McLaren driver Oscar Piastri said the colour of the track "masks very well if it's dry or wet" and that you could not see what the conditions were "until you went through it".
Alex Albon, who went off at Turn 5 in Q1 but also had a big snap while going through Turn 11 very slowly on what was not a push lap, said: "Basically, the track's dry, but there are these kind of moist lines across the track. Like a river, basically.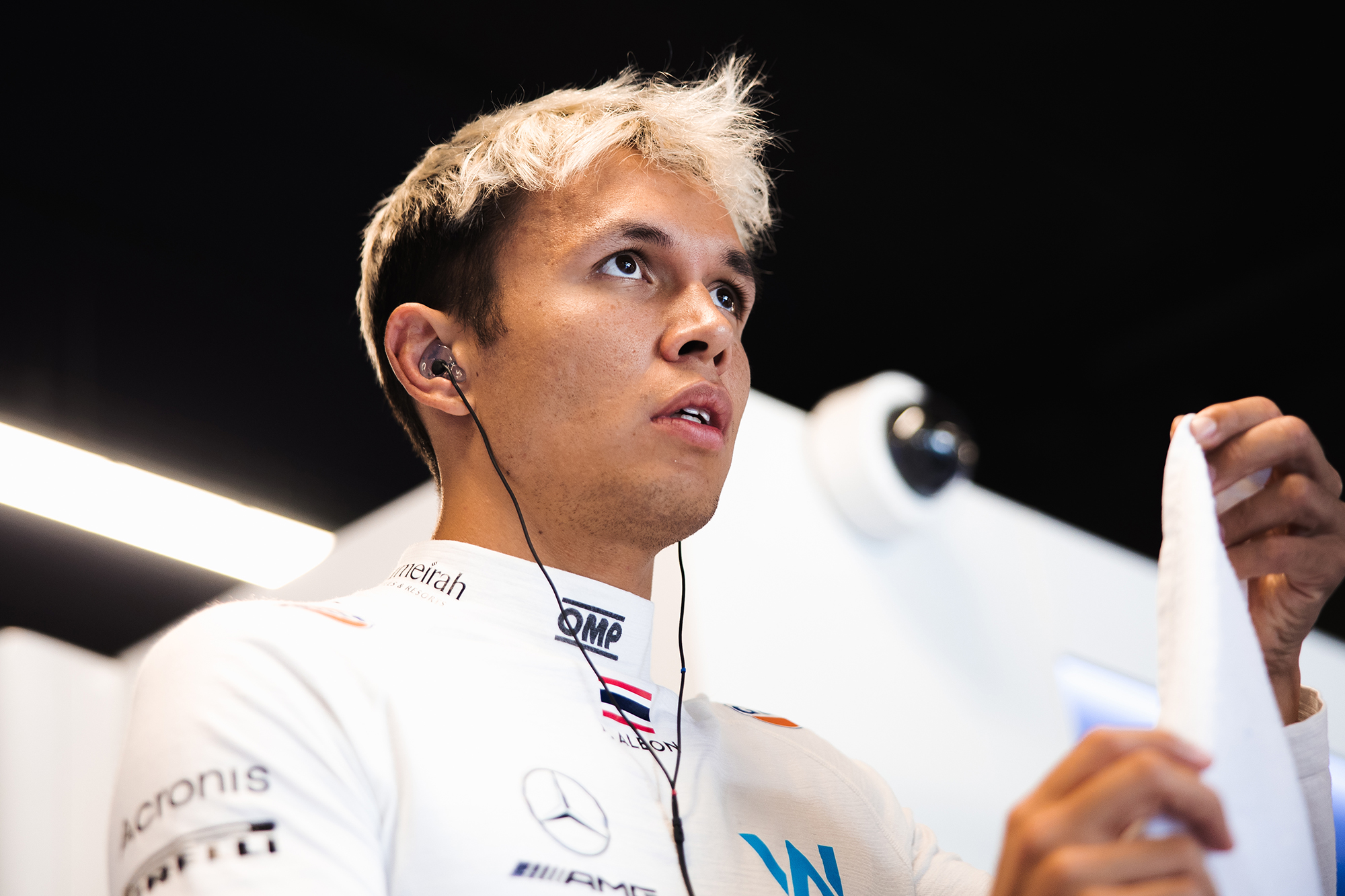 "But the colour of it, compared to the track, is almost identical. So they're almost like invisible lines across the track that you can't really see.
"You're basically powering right up to the river, and as soon as you get across it you have to wait and go back on the throttle after you've touched it – which we do in the rain, but it's quite tricky in the dry, because you can't see them.
"At the start everyone's just powering like a normal lap and then as soon as you go across these rivers, you're getting these massive snaps."
After Tsunoda's spin, Valtteri Bottas went off through Turn 11 and even ended up slightly in the gravel after losing control in the same place while on a push lap.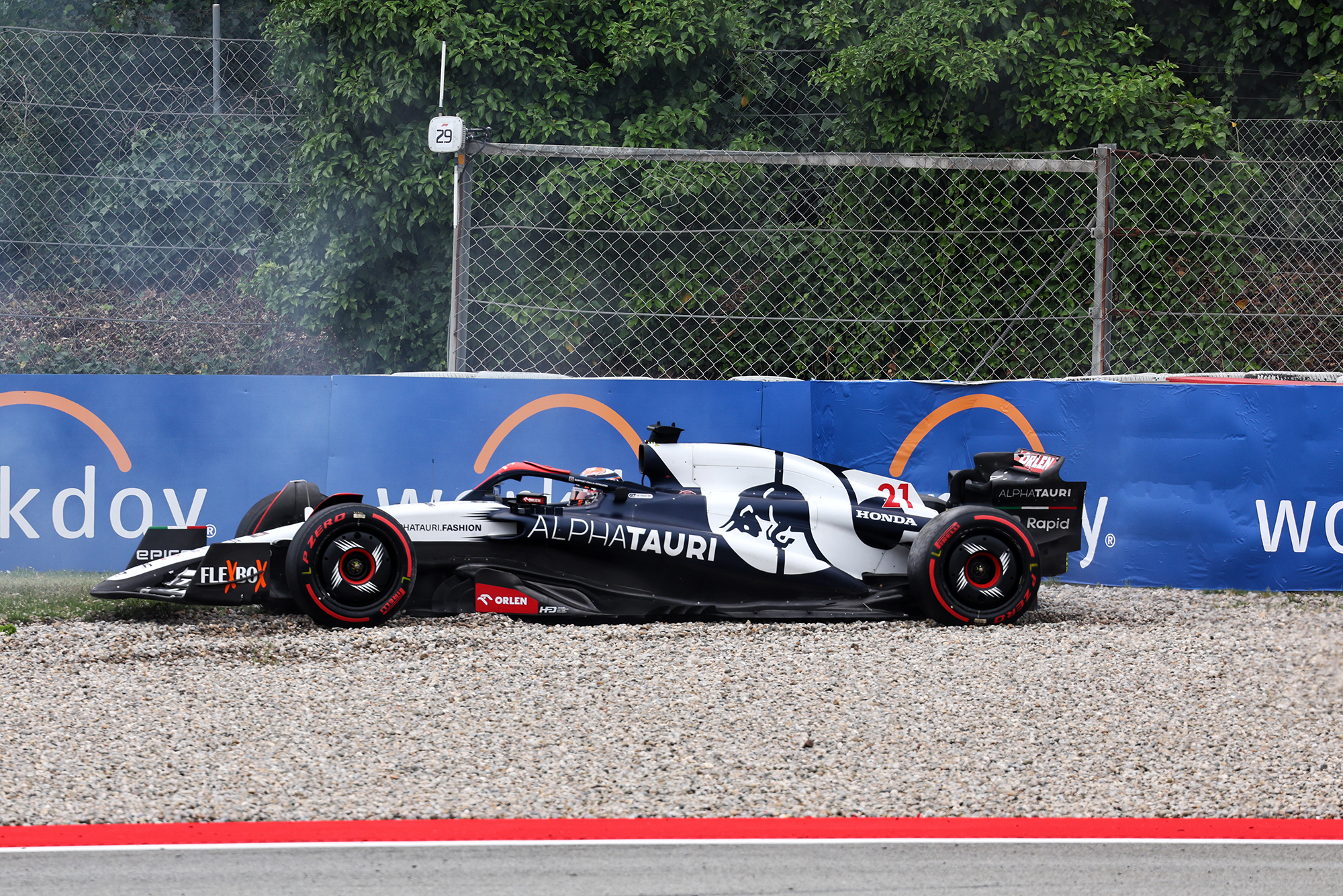 Tsunoda's AlphaTauri team-mate Nyck de Vries had two separate incidents through that corner – replicating Tsunoda's 360-degree spin on one occasion and having a more extreme version of Bottas's off on the next.
That even prompted a baffled De Vries to ask "what am I doing wrong?" over the team radio.
He said after qualifying: "It was damp but you couldn't see it. It was invisible.
"I kind of saw the track was dry, everywhere it was dry, hence I was committing and pushing but twice I lost it there, very late in the exit phase.
"I just didn't understand what was happening."
De Vries suggested it was not something that had been spotted by the team on the coverage, as he said if it's not seen in the data and "something is invisible, it's hard to put your finger on it".
"It's clear grip was poor because I lost it there twice," he said.
"In my third attempt I just took it easy and short shifted to avoid a third spin."