Over the years, we have had many discussions about what makes up a good Formula 1 car.
Does it simply need to be fast and, on most occasions, qualify on pole or at least the front row and run off into the distance, or is it enough to be in the top four and make sure your car is good over long runs on race day?
World championship points are handed out on race day, but it makes race day a lot easier if you have a fast car for qualifying. Given the choice, that is what I would push for, and then work on it to get the best out of it on race day. And history supports that position given two-thirds of F1 world championship races (720 out of 1080) have been won from first or second on the grid.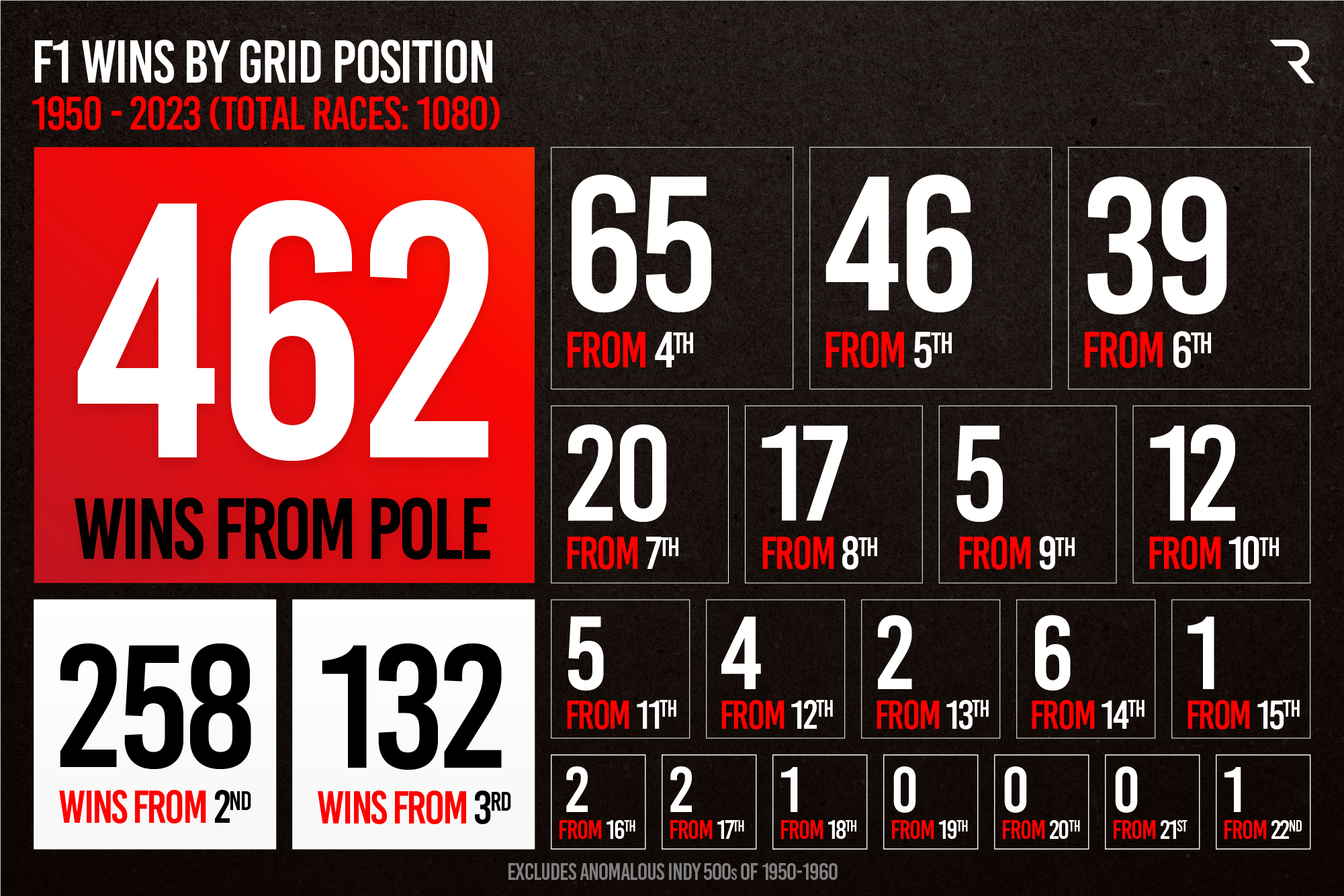 In the 2023 season it has been clear cut because Red Bull has had a car that's fast for all occasions: one-lap qualifying, long runs, dry, wet or coming from a lowly grid position and battling through the traffic to score big points.
Perhaps that all happened by accident and Red Bull doesn't have a clue why it's so competitive, but I doubt that very much. It has designed and built the car around what Max Verstappen wants – and can deal with as a driver in terms of the rear end – but that approach is true of any team. As long as the driver finds lap time when they are given the characteristics requested then they will always have their demands followed.
On many occasions, I worked with drivers that require, say, less understeer. Give it to them and they will come in saying it's much better, but it's the stopwatch that must tell the same story. If it's better, you need to go faster – that's the objective.
I've singled out Verstappen for obvious reasons. But in my time, I have never seen a driver in such harmony with their car. Even when Lewis Hamilton was doing all the winning, or Sebastian Vettel before him and even going back to Michael Schumacher, I don't believe we saw any of them having so much determination and commitment to improving themselves and their car every weekend. From lap one of first practice to the last lap of the race, Verstappen wants to improve.
I have always said that if one driver can do it in a certain car then their team-mate should be able to do the same. If not, a clear number one/number two dynamic will develop very quickly and that is what has happened at Red Bull. It's not Sergio Perez's fault, it's just that Verstappen is an exceptional driver.
Now that we are heading into the second half of the 2023 season, Perez will be a rear gunner more often than not. It's not that Verstappen needs it or wants it, it is just the way things have worked out. Red Bull would love to win the remaining races to take a clean sweep and Verstappen is its best chance, so why tempt fate by having both your drivers fight it out when there is no need for it?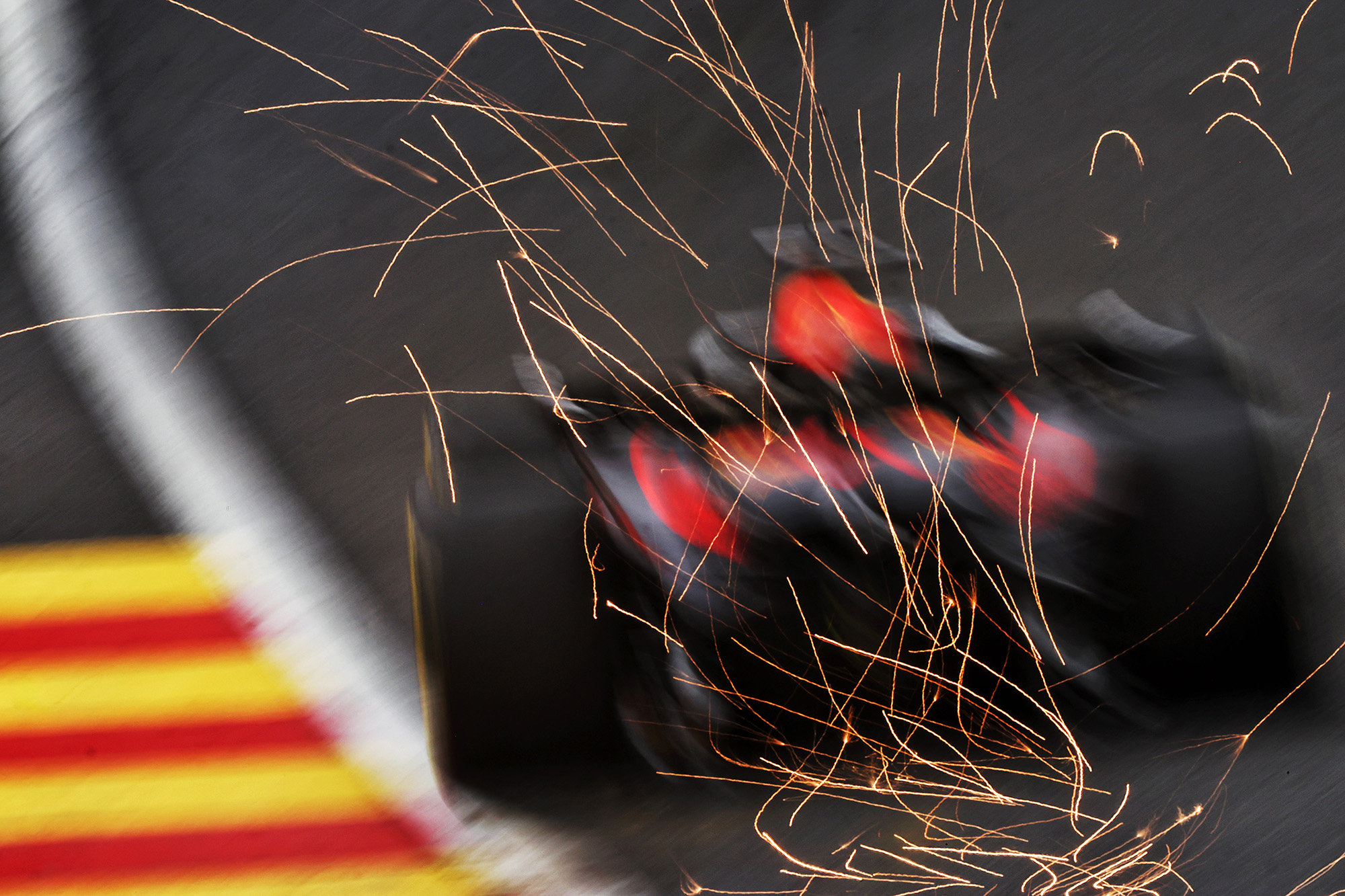 You won't need to look too closely at the season so far to know Red Bull is on top, but the August break is the ideal time to review the performance level of all the 10 teams.
As I always say, the stopwatch never lies so I have taken each driver and team's fastest lap of the weekend and turned that into a percentage of the outright fastest. That's then averaged out over the 12 races.
My only caveat for this is that the weather was so bad at Spa and the track changed so much during qualifying and only the top five teams made it through to Q3. So the averages for Red Bull, Ferrari, Mercedes, Aston Martin and McLaren are based on all 12 races but only the previous 11 races for the rest.
This allows us to create a chart that shows the average performance of the teams, alongside that of their two drivers: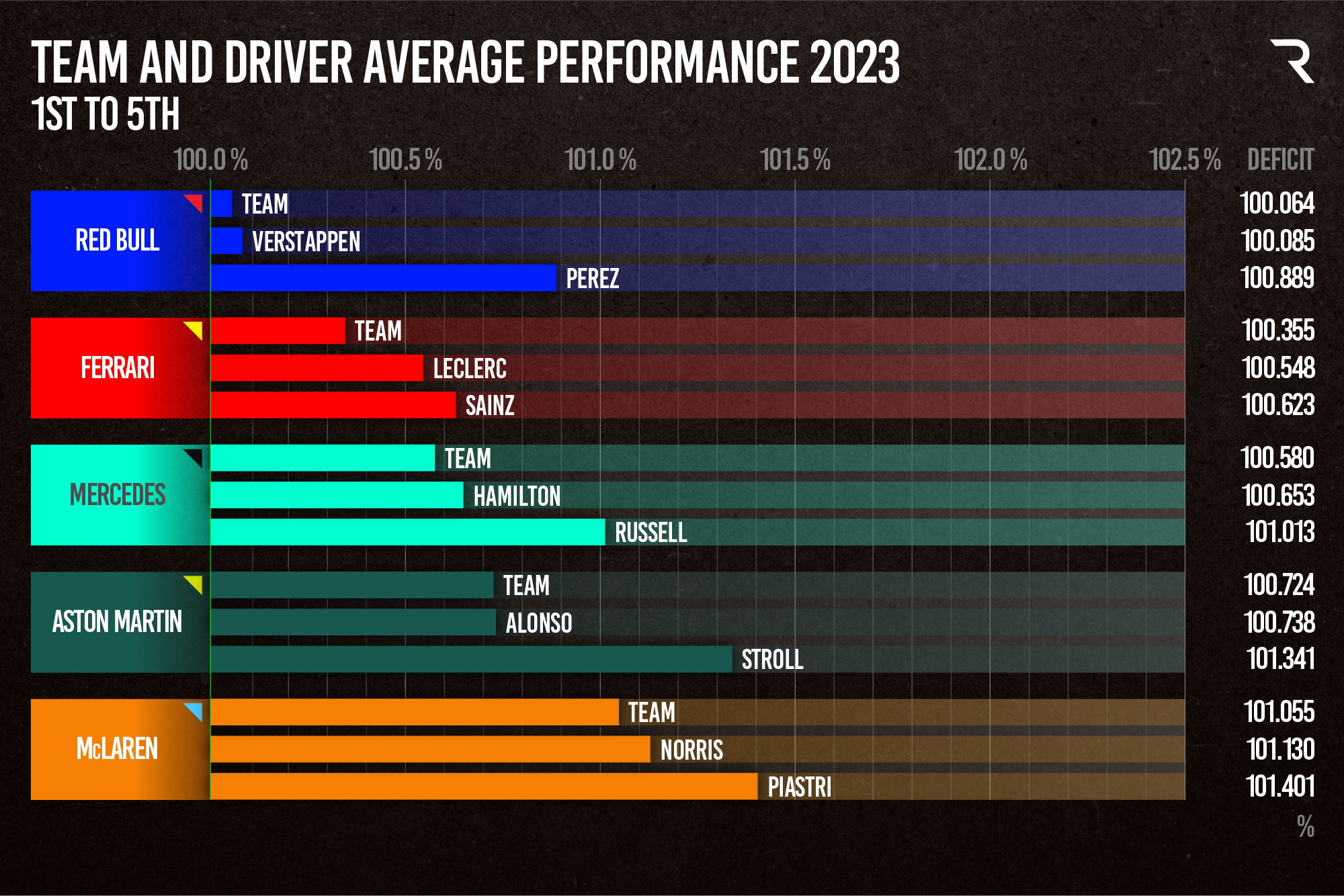 That shows the big picture, but now we can run through each team to take a closer look at the performance of its car and drivers. And with 10 events still to come in the second half of the year, we can also set a key objective for where improvement is needed.
RED BULL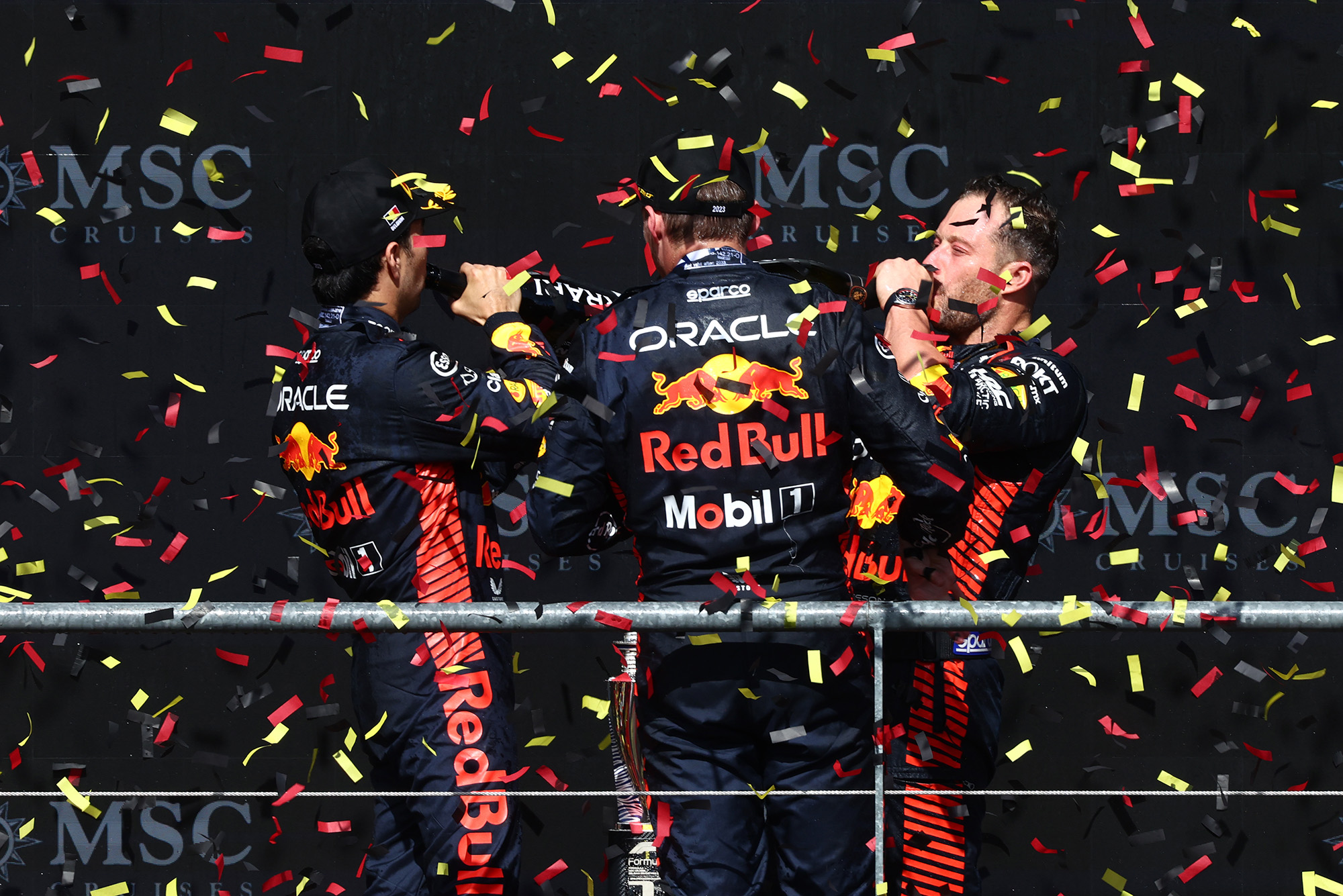 Red Bull's dominance since the new regulations came in at the beginning of 2022 proves an excellent understanding of what is required to get the best out of a ground effect car. The visual concept it introduced originally has subtly changed, but that is just optimisation around that concept.
Red Bull's 2023 developments show how right it got the car at the start of last year. There have been three stages of radiator-inlet optimisation this year, the launch car then the Azerbaijan and Hungary upgrades, which are an example of not having to rethink the entire airflow structure over the car surfaces.
This puts Red Bull in a much better place in using up its reduced windtunnel time and CFD items under the Aerodynamic Testing Regulations (ATR). That's because it's much less time-consuming to be dotting the i's and crossing the t's rather than heading off down a new path of research. And aero testing of internal cooling flows is not covered by the ATR.
Verstappen is the perfect driver for Red Bull to build around. Adrian Newey's challenge in life is to build as quick a car is as possible within a set of regulations, but sometimes that leads to compromises to suit the driver. But Verstappen thrives with a car many, including Perez, find difficult to drive.
I suspect Verstappen's very competitive approach to at-home simulator racing helps him with this. Yes, there is limited feedback from these sim set-ups but it is mainly down to the driver identifying the speed they can take through a given corner and not making errors. Honing that talent in the background can only help with his on track performance.
Perez is more old school. He simply drives what he has and as you can see from the graph above and his deficit that he has a lot of work to do before he will be at Verstappen's level on a regular basis.
Suggestion: Keep the snowball rolling in the direction it is already going and it will build in size. Be very careful to not overspend and keep within the ATR as there are others out there gunning for you in any way they can. Oh, and most importantly, don't lose Verstappen to another team.
FERRARI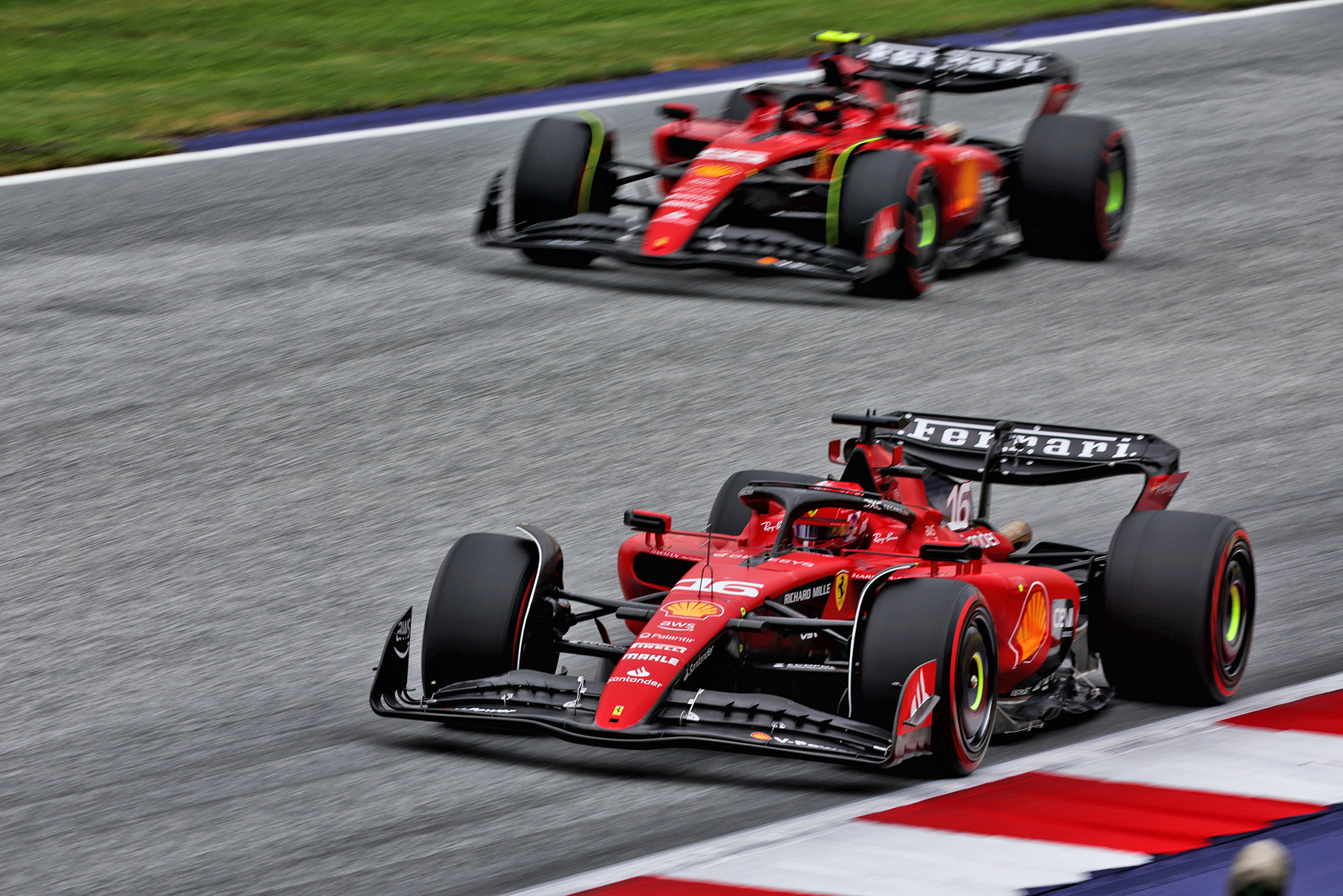 Ferrari started last year with a very different concept compared to Red Bull with subtle developments keeping it in touch. Then came the infamous TD39, the technical directive tackling bouncing and porpoising and addressing floor flexibility that seemed to hit Ferrari harder than most.
From that, we had to assume Ferrari was doing something trick with the floor, which is all fine and only illegal if it is against the regulations themselves. Instead, it was a grey area requiring a technical directive to clarify it.
All's fair in love, war and F1, as they say, but if it impacts the performance of your car it shows that you have perhaps put too much investment into optimising around that grey area and missed out on focusing on the complete package.
The strange thing for me was that Ferrari headed into 2023 with more or less the same aerodynamic philosophy, believing it still to be good enough to take the fight to Red Bull. Because of that, Ferrari didn't make a step forward.
On one-lap pace, it is still competitive but as a team it hasn't improved race performance as much as needed. I always say that if you qualify fourth then you need to be finishing fourth, not qualifying second and dropping back to sixth. If this is happening, as it does to Ferrari, you need to focus on the main problem of consistency.
As for the drivers, it's nip and tuck between Charles Leclerc and Carlos Sainz. They are the closest pairing on the grid in performance terms, so if Ferrari can step up its game on car performance on race day, which includes strategy decisions, then the potential for race wins and perhaps even a championship challenge in future is clear for all to see.
Suggestion: Tidy up your organisation. It appears to us humble viewers that the management is not completely in control of what happens from weekend to weekend. As for developments, make sure that the upper management is not forcing visual change for the sake of it and that it really is focused on performance rather than keeping the top brass at their big desks happy.
MERCEDES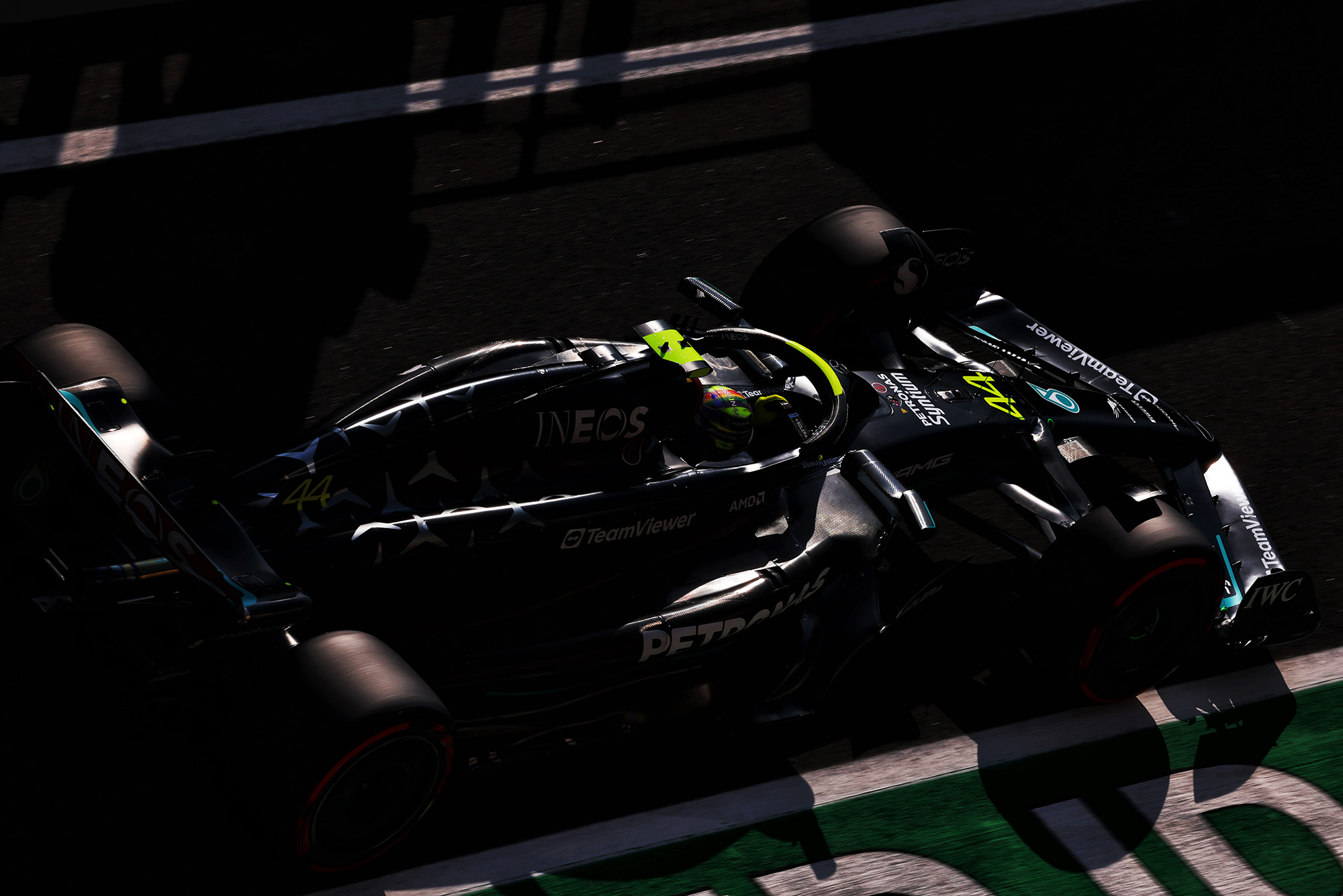 One-and-a-half seasons into these ground effect rules and I'm not sure that Mercedes is any more on top of them than at the start of 2022. For a team of its standing, it's difficult to understand the problems that are holding it back.
At the start of 2022, Mercedes suffered from shellshock and spent the first six months looking for the magic bullet that would allow it to unleash what was expected to be race-winning performance. On a couple of occasions, it looked like the breakthrough was just around the corner but it always seemed to slip away as quickly as it appeared.
For 2023, I expected Mercedes to be on top of it. But the season started just as 2022 left off and what has followed has again been moments where it seems like a corner is about to be turned before it turns to disappointment.
Some of the Mercedes developments have confused me. I have not seen anything that shows me it is going in the correct direction. Yes, the anti-dive increase on the front suspension will support the car better under braking, allowing Mercedes to run softer springs, but that is all about controlling the aerodynamic platform better. And it's the aerodynamic platform that is the problem.
James Allison, who moved back into his old role as technical director earlier this season, recently said this about the car: "It's unstable when you first turn the wheel and then annoyingly dead when they get to the apex. We want it the other way around. That's what we are working on."
These are exactly the opposite characteristics to what any driver wants and my question would be why would a team with so much success not recognise this earlier?
At Spa, the drivers started to complain about porpoising again. That originates in the characteristics of the aerodynamic platform. You can only control it with what you have and if what you have doesn't have the correct centre of pressure shift or stall characteristics with ride height change then you can manage it all you want, but it won't improve performance.
Here's a comment from Mercedes' now chief technical officer Mike Elliott. He believes that the bouncing was "probably a result of set-up or the circuit itself" rather than a returning characteristic brought about by recent upgrades.
Sorry Mike, but I call that passing the buck. The set-up is the team's responsibility and is part of those developments and unfortunately for you the circuit is the same for everyone.
As for the drivers, they are fairly close. George Russell had the upper hand when he started his time with Mercedes but now it looks like Lewis Hamilton has found his motivation again. He is back to his old self, where if you give him the tools to do the job he will bring you the results.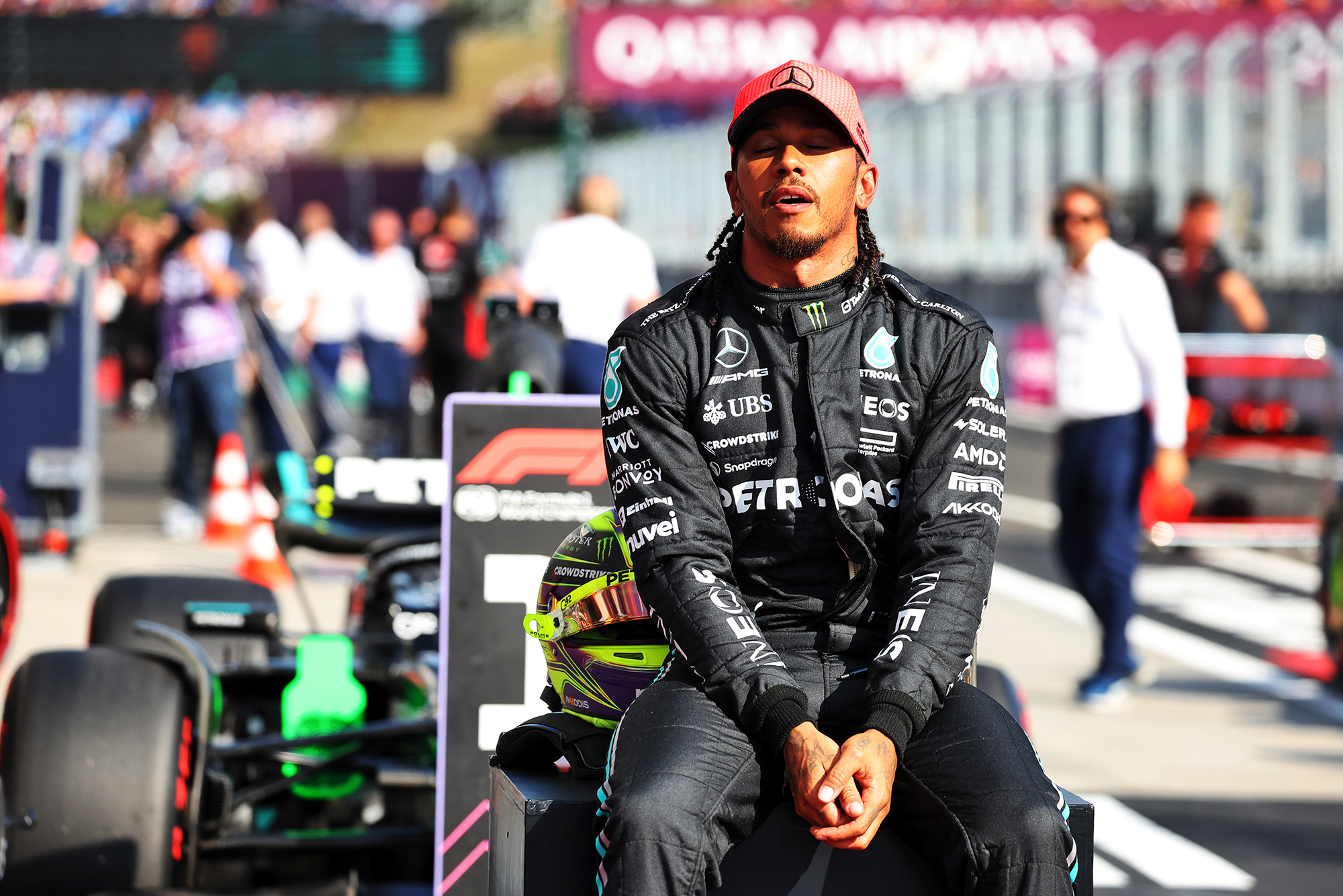 Suggestion: Look closely at your procedures for signing off car concept steps and then development stages. Everything is in place to build a championship-winning car, it just seems that since these new ground effect regulations came into play that as a team you haven't reacted to them in the correct way.
Anything that is producing load by using the track surface as the other surface of a venturi will always be difficult to research, so you need to start to interpret that data with a pinch of salt. Sometimes, the old gut feel needs to be used.
Aston Martin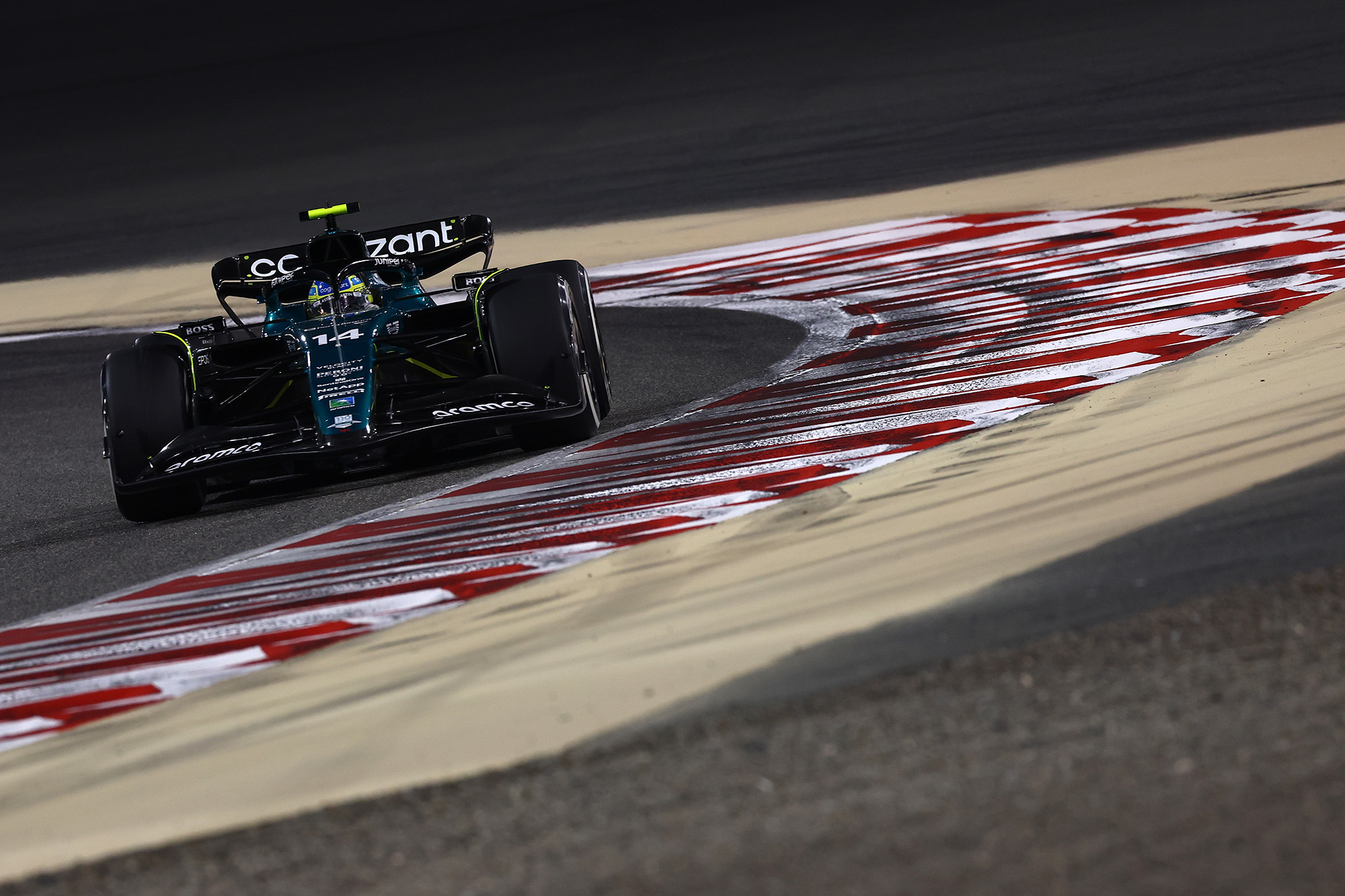 Aston Martin was transformed performance-wise between 2022 and 2023. The 2023 car, visually, was heavily influenced by the 2022 Red Bull and that's no big surprise when you consider that Dan Fallows, Aston Martin's technical director, came from years of being an understudy of Newey at Red Bull.
However, any carry-over knowledge only lasts so long and then it's time to stand on your own two feet and introduce developments based on your own performance philosophy. In this instance, that comes down to aerodynamic philosophy.
It's never been just about adding more downforce for less drag. The critical difference with the cars now producing probably 60% or more of their downforce from the underfloor is that it's about platform management and giving the driver 'useable' downforce. That's where each team's individual aerodynamic philosophy will come into play.
It's fairly easy to look at the numbers from the windtunnel and get excited about the improvement, but then get caught out at the circuit when the 'improved' car actually goes slower. The stopwatch is the final arbiter of progress.
Fernando Alonso coming in as the retiring Sebastian Vettel's replacement was potentially a questionable move, but it seems that Alonso has found his mojo anew and started the 2023 season very strongly. It will be interesting to see if he keeps that up as it looks like things are now getting a bit tougher.
As with Red Bull, there is a massive gap between the two drivers. Yes, sometimes luck comes into it but you can also make your own luck. Lance Stroll is a decent driver and probably deserves his place, but he is not going to challenge some of the up and coming generation for wins or world championships. If Aston Martin really believes what it is saying about winning races and championships then it needs a change in that cockpit.
Suggestion: Look deeply to the direction that your latest developments have taken you and increase your research in the area of question. It's very easy to just keep developing and finding those few kilos of extra downforce, but it doesn't always mean that the stopwatch sees an improvement. Driveable downforce can be very different from an increase in peak numbers.
M
c

Laren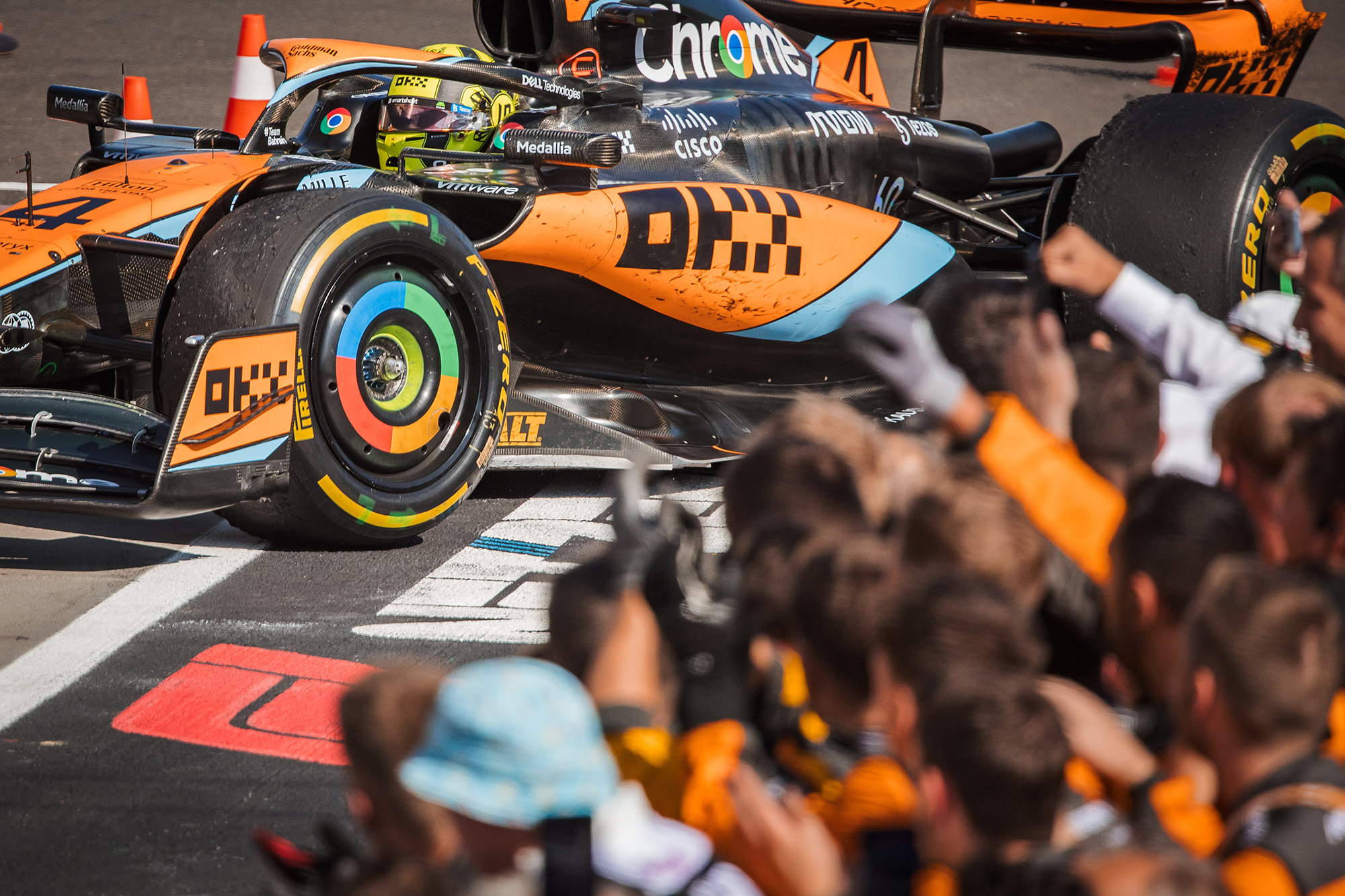 After a season that started in the doldrums, McLaren has made a bigger step than any other team. You can only reference yourself relative to whoever is fastest each weekend, but if you have closed that gap you are doing a better job than they are. And if you are also moving up the grid and achieving better race results then you have done a better job than all the others.
McLaren has achieved all three of these objectives, so is back in the fight for at least a top four place in the constructors' championship.
The next few races will be critical in deciding what position is possible. To achieve that top four position, McLaren needs to keep this improvement going. It went a bit astray at Spa, but with the weather conditions over the weekend anything could have happened. McLaren went for a high downforce set-up for the wet and when the conditions were difficult it was right in there. Unfortunately, race day was dry so it didn't really pay off.
Driver-wise, Oscar Piastri has been the find of the season. When he has the same car as Lando Norris, he is able to give him a hard time and that's no easy task.
The gap between them is a bit misleading. Piastri is the new boy in town and no matter how good a driver you are, F1 takes a bit of coming to terms with. He has also suffered from getting updates one race after Norris, but importantly never let that affect him and just got on with the job at hand.
Suggestion: Stabilise your development for the rest of this season. Yes, add small detail changes but make 100% sure you are ready for each event and that your downforce-to-drag levels are in line with what is required.
In other words, get the best out of what you have and allow the drivers to come to terms with what is now the second or third fastest car.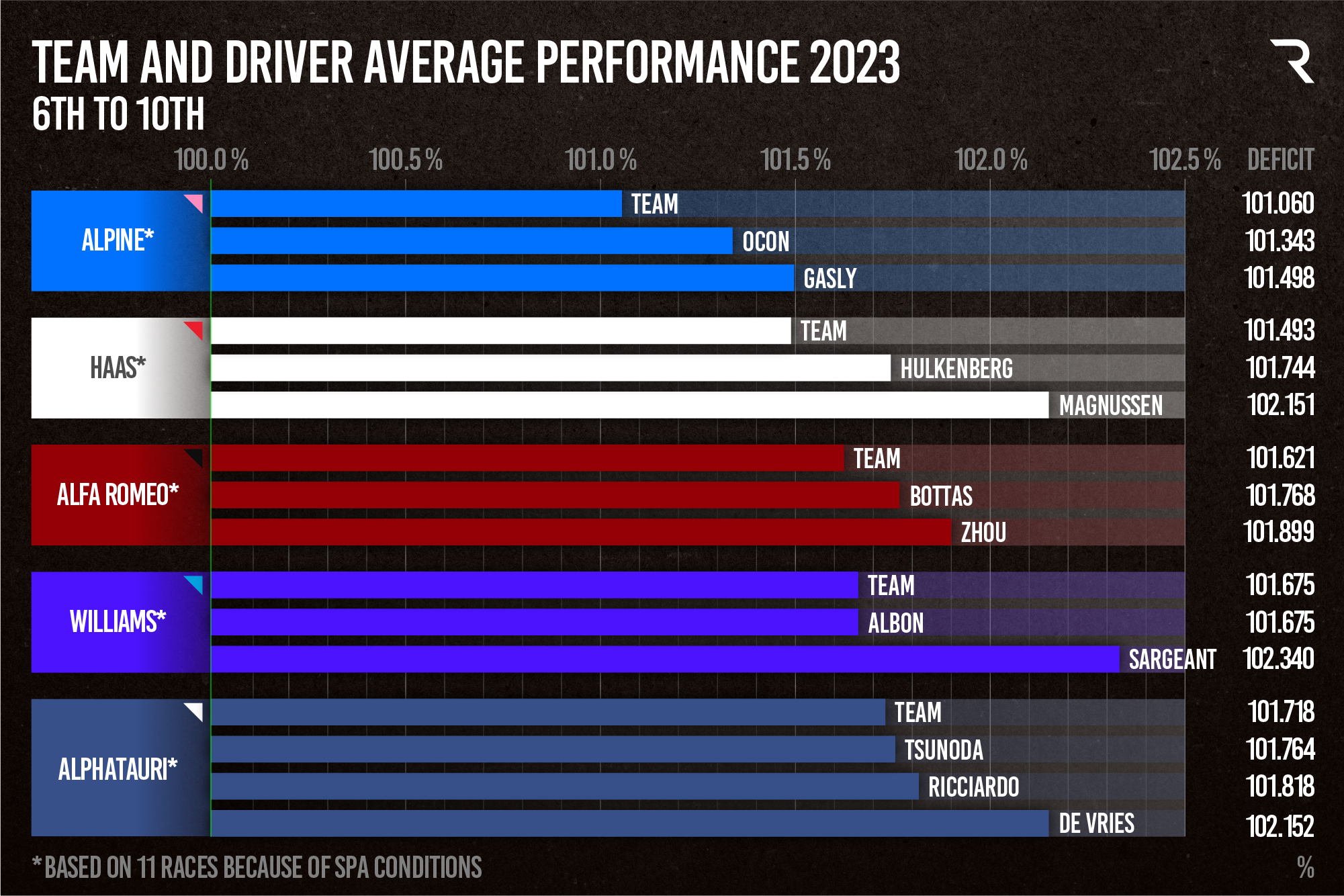 Alpine
It's been a tough season and Alpine has achieved none of its pre-season targets. The latest round of sackings shows frustration is setting in, which is never good because it leads to unpredictable decisions.
It's always a big question – is it the drivers, the chassis or the power unit? In most cases, it's a bit of everything and I think the same is true here. But when you are the only team running the Renault engine it is difficult to get a measure of where you really stand.
Through the years, the Enstone team has had various owners and Alpine is just another name for the latest owner Renault. In that guise, it has always used the Renault engine, but since Alonso won the world championships for it in 2005/6 it has struggled for consistent success.
Red Bull produced the success for Renault by using its naturally-aspirated engines for its first period of domination, but since the hybrid era the power unit side of the equation has not been on top of its game.
If, as Alpine claims, there is a power deficit then it will suffer on power-sensitive tracks. But with the exception of Monaco, nearly all tracks are power sensitive so I suppose you could say that for the last two seasons Monaco has been kind to it – as to a certain extent has Hungary – so perhaps it is lagging behind just that little bit in the power stakes.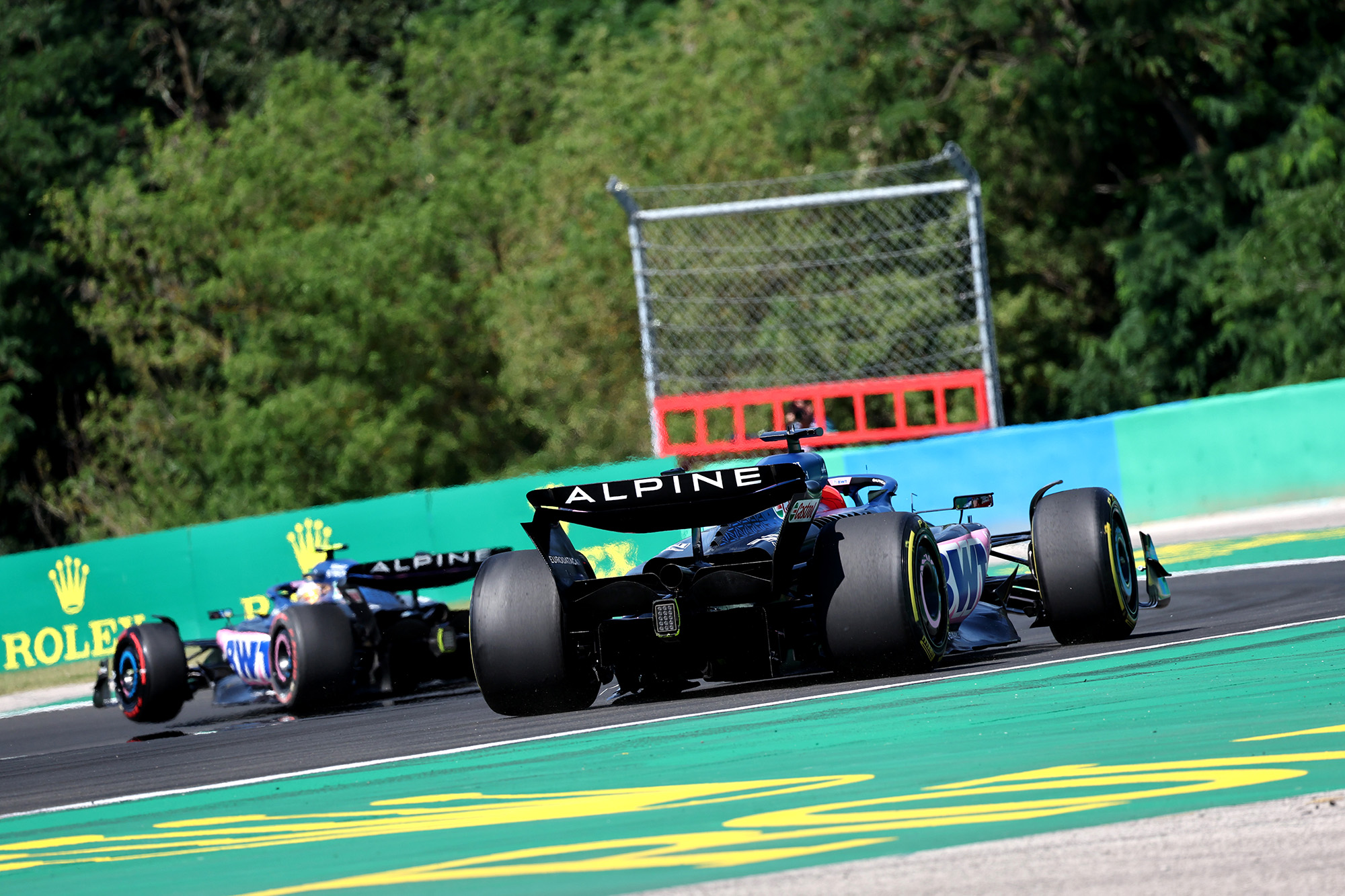 I don't think the chassis is that far away from the front end of the middle bunch. Other than reliability and stupid mistakes, Alpine is not far behind – as a team 1% off Red Bull is acceptable, but these latest firings at Enstone are concerning.
The drivers are close but are they good enough? No matter who he has been driving for, Esteban Ocon has always been a bit hot-headed and Pierre Gasly is very good on his day but the inconsistency is concerning. Yes, it could be the chassis but it has been a similar story through his F1 career.
Suggestion: The upper management team needs to settle down and accept that F1 is not easy. You are only as good as the other teams' relative performance allows, so you could be doing an excellent job but end up with minimal points. Everyone wants success, so you need to let the people you have employed set the timescale, support them and let them get in with what they are good at. In other words, keep your nose out of other people's business.
Haas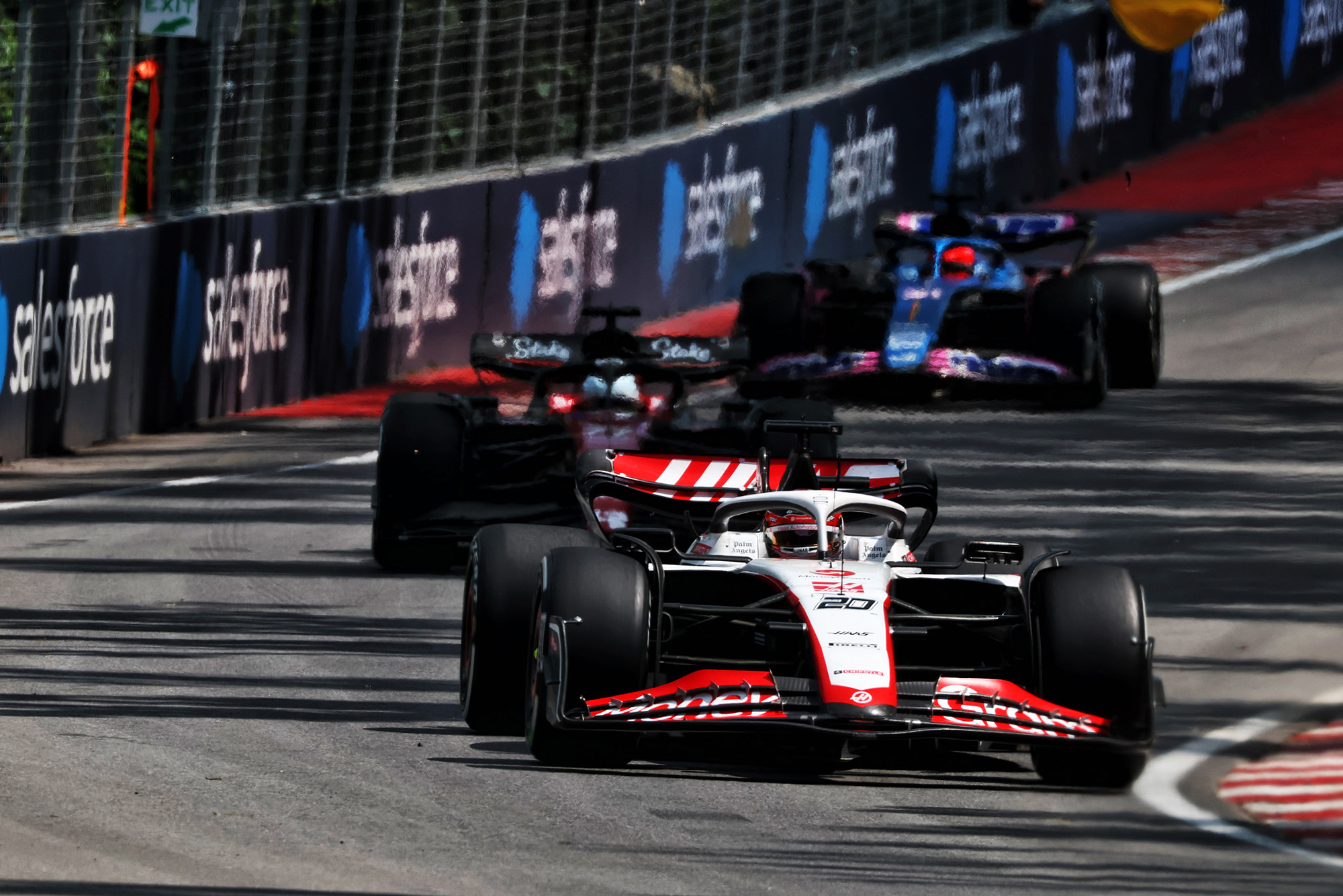 Haas is the minnow among the current F1 teams, but because of its unique status as a team with a very close Ferrari technical partnership and support from Dallara, it's difficult to say where it stands in terms of performance against expectations.
The one thing I would say about Haas is that it normally starts the season fairly well and then falls away. This year is no exception. It could be because of fire-fighting simply to meet the needs of a 22-race season or that it doesn't have the in-house manpower that is required to react to the current problems.
Being smaller and more efficient by using outside assistance in both design and manufacturing is all well and good, but it takes a lot more management to make sure that everyone is travelling in the same direction.
This season, the car has been fast on one lap but falls away dramatically with rear tyre degradation over long runs. It has been the same now for 12 races but there must be something in the aerodynamic profile or mechanical set-up that can be altered to improve that.
If a team is getting the best out of the package, it should be qualifying and finishing races in a similar position. That is the true speed of your car and it gives you a base to start working from.
Turning to the driver line-up, Nico Hulkenberg has shown that his three-year sabbatical has done no harm to his speed. Kevin Magnussen has struggled to hang onto his coattails, but they both have a lot of experience. If Haas could give them a better package, both have the ability to bring home good points.
Suggestion: Look closely at the lack of development that means a performance drop-off over the season seems inevitable and, as part of that, understand why as a team it has not been able to address this year's rear tyre degradation problems. Haas will probably find the answer to both of those questions are very similar.
Alfa Romeo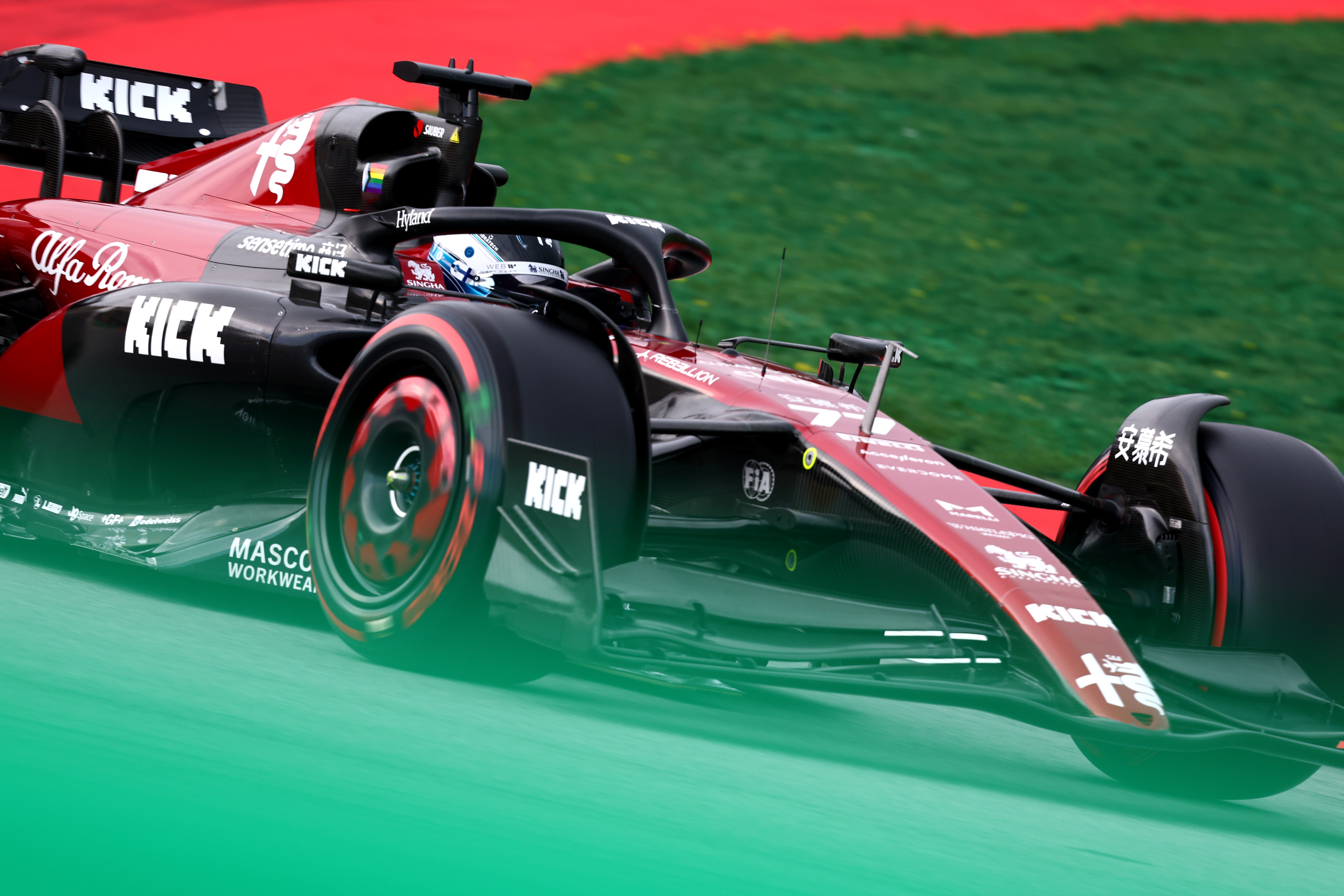 Alfa Romeo is probably the most disappointing team so far this season. Performance-wise and points-wise it is struggling. With Audi coming on board next year ahead of the full 2026 team transformation, Sauber needs to raise its game because without that, Audi will likely move in and overpower the existing team.
Yes, that could be a good thing, Audi has had a lot of success in every category it has competed in, but F1 is a different beast. It has been quite a few years since we saw Sauber at its best and the takeover by BMW, and the way it ended, didn't help. But Sauber survived.
The 2022 regulations were a new opportunity and bringing in Valtteri Bottas seemed like a statement of intent, but it has struggled for performance and consistency after the promising start last year.
Many teams seem to be a bit lost with these ground effect rules. Sometimes, to take a step forward you need to take two steps backwards and finding consistency is the only way you can get a measure of where you really are.
I know some of it is done just to keep people happy, but don't keep putting new things on the car, small or large, in the hope it will change things as they will change the characteristics and you just go from race to race confused and never get the best out of it.
The drivers are fairly equally matched. We know that Bottas can be a rocketship on his day, so that speaks well of Zhou Guanyu. We have seen him produce good speed on occasions, but he does seem to have the odd run of bad luck.
Suggestion: Put more effort into understanding the car you have and when you really find out the direction to go in then start focusing your development plan down that path. Remember, these regulations are around for a couple more seasons so going about it this way may not be beneficial now, but next year is just around the corner.
Williams
Williams is within spitting distance of Alfa Romeo and, in reality, given it's Williams it should be. However, it's a long way away from the days when it was winning world championships.
Changes in personnel and structure have been taking place. Unfortunately, it always takes time for these changes to have any effect.
We have seen on a few occasions this season when an opportunity has been presented to Williams that Alex Albon (who I rate highly) has taken it with open arms. Those opportunities have been few and far between, but it's a one-car team and with intense pressure on him he always responds well.
Car-wise, Williams has gone down the super-efficient route. Or, at least, that is what it appears to be from the outside. Whatever the reasons – intentional or accidental – Williams is always fast on the straights and not so fast in the corners. Qualifying with new tyres camouflages this to some extent but when the tyres cry enough Williams tends to struggle.
Logan Sargent is in his first year, but then so is Piastri at McLaren. If you are going to attract the attention of a top team you need to be at the very minimum mixing it with your team-mate, but at the moment Sargent is nowhere near a good enough back up for Albon.
Suggestion: Find some more downforce. Efficient or not, give it a shot and see where you end up. You might not qualify as well but it will improve your tyre degradation in the races so the race outcome might just improve that little bit. You will also learn something for the efficiency direction of next year's package.
AlphaTauri
Next year's name change is not going to do much for its performance level. You can change the drivers as many times as you want, but the facts are in front of you and doing these things means that you are not facing those facts.
The car is just slow and was last year as well. And while the three teams at the back are very close on performance, AlphaTauri is also last in terms of points scored with just three.
I am amazed that AlphaTauri didn't lean on Red Bull as much as physically possible within the regulations for 2023. Red Bull had a fast car last year and a derivative of that would definitely be a major step forward for AlphaTauri.
Yes, we can talk about intellectual property but you could clone a Red Bull with the information available without it being illegal. I wonder how many pints of Guinness down the pub in the evening it would take to pass on the design objectives that Red Bull is so good at?
Drivers-wise, I dislike Red Bull not giving Nyck de Vries the full season that it took him on for. Yes, I like the fact that Daniel Ricciardo is back but he is back for the wrong reasons. For Red Bull, it was to try to wake up Perez, for Ricciardo it was because he was bored. I will be amazed if it leads to a top-line drive, though.
Suggestion: Get the right people from Red Bull down the pub to learn from their approach and objectives. You might even be able to put the expenses for that down to entertaining so it wouldn't be included in your budget cap!
DOMINATION
The story of the season so far has been Red Bull being completely on top, with 12 wins out of 12 and victories in the three sprint races on top of that. Dominance is not unusual, but what I don't want to see is the FIA interfering with the technical regulations to try to equalise things. Someone always pays the price and it seldom works as intended.
We often talk about ultimate performance over one lap as opposed to race wins. But if you qualify on pole and finish at the front that confirms you have a fast, all-round car.
When we see someone who should be at the front coming through from a lowly qualifying position, it is normally someone in a fast car that is out of place – something Perez has done on several occasions this season. The wins from starting-position data shows just how important it is to be on the front of the grid.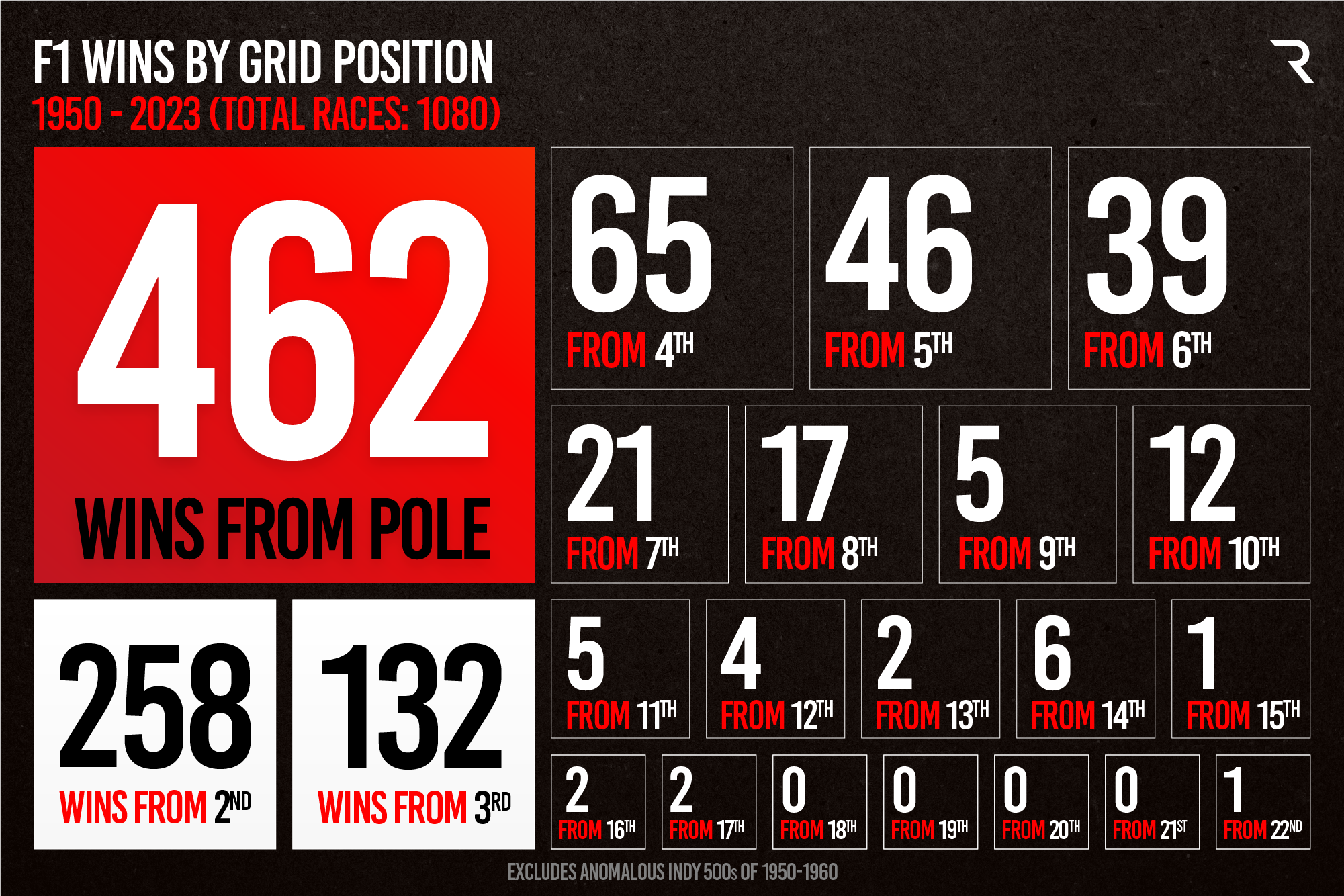 Since F1 kicked off in 1950, but not counting one-offs like when the Indianapolis 500 was part of the championship, there has been 1080 races. Of those, 462 have been won from pole, which is 42.7%, from second 258 wins or 23.7%, from third 132 wins or 12.2%, from fourth 6.0%.
From there on in, the numbers diminish quickly so anyone not accepting that a fast car over one lap is what you need to win races in F1 is basically not accepting reality.
So what about reverse championship order grids? I know it has been mooted before and has never had a great reception but at least it isn't as artificial as something like Balance of Performance. It would be real racing and I'm pretty sure any driver who managed to get through and score a good result would be more satisfied with their day's work than from the processions we currently see.
The difference there would be that all the fast cars would be starting together, which would make it very difficult to improve. I would definitely be watching if F1 were to throw in a race to that format to see how it would unfold.
So that brings us back to performance and also the slightly different view you get if you look at team performance. For the rest of this article, the performance figure was for the fastest team car on each weekend, but if we average out the performance of the two drivers it tells a slightly different story.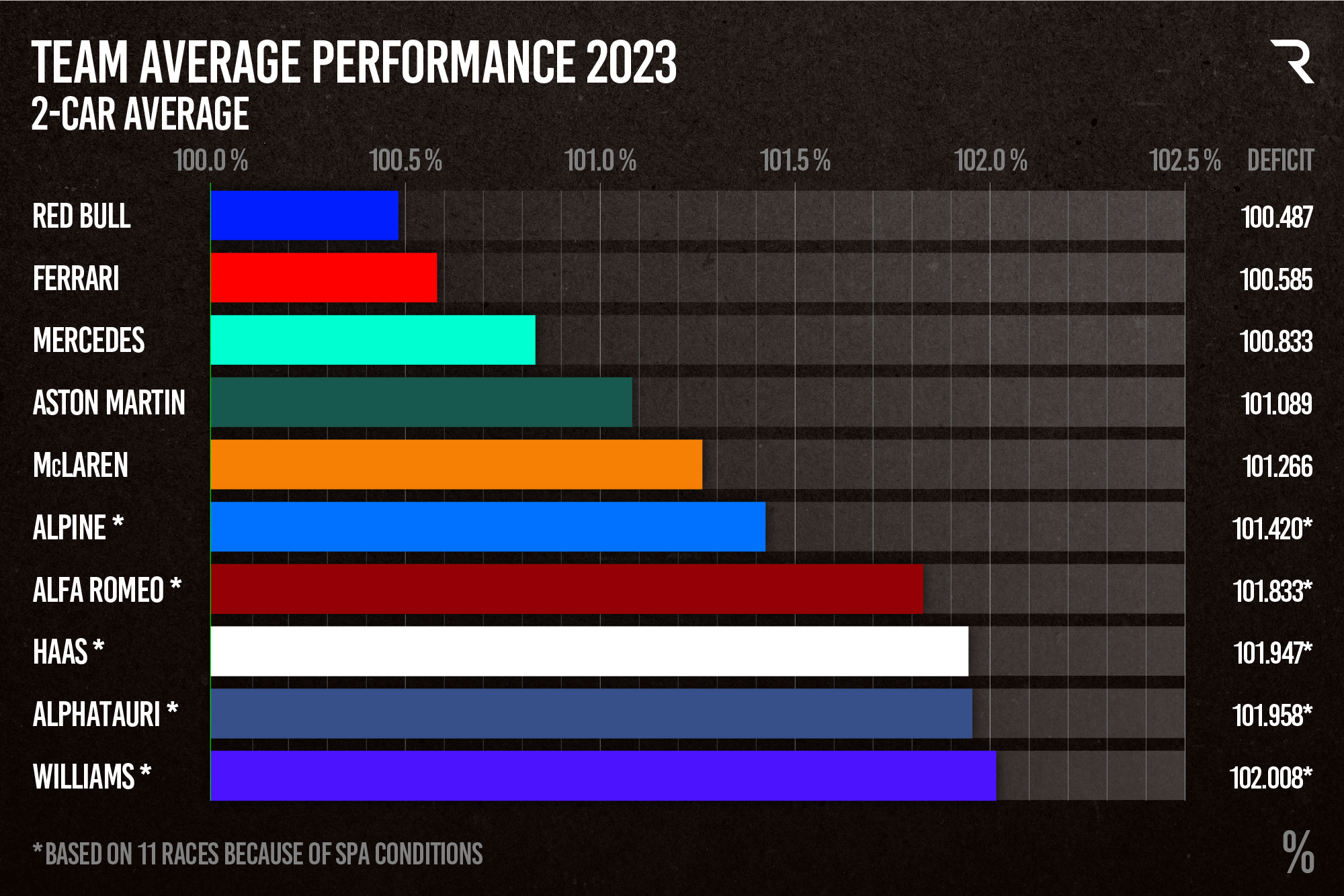 Overall, it doesn't make a lot of difference other than pulling Red Bull back in line with the others. The team order is still the same, but it is just that little bit closer. At the front this is mainly because of Verstappen being so dominant and Perez not being at his level, so when you put those two together and come up with their average it reduces what we see as Red Bull domination when it's actually Verstappen domination.
Now that Formula 1 teams have become financially sound and the cost cap reduces the risk of any team spending themselves into oblivion, should the constructors' championship be scored based on the average of each team's two-driver performance?
Points could be awarded for the average of each team's two drivers' fastest laps in qualifying and they count towards the constructors' championship, leaving the race to be a drivers' championship.
I know it's way-out wacky, but it would mean that each team would have to have the two best drivers available. Importantly the driver's contract fee should be included in the cost cap. It would reduce the risk of a good driver getting replaced by a 'pay' driver.
I'm only throwing this out there and I'm looking forward to what suggestions we get in the comments regarding this!