Even by Formula 1 standards, Alpine's sudden announcement that team principal Otmar Szafnauer and sporting director Alan Permane – who has been at the team for 34 years – were on their way out during the Belgian Grand Prix weekend was a jarring one.
They even had to see out the event in their current roles, something that departing personnel usually get to avoid when a team's ownership decides there must be change.
For me, there was a sense of deja vu. I have been there and suffered the consequences of the actions of a car manufacturer when Ford took over Stewart Grand Prix and named it Jaguar.
To be honest, it is exactly the same set of circumstances. Ford bought the team and renamed it Jaguar as part of its marketing of what it was positioning as a high-performance car company. Today, we have a team that is owned by Renault, which is using the same marketing ploy by calling it Alpine.
The managers of these car companies come in and think they know everything immediately. Yes they might be good at their individual jobs in their own world, but F1 is completely different. That's shown time and time again by situations like this.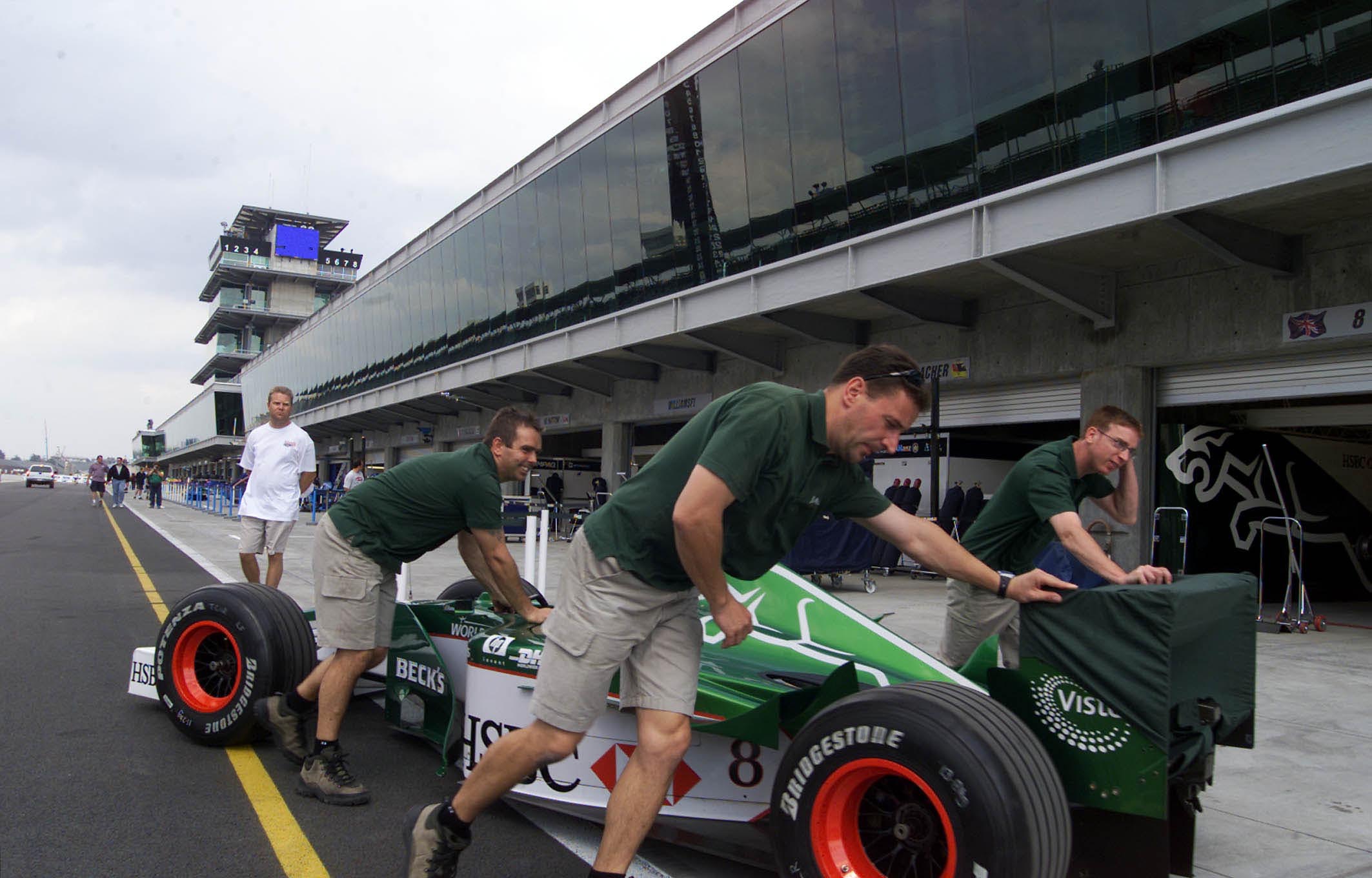 My own situation at Jaguar was a bit different. Yes, we had a poor season in 2000 but the way Ford worked meant I was not allowed to be directly involved. I had to manage, not participate. I have always been a 'get my hands dirty' engineer and because of my frustration over the season, it all blew up in Malaysia at the end of the 2000 season.
I had a stand up 'discussion' with one of Ford's top management, which I hoped would clear the air. Unfortunately, things were said that couldn't be retracted so I suffered the consequences.
When I found out what they were doing next, I had to laugh, and when that solution didn't last very long, I laughed even louder.
If you need any proof of what happens when car brands get too involved in their F1 teams, Ferrari has been in turmoil since the management of the main company started to interfere. Jean Todt was able to keep them at arm's length in his time, but since his era Ferrari has had a hire-and-fire philosophy. And just look at what that philosophy has done for Ferrari, which has all the resources you could hope for but is now in its 15th season without winning an F1 title.
Ever since Renault took over what's now the Alpine team ahead of the 2016 season, there has been a revolving door of leadership with Fred Vasseur, Cyril Abiteboul, Marcin Budkowski and Szafnauer all having key roles at the top and leaving or being moved on. In fact, that's been the case in many of these roles, as this table shows us.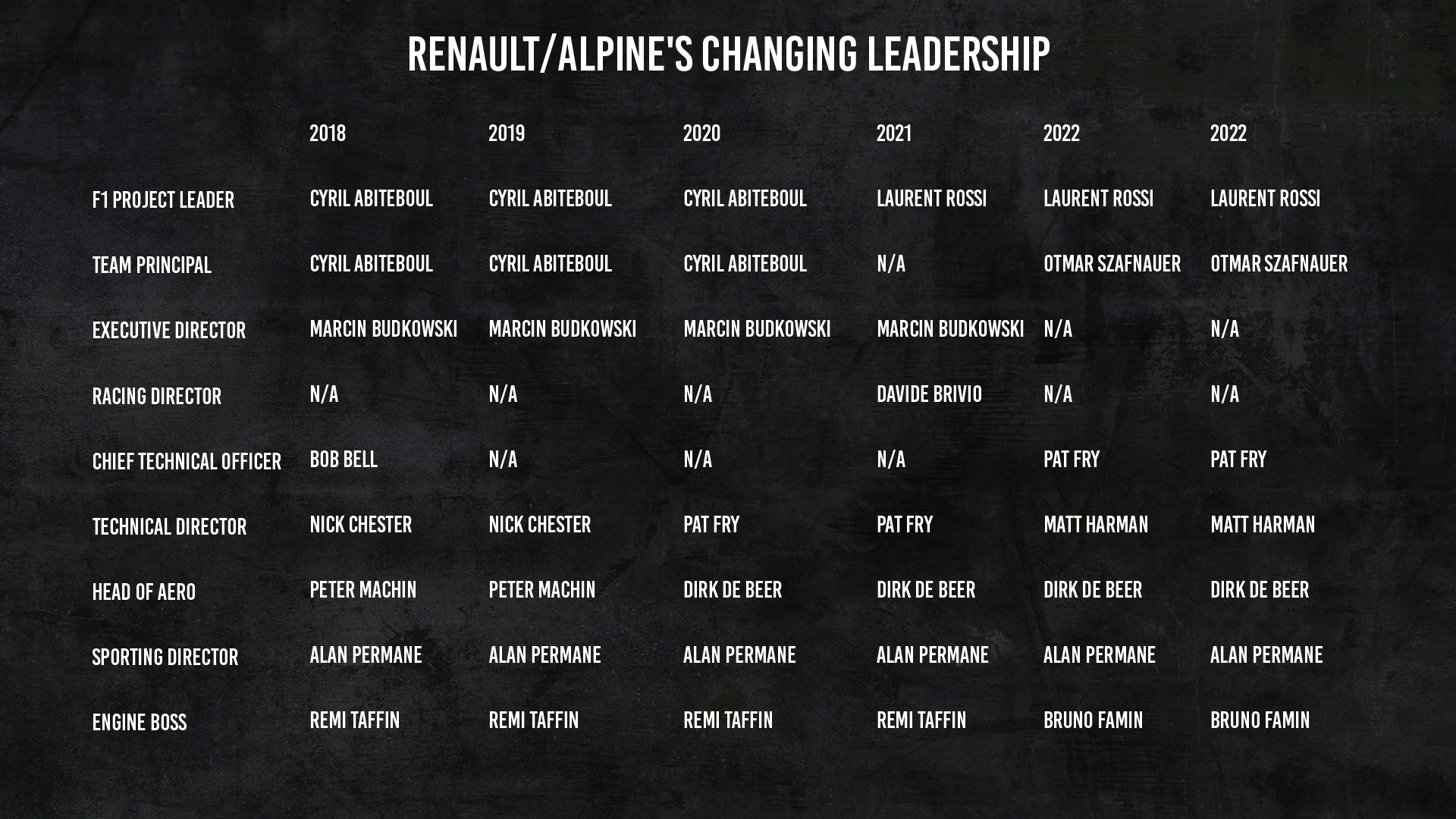 If you look at that list, the team has been in turmoil for a long time. The upper management at Renault, now Alpine, has been making promises for many years.
To be honest that is true of the engine facility at Viry as well as the chassis facility in Enstone. It is year 10 of the hybrid regulations and Renault is still seeking rules help to gain parity because it didn't push the envelope hard enough before the homologation of these power units came into play. It was Alpine that pushed for the recent discussions on ways to balance up the performance of the engines as it apparently has a deficit of around 30bhp.
Alain Prost stepping down as a consultant last year was probably the first indication that all was not well in the boardroom. Alain was not called the 'professor' for nothing. He was a gifted racing driver who won four F1 world championships and he did that because he could see the big picture. He wasn't a wring-its-neck driver, he improved his car in a way that allowed him to win with reduced risk.
In other words, as a consultant he was an ideal candidate to make sure the upper management kept their feet on the ground until the team was strong enough to take on the challenge of winning consistently.
Yet when he left at the start of last year, he was critical of Alpine Cars CEO Laurent Rossi. Last weekend he again had some choice words of criticism of Rossi, who himself has been moved 'sideways' by the Alpine car company in these latest changes.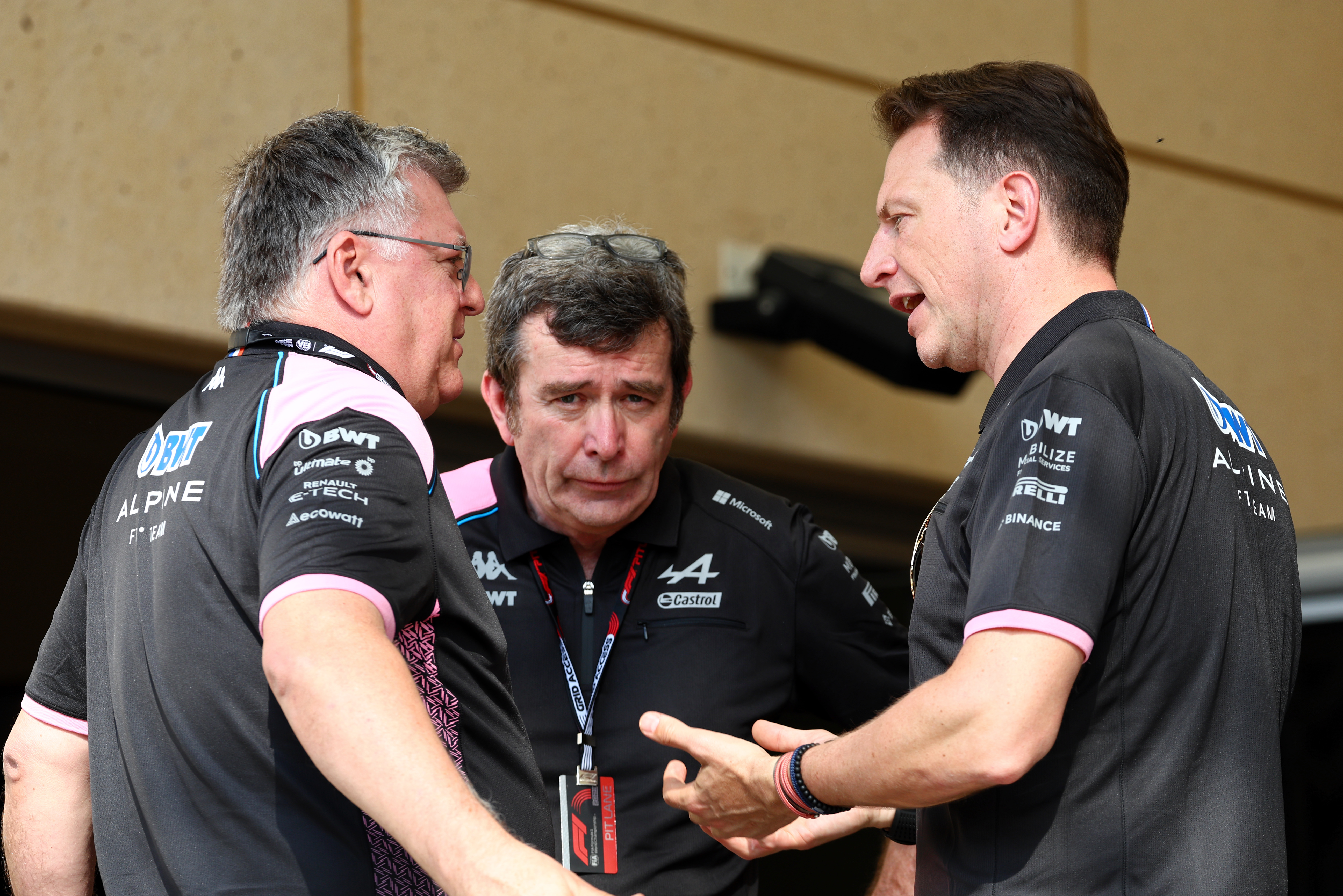 Budkowski being replaced was another warning shot that all was not well. He was a component engineer but upper management felt it was time for a change. The same could be said for Pat Fry. Getting out before the axe came down just shows that he could see that patience was running out.
Like him or not, what I know of Otmar is that he is someone who fights his corner. He is not a yes man and he stands up for his staff, so that's probably not what the new broom that has just arrived wanted to be confronted with. I'm pretty sure they are after a yes man that will fall on their sword when it is required. That is not Otmar.
As for Permane, you don't just throw away 34 years of experience because you think you know better after a couple of days in office. You need to take on what these guys are saying and strengthen the operation to allow more to be done and not just spit the dummy because you can't get what you want yesterday. It just doesn't work like that.
The messaging from interim boss Bruno Famin was very vague. He basically kept saying 'the project' when asked about Alpine's plan and he made it clear there were disagreements over the timeline for getting to the front. Szafnauer thought it would take a bit longer than Famin and Alpine wasn't willing to wait. It seems this came to a head, hence the sudden break after a big political battle.
The whole team will suffer because of this situation. No one will feel safe in their jobs and the people that Otmar has lined up to join Alpine will be feeling the same pressure. By the time they are actually able to contribute, their job could very easily be gone.
As I said in our live commentary on The Race over the weekend, the team looked to me like it had lost the spring in its step. Yes, that can happen when things go wrong but that's the time good upper management needs to show their strength and put an arm around a few people's shoulders. It not the time to lose some of your most experienced staff just because what they are telling you is not what you want to hear.
To be successful in Formula 1, you need everything in place – the resources, facilities, the people and the time. You also need realistic expectations.
Alpine and Renault always seem to be a few years away from fulfilling that potential and if there's no stability and the car company keeps interfering, there's no chance of it ever being more than a midfielder.