After finishing sixth in the Belgian Grand Prix, George Russell reprised a classic line from the 2022 Formula 1 season with reference to the bouncing that he said put his Mercedes on a knife-edge in qualifying trim and made his Spa weekend a challenging one.
Russell struggled for rhythm in qualifying, but was much more competitive in both the sprint race and the grand prix and indicated the bouncing played its part in his weekend only delivering a sixth place in the end.
But after the race he framed the bouncing as an F1 problem, rather than a Mercedes problem.
"We suffered with a huge amount of bouncing today," said Russell. "A number of teams did, maybe not as severe as we did.
"Still, obviously a bit of a shame to see that as a sport at the pinnacle of motorsport the majority of teams are still struggling with bouncing.
"I hope something can be solved in that regard in the future."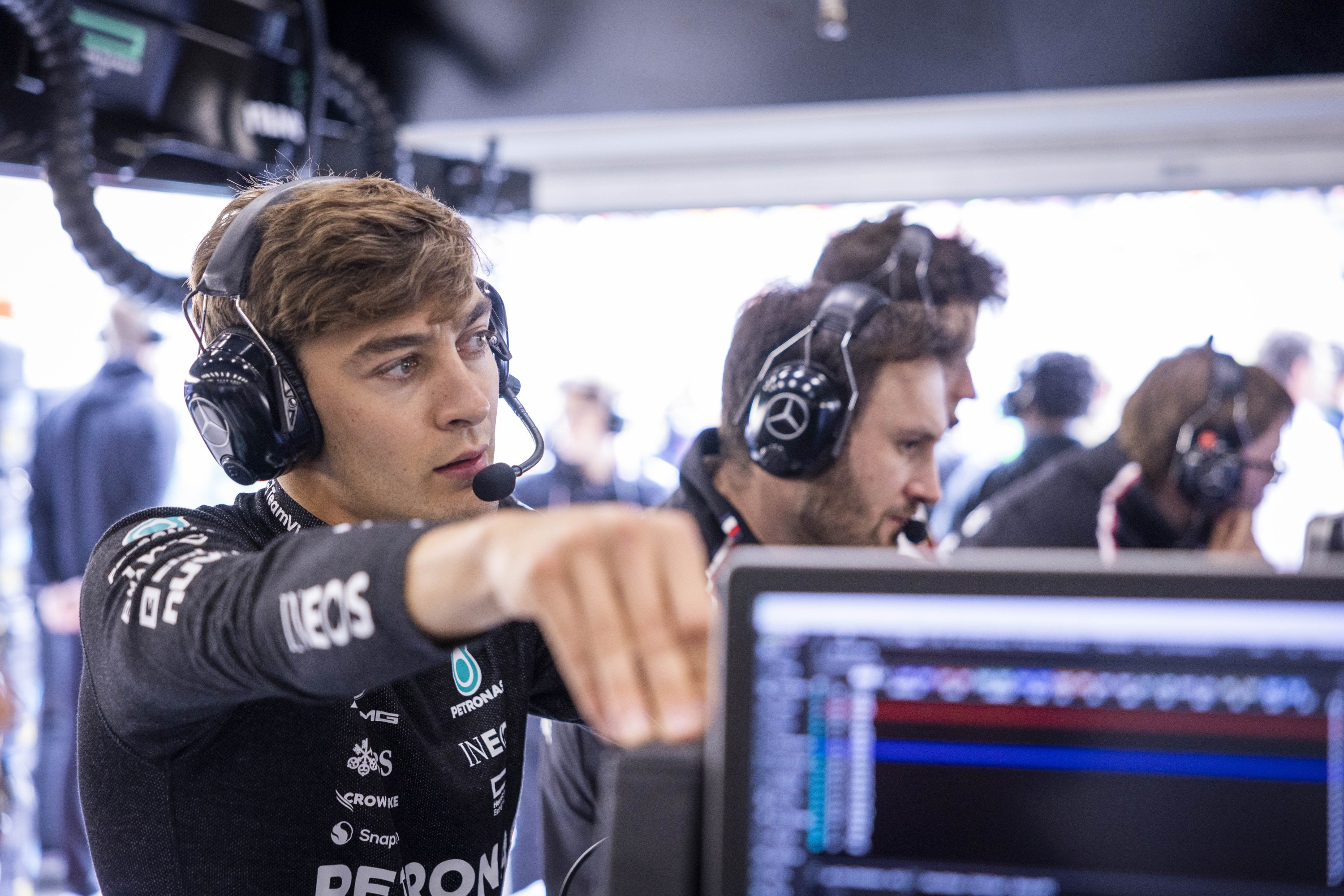 The idea that the regulation changes for this year, in particular raising the floor edges by 15mm and the diffuser throat by 10mm, would eliminate bouncing and porpoising from the equation completely was always misleading. It was only designed to ease the problem and prevent teams from running cars in a condition that could do damage to drivers in the long term.
Porpoising is an aerodynamic phenomenon that is always lurking in ground effect cars so the idea you can regulate it out of existence would require F1's technical regulations to have dominion over the laws of physics. As for bouncing, that's more related to the ride of the car and problems with bottoming out.
In the simplest terms, with the top-body aero that dominated the previous F1 regulations (although it's important to note that the floors did also contribute), the challenge was driving the aero surfaces as hard as you can without excess drag and without triggering costly stalls when you needed the downforce. Effectively, porpoising is the stall point of the floor, so it's a challenge the teams need to design and run their cars within.
You can see why the Spa weekend was perfectly set up for this problem to arise. Free practice didn't allow the set-up to be validated fully at a track where this is always a priority. In dry conditions, one of the first things teams would do is evaluate the bottoming out through Eau Rouge and fettle the ride height and suspension set-up to ensure this wasn't a problem.
Likewise, it's a fast circuit with a compromise set-up and therefore inevitably one where porpoising and bouncing could pose a problem. And Russell's team-mate Lewis Hamilton also indicated after the race it was happening for him, too – saying it was "like last year" and "everywhere".
Mercedes' chief technical officer Mike Elliott indicated it was set-up or circuit-specific rather than a fundamental problem.
"We definitely had an amount of bouncing this weekend, both drivers were telling us that and we could see it in the data," Elliott explained.
"It definitely affects the performance of the cars because it affects the drivers' ability to extract the maximum grip from the car, it affects their balance and it affects their ability to get their braking points right.
"So that is something we will be working on for the future.
"The question we need to ask ourselves is, how much of it is just the circuit we were at in Spa and how much is to be found in set-up because obviously it was a wet race weekend, a weekend where we had no dry running up until the point we were actually racing.
"We will also take a really good look at the upgrade kit and make sure that we've not introduced bouncing with that but at the moment our belief is it is probably a result of setup or the circuit itself."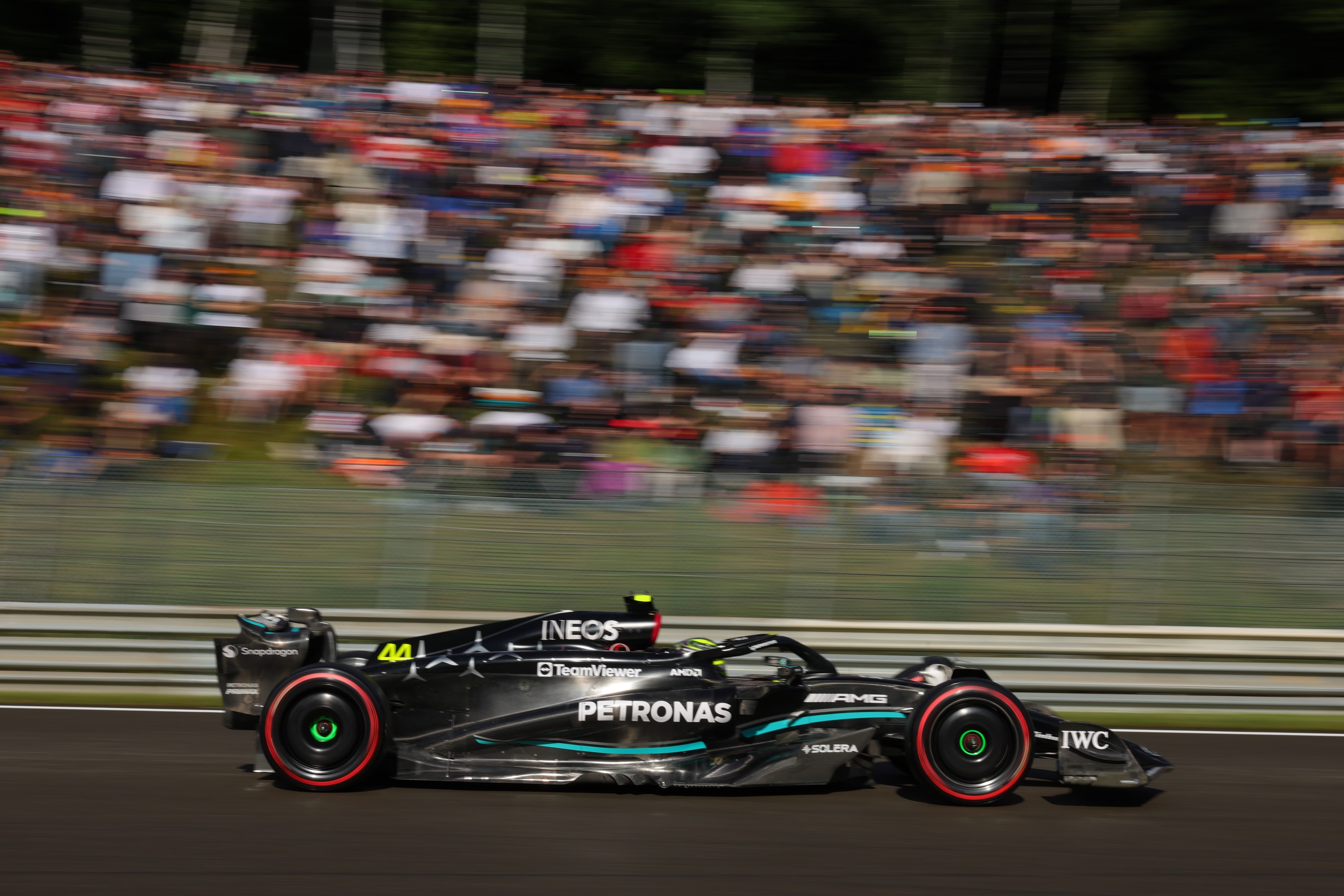 Russell is right to say these problems haven't gone away. Watch any onboard from this year with drivers at high speed and you will see evidence of the car bouncing. It's not as vigorous as last year but it's something that is never going to fully go away for as long as F1 has proper ground effect floors.
What's more, there's also a cautionary note here in terms of being careful what you wish for given one of the may reasons Red Bull stole a march on everyone this year is how well it adapted to the rule changes.
It's understandable that Russell is troubled by the bouncing he experienced and he's right to be. But the solution to this problem lies not with the regulations but with Mercedes itself, which has still yet to get entirely on top of these regulations and optimise the performance of the car within the unavoidable constraints that such ground effect cars create.
GARY ANDERSON SAYS…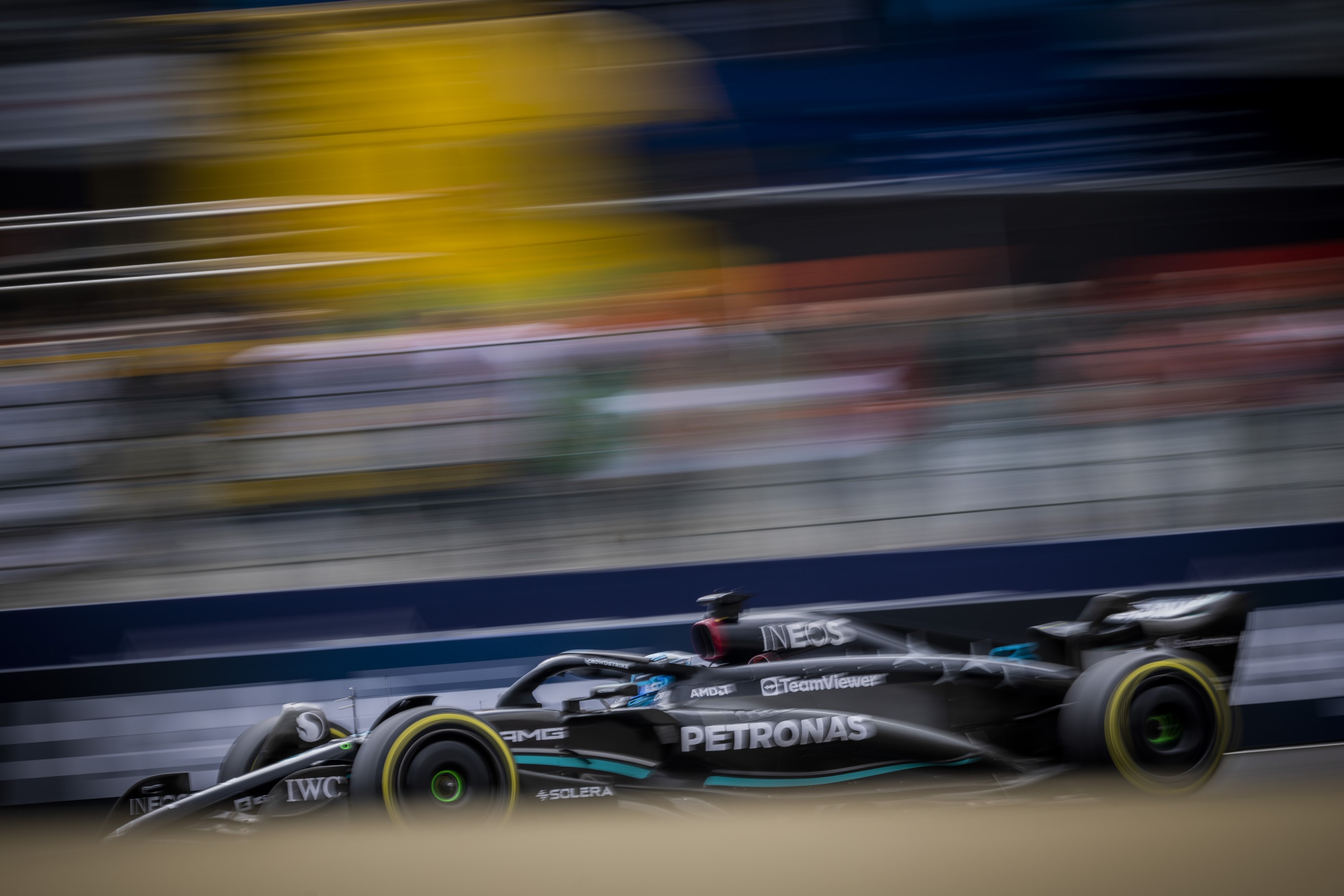 By definition, with ground effect cars the gap to the track surface will always be critical. That and how you go about sealing the low pressure underneath the car from the higher pressure around the floor's periphery will always be a compromise.
The more downforce you try to produce, the more problems you create so that's the compromise. The trick is to produce as much downforce as possible at low and medium speeds, but then allow the increase to bleed off as the speed increases. Downforce works at the square of the speed, so twice the speed, four times the downforce, and that is where you can get into problems.
Just supporting those phenomenally high and increasing loads at high speeds means you need to run the car very stiff, so bleeding them off is the only way to control them.
As an example, let's say that at 150km/h the car produces 1000kg of load. This means that at 300km/h, it could produce 4000kg of load. It will be more or less impossible to run the car mechanically stiff enough to support that.
You also need to remember that the tyres are an important link in the vertical stiffness chain and, in reality, you can't do anything with the stiffness of them other than increasing pressure. The problem with that is you will lose traction in the slower corners.
If you can have an underfloor design with some controlled stall that means the load never decreases, it just doesn't increase as rapidly. That means that, let's say, at 150km/h you still get your 1000kg of load but at 300km/h you can reduce that maximum load to 3000kg. That would allow you to run the car softer, generate more mechanical grip and have less rear tyre degradation.
Yes, everyone had some degree of porpoising but that's what optimising the car set-up for each individual circuit is all about. You just need the tools in your toolbox to be on the edge of it, which means you are getting the most out of what you have.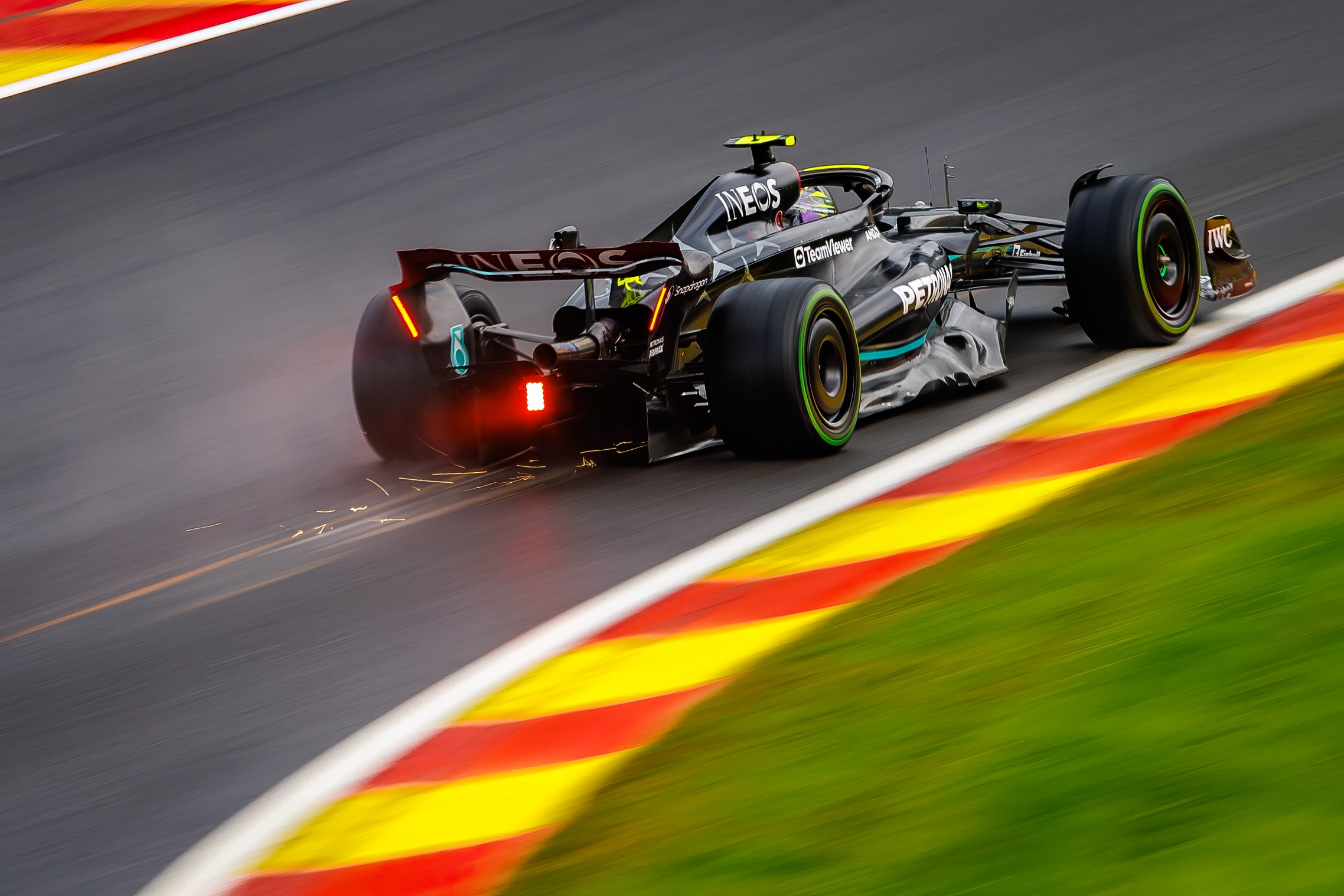 As for Mercedes, it seems to have boxed itself into a corner with having a lack of rear suspension movement available.
At Spa, with its high speed – and Eau Rouge specifically – having that initial compression requires you to run the car stiffer than normal just to keep it from bottoming out.
So this is a Mercedes problem and down to it to solve rather than anything to do with the wider regulations.