You probably heard Gianpiero Lambiase trying to scold his driver Max Verstappen for using his new tyres too hard, going into the third stint of the 2023 Belgian Grand Prix.
"You used a lot of the tyre on the out-lap Max. Not sure that was sensible." Then a minute or so after no reply: "There was reasonable deg in the last stint. I'd advise you to use your head a bit more."
It was just the latest of many such niggles, which have only seemed to increase as they've got more used to each other since first working together at Barcelona in 2016.
Lambiase was recruited from Force India to Red Bull part-way through 2014 as team principal Christian Horner had heard on the grapevine that he was practical and strong-minded, exactly the sort of guy that could replace Guillaume Rocquelin as Sebastian Vettel's race engineer as Rocquelin was being promoted.
So after the standard interview, Lambiase was then put in front of Vettel and grilled. He made a strong impression on everyone, Vettel included. Then Vettel left for Ferrari and Lambiase ended up engineering Daniil Kvyat's Red Bull instead. Until the Russian was replaced after just over a season by the teenage sensation Verstappen.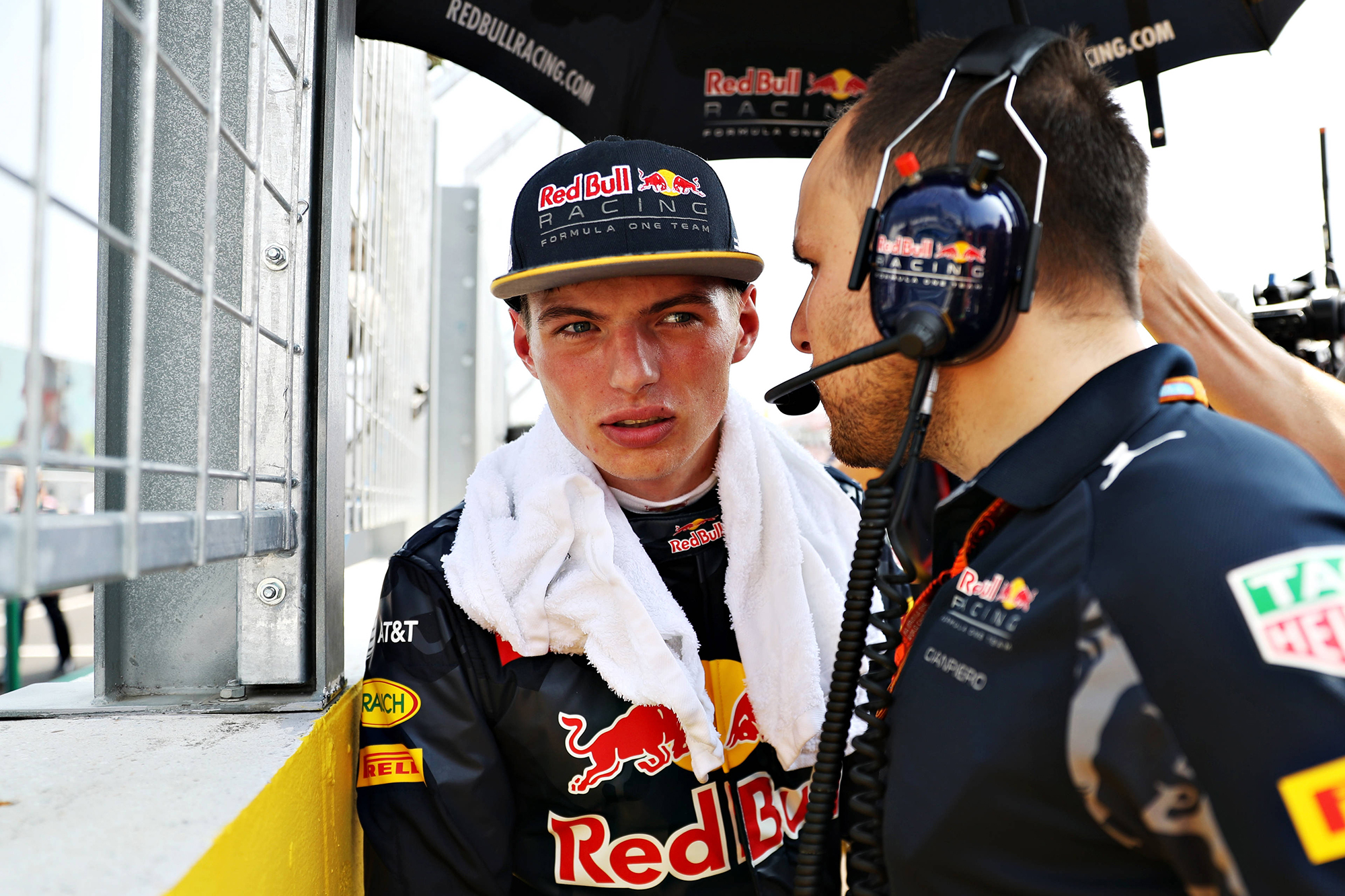 So Lambiase has witnessed first hand the evolution from unchecked brilliance to one of the greatest performers the sport has ever seen. He was almost certainly part of that evolution.
But the dynamic between them hasn't really changed; Max is still the sometimes errant young kid, Lambiase the stern older brother who must ensure Max does not irresponsibly risk their victory. No matter how many of them he has already won.
Max is totally happy with that dynamic, revels in having fun with it, in winding up the figure of authority, totally confident in his own ability, knowing how far he can play with it, knowing it makes GP nervous.
But it can go from jokey to serious in a nano-second, when there's a competitive imperative for a decision. Max can even switch from relaxed mischief to rage if things are not working properly – and Lambiase frequently gets the brunt of that. They each dish it out, they each take it back.
"Yes but with Max it's pretty much forgotten straight away," says Horner, "Whereas with GP, he remembers a little longer."
We heard the Verstappen anger in the Q2 part of qualifying on Friday when a drying track and the conflicts between battery charge and tyre temperatures almost led to them missing Q3.
"OK, well if you want to decide the tyre offset, the run plan, the traffic gaps, we can do that for Q3," responded Lambiase, giving it back just as hard as Verstappen had given it out. After then going fastest in Q3 by around 0.9s, Max was apologetic for his earlier tone. "I'm… just about getting used to it," his comedy foil replied, another notch in the history books secured.
There wasn't much talking to be done in the first stint of the main race as Verstappen, from his penalised sixth place on the grid, treaded carefully and just set about working his way through. Very much like last year here.
Charles Leclerc, who'd inherited the pole Verstappen's gearbox penalty denied him, led into La Source, but Sergio Perez was able to slipstream the Ferrari and surge by on the Kemmel Straight in classic style. Leclerc didn't have an answer and kept an eye instead on Lewis Hamilton's Mercedes in his mirrors.
Verstappen had made up a couple of easy places as Carlos Sainz and Oscar Piastri tangled at La Source, squeezed in tight as Hamilton had gone around the outside. Three-abreast they went in, but only one came out undamaged. Max lifted, made sure not to get involved.
He remained patient even as he found himself in a DRS train, with Hamilton taking the DRS from Leclerc and thwarting Verstappen's attempts at slipstreaming ahead. Instead Verstappen wore down Hamilton's battery store by forcing him to use it defensively for a few laps then made a simple DRS pass before Les Combes on the sixth lap. That put him third, 3.9s behind his race-leading team mate Perez but lapping up to 0.5s faster on the same soft compound tyres.
The pass on Leclerc three laps later was bold, around the outside of Les Combes with much greater speed, Perez now just 3s ahead.
Now the discussions with Lambiase began. Like all drivers and their race engineers, they'd clearly discussed several scenarios prior to the race and how they might react to them. So there was a coded element to their conversation at this point. It was probably about how they were going to go about passing the other Red Bull.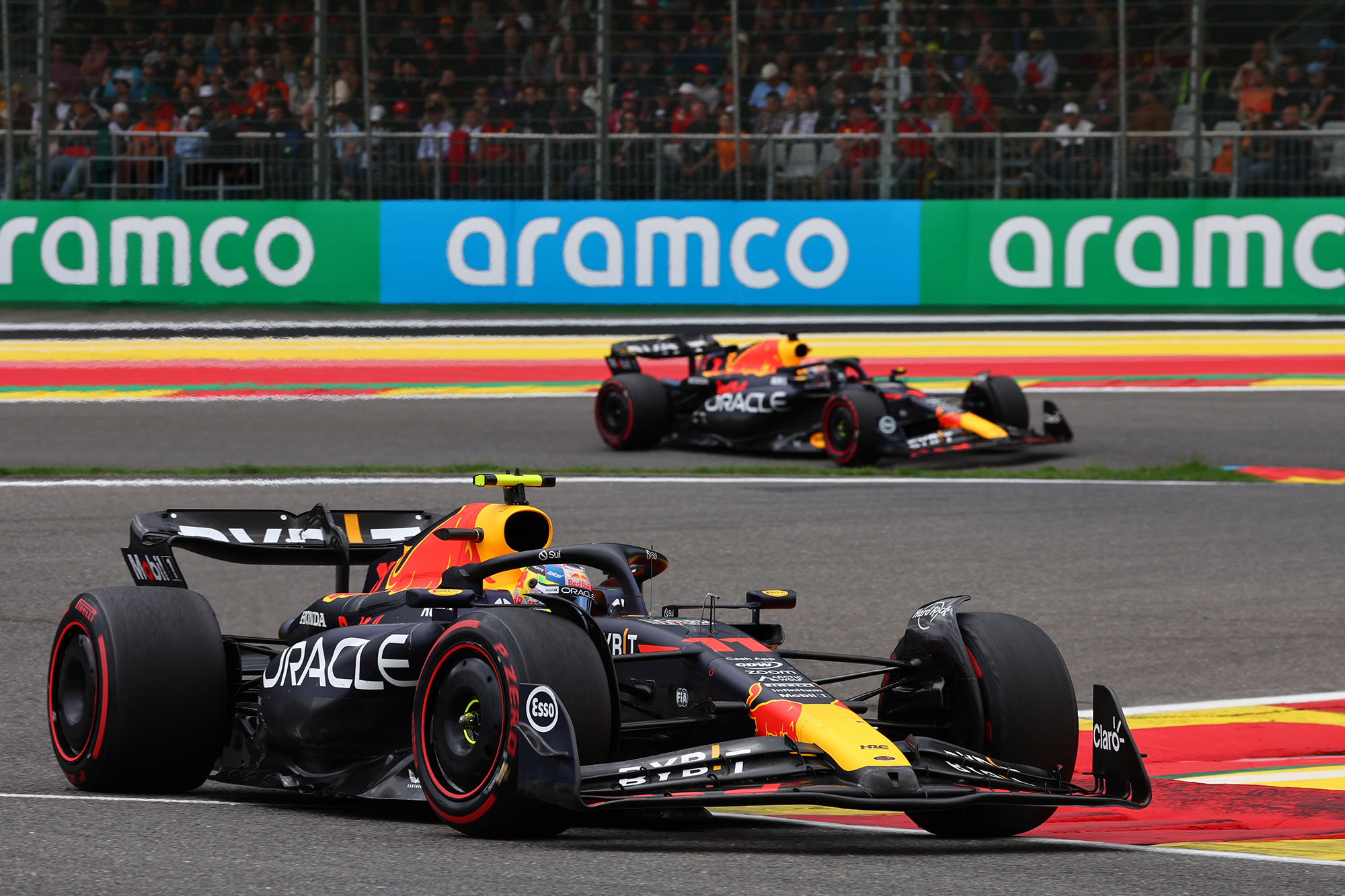 Working just from the numbers, the simplest way to do it was to come in first and undercut ahead now that he was close enough to make this work. But giving the second-on-the-road car pitstop priority over Perez would be a fairly incendiary move for the team to make. Such was Verstappen's pace advantage he would surely be able to pass Perez on the track, mano-et-mano, at some stage either before or after the first stops.
That issue was further complicated by whether this race was going to be a one-stop or a two. The degradation of the soft tyre was way better than expected and wear was not an issue either. So if it was going to be a one-stop, they were nowhere near the first stop yet and Max would presumably be free to attack and pass Perez.
But if it was a two-stop they were now right on top of the first stops, and they might be able to pass without the risk of going wheel-to-wheel, but from the team's perspective that would carry a different sort of risk.
Pushing them towards a long first stint was the expected rain in around 10 minutes' time. It wasn't expected to be heavy enough to require intermediates, but the later you could make your stop, the fresher your new tyres would be when the rain arrived.
Several times already GP had cautioned Max to "use your head please" without making specific reference to what. "Are we doing it or what?" Max had asked. Lambiase counselled his driver to just follow instructions. Max said he wanted to know 'both sides' and was told once again to follow instructions. There was a definite edge to whatever this conversation was about.
But the decision about one or two stop was made for them by Hamilton who was by now struggling on his original soft tyres and Mercedes decided to go for the undercut attempt on Leclerc while they still could. This was lap 12 of 44.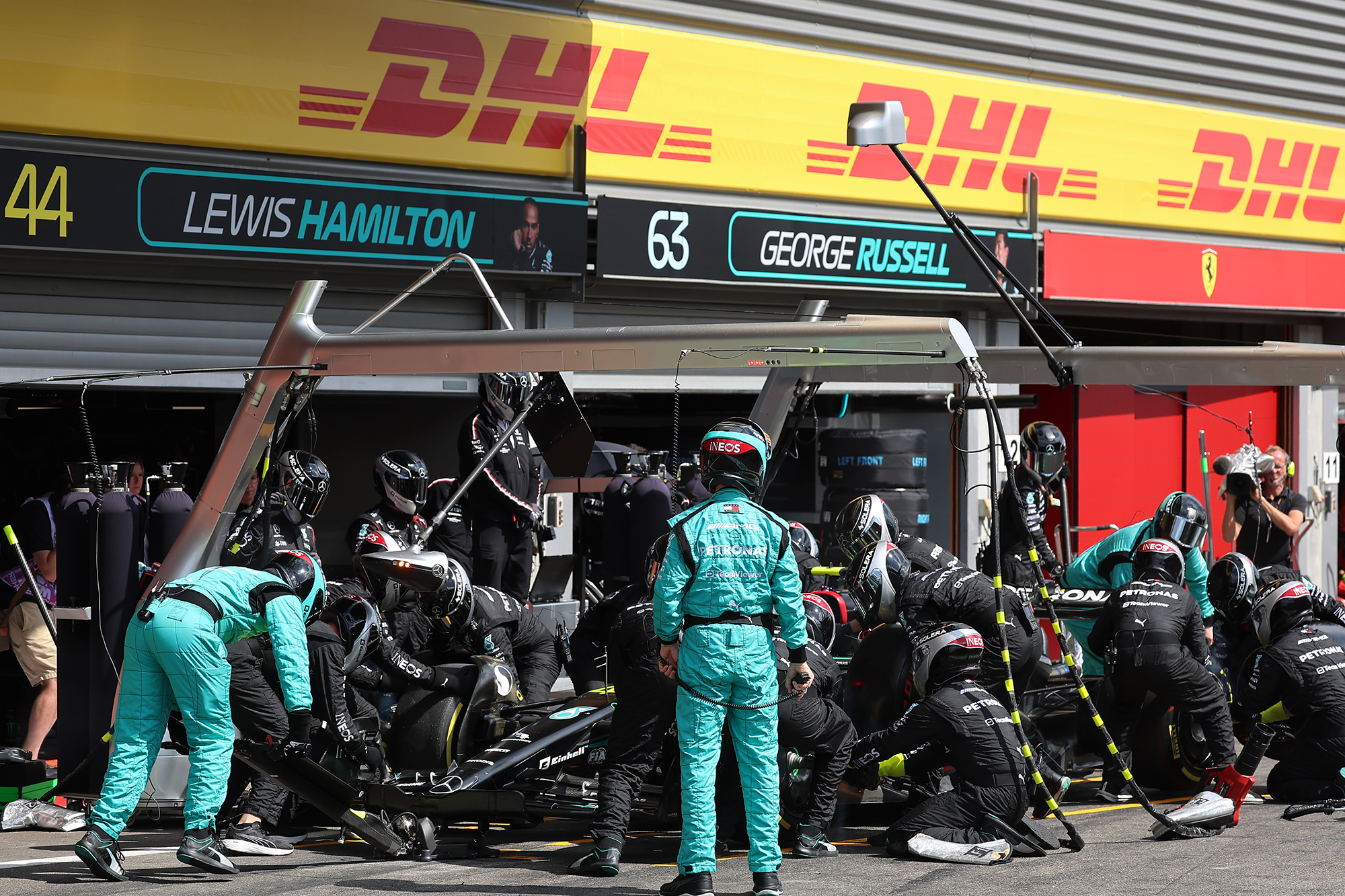 This triggered Leclerc and Perez into covering him off by pitting on the next lap. Which in turn determined the timing of Verstappen's stop as the lap after that (lap 14). They'd all switched to the medium tyre, but early enough that it implied a two-stop race.
Max's first flying lap after his stop was almost 1s faster than Perez's – almost certainly making Lambiase a little irritated. Max wants to leave nothing on the table and feels fully capable of judging where that place is. Lambiase wants to secure the result in the least risky way. The margin in between those two objectives is where their lively discussions tend to take place.
Three laps after rejoining, Verstappen slipstreamed past Perez to take the lead to the great roar of the crowd. Three laps later the rain arrived from the Stavelot side of the circuit. It wasn't heavy but enough to make things tricky on slicks.
Between laps 20-22 lap times increased by about 3s during which time Verstappen extended his lead over Perez out to 5s despite a big tank-slapper up the hill after Eau Rouge on the 21st lap. Perez had a little moment on the next lap at the Fagnes chicane.
Thereafter the rain faded, but it had permitted Lando Norris in the big-winged McLaren to briefly set a sensational pace, even relative to Verstappen. This rescued his race from obscurity and brought him up to seventh.
Hamilton again kicked off the stops among the top four second time around, trying again for an undercut on Leclerc on lap 27 and switching back to softs, obliging the Ferrari driver to do the same on the next lap. Leclerc stayed ahead, their struggle far clear of Fernando Alonso's Aston Martin which would soon enough have George Russell's recovering Mercedes behind it.
For a time Leclerc thought he had a chance of catching Perez. But that chase had to be called off as the Ferrari was running short of fuel.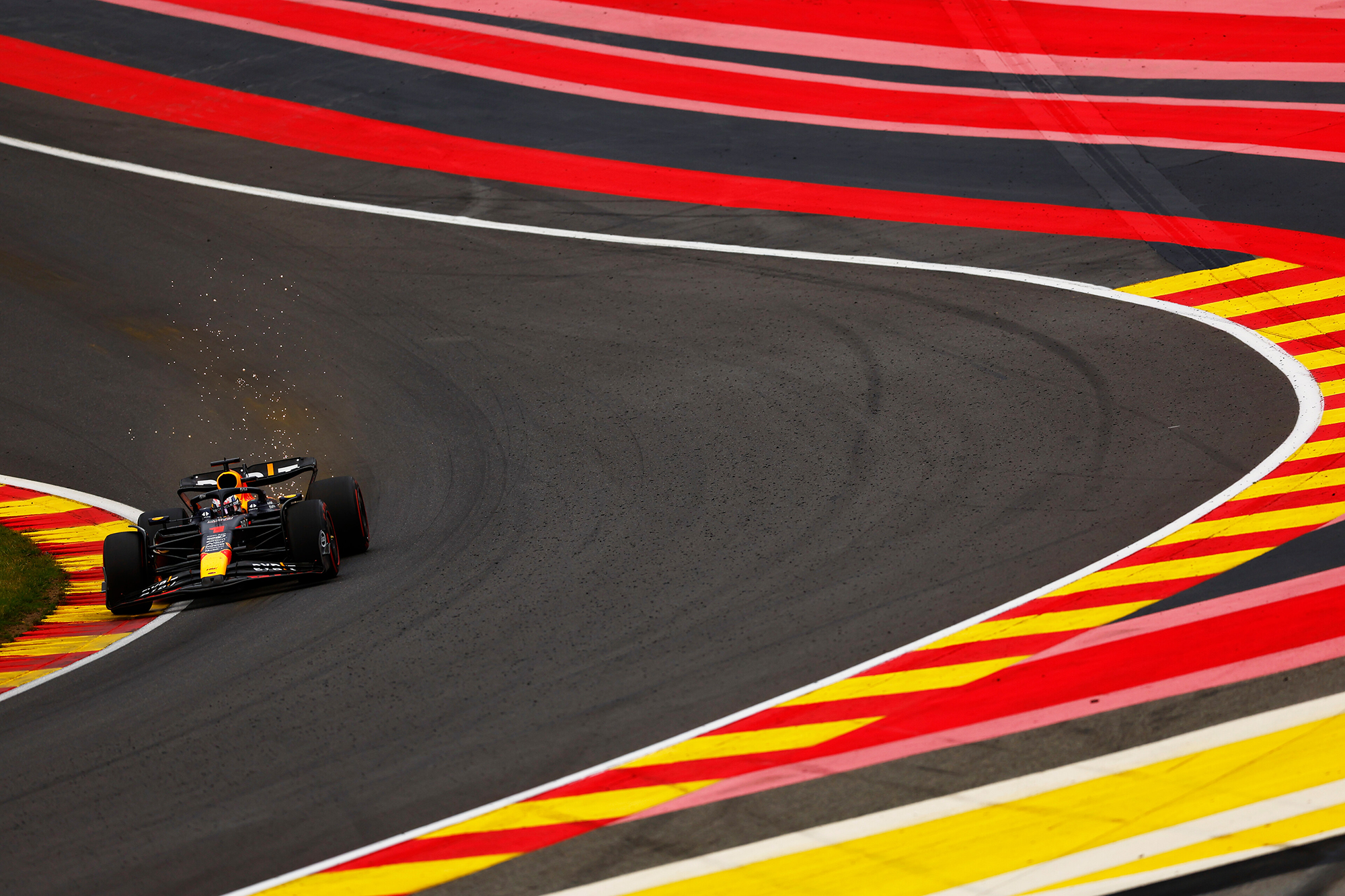 As Verstappen rejoined on his fresh softs he'd lapped over 2s faster than Perez. From Lambiase's perspective that was totally unnecessary and hence the scolding about using his head.
But actually, Verstappen was not really pushing all that hard. Certainly, his onboard shows very conservative braking and turn in phases, nothing dramatic and much as Lambiase raged on the radio, his communication with Horner told a different story.
"The engineers and performance engineers are living and breathing the data in front of them," said Horner. "They know the driver's driving style, they know what they are taking out of the car, and I was asking GP, 'I know what he's doing here, he's trying to build up a gap for a pitstop.' GP said, 'Yes, but actually I think he's taking it pretty easy. All the metrics are massively under control.'"
Getting a pitstop's-worth of gap is indeed what Max had in mind – maybe as much to wind Lambiase up as for the extra one point for the fastest lap a third stop would pretty much guarantee.
"Shall I push on and do another stop?" he asked. "Some pit stop training?"
"No, not this time," replied GP in reference to Max's similar antics in Austria.
GP's conservatism prevented the full haul of points, as Hamilton pitted near the end for new tyres, such was his big margin over Alonso, and proceeded to take the fastest lap point from Verstappen.
"I know that the team doesn't like to do another stop," smiled Max in the press conference after victory number 45. "But I like to mention it so they might get a bit nervous. And then I like the response: 'no, no, we're not doing that today'.
"It's fine. We know each other very well and we have a very good relationship."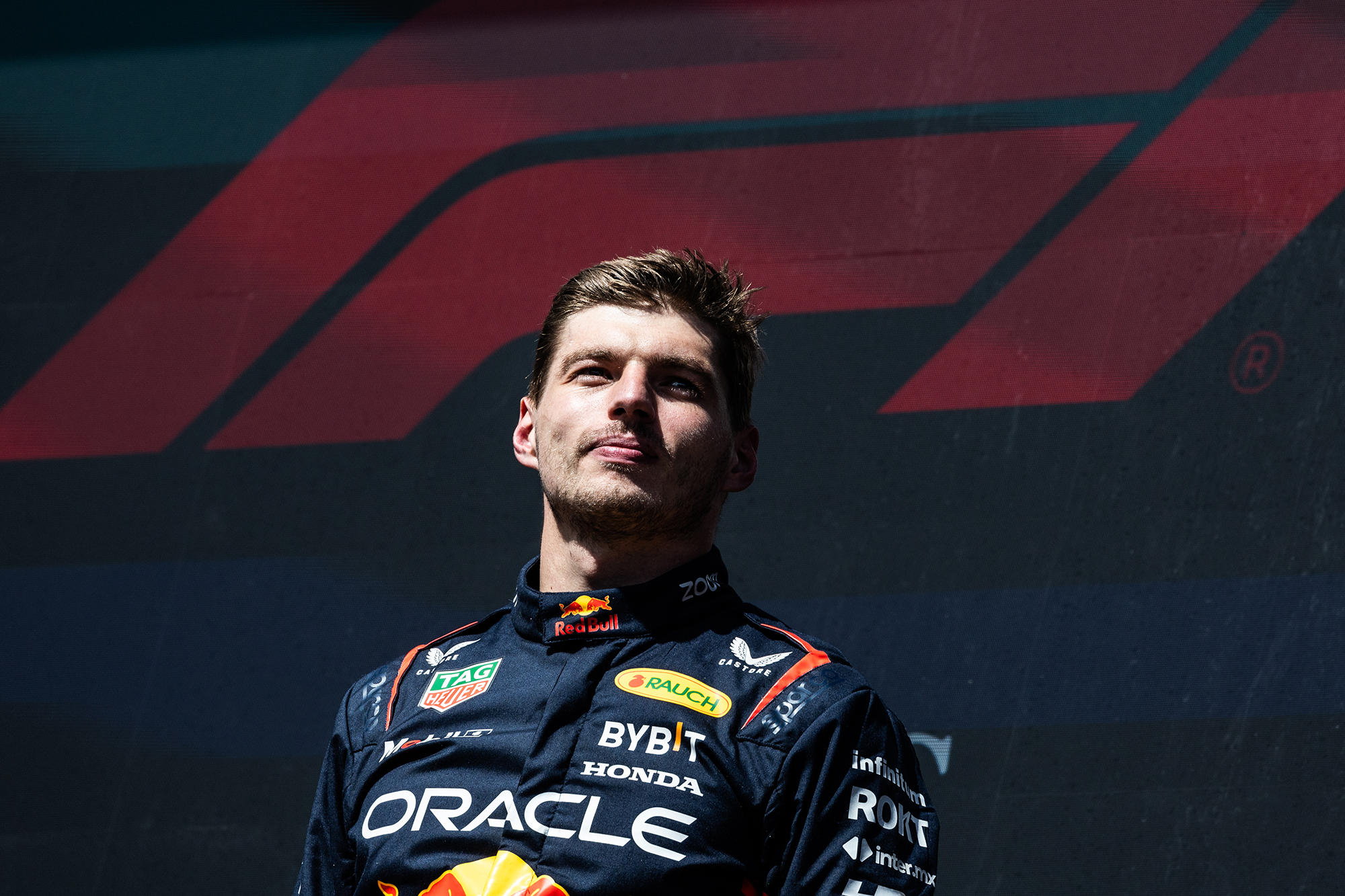 His winning margin over Perez was 22s, half-a-minute over Leclerc. It could definitely have been a lot more. His margin here was extraordinary, just as last year.
"I did slow down," Verstappen said. "Of course, you know, we all look at the numbers, we look at the wear of the tyre and you know, this track is super hard on the tyres, so you don't want to do any unnecessary things. So that's what we did till the end."
Even if it occasionally looked alarming to GP.
"What we are witnessing with Max at the moment is something you see once in a generation," said Horner. "Like all the great drivers, he has that extra capacity.
"And what we're witnessing and seeing with him at the moment is his ability to read a tyre, read a race, extract absolutely everything out of it. It's great to see.
"He is just at the top of his form at the moment."