A new champion, nine different race winners and 15 different podium finishers. Even taking away the pandemic-influenced compressed schedule with the added novelty of double-headers at the same tracks, the 2020 MotoGP season will live long in memory.
Numerous riders capitalised on dominant 2019 champion Marc Marquez's absence throughout, but of them only Joan Mir will have got what he wanted, while many of his peers will have been left ruing a huge 'what if' of a season.
Below, we've named our winners and losers of the 2020 campaign. A word for the 'losers' section though – several of the riders and teams in it didn't actually have what you'd consider particularly bad seasons, and won't be striking 2020's achievements from their CVs any time soon. But for all of them, the opportunity was there to do much more.
Winners
Joan Mir and Suzuki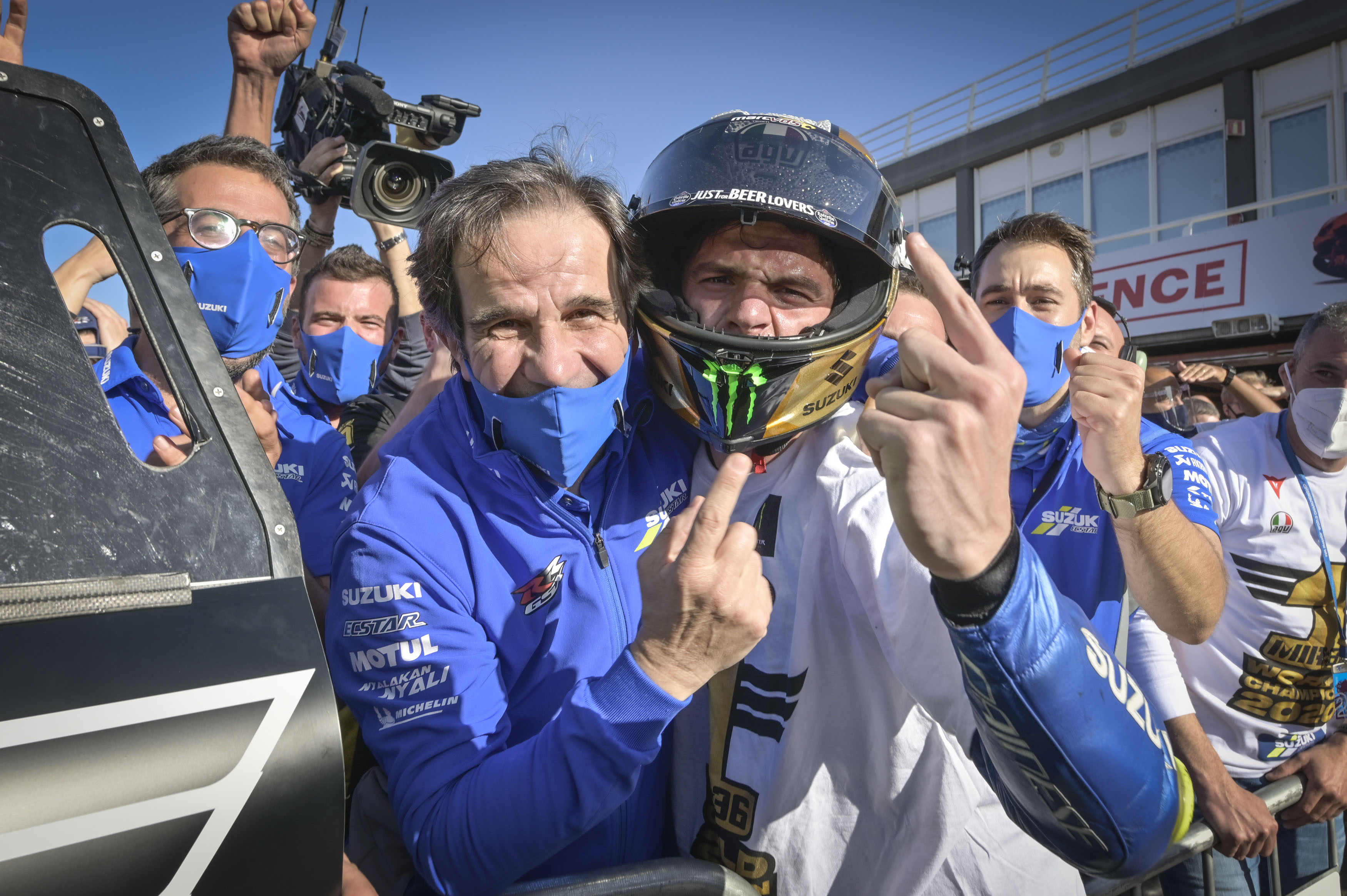 In early 2018, when it became clear Ducati and Jorge Lorenzo were heading for divorce, Suzuki emerged as a prime landing spot for Lorenzo. The nimble GSX-RR seemed absolutely perfect for Lorenzo's style and, having finally got his head around the Desmosedici, he seemed perfect to take Suzuki to the next level.
Instead, for reasons which at the time seemed to be mostly financial, that option never materialised.
Suzuki instead opted for a rider straight out of Moto3, who hadn't won by then in his sole Moto2 campaign and wouldn't do so by the time it wrapped up. You did not have to be a cynic to see this as a budgetary move, of a manufacturer that was content to remain the underdog and wasn't willing to spend what was needed to return to the summit of MotoGP.
Hoo boy. I distinctly remember having thoughts to that effect in 2018, but hindsight has made any take like that look patently absurd. It was already clear, even in an injury-ravaged 2019, that Suzuki's faith in Mir was paying off, and 2020 – as surprising as it was – is a fitting end to a superb arc.
Bravo, Joan Mir, for maintaining your perfect record of sophomore titles. Bravo, Davide Brivio, for seeing something special in him and rolling the dice. Bravo, Sylvain Guintoli and co, for making an amazing bike. – Valentin Khorounzhiy
Takaaki Nakagami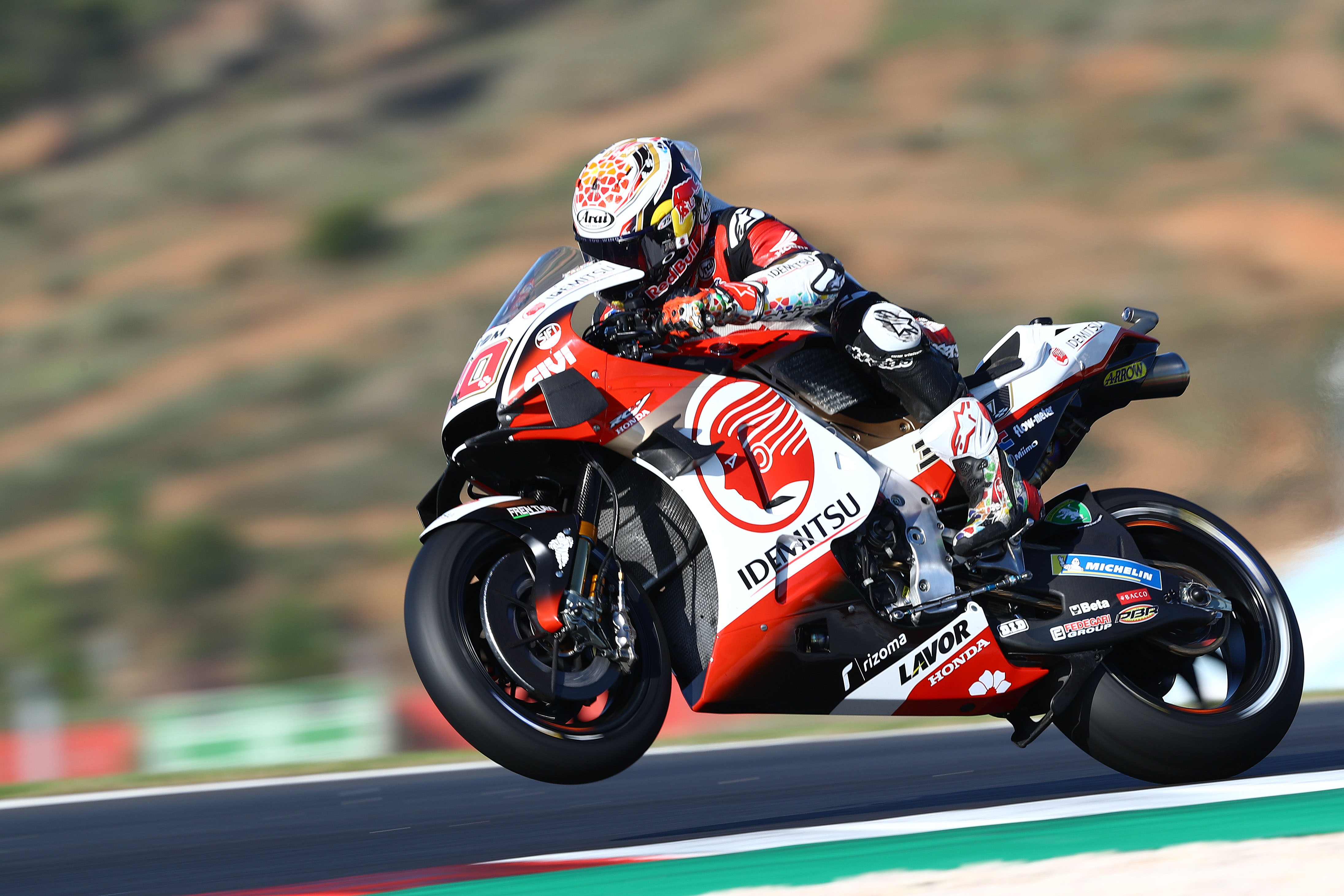 For most of his MotoGP career, Taka Nakagami has been something of a background figure.
Plucked from the Moto2 mid-pack and placed into LCR Honda because HRC wanted a Japanese rider in the premier class, he was seen as a consistent but steady journeyman who would never set the world on fire.
So imagine his surprise when he suddenly found himself in the midst of the 2020 title fight! A little extra love from Honda's engineers in the absence of Marc Marquez proved to be the key to unlocking Nakagami's potential.
Nakagami is admittedly still without a maiden podium, never mind a win, but though he let a few great chances lapse in 2020 it's only a matter of time before he converts his potential into silverware. – Simon Patterson
Franco Morbidelli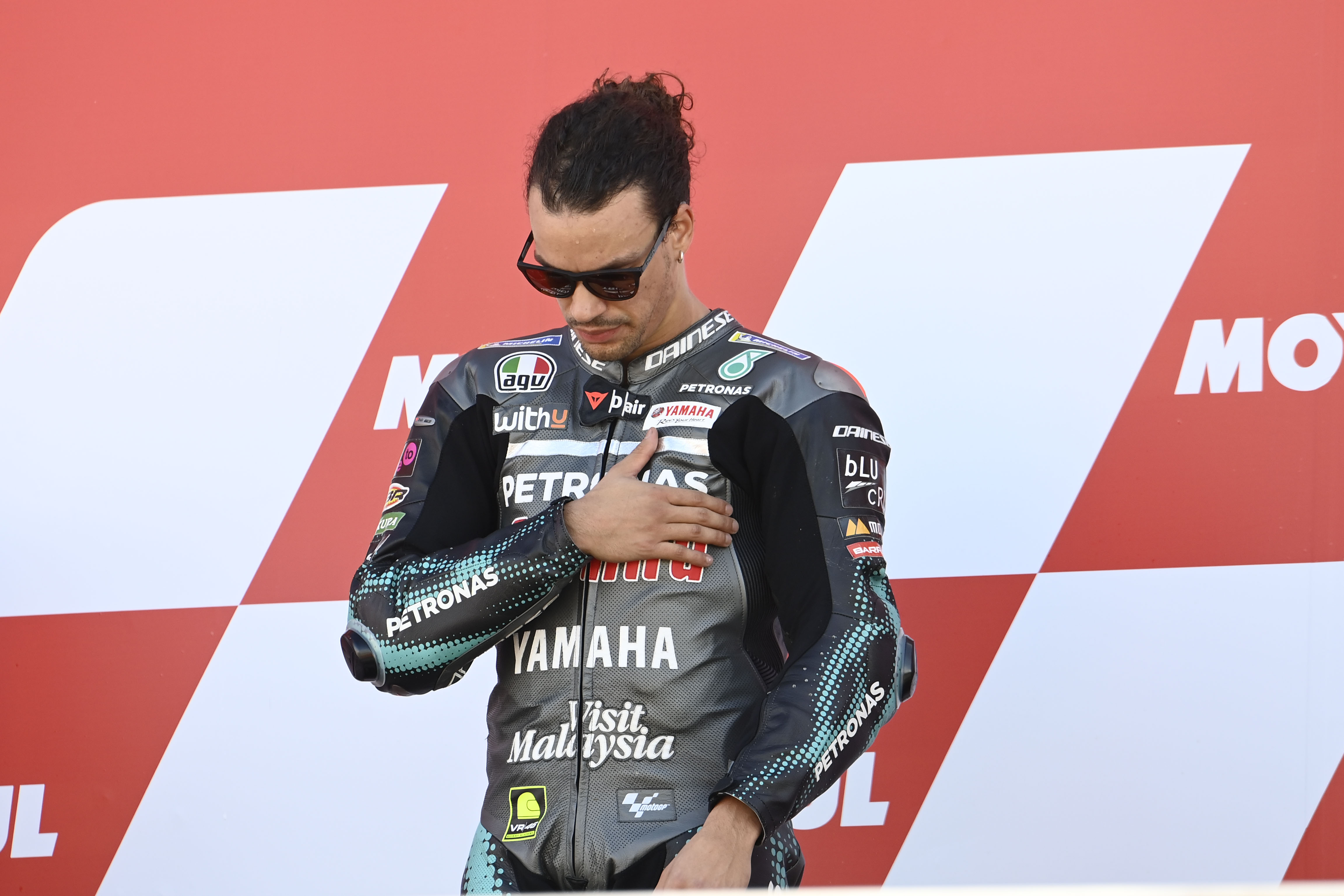 Morbidelli needed this. His first season with Yamaha in 2019 was perfectly serviceable, but was completely overshadowed by Fabio Quartararo's whirlwind debut, and though his premier-class future was secured even before racing began in 2020, his case for a longer-term MotoGP career in top machinery still needed building.
But once the season commenced, for all of Yamaha's inconsistencies, Morbidelli and Quartararo combined for a much more potent line-up than their works counterparts – more podiums, more poles, more wins.
And Morbidelli was the main reason why Petronas left the works Yamaha team in the dust.
Mentor Valentino Rossi said Morbidelli had been the quickest MotoGP rider down the final stretch of the campaign, and it was very hard to argue with that.
Even the title maybe could've been his – but the important thing is that he's definitely made it look possible going forward. – VK
Inline four engines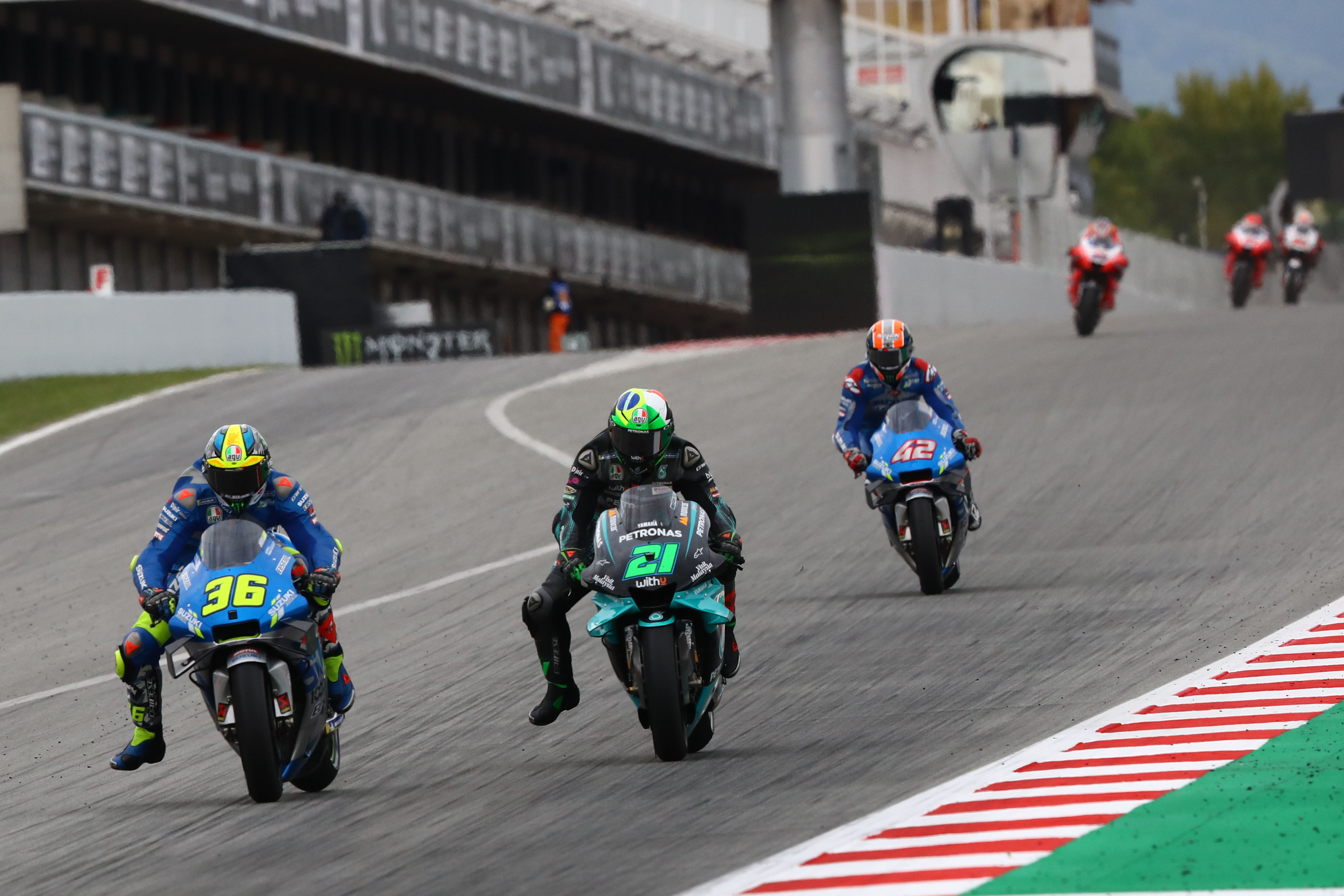 If you had predicted at the start of the year that MotoGP's inline four-powered bikes would dominate the year by taking 10 out of 14 wins and the championship, you'd have been laughed at.
The series has been dominated by the V4s of Honda and Ducati of late, and the question has been asked time and again if the inline engines had seen their day.
But the balance dramatically tipped the other way this season thanks in large part to Michelin. A new and improved rear tyre construction offered far more grip, and it actually proved too much traction for the likes of Ducati, who spent the whole year trying (and failing) to understand how to use it. – SP
KTM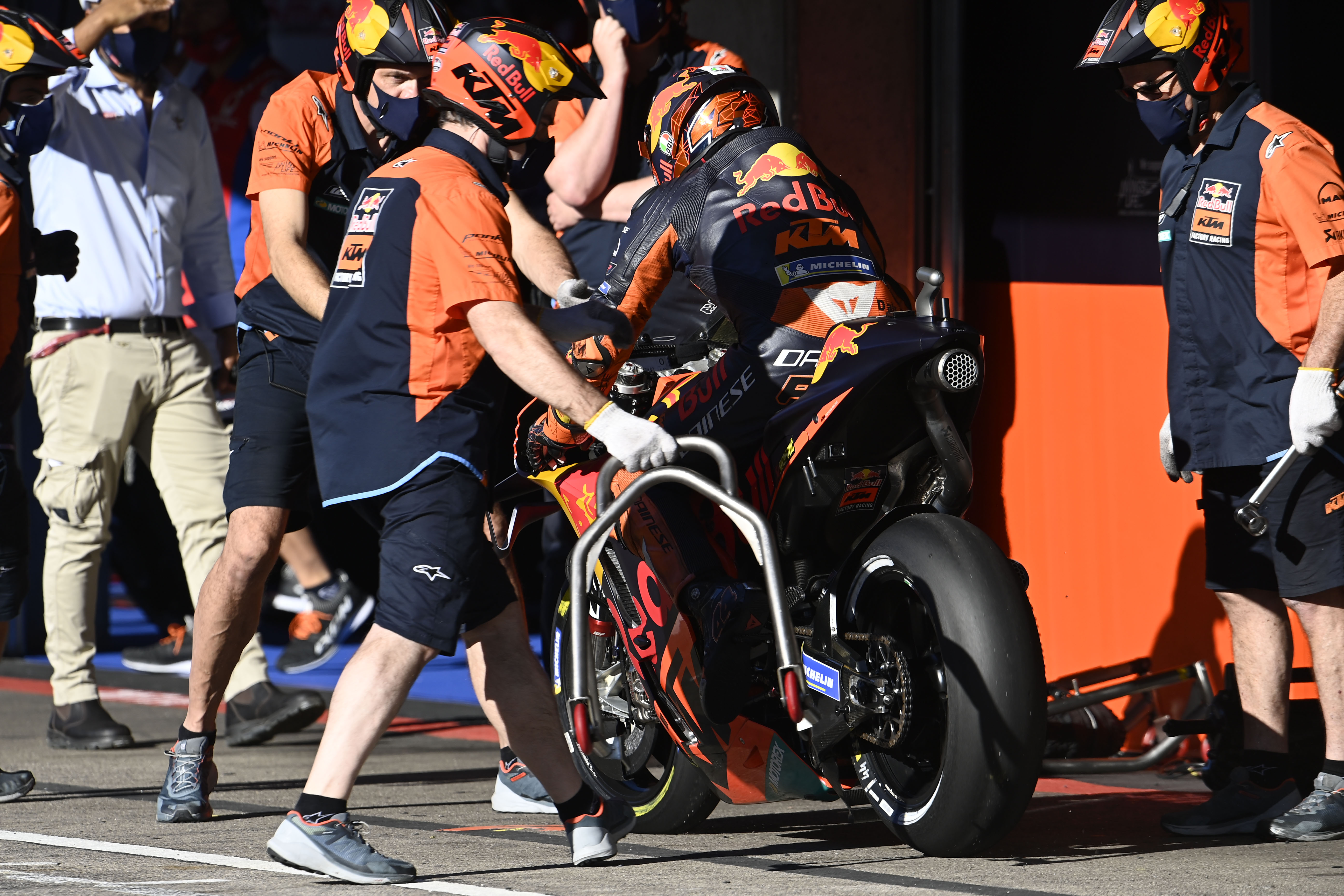 KTM has talked the talk ever since its arrival to MotoGP, but though it had already taken a podium in 2018 and enjoyed a thoroughly impressive full season with Pol Espargaro in 2019, 2020 marked the first time that it really walked the walk.
The RC16 has turned from a bike only Espargaro seemed to be able to get much out of to one that two riders with around 20 combined races of previous MotoGP experience could take to the top step of the podium.
Yes, it clearly helps that Brad Binder and Miguel Oliveira are top talent, and that the 2020 season was particularly wacky – whether it was due to Marquez's absence, the Michelin rear tyre, all of the above or something else entirely. But it is clear KTM has made a gargantuan step forward.
Test rider Dani Pedrosa will get a lot of credit for that, and understandably so given the timing of his arrival and the vocal praise for him from other participants in the project, but the other guys – the mechanics, the engineers, the Honda-bound long-time lead rider Espargaro and the ever-present Mika Kallio – have earned props as well.
The bike's still a bit inconsistent – but the mission of turning KTM into a potent force in MotoGP has been accomplished, just like its bosses predicted when joining the premier class. – VK
KTM's 2021 factory line-up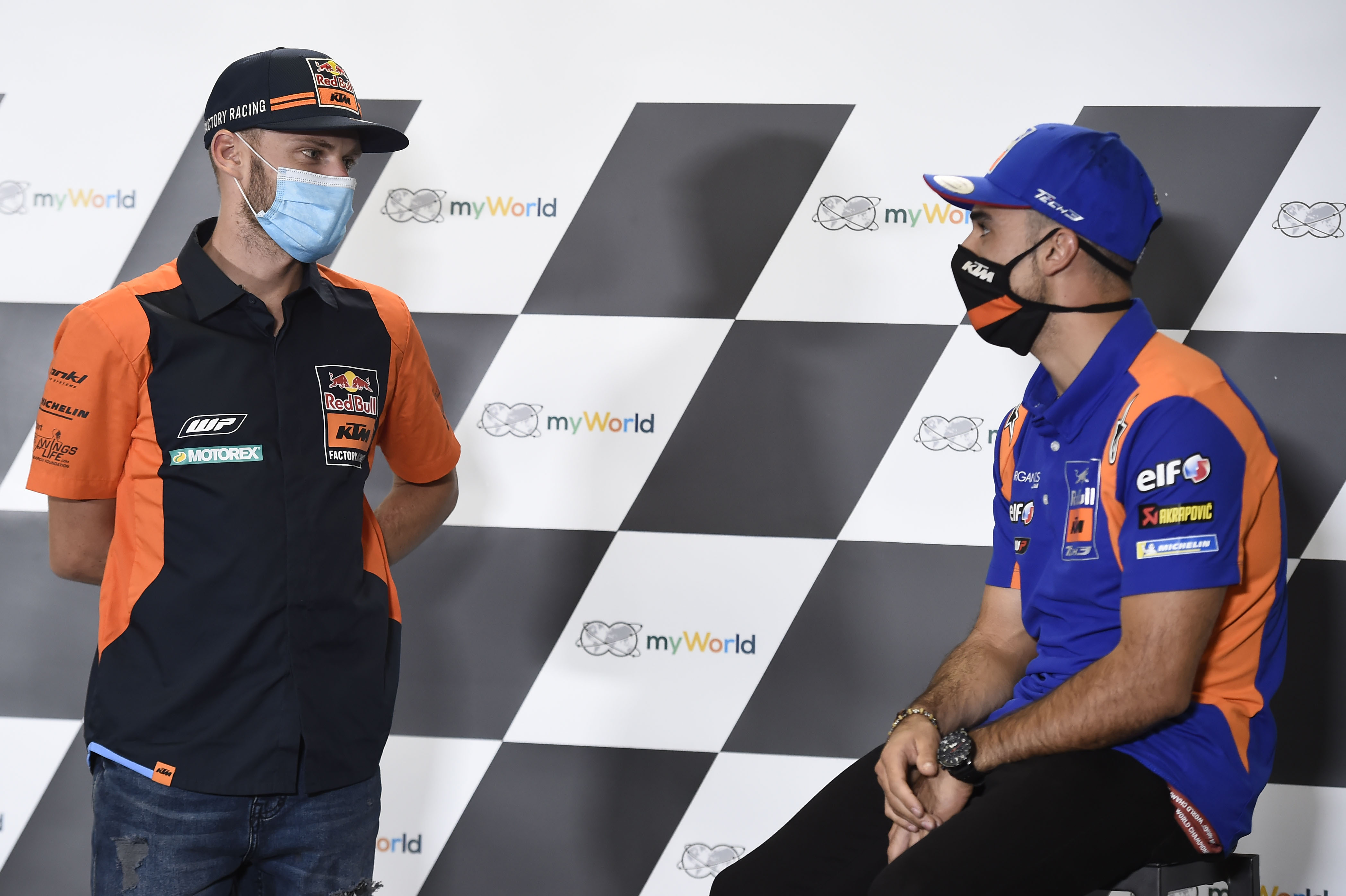 Seasoned paddock veterans have always tipped South African Moto3 world champion Binder as something a bit special – his potential perhaps best emphasised by his incredible charge at Jerez to victory from the back of the grid in the lightweight class.
Despite that, though, no one expected him to set the world on fire in 2020, as he graduated to the premier class with lifelong backer KTM. He didn't just set it on fire though, he burned it down, when he handed KTM its first-ever MotoGP win in only his third race at Brno.
By far the highlight of an otherwise tumultuous year, it's made a statement about his speed. The Binder story is only starting.
And so is the Oliveira story. The Portuguese was among the steadiest riders in race trim this year, and while there was a dash of good fortune about his maiden win in the Styrian Grand Prix, his victory on home soil at Portimao was a monumental display – the kind only truly elite MotoGP riders can produce.
Espargaro's impending departure looked like it could've sabotaged KTM's progress, yet its two 2021 signings showed the Austrian marque it needn't be envious about any other team's roster. – SP/VK
Johann Zarco and Avintia Ducati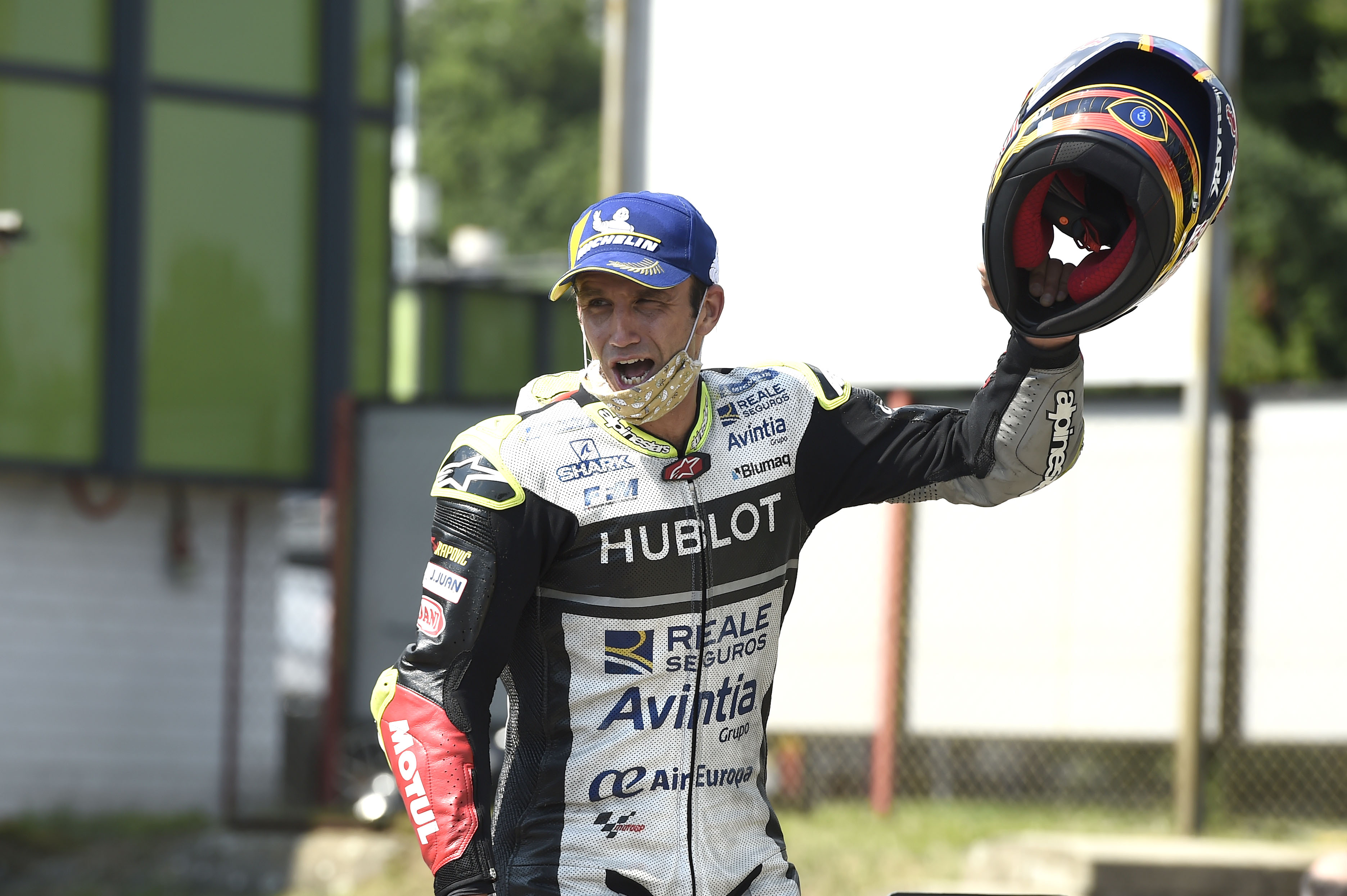 Zarco's MotoGP tenure looked in serious danger of an abrupt end out when his big KTM move failed. The manner of his split with KTM left a bad taste too – not because he'd initiated it for 2020, but because KTM then sidelined him before 2019 was out because it felt his negativity was too much. And though just in his third MotoGP season, he was already pushing 30.
Yet Ducati bet on him as a low-risk, high-reward option, and Zarco let go of his preconceptions about the minnow Avintia team when he understood Ducati would support him. And in doing so, these sides combined to save his premier-class career.
Zarco hasn't been very consistent, which is reflected in his 13th place in the standings. It is why he gave his season a 5.5 mark out of 10 when asked at Portimao.
But that grading's way too harsh – no Ducati rider save for Jack Miller really found reliable form, and Zarco, on a 2019 version of a fairly complicated bike that he had much less experience of than his peers, was nevertheless sometimes the bright spot.
And so was Avintia/Esponsorama. After some pretty rough times as MotoGP's 'last true privateer', as Karel Abraham put it once, it must've felt good for Raul Romero's team to prove a point when increased backing led to a first pole and a first podium. – VK
MotoGP and its fans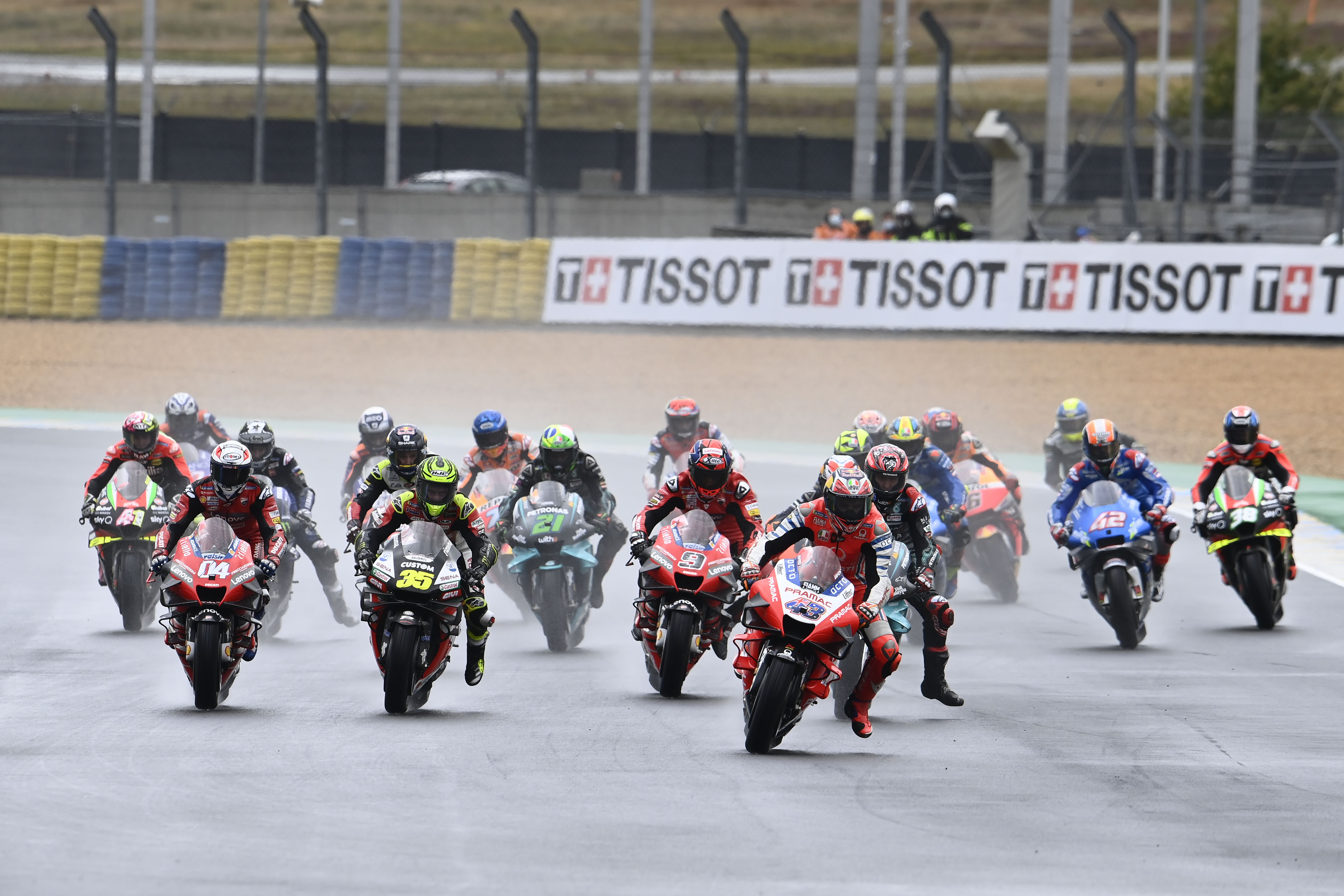 When MotoGP bosses Dorna announced its plans for a 13-round MotoGP calendar back in May, many scoffed at the idea that it would be even possible in the middle of a global pandemic.
That makes the work done by the Catalan company nothing short of extraordinary, as not only has it run a full season, it has done it with minimal disruption.
And while Mir might be the champion, the real winners have been the fans watching at home (and even in some limited cases at the tracks). MotoGP's rules have been finely honed over the years to create racing that's closer than just about any other world-class motorsport series, and with 2020 out to shake up the norm in every walk of life it's made for a year that will live forever.
With nine different winners, a title fight that went down to the penultimate round and some of the most outstanding duels ever witnessed, it's fair to say that Dorna has snatched incredible success out of the jaws of defeat. – SP
Losers
Honda and Marc Marquez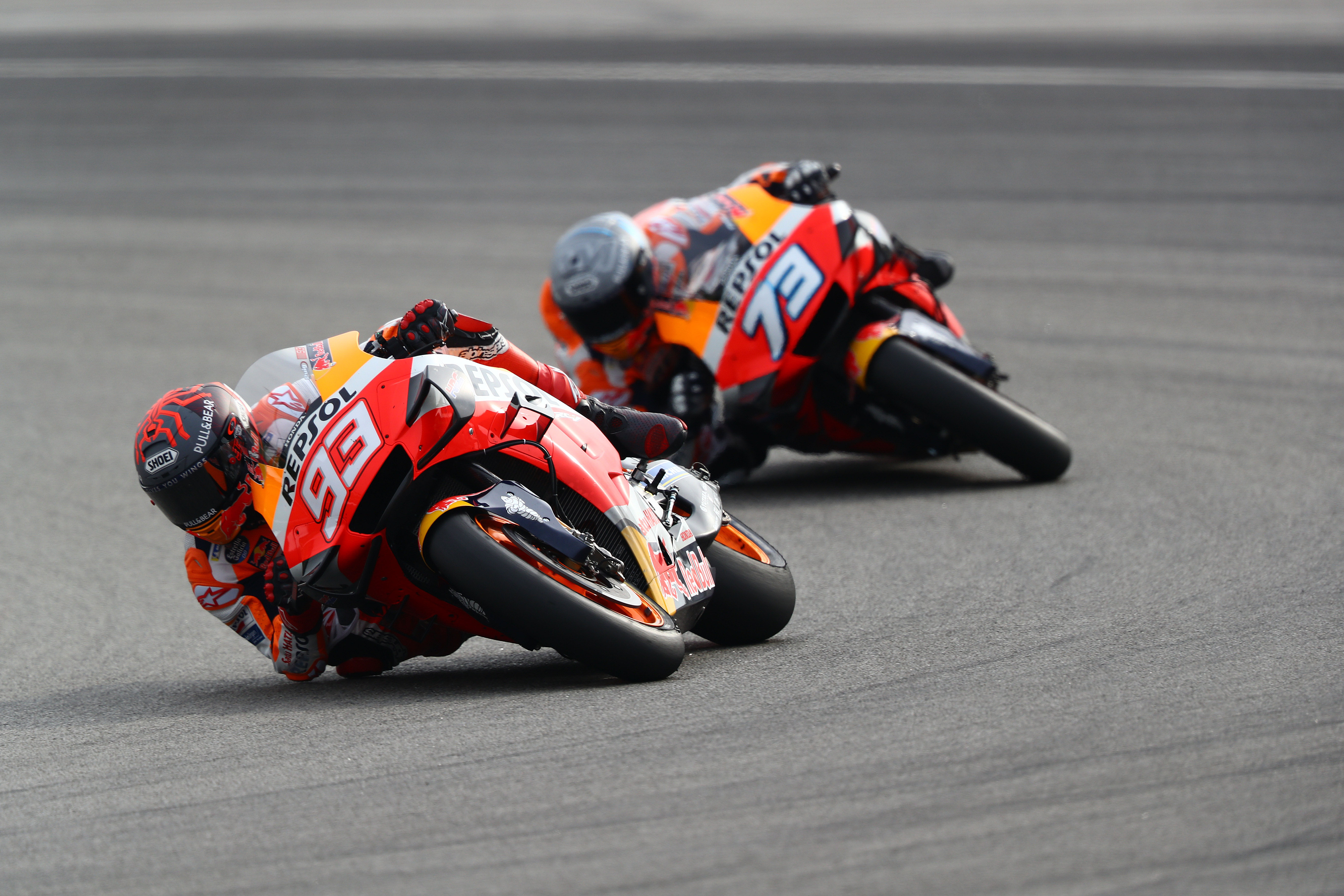 For years (or decades, depending on who you talk to), Honda's incredible grand prix success has always come with a caveat.
Sure, Honda creates dominant champions on incredible motorcycles – but it's all too guilty of putting all its eggs in one basket and tailoring a bike to a single superstar.
Well, in 2020 the basket got kicked over at the opening round of the year when Marquez crashed out at Jerez and shattered his upper right arm.
Rushing back to action only a week later with hubris typical of both Marquez and Honda only made things worse, and the eight-time world champion has spent the entire season watching from the sidelines.
Without him, it's been nothing short of complete disaster. After Honda's first winless season in the premier class since 1981, the manufacturer ended the year fifth out of six, ahead only of Aprilia and well behind upstart (and bitter rival) KTM.  – SP
Ducati and Andrea Dovizioso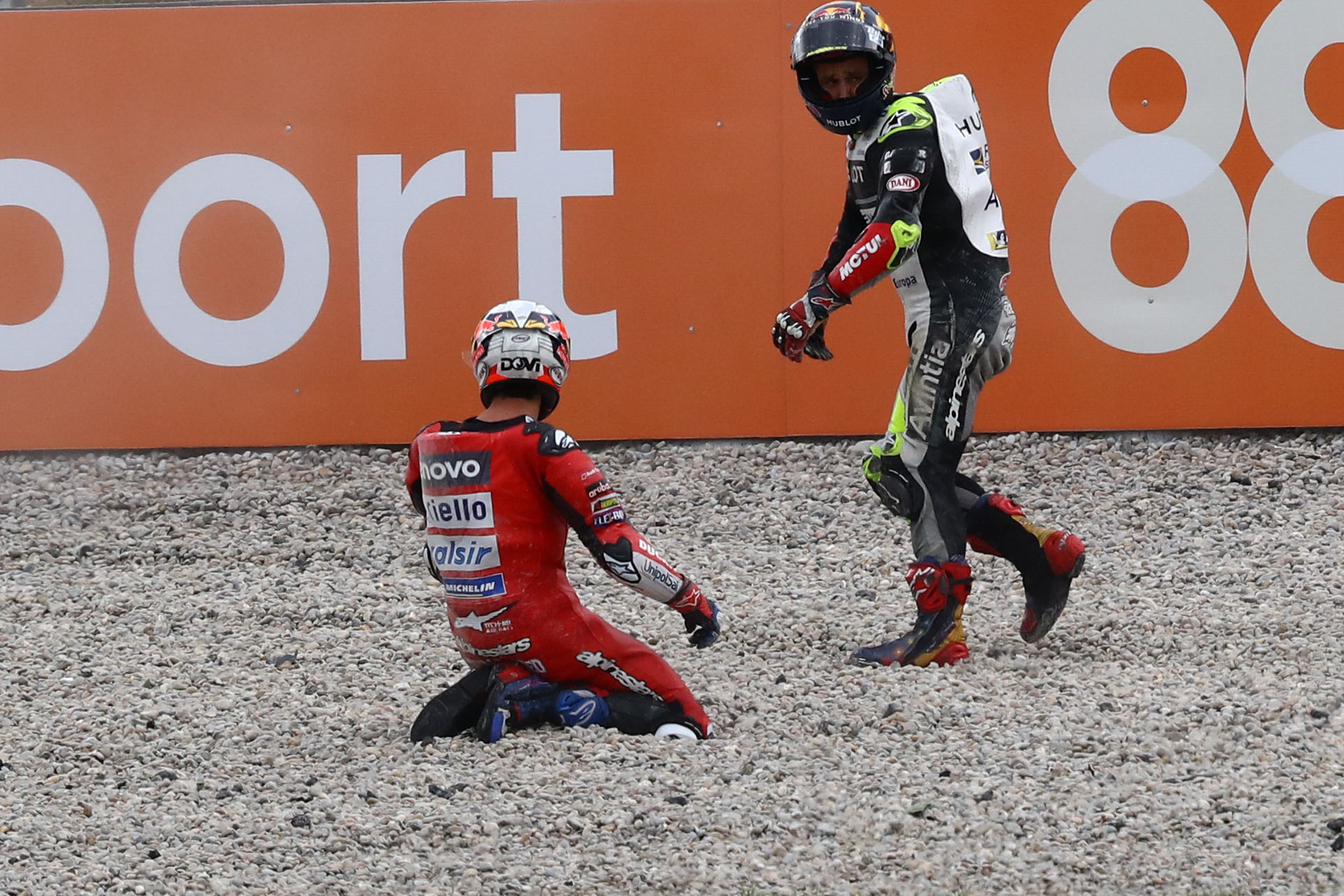 It feels strange to group the manufacturer and rider together because they're no longer whole, and didn't really seem as one through so much of 2020, but ultimately this was a missed open goal for both.
Dovizioso and Ducati were three time runners-up behind Marquez, and now that he basically missed a season they didn't really come anywhere near capitalising.
And it wasn't about internal strife, or glaring errors, or obvious unrealised potential. Sometimes it's simpler than that – there was just no championship-calibre pace, at virtually any point (including even the one Red Bull Ring race win, which was hard-earned but fortuitous).
Dovizioso clearly did his best, and ran a lot of good races from where he started, but he was pretty much always open about the fact that he couldn't get the new rear tyre to work. Add to that that he's never been much of a Saturday rider, and it repeatedly meant he left himself with too much to do on race day.
Is it a sad note to end their partnership on, then? Maybe. Certainly the growing spectre of discord didn't help. Aside from that, it was a valiant effort against unfavourable odds – but the context of the three previous years is impossible to ignore. – VK
Fabio Quartararo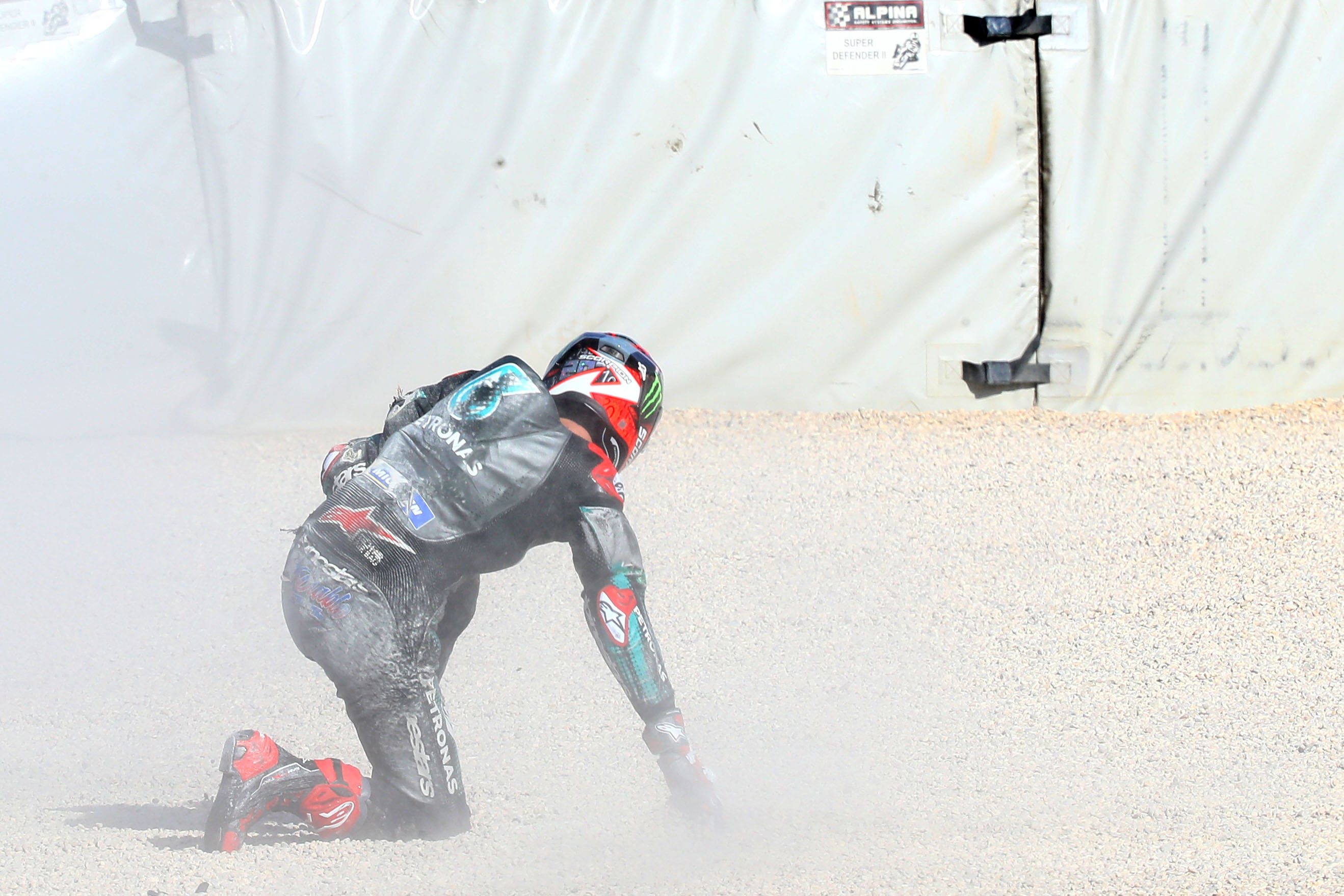 The fall from stratospheric high to subterranean low was experienced by Fabio Quartararo in 2020. The winner of the opening two races of the year at Jerez in incredible style, he looked set to pick up where he left off at the end of his rookie season and ride off to title success in the absence of Marquez.
Yet it didn't take long for everything he'd built to come crashing down around him. Out of the top six for the next four races as he too got to experience Yamaha's dreaded consistency issues, he could do nothing but watch from the sidelines as his hopes slipped away.
Making it even worse was the rise of team-mate Morbidelli. He was very much the number two to superstar Quartararo in 2019, but it took no time at all for the other side of the garage to have racked up an equal number of wins and a much better championship place, just as Quartararo prepares to join Maverick Vinales in the factory team for next year. – SP
Yamaha and Maverick Vinales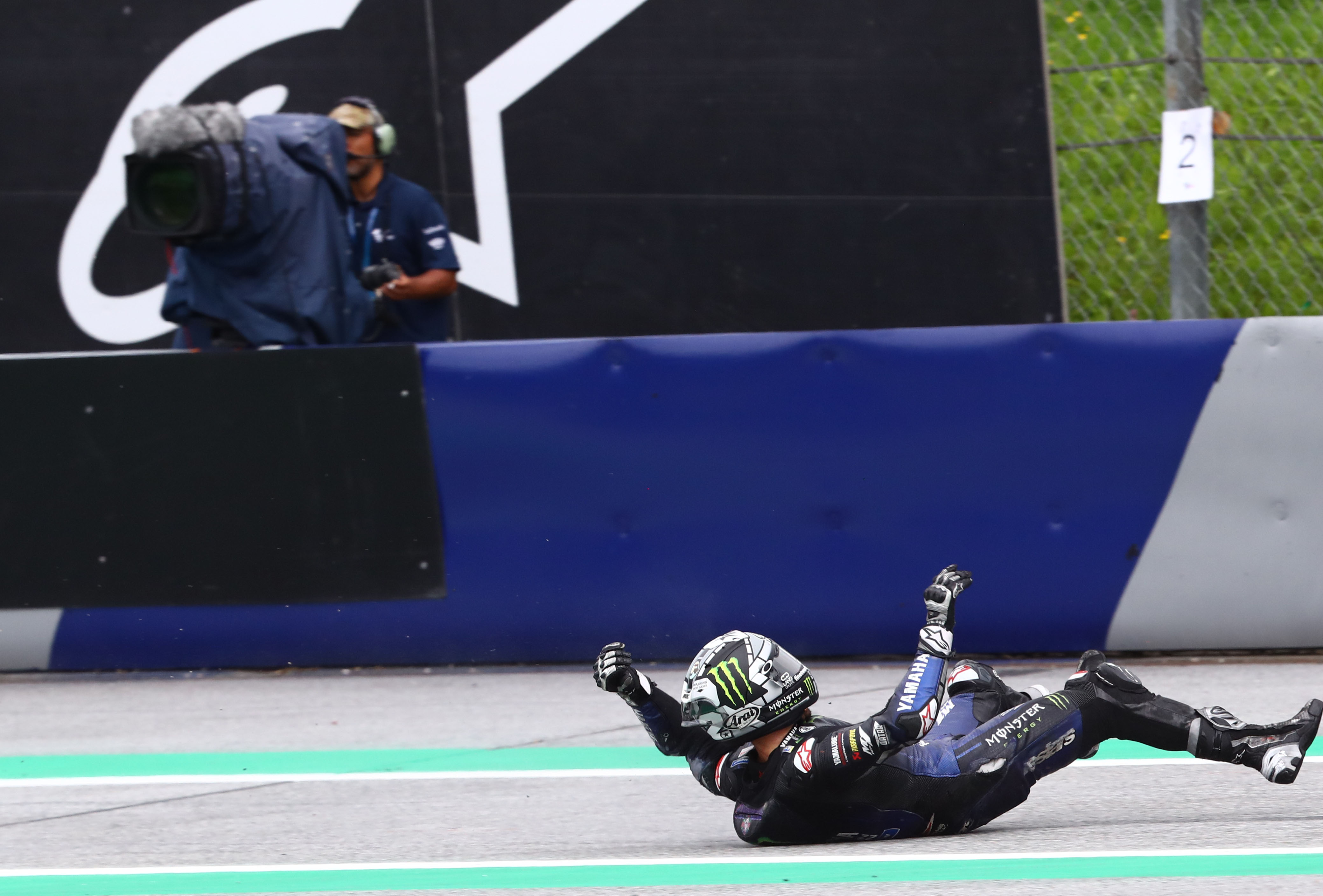 Given that it won more races and took comfortably more poles than any of its rivals, it's truly remarkable that Yamaha has left the 2020 season without any of the three main titles. But that's what happens when your hopes in the teams' and constructors' standings are sabotaged by a hefty penalty for a serious rule breach, and your hopes in the riders' title race are sabotaged by the fact the M1 doesn't consistently work for any of your four riders.
But a special mention for Vinales. Back in 2016, when he was lighting up the timing screens in his first Yamaha test, it wasn't quite unthinkable that he wouldn't be a champion soon – but it was unthinkable that he wouldn't really even contend for a title. In Marquez's absence, 2020 looked his absolute best shot for now, but an average finish of 7.9 ensured that was never going to happen.
On his day, Vinales is an obvious championship-calibre rider. For whatever reason, those days have not come nearly enough during his time at Yamaha – in fact, they have barely ever come consecutively. And yet he'd pulled the trigger on another early two-year renewal with the manufacturer well before the start of this season. Go figure. – VK
Alex Rins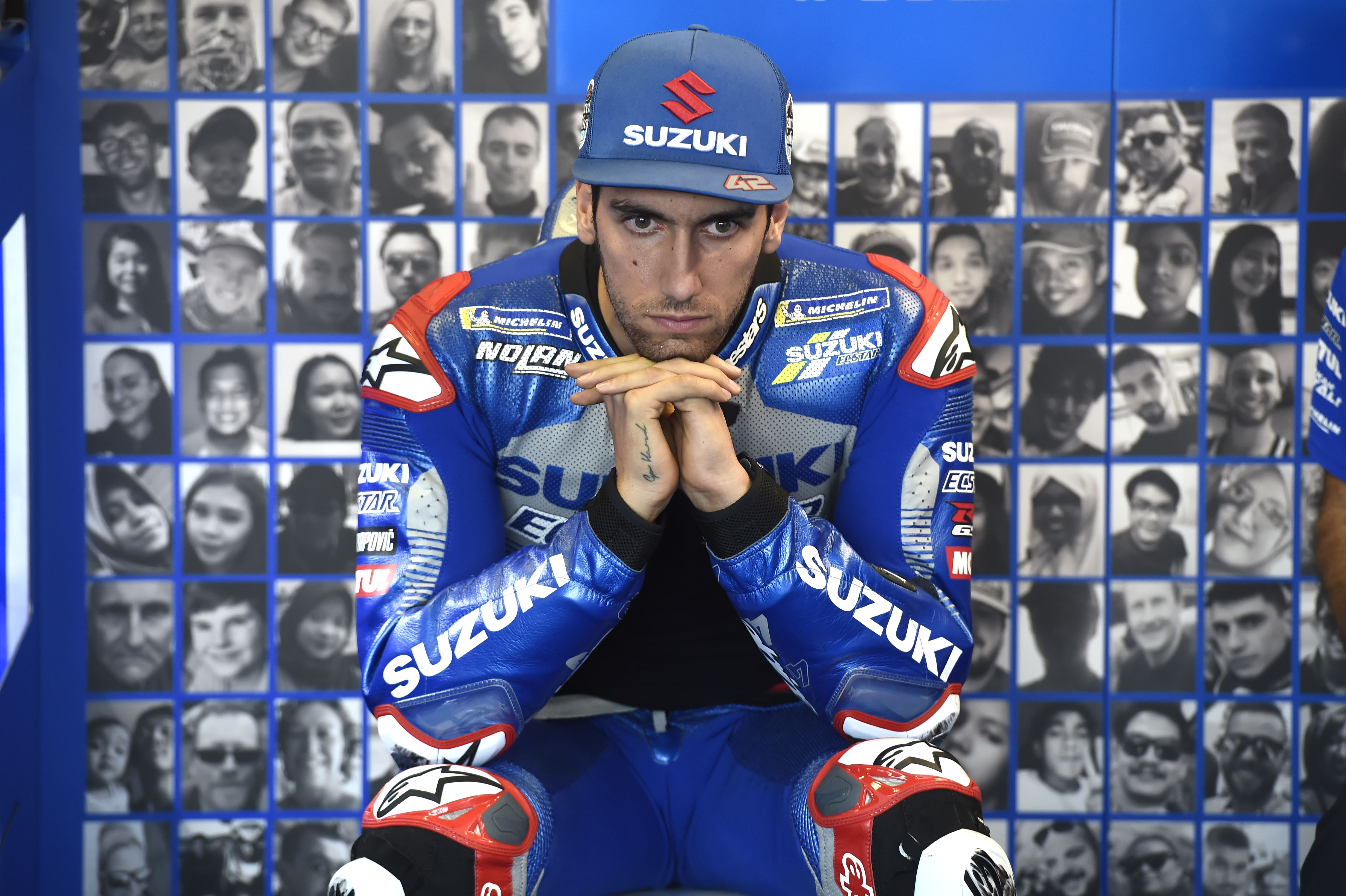 On paper, Alex Rins is one of the big winners of 2020. Fighting for the championship until the penultimate round of the year despite a shoulder injury at the very beginning that looked to derail any hopes, he turned around a poor start into something very special indeed.
Yet the reality is, he's the one who has spent three seasons working hard to develop the Suzuki GSX-RR into a championship-winning bike, and it's got to have left a bitter taste in his mouth to see 2019 rookie team-mate Mir rock up at the start of the year and ride off into the sunset and the history books on 'his' bike.
So while in one regard he had a great year, won races and fought for the title, it all comes down to one of racing's oldest adages – the first person you have to beat is your team-mate, and Rins didn't do that in 2020. – SP
Aprilia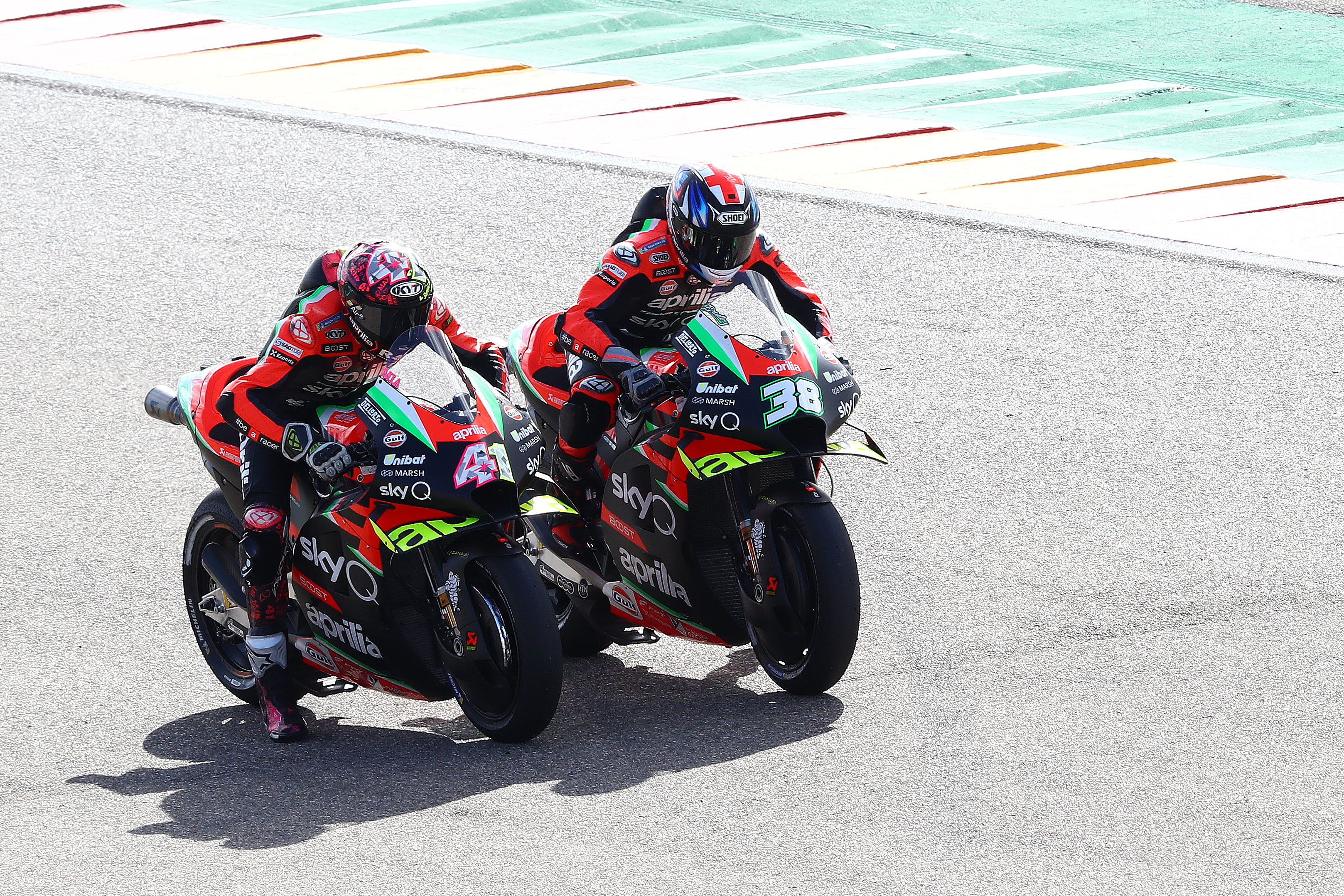 There was a lot of optimism surrounding the new RS-GP in the pre-season. Maybe victories and podiums weren't on the cards, but what also wasn't in the cards, at all, was Aprilia putting up what in some regards is its worst season results-wise since before current lead rider Aleix Espargaro's arrival in 2017.
It was a mess of a season for the firm, compounded by what appeared to be a lack of testing opportunities, the re-occurrence of the long-standing reliability issue and Andrea Iannone's dragged out doping case.
Not that Iannone, based of 2019 form, would've improved Aprilia's fortunes much, as this is still firmly a bike that only Espargaro seems to be able to get the best out of.
And that might be the case again next year, at least in the beginning, as Aprilia looks set to bet on a relatively unknown quantity in Joe Roberts – having failed to land either Andrea Dovizioso, Cal Crutchlow or an established Moto2 frontrunner.
The good news is, at least Espargaro is keeping faith, relative to how dejected he seemed at times in 2019. But if the 2021-spec RS-GP doesn't deliver on what the 2020 spec promised, there's no doubt his patience will run out. – VK
Valentino Rossi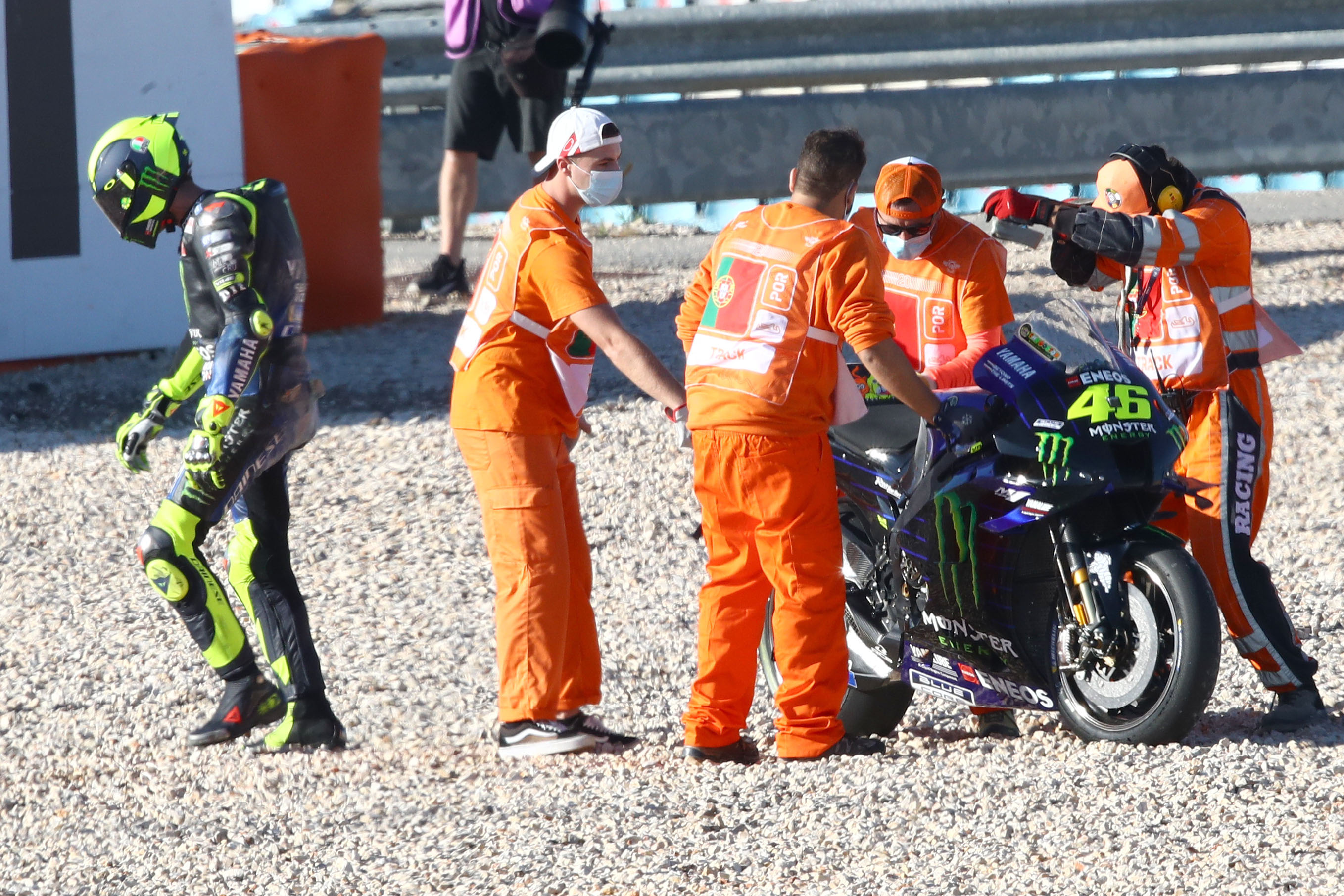 Was Rossi's season better than his final 15th place in the standings suggested? Yeah, almost certainly. After all, there was a podium, and three more top-five finishes, and three mechanical failures, and an absence caused by COVID-19.
But none of that makes the rest of it 'good'. Ultimately, despite a fairly lively start to the campaign, Rossi never got near the same heights as team-mate Vinales, much less the Petronas Yamaha duo. His pre-COVID form was a hat-trick of three crashes, but his post-COVID form was more worrying, harking back to his late-2019 lack of pace.
This newest version of Rossi has had dips before, so you'd certainly back him to return to a more respectable level of competitiveness. But he still firmly seems on average the fourth-fastest in Yamaha's quartet of riders, and a 90th premier-class win looks as far away as ever since the 89th came in 2017 at Assen.
But, hey, all that means it's as good a time as possible for the change of scenery that the Petronas 2021 move will bring about. – VK
FIM Stewards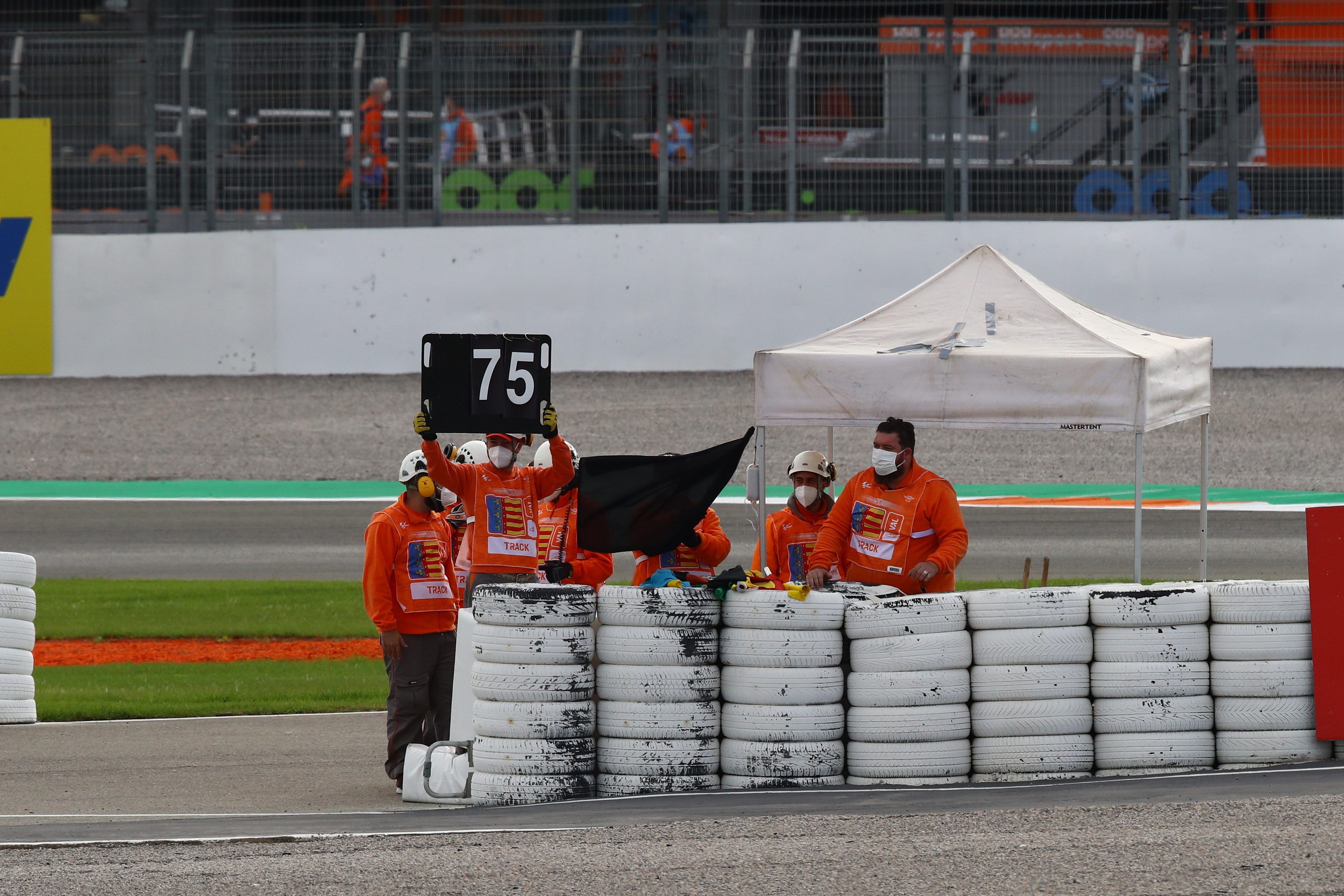 Without a shadow of a doubt, the most complained-about people within MotoGP this year have been the FIM Stewards Panel, the body that administers sanctions headed up by multiple champion Freddie Spencer.
The impression is that they're universally derided by the entire grid, who view their actions are simultaneously inconsistent to the point of exasperation and unexplained to the point of frustration. Calls for change within the paddock (and, it seems, among many fans at home) are growing louder and louder.
And there was no course correction throughout 2020. Calls for more clarity from riders, teams, media and fans have been largely stonewalled, while riders have been punished severely for minor infractions.
In fact, so severe have some penalties been this year for small transgressions, it's perhaps a sign of how little respect there is for the panel that Jack Miller went completely unpunished this year for referring to them as c***s to the media… – SP