This year's Malaysian Grand Prix might not have been a thriller, with concerns about tyre pressure and durability stretching out the race at Sepang into a rather processional affair.
But those worries didn't stop Ducati rider Enea Bastianini from announcing that he's back in business with a dominant victory.
With Alex Marquez a surprise frontrunner alongside him, the pair ushered title rivals Pecco Bagnaia and Jorge Martin out of the spotlight as they tried to nurse their bikes home with safe championship points.
Further back, there wasn't too much drama as racers slotted into their early-lap positions and maintained them to the flag - with a few key exceptions that help us to build up a good picture of who did well (and who didn't) for this weekend's rider rankings.
We've put the grid in order based on their performances, not just in the main event but also Saturday's sprint race. It's obviously all subjective - but the ranking is based not just from their final race result, it also takes into account things like the machinery they're on and the pre-race expectations from them.
1 Enea Bastianini
Started: 3rd Sprint: 4th Race: 1st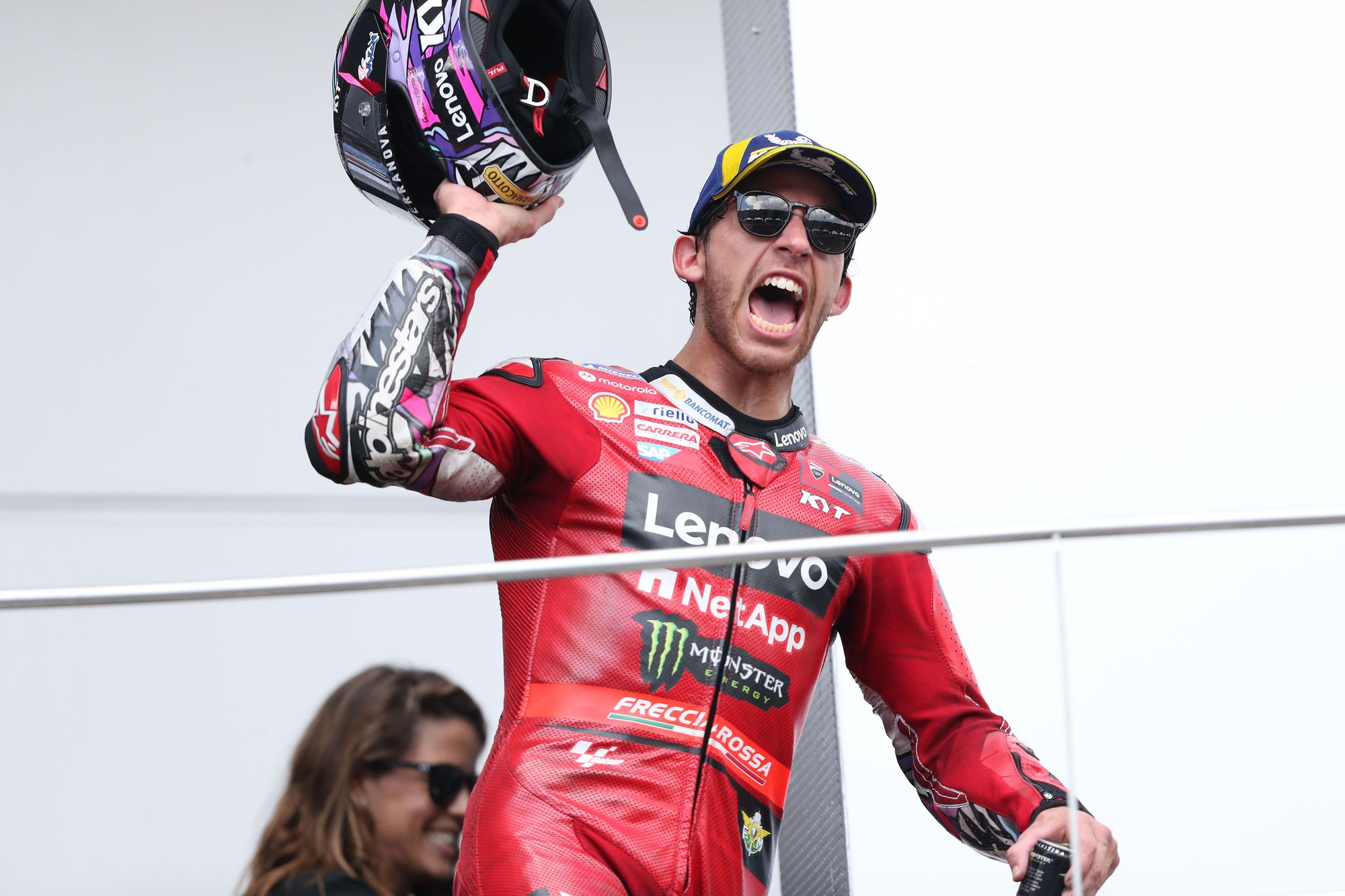 Last time out in Thailand, Enea Bastianini qualified in last place, the nadir of an injury-hit and unsuccessful second season as a factory rider that had been so bad until that point that speculation had reignited about him losing his seat for next year.
And yet, he came to Sepang and responded to that criticism in truly awesome style, taking a superb win on Sunday that was far more the sort of race-management performance we've come to expect from his team-mate Pecco Bagnaia.
Coming, Bastianini says, as a result of finally mastering how to ride the 2023 Ducati, it bodes well for next weekend in Qatar in particular.
2 Alex Marquez
Started: 4th Sprint: 1st Race: 2nd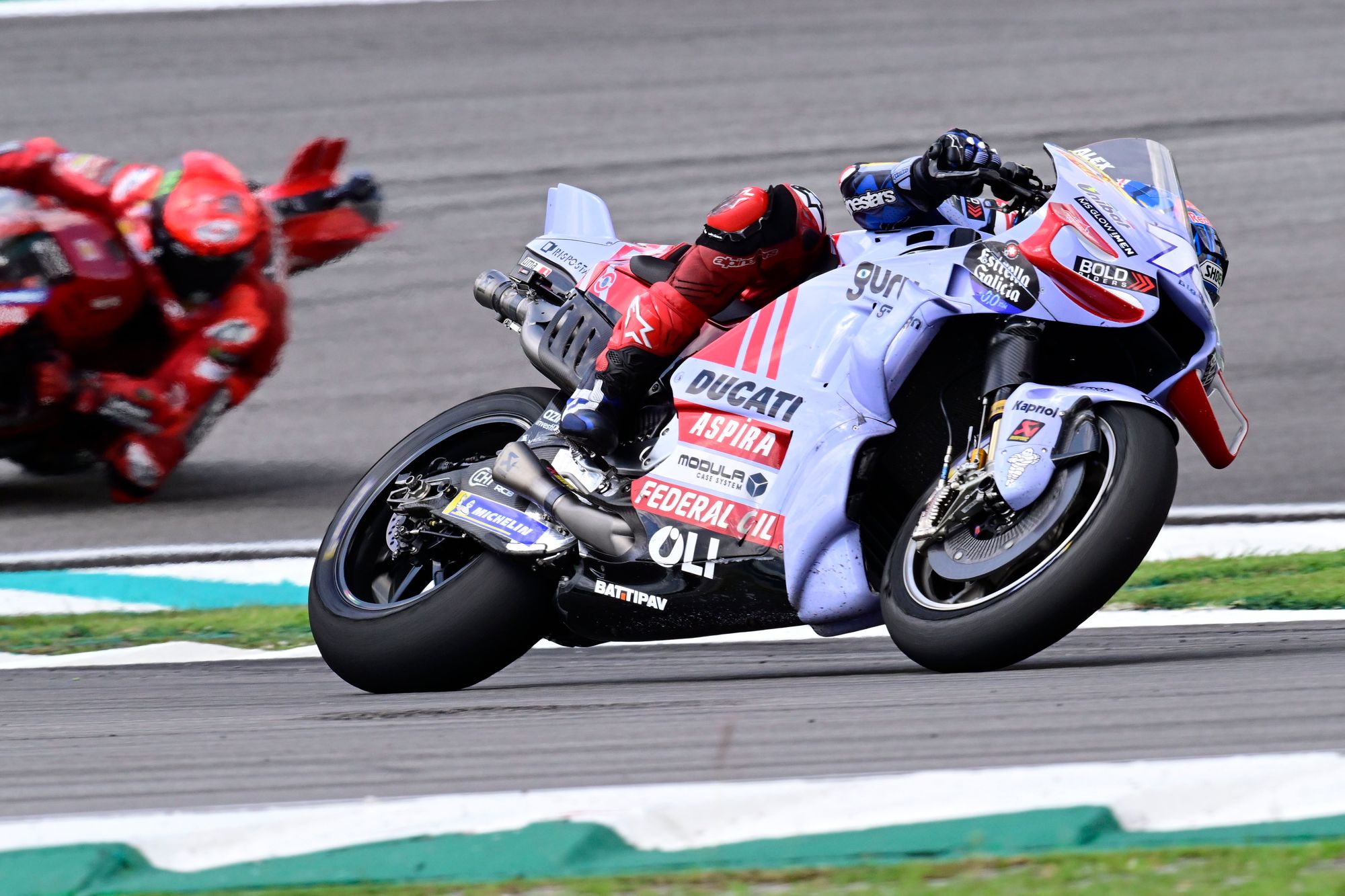 Far too often this season, Alex Marquez has been the victim of bad luck - even if a lot of the time, that luck is a product of his own aggressive riding.
Yet he walked the tightrope perfectly not once but twice at Sepang to produce not just his second sprint race win of 2023 but perhaps his best-ever MotoGP performance in Sunday's main event.
Held up at the start, Marquez spent the rest of the race matching winner Bastianini's pace - and might well be ruing the fact that he allowed his best-ever chance for a grand prix victory to escape him.
3 Fabio Quartararo
Started: 8th Sprint: 16th Race: 5th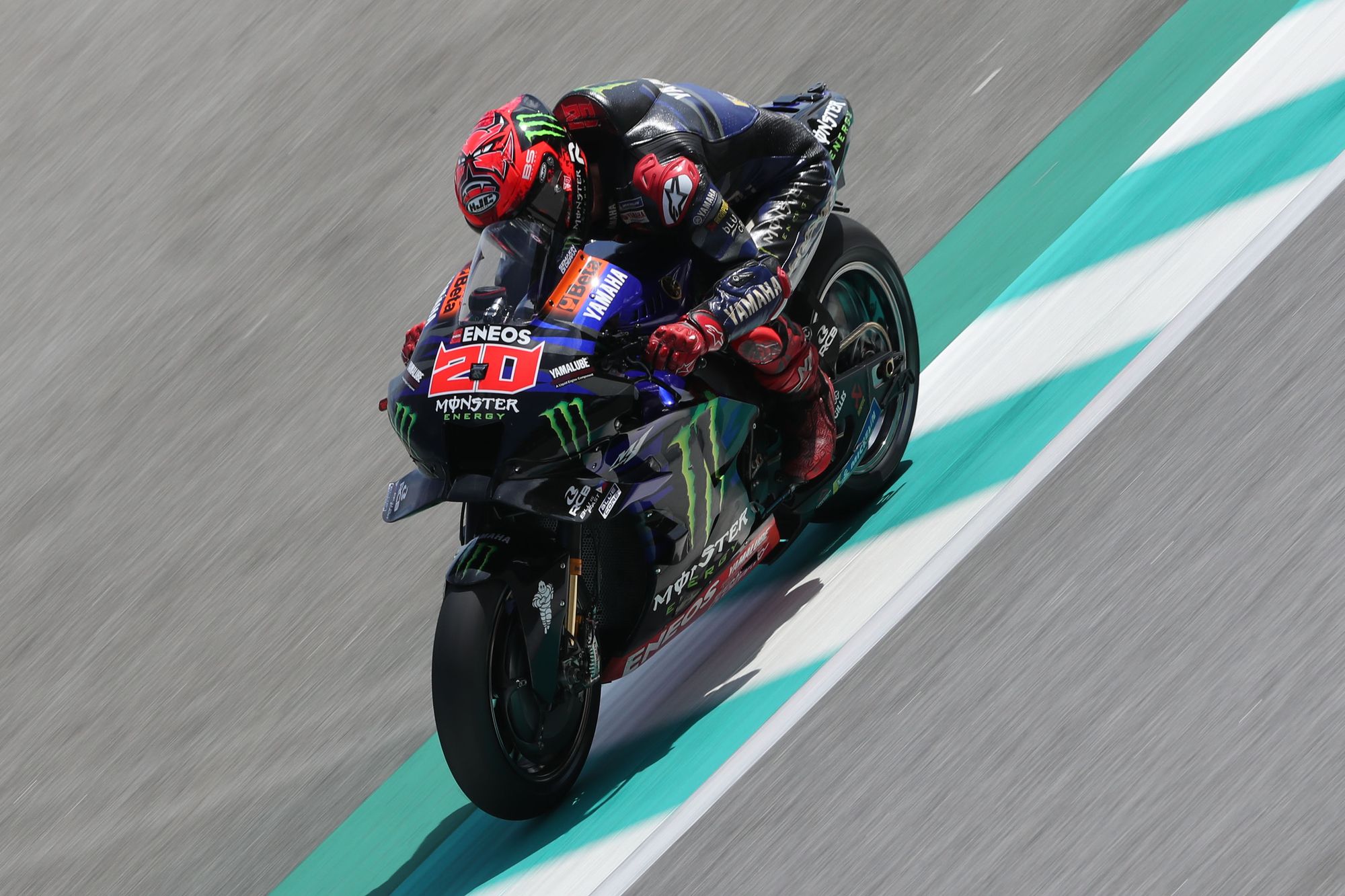 Not for the first time this year, Fabio Quartararo turned up at Sepang with suitably low expectations - and then proceeded to surprise everyone (himself included) with very impressive results.
Reminding the world that he's still exceptionally talented even if his bike doesn't always allow him to display it, it came not only as a confidence boost for him but also may well have ensured that Yamaha doesn't finish last in the constructors' standings.
4 Pecco Bagnaia
Started: 1st Sprint: 3rd Race: 3rd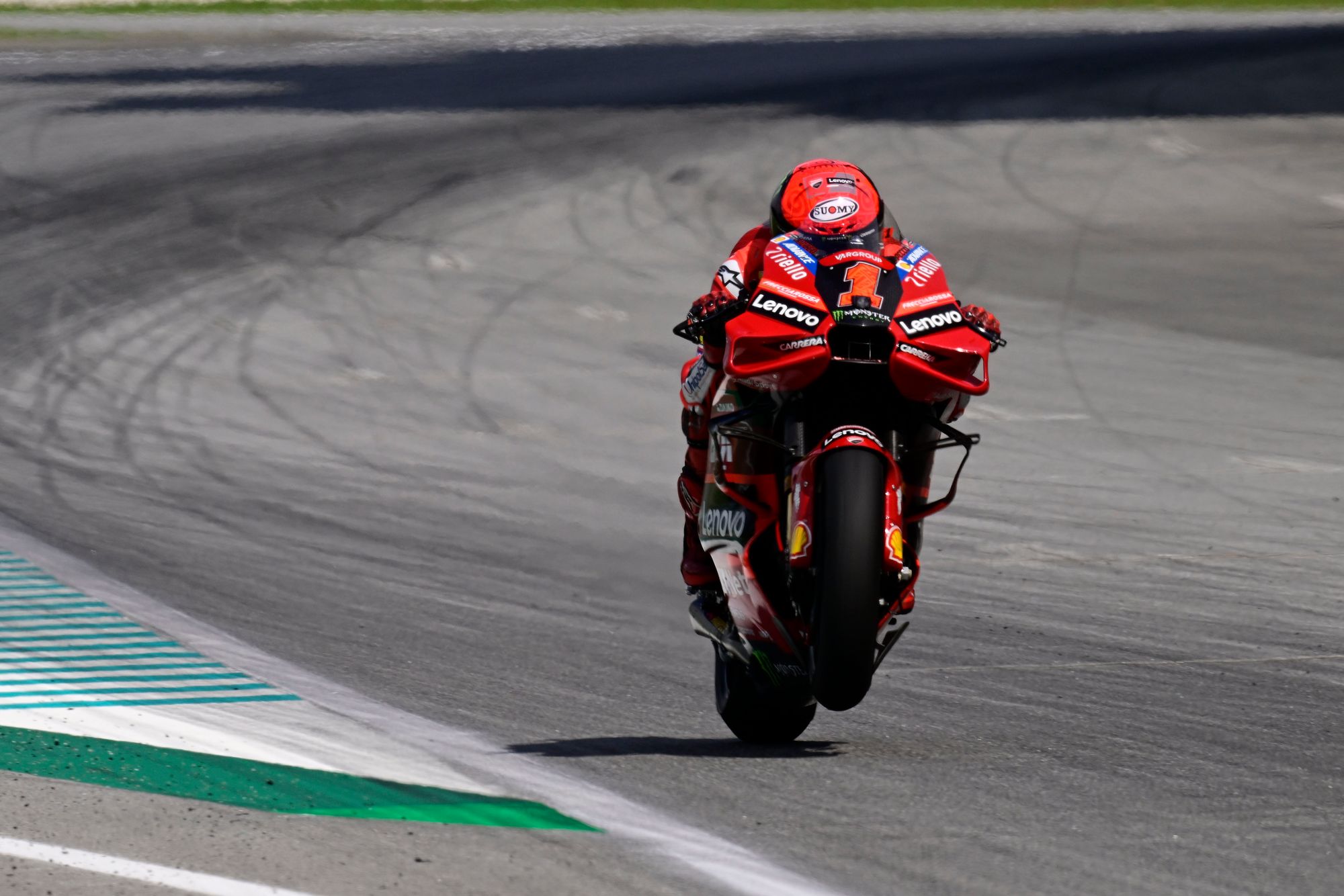 Not the best weekend that reigning world champion Pecco Bagnaia has ever had, but one that he can head away from quietly confident that he did what he needed to do for his championship hopes.
He was as fast as Jorge Martin for the first time in a long time and, while it might not have been enough to deliver a decisive title blow, it was more than enough to keep the odds in his favour with only a few races left to fight for now. Advantage Bagnaia with two rounds to go.
5 Franco Morbidelli
Started: 15th Sprint: 11th Race: 7th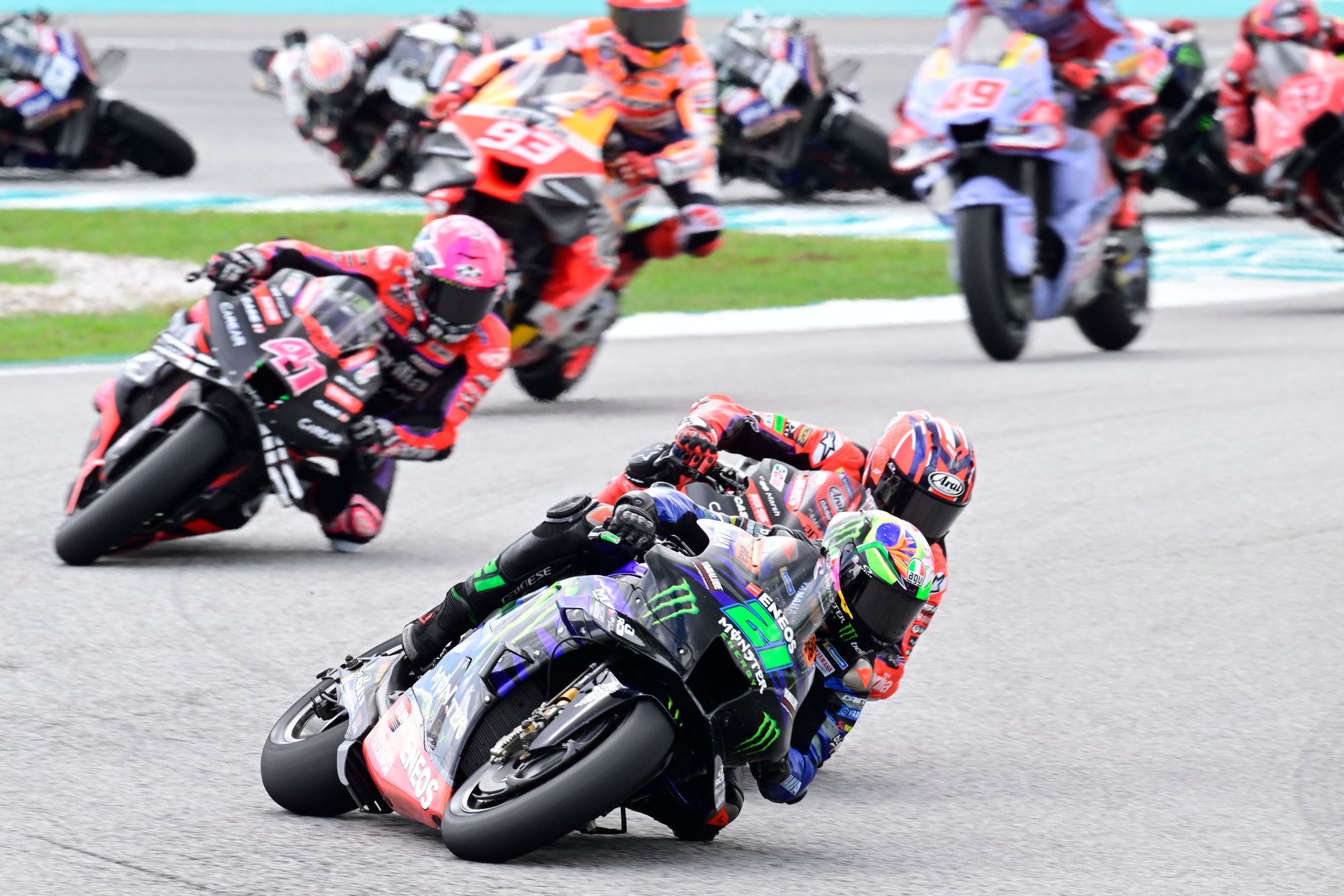 Much like his Yamaha team-mate Quartararto, Franco Morbidelli came into the weekend not expecting much - and by pulling the trigger to sabotage his own qualifying performance to neuter Marc Marquez's towing attempts, he made it considerably harder for himself.
With that in mind, rallying so strongly on a bike that had no business battling on the long straights of Sepang was a very, very important reminder of just how talented Morbidelli is just as he prepares to jump onto a Ducati for 2024.
6 Jorge Martin
Started: 2nd Sprint: 2nd Race: 4th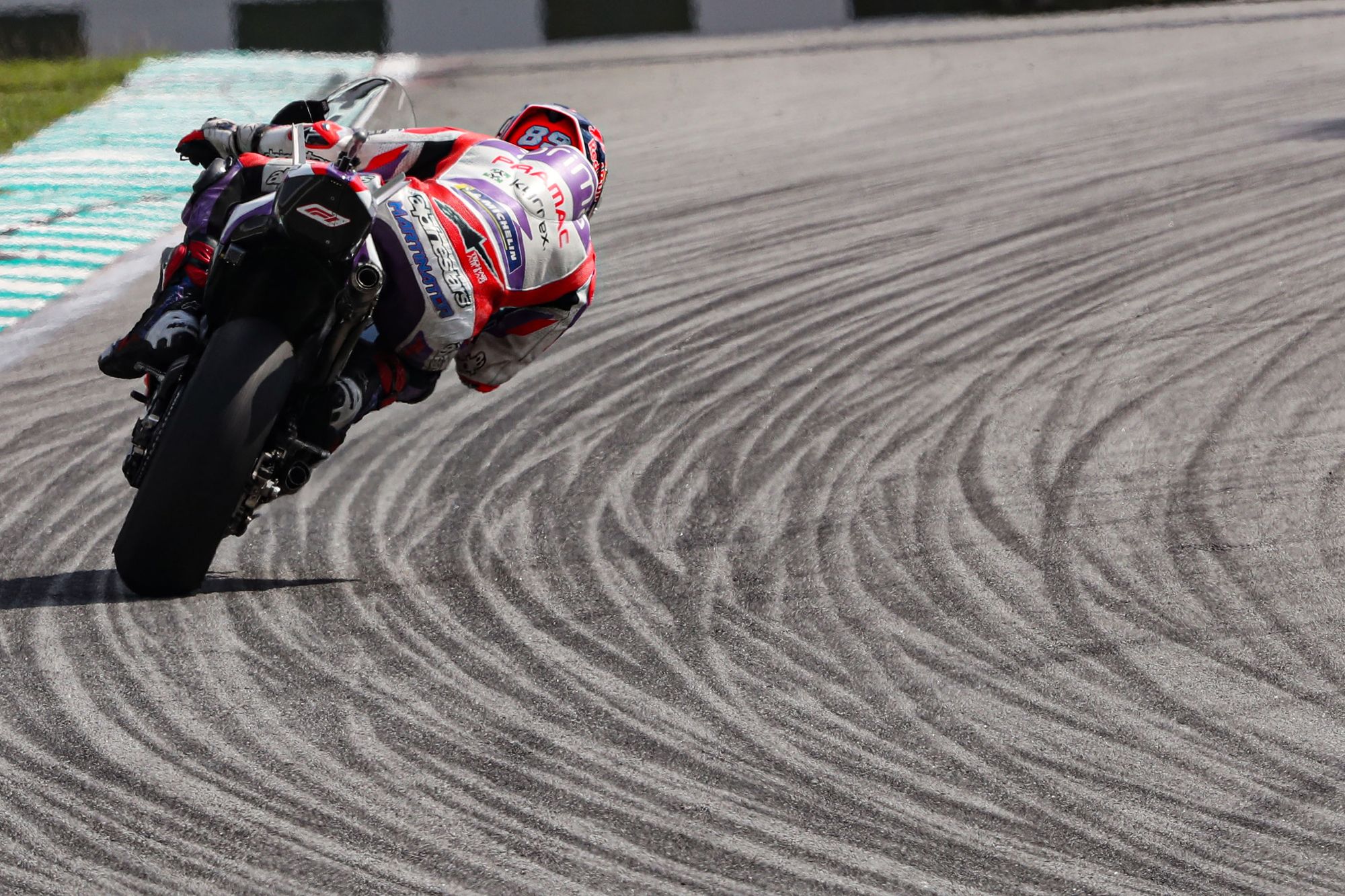 This was certainly not the weekend that Jorge Martin expected to come away from Sepang with.
Sure, he limited the points loss to Bagnaia, but he came to Malaysia with the intention of taking a big chunk out of the Italian's lead rather than seeing him faintly stretch it out again.
Martin arguably had the same pace as the world champion, but he wasn't as smart about how he used it, and Bagnaia made him pay for that. With only two weekends left, he's starting to run out of time to make those scores count now.
7 Marco Bezzecchi
Started: 6th Sprint: 7th Race: 6th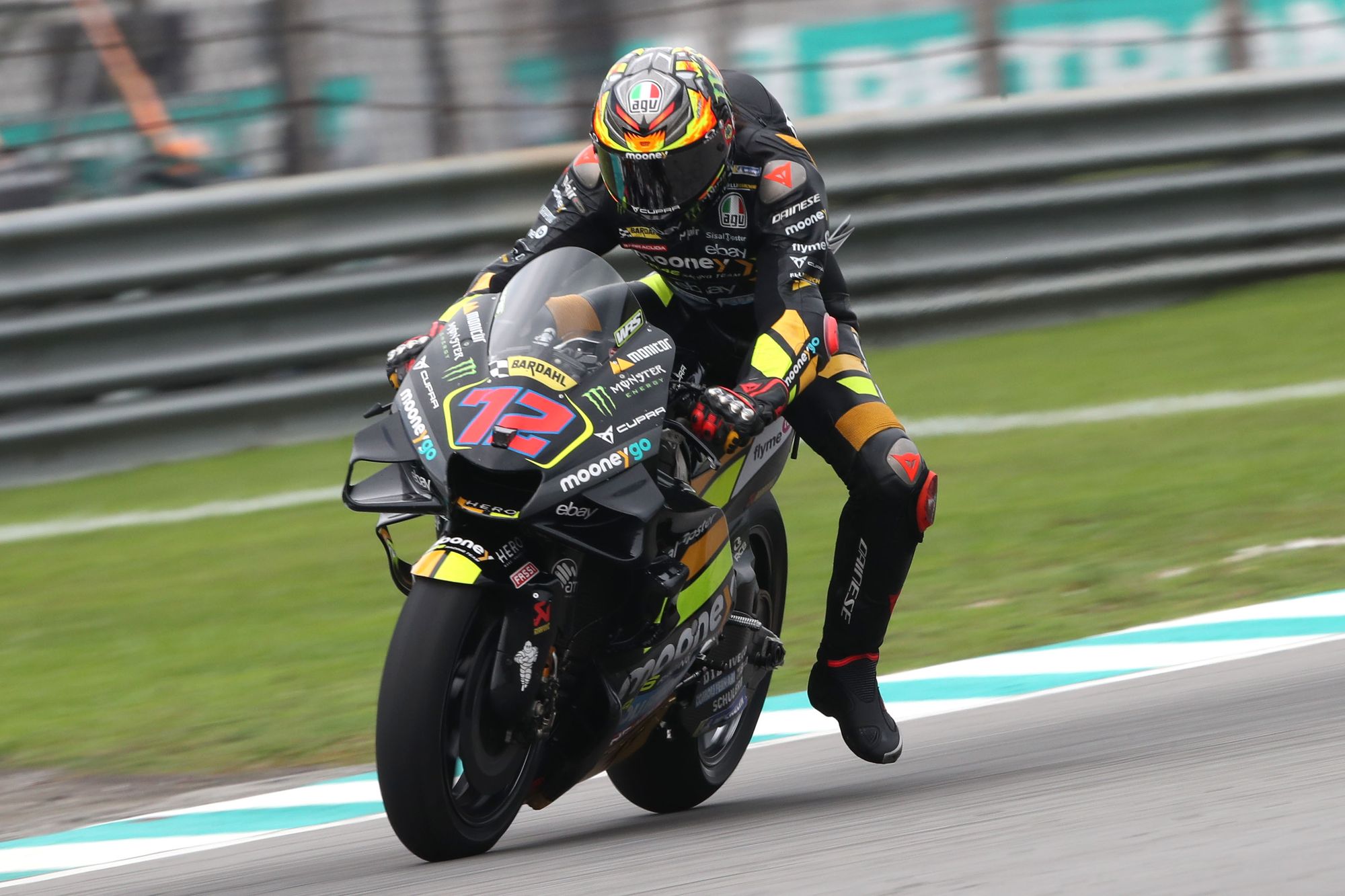 Not a spectacular weekend by Marco Bezzecchi's high standards, but not a disappointing one at all either.
Practically ensuring third in the championship with consistent performances in qualifying, sprint and race, this was no demonstration of his race-winning pace from earlier in the year, but no one was really expecting it at Sepang. Doing what he did in the end was good enough, all things considered.
8 Fabio Di Giannantonio
Started: 11th Sprint: 13th Race: 9th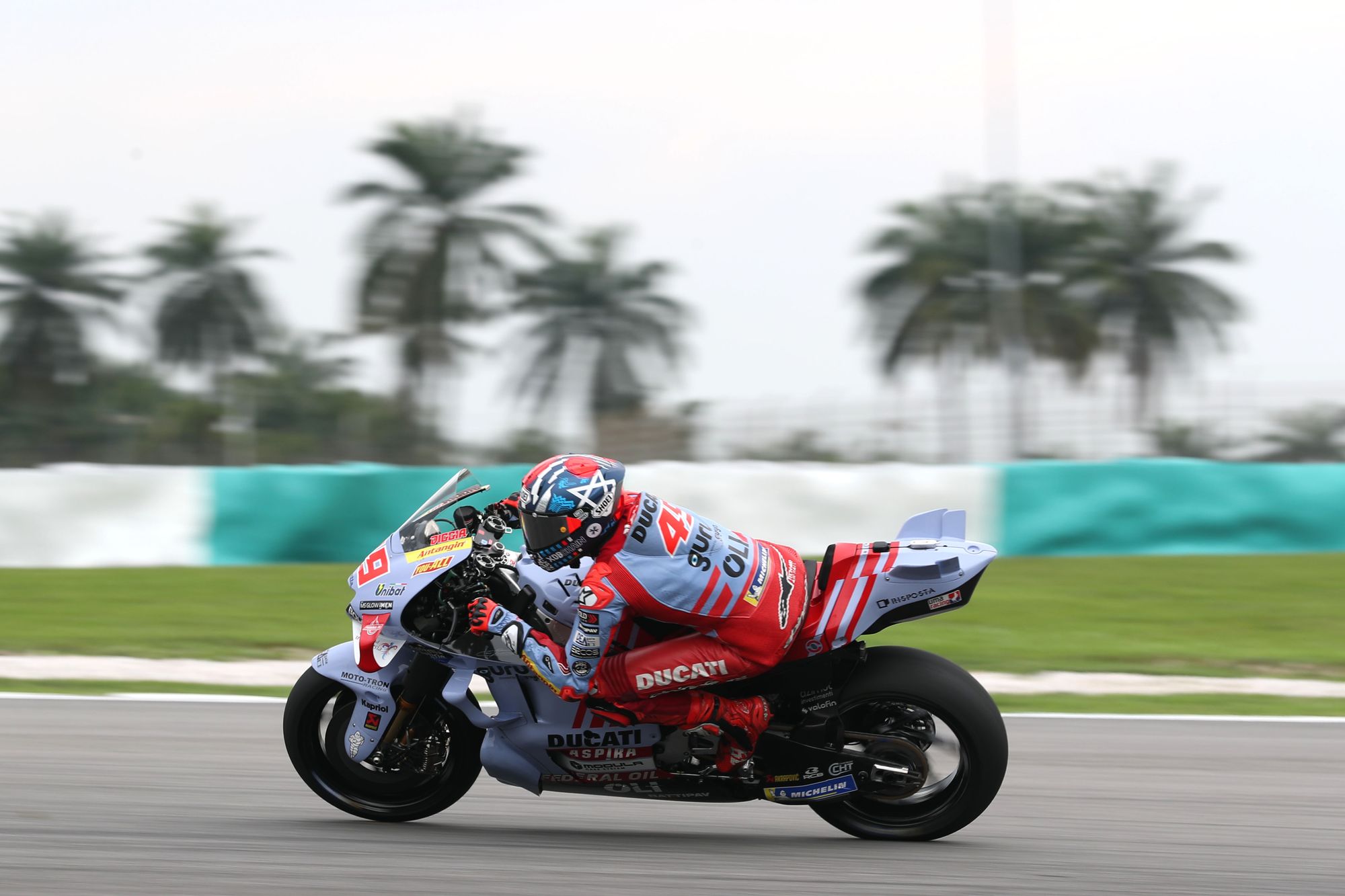 Sepang was far from Fabio Di Giannantonio's best weekend of the season, but it has nonetheless helped to confirm one thing: that he's established a new base level for himself that now has him inside the top 10 every weekend.
Sure, his taste of the podium in Australia means he's absolutely expecting more every time he gets on the bike, but it's nonetheless not a bad level to maintain in what's looking likely to be his final two races as a MotoGP rider, at least for now.
9 Jack Miller
Started: 10th Sprint: 6th Race: 8th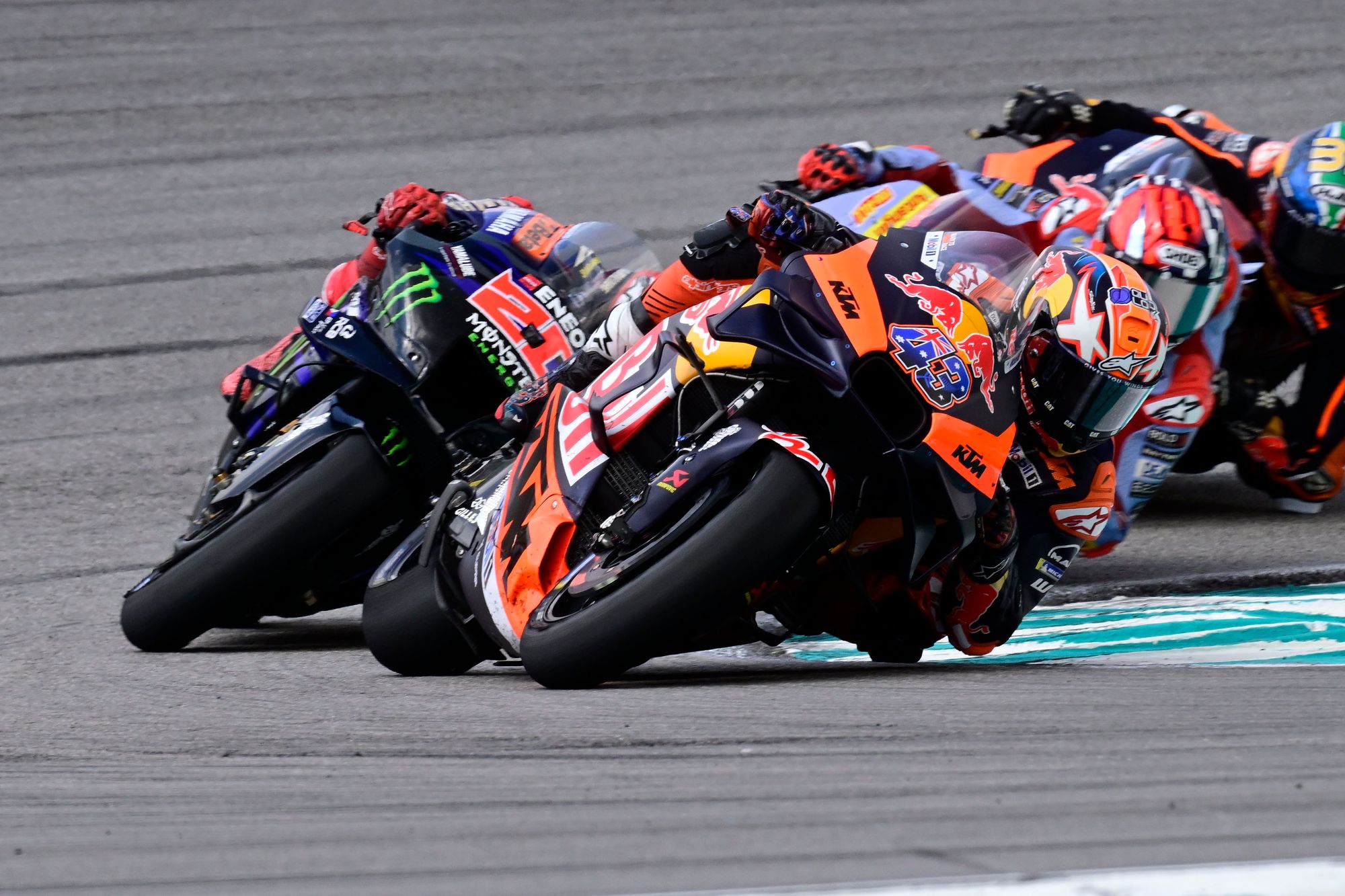 An average weekend for the Red Bull KTM rider where the best thing to say about it is that he was the first orange bike home in Sunday's main event.
Beyond that, though, it was a very Miller performance, with the Australian stronger in the early stages of both races before falling foul of tyre consumption and his persistent and somewhat lacking ability to manage them to the chequered flag.
10 Iker Lecuona
Started: 23rd Sprint: 20th Race: 16th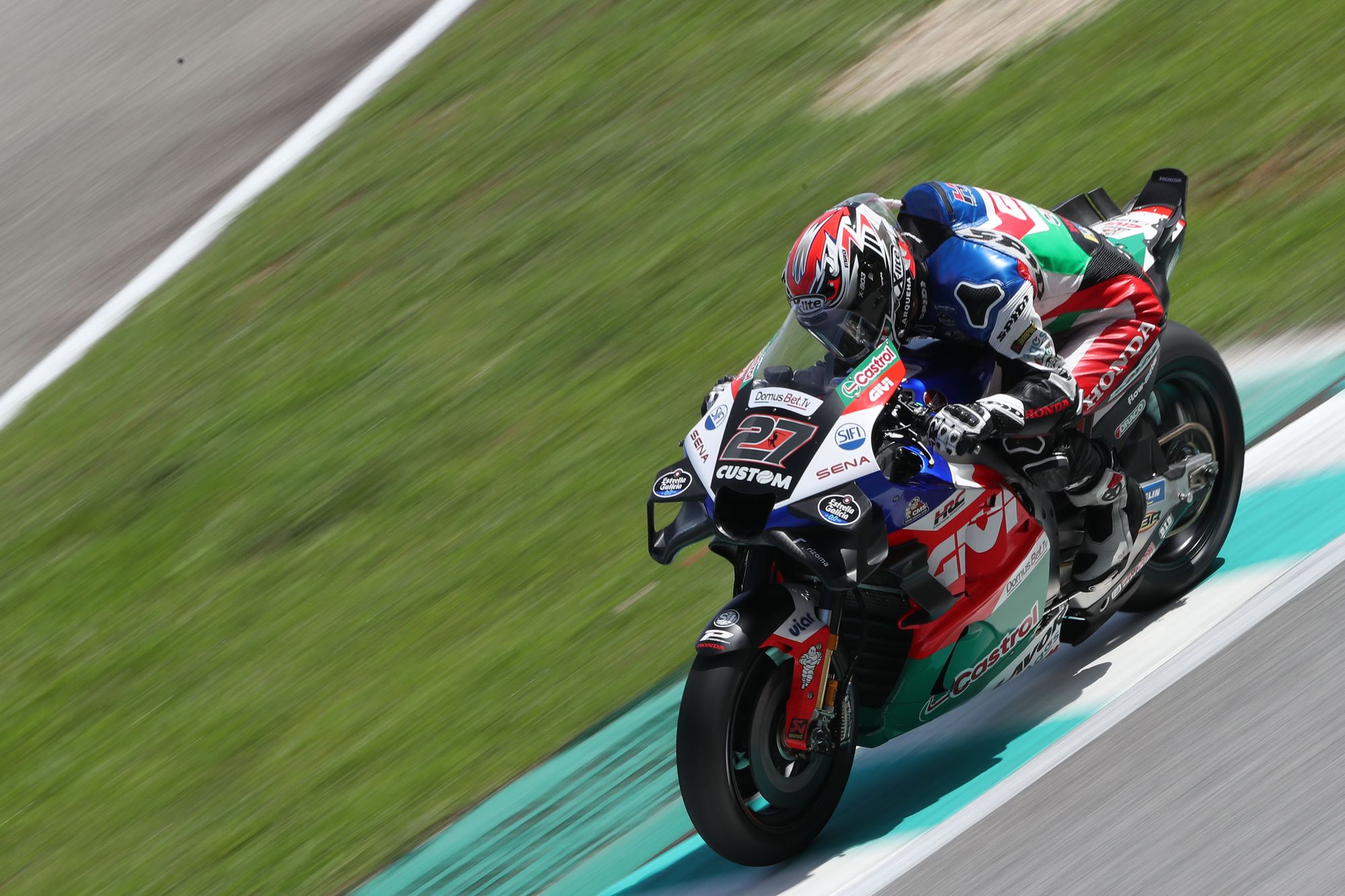 Coming into the weekend nursing a freshly dislocated shoulder from the final round of World Superbikes, with all his recent experience being on Pirelli not Michelin, and without a Sepang visit in years, Iker Lecuona wasn't expecting too much from his first of two weekends back in MotoGP.
With that in mind, ending Sunday's race just shy of the points (and as the only other Honda other than Marc Marquez to finish without a crash) is a better performance than expected.
11 Luca Marini
Started: 5th Sprint: 9th Race: 10th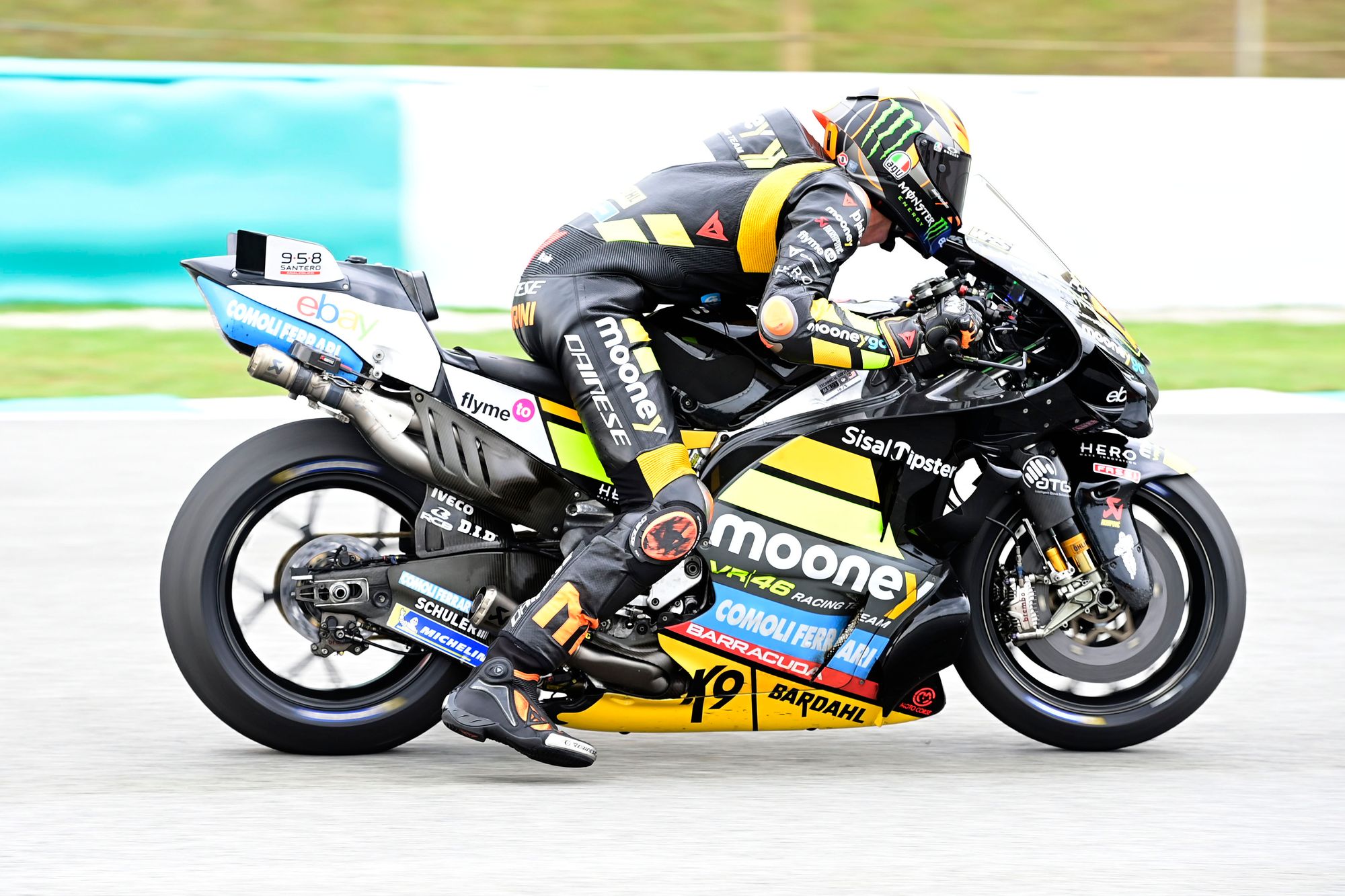 A weekend where the VR46 Ducati rider made waves off the track rather than on it with intense speculation about his future, Luca Marini's actual results on a weekend dominated by his factory were nothing to write home about.
But, as the tallest rider on the grid, he was always going to be at something of a disadvantage on Sepang's long straights anyway, and this very much looks like an exercise in damage limitation.
12 Raul Fernandez
Started: 18th Sprint: 16th Race: DNF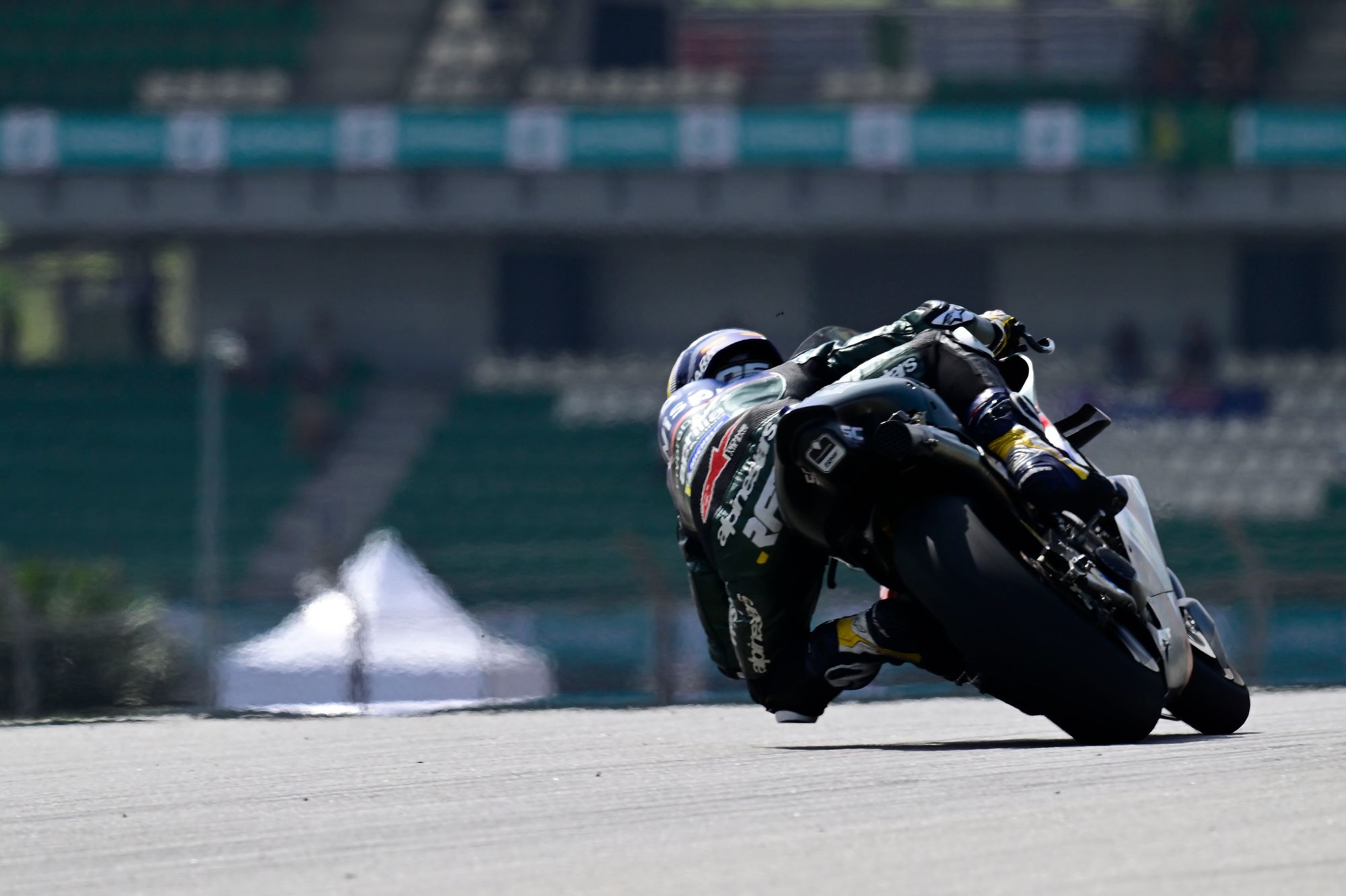 On paper, it looked like RNF Aprilia rider Raul Fernandez was at the very least set for a better performance than team-mate Miguel Oliveira, who he's been outclassing fairly consistently in the past few weeks.
But we were robbed of seeing what was actually possible in Sunday's main race by a technical problem that saw him forced to stop - his fourth mechanical DNF of the 2023 season…
13 Augusto Fernandez
Started: 14th Sprint: 14th Race: 14th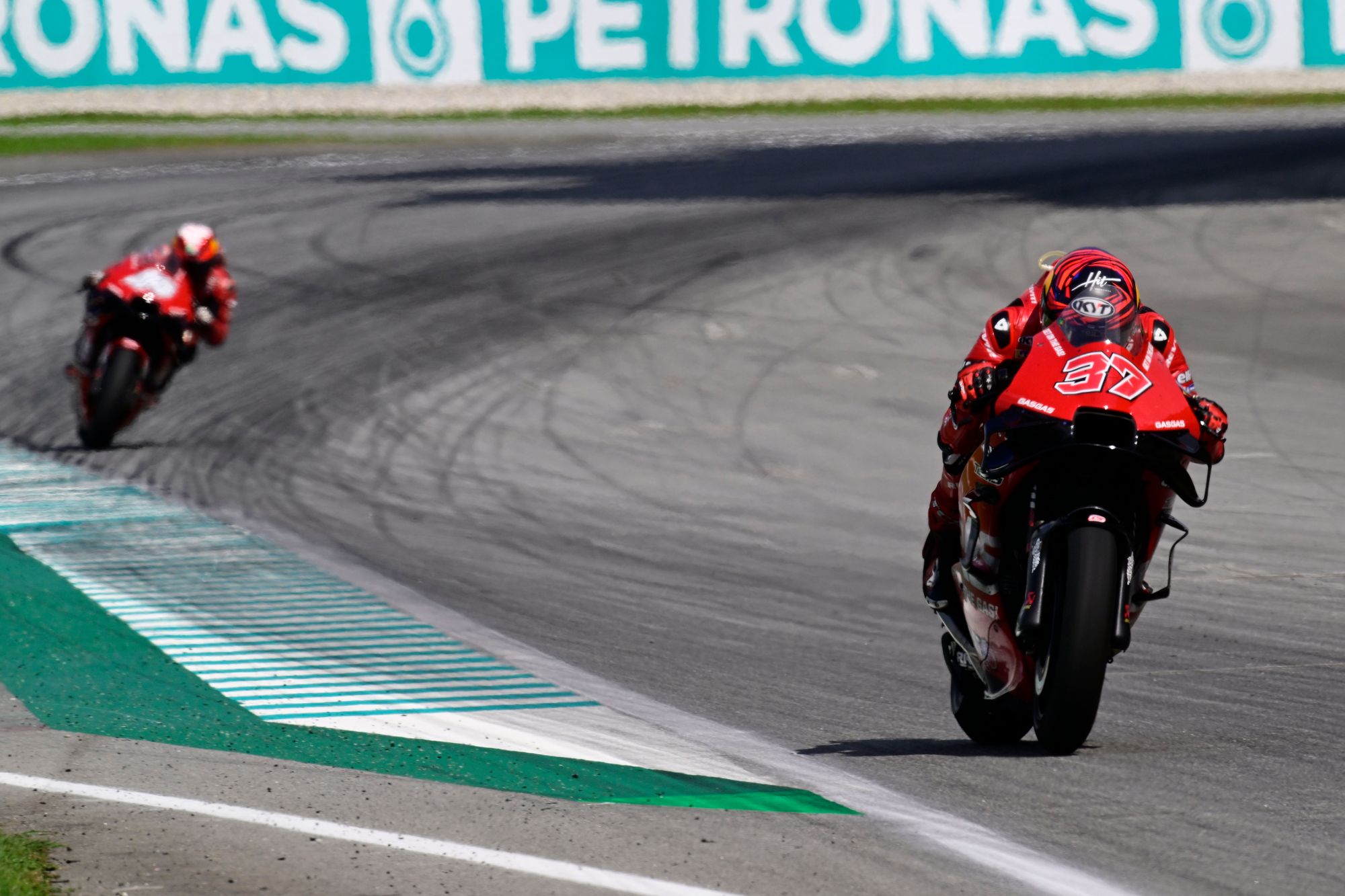 There's not a whole lot to say about Augusto Fernandez's weekend. There's been something missing for the rookie for a few new races now - a result of changing the balance of his bike to improve his qualifying performances (a mission that's been accomplished), but which has come at the expense of his race pace, which was much more impressive earlier in the season.
Now, trying to find a happy middle ground is clearly affecting his overall results right now compared to a few races ago.
14 Maverick Vinales
Started: 9th Sprint: 10th Race: 11th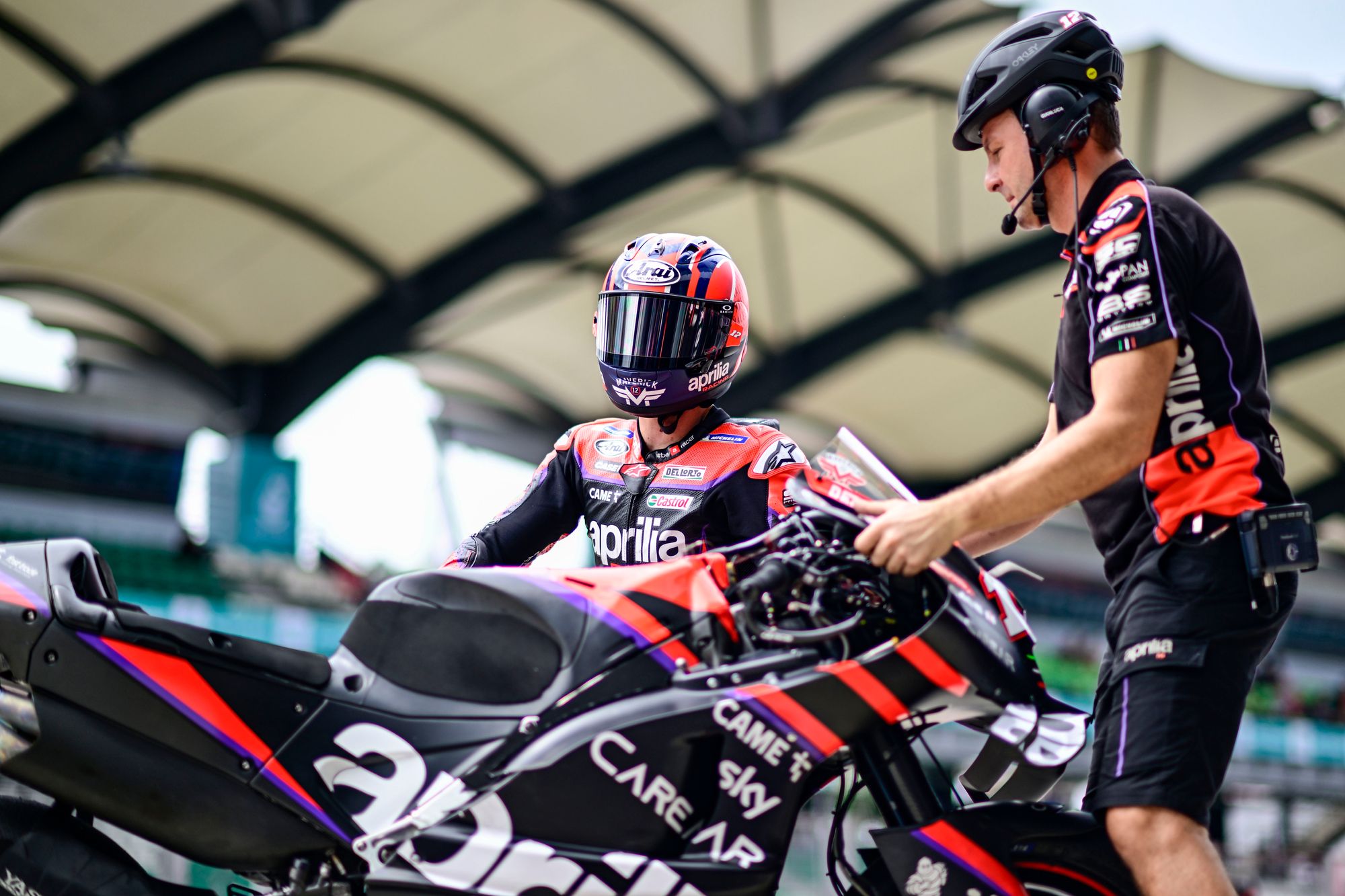 Aprilia heat issues aside, you've got to think that Maverick Vinales came to Sepang (a track where both he and the bike have been fast in testing) expecting more than a handful of points outside the top 10.
Aprilia has made improvements that make the bike cooler to ride but, with grip and acceleration issues in the high temperatures still affecting them, the end result was nothing to write home about.
15 Johann Zarco
Started: 12th Sprint: 8th Race: 12th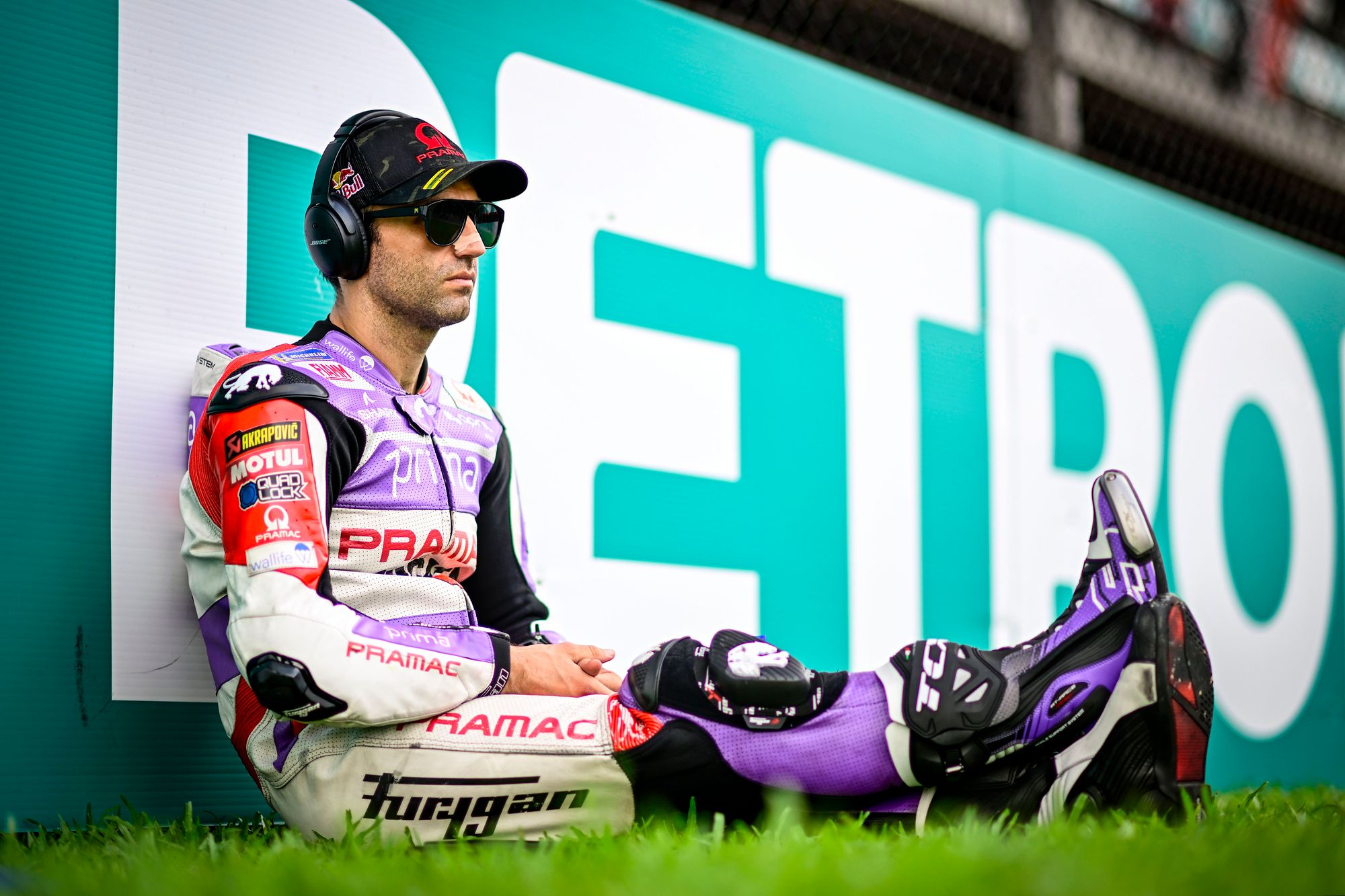 A weird weekend for Pramac Racing's Johann Zarco at a circuit where you'd have expected the Australian GP race winner to be closer to the front.
Hamstrung slightly by an engine failure in qualifying that left him at the back of the Q2 group and then never really able to improve upon his position in a difficult race, he just limped home, finishing where he started for some more points - but these were not the results he would have been hoping for.
16 Brad Binder
Started: 7th Sprint: 5th Race: DNF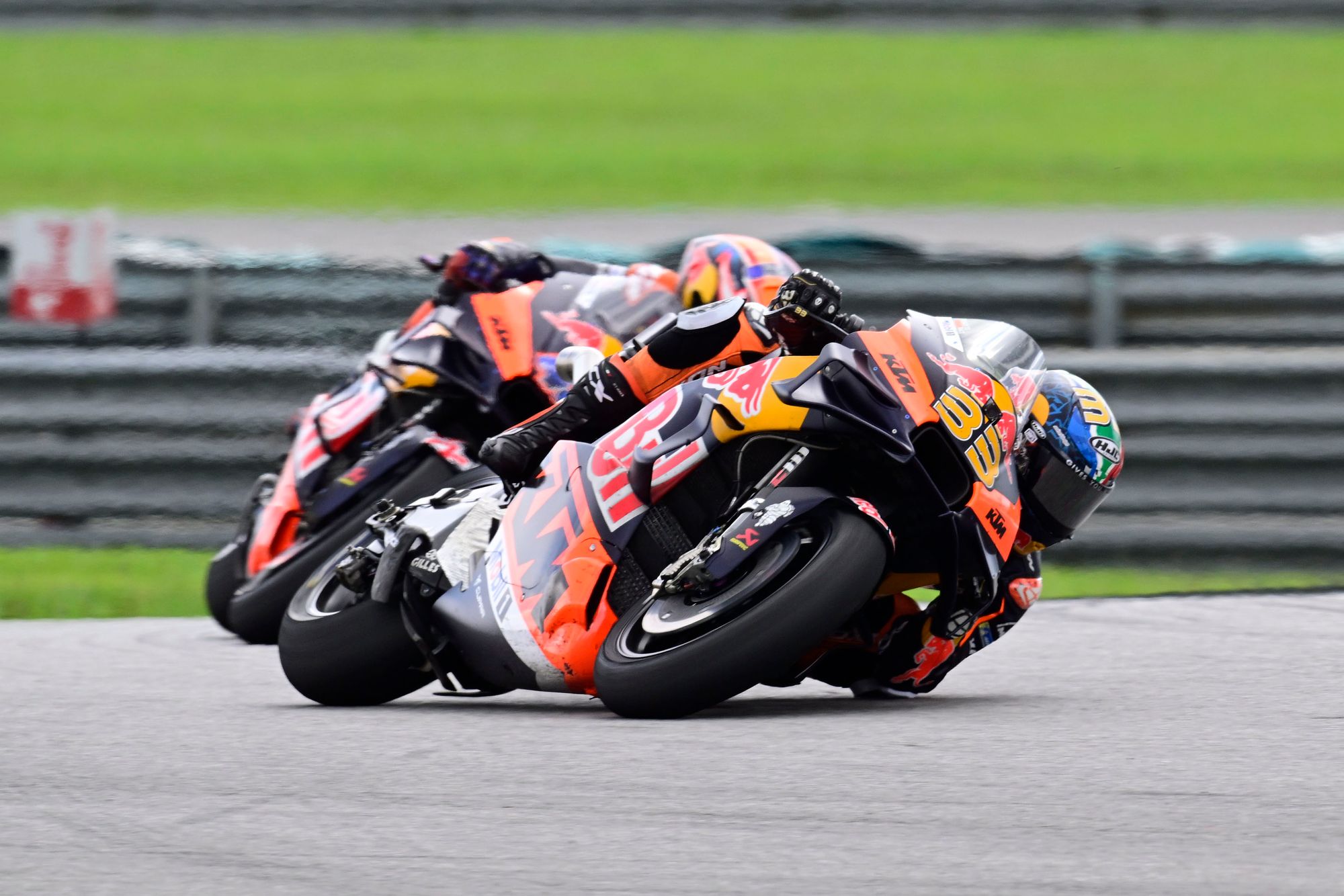 On one hand, Brad Binder should probably rank higher considering that he had a decent sprint race on Saturday - but the main event is still on Sunday, and the South African failed to see the chequered flag in it after a rare mistake.
It's a shame, because there was another strong top six on offer that would have at least kept him in the fight for a top-three spot in the championship, something that's now all but impossible with Bezzecchi needing to bring home only five of the remaining 74 points.
17 Pol Espargaro
Started: 17th Sprint: 15th Race: 15th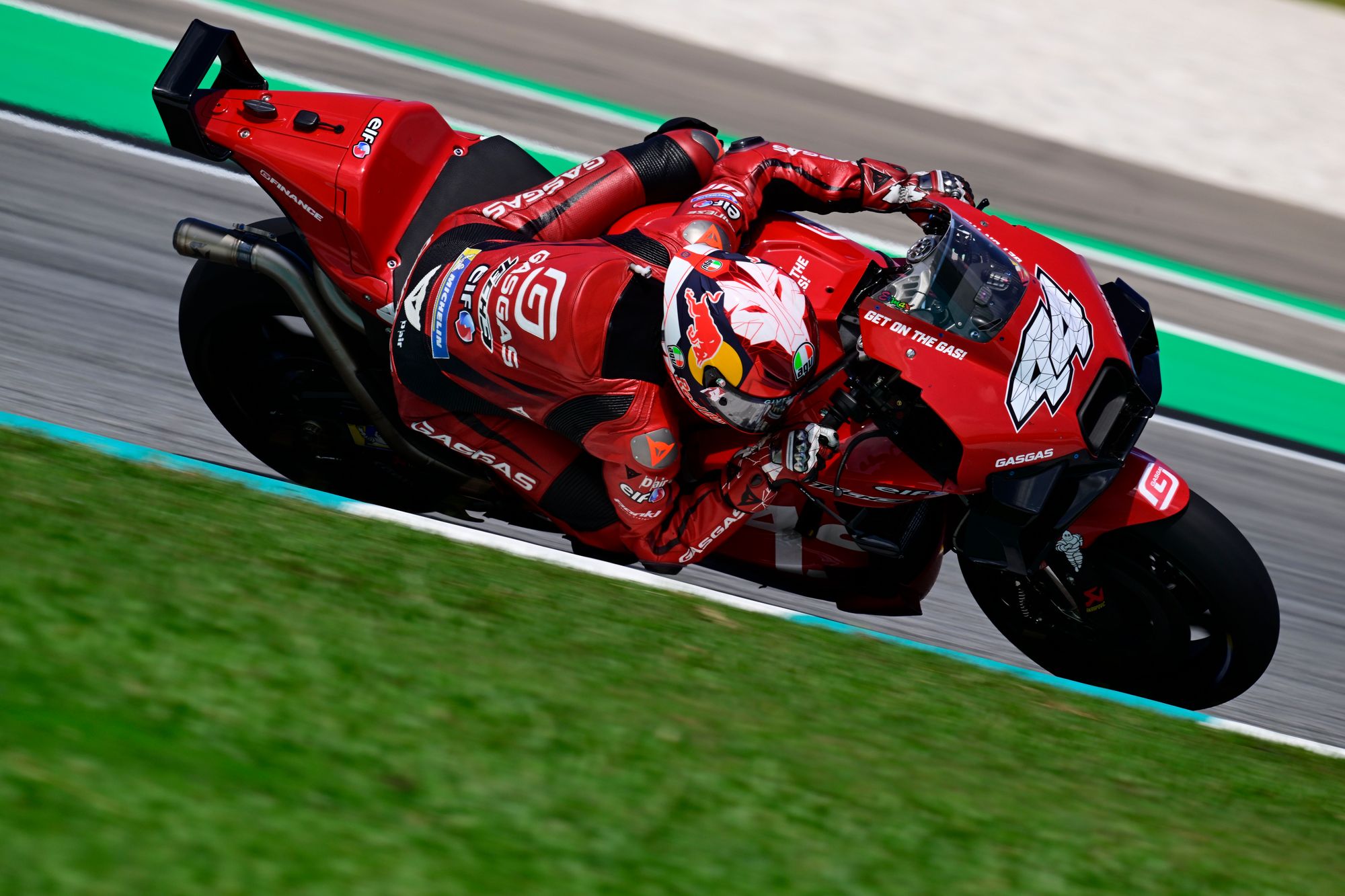 High temperatures and physically demanding races are still taking their toll on Pol Espargaro's injury-wracked body, and the Tech3 rider was never expecting an easy time at Sepang.
It went about as well as expected for him, too, with the Spaniard just keen to put the weekend behind him and concentrate instead on two much cooler tracks to finish off his time in the premier class, at least for now.
18 Marc Marquez
Started: 20th Sprint: 21st Race: 13th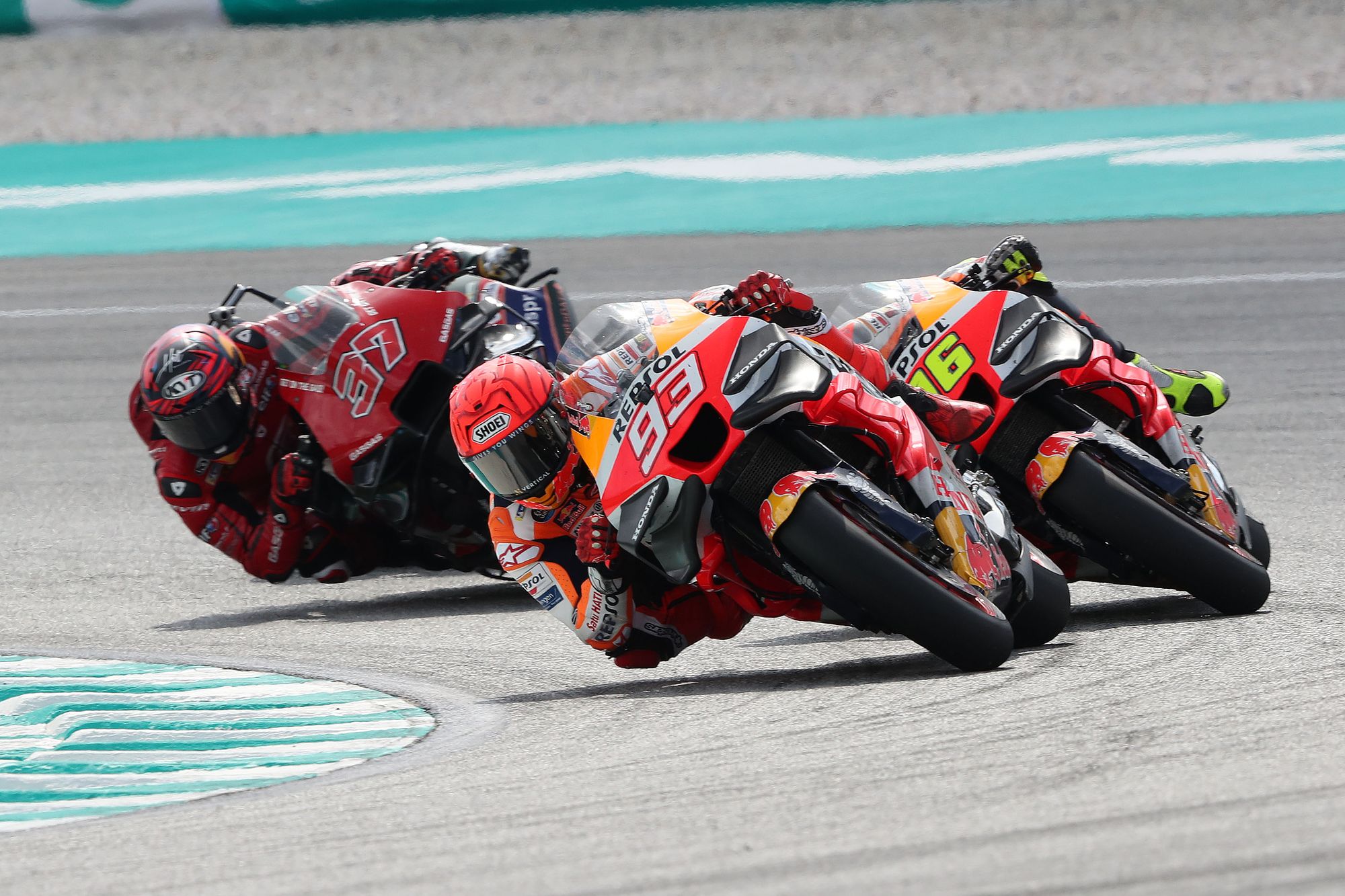 Pretty much a standard weekend for Marquez where he pushed hard in the sprint race and paid for it with a crash, only to then revert to a more conservative mode in the main race to reach the chequered flag.
But the reality is that his weekend was basically scrapped on Saturday morning, when Morbidelli's mutually assured destruction in retaliation for Marquez's qualifying towing games sank the six-time world champion's hopes of any success this weekend.
19 Alvaro Bautista
Started: 22nd Sprint: 22nd Race: 17th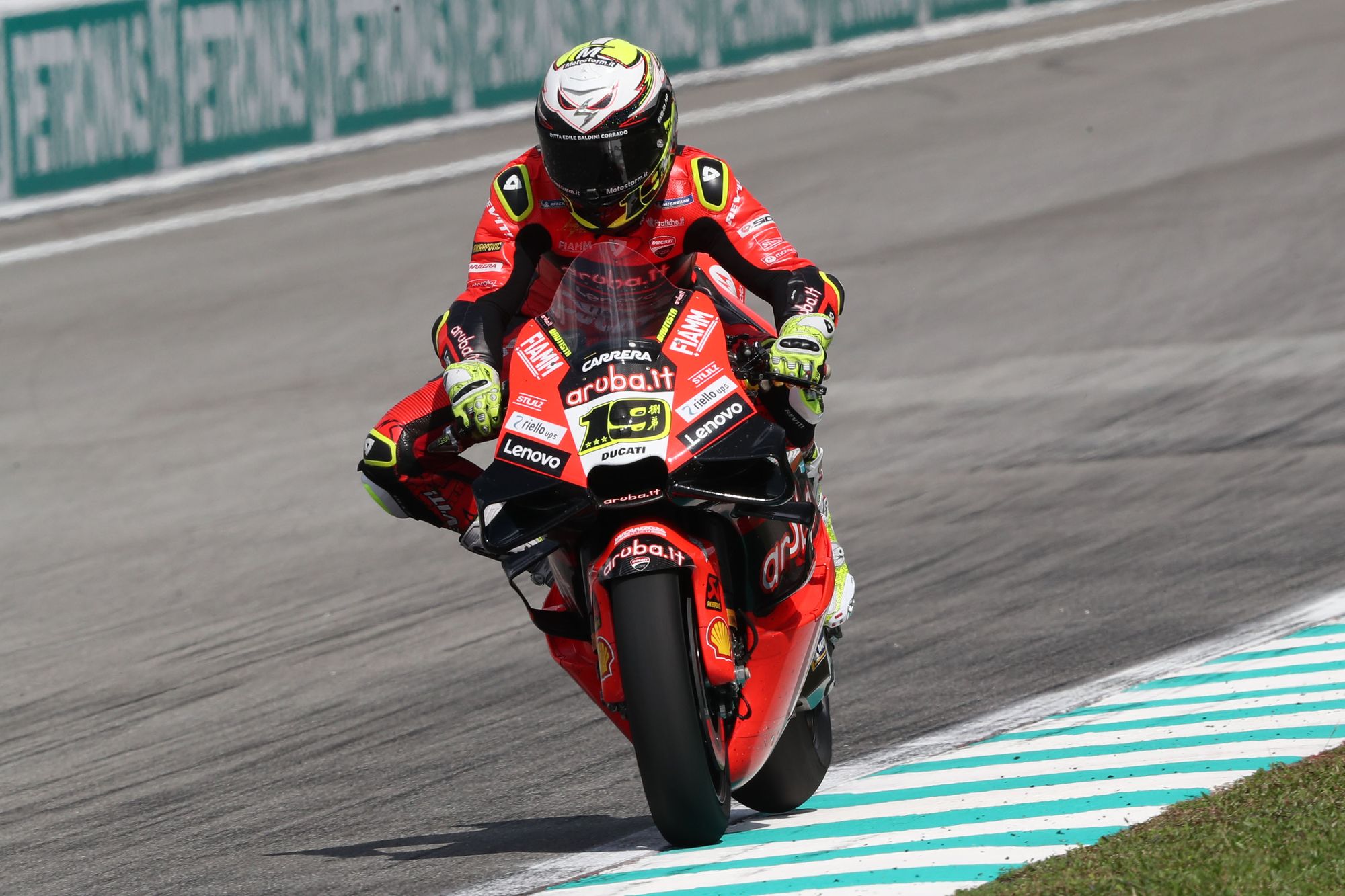 It's hard to assess the dominant World Superbike champion's wildcard performance too much given that he revealed after the race that he's been secretly struggling with significant injuries sustained in a Jerez test a few weeks ago.
But suffering in silence in order to ensure he got the chance to ride a Desmosedici at Sepang perhaps wasn't the smartest strategy to ensure a safe and healthy weekend.
20 Taka Nakagami
Started: 21st Sprint: 19th Race: 18th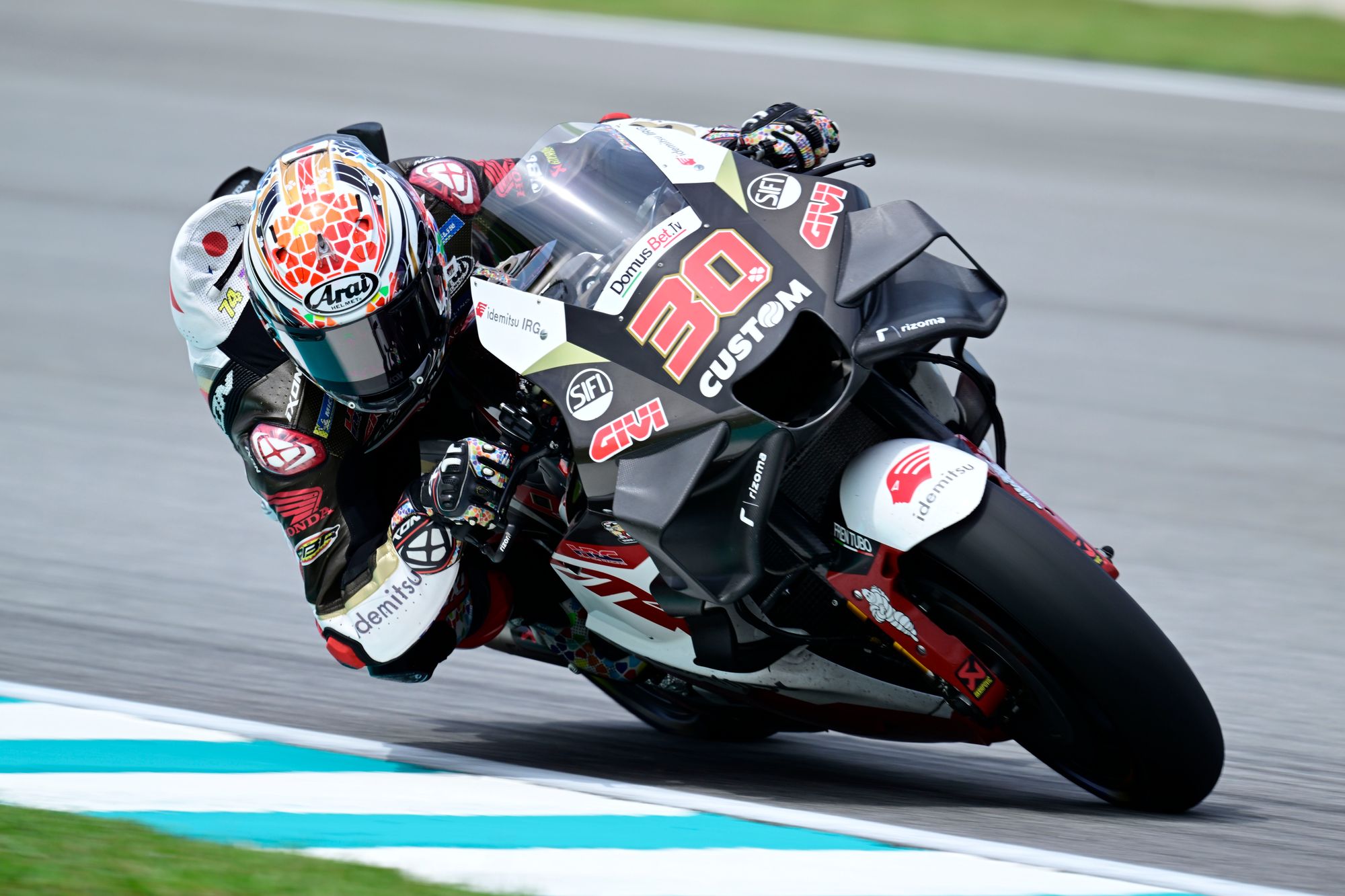 A conservative weekend for Honda's most conservative rider, Taka Nakagami did what he's been doing for months now and just tried to make sure he reached the chequered flag in both races.
It worked, kind of, despite a slow crash on Sunday that he was able to remount after. However, beaten in the end by injury replacement Lecuona and only one place ahead of him in the sprint, it was certainly not a strong weekend.
21 Miguel Oliveira
Started: 19th Sprint: 18th Race: DNF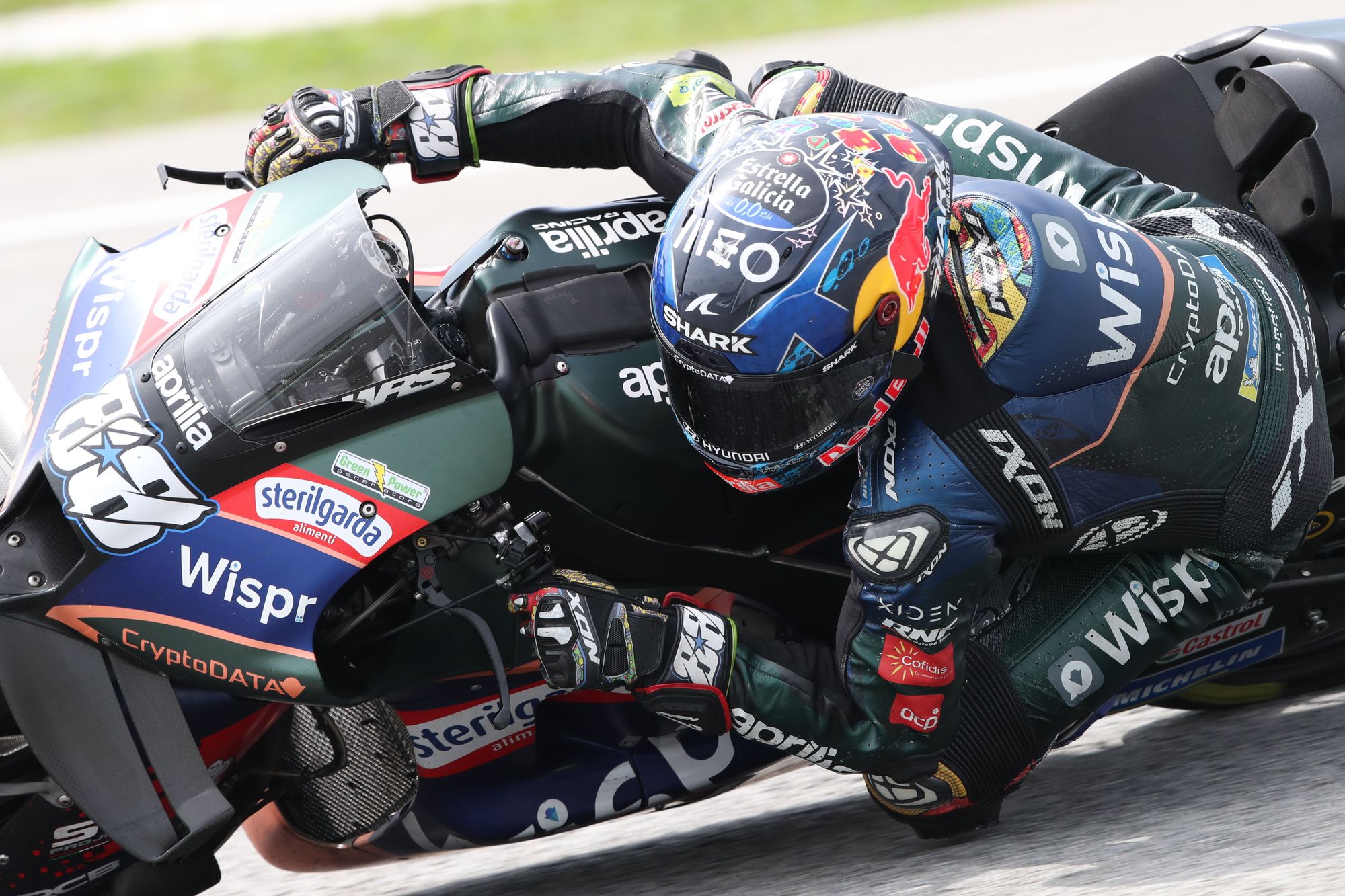 Back at the start of the season when Miguel Oliveira was fighting for podiums, you'd never have expected that we'd get to this point in the year and see him being regularly outclassed by team-mate Fernandez.
Yet here we are, with the considerably less experienced side of the garage once again enjoying a better weekend (even if his own Sunday race was ended early by technical problems). Something isn't going well for Oliveira, and he needs to figure out why.
22 Joan Mir
Started: 16th Sprint: 23rd Race: DNF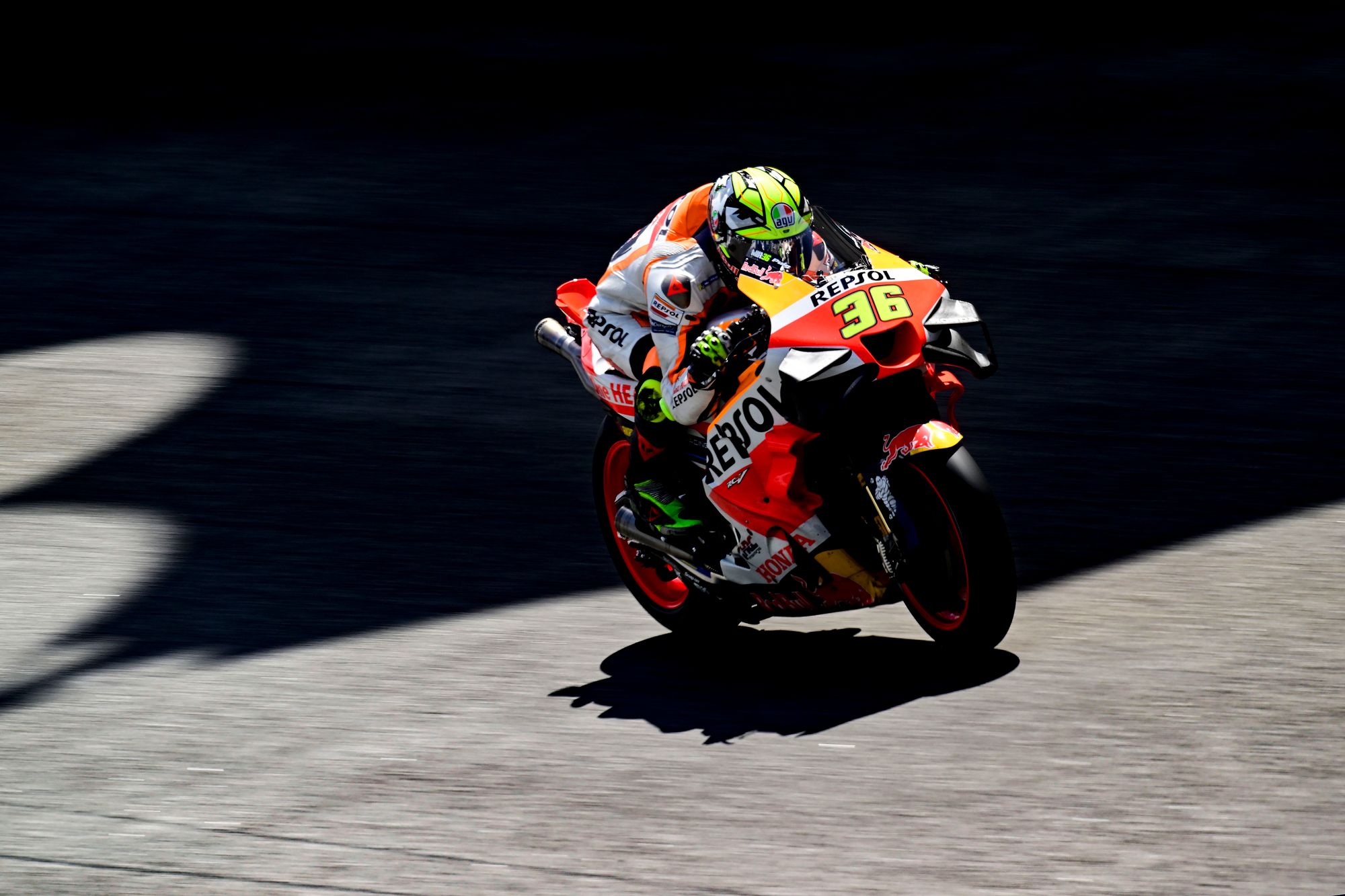 When a yellow-flag graphic appears on screen now during a MotoGP race, it seems that there's a 50% chance that it's for Joan Mir.
Achieving the Repsol Honda team's 50th crash of the season on Sunday was at least proof that the 2020 world champion hasn't lost his commitment to keep pushing - but it's coming at an absolutely punishing cost for him and the team.
23 Aleix Espargaro
Started: 13th Sprint: 12th Race: DNF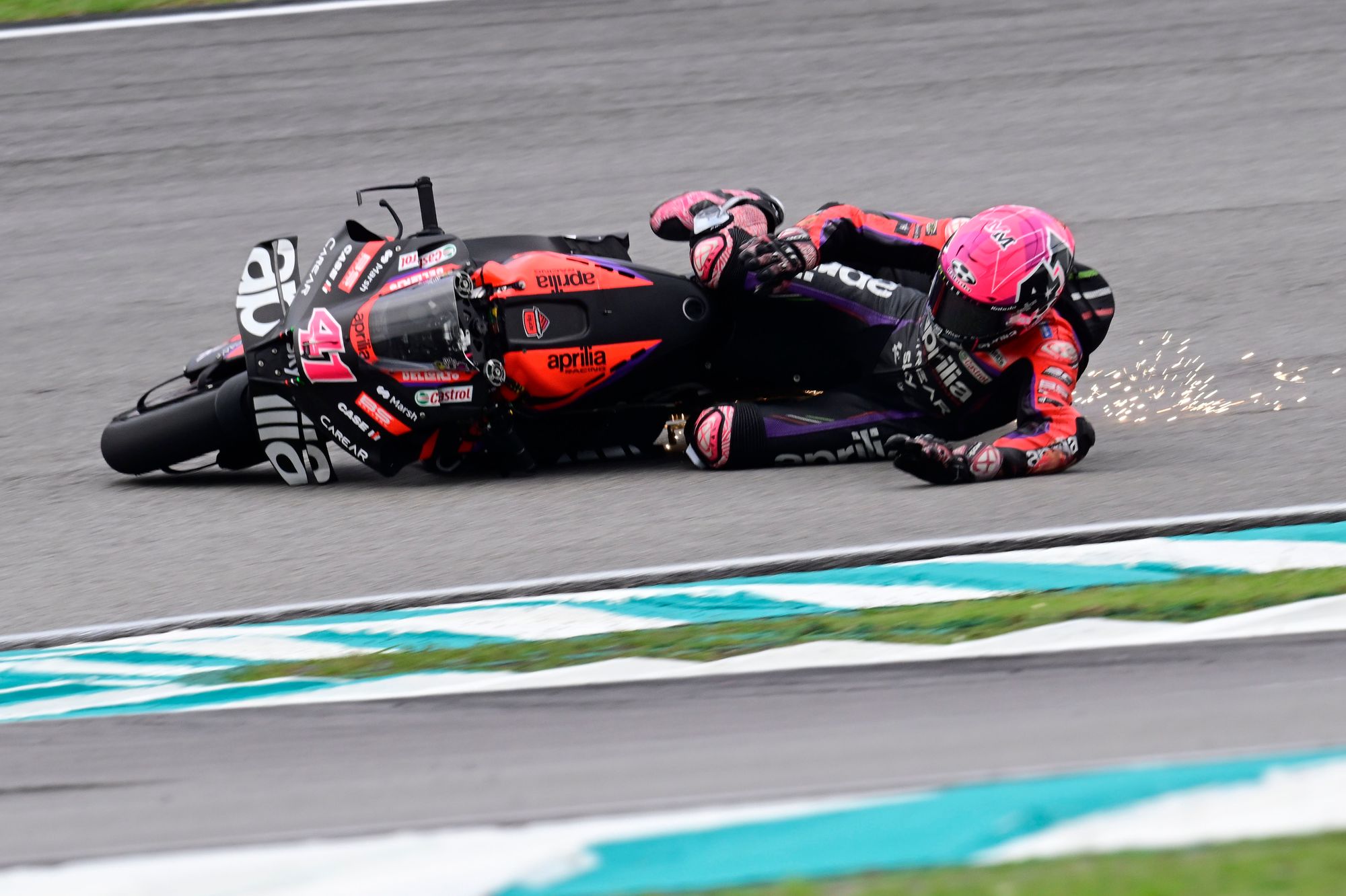 A title contender in 2022, Aleix Espargaro simply shouldn't be walking away from a MotoGP weekend without a single point scored - yet for the second time in this flyaway tour, that's exactly what happened in Malaysia.
Crashing three times in Friday's second practice session really set the tone for his whole weekend, and from there it never really got any better for him. Simply put, not good enough for someone who should be at the sharp end of the series.