Enea Bastianini's spectacular return to MotoGP form in the Malaysian Grand Prix could hardly have come at a better time amid what he's readily described as a "s**t season".
Much of Bastianini's first year in works Ducati colours has been conditioned by two major injuries, the first one ruling him out of six races and the second costing him another three starts.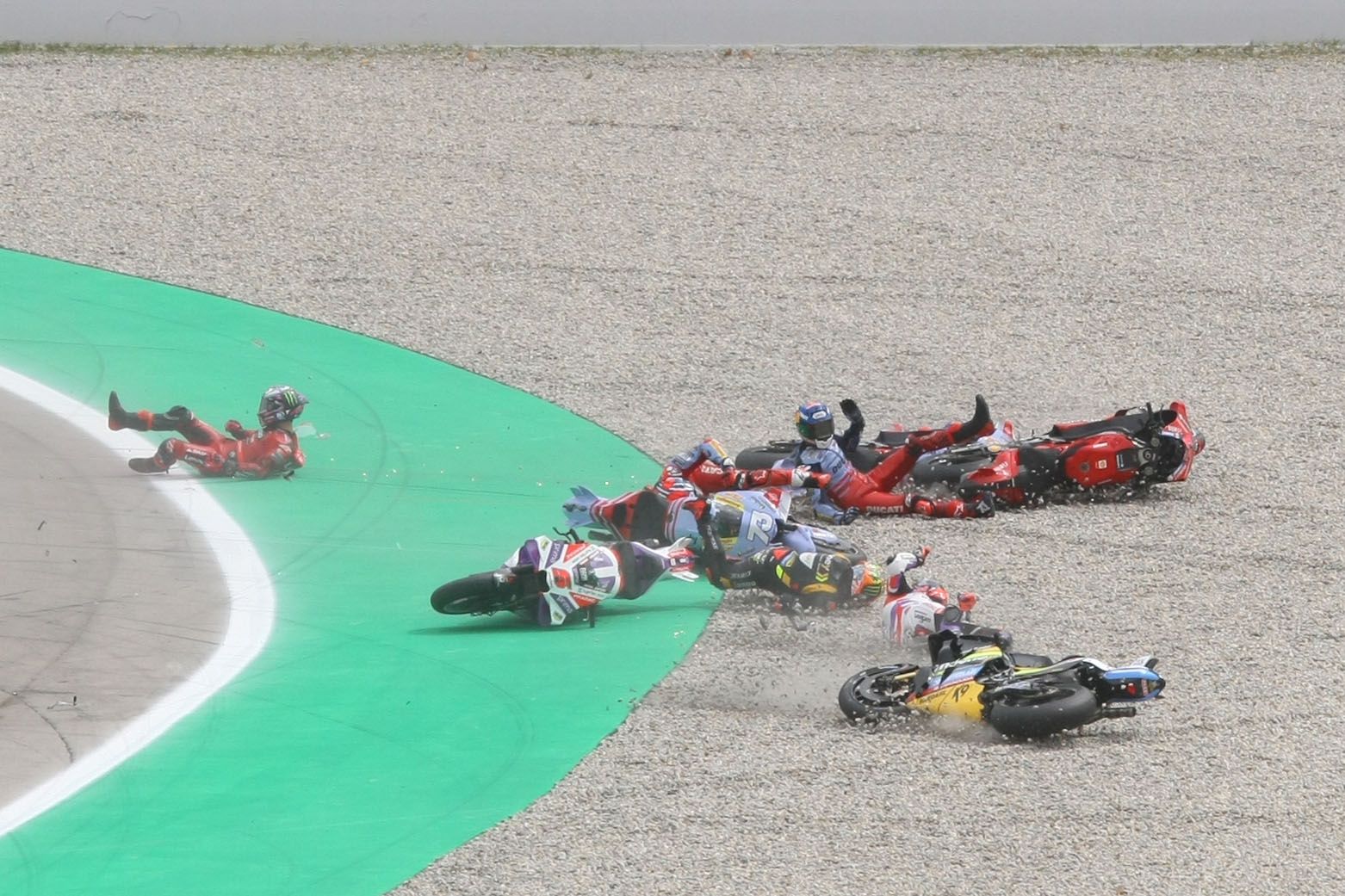 But his form on the 2023-spec Ducati has also looked rather indifferent, and with seemingly little progress in the lead-up to Sepang against the backdrop of Jorge Martin's phenomenal title-chasing form at Pramac, it meant the possibility of swapping the two of them was acknowledged during the weekend by Ducati.
Yet Bastianini turned 12th place on Friday into a great Q1-to-front-row run on Saturday morning and an assured performance as team-mate Pecco Bagnaia's rear gunner in the sprint later that day.
He then uncorked a performance reminiscent of the Bastianini of 2022 - a master of late-race pace with four wins to his name - to stand at the top of the Sepang podium on Sunday.
SEAT SWAP? NO, THANKS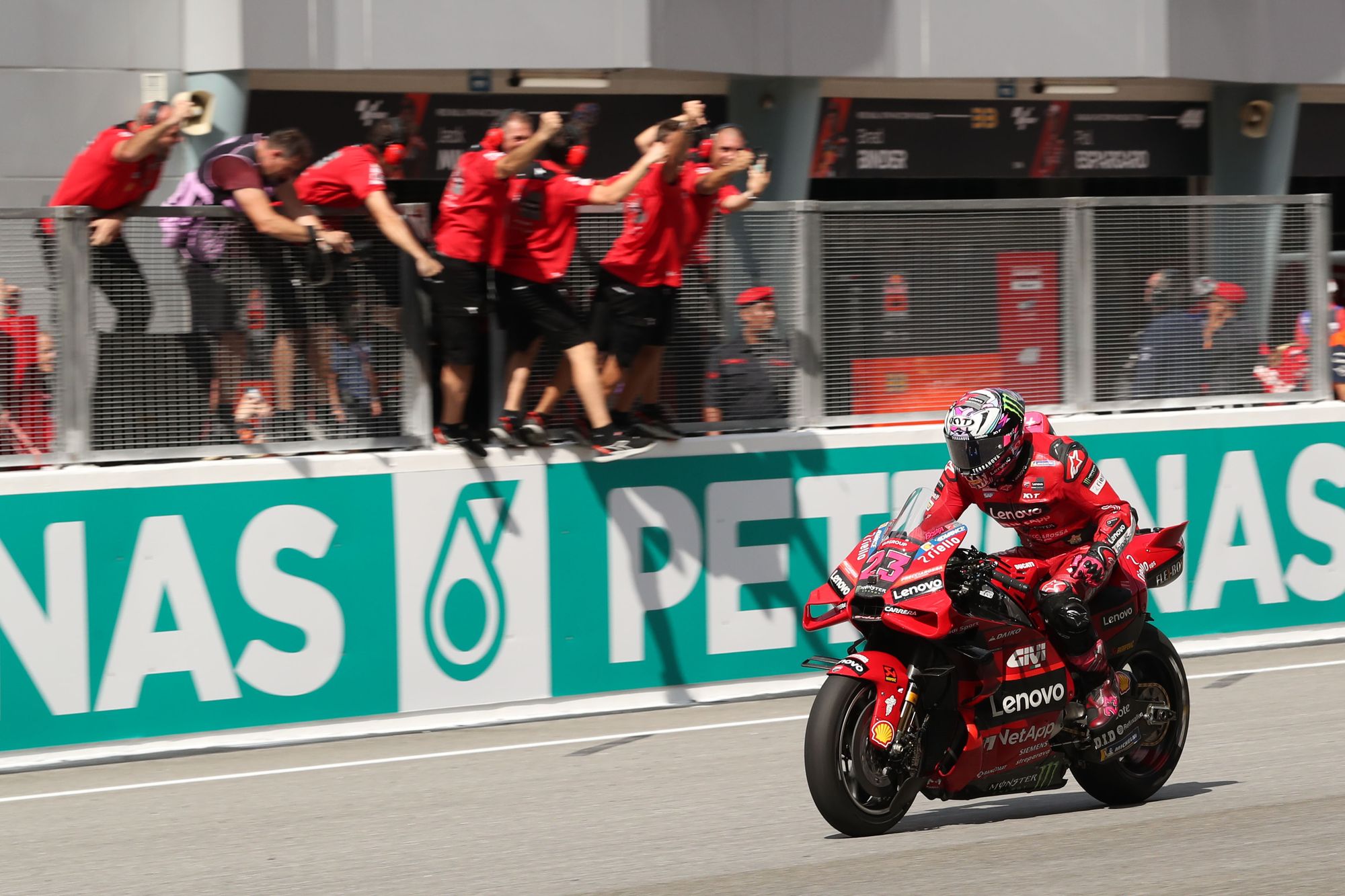 Bastianini was direct in discussing that mooted 2024 swap in suggesting it was an understandable possibility given the quality of his season before Sunday.
"Fantastic, after this s**t season for me," he said of his win on MotoGP.com's After the Flag show - but he wasn't comfortable in describing it as a 'big message' to Ducati. That, he said, would be winning the next two races as well.
"It's simple, because Jorge made a really great season, and me no, I was low all the time, in all the races," he admitted in the press conference.
"But I know why. Now I have put a small message to Ducati, my feeling now is really good inside the team, with all the guys, with Pecco, and it's, I think, a good situation.
"But I don't know the Ducati decision, what it is. I was confirmed [for 2024] during the Misano GP [in September], but if something has changed, let's see."
WHAT HE'S LACKED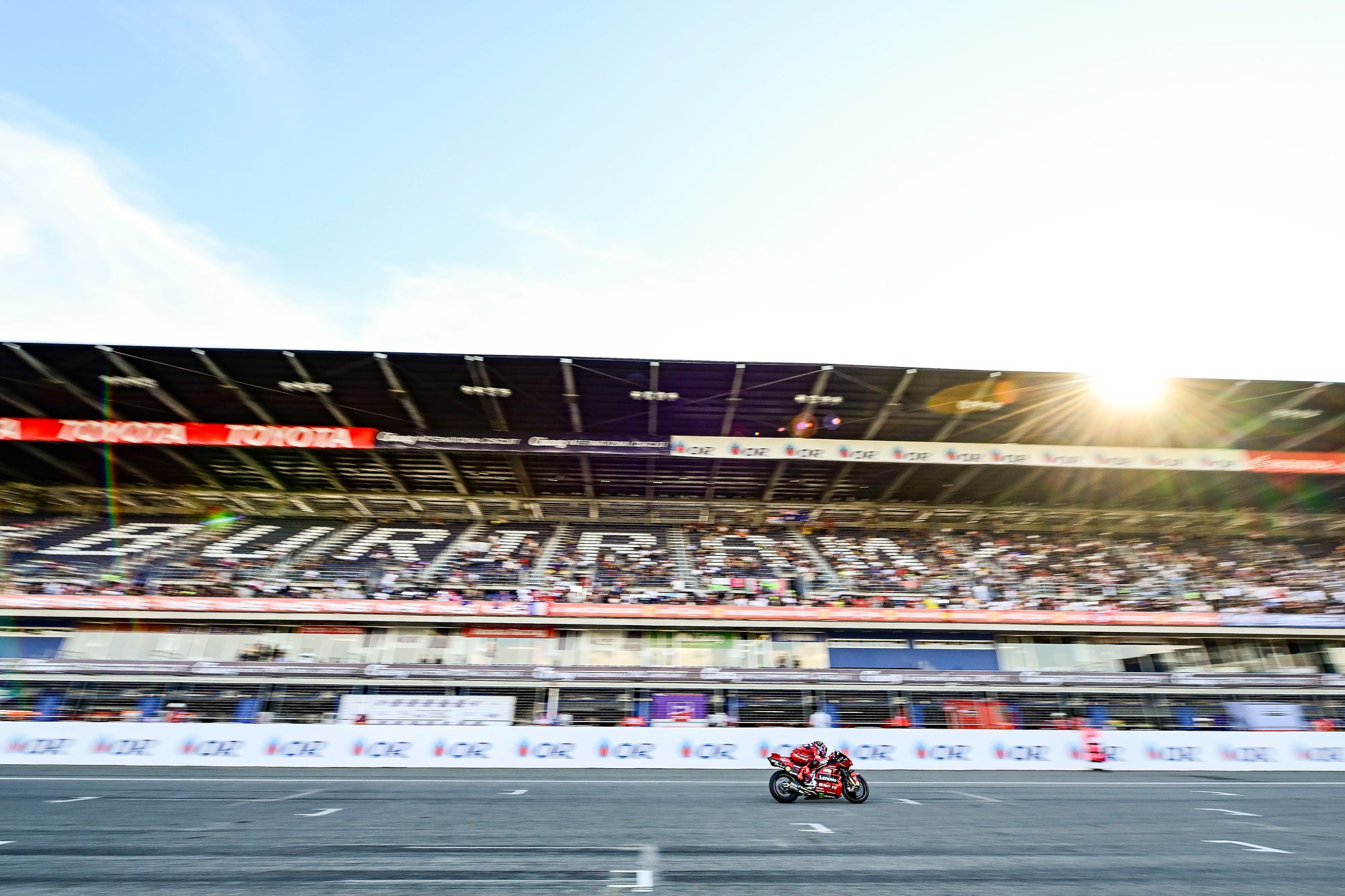 It was a huge turnaround not only in-weekend but particularly when compared to Bastianini's extremely bleak outing at Buriram two weeks prior, when he was slowest in qualifying.
And it came on a weekend in which team-mate Bagnaia, who a year ago was not particularly in favour of replacing Jack Miller with Bastianini, repeatedly went to bat for his current team-mate, emphasising that Bastianini had lost crucial time early in the season to adapt to the bike through no fault of his own.
"And for sure his riding style was entering with a lot of entry speed - and for me this bike is not helping him so much," Bagnaia added.
"Last year's bike was very good on braking, on entry. You could enter with more speed, and it was turning. But it was shaking a lot, was more nervous, the traction in the exit was less. It's the opposite, completely."
Bastianini himself acknowledged that he was perhaps trying to do too much too soon because of the time he lost relative to his rivals.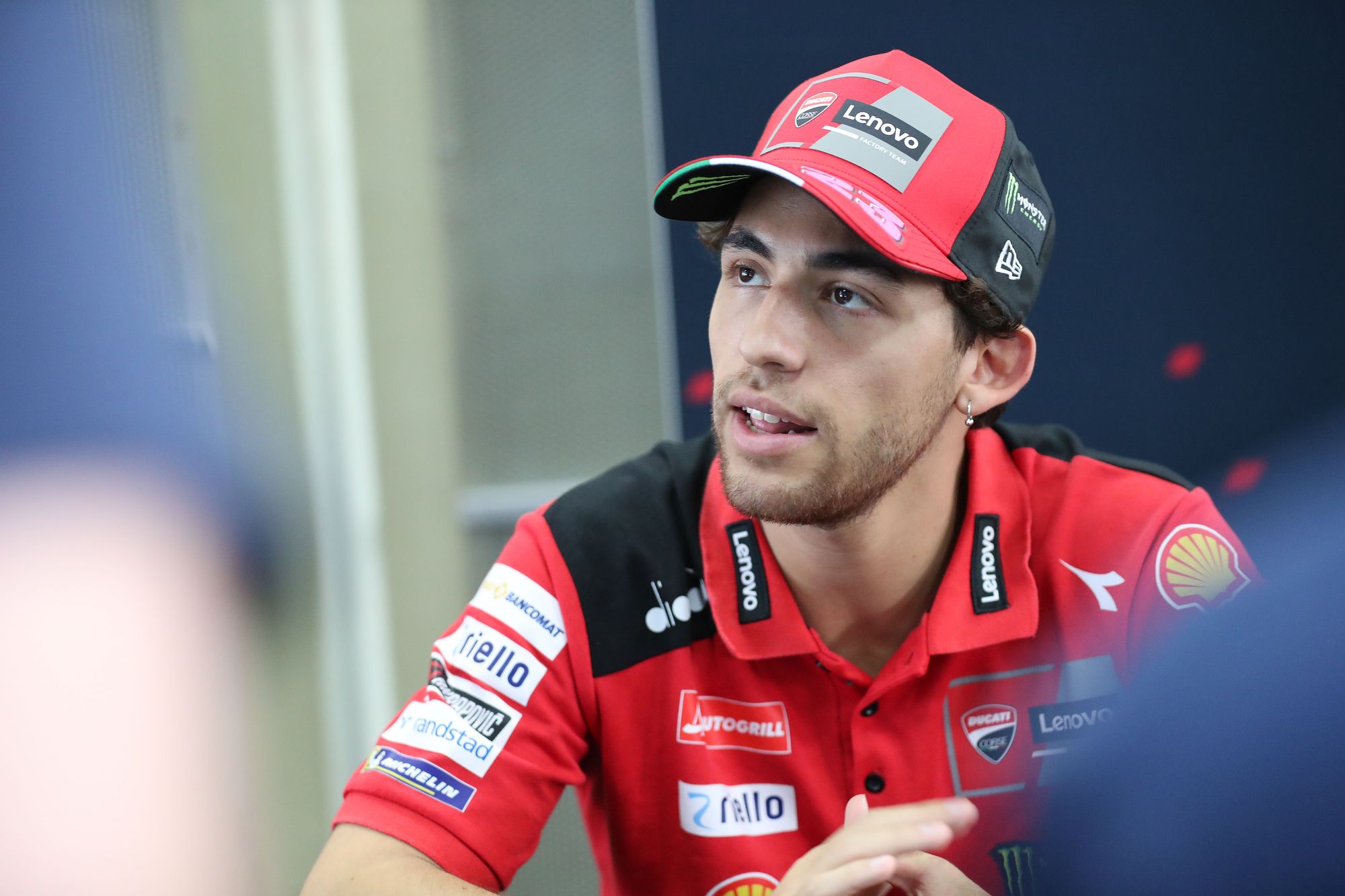 And his description of his braking issues wasn't totally aligned with Bagnaia's - perhaps also because that Bastianini made the step from a GP21 to a GP23, whereas Bagnaia naturally went GP22-GP23. Having had some teething problems ironed out early in the season, Bagnaia now finds his current bike more compliant under braking, while for Bastianini it has continued to feel much less stable.
"For me, it's the new engine being a little bit different. The rest of the bike is really, really similar to last year, but the engine fit me better compared to this one," said Bastianini - who did also try the GP22 in off-season testing.
In any case, for Sepang and its "hard brakings", where he was losing so much time to Bagnaia before, Bastianini and his crew figured it out.
THE FIX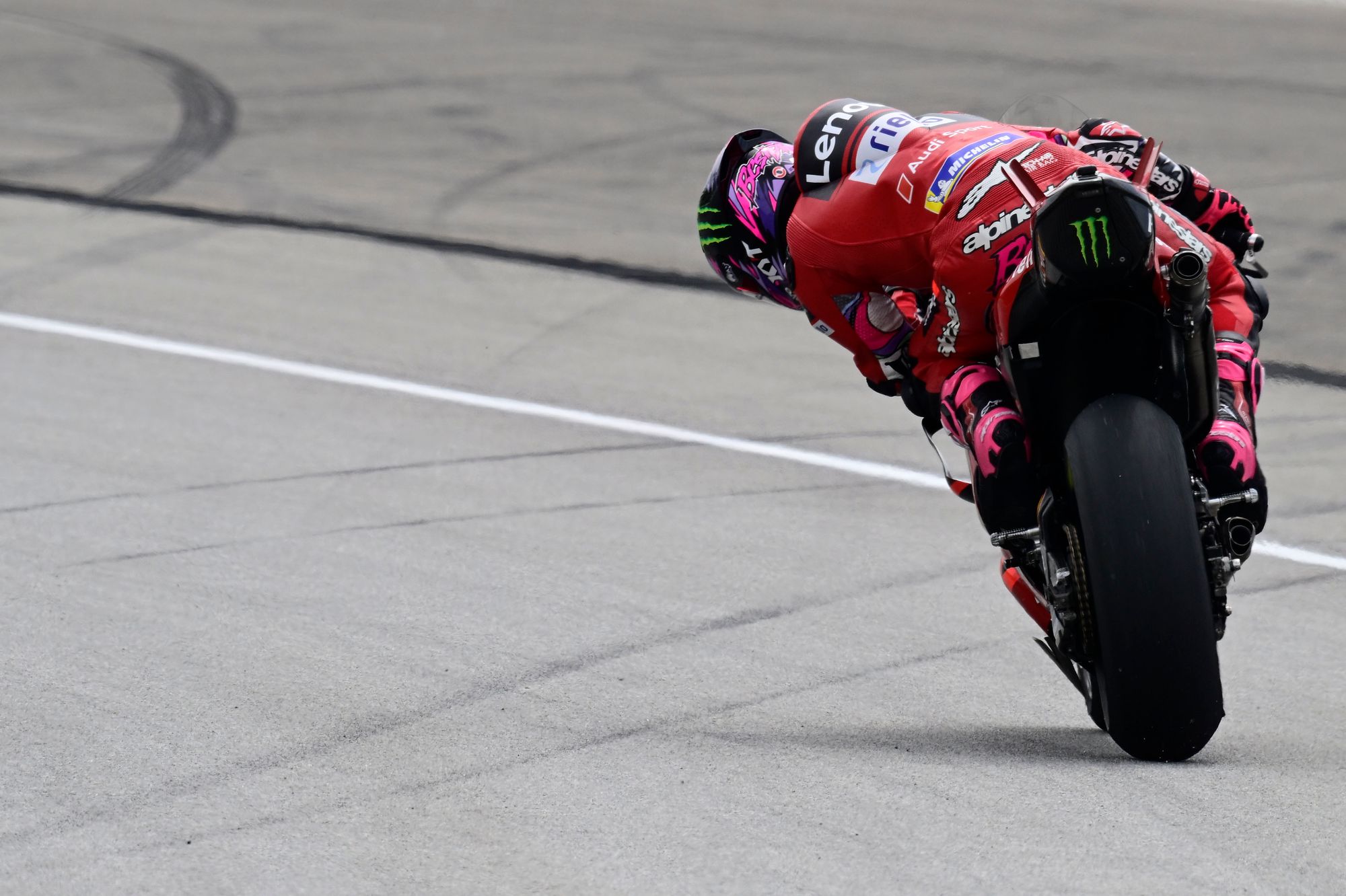 "We started the weekend with a different mind because we understood what was the solution," Bastianini explained.
"My crew chief [Marco Rigamonti] called me one week ago and said 'I know what I want, I have checked the data, and I know what you need'.
"And in the end it was like this. He promised this and it arrived, this great result."
The solution, Bastianini said, was "not a secret". It was two-fold - a change to "the progression of the engine brake" and a switch to a thumb-operated rear brake rather than a foot-operated one.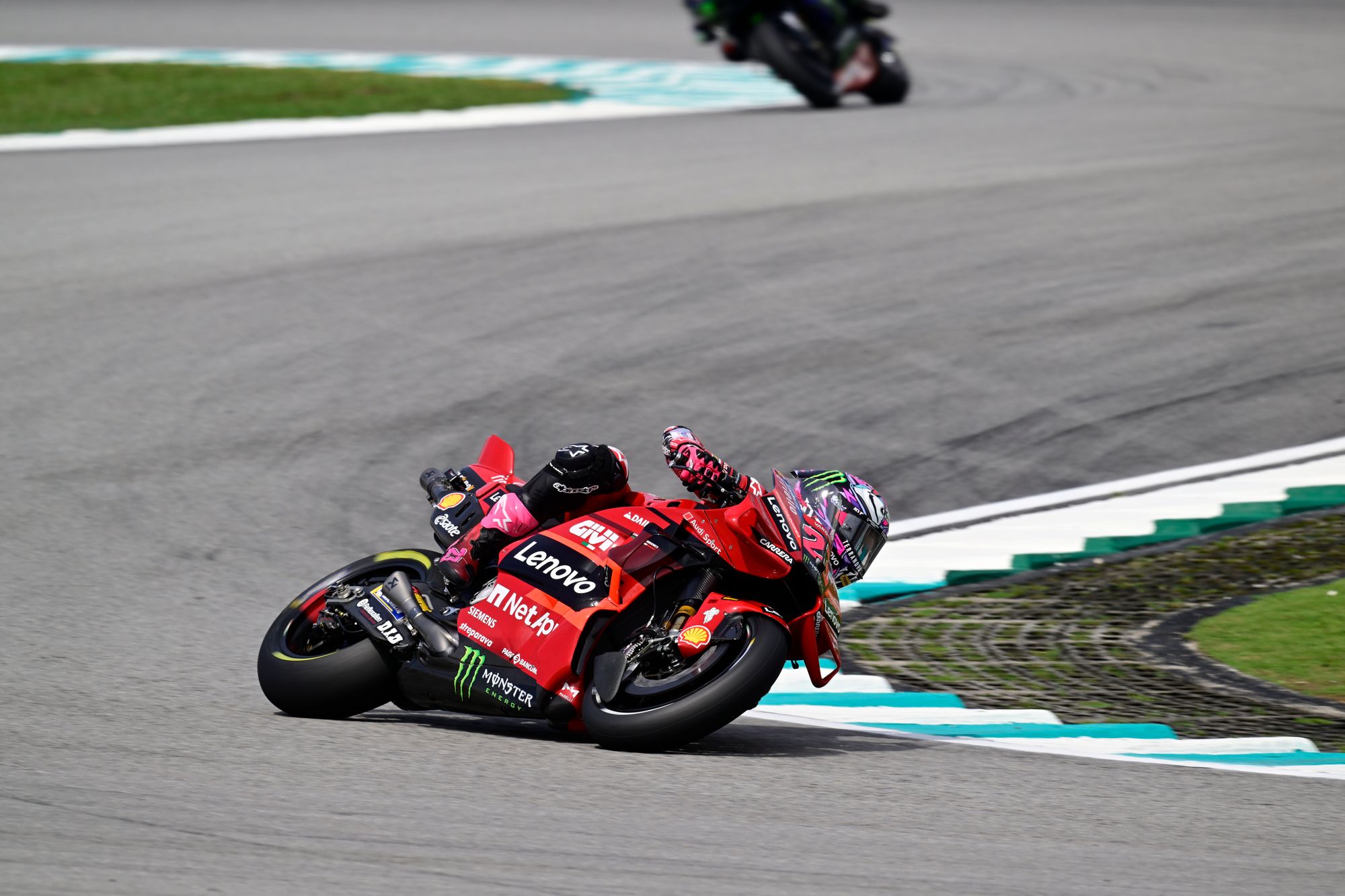 Bastianini said his crew had made many a tweak to the engine brake settings - but this seemed to be the first time it really paid off in a big way.
More impressive, however, and perhaps more important, too, was how quick his adaptation to a new rear braking technique was.
"The adaptation is not simple, I know," he said on Friday.
"It's completely different compared to using the brake with the foot. And, well... it's not simple, but I improved lap by lap.
"I abused this [the rear brake] during the time attack and probably I committed some mistakes during my lap. But, well, the speed is coming back."
He was right, and considering how much of a big style change it is to retrain yourself to use the rear brake in a different way with a different input, Bastianini's Malaysian GP came out as one of the finest weekends by anyone in 2023.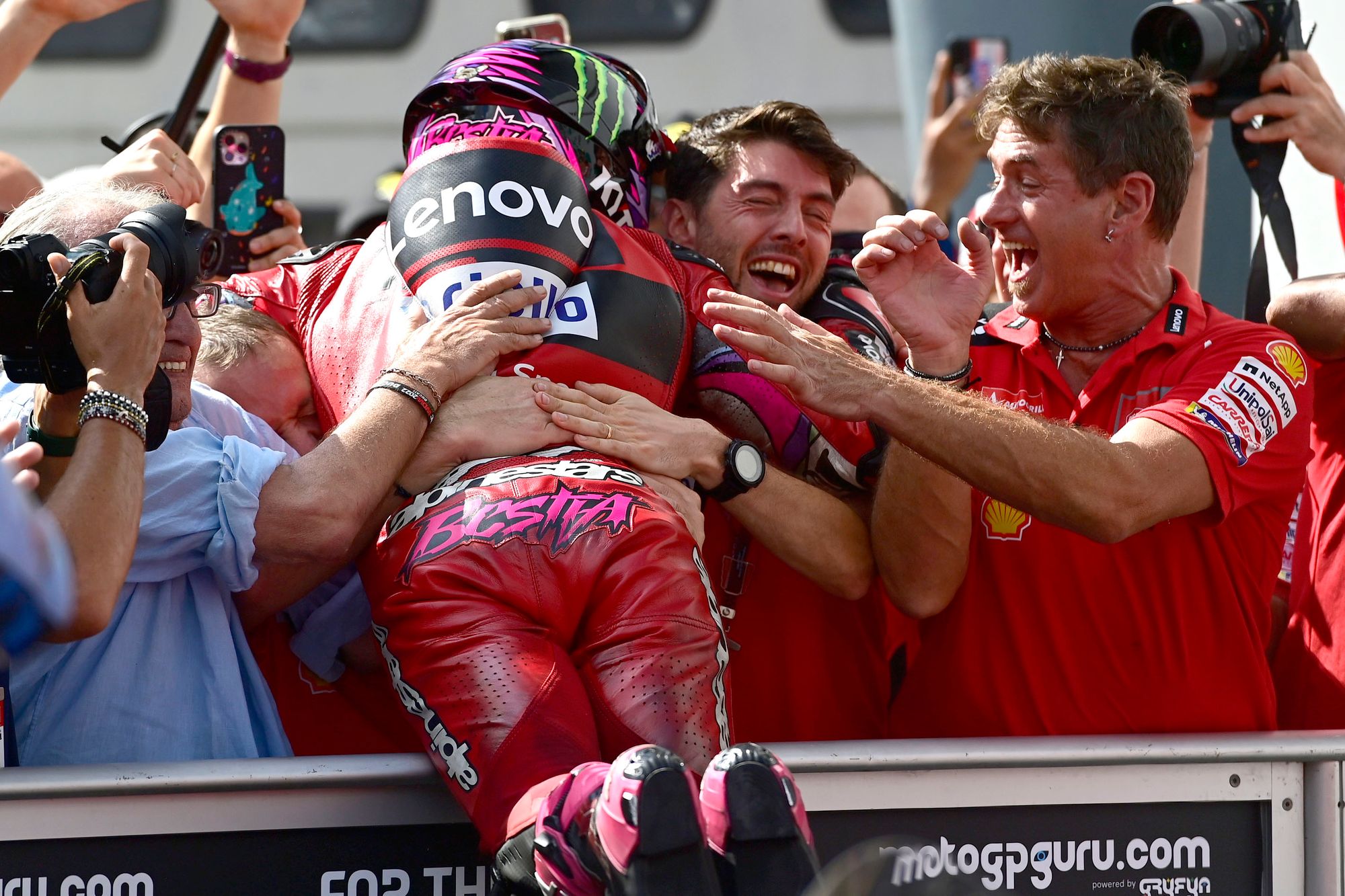 Bastianini was also very strong at Sepang last year, so the particularities of the layout can also be a factor. And while he'd spoken earlier in the weekend about how, even though he's adjusting himself to the bike, he'd like next year's machine to play more to his strengths, it remains to be seen whether the win has changed his view on that - or only emboldened it.
In any case, though, it has been a very timely, very unexpected reminder of why Ducati had promoted him in the first place - and proof that his time in factory red, which risked fizzling out, can yet span many more chapters and include many more peaks.