A relatively off-colour MotoGP sprint at Sepang for championship leader Pecco Bagnaia could've been even worse if factory team-mate Enea Bastianini didn't accept finishing behind him.
Bastianini, who has had a very difficult season in which his lack of fit with the specifics of the Ducati GP23 was compounded by two major spells on the sidelines through injury, had more or less his best showing of the season in the Malaysian Grand Prix sprint.
Having started on the front row, he dropped to as low as sixth in the early stages but picked his way back past the two factory KTMs to establish himself in fourth place.
But while he was around two tenths off Bagnaia every time at the start-finish line after catching up to his team-mate, Bastianini never mounted a serious challenge for third - something Bagnaia appreciated.
"I think he did a really good job, but he started to struggle [like I did], too," said Bagnaia, who felt his big limitation in the race was the front tyre.
"He was behind, he came back, and in the last lap I tried to close everything.
"For sure, he preferred not to take a risk to overtake me in a strange situation, because I think he was faster than me, but to overtake me and maybe risk a crash, or to ruin a result, for sure it was better to do what he did."
Bastianini's initiative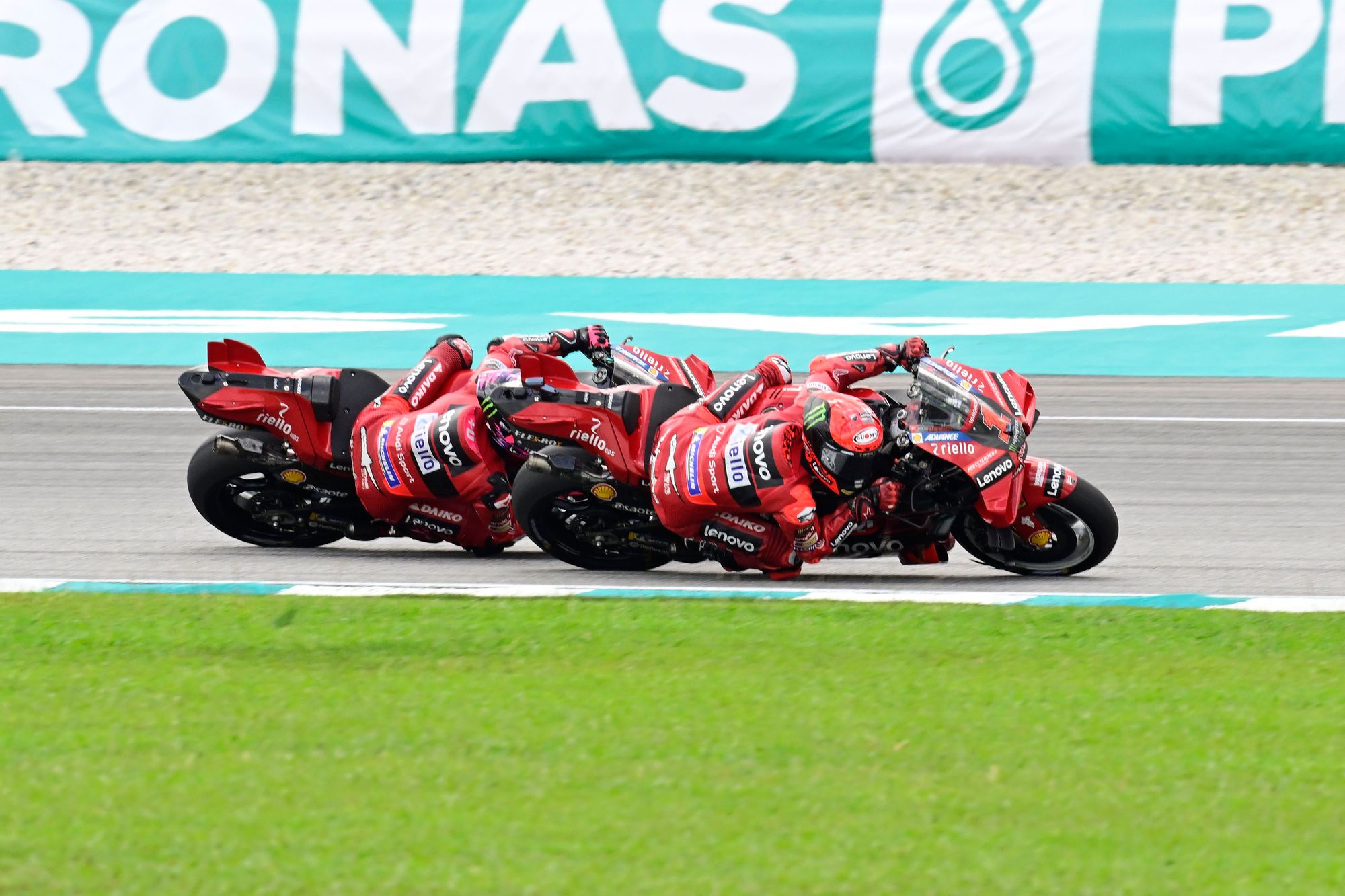 There is no suggestion of Ducati having made an outright order to Bastianini - and this would've been a strange thing to do anyway, considering a Ducati rider is guaranteed to win this year's title and its higher-ups have been pretty consistent on not wanting to put their thumbs on the scales in the battle between works rider Bagnaia and Pramac rider Jorge Martin.
At the same time, Ducati has long emphasised that it expects its riders to race each other differently - leaving more margin - compared to battles against rival bikes.
Bastianini overtook the KTM of Brad Binder on the fourth lap, completing a relatively risk-free Turn 1 outbraking before cementing the position by taking the inside line into Turn 3. But he was fairly aggressive with Binder's team-mate Jack Miller on the next lap, diving down the inside of the fast Turn 6 after a change of direction.
He was in the 1m58s range on that lap, but was soon running in the high-1m59s range or lower, suggesting that he was indeed constrained by Bagnaia's pace.
"When I arrived to Pecco, I took the decision to stay here, because it was better for me, better for him, for the team," Bastianini admitted.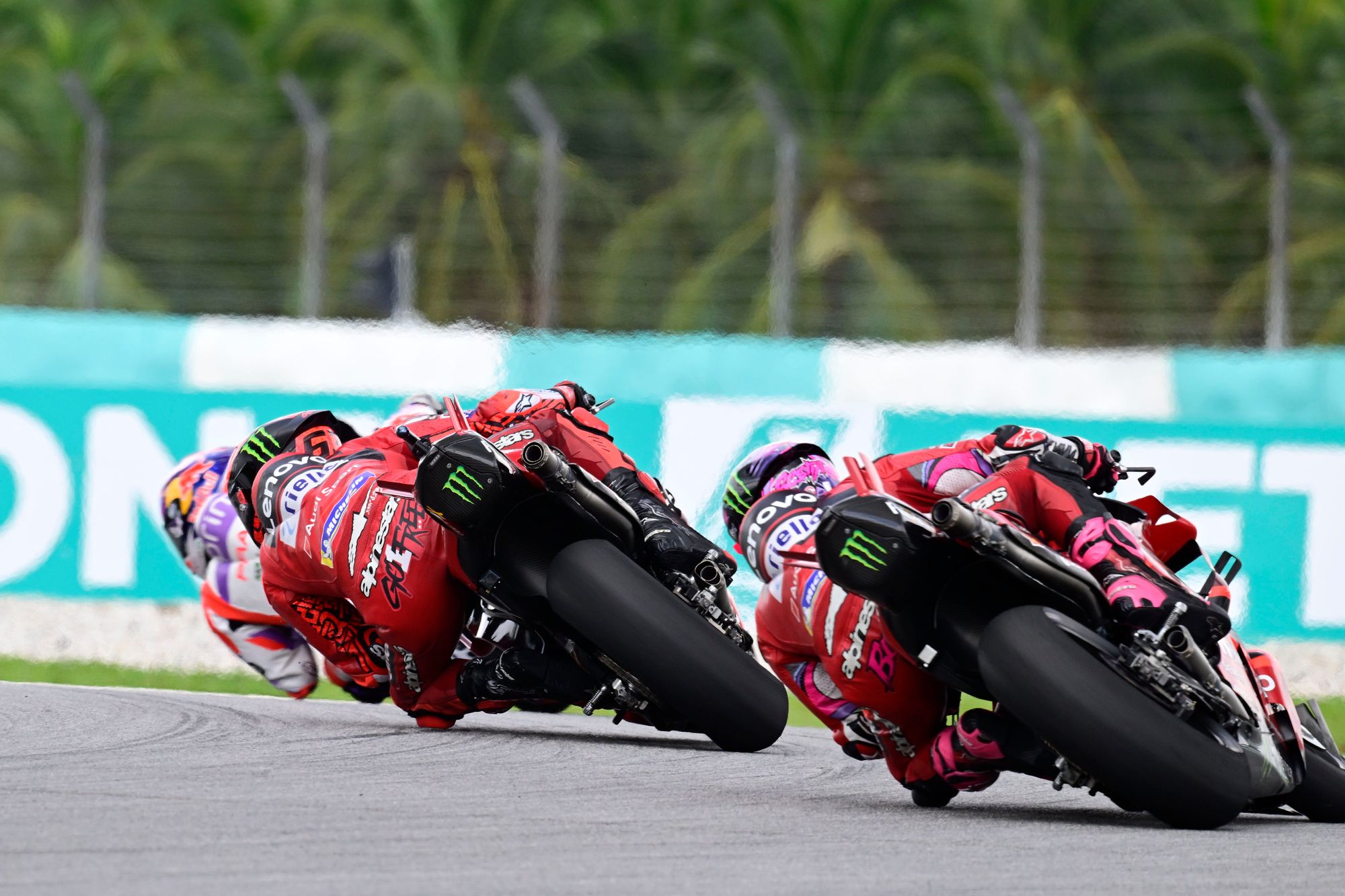 "Also because it was dangerous - the front tyre was critical, I saw a problem also on Pecco's bike, like me.
"For tomorrow we have to resolve a bit this problem because for the long-distance race can be a problem, but maybe will be simple."
Bastianini said Bagnaia's late braking was a factor in making a move too sketchy to go for - although did also liken it to Binder's, who he did overtake.
"Was not my objective for today, to try to go on the podium. Probably I can try to do this tomorrow. It was not a risk to take today."
A business decision?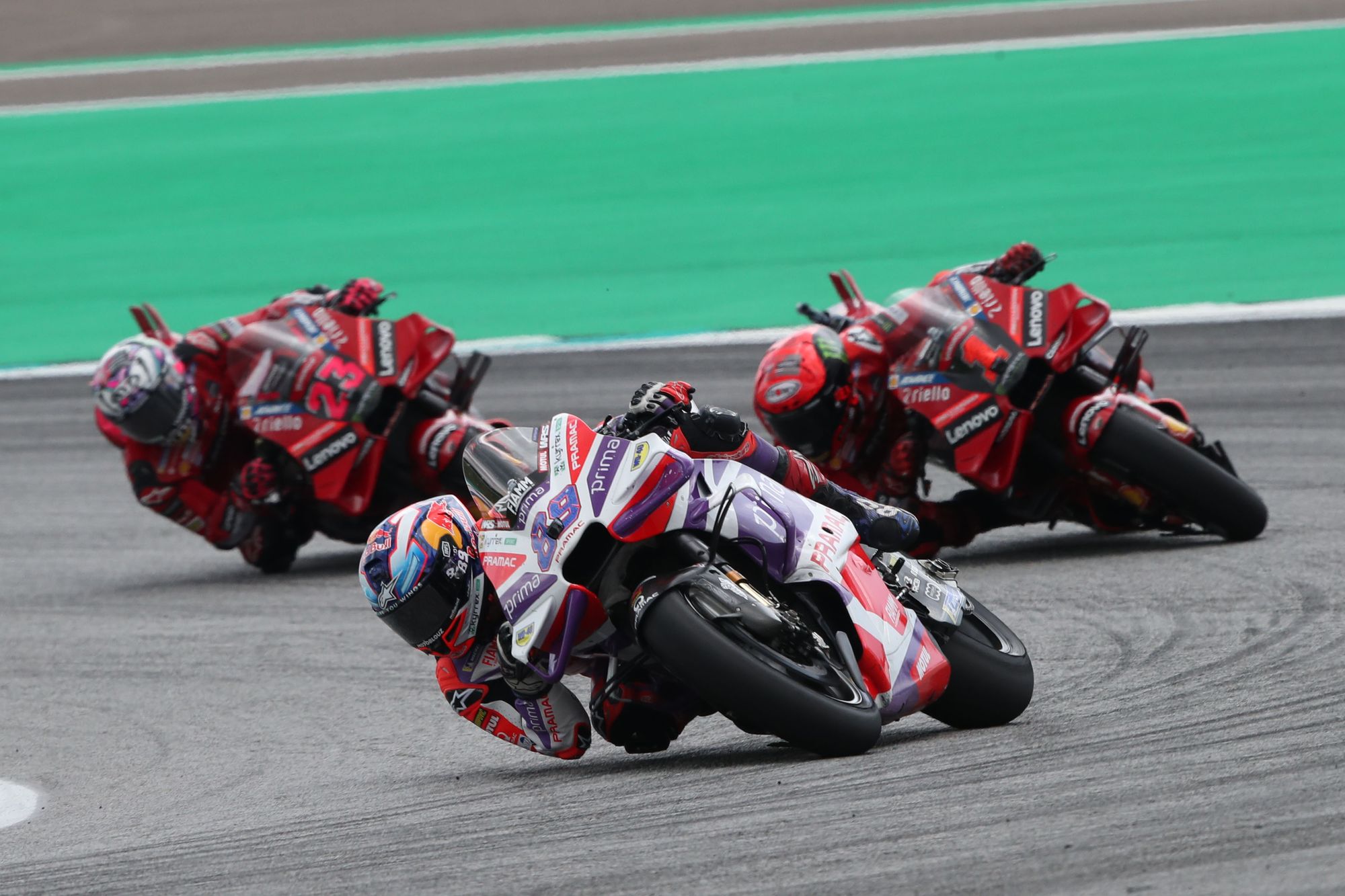 It was clear that Bastianini was markedly more aggressive in hounding Bagnaia for the win in last year's Sepang race, although his situation was different then.
While at that point Bastianini was a satellite rider with a works team seat already in his pocket for 2023, this year he entered Sepang amid what he readily admitted has been a "disaster" season.
And adding to the context was the fact that Ducati sporting director Paolo Ciabatti, despite pointing out that Bastianini's seat next to Bastianini was re-confirmed for 2024 at Misano, acknowledged to MotoGP.com that Martin's form was giving Ducati something to think about regarding a potential seat swap.
Whether the Ducati top brass prefers a Bagnaia title or not - and in all likelihood it probably does, given that would guarantee the marketing privileges of having both the champion and the #1 plate in the works team for another year - Bastianini's thinking was probably more conditioned by what a huge mess any contact would potentially be.
He reiterated to MotoGP.com that was having "some movements" on the front while running in Bagnaia's slipstream that put him off trying an overtake, while also stressing that he was not in a championship battle and that third or fourth today "didn't change nothing".
But he also hinted that he was somewhat returning the favour after Bagnaia had helped him in practice. "Pecco also this morning helped me to do some laps behind him, and I also saw something, and it was good."
The dynamic Bagnaia wants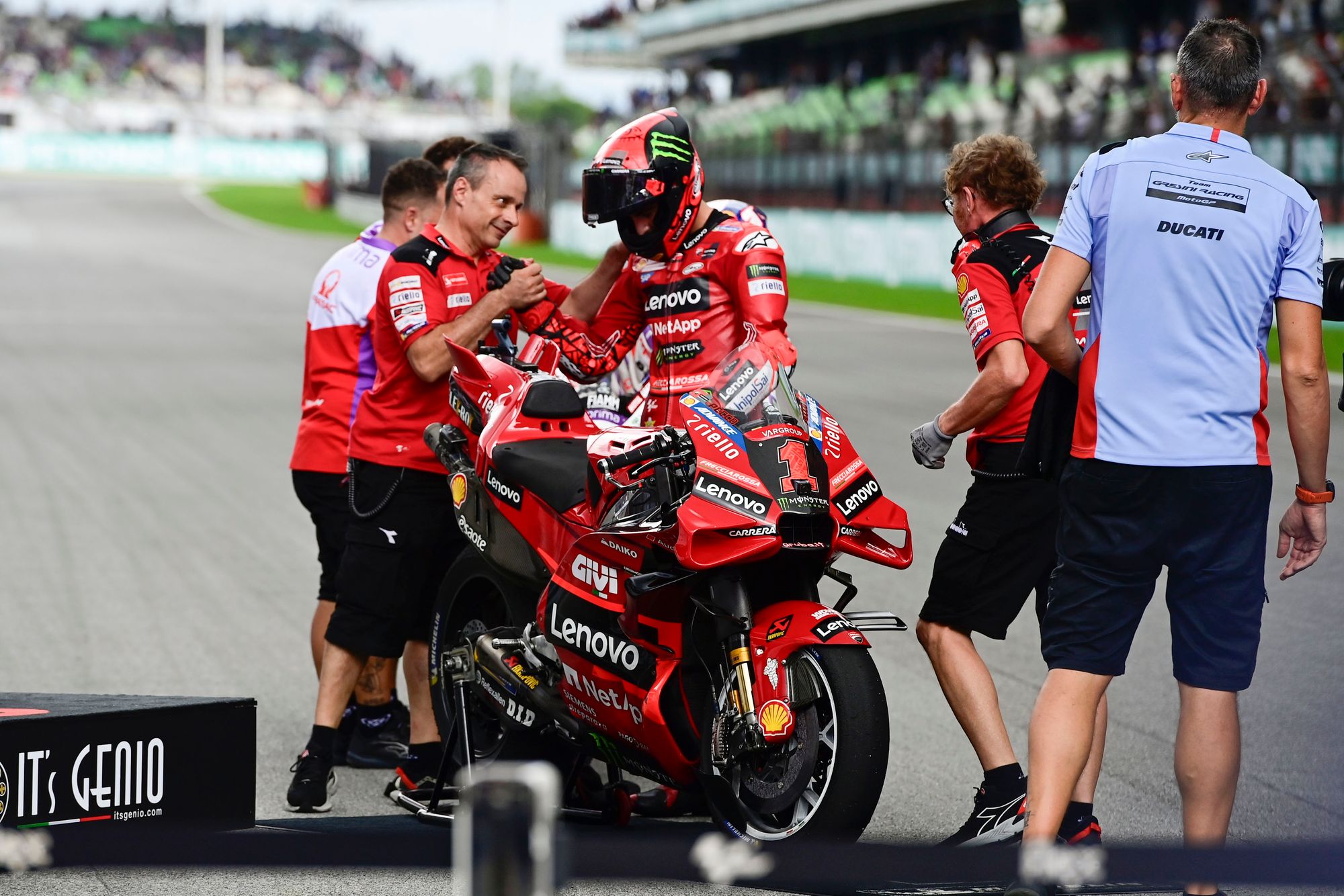 This kind of cooperation is exactly what Bagnaia had hoped for last year ahead of Bastianini's arrival, as he wanted to replicate the same team-mate dynamic as he had had with Miller.
And Bagnaia has been very firm this weekend in believing that Ducati should not swap riders in 2024.
"I already said on Thursday what I feel," he said after the sprint.
"I feel Enea deserves another possibility [chance], for what happened all season. He never had the chance to understand well this bike, then when he was starting to understand something he crashed in Barcelona.
"And considering also the results Jorge is having at Pramac, it's a factory team with different colours. I don't see this change. I think it's better for Enea, and for all the team, too, to remain in the same team. Absolutely Jorge is doing an outstanding job, it's fantastic what he's doing, but I think Enea deserves another possibility."
The Zarco contrast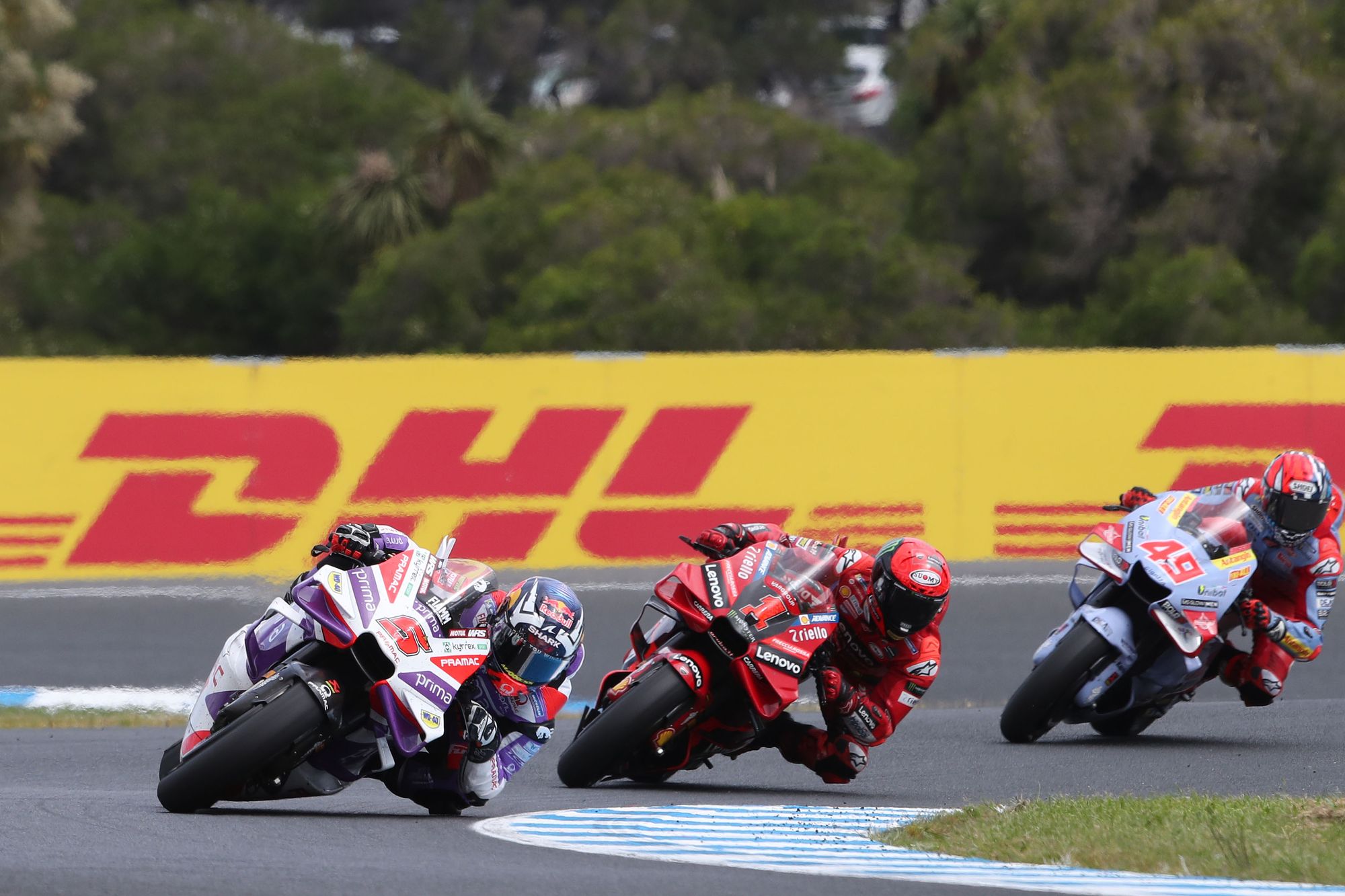 Bastianini's approach to the Sepang sprint creates an inevitable contrast to how Johann Zarco, Martin's Pramac team-mate, raced the Spaniard for the win at Phillip Island.
And certainly it is only fair to hypothesise how that situation would've played out if were Bagnaia and Bastianini, or Bagnaia and Zarco, or Martin and Bastianini.
One factor is that while Bastianini will in any case be part of Ducati's MotoGP family in 2024, Zarco will have left for LCR Honda.
But more pertinently, at Phillip Island a career-first MotoGP win was on the line rather than a third place in a sprint, and Martin's soft rear rubber was toast, to the point where playing rear gunner did not look in the least bit practical for Zarco - even if his race-winning move on Martin was in the end quite forceful.
Because of all this, it is very easy to imagine Zarco deciding to hang back behind Martin should similar circumstances to today's occur.