Marc Marquez says he and Franco Morbidelli both compromised their Malaysian Grand Prix weekends through gamesmanship in the first segment of qualifying.
For Morbidelli, however, the whole situation was just one symptom of a wider trend - that of diminishing on-track respect for one another among the MotoGP grid, with rivals showing little concern for their rivals from the beginning to the end of a race weekend.
After strong speed earlier in the weekend when in time attack mode, Morbidelli spent Saturday's Q1 session jockeying on track with Marquez rather than setting laptimes.
Riding around slowly in tandem as Marquez tried to ensure he gets a tow from the Yamaha rider, with Morbidelli in front wagging his finger at the six-time MotoGP champion, the pair in the end left it too late for to maximise their chance at a fast laptime, only getting one real go each. Morbidelli's final try was only good enough for 15th, while Marquez crashed out in front of him while trying to overtake Augusto Fernandez.
"I thought that it would have not been a wise thing to pull him [along] a second time," Morbidelli explained of his repeated attempts to dodge Marquez's attentions.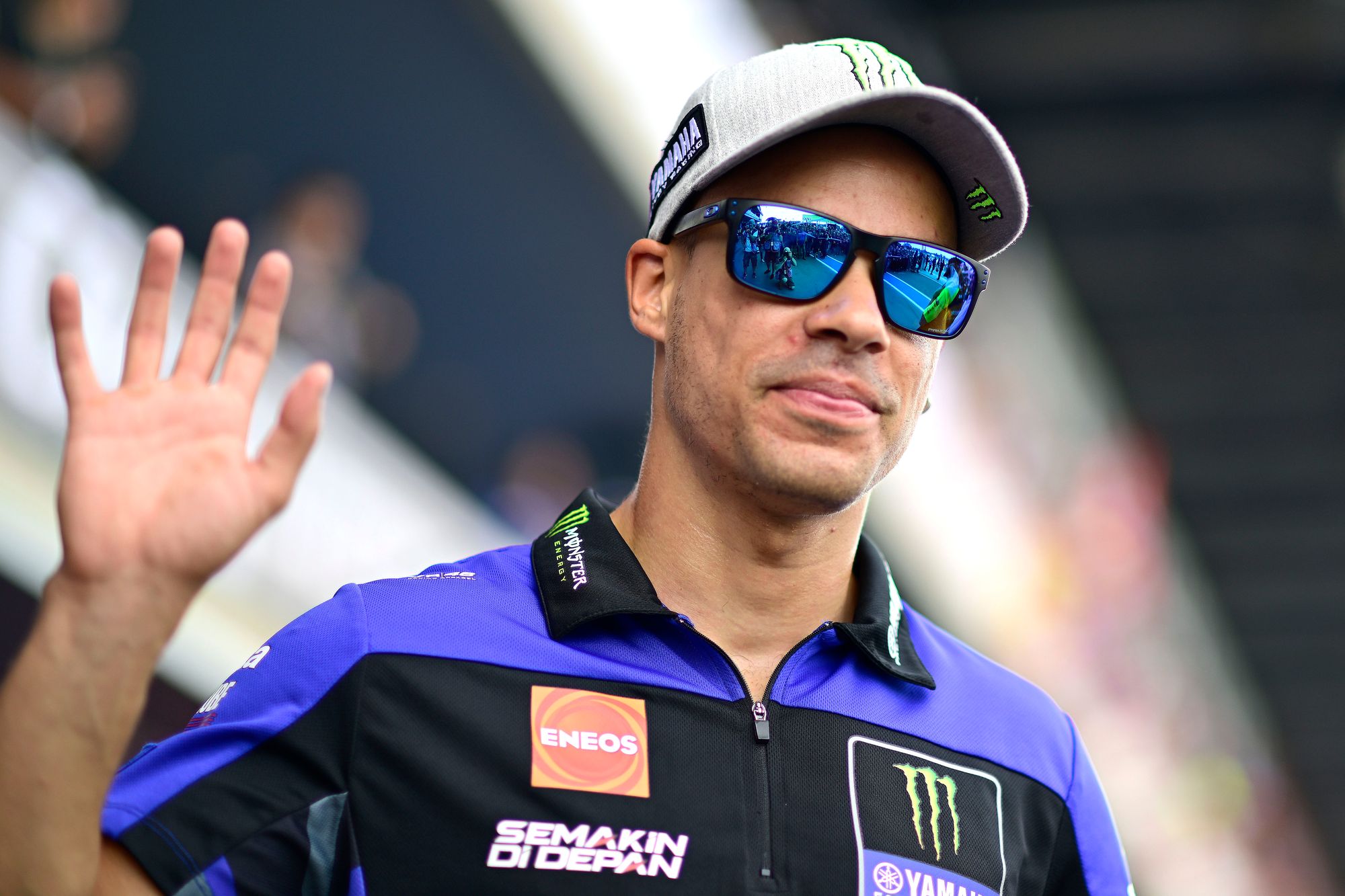 "I pulled him on the first time attack, and I thought that it would be enough, and then on the second time attack I was hoping to get through to Q2 and didn't want to lose a position because of him getting a tow. Usual Q1-Q2 stuff.
"It's a thing that maybe we can think about [regulatory] solutions to avoid this. We could, but at the moment I don't have any."
"We went into that kind of game," Marquez added, "but this happens when you are two riders who right now are in a difficult moment and are not convinced about ourselves.
"He was not pushing, I was not pushing, he was not pushing, I was not pushing, and it was a shame because I had a good rhythm in [Saturday morning's] free practice two.
"But we were not pushing and when I [finally] tried to, he followed me.
"I caught Augusto too early and unfortunately for me he closed the gap in Turn 2. That is normal, he played his game and I accept it. But when I tried to overtake him, I crashed.
"We f***ed [up]! He [Morbidelli] starts in 15th place, we lost the weekend, we f***ed our weekend in qualifying."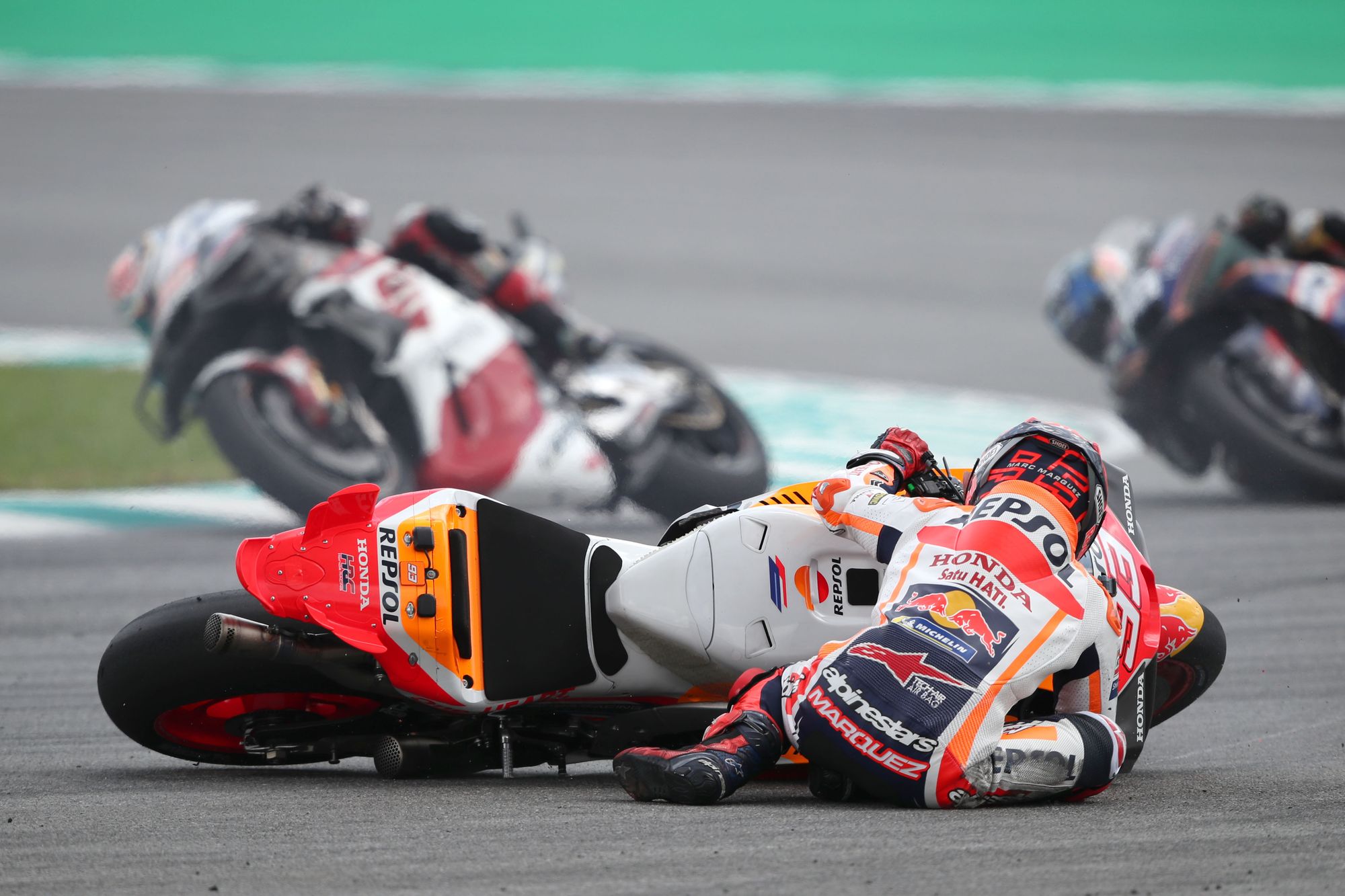 However, while Marquez - who went on to crash out of the sprint, too (pictured above) - might have been quick to laugh off the encounter as just part of the game in modern MotoGP, Morbidelli was as usual more philosophical in his take on the incident, musing that the actions on Saturday of Marquez and on Friday of his team-mate Fabio Quartararo both highlighted the nature of modern MotoGP.
On the receiving end of an outburst from the Frenchman after distracting him from a flying lap in practice - but not receiving any sanction from the stewards thanks to his clear off-line positioning at the time - Morbidelli felt he had done nothing wrong and suggested Quartararo's reaction was an informative one.
"Back in the day," he explained, "the non-respect zone, the non-respect moments in MotoGP were maybe the last three laps of the race. Now that amount of time has spread out throughout the whole weekend basically. It's from the first lap of the weekend to the last lap of the weekend.
"Also yesterday with Fabio, it was a lap that he wasn't improving, he was already in Q2, and I was out of the way because I was on the kerb, but his reaction was big-time.
"This means that there is a lot of pressure and there is no respect whatsoever for the opponent. The opponent is the enemy. Grrrrr! This is how it is nowadays in MotoGP, this is how it works.
"This is how the game is, and I don't make the rules or control the behaviour of the people. This is how naturally the game went, and you've got to play the game according to how it is.
"Outside of the track, there is not that much [of it], and riders are good to keep it cool. But I can assure you that on the track, from the first lap of Friday, it's a strong game."