Alex Marquez has unexpectedly launched himself into the middle of the MotoGP championship fight at this weekend's Malaysian Grand Prix, with the Gresini Racing Ducati racer demonstrating 'unbelievable' pace to take victory in Saturday's sprint race at Sepang despite the best efforts of both Jorge Martin and Pecco Bagnaia.
Marquez was able to deliver a surprise performance against the ultra-fast pace that both Martin and Bagnaia hinted at ahead of the weekend, and was able to make the most of his aggressive style to not just dismiss the pair but to - as he admitted afterwards - instil just enough fear into them to leave him in peace as he rode away to his second sprint win of the season.
"It's really difficult because always we are on the limit," he said after the sprint. "So we never have margin when you overtake somebody.
"So, I just tried to overtake them in corners that I know if I make a mistake or something I can just release the brakes and go a little bit wide, like in Turn 15 when I tried to overtake Pecco.
"And in that corner I was able maybe to go in and stop the bike on the inside, but it was too risky for the lap that it was. So, I preferred to go a little bit straight [and avoid him].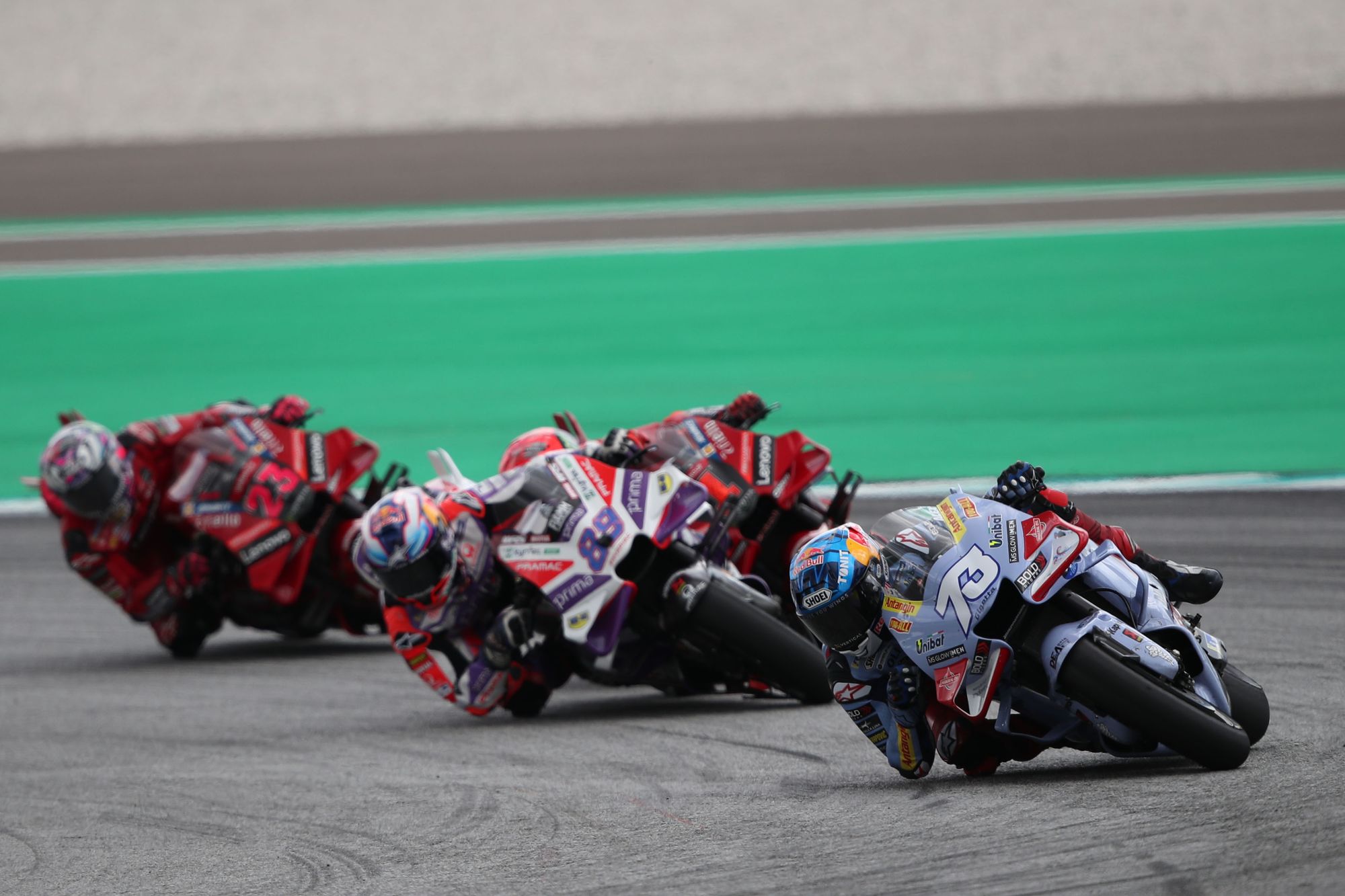 "It's not easy because I was on the other side playing for a championship in Moto3 and Moto2, and it's not nice that an 'outsider' comes and brakes a little bit [hard]."
And while he might be establishing himself as a sprint race specialist so far this year, his rivals fully expect that he'll interject himself into Sunday's main event as well, with reigning champion Bagnaia adamant that right now, he believes Marquez to be faster than either him or Martin (who now sits only 11 points behind him in the title fight).
"At the moment, Alex is faster than us both," he said after the sprint. "So, let's see what will happen. He has very constant pace, he's very good on braking and he's doing a really good job. He's got nothing to lose, and today he demonstrated he's very fast.
"So, let's see tomorrow. But I think we have a good chance because our pace today was not the one we demonstrated [in practice]. It was something that happened that didn't help me to understand the situation, but I think my pace could have been like his one. I think he was able to win the same, but I think I can be more close to him."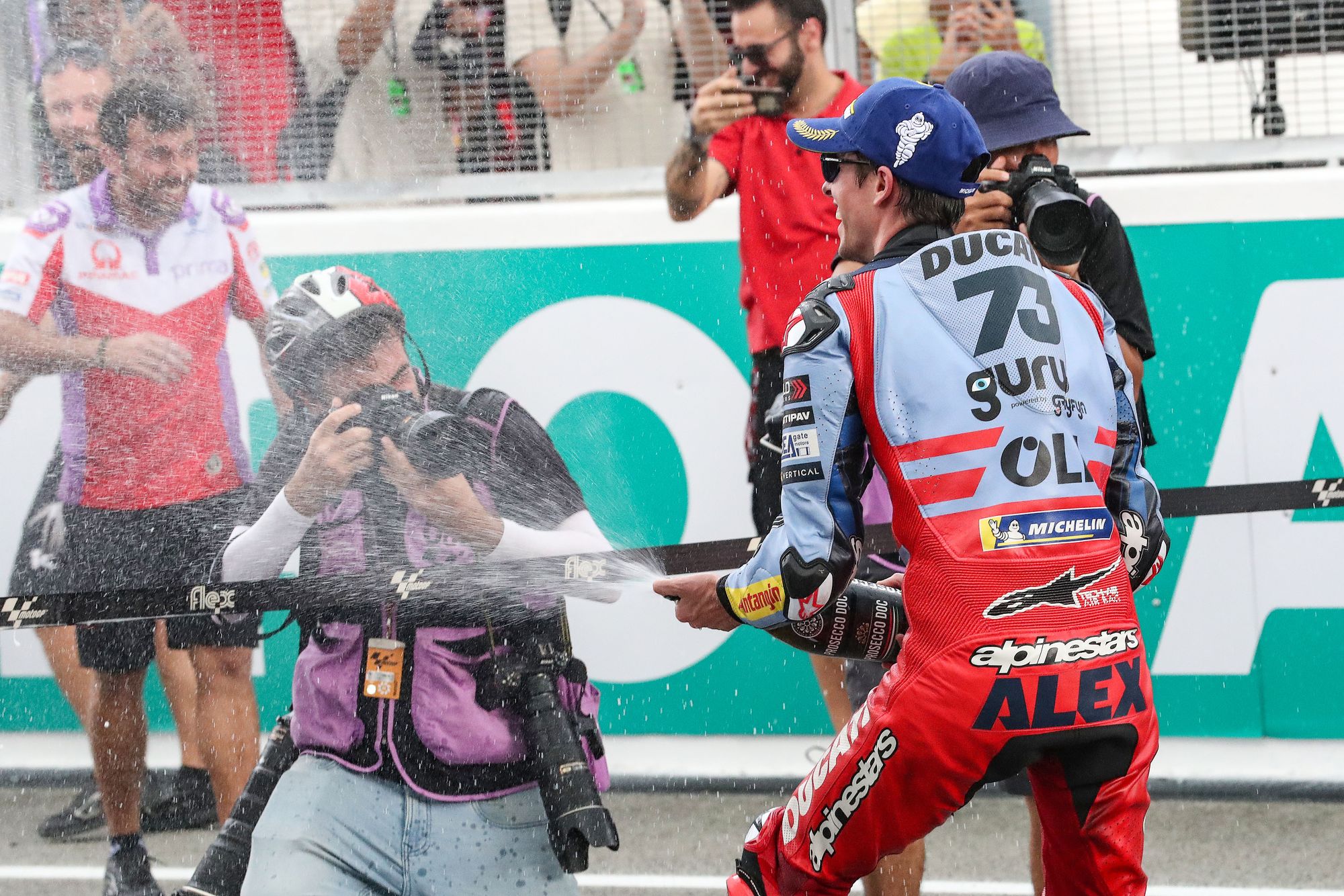 "Alex was unbelievably fast today," echoed Martin, "I couldn't even follow him. When they [Alex and Pecco] fight, I arrived to Pecco and I tried the move and it went well. And afterwards I tried to recover to Alex but he was too fast.
"The important thing was we were faster than Pecco. We need to understand what Alex has on his bike because with the same bike and making such a difference, it's difficult to believe. But he's riding so good."
However, while Martin should in theory have been pleased to have taken even a few points from his big rival Bagnaia by finishing one place ahead of him, the Spaniard admitted afterwards that he was still not delighted to have found someone faster than him considering he believed that the race represented a chance to make it six in a row and to close the gap even more.
"It's not about the championship" he insisted. "I thought I could win today. When I overtook Alex, because he did a mistake, he was then kind of aggressive. But I thought I was faster than Pecco at that point, and I was. So, I thought I was going to overtake him and pull away.
"But finally Alex had something more today. He was faster than us. But I was able to recover, starting from the beginning my front pressure went crazy, so high, because we expected to be first and second and I was fourth, and everything was so complicated.
"And when I got used to that riding in a different way, I was able to recover the gap to Pecco and pull away. That was the most important thing. I thought he was going to stay so close to me and he didn't. So, I am happy about this and let's see tomorrow if we can also make the gap."