Ducati MotoGP factory rider Enea Bastianini took an emphatic victory in the Malaysian Grand Prix at Sepang amid speculation over his status for 2024.
On a weekend in which Ducati sporting director Paolo Ciabatti had admitted that the factory would have to at least consider a potential swap between Bastianini and satellite team Pramac's title hopeful Jorge Martin, Bastianini delivered his best performance of the season by a humongous margin.
Having prior to Sepang not finished higher than eighth in any grand prix race during his injury-ravaged 2023 campaign, and qualified last for the previous round at Buriram, Bastianini - adapting to a thumb-operated rear brake this weekend instead of a foot-operated one - took the lead early on and flashed his trademark tyre conservation.
Behind him, championship leader Pecco Bagnaia fought off his main rival Martin to head into the final two rounds of the season with a 14-point lead.
The three front-row starters (Bagnaia, Martin and Bastianini) were effectively three abreast coming into the first corner, and as Martin's move to take the inside line took both him and Bagnaia wide, the door was opened for Bastianini to secure the lead - and for sprint winner Alex Marquez to move up to second.
That duo then immediately set about running a searing hot pace, with Marquez even dipping below 1m59s - despite the pre-race prediction from Bagnaia that, because of the need to manage tyres, nobody would even run a 1m59.5s.
But despite that lap from Marquez it was Bastianini who particularly asserted himself in the early going. Once the pair had broken away from their pursuers, it took a couple more super-strong laptimes for the Italian to establish a buffer of around a second over Marquez.
Behind them, the championship rivals had had a brief but feisty duel. Martin first sent it down the inside of Bagnaia at the penultimate corner on the third lap, but couldn't close the line, allowing Bagnaia to retake the spot on corner exit.
Martin then attacked at Turn 4, and nearly completed the move, only for Bagnaia to bravely hang his Ducati around the outside of the long and sweeping Turn 5.
Bagnaia shook off Martin pretty swiftly after that, as it became clear the Pramac man simply didn't have the pace to run with him.
However, Bagnaia himself struggled to make any meaningful inroads on Marquez - and Marquez himself had no answer to the pace Bastianini was setting in the lead.
It meant a fairly processional end to the race, with Bastianini taking his fifth win (and his first in factory Ducati colours) by 1.5s over Marquez, and Bagnaia another two tenths down in third.
Martin ended up a lonely fourth, seven seconds behind Bagnaia but four seconds clear of the charging Fabio Quartararo - who had worked his way past first Jack Miller (KTM) and then Marco Bezzecchi (VR46 Ducati).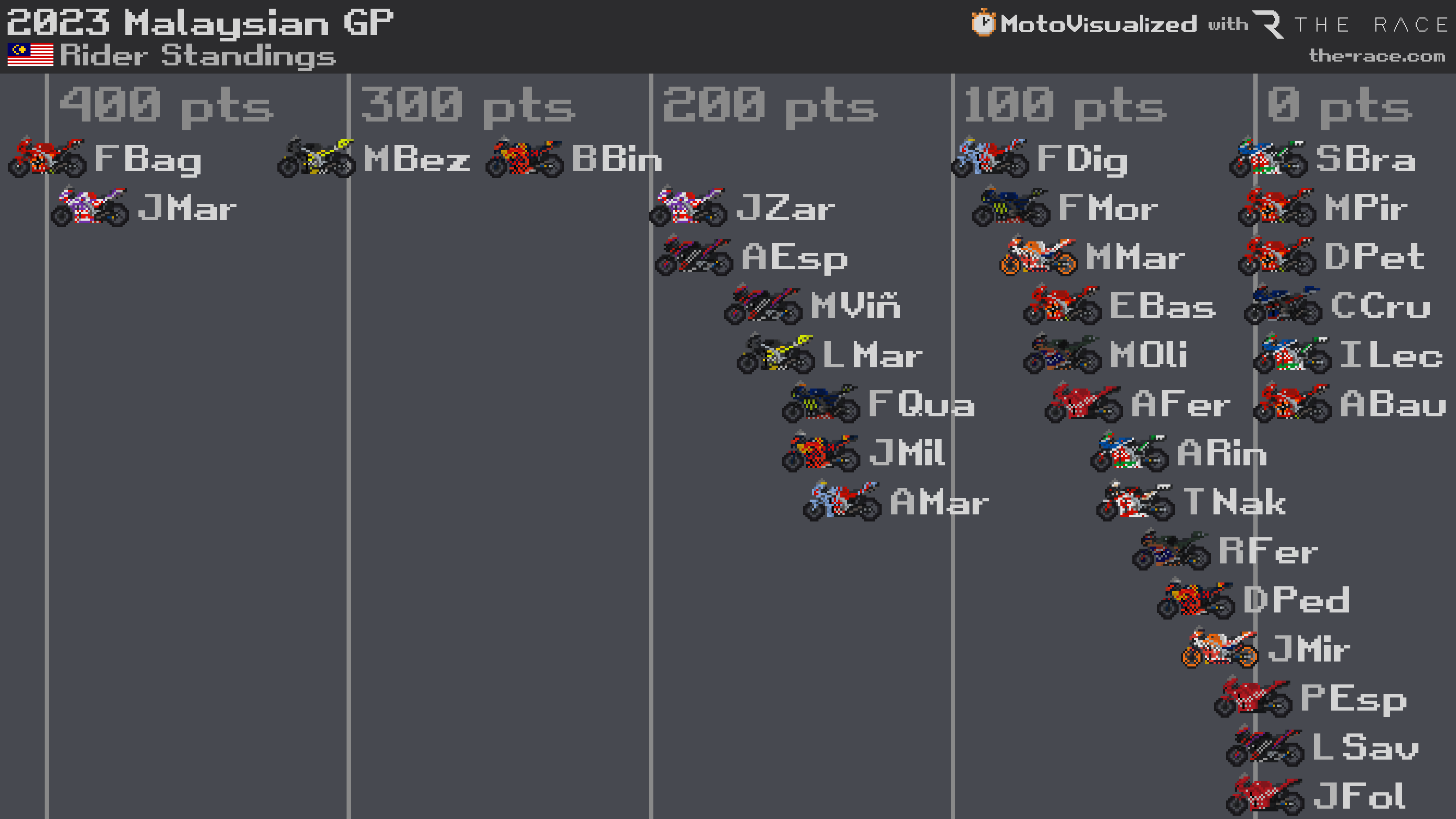 Bezzecchi's sixth place - with the Yamahas of Quartararo and Franco Morbidelli either side of him - marked his official exit from mathematical title contention.
Miller fought off Gresini Ducati's Fabio Di Giannantonio for ninth, while Luca Marini (VR46 Ducati) made it seven Ducatis in the top 10.
Maverick Vinales in 11th place was Aprilia's sole rider standing at the chequered flag, as works team-mate Aleix Espargaro and RNF Aprilia rider Miguel Oliveira both crashed out, while Oliveira's team-mate Raul Fernandez exited with a reported technical issue.
The Honda contingent was led by Marc Marquez in a muted 13th place, amid crashes for team-mate Joan Mir and LCR Honda's Takaaki Nakagami.
The only other rider to crash was Brad Binder, dropping his KTM while running ninth after a messy first lap.
Ducati wildcard Alvaro Bautista placed only 17th in the end, the World Superbike champion finishing 2.6s behind his fellow WSBK regular Iker Lecuona (representing LCR Honda) but over 53 seconds behind the winner.
Race Results
| Pos | Name | Car | Laps | Laps Led | Total Time | Fastest Lap | Pitstops | Pts |
| --- | --- | --- | --- | --- | --- | --- | --- | --- |
| 1 | Enea Bastianini | Ducati | 20 | 20 | 39m59.137s | 1m59.061s | 0 | 31 |
| 2 | Alex Marquez | Ducati | 20 | 0 | +1.535s | 1m58.979s | 0 | 32 |
| 3 | Francesco Bagnaia | Ducati | 20 | 0 | +3.562s | 1m59.259s | 0 | 23 |
| 4 | Jorge Martin | Ducati | 20 | 0 | +10.526s | 1m59.510s | 0 | 22 |
| 5 | Fabio Quartararo | Yamaha | 20 | 0 | +15.000s | 1m59.850s | 0 | 11 |
| 6 | Marco Bezzecchi | Ducati | 20 | 0 | +16.946s | 1m59.646s | 0 | 13 |
| 7 | Franco Morbidelli | Yamaha | 20 | 0 | +18.553s | 1m59.631s | 0 | 9 |
| 8 | Jack Miller | KTM | 20 | 0 | +19.204s | 1m59.684s | 0 | 12 |
| 9 | Fabio Di Giannantonio | Ducati | 20 | 0 | +19.399s | 1m59.737s | 0 | 7 |
| 10 | Luca Marini | Ducati | 20 | 0 | +19.740s | 1m59.965s | 0 | 7 |
| 11 | Maverick Viñales | Aprilia | 20 | 0 | +21.189s | 2m00.089s | 0 | 5 |
| 12 | Johann Zarco | Ducati | 20 | 0 | +23.598s | 1m59.975s | 0 | 6 |
| 13 | Marc Marquez | Honda | 20 | 0 | +27.079s | 2m00.365s | 0 | 3 |
| 14 | Augusto Fernandez | KTM | 20 | 0 | +28.940s | 2m00.467s | 0 | 2 |
| 15 | Pol Espargaró | KTM | 20 | 0 | +29.849s | 2m00.211s | 0 | 1 |
| 16 | Iker Lecuona | Honda | 20 | 0 | +50.960s | 2m01.029s | 0 | 0 |
| 17 | Alvaro Bautista | Ducati | 20 | 0 | +53.564s | 2m01.608s | 0 | 0 |
| 18 | Takaaki Nakagami | Honda | 20 | 0 | +42.162s | 2m00.538s | 0 | 0 |
| | Brad Binder | KTM | 11 | 0 | DNF | 1m59.558s | 0 | 5 |
| | Aleix Espargaró | Aprilia | 8 | 0 | DNF | 1m59.970s | 0 | 0 |
| | Raul Fernandez | Aprilia | 6 | 0 | DNF | 2m00.298s | 0 | 0 |
| | Miguel Oliveira | Aprilia | 5 | 0 | DNF | 2m00.410s | 0 | 0 |
| | Joan Mir | Honda | 4 | 0 | DNF | 2m00.070s | 0 | 0 |