The risk of a championship-deciding penalty for tyre pressure offences in MotoGP has risen further with Pecco Bagnaia receiving his first warning of the season after the Malaysian Grand Prix at Sepang.
Bagnaia had been managing a higher-than-preferred front tyre pressure during the previous day's sprint, although he made it clear he did not think this was the main culprit behind his relatively muted run to third then.
But whether he and his Ducati crew elected for a different starting pressure on Sunday or not, it won't have helped that Bagnaia spent the vast majority of the race in relative clean air - which is when tyre pressures are less likely to rise. He consolidated third place early on but never got particularly close to the leading duo Enea Bastianini and Alex Marquez.
That will have made it harder for him to keep the front tyre pressure above the minimum for the required 50% of the race distance - and it means that any offence over the next two rounds will yield a time penalty, initially of three seconds for a next offence.
Bagnaia was among five riders to be warned for tyre pressure breaches after the Malaysian GP, with the list also including his works team-mate Enea Bastianini - an unsurprising outcome, given Bastianini was in the lead from the first corner to the chequered flag.
Title rival Jorge Martin, already in that same situation since Buriram after receiving his first warning after his Thailand Grand Prix win, avoided a breach this time.
Martin, however, was limited in a different way. He had what he described as a "complete disaster" en route to fourth place, with a combination of a spiking front tyre temperature and pressure that left him "crashing in all the corners" six laps in.
Now, for both Martin and Bagnaia, the next infraction will mean a three-second penalty, with six- and 12-second penalties after that.
Told of Bagnaia's warning and them drawing level in that regard, Martin said: "It's perfect. I think from my side I can risk. I don't care to finish fourth with a good pressure, I prefer to battle for victory with a low pressure.
"Three seconds is not that much. Today I don't know exactly the distance [between bikes], but you can finish on the podium, even if you get the penalty.
"I don't care if I finish second with one point to Pecco or 80 so I will take a risk in the next races and push."
The pair are 14 points apart going into the final two rounds after Bagnaia beat Martin to third on Sunday.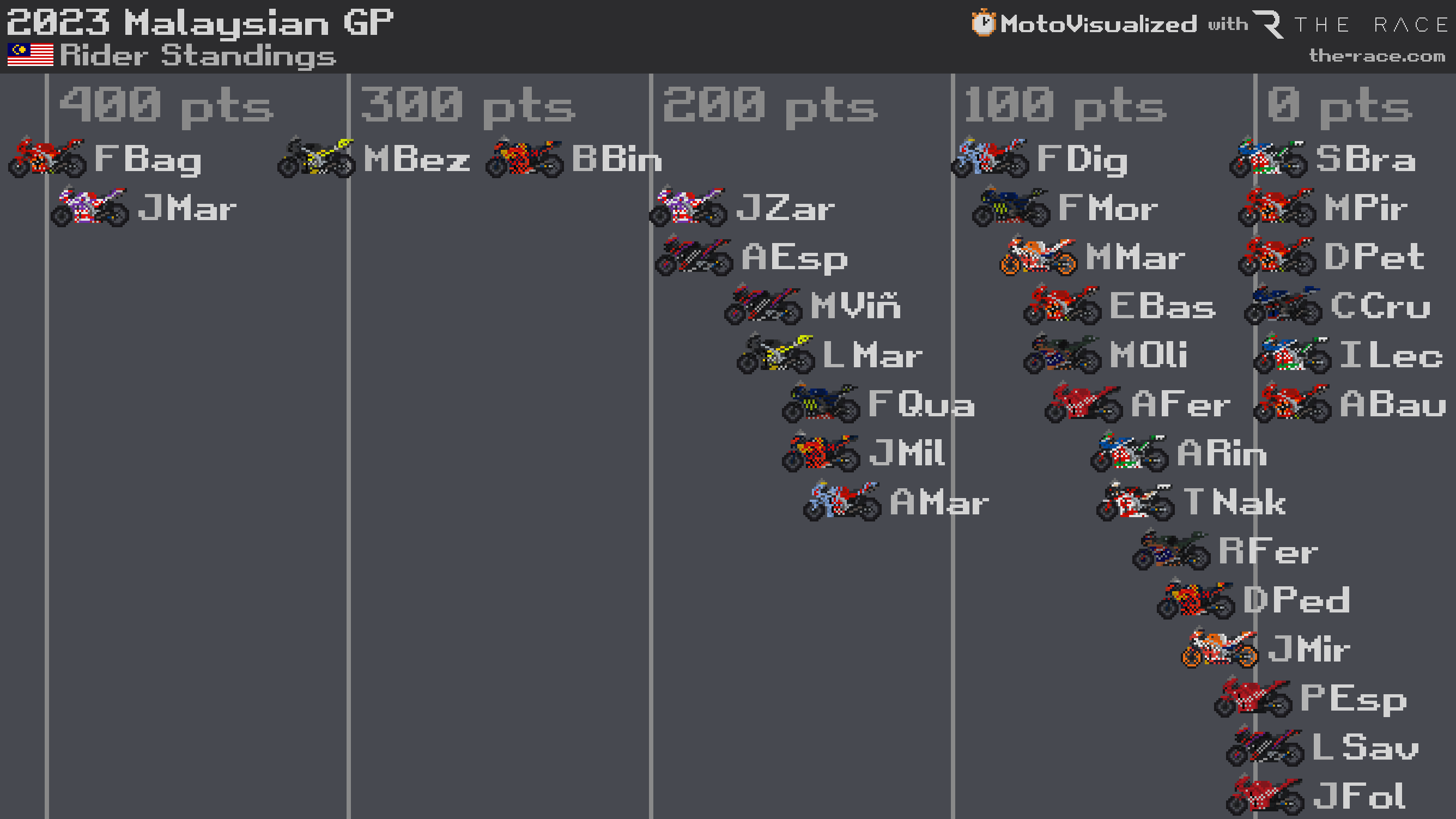 Beyond Bastianini and Bagnaia, there were also warnings for VR46 Ducati rider Luca Marini, LCR Honda stand-in Iker Lecuona and Ducati wildcard Alvaro Bautista.
Marini's warning is perhaps the surprising one - as the Italian largely spent the race battling in the pack en route to 10th place.