This weekend's Malaysian Grand Prix at Sepang sent a dire warning about the 2024 MotoGP season according to some of the championship's frontrunners.
If that warning is not heeded before the start of next year, the championship risks descending into farce as riders are disqualified left, right and centre for something that's largely out of their control.
In Sunday's race five riders (including race winner Enea Bastianini and reigning world champion Pecco Bagnaia) were handed warnings for being under Michelin's minimum front tyre pressure, adding their names to a roster of now 15 riders racing with such warnings hanging over them.
For now, those warnings mean they face an escalating series of time penalties for breaching the rule again in future races. It's bad enough that this could decide Bagnaia and Jorge Martin's title fight given both are on warnings right now.
Under 2024's rules all 15 of them would've been disqualified altogether from the races where they incurred the first warning.
The controversial rules on minimum pressures were forced through earlier this year by control tyre manufacturer Michelin against the objections of teams and, in particular, riders.
Michelin claimed that some teams were starting races on deliberately low pressure, in an attempt to cope with the spike in pressure that running behind another rider causes, creating a potentially dangerous situation that risked tyres failing at high speed.
However, riders claim that the danger posed by running too high a pressure (a lack of front end feeling making them more susceptible to crashes) is much greater than running them too low, especially given the lack of citable cases where too low a pressure has caused a dramatic and dangerous failure.
The strategy is now simple: teams are forced to either ensure they start with a pressure high enough that it will rapidly increase to above Michelin's mandatory limit of 1.87 bar if they expect to have clear air in front of them, but to risk a crash by being too high, or to gamble on going lower and hope to find someone to follow to cause a sufficient tyre pressure spike even while knowing that a rising pressure will leave them unable to pass anyway.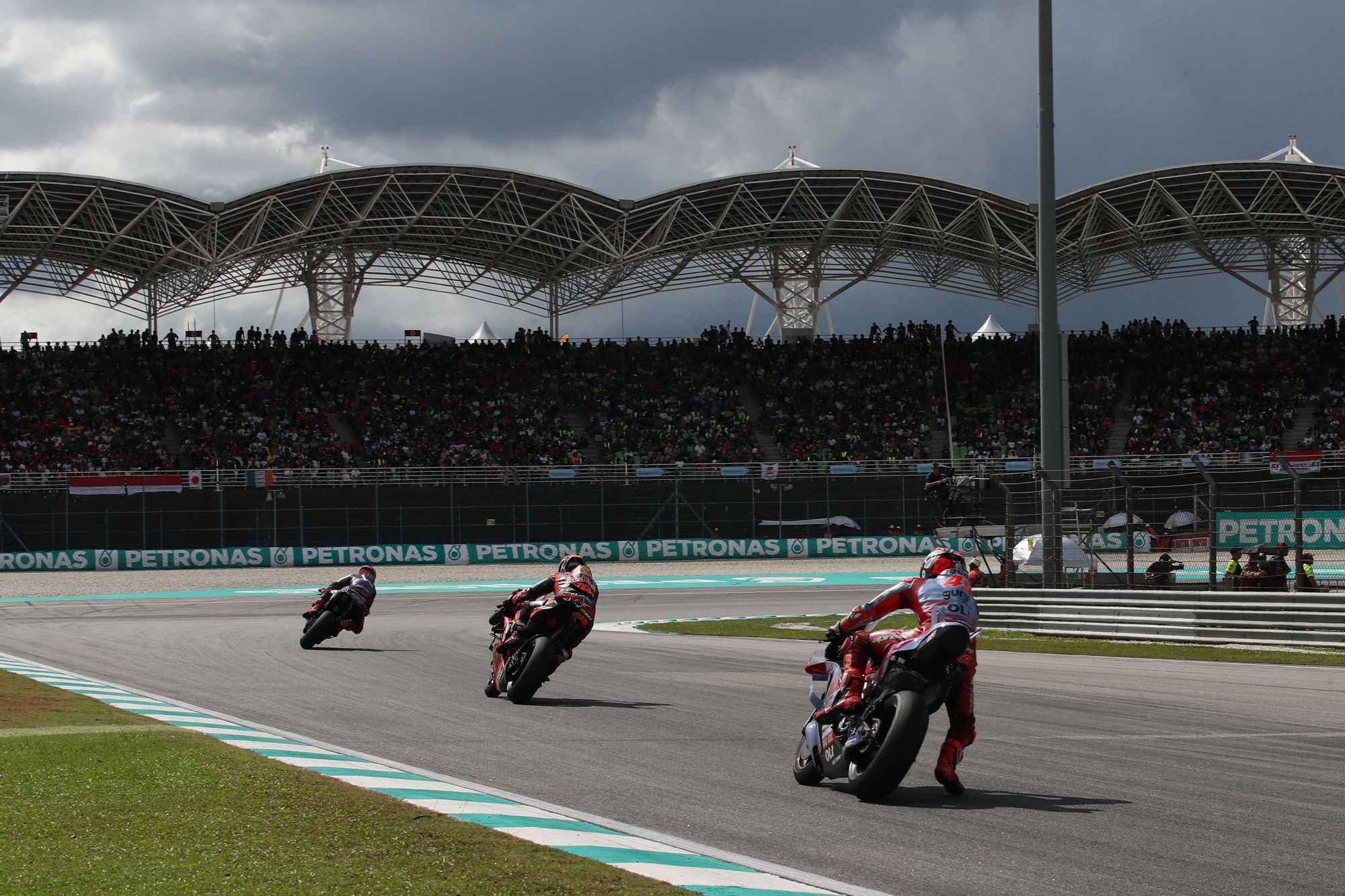 And the end result is abundantly clear, too: processional races like we saw on Sunday at Sepang, with the top five covered by 15 seconds and with only a single change in position among them once the race settled down after the opening laps.
"I hate this rule," factory Aprilia rider Aleix Espargaro told the media after the race. "It's going to ruin this championship."
Right now, it's hard to argue that he's wrong, because we face at least another year of this situation thanks to Michelin's slow work in developing a new tyre that can cope with the added stress produced by the technical innovations MotoGP teams have introduced since the last modification of front tyre design.
Aerodynamics and ride height devices have made the series a very different one since Michelin returned as the control tyre manufacturer in 2016 - but its technology hasn't kept up with the changes.
It's been working on a new front tyre since 2019. It's now 2023 - and we're potentially going to have to wait at least another full year before we see it.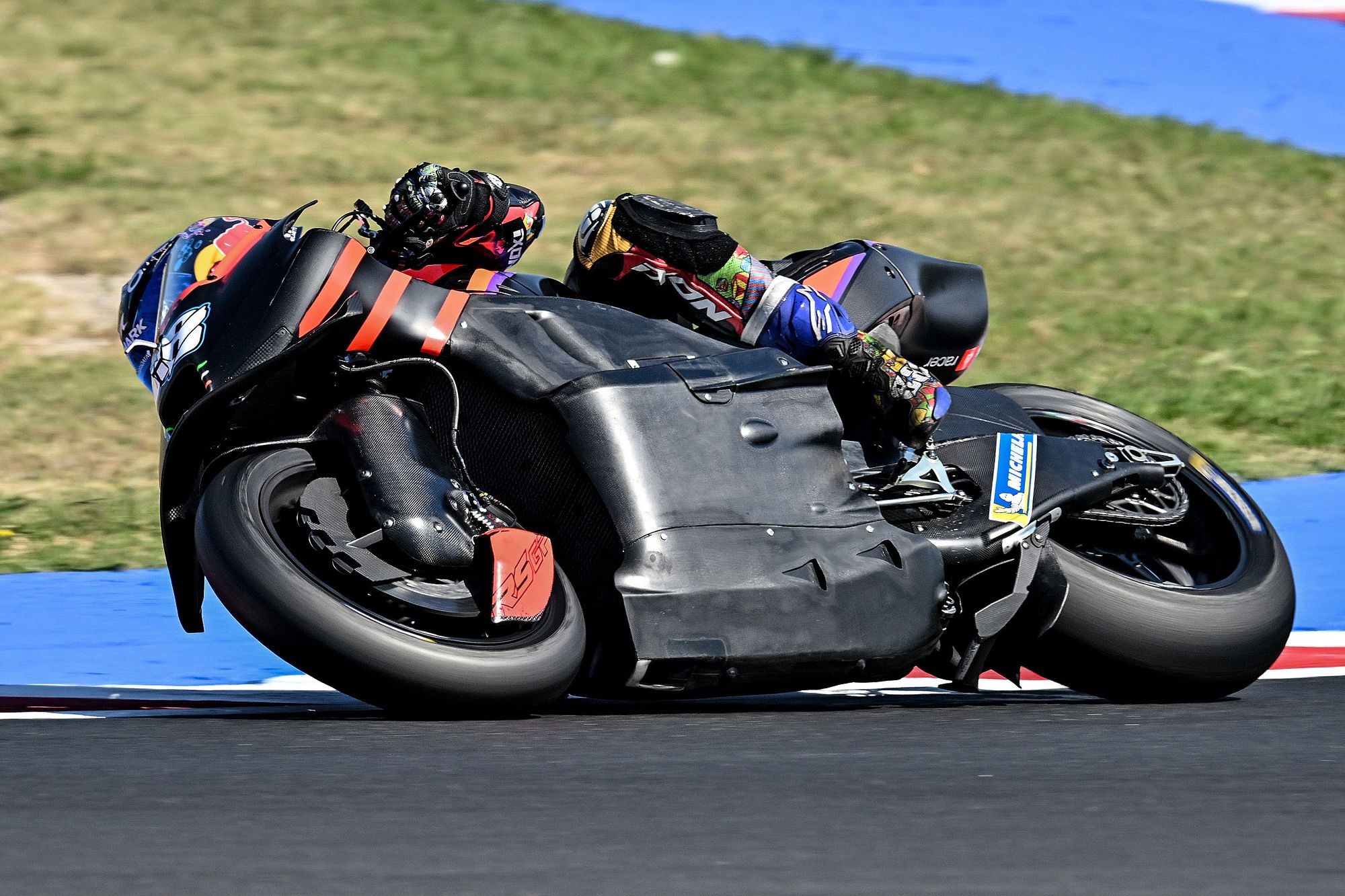 Of course, the blame for that doesn't all lay with Michelin. The COVID pandemic undoubtedly derailed development, as did series promoter Dorna's decision to cut testing time to less than ever before. That's compounded by riders who now need to use their meagre 10 days a year of testing time to work on their bikes rather than on Michelin's new designs. It has left MotoGP, Michelin and the riders stuck.
And, honestly it's hard to put the blame for this mess we find ourselves in on anyone but Dorna - because it seems that in this instance it's forgotten the fundamental point of why we go racing: to entertain people.
Completely beholden to the championship's five manufacturers when it comes to writing the rules, it's got almost no ability to do what needs to be done and force through a ban on ride height devices and a severe limitation on the amount of aerodynamics that can be fitted to a bike.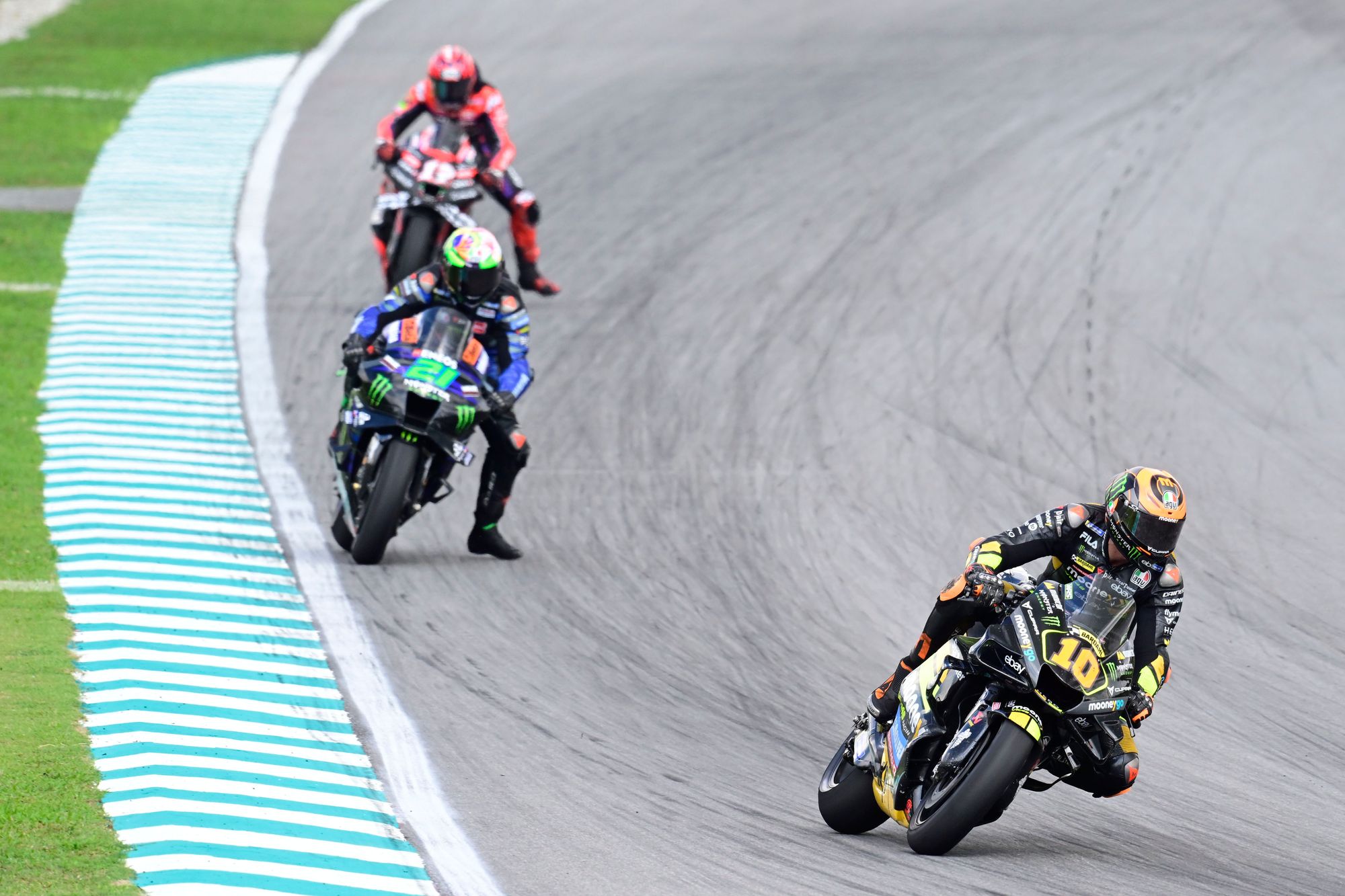 Both are largely irrelevant to road bike development and, in the case of aero, a black hole of money at a time when teams are trying to cut costs. The series' European teams in particular have essentially been allowed to write their own rule book - and the result, as was predicted time and time again, has been the F1-ification of MotoGP.
However, that's not going to change for 2024 - but with the potential for a quarter of the grid to be disqualified every weekend next season if there are as many tyre pressure infractions as we've seen lately, there needs to be something introduced right away to try to limit the damage to the sporting spectacle that the championship faces.
According to the riders (who insist that they're simply ignored by the championship's bosses at every turn), there's an immediate solution: lowering the minimum pressure, even only slightly. It's currently fixed at 1.87 bar, and the margin is fine, with Aleix Espargaro believed to have only been 0.02 bar under it when he became the first to go beyond a warning and receive an actual time penalty in Thailand a fortnight ago.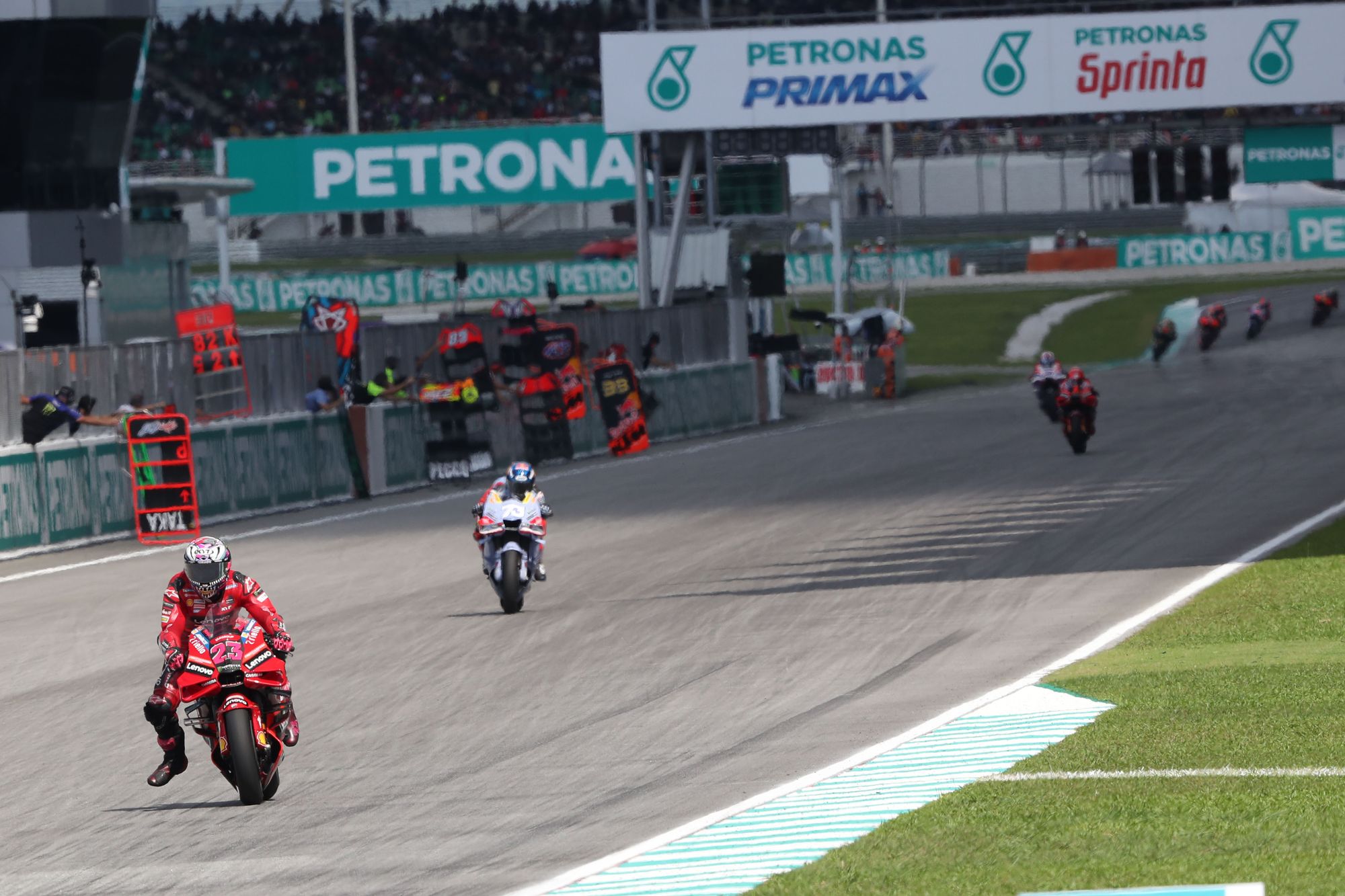 Racers insist that before the rules were enforced, people were easily and safely running as low as 1.75 bar - and say that even a move to 1.80 for next year would help racing be competitive again while still maintaining a safety net.
Failing that, give Michelin a helping hand in getting this development done. Rather than letting teams and riders prioritise their own work in testing and then casually admit they never got around to running Michelin's development tyres, either increase the testing allowance with some specific tyre testing including or mandate that Michelin's development products are used by everyone at certain tests.
There's no sign either change is going to happen. So maybe the riders only have one choice.
They're unwilling to boycott a race and unheard when they complain, but there's nothing to stop the whole grid uniting (under new riders' union president Sylvain Guintoli) and all running the same too-low pressure in a race next year.
The threat of a debacle where MotoGP is forced to disqualify its entire grid is a bold play, for sure - but right now it feels like the only way we're going to have a competitive and entertaining 2024 season.