Aprilia MotoGP racer Aleix Espargaro laughed off a crash-strewn opening day of the 2023 Malaysian Grand Prix weekend in which he fell three times in the second practice session and once in opening practice too.
He was lucky to walk away almost unscathed but adamant he knows the cause of the problem.
"I've got some stitches in my elbow, but it was a lot more painful when they put the stitches in than the crash," he joked afterwards.
"And my fingers are quite sore, but after three crashes in the second practice I can say that I'm quite OK."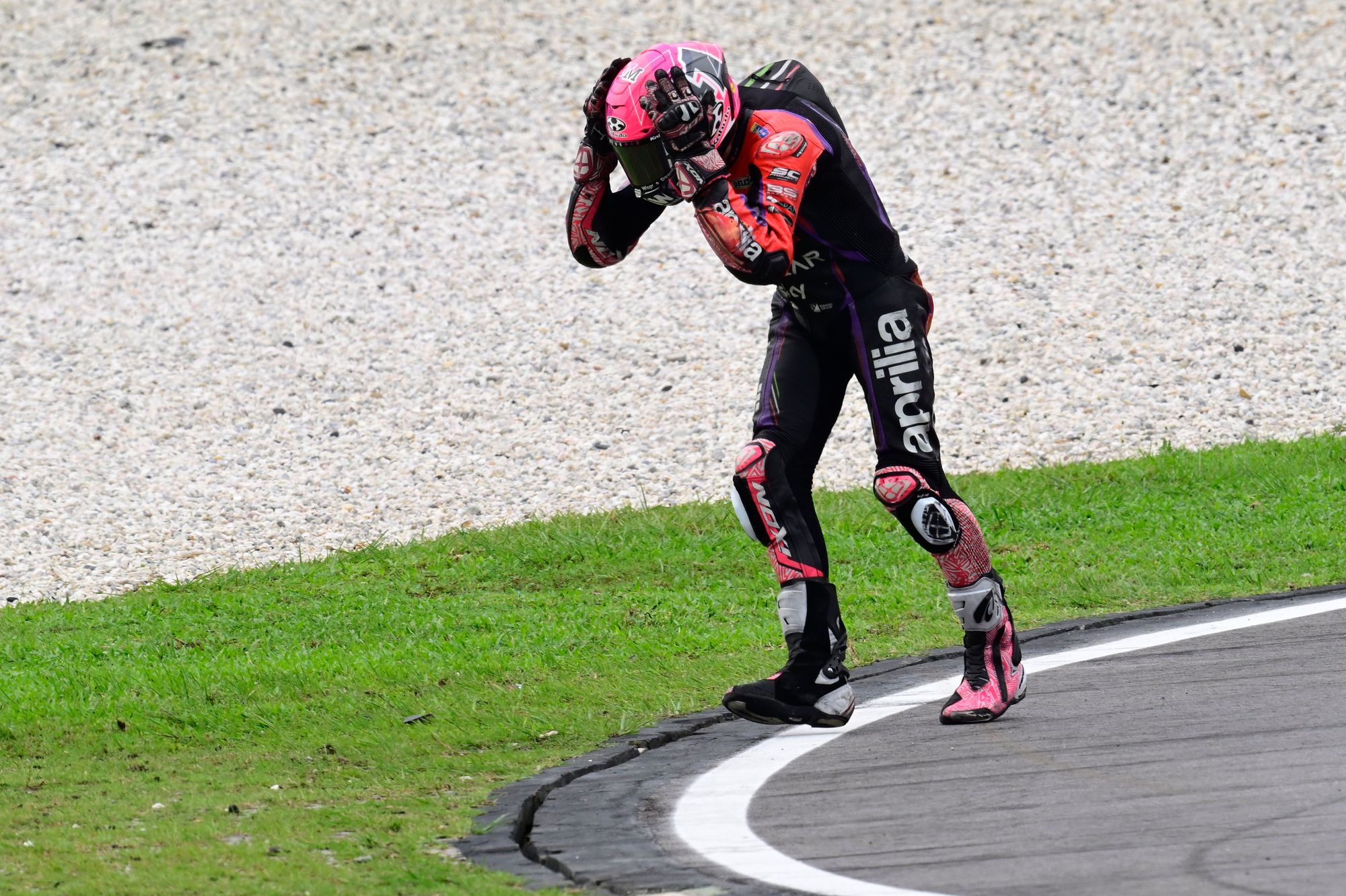 The cause of the crashes is seen as being one specific suspension component that has produced a similar feeling when Aprilia experimented with it at other points of the 2023 season, so Espargaro is certain now that the team's determined once and for all that this component isn't the way forward.
"The three crashes in the afternoon were exactly the same," he explained.
"For the third time this season, I tried the long fork from Ohlins. It's a fork that only the factory riders have, and I tried it in America on the Friday and I didn't like it so I removed it.
"I tried it in another place and it was the same. Maybe Argentina, but I don't remember.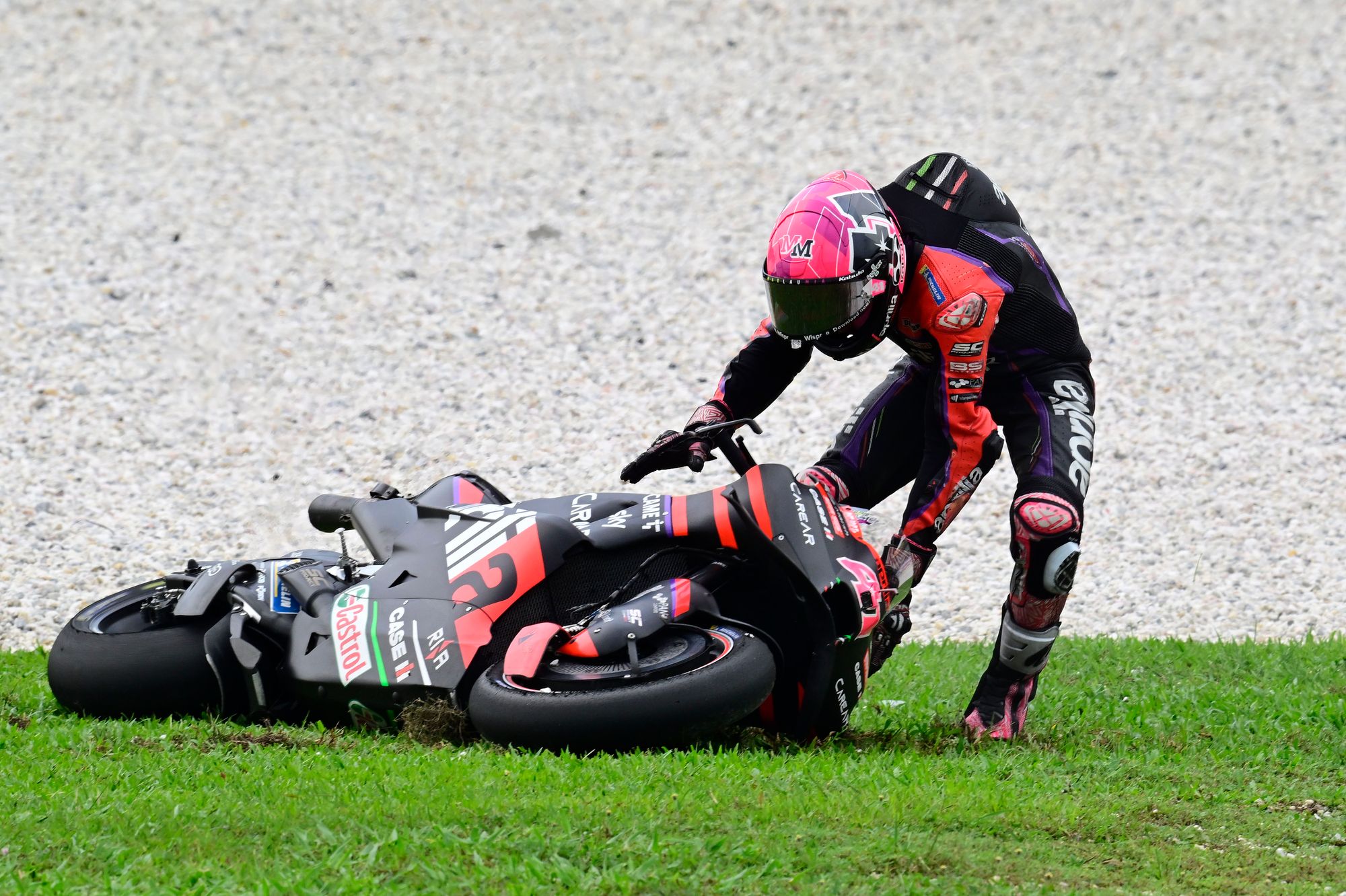 "Here was the same. We retried it because it's been a lot of races without trying it and we thought that here, for the braking of corner one and the last corner, you can have a bit better support, but when I release the front brake, I feel movement and instability, the bike doesn't turn, and I crashed for the same reason.
"Tomorrow I'll go back to standard and that's it."
IS MAJOR COOLING PROBLEM FIXED?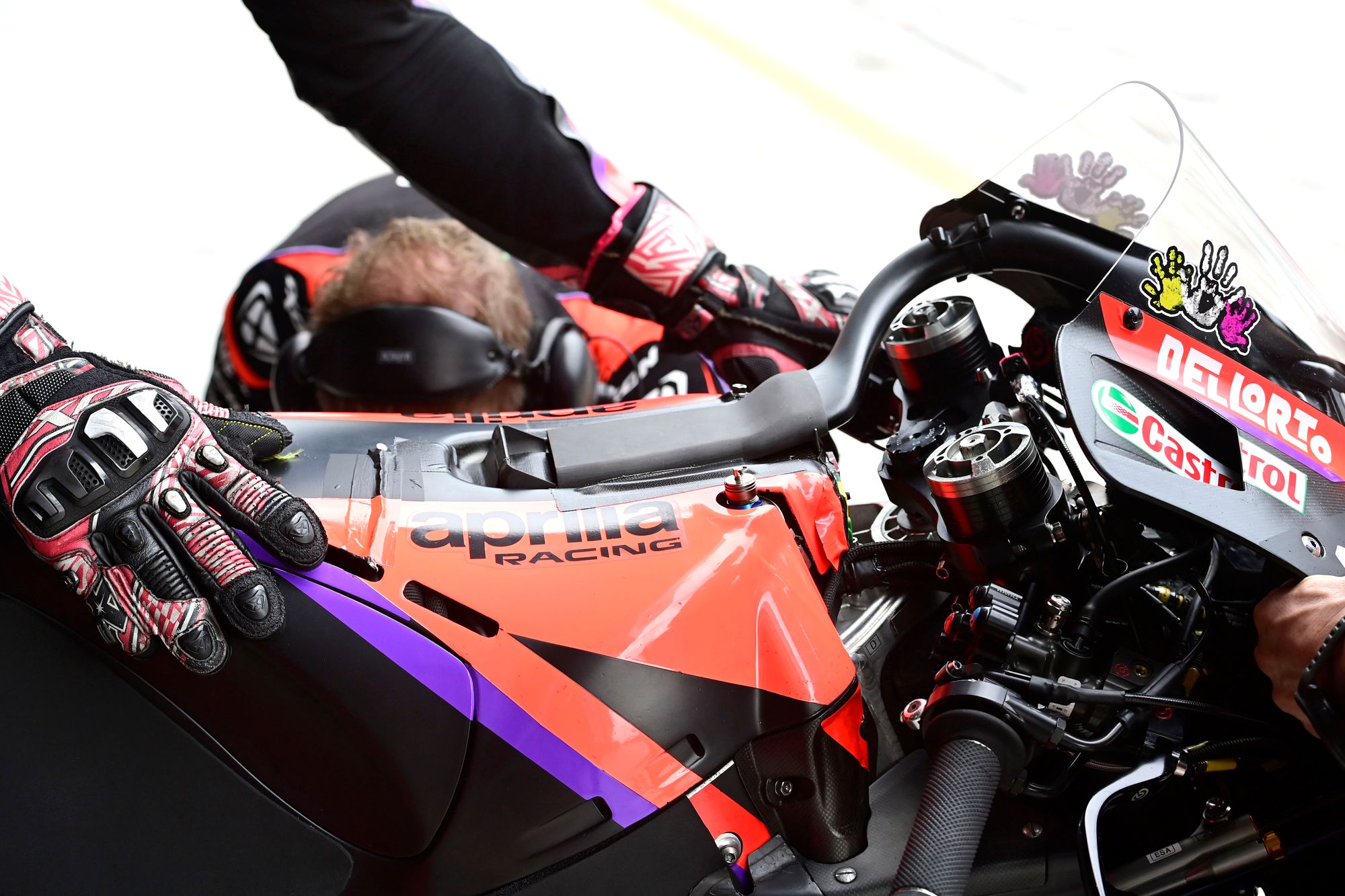 It's just another hurdle in what has been a difficult flyaway tour so far for the factory Aprilia team, with significant engineering resources also being thrown into fixing the RS-GP's overheating issues ahead of this weekend's race following major complaints from Espargaro's team-mate Maverick Vinales after his DNF last time out in Thailand - when the effect of rising temperatures on his body made it impossible to continue.
"The problems are from last year," Vinales explained ahead of the start of this weekend's equally hot race in Malaysia, "but Aleix and myself are in a really good physical condition so we covered it.
"This year, honestly, it's worse with the new bike and it was impossible.
"We said in India that we had to solve it otherwise we cannot finish the race, and we didn't finish the race in Thailand.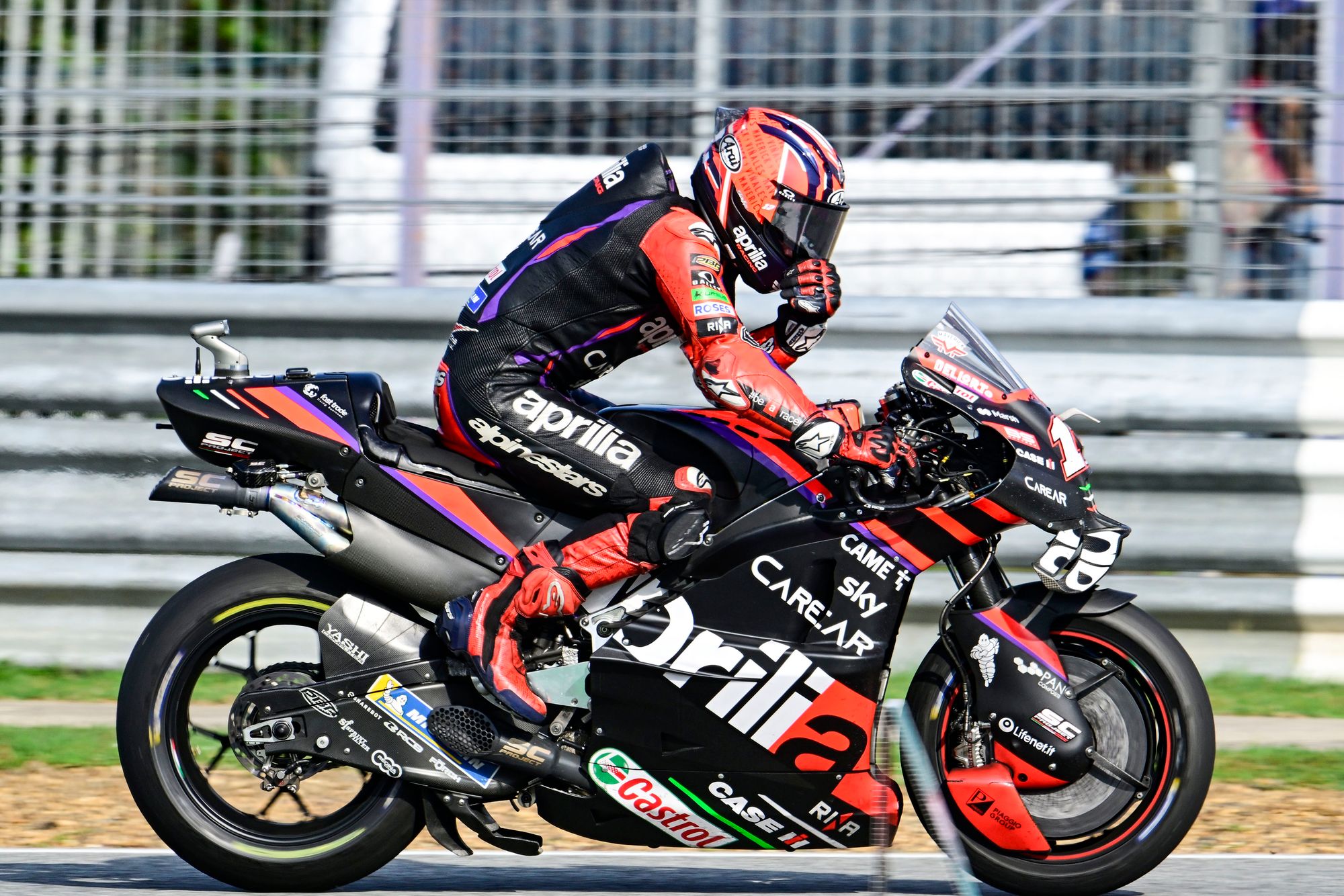 "I don't retire ever. Not even in a mountain bike, never. I've raced with a lot of injuries, but I've never retired.
"It was very tough for me, but I missed the braking three times and I said, 'Maverick you have to stop. It makes no sense'.
"I was exhausted. When I got off the bike my heart rate was 200bpm. The new bike is worse than the other bike [for this problem], and I was all the race following which makes it even worse."
That sentiment was echoed by satellite RNF rider Raul Fernandez, who believes he lost his chance of a best-ever MotoGP finish in Thailand as he was forced to drop back through the standings just to stay on the bike and make it to the end of the race.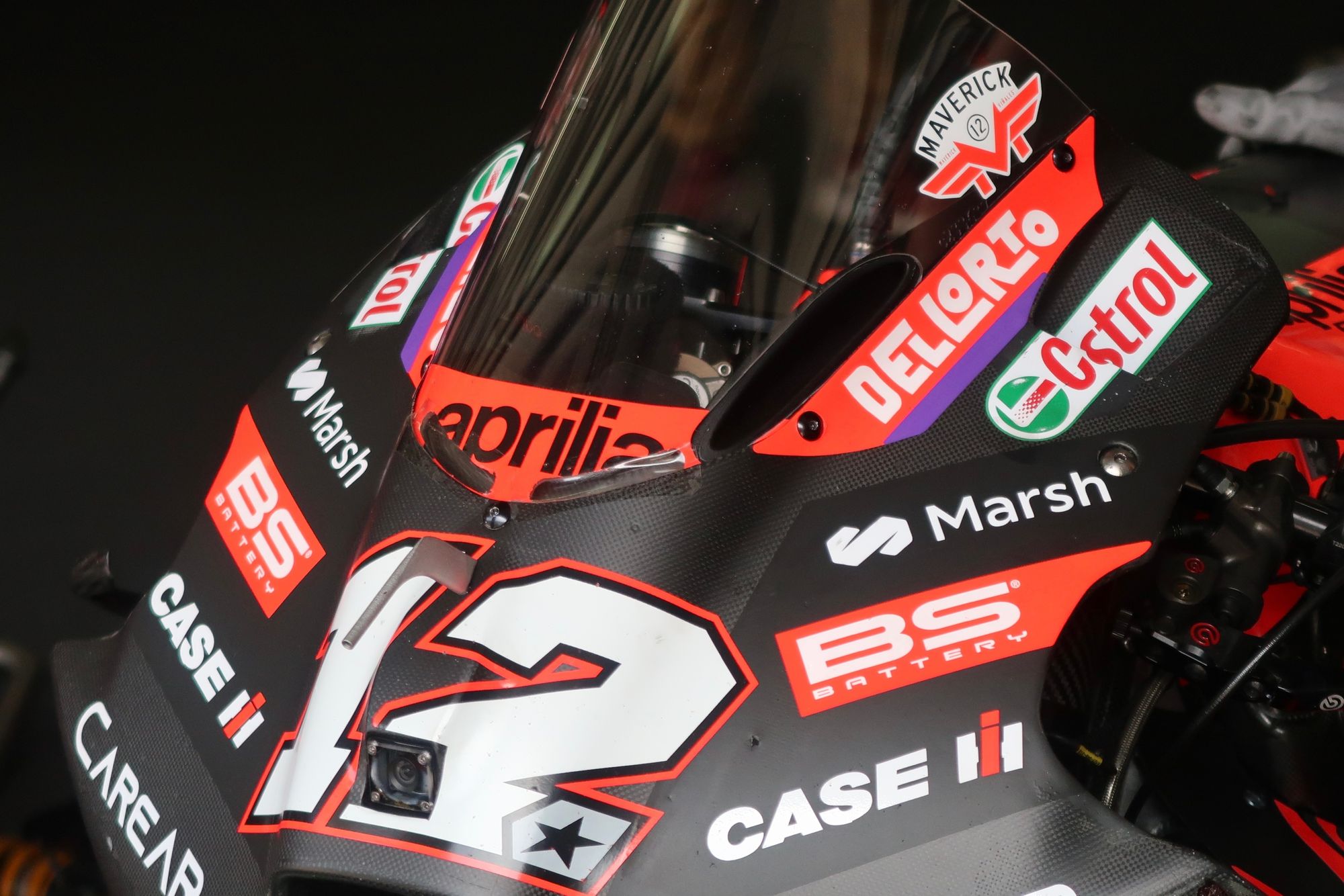 The solution, so far, has been a new tube device fitted to the front fairing of the bike with the intention of directing cooler air back to the rider.
But, with the real test coming not in practice but during a race when caught in the slipstream of another bike, Vinales said he and Aprilia will have to wait to see if it's worked.
"Unfortunately, today was not hot," he explained amid slightly cooler than usual temperatures on Friday at Sepang.
"We could not try it, but we put some sensors on and it has cooled down 5C.
"We'll see if with a lot of temperature it cools down more, but I have to thank Aprilia because they've done a good job in a short time."