Factory Aprilia MotoGP racer Aleix Espargaro says he thought he 'was going to die' during Sunday's Thai Grand Prix thanks to overheating complications with his bike.
Those problems left not only him but also his two fellow RS-GP racers unable to breathe during the final stages of the 26-lap race and eventually saw his team-mate Maverick Vinales retire early rather than rushing a crash.
It's not a new issue on the Italian bike but rather one that it has struggled with for years. The heat flow problems with the machine originally manifested themselves as hotspots that frequently led to riders getting off the machine with patches of burned skin on their hands and feet in particular.
However over the past few years that has morphed into a potentially even more dangerous issue: one where hot air from the engine is trapped behind the screen, meaning that when racers try to breathe during the race, they end up inhaling air that is upwards of 70ºC, leaving them not only struggling for oxygen but even potentially with lung damage.
"I couldn't breathe," Espargaro explained after finishing fifth on the road, before he was dropped to eighth for a tyre pressure penalty.
"It was the hardest race of my life, and in the last three laps, I was panicking because I tried to breathe and couldn't. I was super worried. When I came into the pits I thought I was going to die. It was tough for me to be focused.
"In the last five or eight laps, I couldn't even see the reference points to brake. It was unbelievable, the worst race of my career.
"All the heat of the bike, the engine, the chassis, everything, is coming from the middle, from the fuel tank. It goes into your lungs, and we couldn't breathe.
"Maverick stopped the race because of this, he went into the pits, and Raul told me that he couldn't breathe either so he stopped the pace and lost 10 seconds."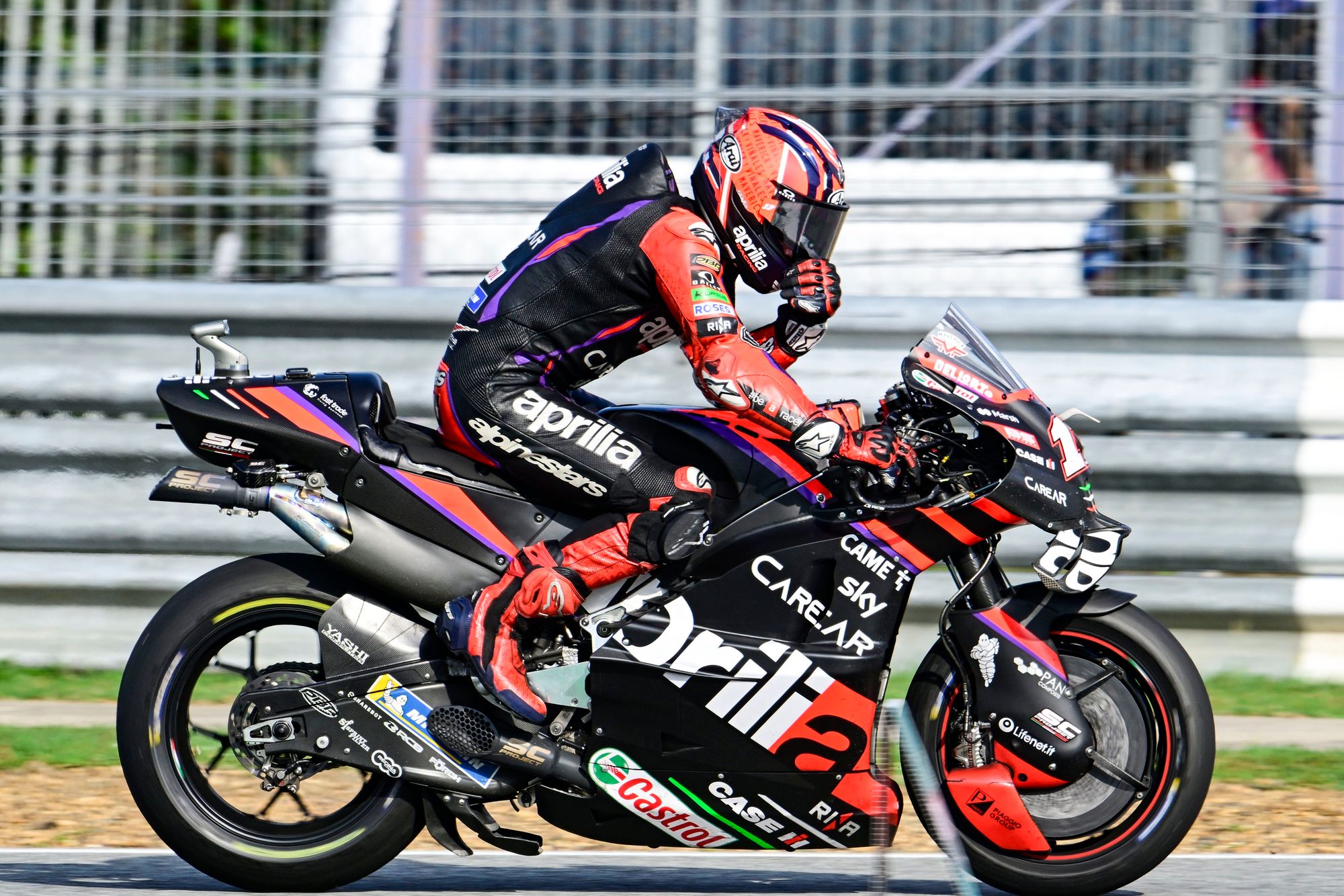 That was echoed by his team-mate Vinales, who went from battling in the top 10 to being forced to pull into the pits with only a handful of laps remaining.
"In the race today," he explained in the team press release after not attending his post-race media session, "I wasn't doing badly, but at a certain point, I began to lose mental clarity due to the heat.
"Especially on the straight, when I would lie down on the bike, the sensation of heat was astonishing. At a certain point, the best decision was to stop. Continuing to risk did not make sense. Clearly this is a situation we need to discuss. There will be other races with high temperatures.
However, while Espargaro and Vinales were left frustrated by the issue, satellite CryptoData RNF rider Raul Fernandez was even more upset given that he believes that it robbed him of the potential chance to fight for his best-ever grand prix position since moving from KTM to Aprilia for this season.
"The first part of the race was really good," said the Spaniard. "I started very well, and I fought with Fabio [Quartararo]. I saw the podium was there. We don't have the pace to do it, but I had the pace to do fifth or sixth.
"But we have to improve in terms of Aprilia's side, because we cannot race like this. I was close to not ending the race. I did ten or eleven laps good, and then after that I started to feel bad, bad, bad. I was close to stopping, but for respect to the team and Aprilia, I said that I was still in the points, I'll end the race.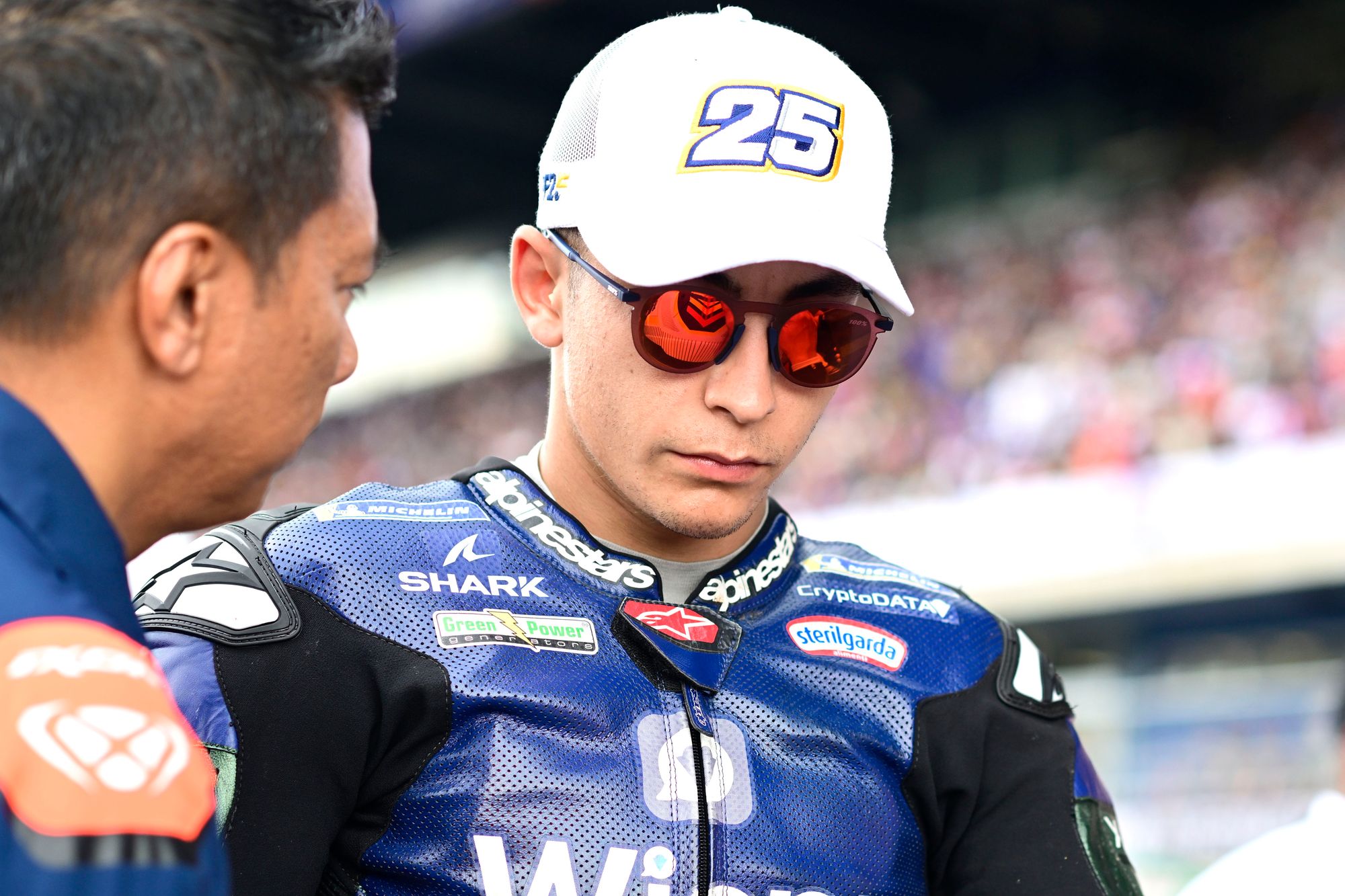 "It's super difficult. When you're on the straight you say 'OK, I'll try to relax, try to take some fresh air,' but it's impossible. You can't imagine how it is. It's a disaster. It was not the same [last year]. In that kind of race with the KTM it was super good. I never felt something like this. To manage it is impossible."
And, with the issue nothing new for Aprilia, it's clear that unofficial team leader Espargaro is starting to lose patience with the recurring issue, demanding afterwards that the factory has to work hard to find a better solution to the problem.
"It always happens," he explained, "every single year for the past four years in the same circuits. But today was really on the limit. They are trying things, but for now nothing works.
"We tried a tube this morning in the warm-up, Raul and I, but it's not giving anything. I don't know why the bike gives these temperatures, but it's crazy.
"I burn with this bike. I can't remember the last time I rode a bike that wasn't Aprilia because it was seven or eight years ago, but Maverick coming from Yamaha and Raul from KTM, he told me he received zero heat last year, so it's very strange."