It was only a few years ago that every MotoGP manufacturer – aside from maybe relative newcomers Aprilia and KTM, but maybe them, too – was only one signing away from guaranteed championships. Not as a turn of phrase, not as one situation-specific signing – just one particular name. Marc Marquez.
In 2019, Marquez came off left shoulder surgery, felt "far" behind at points in the pre-season and then posted 18 top-two finishes in 19 races, only missing out once due to a crash while leading comfortably. With the other Honda riders in very dubious form, it was a particularly absurd season, cementing Marquez's status as a factory's golden ticket to a title.
There were rival manufacturers that would have him in a heartbeat, but the allure of a Valentino Rossi-like swap of bikes to shore up his legacy rang hollow for Marquez. Honda was his home, and as long as it was a winning and well-paying home he saw precious little reason to look elsewhere. In the 2020 off-season, he committed to a Honda deal covering 2021-24 – which looked like a massive coup on the Japanese marque's part right up to the moment he crashed and hurt himself at Jerez.
Three years later, three new champions later, things have changed. Marquez's long and winding road to recovery has been well documented, and Honda toiled with its talisman absent. It toiled slightly less when he raced, but toiled still, especially this year with a redesigned RC213-V. Marquez took part in more than half of the 2022 grands prix, yet only got one podium for his troubles – a startlingly low rate for a rider of his calibre.
As grateful as Marquez has publicly been for how Honda had supported him through the surgeries, the state of the programme clearly sowed doubts. In August, he effectively acknowledged that he may leave. Honda was last in the constructors' standings already at the time of that interview, and it stayed last, an even more distant last at that, with Marquez responsible for 96 of its 155 constructors' points despite his long absences.
And then, in the post-season test, he didn't see the improvements he had hoped for. "When you wait for the Wise Men [Reyes Magos, akin in Spain to Santa Claus] and there's no gift, you don't smile so much," he said in one particularly scathing comment to DAZN in a sea of otherwise restrained but clearly underwhelmed post-test feedback.
There are two more seasons on Marquez's current deal, but realistically whatever Honda will need to prove to him it will need to prove over the course of the 2023 season because the rider market is bound to kick into gear the following off-season.
Three years ago, there were two obvious suitors for Marquez had he decided to leave Honda. One was KTM – a former employer in 125cc, backed handsomely by Marquez sponsor Red Bull. Another was Ducati, its Desmosedici was already perhaps the best machine at that point.
Now, the Desmosedici is even better, and the RC16 is an improvement, too, even if its form remains erratic. No other firms seem particularly viable as future destinations for Marquez – Yamaha seems a non-starter and Aprilia, as good as the RS-GP is now, is a hard one to imagine financially and competitively.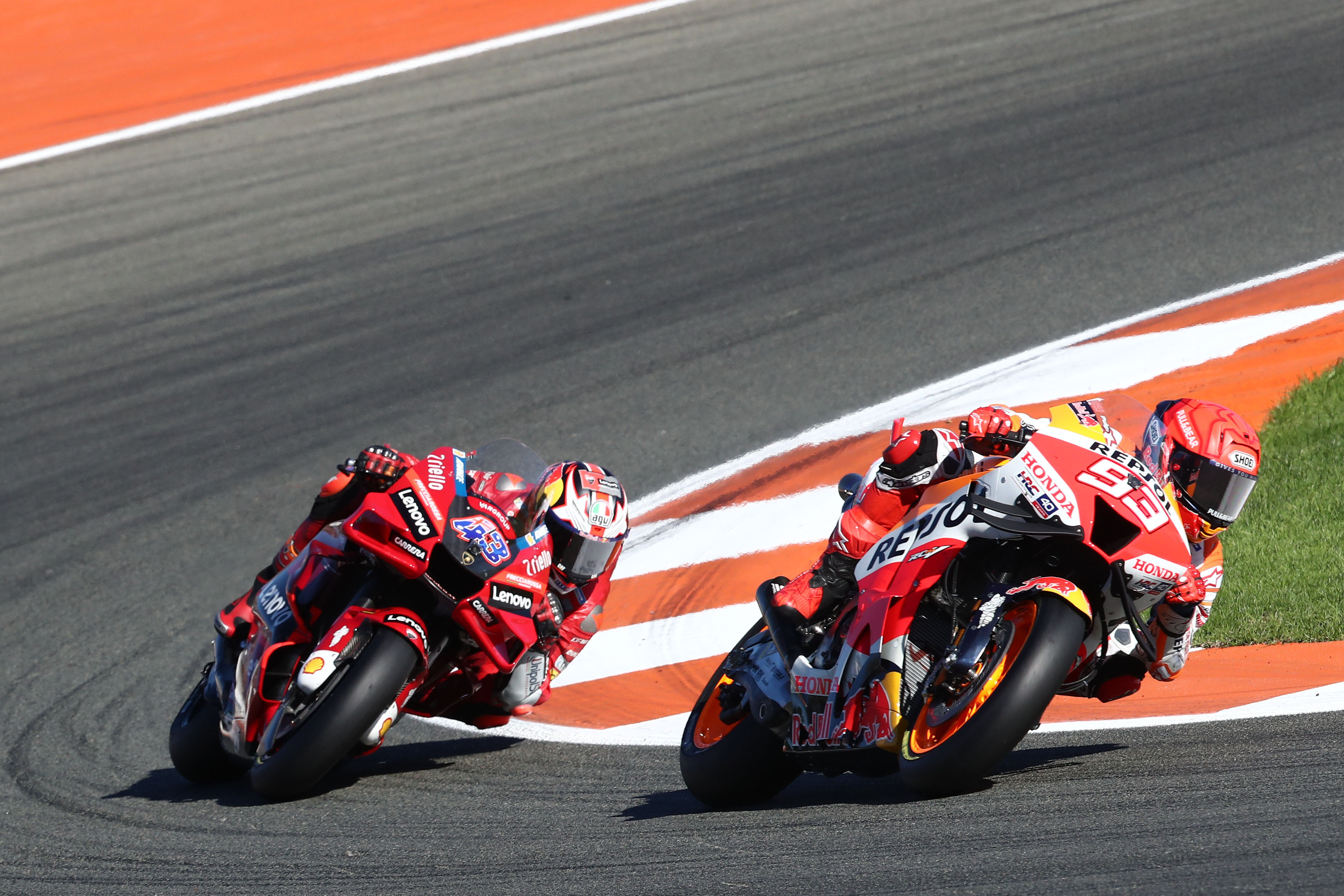 But does either still have a big need for Marquez? In a recent interview with Italian publication GPOne, Marquez's now ex-manager Emilio Alzamora – in addition to suggesting that Marquez "will change his mind" if Honda doesn't improve – said that Ducati "don't really need him like before".
That is demonstrably true. Ducati has just won its first riders' title since 2007 with Pecco Bagnaia. It has late-race phenomenon Enea Bastianini. It has qualifying demon Jorge Martin. It will soon need to think about where to fit in rookie of the year Marco Bezzecchi. All of those riders are four or more years younger than Marquez, and its Desmosedici is such a marvel that it can probably make a very strong play for whoever the next big thing is below MotoGP.
Does it really need the expenditure and potential disruption of hiring Marquez when the bike is so good and there are no gaps in the line-up? It is certainly not a must.
KTM's roster is slightly older, but a super-deep one nonetheless. Brad Binder looks good enough to be a no-doubt title threat once the RC16 is all there, and in Pedro Acosta and Izan Guevara it has two of the best prospects on the MotoGP ladder, bar none.
Both of these factories can absolutely live without Marc Marquez, Ducati more so than KTM (although KTM was already saying back in 2019 that it would rather invest in its bike than in paying Marquez's large salary). But that's in a vacuum. Whether or not they'd be much better off with Marquez riding their bike, they'd definitely appreciate not having him on a rival bike.
Jorge Lorenzo's Honda move was a total dud but it probably helped Honda in keeping Lorenzo off the Petronas Yamaha. And Marquez looks virtually guaranteed to be a factor even in 2025, when he will be 32.
He's still got it. The Honda roster was collectively in a weird place in late-2022, but the numbers are silly. Discounting the post-injury adaptation weekend in Aragon, in which Marquez was more or less matched by Taka Nakagami, the Spaniard posted an average qualifying result of 3.2 for the rest of the year. The best – I need to emphasise this, best – non-Marquez Honda was, on average, delivering a 14.2.
He has been error-prone, too, but how many of those errors were the simple result of a devil-may-care attitude towards championship positions is a legitimate question. And he expects and hopes to get fitter in the off-season.
Marquez bending MotoGP to his will is no longer the inevitability it once was, but it's not an outcome you can safely discount. Even if he's never dominant again, he is guaranteed to be fast – for you or for your rival.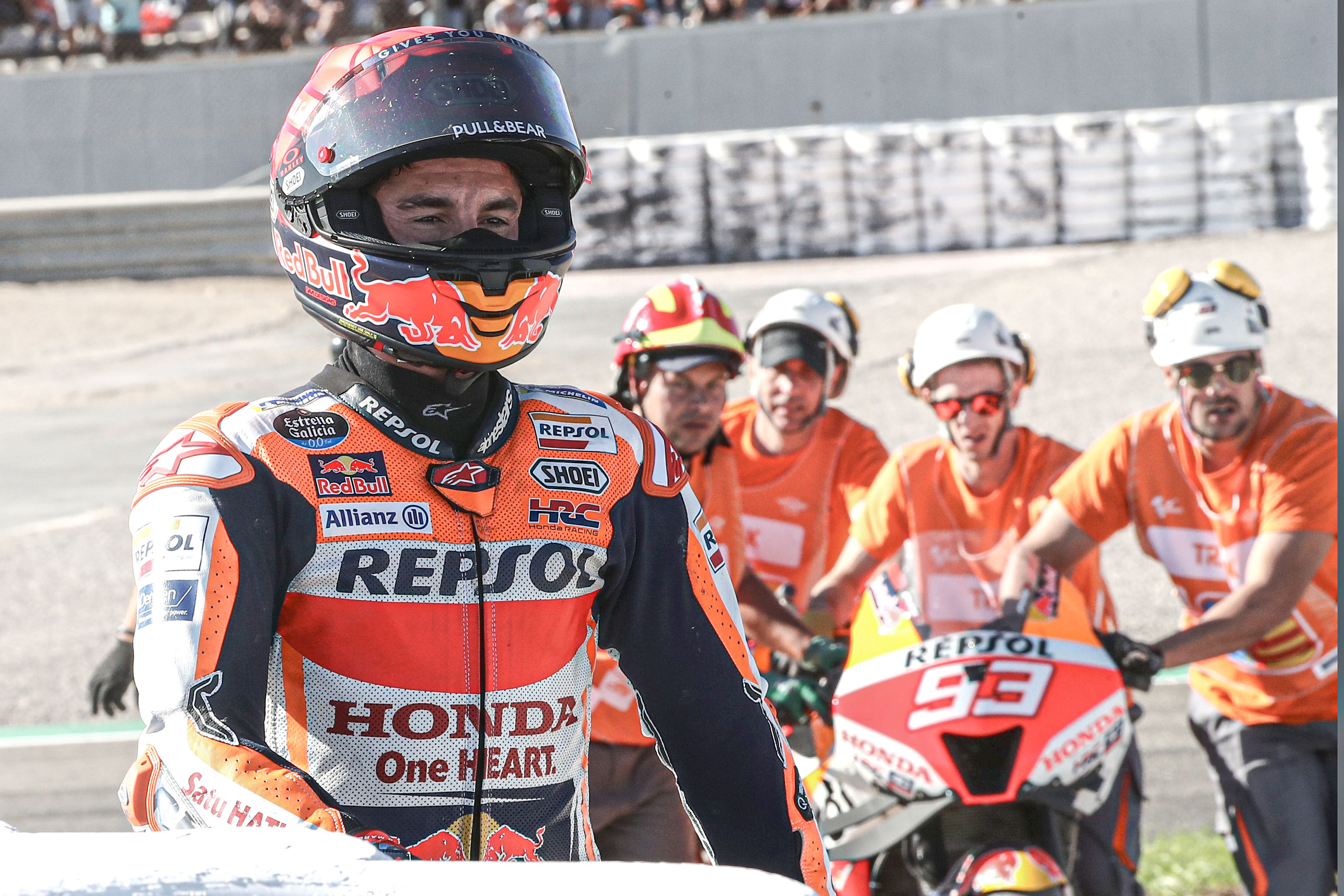 So, while Marquez putting himself on the market will probably not trigger the bidding frenzy it would have in 2020, don't be so sure that Ducati and KTM would pass.
In that same interview, Alzamora said: "I think there will always be interest in Marc."
That much is clear.