The days of Phillip Island, its flowing layout replete with high-speed corners, being an obvious fit for the Yamaha M1 were an increasingly distant memory even before the 2023 weekend - but that didn't stop Fabio Quartararo from taking Yamaha's wretched form at this year's Australian Grand Prix particularly hard.
Quartararo himself had done just two MotoGP races at the track prior to this weekend, and didn't finish either. This year, at least, that was put to bed with a 14th place and two points, but as far as silver linings go it was clearly worth precisely nothing.
The Frenchman had anticipated a middling weekend but got something much worse, which, to hear him speak after Saturday's race, seems to have eroded all the excitement from a third-place finish at Mandalika the week prior.
The 2023 Yamaha has been more dire the softer the rear tyre it is using. Quartararo pointed to this repeatedly - to the harder-construction rubber in use in India and Mandalika that enabled unlikely podiums, and to the fact Phillip Island, though requiring a specific Michelin tyre, too, was standard in terms of casing.
But he still expected to get something out of the weekend. Instead, being baulked by Augusto Fernandez in as blatant a case as you're likely to see compromised his Friday push for Q2 - but he admitted afterwards there had been "no chance" anyway. "Of course, I would have improved a little bit, but I mean, was maybe one tenth. We were half a second away. So that's the problem."
There was plenty of frustration at that point of the weekend already, Quartararo describing the performance as "much worse" than expected. "But I was clearly on the limit to make [1m]28.9[s], and it's a little bit strange, for this laptime."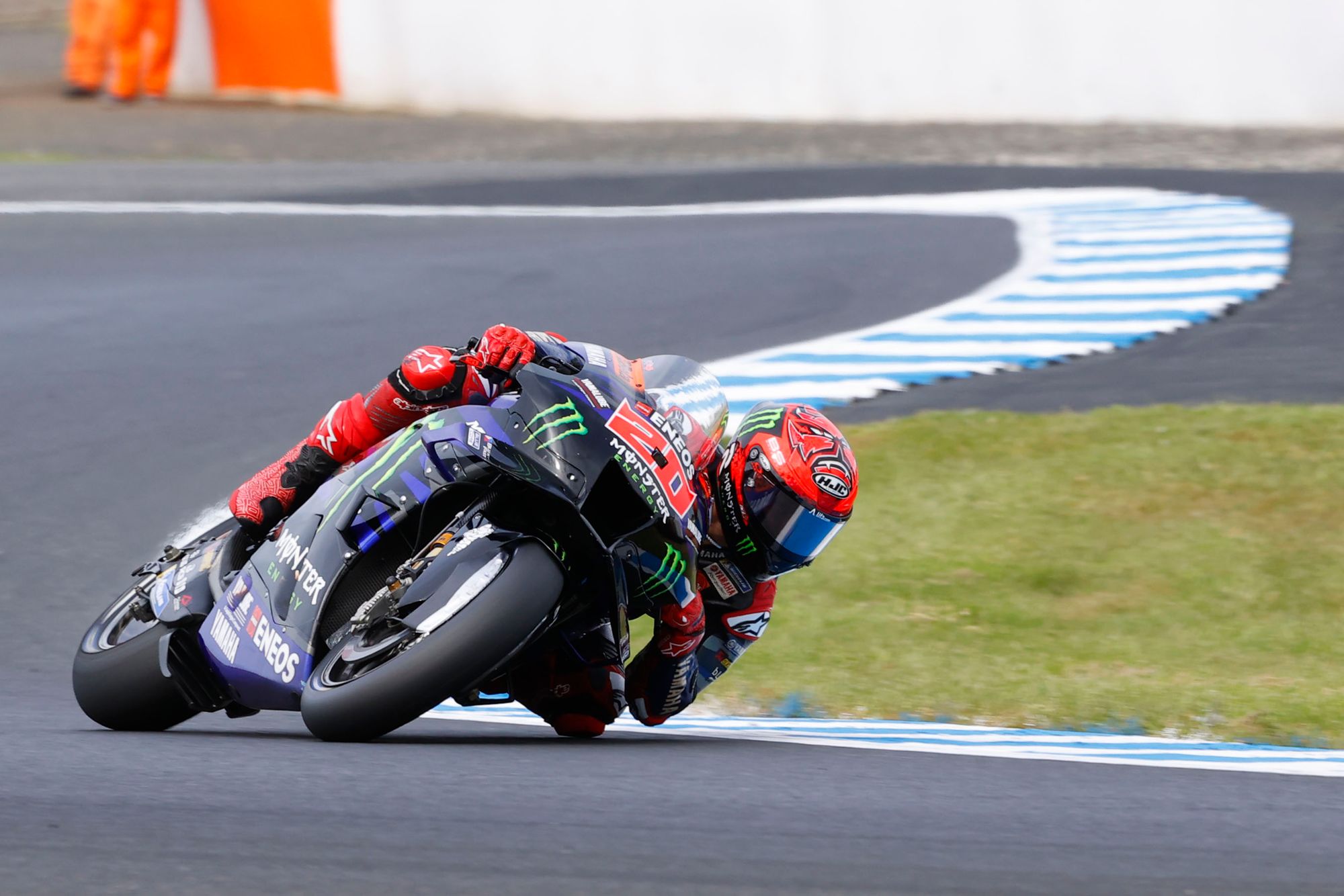 "Our bike is getting more difficult and more difficult to turn, every year. I think we've lost a lot from 2019 to now. That was our strong point, now is clearly our weak point. And that was the only thing we could really have.
"And you can clearly see. I am one second away from the top guy. My team-mate [Franco Morbidelli] also is struggling. So, really difficult to understand what is happening right now."
Saturday - the main race due to the revised schedule - then put a bow on a wasted weekend, an inevitable Q1 exit (nearly seven tenths off progressing) followed by Quartararo struggling to get his start device to disengage as he rolled through the Doohan corner, meaning that he was relegated to last, with an acceptable but seemingly quite unsatisfying recovery ride to follow.
Quartararo said he was "struggling so much compared to the others" in the first laps, and though the pace was "pretty good" further into the stint, it wasn't much of a consolation. "We are way too slow and we can't really fight with the others."
Asked if there were any positives to take away, he was blunt: "No. I didn't find any positive during this weekend. We tried everything. Normally I'm more a rider to stay with one base and try to adapt myself to the bike, but this weekend was so difficult that we had to try many things, but nothing was positive."
But the most cutting answers were yet to come.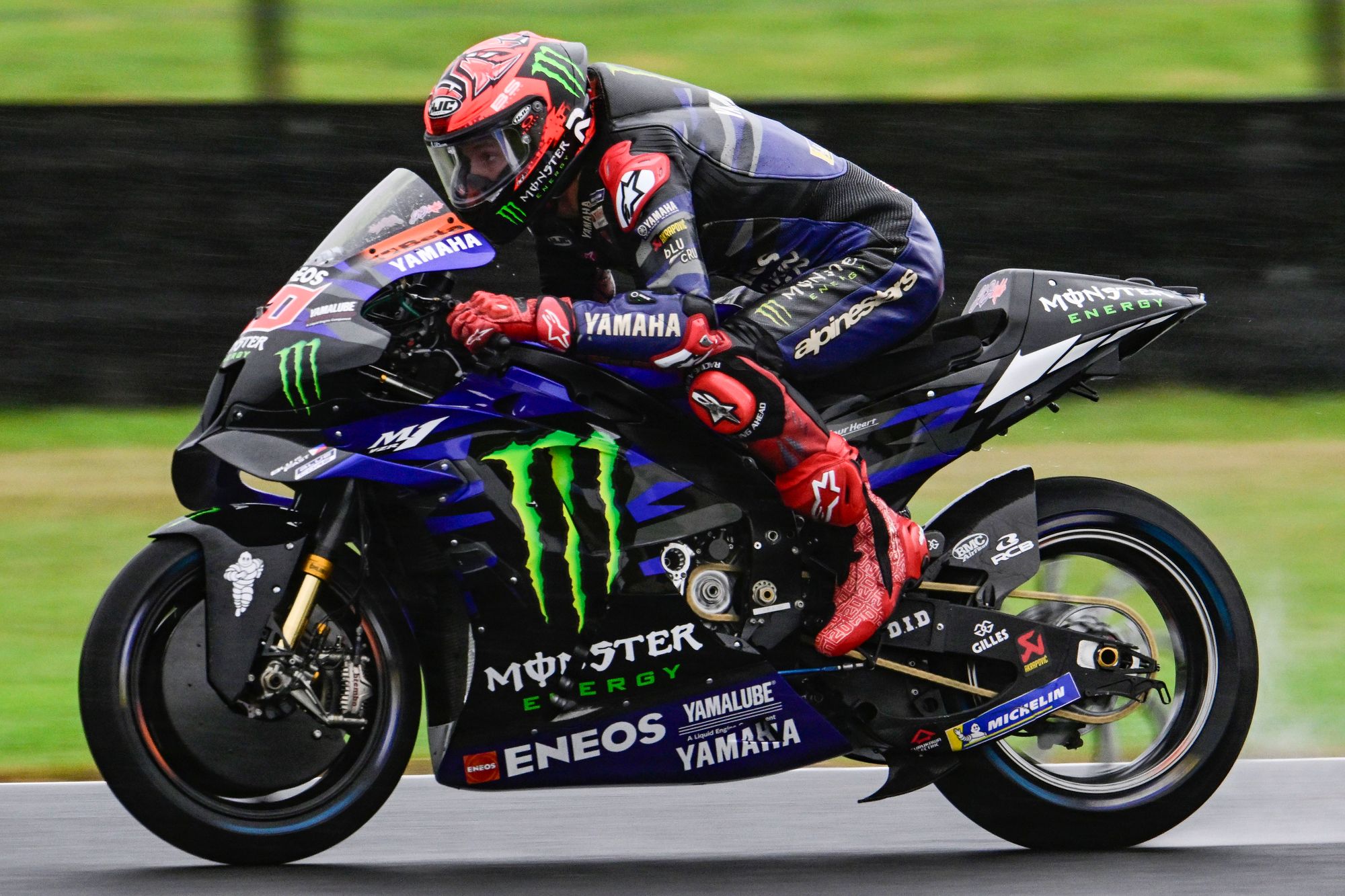 Quartararo has been very open for much of the season that he is considering his options for his next contract and that Yamaha has every chance of losing him. It can be seen as a motivational tactic, and maybe that's partly there, but with how often it's come up, it's also inevitably an outlet for frustration being used by a rider who tends to 'shoot from the hip'.
He is much younger than Marquez, so surely doesn't feel the same career urgency and clearly doesn't have the same career earnings to fall back on (logically, you have to imagine this is why there is no movement in terms of a potential Quartararo/Yamaha split for 2024), but he will also remember all too well that he was MotoGP's consensus best rider in 2021-22. And he will be only too keen to make sure team managers in the paddock - who will remember that aforementioned fact as well - know he's all ears when it comes to offers.
And crucially, his faith in Yamaha just seems completely shot.
Asked whether Yamaha really could reduce its current deficit over one winter, he reached for the soundbite: "We need 15 winters to really be like them [presumably meaning Ducati].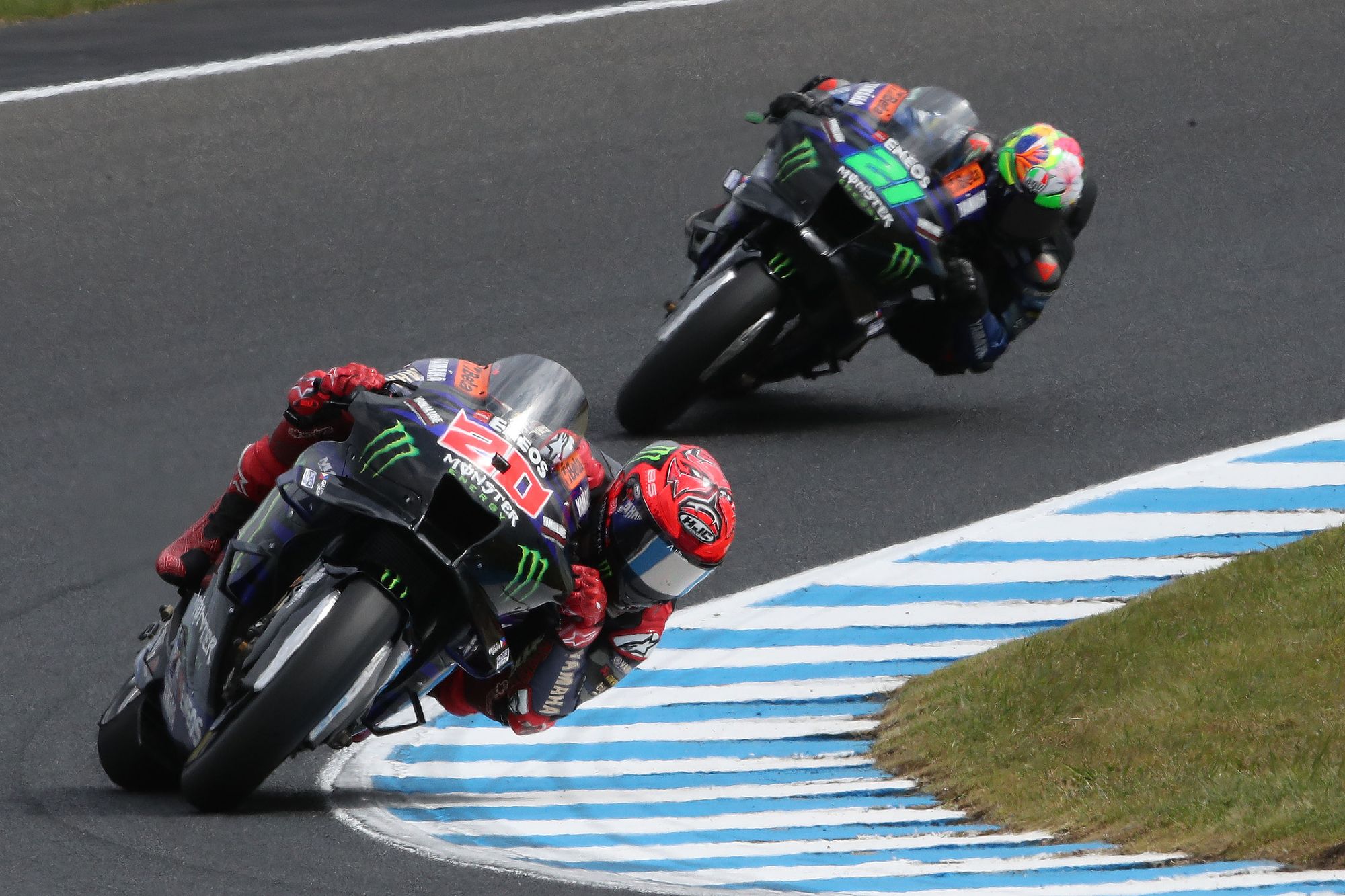 "But to be like them for me is not the goal. The goal is to get closer. Because every year we make one step maybe in one area, but we lose two steps in another one.
"The chassis that we had in the past was magical. You could do whatever you want with the bike. The bike was slow [on the straight], but the bike was turning like hell. Now, the bike is slow but it's not turning.
"Of course it's faster on the engine [this year], but the other ones also improved the engine, so the difference is the same. But they improved so much the chassis - I don't know, by [developing] chassis or aero.
"Every year the gap is bigger and bigger. Even if in some areas we improve. We have to reduce the gap to the others, this is my main goal.
"To be fighting- of course I always want to fight for the championship, but to be realistic next year we will not fight for the championship. But, to have more opportunity to fight for the podium, sometimes for the victory, this is my personal goal, and I hope Yamaha can be realistic also on this."
Predicting no title tilt in 2024 is pragmatic and honest, given the current state of play. But when asked whether a genuine step forward and reduction of the gap would be enough to entice him to stay, Quartararo was far from emphatic.
"If I see an improvement, a clear improvement that the gap is closer... maybe.
"But I really need to see this improvement. And it's important for me to really see how much they really want to win. Because I really want to win, and you are pushing to the wall right now, because we have no more potential. But for next year, and for the future, I want a winning project."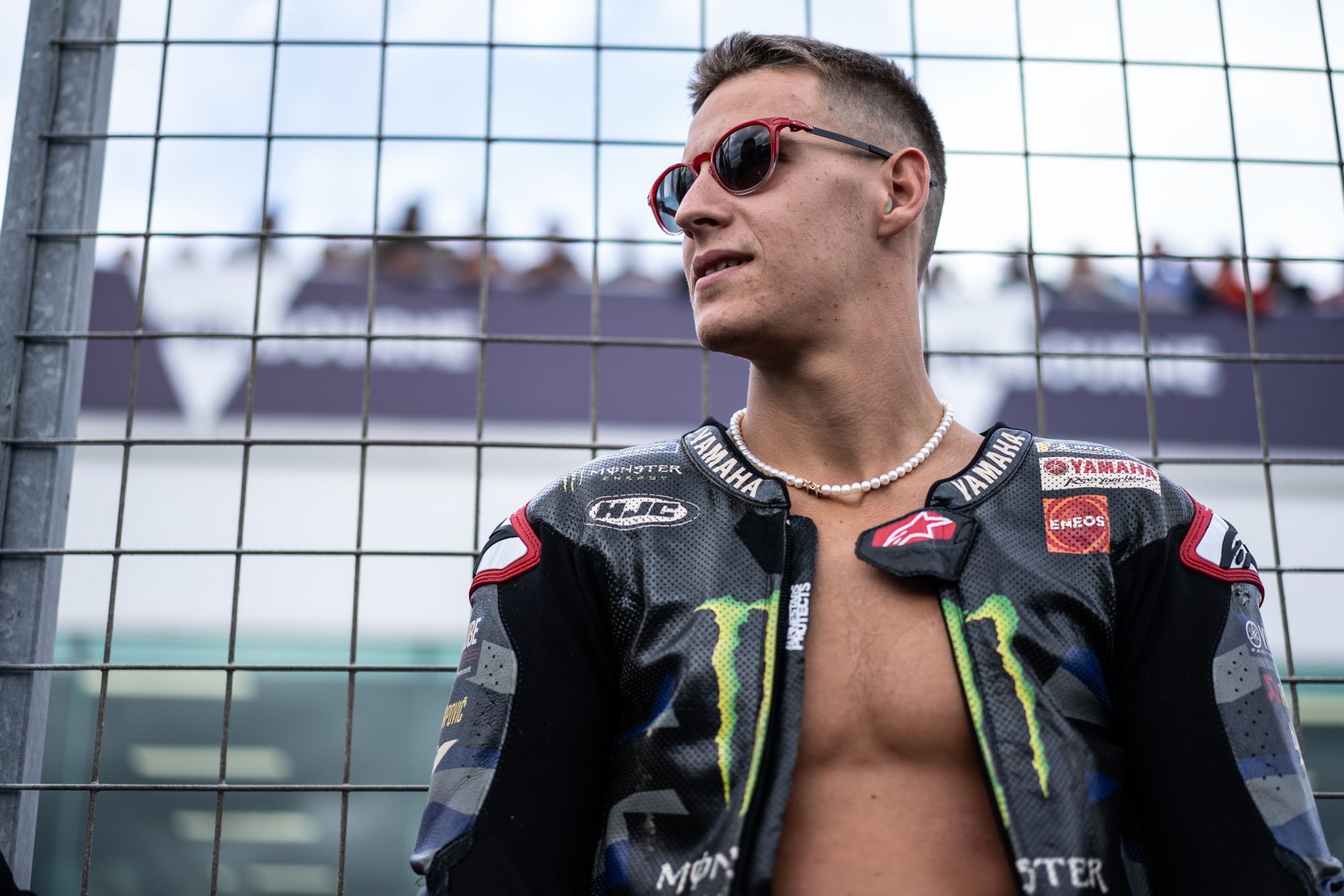 The initial prototype of Yamaha's 2024 engine on offer in the Misano test didn't impress him much. Neither did Yamaha's rhetoric surrounding its engine development - and, though he's not spoken about this publicly yet, it's hard to imagine he shares Cal Crutchlow's view that much of the 2023 struggles are rooted in the new engine being too aggressive and the race riders having chosen the wrong spec to homologate.
Quartararo's 2024 title admission is reminiscent of how Marquez was talking about next-season prospects during last year's Valencia test. For Marquez, that road only ended up leading one way, and Quartararo will no doubt feel at least a tinge of envy right now - as, however bad it is for Marquez at Honda, he has a truly tantalising ride waiting for him in 2024.
Though Marquez says he was wavering over his Gresini Ducati versus Honda decision until the very final days before the announcement, the biggest push into the arms of the Italian privateer team surely came when he rocked up at the Sachsenring and was humbled by repeat crashes and a generally mediocre performance at a track where back in the day he probably could've won blindfolded.
Quartararo's Australian GP was a lot more low-key than that, and Phillip Island is far from being 'his Sachsenring'.
But the main parallel checks out - like Marquez's German GP, this was a weekend of embarrassment. And like Marquez's German GP, even with major bike developments still to be tested out, it kind of feels like a point of no return.