Considering Marco Bezzecchi has a 73-point deficit to Pecco Bagnaia and an ever-diminishing number of MotoGP races in which to claw back points, you might have expected him to be among those disappointed that Sunday's rearranged Australian Grand Prix sprint was called off.
But Bezzecchi's ongoing physical struggles mean that cancellation came as a relief.
Bezzecchi crashed while training at mentor Valentino Rossi's VR46 Ranch prior to the previous round in Indonesia and broke his right collarbone in the process, which required him to undergo surgery to fixate the bone in place.
He was able to regroup at Mandalika and came away with an impressive fifth in the main race and a surprise podium in the sprint, which brought with it just enough points to keep the faint glimmer of a championship fight alive - especially as second-placed Jorge Martin crashed out of the lead of Sunday's main event a day after he'd taken the points lead.
Any hope of catching close friend Bagnaia is starting to look increasingly slim for Bezzecchi, given that the reigning champion's second-place finish on Saturday at Phillip Island has put him almost two weekends' worth of points clear of Bezzecchi.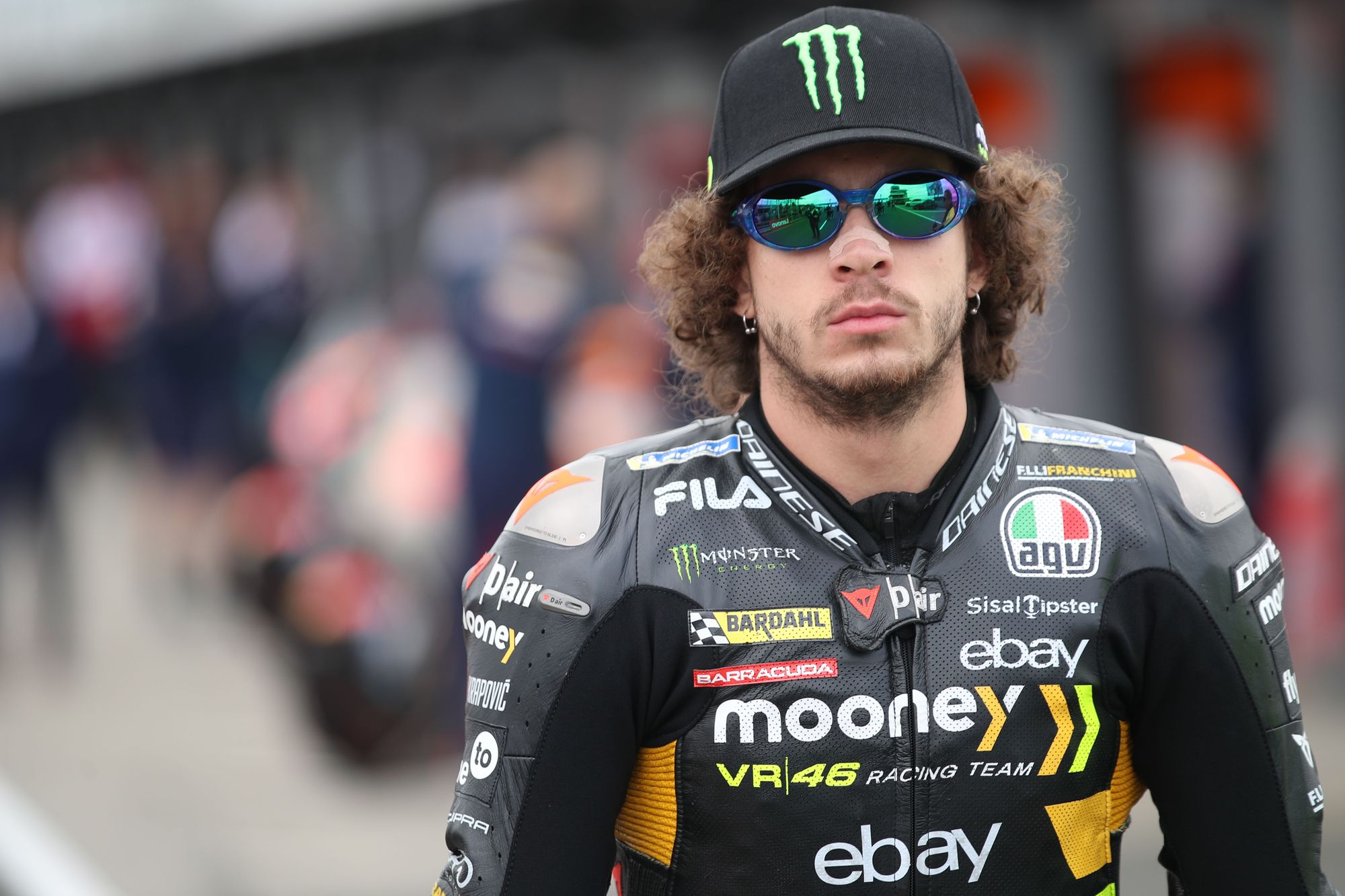 While the odds might be long for the VR46 Ducati rider, another impressive run to sixth place in Australia, one place behind Martin, has helped to at least keep Bezzecchi in contention - which wouldn't be the case without the 28 points he's picked up in the three races since injuring himself.
Putting his pace at Phillip Island to one side, though, Bezzecchi said it was to his benefit that the race did not go ahead.
"If the conditions were OK then for sure I was going to race," he insisted afterwards, "but to be honest when we were almost finished the warm-up, it was already critical with the wind, getting worse and worse.
"I was ready, of course, but if they made this decision it was because of the safety and I think it was the right one.
"I put my leathers on because in any case I have to be ready, but when I arrived to the box, immediately as soon as I came in the door, they told me they had cancelled the race. I said, 'No, f***, I've already put on the suit!'
"I'm very sorry to say this, but for me it was a big luck. It's a shame because I love this track and I love the people here, and for sure they wanted to have a good show, but for my physical side it's much better."
And while the bone in his shoulder might be on the mend, it's no longer the physical pain that Bezzecchi said is hampering him but rather the chronic fatigue of riding injured and forcing his body to compensate for the damaged collarbone - while dealing with the cold at a windswept Phillip Island circuit.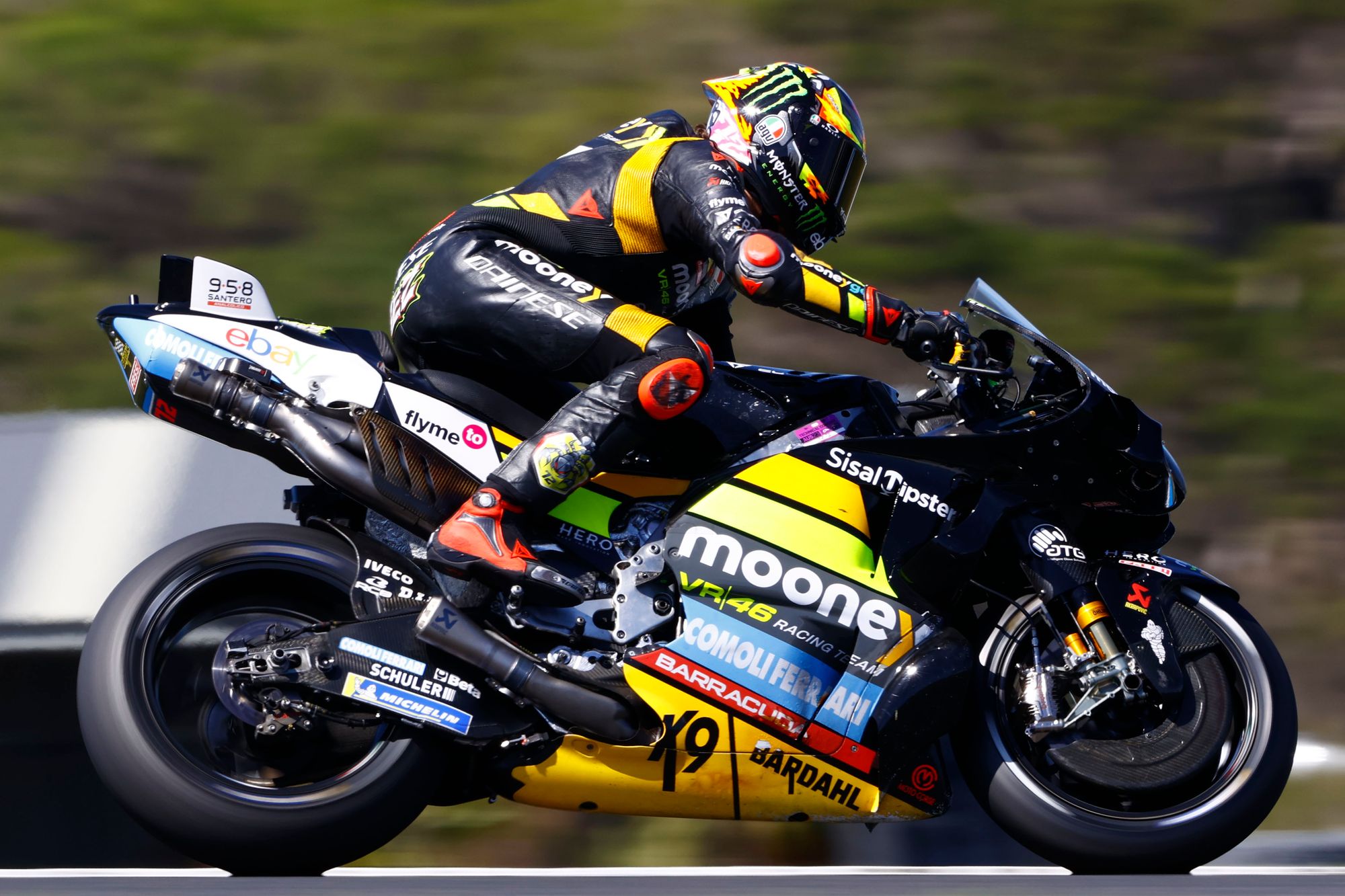 "Riding in the wet is already less stress, but not riding at all is even less," he joked about the conditions. "I expected to suffer less here, but I suffered a lot, and to recover [for] one day more, for me it's good.
"The bone is getting better day by day and I have a lot less pain compared to Indonesia, when it was really painful. When I was forcing things with the arm, I could feel it was the bone that was giving me pain. Now, the bone is better but the fatigue that I had during the weekend in Indonesia and here, all together, is creating me some problems.
"Also the cold was tough here, because I had like a constant pain through all the day, like something was hitting me all day with the same intensity. It was tough, but now we go to a very hot place [Thailand's Buriram circuit] and for me that's better."