One-time Red Bull Rookies Cup champion Carlos Tatay has been left struggling to pay his medical bills following life-changing injuries sustained earlier this season while racing in the FIM Moto2 European Championship, a Dorna-run championship that sits alongside Moto3 feeder series JuniorGP.
And, three months after his crash, there is still no resolution in sight as the Spanish and Valencian motorcycle federations continue their in-fighting over the insurance coverage provided to him in a situation that is adding considerable mental hardship to what is already an incredibly tough time.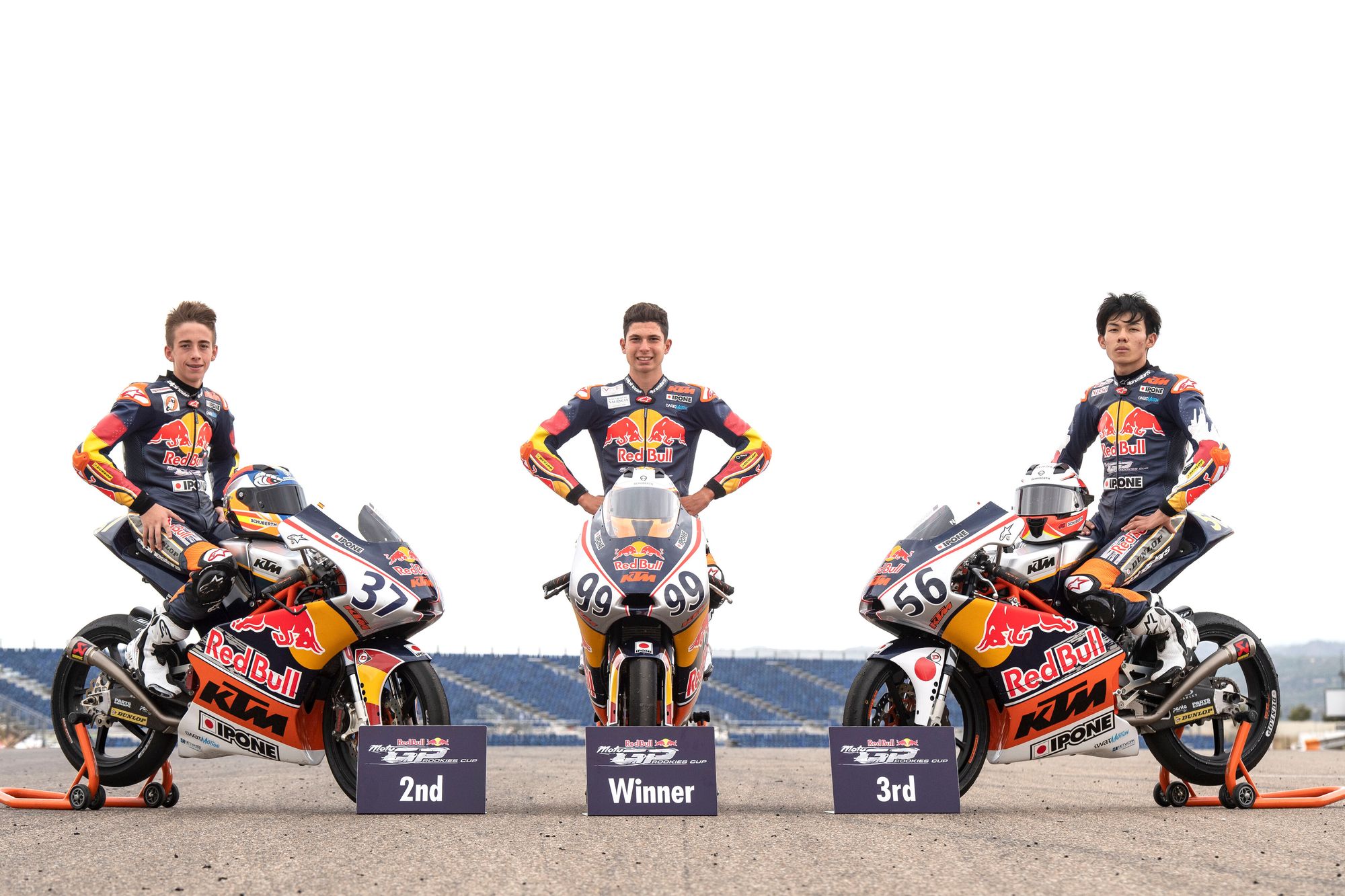 The 20-year-old Moto3 podium finisher - whose 2019 Rookies Cup title came in a season when 2024 MotoGP signing Pedro Acosta and Haruki Noguchi, tragically lost in an Asia Superbikes crash this year, were his closest rivals - fell in the braking zone for Turn 1 at Portimao while sitting third in the race on July 2.
He landed heavily on the high kerbs on the outside of the track before sliding not into the gravel but down an asphalt service road and striking the tyre wall on the outside of the corner.
Tatay broke his back in the fall, which also caused damage to his spinal cord. As a result of that injury, he underwent emergency surgery in Portugal immediately after the crash, spending 10 days in hospital in Faro before being repatriated to Spain.
He was subsequently transferred to the National Paraplegic Centre in Toledo, four hours away from his home in Valencia, and he has remained there since. Currently still wheelchair-bound, he has been undergoing extensive rehabilitation as he adapts to the life-changing injuries he sustained in the fall.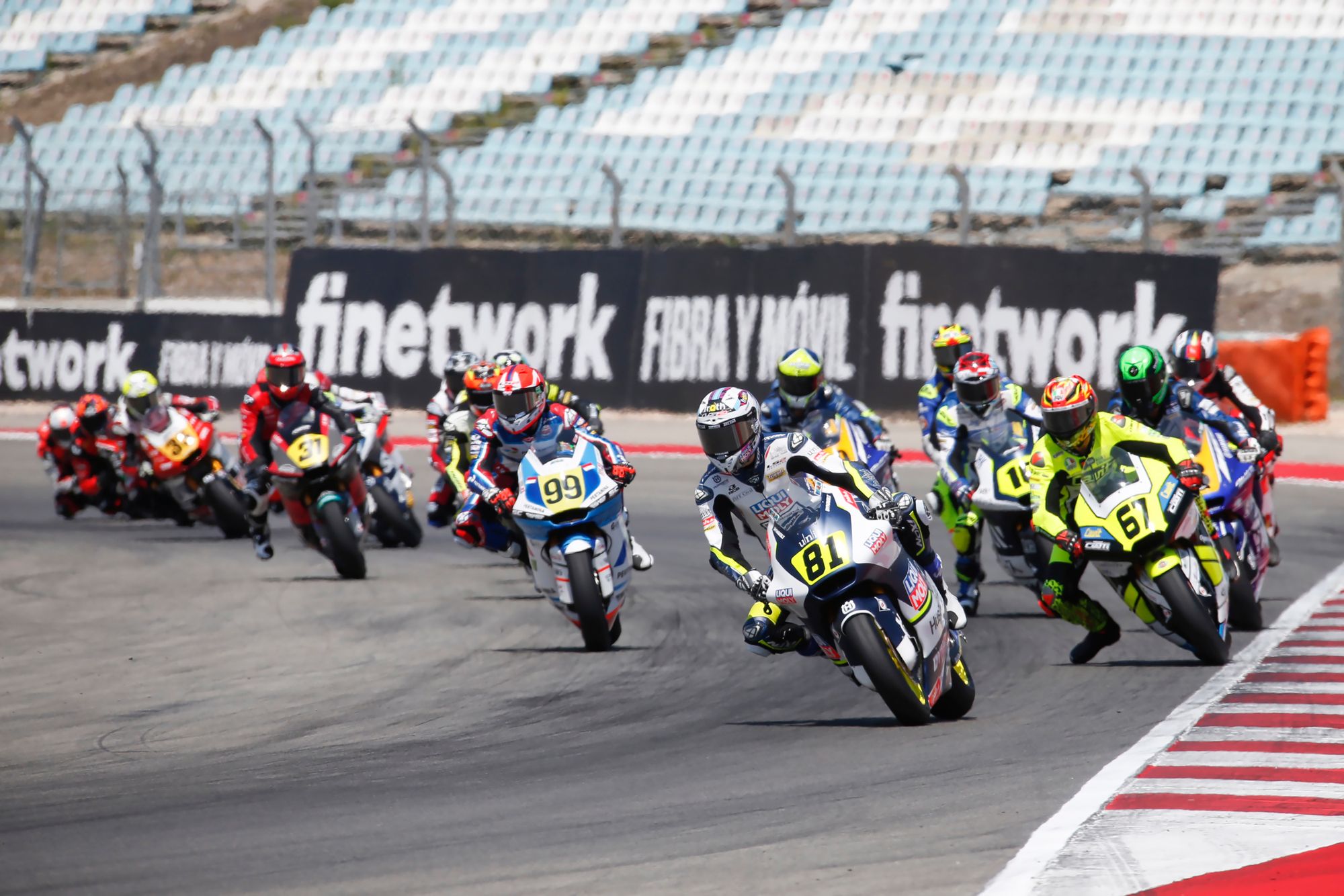 However, Tatay (#99 in the photo above) now faces an uncertain way forward in his treatment thanks to what appears to be in-fighting among motorcycle racing's Spanish organisational structure, as the regional and national federation hash out who is responsible for his care and for honouring the financial commitments required for his continuing rehabilitation.
Tatay is covered under FIM international insurance while outside Spain, but he then falls under the remit of his national insurance after his air ambulance repatriation, with both his healthcare costs and a financial aid to be paid out to cover both the ongoing care and the adaptations required to help him return to normal daily life.
Under Spanish law, the minimum insurance coverage provided by organising bodies for all sports is set nationally, with the law updated in 2023 to reflect not just inflation but the danger posed by certain sports, with motorsports in particular liable for larger payments in the event of permanent injuries or death.
That law was passed for 2023 but has not yet been ratified by royal decree - and with Spanish national federation Real Federacion Motociclista Espanola (RFME) protesting the increased premium it will be required to pay going forward, it's not yet in compliance with the incoming regulation, which is something that has presented a major issue for Tatay following his crash.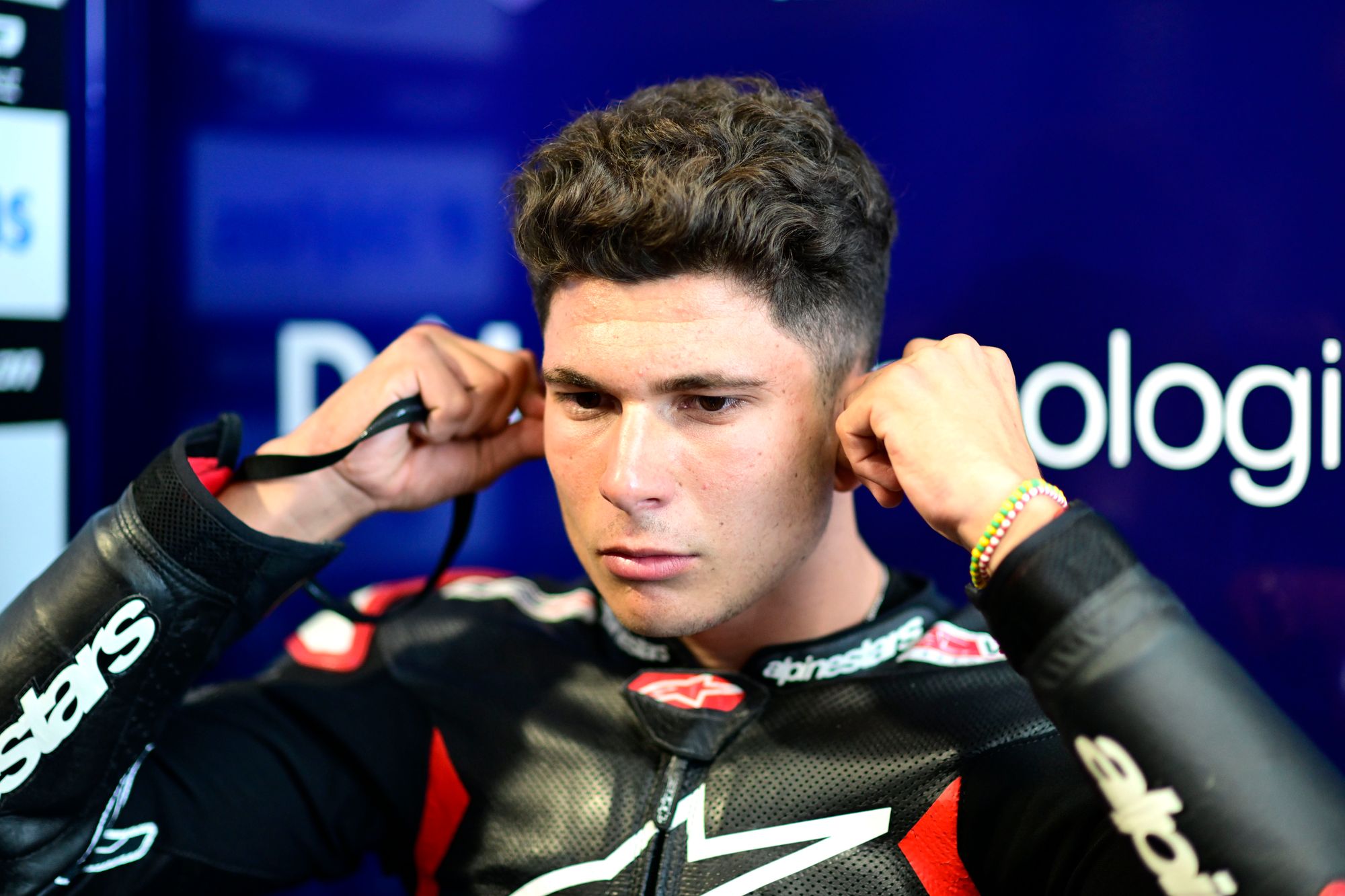 "All riders in Spain have their federations," he explained to The Race in an interview from his hospital room. "I have the Valencian federation and the Spanish federation, so it's like two that it's like for every rider. Now, both insurances for every rider are under the obligatory law in sports, from 1993.
"It's a really old law, and when you arrived to the hospital all that comes from the insurance is €6000 and then you need to take care of the rest. The problem is that with €6000 I can do nothing.
"On December 30 2022, they approved the new law for obligatory insurance for every sport, and every federation of motorcycling had to improve the insurance to meet the new law. On January 1 this new law came in, but neither the Spanish federation or the Valencian federation improved their insurance to this new law.
"I was riding, me and every Spanish rider, was riding with the insurance of 1993. Back then, the money wasn't Euros, it was in pesetas. They tried to improve this law, and they achieved it, but the Spanish federation didn't apply it.
"So now it's the federation, and I don't know which one, the Valencian or the Spanish one, who needs to take care, but now I have a really big problem in the hospital."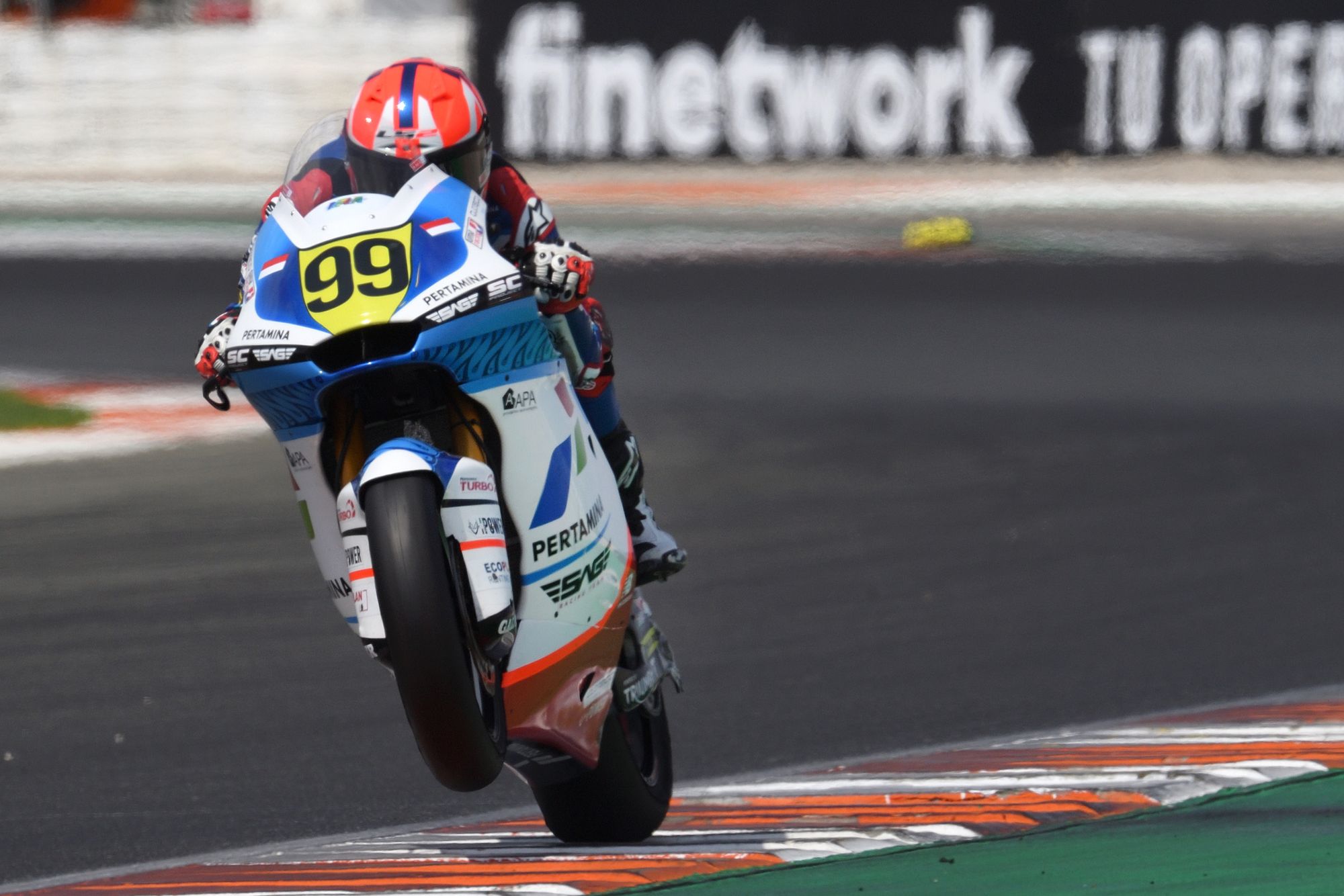 With limited contact from the Federacion de Motociclismo de la Comunidad Valenciana (FMCV) following his crash, Tatay was initially transferred to Toledo at the initiative of his team and family, but has since been informed that the specialist centre is not covered under his insurance.
His treatment was initially funded thanks to the RFME issuing a €30,000 payment from its discretionary fund but Tatay says he is still unable to receive information from the regional federation about the details of the policy. It means that he now faces a limbo situation where he is unsure about where or even if he will be able to continue treatment.
That situation has been complicated considerably by what appear to be disagreements between the two federations involved. According to an extensive interview given by RFME boss Manuel Casado Alvarez to Spanish YouTuber Nico Abad, the issue lies entirely with the FMCV.
However, the FMCV has denied that there is an issue with Tatay's coverage despite admitting to being caught off guard by the 2023 law changes, according to FMCV boss Jose Luis Berenguer Serrano, while also speaking on Abad's YouTube channel - but without addressing key points regarding why, according to Tatay, details have been withheld so far from the racer and his family.
Regardless of who is in the right or wrong right now, with the insurance payout limited at €6000 (the modern equivalent of the one million pesetas mandated in the 1993 law) instead of the tens of thousands of Euros he should have received under the 2023 regulations, it means Tatay faces considerably more hardships going forward with his recovery.
"I'm with a chair that's not mine," he explained to The Race, "it's from the hospital, and I need to give it back. I spoke yesterday about making my chair, because this one I need to return. We need to take €10,000 to get a new chair.
"I'm going home some weekends, not every weekend, to be a bit with my family and have my mind in another place. But I need to go to the home of my grandma, because my home has four steps in and it's all stairs, so I can't go there. Now we're trying to sell my home, and if we sell it, we can buy another one. But at the moment we can't do anything.
"We also have to buy a new car, because the car that we have I cannot make the adaptations. We need money, and for my dad and my mum it's not possible to put all this. It's impossible."
With his case now reaching something of a critical mass as he looks to secure his continuing rehabilitation, it has promoted Tatay to reach out not only to the media but to his fellow racers, with MotoGP rider Aleix Espargaro unsurprisingly one of those preparing to help the youngster fight to secure proper compensation for his injuries.
"I speak a lot with him," he told The Race. "We're definitely going to help him, and we're trying to understand how. Maybe the solution this time is not to just pay to him, because there will be another Carlos Tatay next year.
"I think now I am a strong enough speaker to solve this problem, and I'm talking with [Dorna bosses] Carmelo and Carlos [Ezpeleta] to try and understand how we can improve this situation.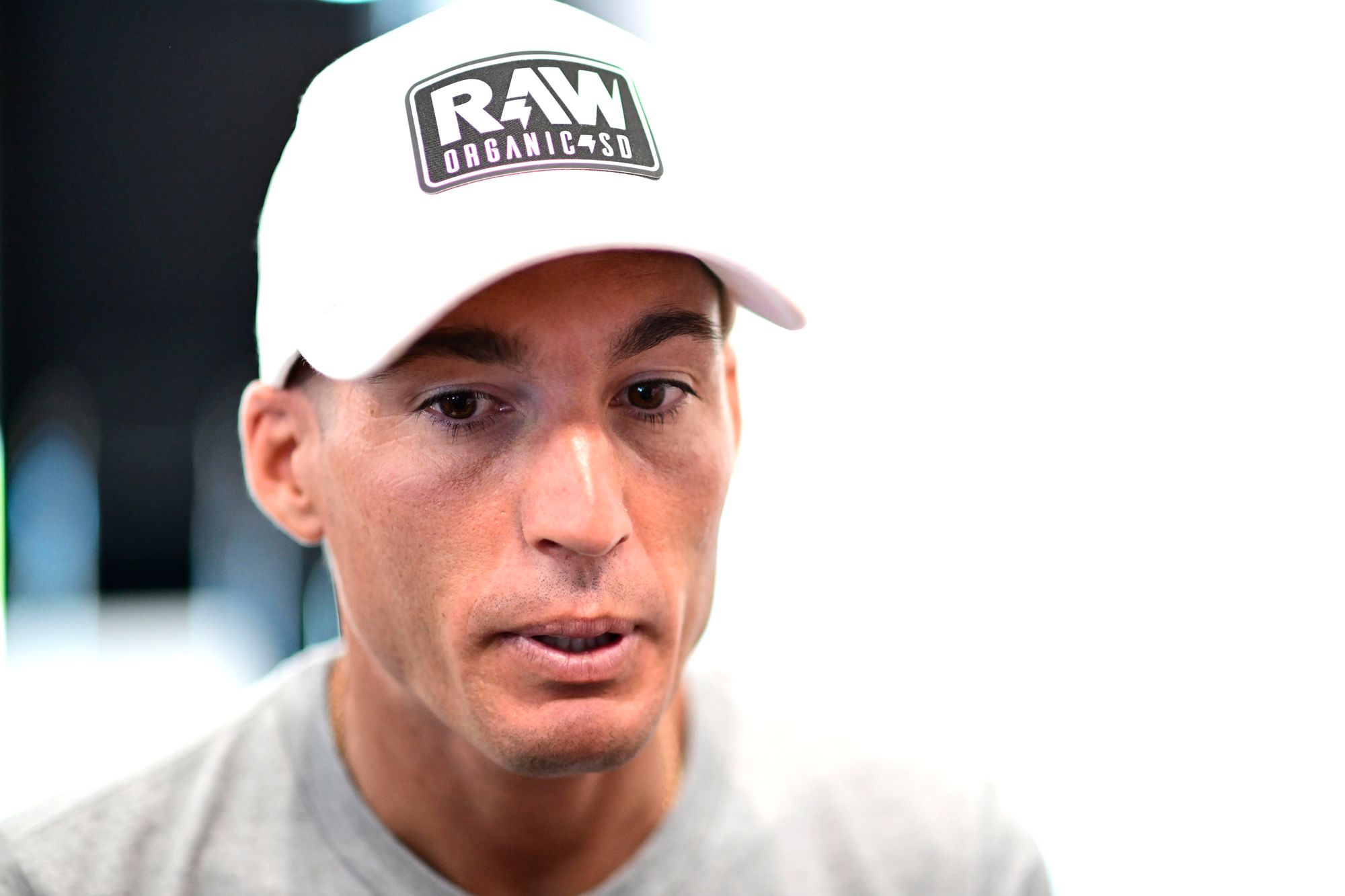 "With his particular case, for sure we're going to help, but it's [also] about improving this, because the system is not working. The first thing is to try and be close to him because the situation is one of the most difficult I've seen in my career, but forgetting him it's also about the case."
"It's sad, and not nice," added Espargaro's brother Pol, who suffered his own life-changing crash at Portimao earlier this year. "The whole situation is sad, first of all for the injury and also because of the consequences.
"It's sad that he sees himself in this situation, him, and his family, after what he has been through. To see him in this crush of money is… I get goosebumps. I've been in this situation not long ago. You have a lot of worries, and for this to also become a worry - I can't imagine how that feels.
"We need to put a solution in. It cannot be possible. For the Spanish federation, for the Valencian federation, for this new riders' association. I don't know, but something needs to be done in Carlos' case, and we will work on it."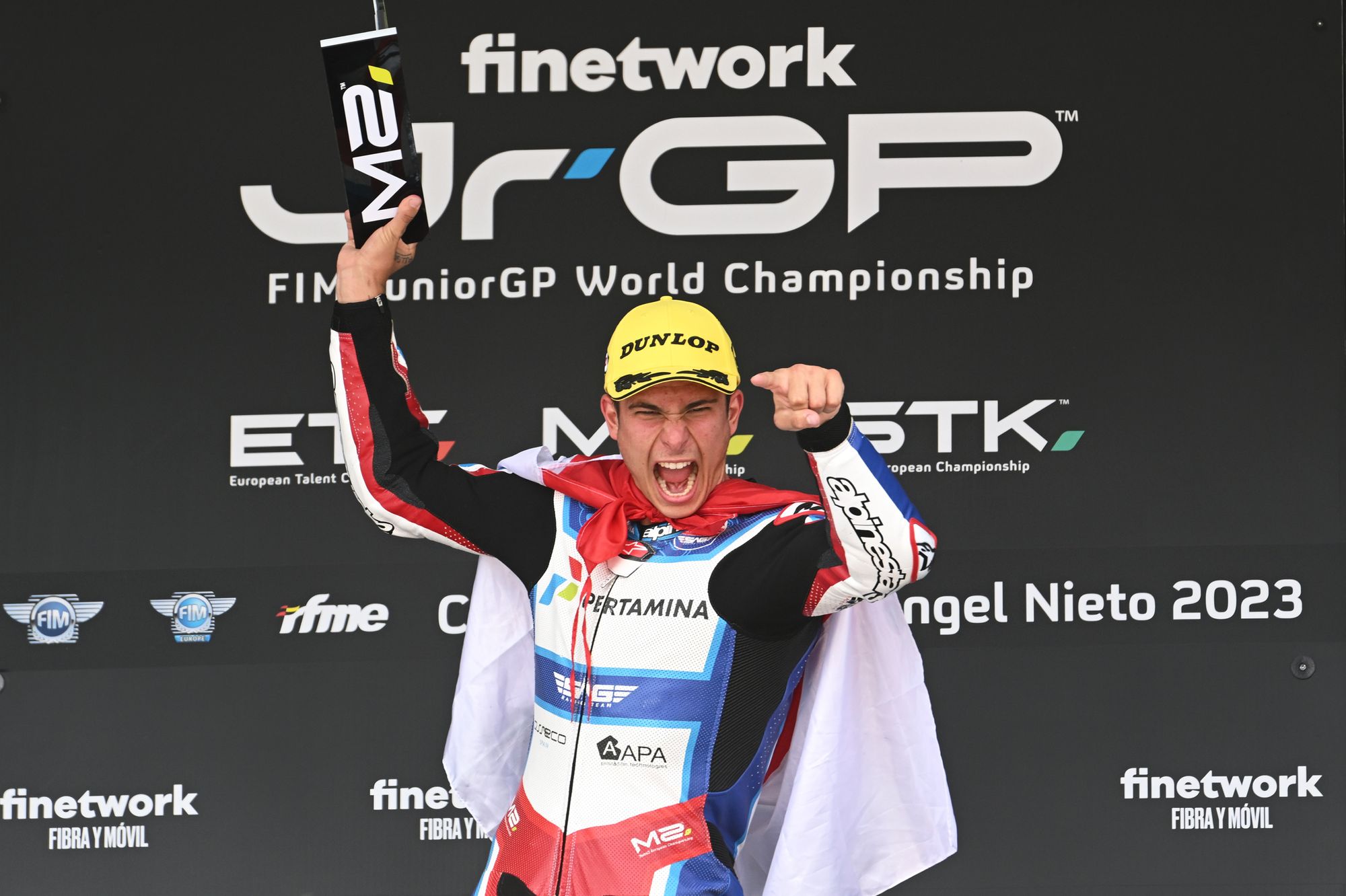 "It's a situation that as a rider you always feel a lot of empathy for," added 2020 MotoGP champion Joan Mir, "because it can always happen to us. We see that when we really need their help, Tatay isn't getting the help that he deserves and that we all deserve as riders.
"This is a situation that we cannot accept. We have to understand what happened, to make sure not to allow it to happen again."
The current MotoGP riders aren't alone in taking up Tatay's case, with Dorna sporting director Carlos Ezpeleta also keen to do everything in his power to help create a solution right now to help the 2023 Moto2 wildcard rider - something, he says, is aided by Dorna's ability to ensure everyone sits down together to try to resolve the differences.
"There has been some bureaucracy, I guess, in terms of regional and national federations," he told The Race. "They can do whatever they want, as long as the problem is resolved - but it happens to be that it's the Spanish and Valencian federations, and we have races there.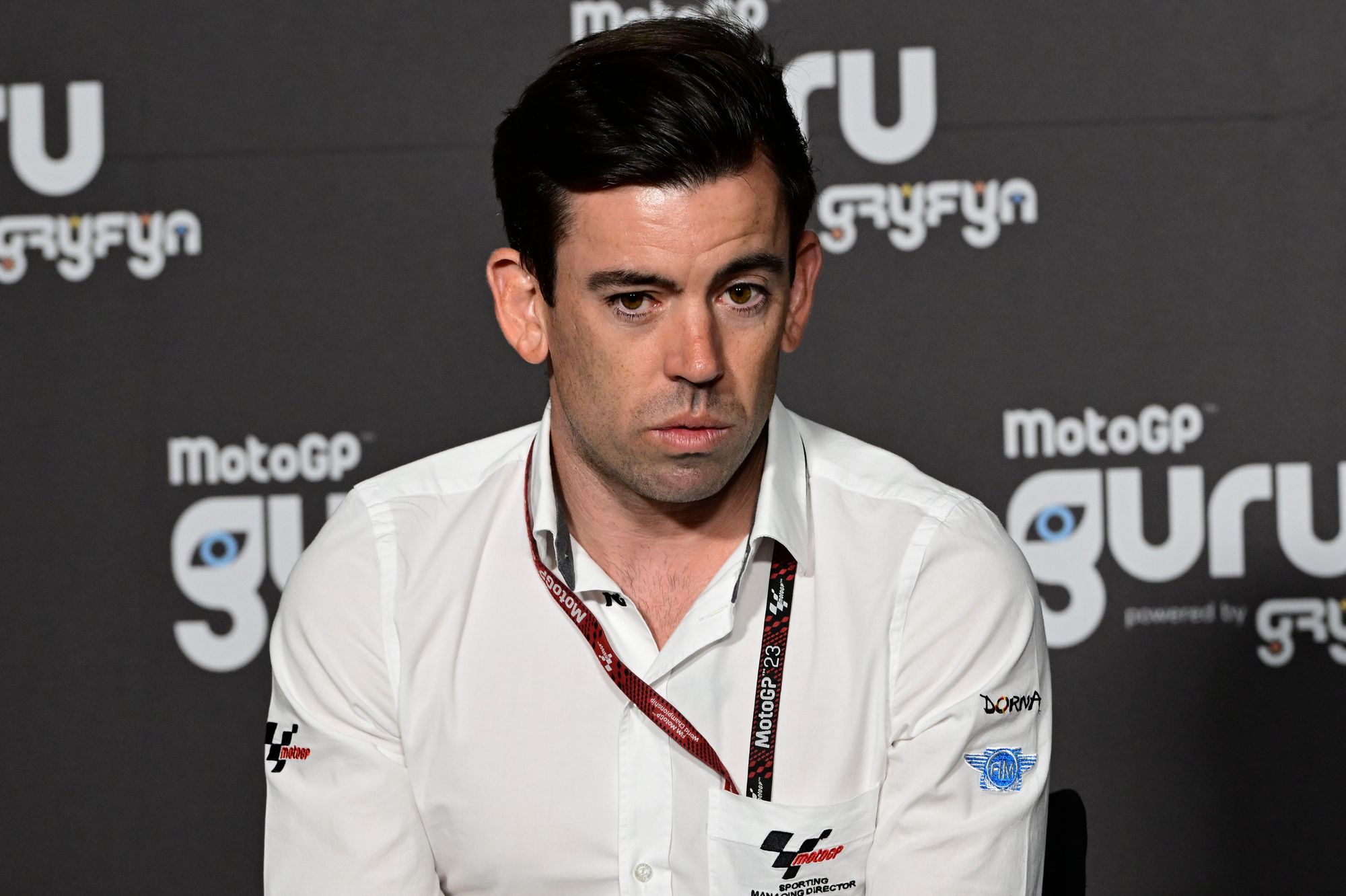 "It would be much more difficult if it were for example the Belgian federation, but in this situation I think there's some pushing that we can do."
He was also adamant that, looking beyond just Tatay's particular case, there needs to be work done by international governing body the FIM to ensure that the issue isn't repeated again in the future.
"There is a conversation for the FIM to have now with all the national federations," he admitted. "It's not sufficient in this day and age to put in writing 'this is what has to happen'. You have to go above and beyond and check that the other party has done it. The FIM has to do that.
"It is a world championship, and they have to make sure that it's done. If the Spanish federation has put these responsibilities onto the regional federations, then OK, but someone has to ensure that it's all complied with."
The Race approached both the Spanish and Valencian federations to ask for clarification on a number of points regarding Tatay's case, with a specific list of questions asked in order to fully explain the situation.
Those points were not directly addressed in a statement given to The Race by RFME director of communication Jorge Torrecillas, which came with the RFME also highlighting the video interview with Casado Alvarez conducted by Abad for further clarification on the situation.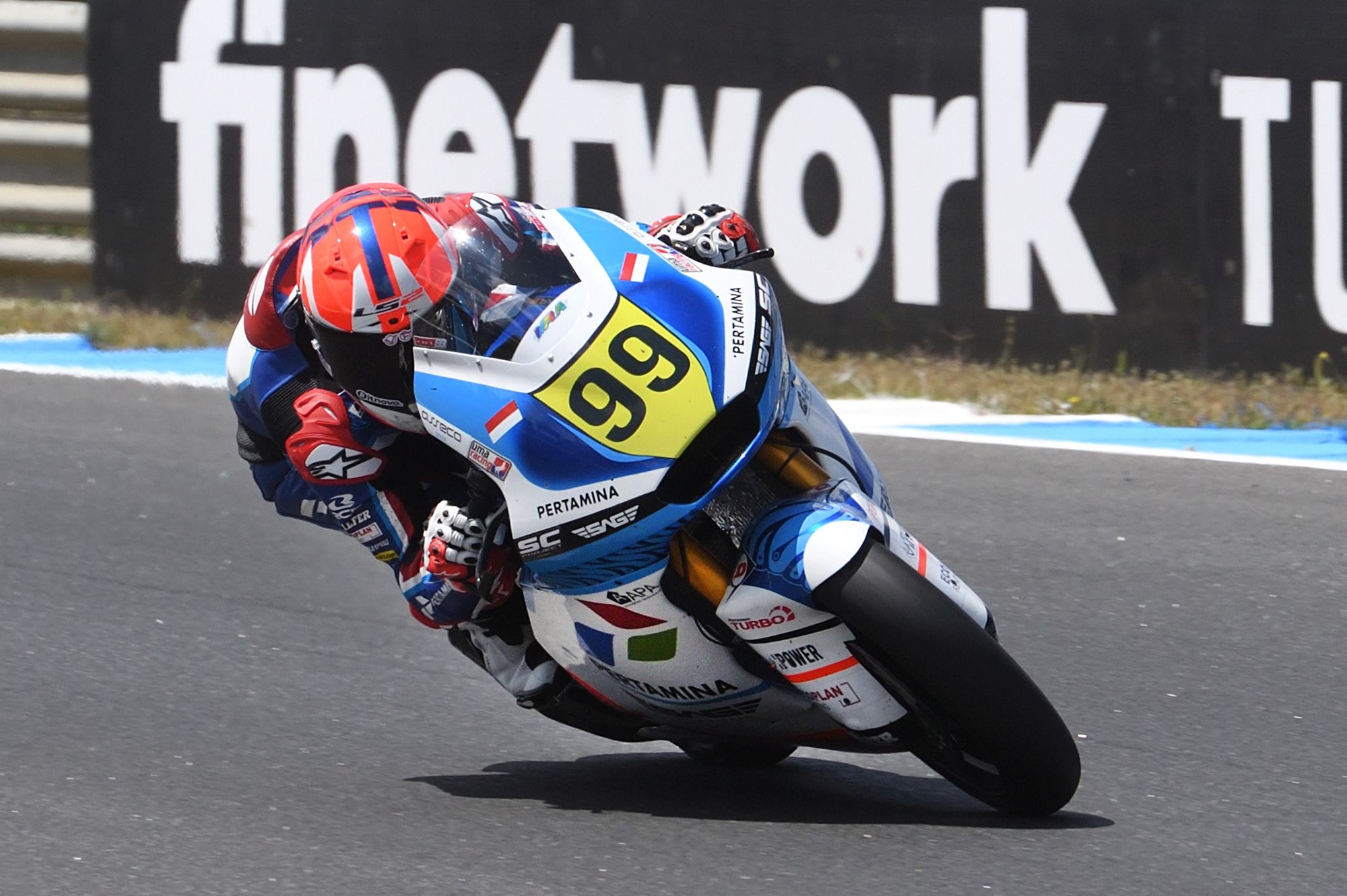 "As a federation, we have fulfilled our obligations and duties quickly and efficiently and done everything in our power, and even more, to assist the rider in this difficult process," the statement said. "We have been in contact with Tatay's group at all times to indicate the steps to follow, while being concerned and willing to collaborate."
The FMCV did not respond to The Race's request for comment.