In what would have been almost unbelievable news only a few short months ago, it's sounding increasingly likely that Marc Marquez's dramatic switch from Repsol Honda to Gresini Ducati for 2024 will result in a direct swap with the satellite team's current rider Fabio Di Giannantonio.
The young Italian, fresh off his maiden podium in the premier class at Phillip Island, is now seemingly the prime candidate to replace Marquez in what for a long time had been the championship's most prestigious seat.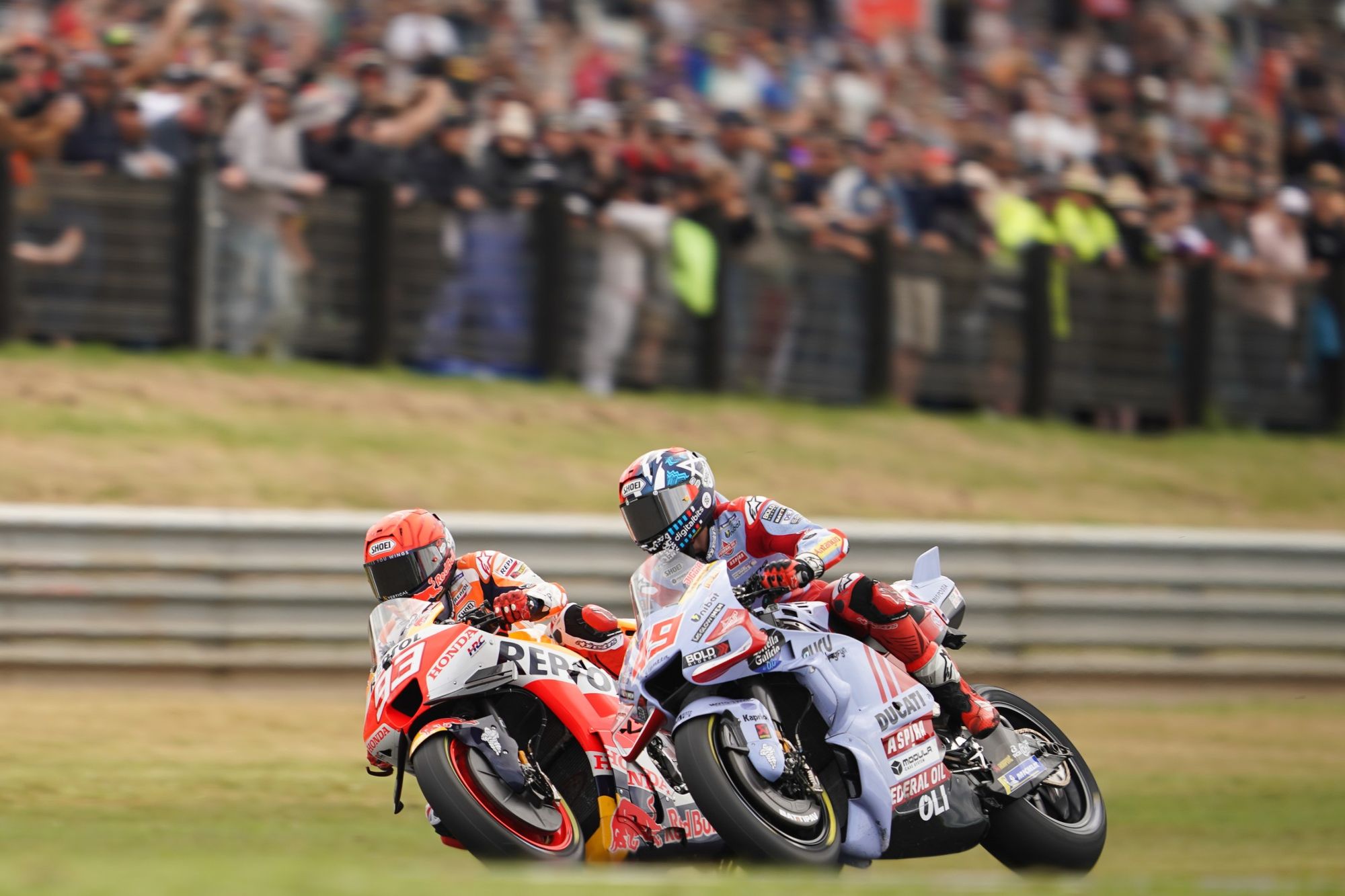 Since it became apparent that Marquez would not be lining up for the team he's called home since making his MotoGP debut in 2013 next season, there have been a number of names linked to potentially joining him - both names already contracted to Honda and those who were either free agents or otherwise perhaps able to escape their current deals.
But, with candidates on the shortlist one by one dropping off, it seems that Di Giannantonio - aided in part by increasing form of late that has so far culminated in that Australian Grand Prix podium - is now the number one candidate, according to multiple media reports ahead of this weekend's race in Thailand.
The first, and perhaps most obvious, name to top Honda's list was already-signed Phillip Island race winner Johann Zarco, with his position at satellite team LCR for next year opening a clear path to him replacing Marquez.
However, team boss Lucio Cecchinello made it abundantly clear in the interim that he would pull out all the stops to fight for the Frenchman to remain with his team for 2024 as originally planned, something based in large part on commercial interests thanks to deals already in place for next year based on Zarco being on an LCR bike.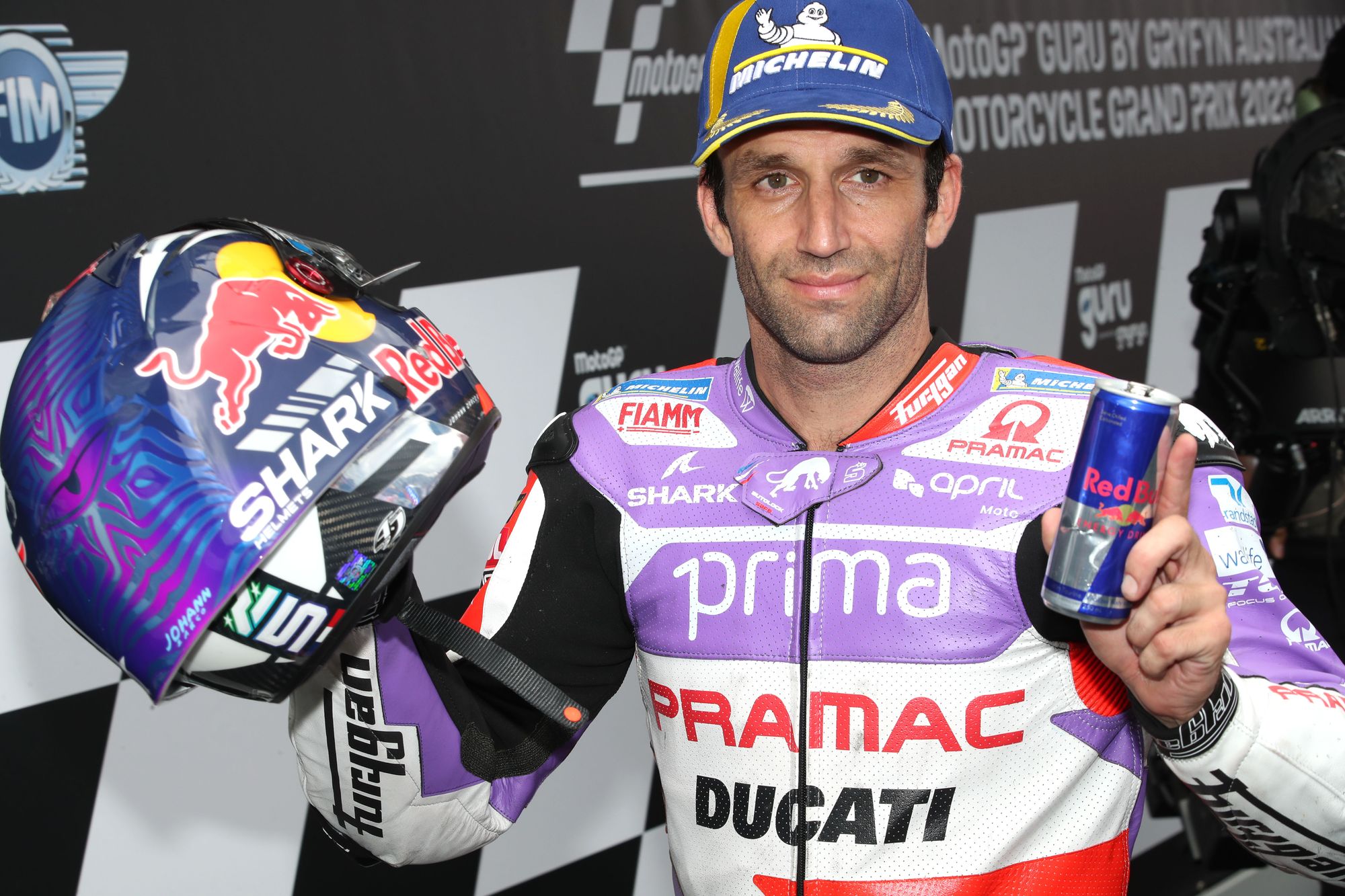 Zarco himself then also suggested to French broadcaster Canal+ at Phillip Island that his desire to don Repsol colours was effectively nullified by Honda's apparent unwillingness to make it anything more than a single-year arrangement - something that has also been corroborated by Cecchinello on Thursday in an appearance on MotoGP's official Last on the Brakes podcast.
"Let's say that, of course, the rider manager - and the rider himself - were like 'hmm, that could be interesting, this [Repsol Honda] place'," Cecchinello admitted.
"But then [the situation changed] due to the fact that Honda respected the engagement that we all have made - and also due to the fact that Johann wants to have a two-year programme, flat out, with the same group of engineers, same group of technicians and people. And in MotoGP nowadays, if you really want to achieve good results, at the moment you need to have an experienced MotoGP rider with a very high talent, but as well you need to have stability.
"Because it's very rare that a rider, even with experience, comes and then immediately, bang, he's massively competitive. Because the competitiveness of the class is so high that you really need to work on every single detail every single race, every single day, for a couple of years and then finally you can get there, you can make special results."
As a result, Honda then reportedly sounded out three of Aprilia's current MotoGP racers, with approaches believed to have been made to factory duo Aleix Espargaro and Maverick Vinales, both of whom also quickly failed to show any interest in walking away from the Noale factory's project to jump onto a beleaguered Honda RC213V, even if it did mean the chance of getting to ride in Repsol colours.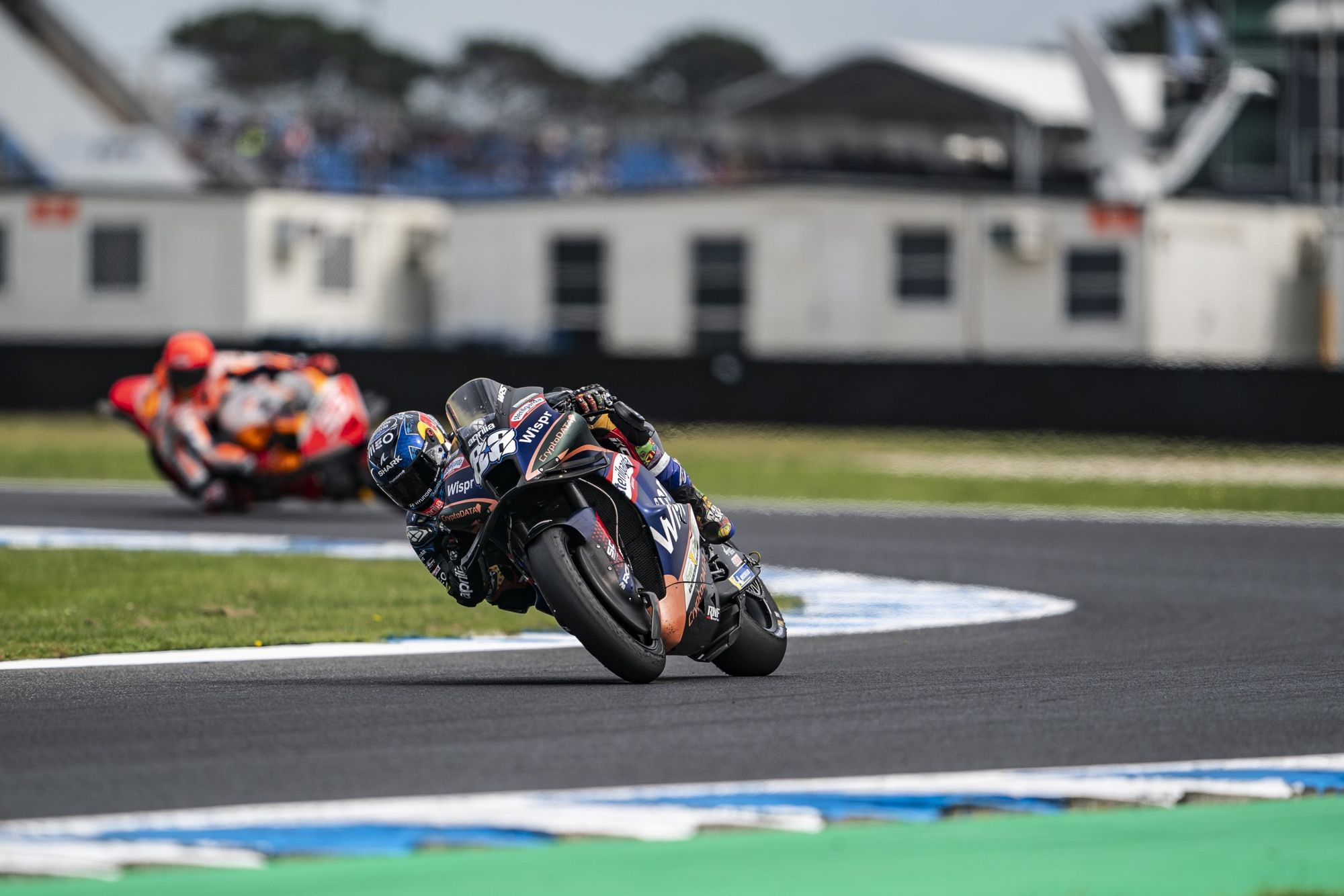 It seemed then that there was a much greater chance of luring away satellite rider Miguel Oliveira, with the Portuguese racer insisting - contrary to claims by both Aprilia and his RNF team - that he had a possibility to exit his current deal. But Oliveira said on Thursday in Buriram that no talks were ongoing with Honda, and it has been reported that he too has been put off by the idea of a single-year commitment.
There has also been some speculation about names not currently on the MotoGP grid being linked to the ride, albeit primarily in a satellite role at LCR should Zarco get the nod to step up to factory colours.
First of those was Honda's factory World Superbike racer and ex-KTM MotoGP rider Iker Lecuona, who has been used by the factory as a super-sub this season replacing both Marquez and his team-mate Joan Mir (as well as current LCR rider Alex Rins) while they were injured, with the goal believed to have been to prepare him for an eventual return to the premier class.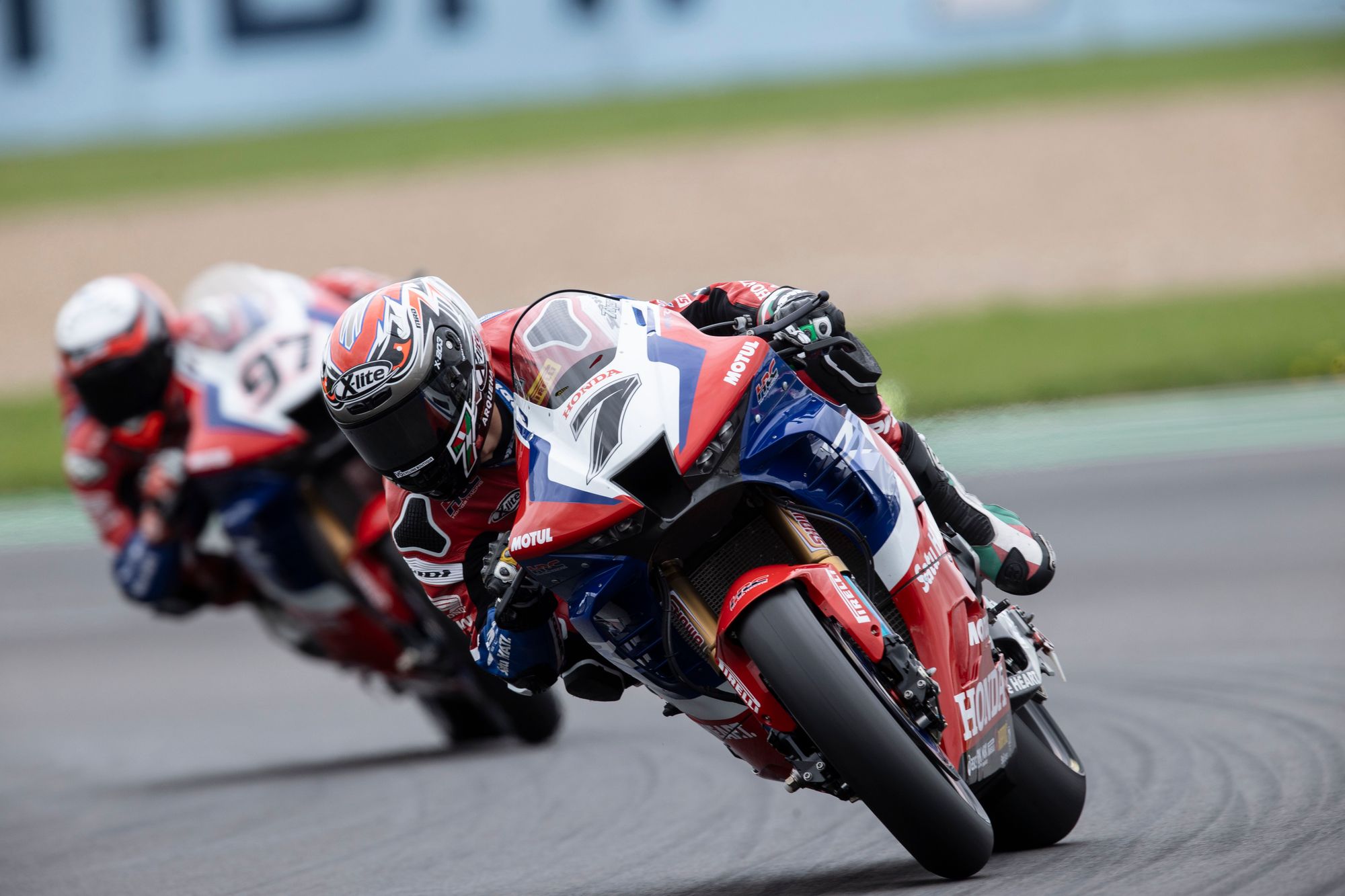 However, with Honda announcing on Thursday morning ahead of the commencement of the final round of the production racing series that Lecuona and World Superbike team-mate Xavi Vierge have been retained on two-year deals, it is likely that no MotoGP switch is now on the cards.
And while series promoter Dorna was believed to be keen to see either Thai rider Somkiat Chantra or Brit Jake Dixon get the opportunity via a promotion out of Moto2 primarily for commercial reasons, it seems that that too is unlikely to happen as Honda looks for experience to help rebuild its struggling MotoGP programme.
"In terms of help, experience always helps," admitted Mir when asked by The Race about what he wants in a new team-mate.
"I think that now, in this project, experience and fresh air will always help. But always when you ask me this question I don't know what to say.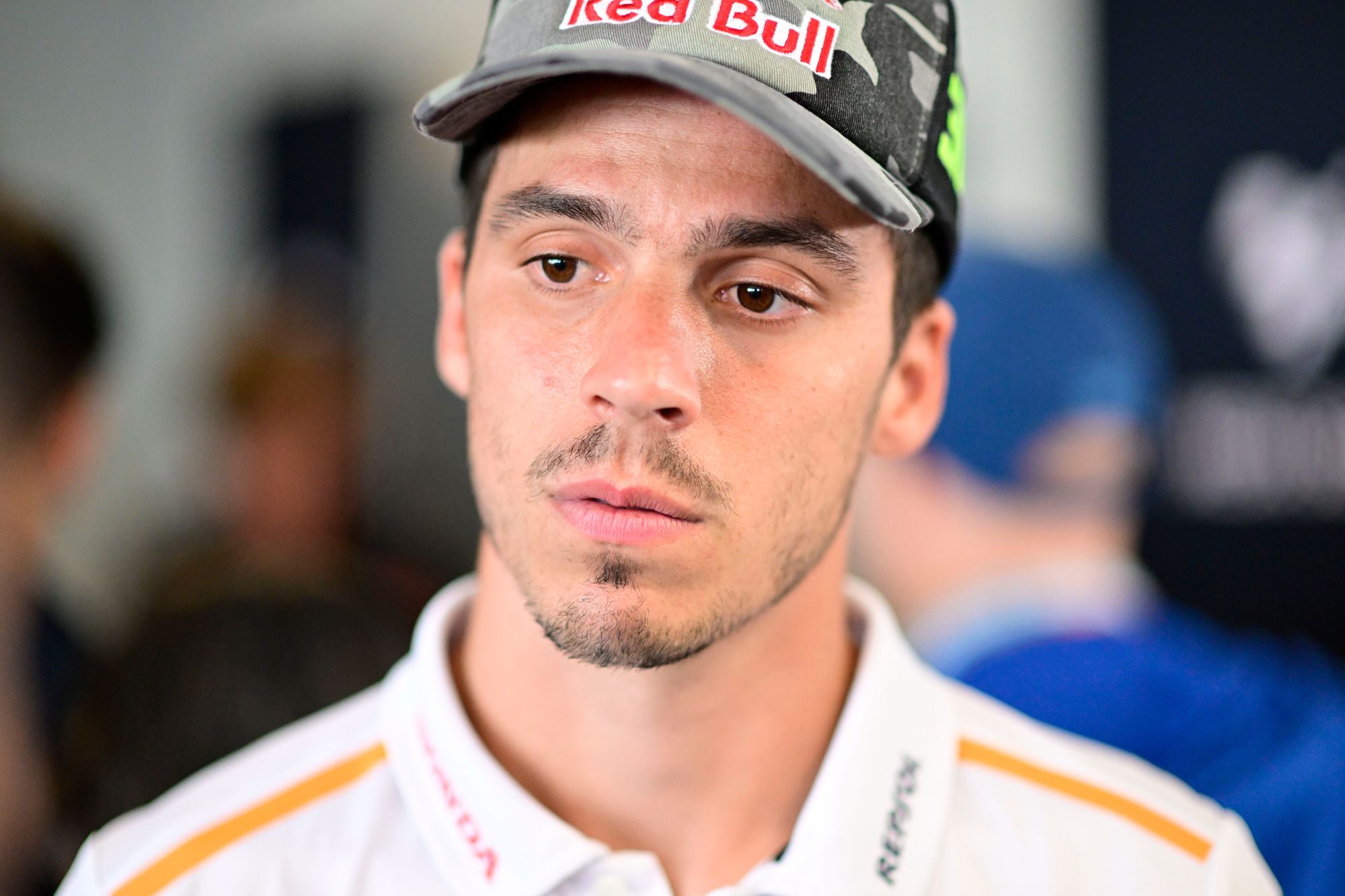 "I don't care about the other rider, but it's true that if you want to be selfish you want a fast rider with experience, because it can help me to be even faster. So that's what I expect."
And while Di Giannantonio might not exactly be as experienced as some of his MotoGP peers, the work that the Italian has done since the summer break to boost his credibility had undoubtedly helped ensure that his name is, at the very least, now firmly in the mix for the Honda spot.
Arguably the most experienced MotoGP rider currently on the open market given his two years with Gresini-run Ducatis, their high-level aerodynamics, and the latest Michelin tyres, signing the Italian would at least help provide a satisfactory base level until Honda gets the chance to figure out its longer-term rider strategy.