Even after weeks of speculation about what Marc Marquez's MotoGP future would hold, it seems bizarre to be talking about his departure from Honda next season in official terms - with Wednesday's announcement still offering meteoric shock value given the relationship that he had build with the Japanese factory since making his premier class debut in 2013.
However, balancing that immediate shock factor is a certain amount of understanding as well, given that the six-time world champion hasn't exactly been secretive about his desire to win more - and the inescapable fact that the current Honda RC213V is a machine that doesn't give him (or anyone else) the opportunity to fight for a title right now.
Nonetheless, this isn't a decision that has happened overnight. It's been a long time coming.
Its origins arguably date all the way back to early 2020, right off the back of his sixth championship - perhaps the most dominant title-winning MotoGP campaign of all time.
2020 Lusail test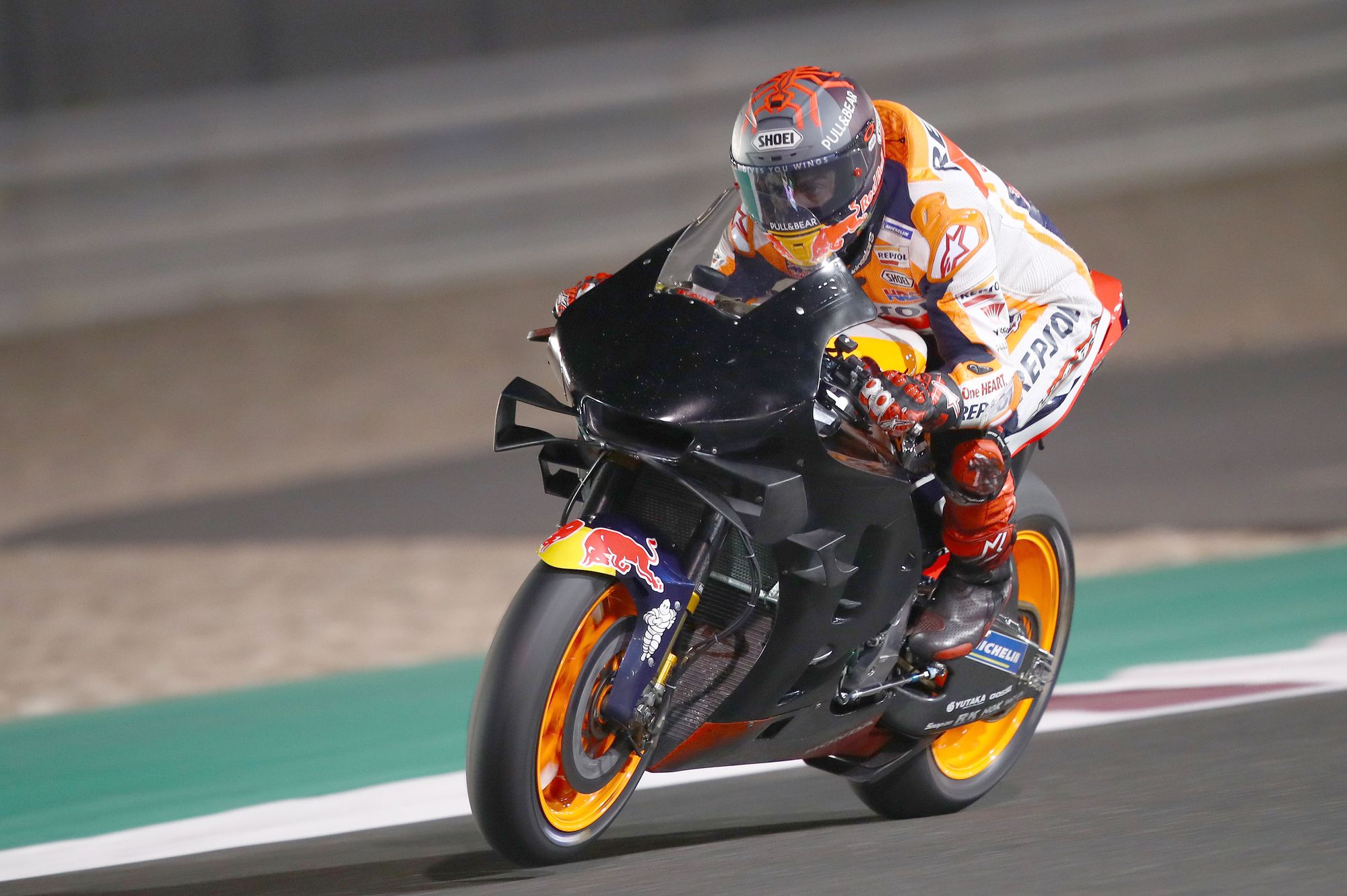 It might seem like a lifetime ago, but pre-season testing for Honda back in 2020 was something of a complete and utter disaster. Only a few months earlier, Marquez had dominated the 2019 season by never finishing worse than second place, racking up a huge points haul, and looking totally unbeatable - only to then jump onto a brand new RC213V at the post-season Valencia test and discover a motorcycle that fundamentally didn't work.
Marquez was unable to get any performance at all from the machine throughout three pre-season tests, and it was only on the very last night of nine where things started to look up for him, as he dumped all of Honda's new aerodynamics from the machine and reverted to the rather more basic configuration from the year before.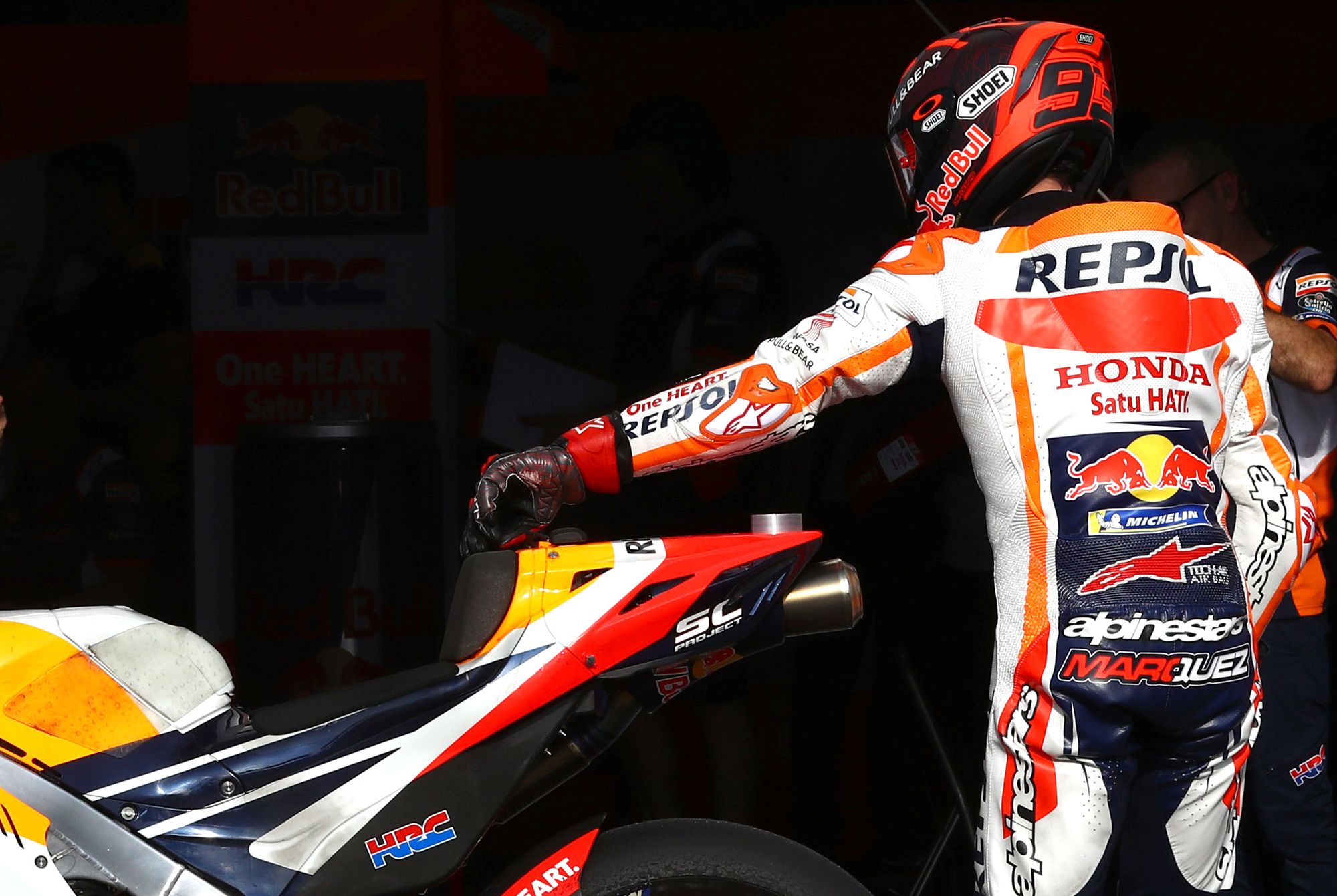 Though at the time it perhaps wasn't the most significant move, it was a harbinger for all of the development woes that were in Honda's immediate future - even if the events that came next (starting only a week later with the COVID-19 pandemic suspending the championship for months) were beyond anyone's belief.
However, the performance clearly wasn't that significant a worry for the then-reigning champion, who only days earlier had announced an unheard-of four-year extension to his Honda contract that was supposed to keep him with the team until at least the end of the 2024 season.
2020 Spanish Grand Prix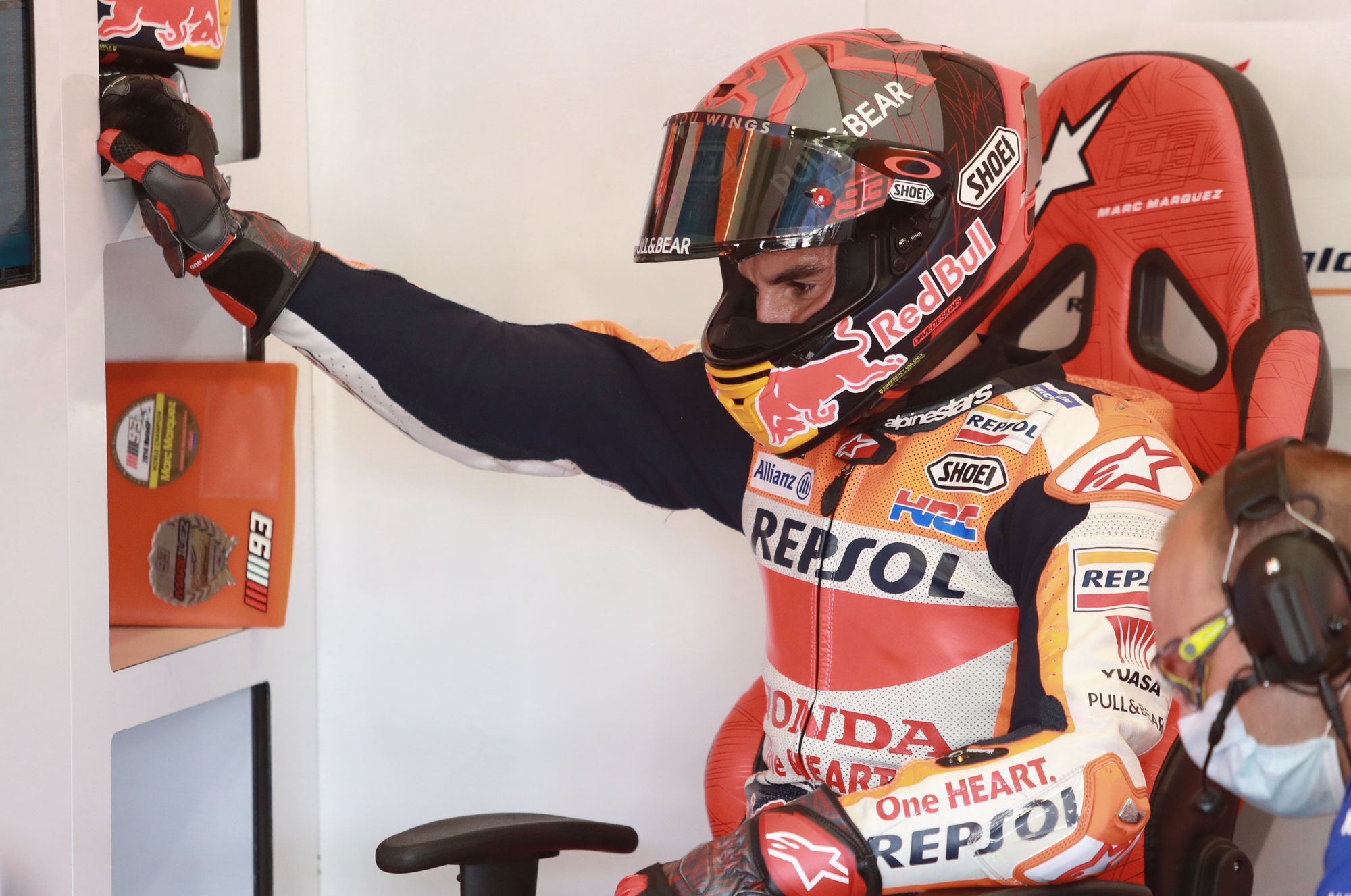 On the final night of the Qatar test, no one thought that it would be another four months until we'd see a MotoGP bike turn a wheel in anger - or what would happen when we did. When the season finally did get under way, delayed because of the pandemic, Marquez was right at the front, until a mistake dropped him to the back of the pack in the opening race of the year.
And during the charge back to the front came perhaps the defining moment of his career: a crash that left him in the gravel trap clutching a badly broken upper-right arm. Arguably the result of hubris - the bike wasn't yet impossible to ride but Marquez seemed like a man determined to win on that day - the result was an injury that looked set to completely derail his championship hopes in a compressed calendar.
Yet things ended up getting so much worse. Marquez rushed back to action only a week later (with hindsight, an exceptionally foolhardy move) and did even more damage in the process, ending up with a crippling injury that required more and more care, the rest of the season off, and, perhaps worst of all, a loss of control of the bike's development direction.
2021 Portuguese Grand Prix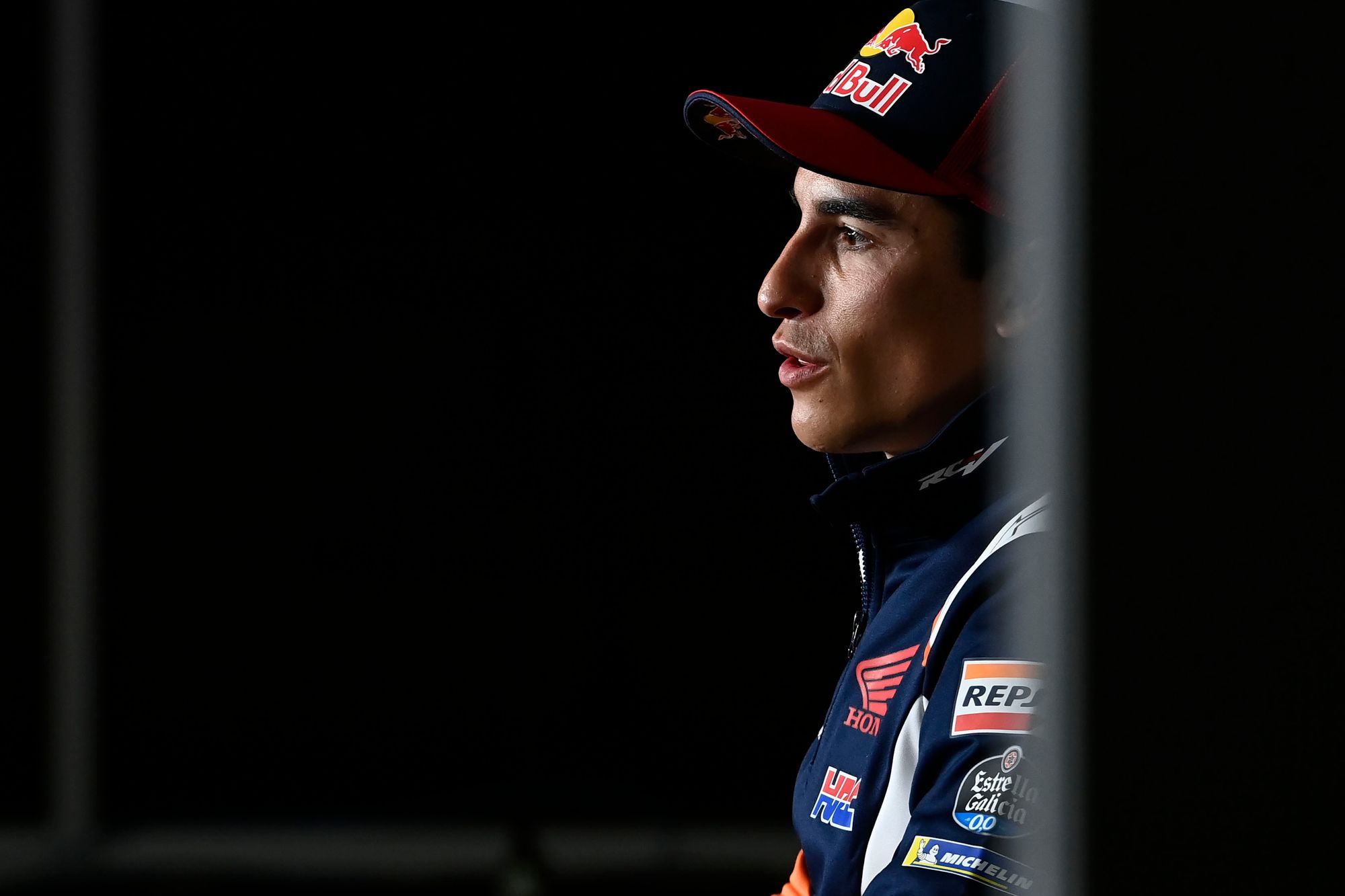 It would be more than a full season before we finally saw Marquez back in action, missing as he did not just the rest of 2020 but the first couple of races of 2021 as well, eventually returning only for the third round at Portimao.
Admitting afterwards to being massively out of his depth, he nonetheless put on an impressive show to finish his first race in nine months in seventh, proving that his determination was still there and, at the time, indicating that the Honda wasn't yet in a terrible position - even if the reality was that, far from full fitness, the level of the bike wasn't even something being discussed within the box.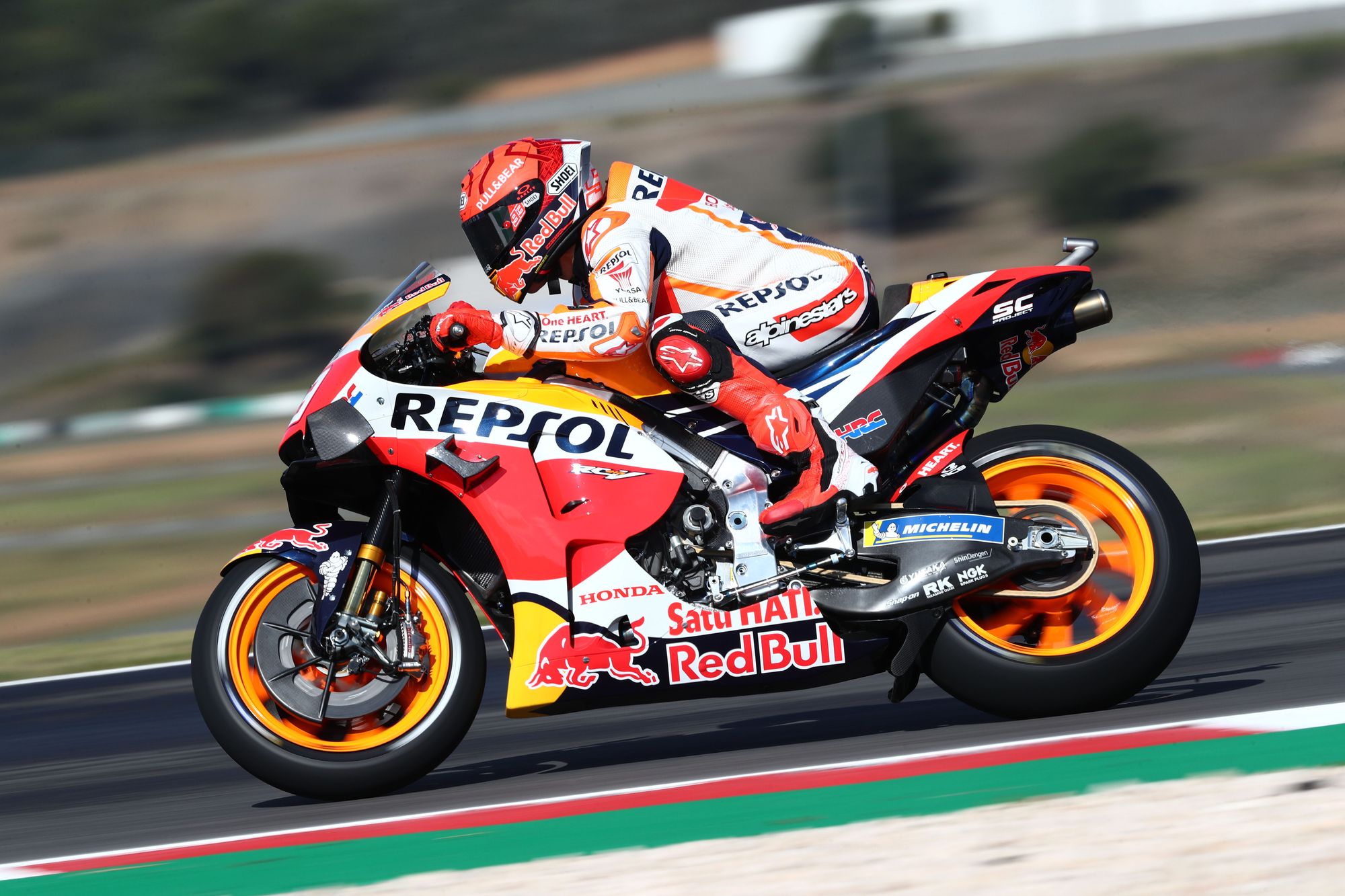 And while there wasn't much else to write home about in the following races, victory at his beloved Sachsenring a few months later in July proved that there was still plenty of fight left in Marquez as he kept working on his fitness and the strength in his damaged right arm which, by this point, had undergone three major surgeries, a bone graft, and a nasty infection that had necessitated a long hospital stay.
2021 Emilia Romagna Grand Prix (post-race)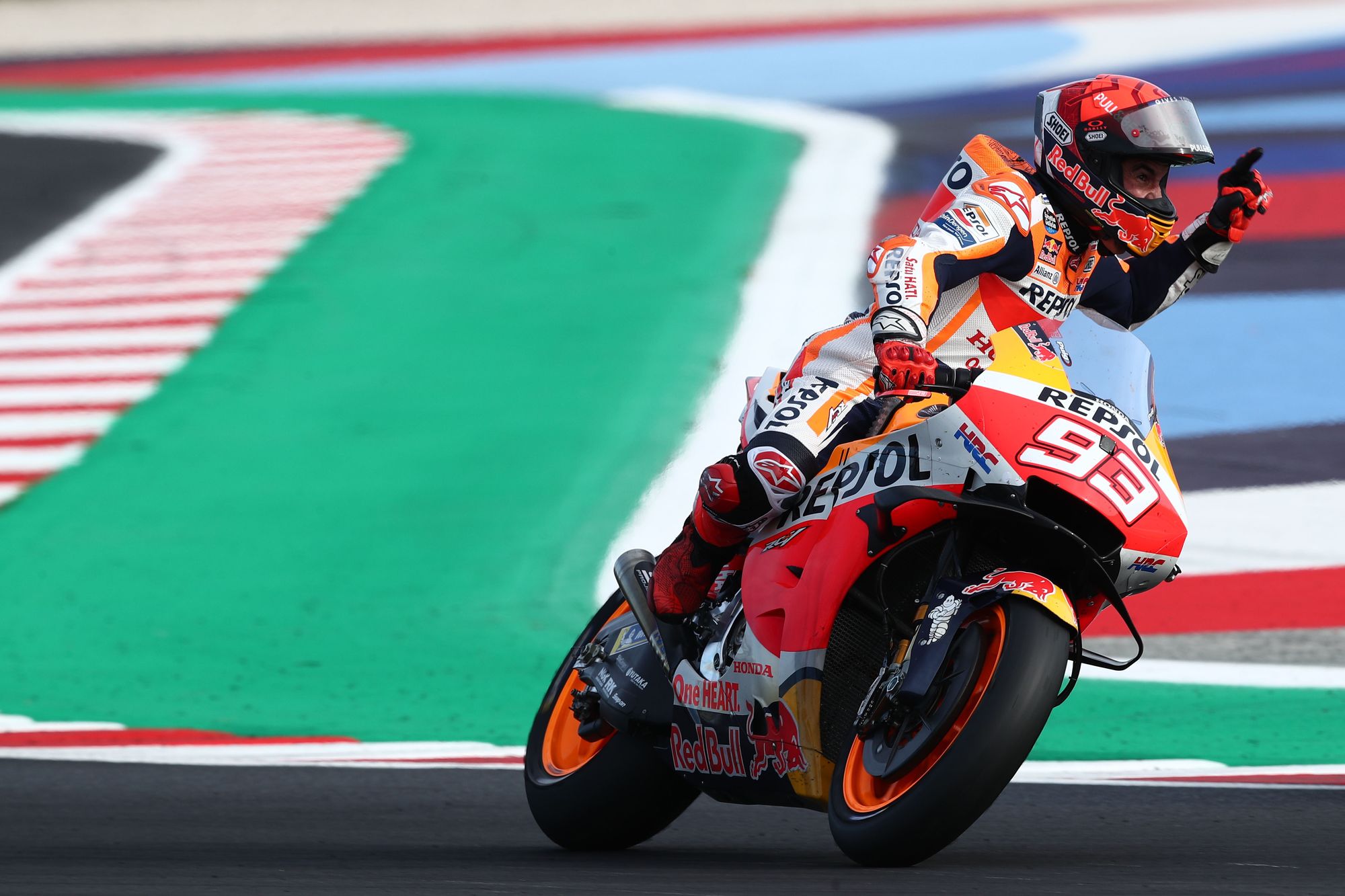 Towards the end of the 2021 season, things absolutely started to look up for Marquez, with hints that his old form was returning. Second at Aragon, another of his favoured tracks, before victory at both the Circuit of the Americas (another where he remains undefeated) and at Misano meant that the year started to come to an end on a high - or so it seemed.
Only days after his third victory of the year, that triumph at Misano, a relatively innocuous tumble while riding enduro for training quickly snowballed into something much, much worse. Hitting his head and suffering a concussion triggered a recurrence of the double-vision problems that had cost Marquez a Moto2 title in 2011, and meant yet another season came to a premature end.
Missing out, again, on valuable testing time after the final race, it knocked back his 2022 preparations as well. And with the bike continuing to seemingly go in the opposite direction, it was preparation that he really couldn't be doing without.
2022 Indonesian Grand Prix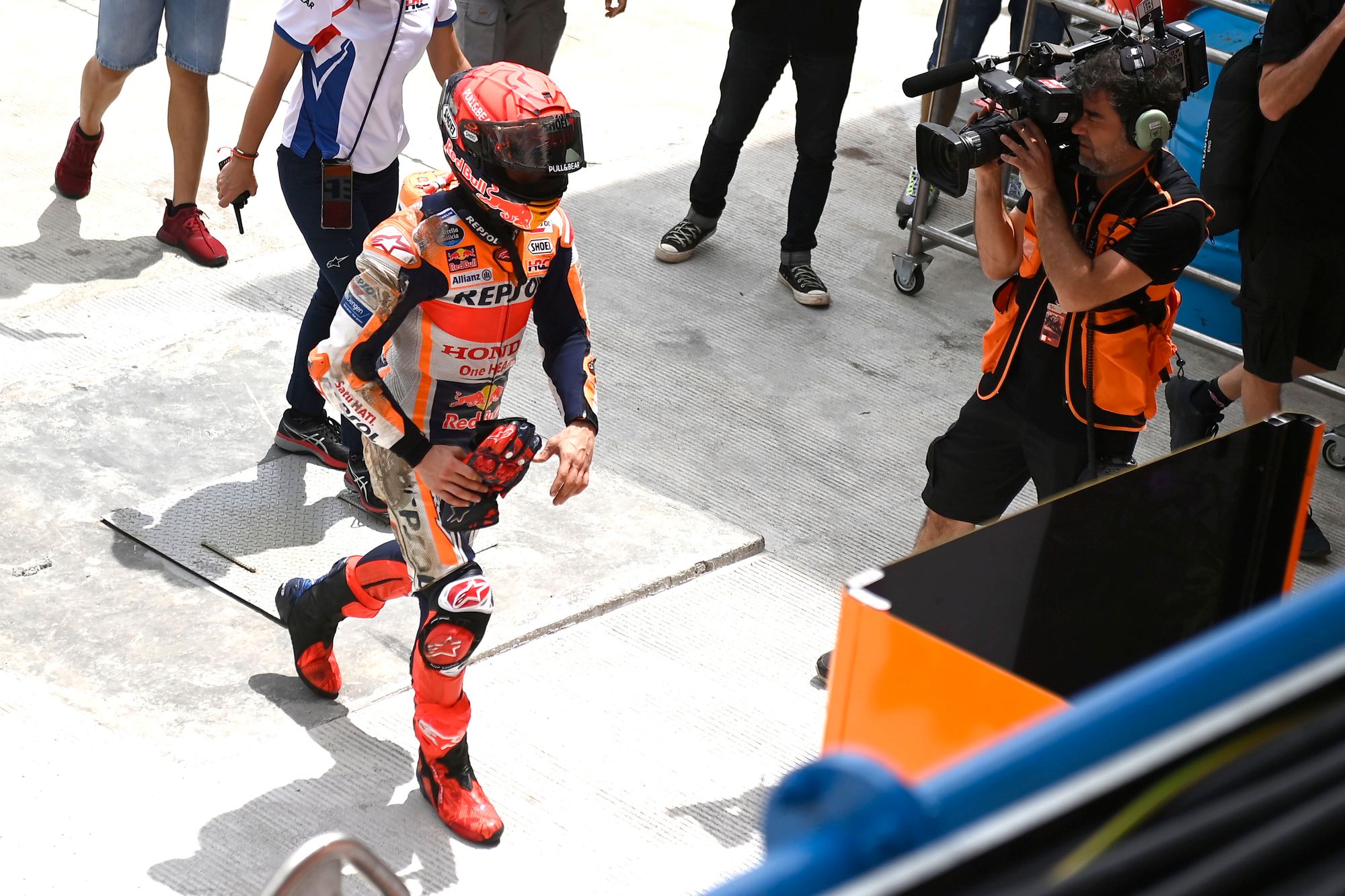 Despite the lack of track time at the end of the previous season, Marquez went into 2022 upbeat. The bike was still manageable, it seemed, and his physical condition was improving (or so we thought). All he needed was more time to ride and to improve, and a fifth place at the opening round in Qatar indicated that things might not be terrible even if results weren't up to his previous level.
However, one thing that had also cropped up throughout the start of the season was the propensity of the 2022 bike to throw Marquez into the air. Seemingly with no safety net built in, he had traded the sort of slow-speed crashes that half the time he could save for vicious, high-speed, bone-breaking high-sides - and an innocuous warm-up session at Mandalika delivered another one.
Not just leaving him battered and bruised, it also brought back the diplopia problems from the end of 2021. Sidelined once again while he and his vision recovered, it left him not just out of racing but unable to train properly. And when he did return two races later at Texas, a bad start and a recovery only as far as sixth - remember, he'd previously been unbeaten there - showed that things had taken a decisive turn for the worse in his performance on the Honda.
2022 Italian Grand Prix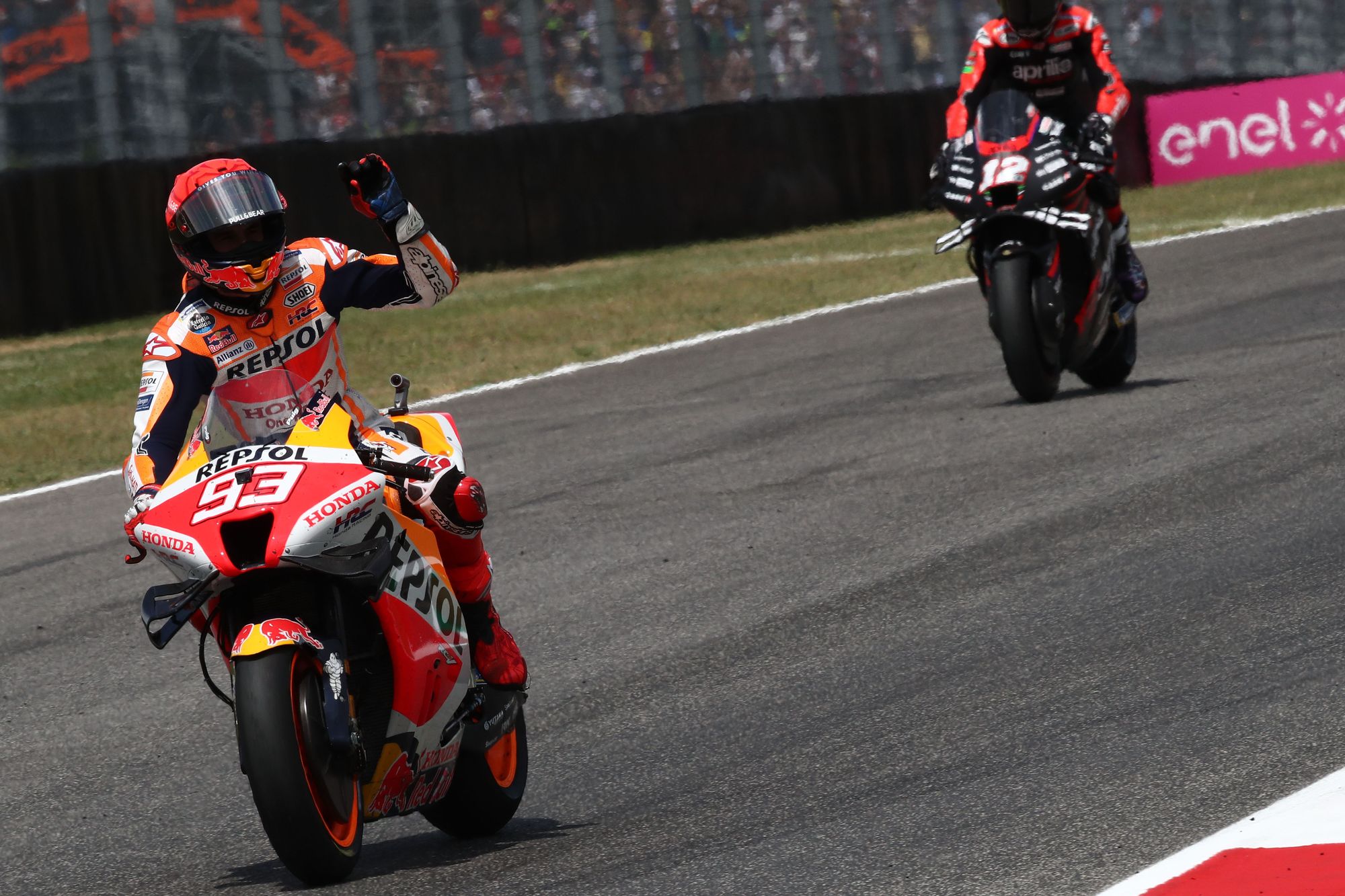 What we didn't know, however, was that while Marquez's bike was getting worse, his physical condition wasn't getting any better, either. His broken arm, rebuilt multiple times, had healed badly, and it was at Mugello where he sat us all in the media down to break the news: more surgery and an even longer rehabilitation was required.
This time he ditched his usual team to head to the esteemed Mayo Clinic in the US to have his arm broken, twisted 30 degrees back into shape, and allow it to heal again, which meant yet more time away from his day job; this time it was another six races, and he wasn't back in action until Aragon four months later.
The rest of the season, once he did get back on the bike, was rather mediocre. The highlight was a podium at Phillip Island, but there was no sign of the championship-winning form of the past - instead, there was more than a fair share of crashes as he continued to wrestle with the RC213V every weekend.
2022 Valencia test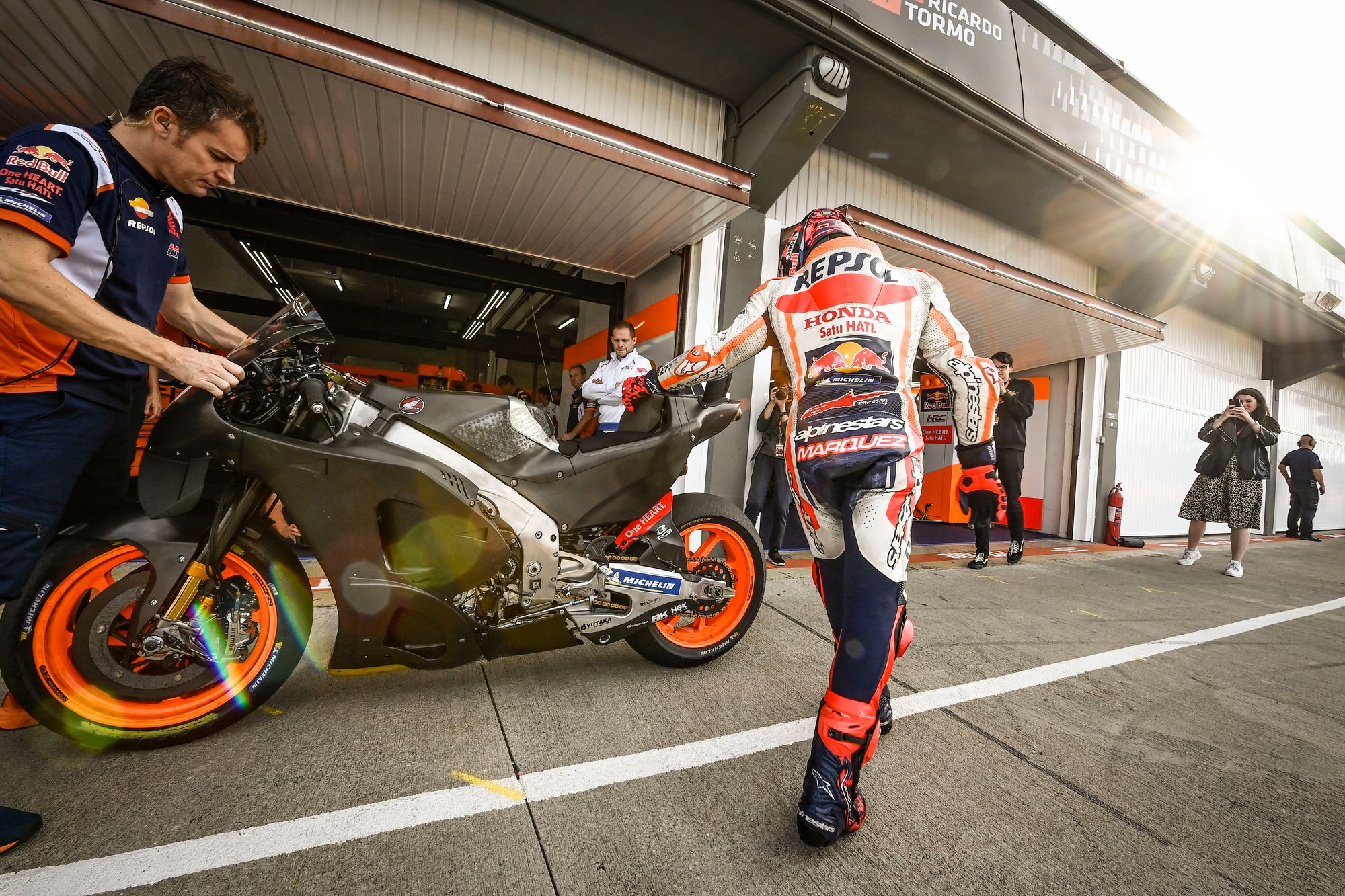 Having missed the previous two years' end-of-season tests, Valencia in 2022 gave Marquez his first chance in a long time to go into the winter with some ability to give his input on Honda's next-year model - but the first assessment of the prototype was a gloomy one indeed.
Conceding at the end of the test that "with this bike, we can't win a championship", his disgust was made all the more stark by his brother Alex's excellent first day on a Gresini Ducati, having ditched LCR Honda to take over from the factory-bound Enea Bastianini. The contrast between the pair was obvious, and was perhaps the first time that we really got a hint that Marquez might really be considering something else for the future.
Still with two years left in his Honda deal, it was something being discussed as a future prospect rather than an idea that was going to come to fruition any time soon, even if many were quick to speculate that his little brother might be engaged in a touch of Ducati-sanctioned corporate espionage by letting Marc know exactly how good the Desmosedici was to ride in comparison to a Honda.
2023 German Grand Prix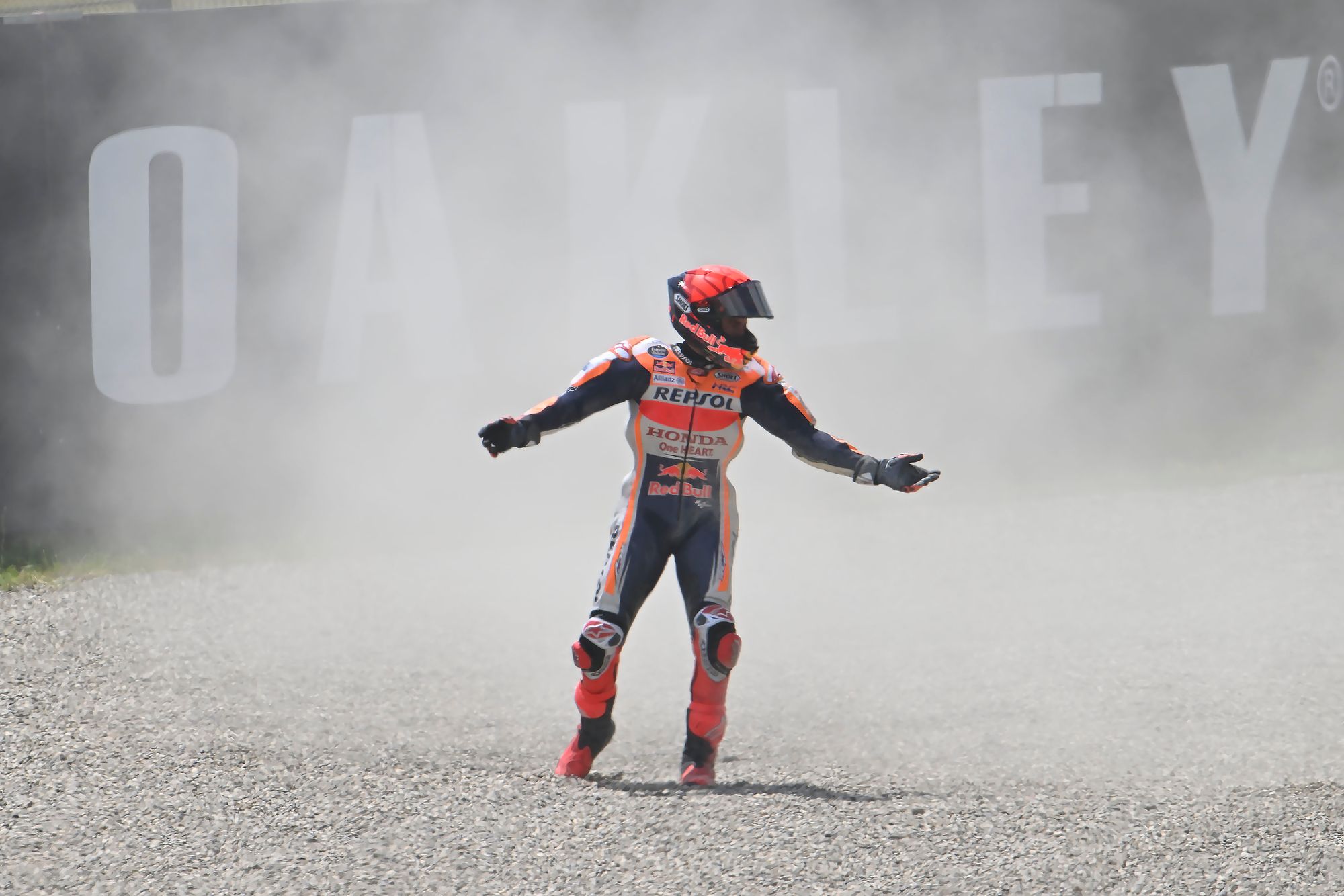 The 2023 season had already got off to a rocky start for Marquez by the time the German Grand Prix came around. Injured in the opening race of the season attempting an overly ambitious move on Miguel Oliveira, it quickly became apparent that the crash (which cost him the first three races of the year) was going to set the tone for the season.
Marquez was unable to succeed except by taking exceptional risk to do so, a strategy that was always going to end one way: punishingly. Injured repeatedly in big high-sides, his trip to the Sachsenring was torrid and, five big crashes into the weekend, he eventually pulled the plug during Sunday morning's warm-up before also missing the next weekend at Assen as well.
It marked a new low point in his Honda career. Marquez had always until then been able to make up for the bike's weaknesses with his once in a generation talent, but the German GP marked the point where that approach simply didn't work any more, and was the weekend where rumours of a break of his contract and a move for 2024 really started to shape up.
2023 Misano test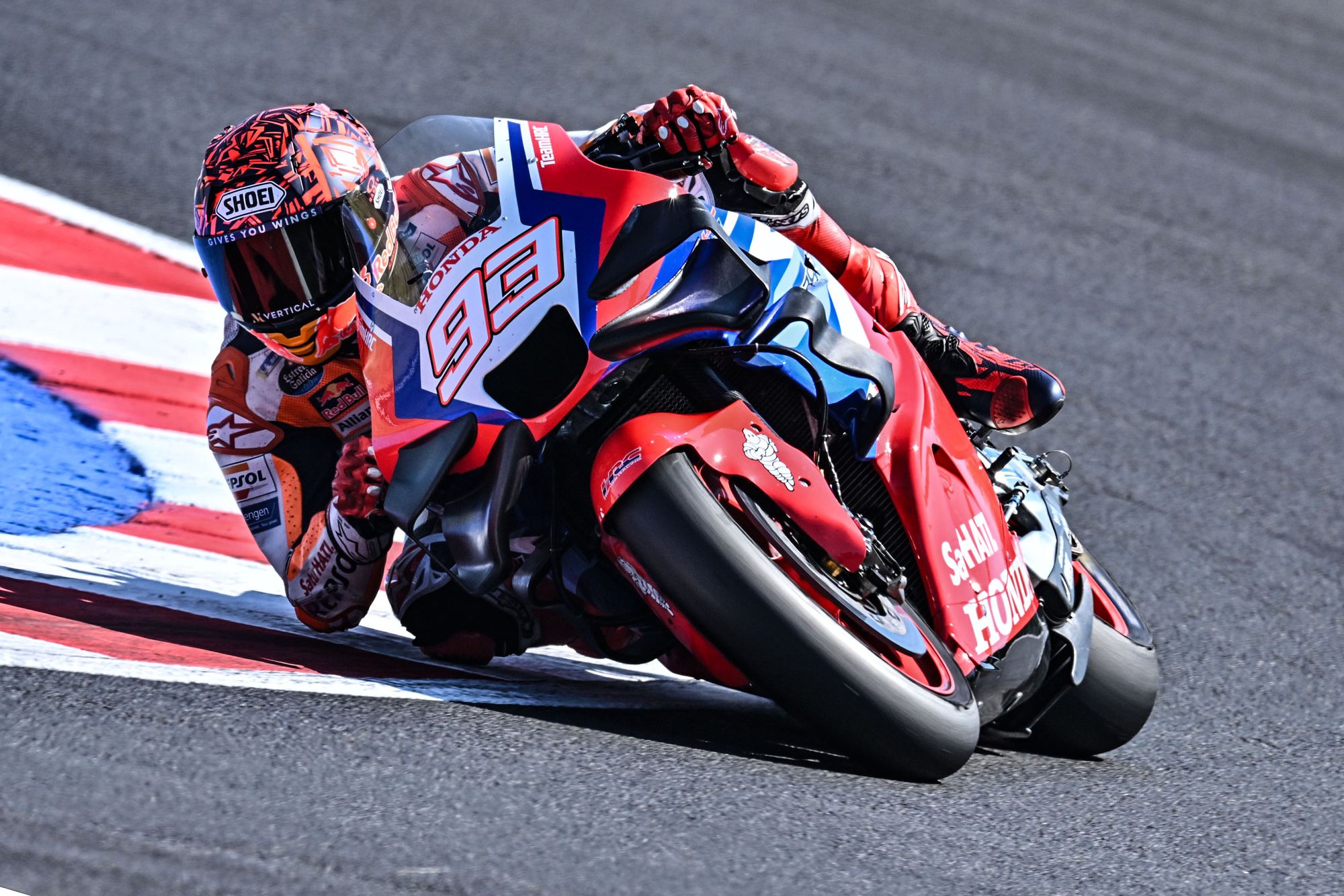 By Misano, 10 weeks or so later, those rumours had intensified to the point where Marquez was happy to openly joke about his future. Teasing the media for days about what might happen, he nonetheless reiterated that his commitment was, for now, to Honda - with a caveat that it needed to show him that it was serious about change.
That jocular nature went right out the window on the Monday night after the race, though, when he got his first chance to try the 2024 bike.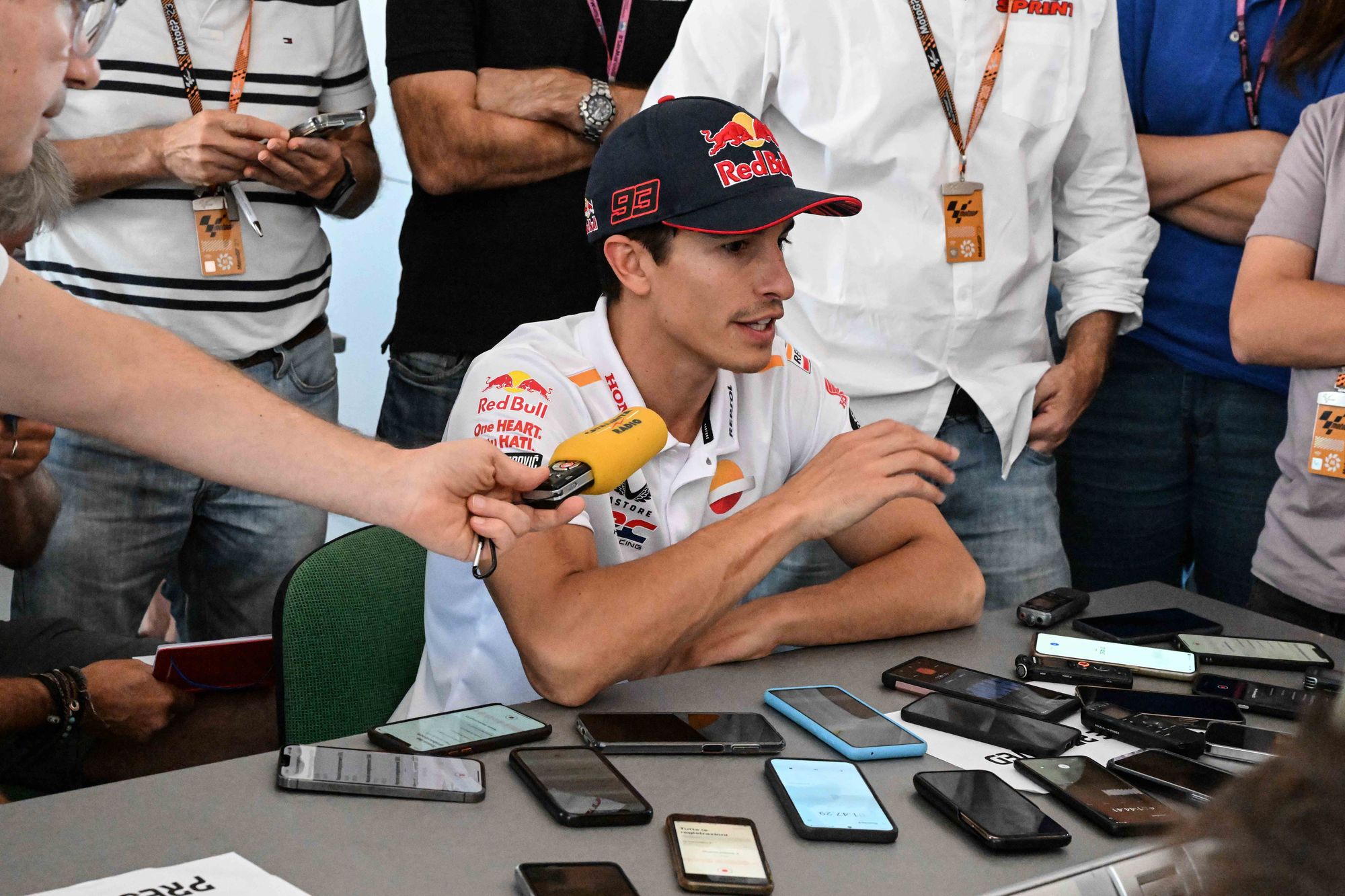 Openly admitting there and then that he had non-Honda options for his future and that deadlines were looming to make up his mind, it was obvious that the new bike simply wasn't good enough - and that Honda might be finding itself in a whole world of trouble very soon.
Keen first to talk to HRC bosses in Japan before reaching any decision, though, Marquez also stressed that he wouldn't be making any shock announcements until he got to do that.
2023 Japanese Grand Prix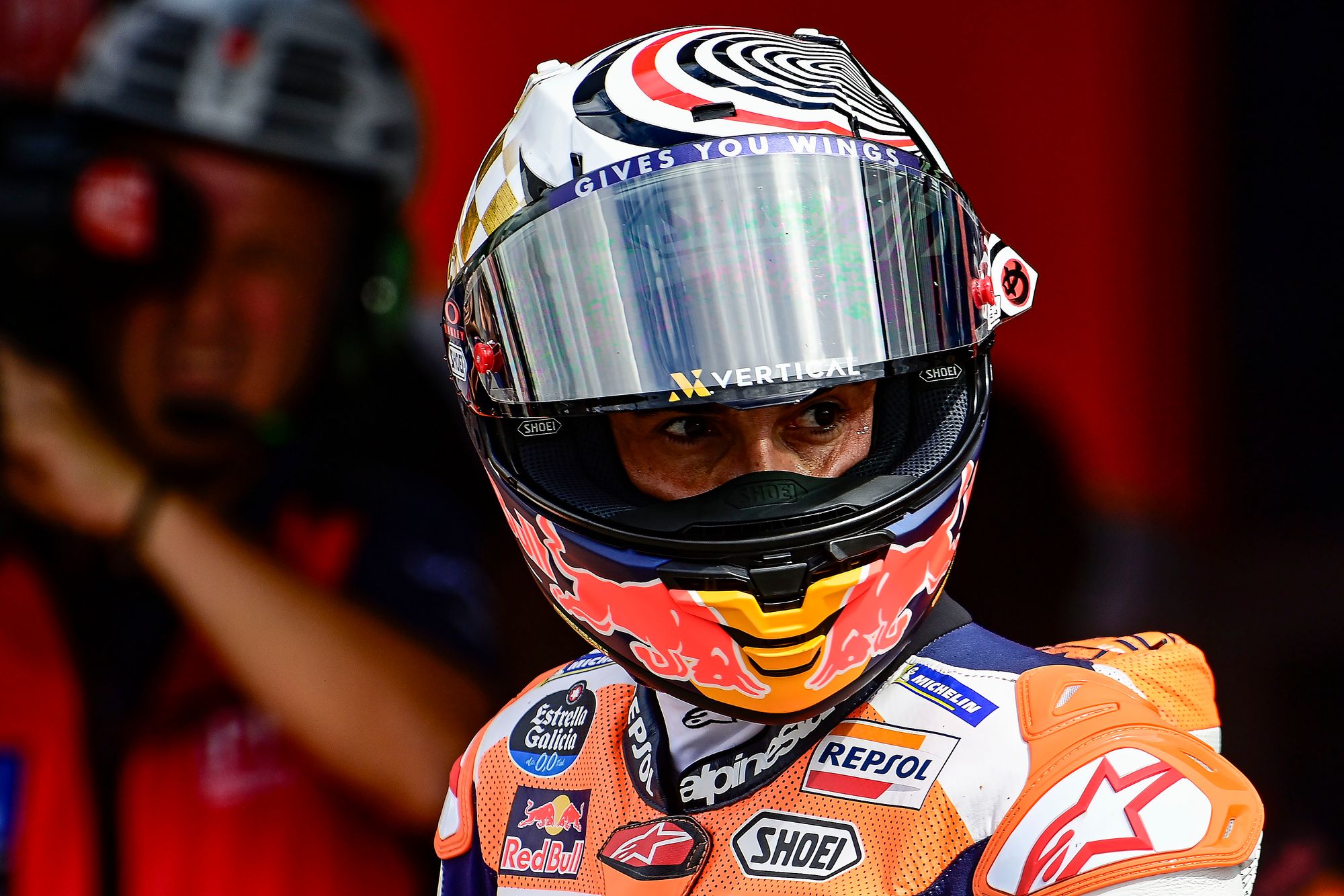 Going into the Motegi weekend, the timeline for any news became even more clearcut. Should Marquez decide to stay, then there would probably be confirmation at a circuit literally owned by Honda. Were he going, he wouldn't disrespect Honda by saying anything at the Japanese Grand Prix but would likely save it for 10 days later in Indonesia, where many sponsors of Gresini Racing - the place he is overwhelmingly expected to end up at for 2024 - come from.
In the end, that's exactly what happened - no announcement - but there were also some pretty big hints along the way.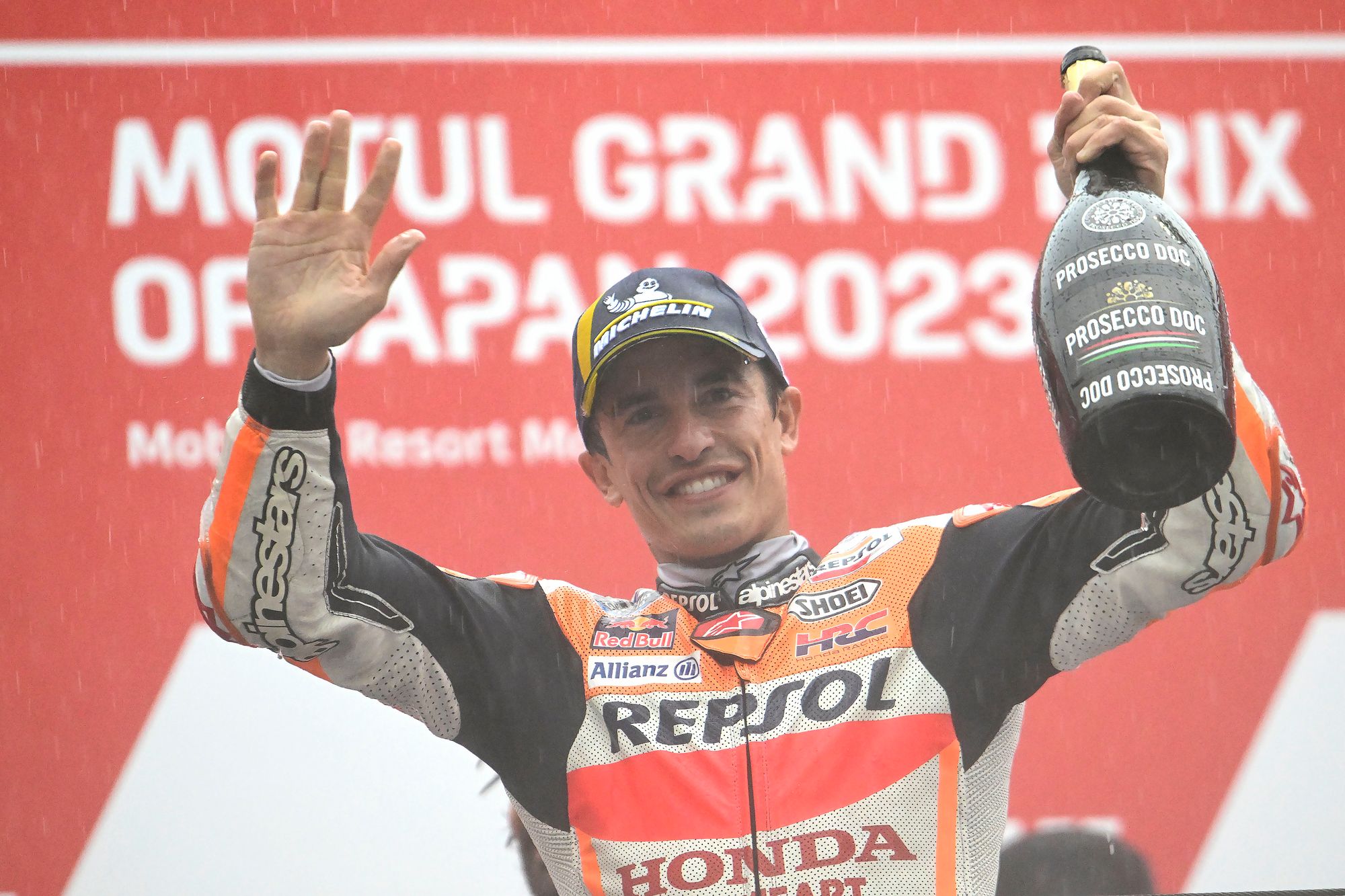 Marquez scored a somewhat unexpected podium finish in the rain, and said in answer to a question from The Race in the press conference afterwards that there was something "romantic" about the result - only minutes before Ducati boss Gigi Dall'Igna let it slip that Marquez had effectively told the manufacturer he was coming to ride its bike.
We can only guess, at least for now, what conversations happened over the weekend at Motegi. But it's hard to doubt that Marquez did feel a certain air of romance to what happened on Sunday afternoon if he had told the factory only days, or even hours, beforehand that he would be ending a decade-long relationship prematurely.