"I went from one of the lowest lows, something that I didn't want anyone ever to experience, to such a high and I can't thank W Series enough for making me feel that way."
Those are the words of ex-British Formula 4 driver Abbi Pulling, who was the star of W Series' double-header title decider last weekend in Austin.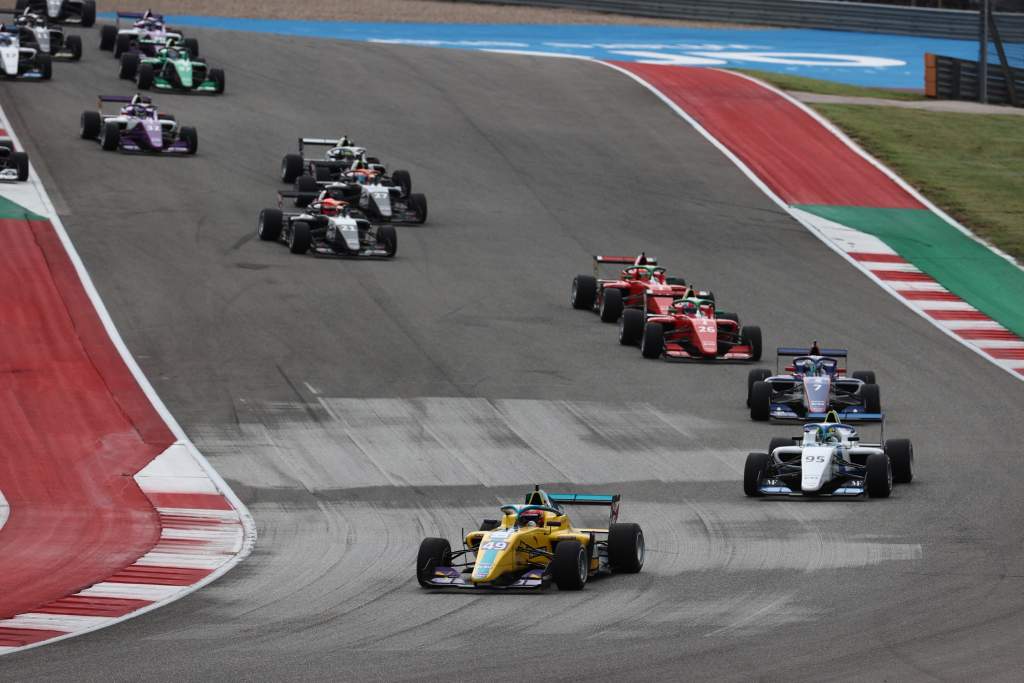 The 18-year-old did battle with both of the championship protagonists and came away with a pole position and a podium in her only third weekend in the all-female series.
It stands as a remarkable achievement considering she has limited experience with regional F3 machinery, and the increased competitiveness of the W Series field compared to its inaugural season in 2019.
In front of the Formula 1 paddock, Pulling dazzled on Friday, beating eventual two-time champion Jamie Chadwick to pole position for the opening race of the weekend in qualifying.
While that pole would turn to fourth place by the end of the opening lap thanks to Pulling getting baulked by Emma Kimilainen, who got stuck in third gear on the exit of the opening hairpin, she was able to claim her maiden podium finish in race two with a second-place finish.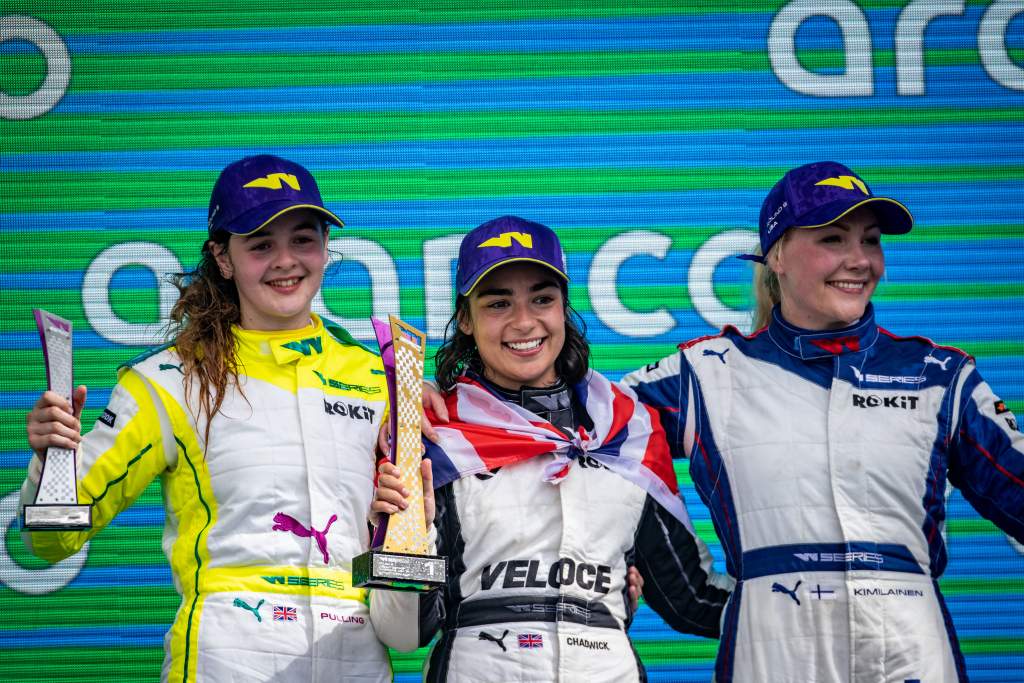 "The pole position was the best thing about the weekend, it was so unexpected," Pulling told The Race.
"I thought FP1 was a fluke, I won't be there again, and then FP2 happened, and I was like OK top three is doable. To be starting best of everyone else felt really special. Something I'll never forget.
"I didn't get too hung up on going from pole to fourth because I knew there was another opportunity on the next day to fix the mistakes that I'd made."
That constructive, self-critical approach served Pulling well throughout her four-race 2021 W Series campaign.
Also critical to her success was the influence of her driver coach and Chadwick's title rival Alice Powell, who Pulling duelled with on the final lap of race one for the final spot on the podium.
"I've always said to Alice that I've wanted to have a battle on track with her," Pulling said.
Pre-race good luck from big AP to little AP. 👊 @alicepowell | @AbbiPulling #WSeriesZandvoort 🇳🇱 #WSeries #F1 pic.twitter.com/HnMhXsmRrD

— W Series (@WSeriesRacing) September 4, 2021
"To finish third and fourth, right next to her is something that's very special to me. She's taught me so much, the only reason I was there at the weekend was all because of her."
Pulling, whose childhood hero was seven-time MotoGP champion Valentino Rossi, was initially signed as a reserve driver when the season began, before earning her first race start at the British Grand Prix.
Although that Silverstone weekend was "daunting", Pulling was able to qualify and finish eighth on debut before taking fifth place on the grid for her next race at Zandvoort.
A poor start – a consequence of her lack of experience in the notoriously difficult-to-start regional F3 cars – dropped her down the order but she still bettered her Silverstone result with a seventh-place finish.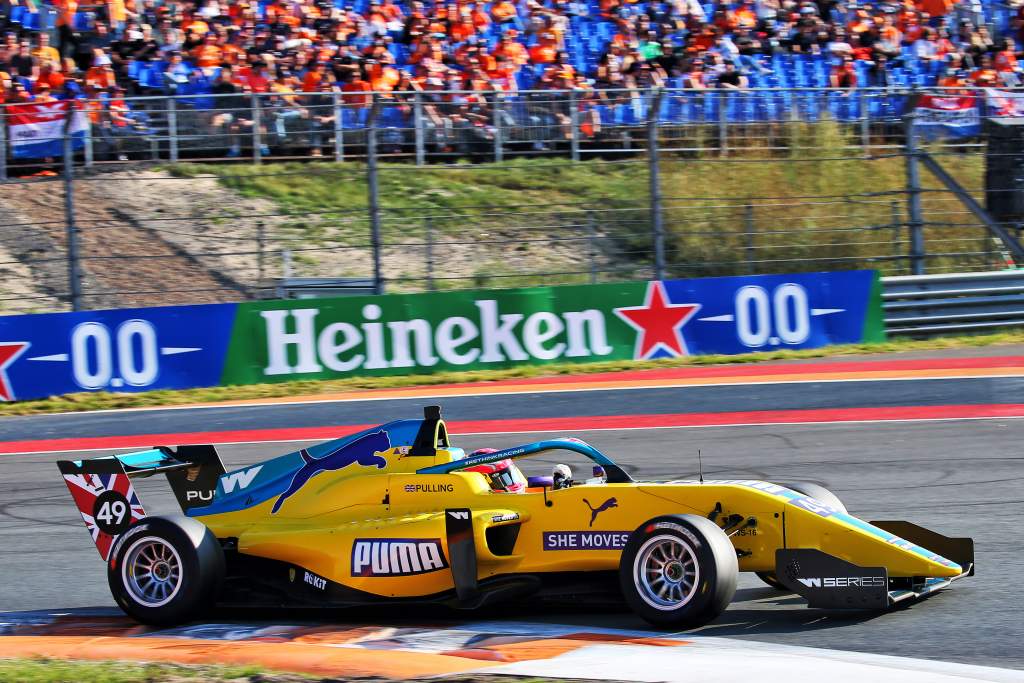 And this was even more impressive when you consider the backdrop of the Zandvoort weekend. The weekend before Zandvoort, Pulling had just competed in what would be her final race in British F4, where she'd earned seven podiums across a year and a half.
Following myriad bad luck and the collapse of a planned title charge – "I can't explain how wrong it went" – Pulling had no choice but to end her second year in the series early.
It meant Zandvoort was likely to not only be her last racing weekend of the year, but possibly leave her in a tricky position to secure any racing deal for 2022, something could have ended her racing career before she's had anywhere near enough chance to deliver on her potential.
That was until W Series stepped in and offered her a return for the Austin double-header.
"It got to the point where I stopped enjoying what I was doing in F4 towards the tail end of it, because of how much of a struggle it was to feel happy in my racing," Pulling admitted.
Pulling's stellar Austin weekend, where she bagged fourth- and second-place finishes, catapulted her up into seventh place in the drivers' championship – placing herself among the top eight finishers who will receive a guaranteed 2022 W Series seat.
"If it wasn't for W Series. It wouldn't just be this year [that was over], it would be what we're doing for next year," Pulling added.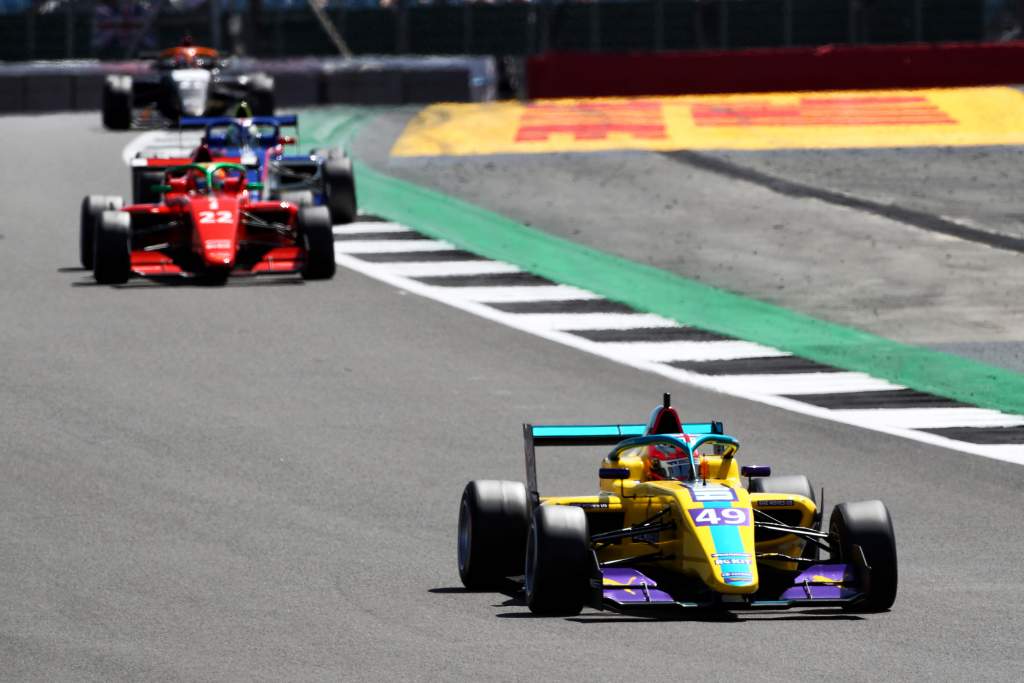 "Even last winter I had the stress of thinking, 'What are we doing next year? What can we afford to do?' and things like that. To have that stress relieved over the winter as well for 2022 is just an amazing feeling.
"It left me really confident heading into 2022, I can just put my full focus on performing next year.
"I'm already talking to my trainer, and we're going to push hard over the winter. I'm relieved I have some more spare time to focus on those things, as opposed to focusing on securing the funding and making the connections with people for funding for next year."
Pulling is targeting a step up to FIA Formula 3 after spending a full year or two in W Series, which offers $500,000 in prize money and 15 F1 superlicence points for its champion.
It's premature to talk of Pulling as a future F1 driver, but there's no doubt that should she see off fierce competition from both new and returning drivers to take the 2022 title, she will, at the very least, get the attention of some F1 teams.
Considering what Pulling was able to achieve with limited preparation – and with Chadwick expected to not defend her title – Pulling has to be pencilled in among the early title favourites for next year, with a whole winter to prepare for her maiden full-time campaign.