In a bizarre turn of events, the Indianapolis road course round is the first non-oval of the 2020 IndyCar Series season.
On the original calendar four such circuits preceded what should have been the fifth round of the year at Indianapolis Motor Speedway, but due to the coronavirus pandemic and a reshuffled calendar, it's now the first set of right turns of the campaign.
So here are the main talking points, things to watch for and what to expect at the first road course of the IndyCar season. If last year's rain affected thriller is anything to go by, it will be just as fun as anything happening at a similar time in Austria…
Pagenaud's biggest race of the year?
Simon Pagenaud's drive to victory last year on this track was absolutely incredible, as he passed a string of rivals then hunted down leader Scott Dixon on a wet but drying track. It started his fairytale month of May where he added the Indianapolis 500 a few weeks later.
Becoming the first four-time winner on the road course track added to the calendar in 2014, could be the most important goal of the year for Pagenaud.
One reason why it might be is Josef Newgarden. The double champion and Pagenaud's Penske team-mate is a robotic force of consistency, but on the Indy road course he's never finished in the top 10 in six races.
To put that into context, he finished outside of the top 10 only three times in 2019 as a whole.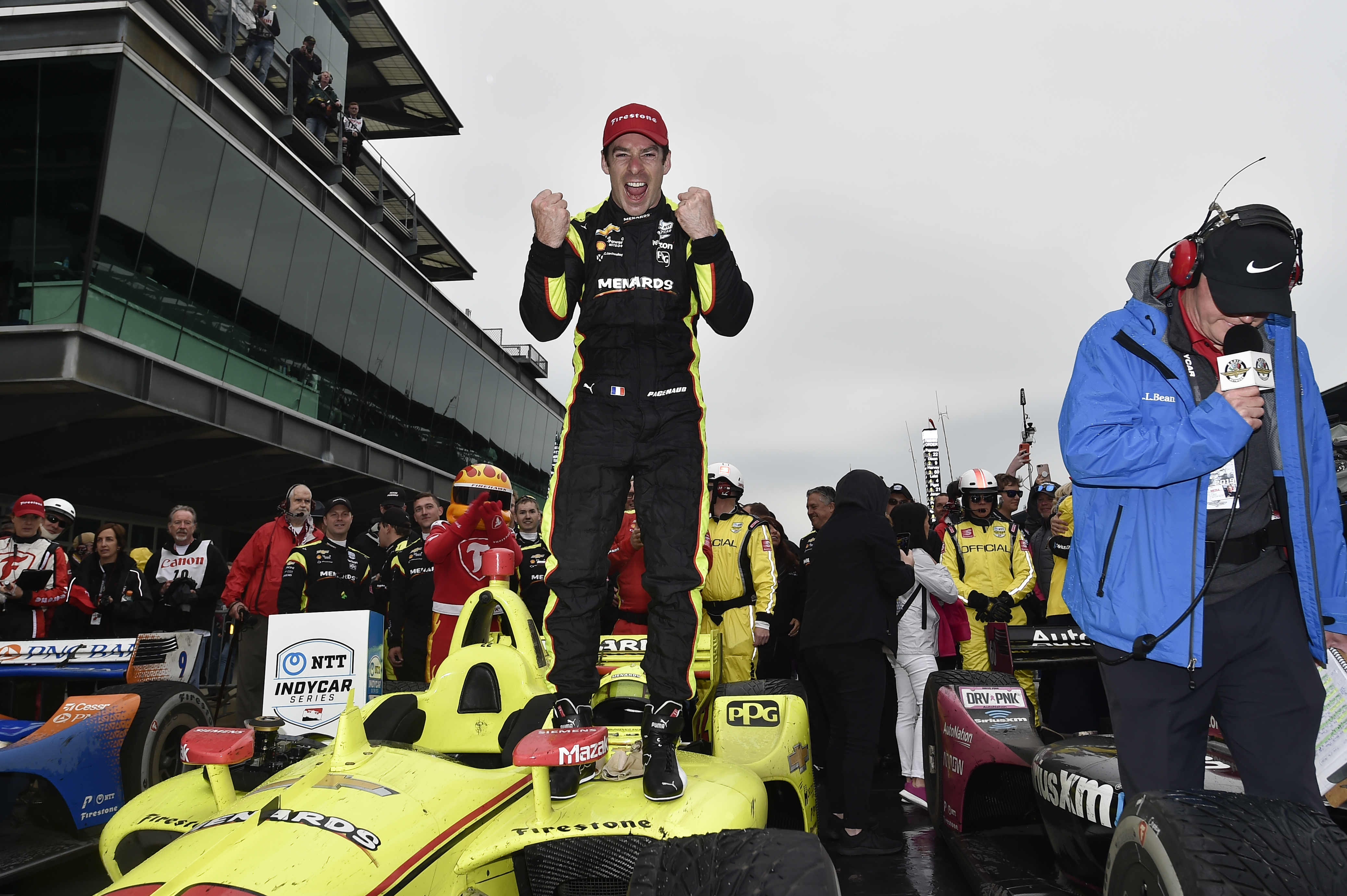 Pagenaud, however, has won here three times. It's a startling record compared to his team-mate's.
Bear in mind last year's title was decided in Newgarden's favour by just 25 points. Expect to see both placing a lot of importance on this event in the fight for the championship.
They both know how important it is to their boss Roger Penske, as this is the first race at the venue since he bought the track and championship. Penske, 83, has himself been seen carrying a ladder around the circuit aiding preparations. He'll expect the same level of commitment from his star drivers!
Big names need to bounce back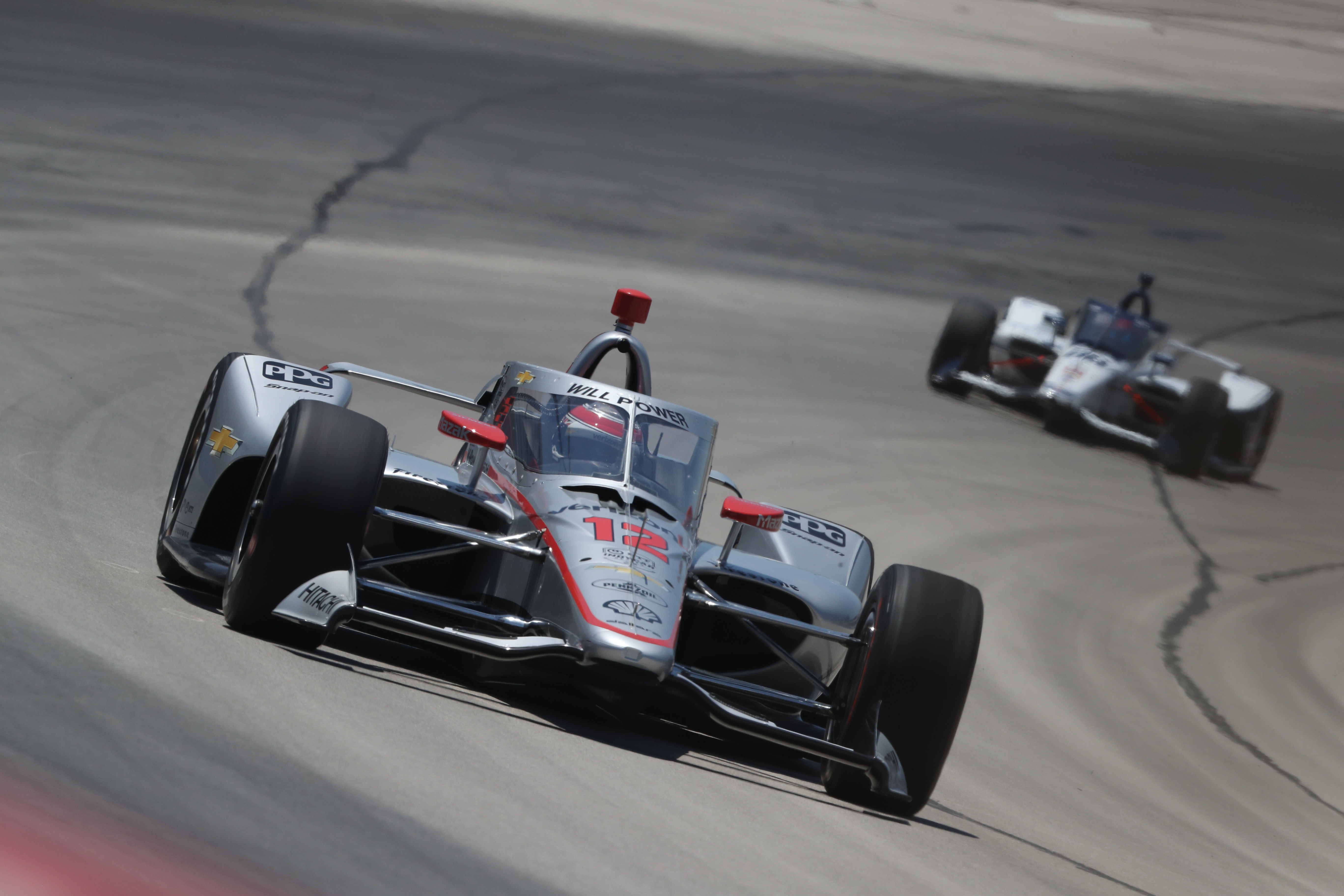 Will Power – Newgarden and Pagenaud's Penske team-mate – is the only other driver to take three wins on the IMS road course, and is among a number of star names looking for a big result to put a difficult Texas opener to bed.
Power had a wheel come off in the pits at Texas, which caused damage and meant he only finished 13th. On the Indy road course last year he was only seventh, battling excess oversteer.
Alexander Rossi had a nightmare Texas start with an ECU problem, brought on by social distancing measures meaning Honda mechanics weren't in place on the grid to reset his car before the start. That led to a drive-through penalty for interference on the car, and a 15th-place finish.
The Honda issue should be no more as its engineers will be able to plug in on start-up this weekend in a rule tweak. But Rossi still has to contend with a tricky record on the Indy road course.
He was clipped and damaged at the start of last year's race – when he was only 17th on the grid – and has never finished above fifth on the road course version of the Speedway, where he famously won the Indy 500 at his first attempt.
Graham Rahal was another driver afflicted by the Honda start issue. If his long-awaited title challenge is to come off, he needs to rebound at a venue where he has performed strongly, finishing fourth last year.
Ganassi to deliver on its promise?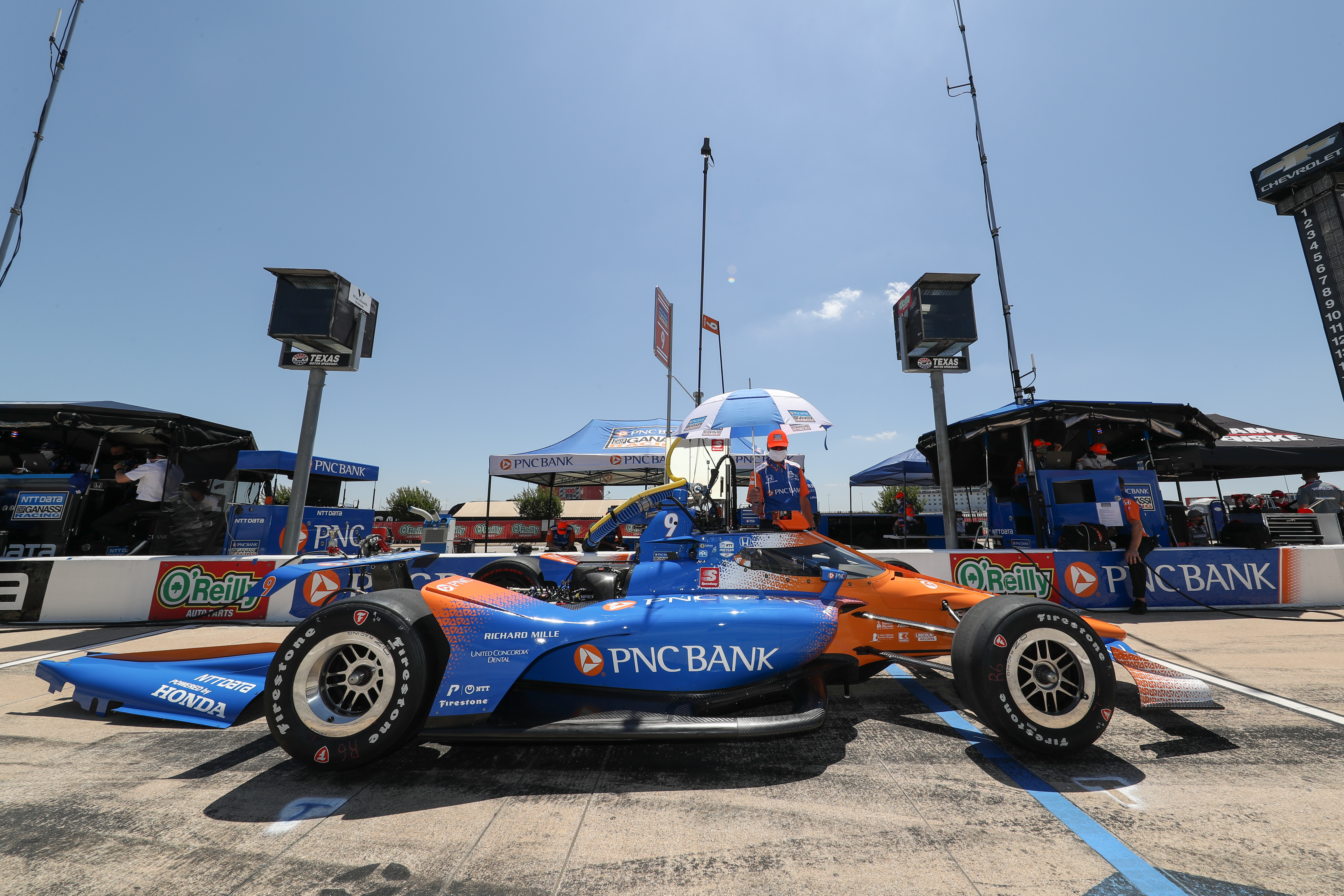 Scott Dixon wiped the floor with the opposition during the Texas season opener last month, with only his Ganassi team-mate Felix Rosenqvist looking comparably fast before making a mistake while passing traffic which ended his race.
Rosenqvist took pole last year on the Indy road course but fell back, while Dixon dominated for the majority before he was pipped to the win by Pagenaud at the last.
It was a strong first go at the track in the top class for Rosenqvist, while Dixon maintains the second best average finish at the venue behind Power, despite never having won there.
Ovals weren't easy for Ganassi last year but it started 2020 showing it is a force to be reckoned with on that front once more.
Expect the new third car of Marcus Ericsson to come back stronger here too. He ended up backwards in the wall during his rookie year at this event with Schmidt Peterson Motorsports, but showed pace at Texas in 2020 on his Ganassi debut before a fuel flow issue. Time for him to lay down the gauntlet and prove he's at the level of his team-mates.
Expanded schedule – more time to tinker and hone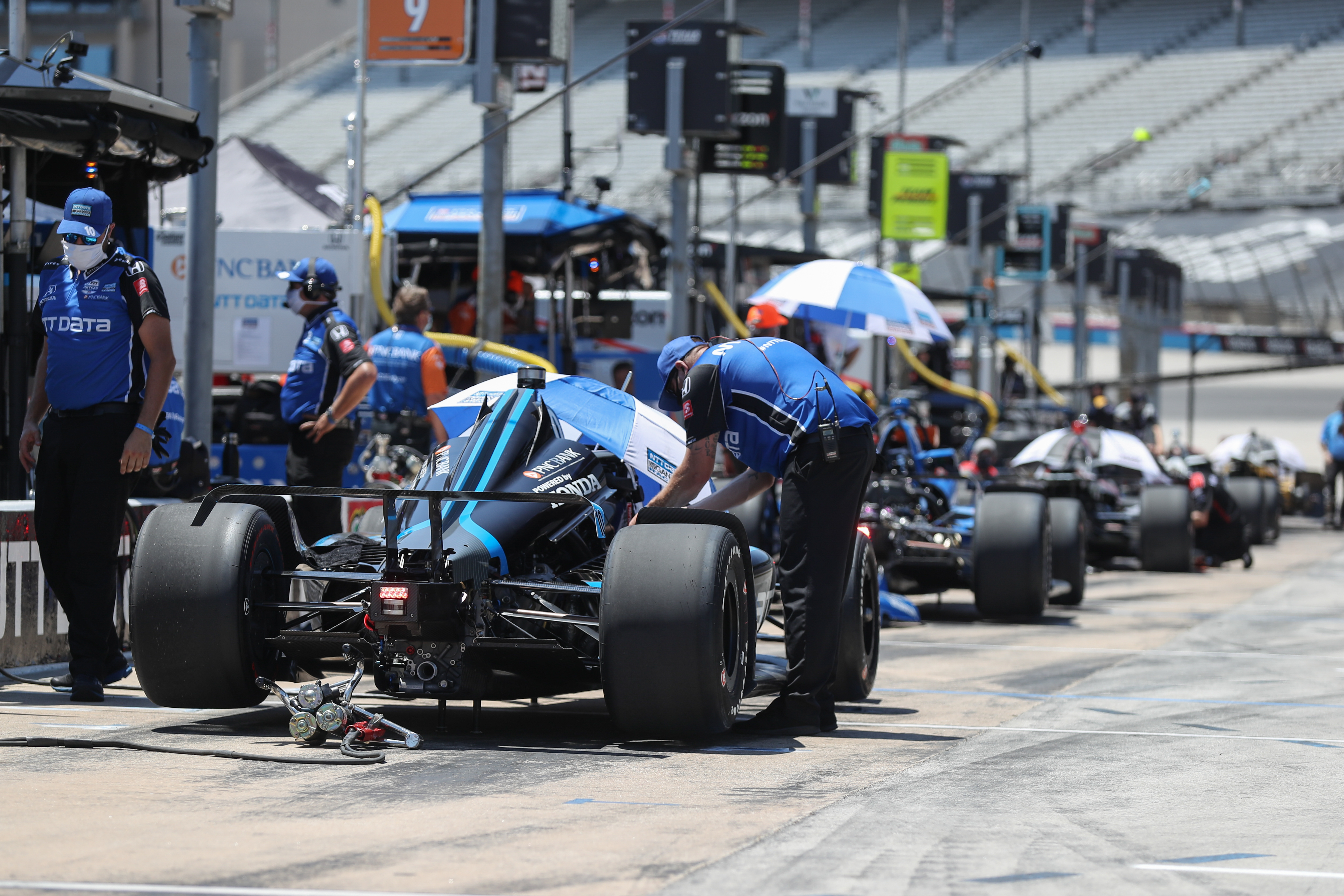 In the Texas season opener, practice, qualifying and the race all happened within a few hours – on the same day. While the length of sessions wasn't that different to normal, the time between was, valuable time teams and drivers use to evaluate data in order to improve.
At Indy, practice and qualifying are on Friday while there's a warm-up and the race on Saturday. That means teams will get that extra time to relax between sessions, rehydrate properly and take on all the information they need to fix their cars. Or at least improve them. Bigger set-up changes will also be possible than at Texas, where everything was so condensed.
Unlike Texas where IndyCar was solo, the IMS track will also rubber in, as this weekend is a historic one shared with NASCAR. The second-tier Xfinity Series will race on the Saturday albeit after IndyCar, while the Cup Series will race on the Sunday.
It should be a brilliant spectacle as America's two main series – often painted unfairly as intense rivals – will join together to host a bumper and groundbreaking weekend.
Aeroscreen's road course debut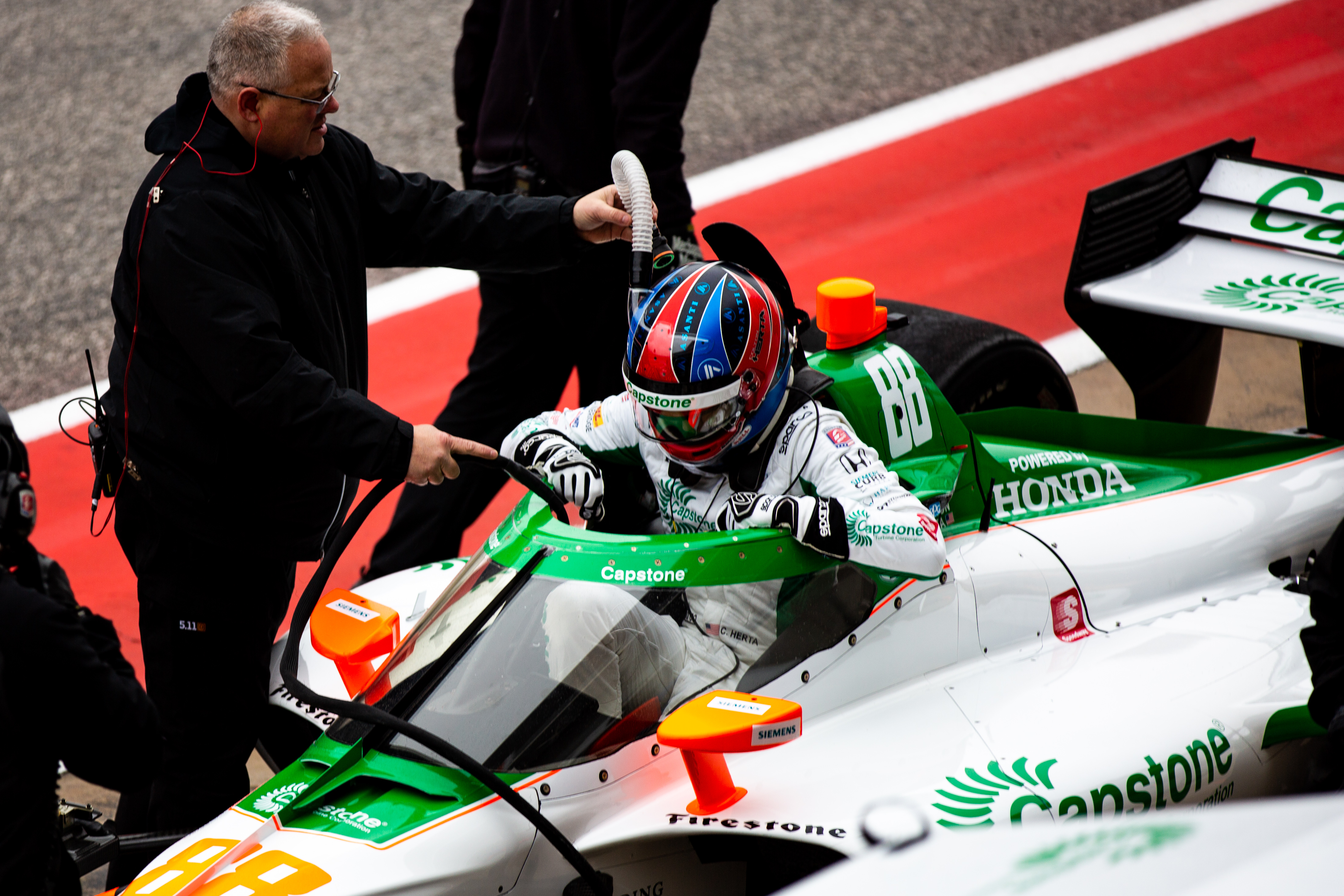 The aeroscreen device was the big talking point pre-season, but at Texas it was a non-story as drivers barely noticed it from the cockpit and soon skirted around the issue of the added weight of the device.
It did have limited mileage before the season started, and although there were tests at Sebring and Austin, there wasn't full-on side by side racing on a circuit, which requires a fuller range of vision than an oval.
That will be a test for the device on a road course, but the drivers expect few or no issues. The biggest area it will affect will be past set-ups, where the differing weight distribution of the car caused by the aeroscreen could force wholesale set-up changes.
The only area where it could become a decisive factor is if it rains. The device's rain-clearing functionality hasn't always been 100% effective in the testing phase, and this event did have rain last year.
But work has been ongoing behind the scenes to prepare the aeroscreen for its wet debut. Hopefully it will perform as well as it did at Texas – as although the device can be divisive visually, its value in protecting drivers is obvious.
Two new teams, kind of…
Citrone Buhl – with cars run by Rahal Letterman Lanigan – and Dreyer & Reinbold Racing both make season debuts at Indianapolis this weekend.
Citrone Buhl is a new team launched in part by Indy Racing League event winner Robbie Buhl – who also scored Dreyer & Reinbold's first (and so far only) win on its debut in the IRL in 2000.
Buhl left DRR in 2013 and has established a successful motorsports marketing agency, but has taken the plunge back into team ownership/management for 2020 with this race and the Indy 500 on the agenda.
The great news for Buhl is that both the team running the car, RLL, and its driver, Spencer Pigot, had great weekends on the Indy road course last year. Pigot was a frontrunner with Ed Carpenter Racing all day long and finished fifth, while RLL took fourth with Graham Rahal.
Buhl knows a thing or two about giving a team a debut win. But it will be a big ask with the clout of the current top teams providing better competition than turn of the century IRL.
DRR has reunited with Sage Karam, who briefly raced for Carlin last year. The combo was confident of frontrunning on its first non-oval event for seven years at St Petersburg in March, but that race was cancelled so this event has been added to the team's schedule instead.
With Dreyer & Reinbold just doing the Indy 500 for the last seven years, this is the beginning of its re-expanded assault on IndyCar, and while the IMS road course will be a new beast, the team remains confident.
Both Karam and Pigot will have to deal with their first on-track experience of the aeroscreen having missed the two official pre-season tests.
Also returning this weekend is Max Chilton. The ex-Manor Formula 1 driver is not contesting oval rounds this year for Carlin, and has prepared for his Indy road course return by testing an F3 car in the UK in recent weeks. If it's a good enough preparation tool for Carlos Sainz, Lando Norris and Alex Albon, it should be fine for Chilton.
Rinus rebound in strong rookie class?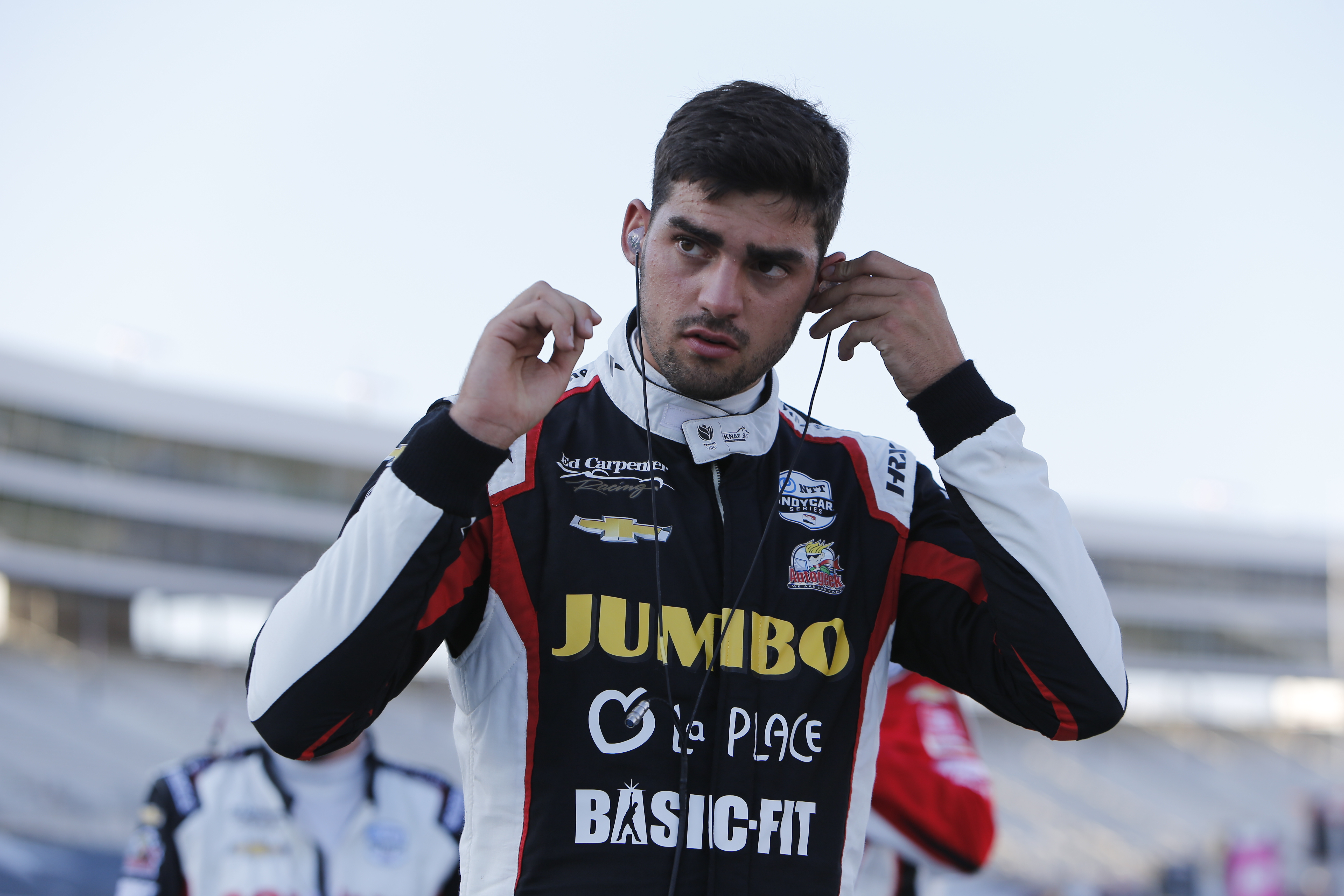 Rinus VeeKay won the Indy Lights event on this circuit last year, but the Dutchman thoroughly embarrassed himself by crashing out of qualifying and then again in the race at Texas during his IndyCar debut with Ed Carpenter. His race crash also took out Alex Palou from a promising debut during his first ever oval event.
Despite upsetting his boss, VeeKay vowed to come back stronger at Indianapolis and with a win here last year, there's no reason he shouldn't produce a stronger run. Especially given the team finished fifth with Pigot last year.
Palou faced a tricky task to get to America from Spain for Texas and delivered strong pace. Now back on a more familiar type of circuit he should be able to make more progress, having excelled last year in the hotly-contested Super Formula in Japan.
Oliver Askew – who beat VeeKay to the Indy Lights title last year – is also worthy of mention, delivering a perfect out-of-trouble top 10 at Texas to start his season, beating highly-rated if almost as inexperienced Patricio O'Ward in the process. The Arrow McLaren SP team will show off whether the addition of its Formula 1 expertise has helped in terms of its circuit form, too.
Alongside Pigot and Karam, Dalton Kellett is set to make his 2020 and IndyCar debut with AJ Foyt Enterprises. Kellett has been competing in junior single-seaters as long as the Indy road course has been on the IndyCar calendar, but finally makes the step up this year. His record at IMS isn't stellar, but he has team-mate Charlie Kimball – fresh off a strong run at Texas – as an experienced hand to help him settle.