With so many unusual variables associated with IndyCar's coronavirus-delayed season-opener at Texas Motor Speedway last weekend, there were always going to be big winners and big losers.
The one-day format meant little time to analyse data and set up cars, while the unknown effects of the new aeroscreen device on ovals and a tyre conundrum provided extra intrigue, and another potential area for profit or loss.
The Race outlines some of the surprise star performances and those who had nightmare days at the office. Please note, Scott Dixon winning an IndyCar race is not a surprise, so he will not appear in this list!
Oliver Askew
McLaren young gun from 20th to ninth on debut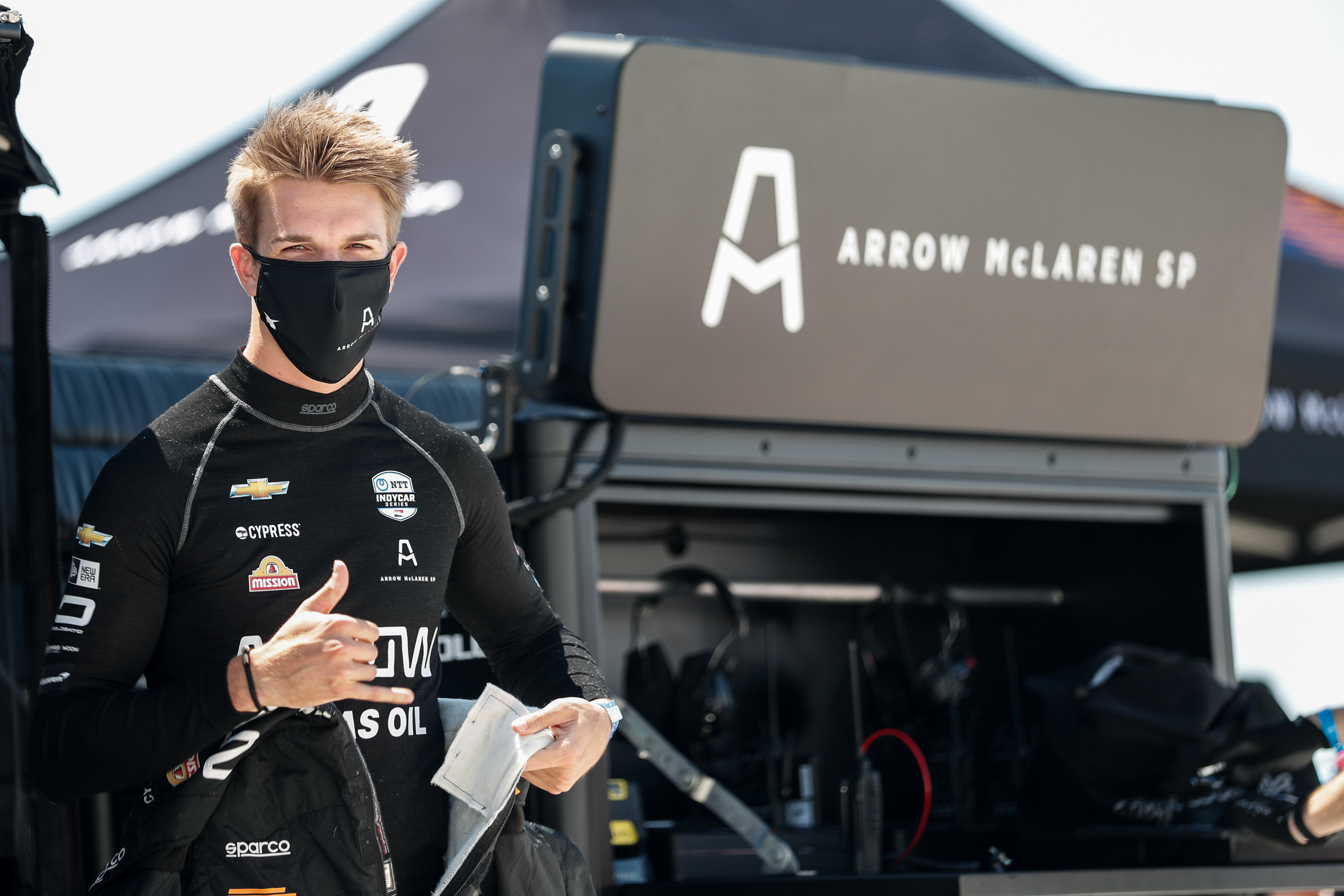 All eyes will be on the Arrow McLaren SP team this year, after it was formed via Schmidt Peterson Motorsport and McLaren joining forces in the wake of the Formula 1's 2019 Indianapolis 500 embarrassment.
Selecting two inexperienced drivers was a bold move, but neither Oliver Askew nor Pato O'Ward buckled under the pressure or – vitally – made any mistakes, something team manager Taylor Kiel had previously told The Race was vital to making a one-day IndyCar event work.
Askew – on his full IndyCar debut, while O'Ward was making his series oval bow – chipped away at the race after qualifying 20th, staying on the lead lap and improving his car throughout the event.
His ninth place finish matches O'Ward's IndyCar debut result from Sonoma in late-2018, which was already the best for an Indy Lights champion since Greg Moore finished seventh at Homestead in 1996. That's top company for McLaren's pair to be alongside.
O'Ward faded away to 12th at Texas, but it was still a strong IndyCar oval debut for the pairing.
"The whole crew and Chevrolet put a great car under me and we were able to execute our gameplan perfectly," said Askew.
"To finish in the top 10 in my first ever IndyCar race is more than I could have asked for. We are carrying a tonne of momentum into the Indy GP and I think we will only get stronger as a team."
Conor Daly
Top six heroics for Carlin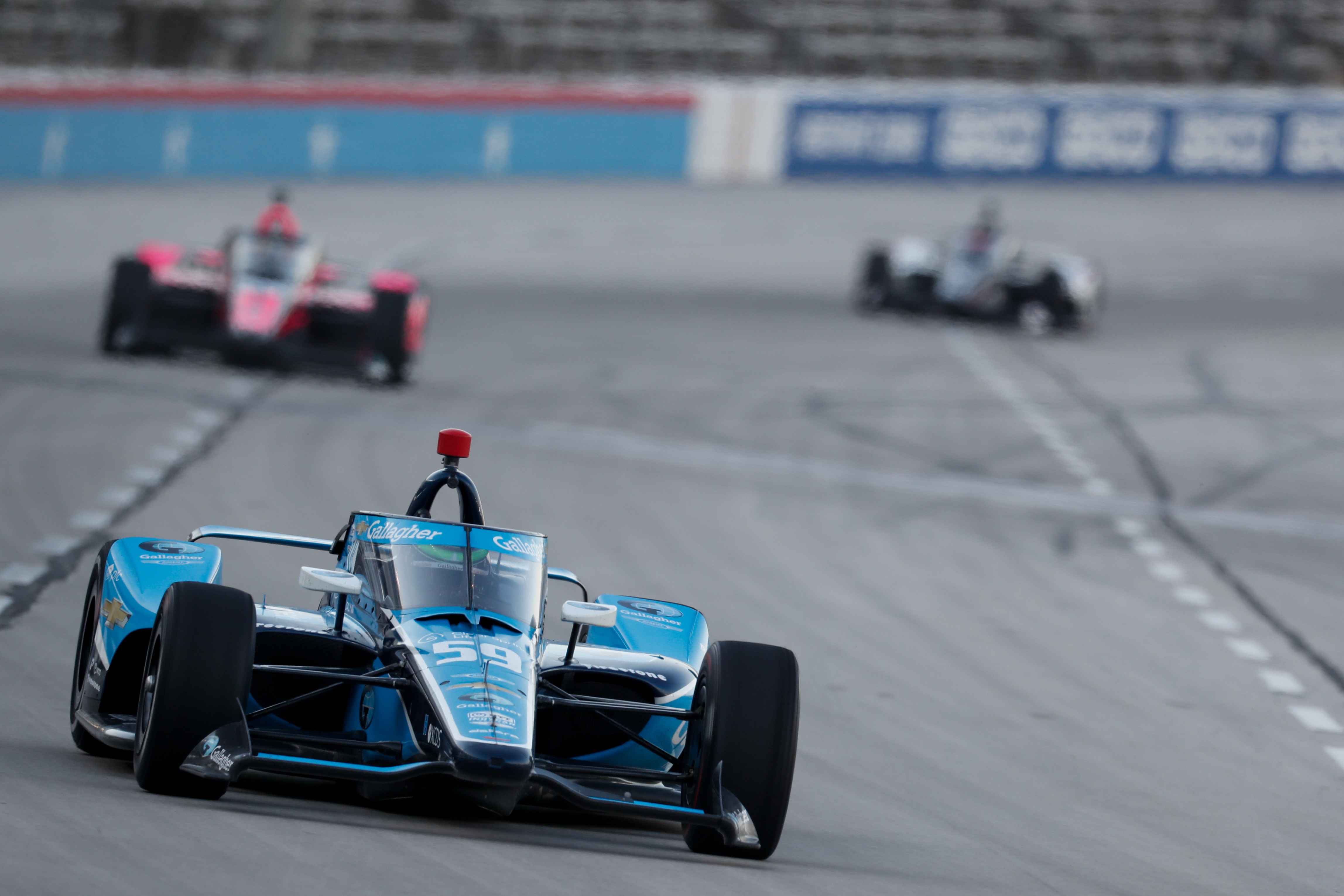 When Carlin announced just before Texas that the economic impact of the coronavirus hiatus would mean it would only bring one car to Fort Worth, the outlook seemed bleak.
But with Conor Daly at the helm of that car, Carlin matched its best IndyCar oval result of sixth.
The team has a magic relationship with Daly where they just seem to 'get each other', dating back to his GP3 days with Carlin in 2011.
Carlin played its role with rapid pitstops – something it has had to work hard at – and a fast car, which Daly duly raced way out of trouble and to a much needed result, which like his sixth at Gateway last year proves that Carlin can challenge the established IndyCar elite on ovals.
"I was really confident in our car," Daly told NBC. "It was so great to drive, but the driver didn't drive it well enough in qualifying [where he was 19th]. That's on me.
"But one area we improved so much on, and the team helped me with, was our in and out laps. They did a great job in the pits.
"We had such a great, reliable car all night. I'm so thankful to be here. It's so great to start a season like this. I don't think I've ever started a season this well. And I'm here for the whole thing."
Charlie Kimball
Showing what Foyt can do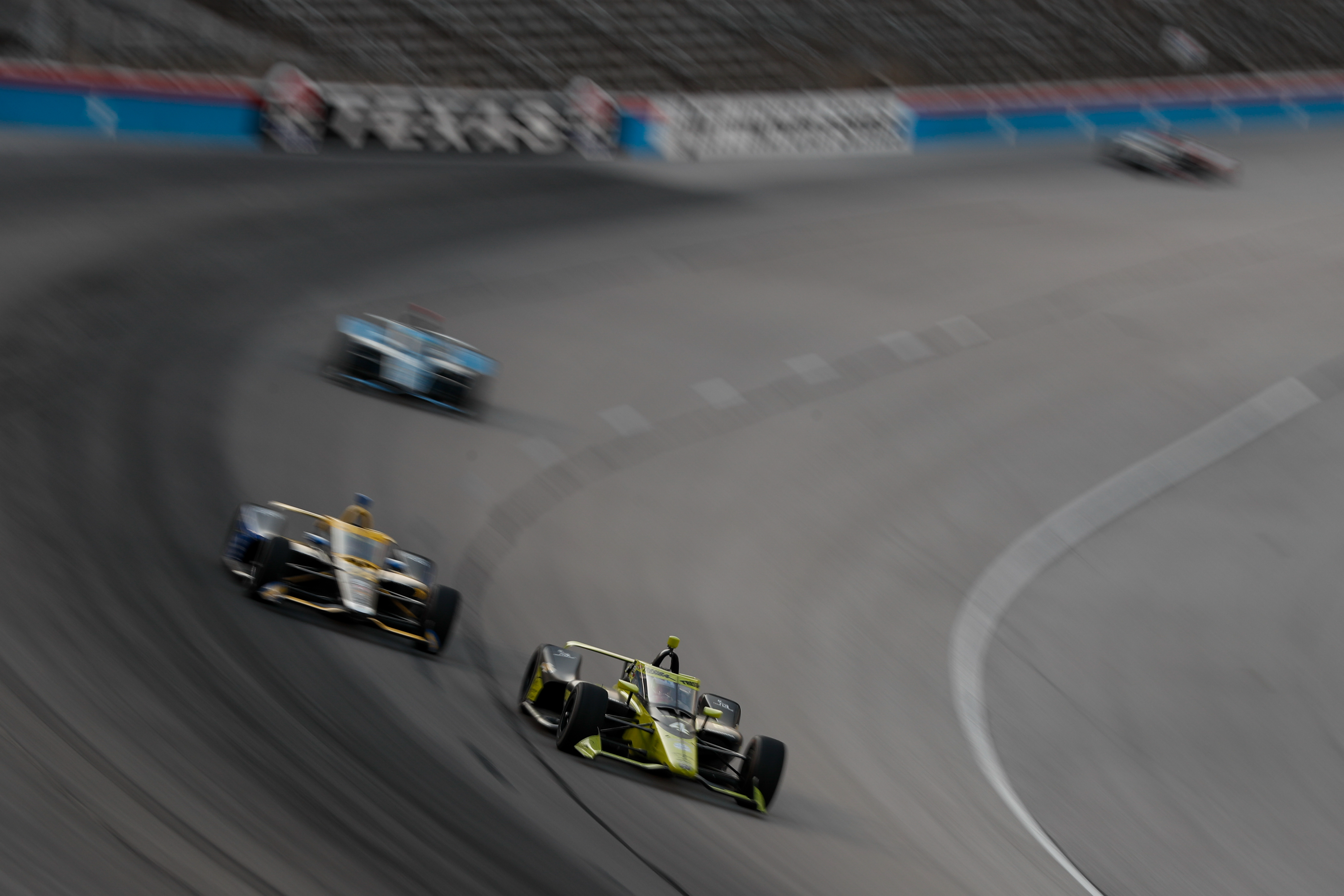 Being classified 11th having crashed on the final lap isn't an outcome The Race would usually analyse as a good day at the office, but Kimball spent the majority of the Texas race fighting Zach Veach and Simon Pagenaud for spots in the top five.
It's hard to know where to rank Kimball as an IndyCar driver, as he failed to consistently challenge his illustrious team-mates at Chip Ganassi Racing before a two-year stint in a Carlin team still new to the series.
But a switch to AJ Foyt Enterprises this year could well yield a sweet spot for Kimball. A miscalculation in the pits meant another pitstop was needed late on, which mired him back in the pack and led to an incident in the closing stages, but before that he had been a best of the rest challenger behind Scott Dixon and Felix Rosenqvist. It will be interesting to see if he can replicate that form on other circuits.
"A small miscalculation in pitlane meant that we had to make an unscheduled pitstop, which was unfortunate, which put us back, and we got caught up and ended up with a little bit of damage at the end of the race," Kimball told NBC.
"Still two AJ Foyt Racing cars finishing 10th and 11th , I think it's a solid start to 2020. I can't wait to get back in the car for the next race."
Alex Palou
Early exit but a strong start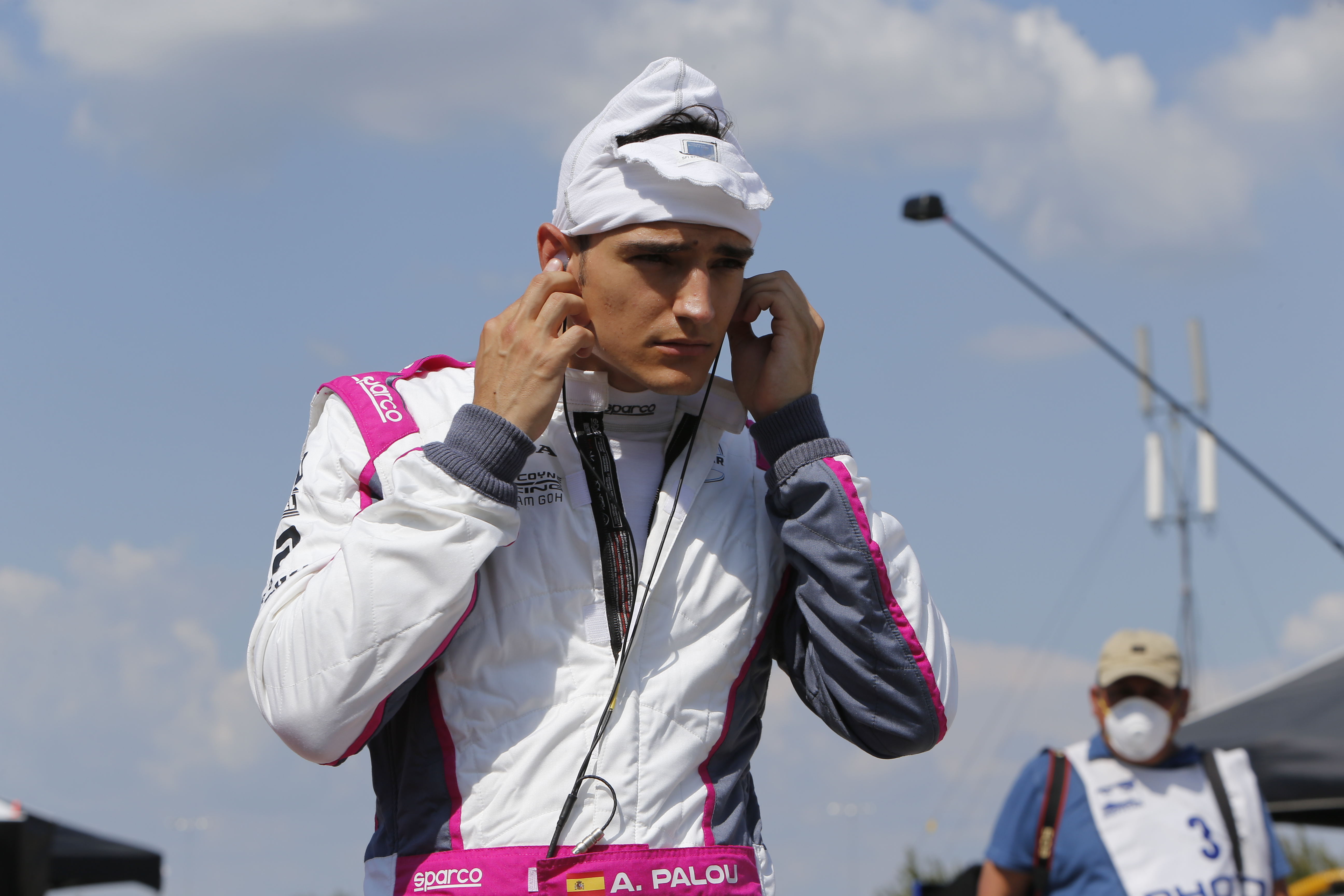 Coming into your oval debut is always going to be tough. Doing it when the series is cramming a whole race weekend into one day is nigh on impossible. But Dale Coyne Racing's Super Formula graduate Palou was showing how a rookie IndyCar race should be run – until another rookie showed how it should not be done and took him out of the race.
From what little we saw of Palou, he was gradually getting towards the pace in practice, and admitted he needed to extract more from the car in his first qualifying run having been around 12th if you took his second lap only. There's no bouncing back from that as IndyCar takes your two-lap average for your qualifying time on most ovals. But he still started a respectable 16th.
He didn't look out of his depth compared to other rookies, and even led the team as Santino Ferrucci met many problems over the course of the day. It's definitely not unreasonable to suggest that Palou was on par with Askew and would have been a challenger for a top 10, before he was caught in Rinus VeeKay's crash.
Ryan Hunter-Reay
Bouncing back from early drama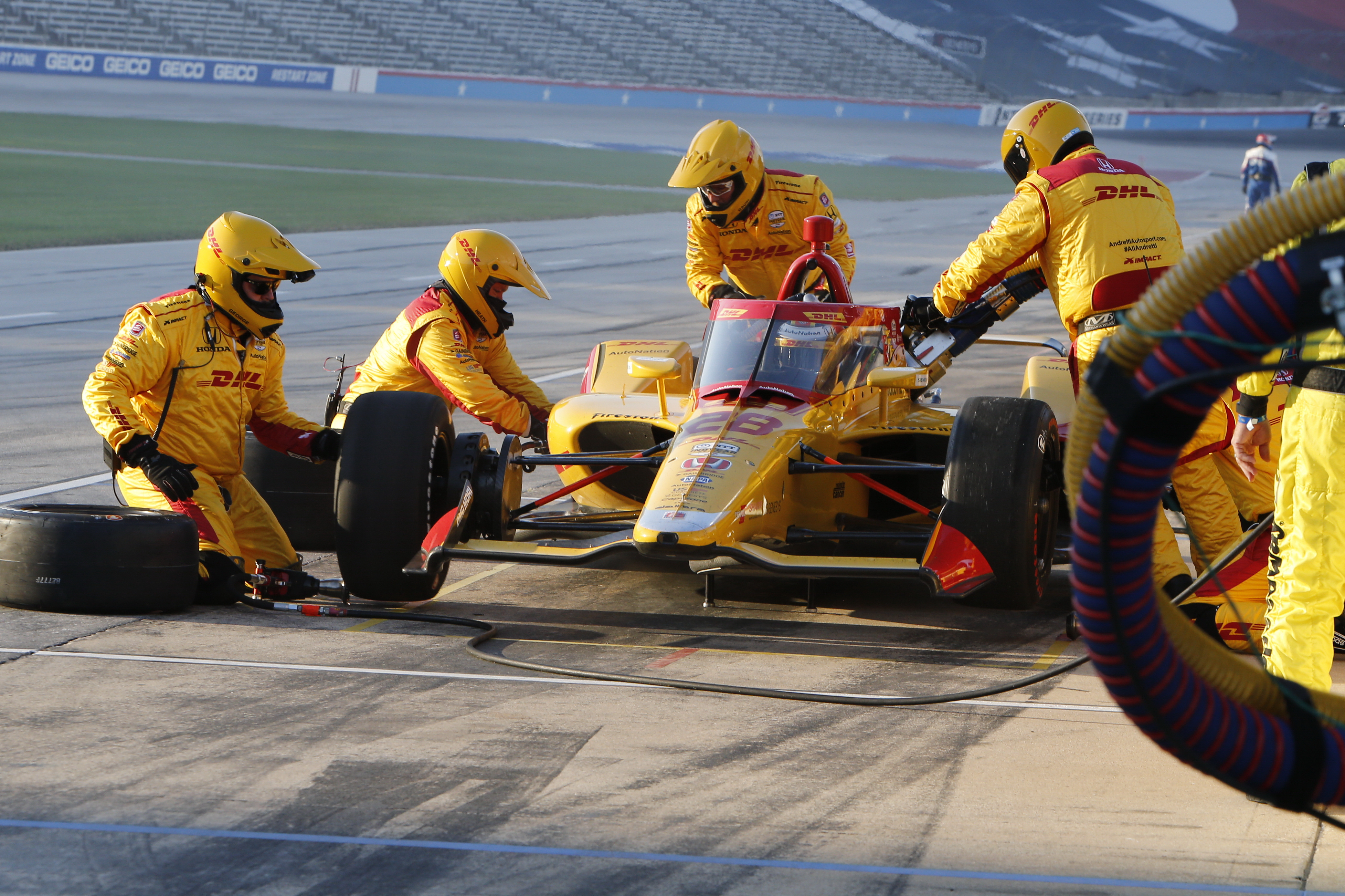 What a day! While it's not a surprise that a past champion was a star at Texas, it's more about how his weekend, or day in this case, played out.
His Andretti Autosport team moved heaven and earth to get Hunter-Reay's car fixed from a practice crash and ready for qualifying, and he duly delivered by placing it fourth on the grid. But before the race he was one of the Honda cars that suffered an ECU issue.
That put him a lap down early, but he was able to fight back with speed and strategy to take an eighth place finish in what was a rollercoaster day for the 2012 champion.
"We were a lap down, had to unlap ourselves and comeback and finish eighth, so what a day," he told NBC. "Long day."
Zach Veach
Leading the Andretti pack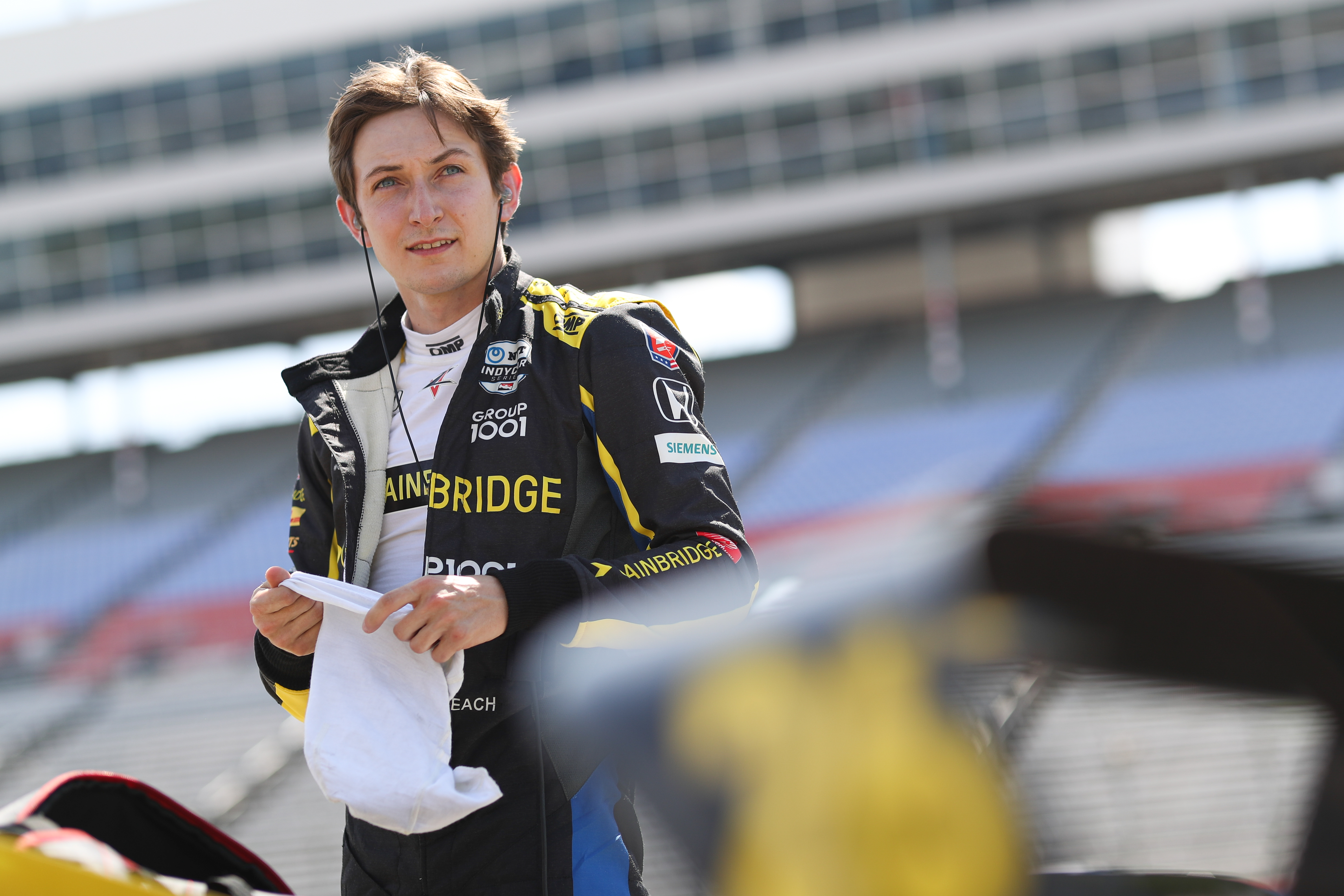 Hunter-Reay's team-mate Zach Veach was one of the stars of the Texas race, the only driver other than Dixon and Josef Newgarden to lead.
His last two races at Texas had finished up in the Turn 2 wall. He was insistent that this year would be better, and it was.
IndyCar is still waiting for the 25-year-old to step up and prove he can race consistently at the level of team-mates Hunter-Reay and Alexander Rossi. Admittedly he didn't have their pre-race car issues, but he also didn't make mistakes that set his team back like they did and an equal career-best fourth place was the result.
"Tonight, we just executed, which was great," said Veach. "My car felt great all night. I just had the pace to stay in that top five, top six all night. Honestly that's a lot easier than trying to come from 16th, so I'm going to try my hardest to make this a habit."
That's referring to his qualifying form, which will be something he'll need to prove he can work on consistently through the rest of the season. But the signs are good that this may be a career saving year.
Nightmare days
Santino Ferrucci
A vital oval missed opportunity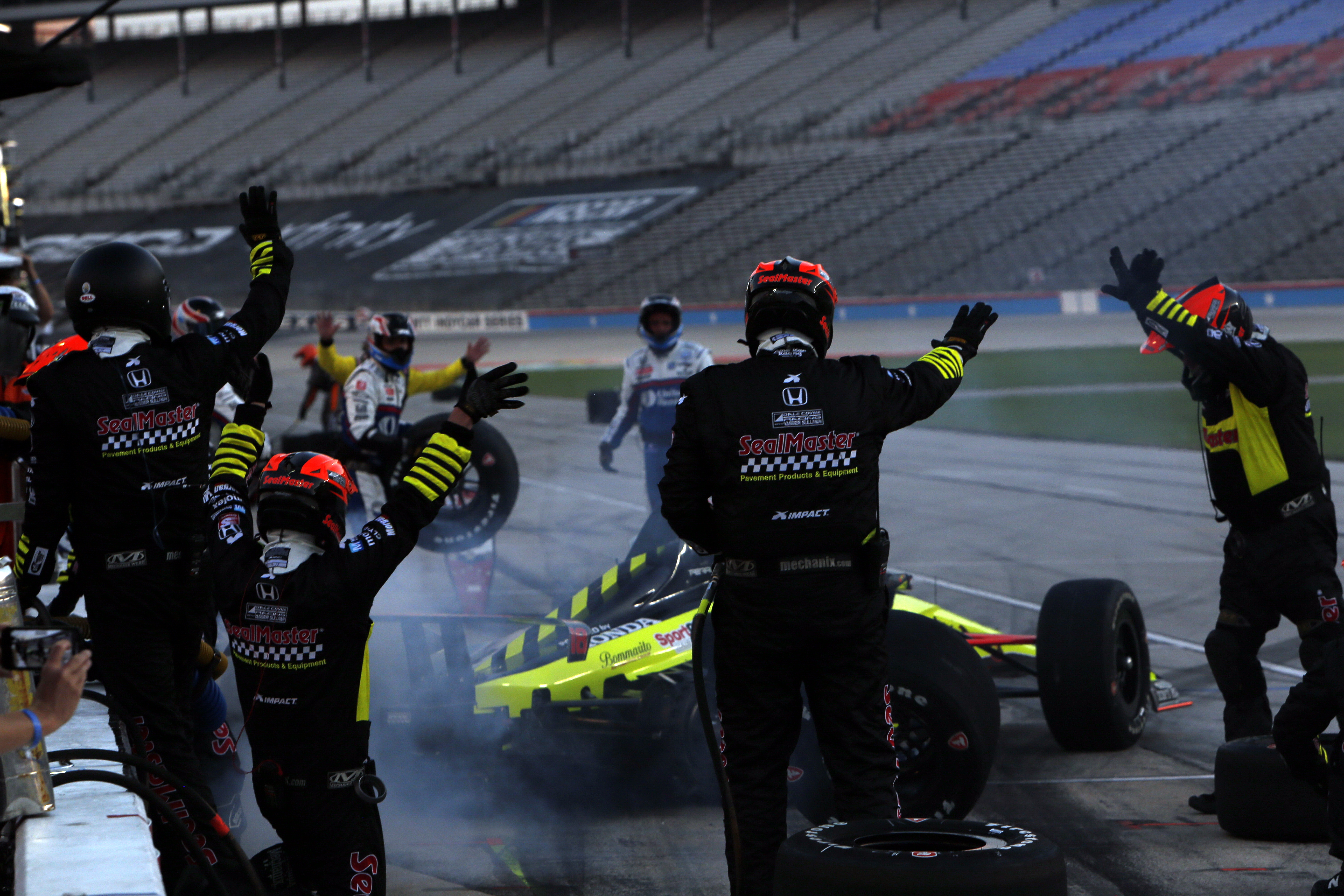 From problems in practice that led to a decision to sit out qualifying, to gearshifting before his car had been dropped off its jack during a pitstop in the race and appearing to cause a broken driveshaft, this was bad from start to finish for Ferrucci.
He had been in the top five for average oval finishes last year as a rookie, and with this year's truncated calendar featuring a higher percentage of ovals, Texas should have been where Ferrucci was able to throw down the gauntlet and live up to his pre-race declaration that he could be a title contender.
However, a DNF was a big blow, and now he'll have to rely on improved road course form to help get his season back in track.
He still seemed in positive spirits, saying to NBC: "Man, you know, that's racing. We haven't been out here in a long time. Hats off to my crew, my team and everybody at IndyCar for putting on this show. I'm excited to get back to it."
Felix Rosenqvist
Crashed with lead in sight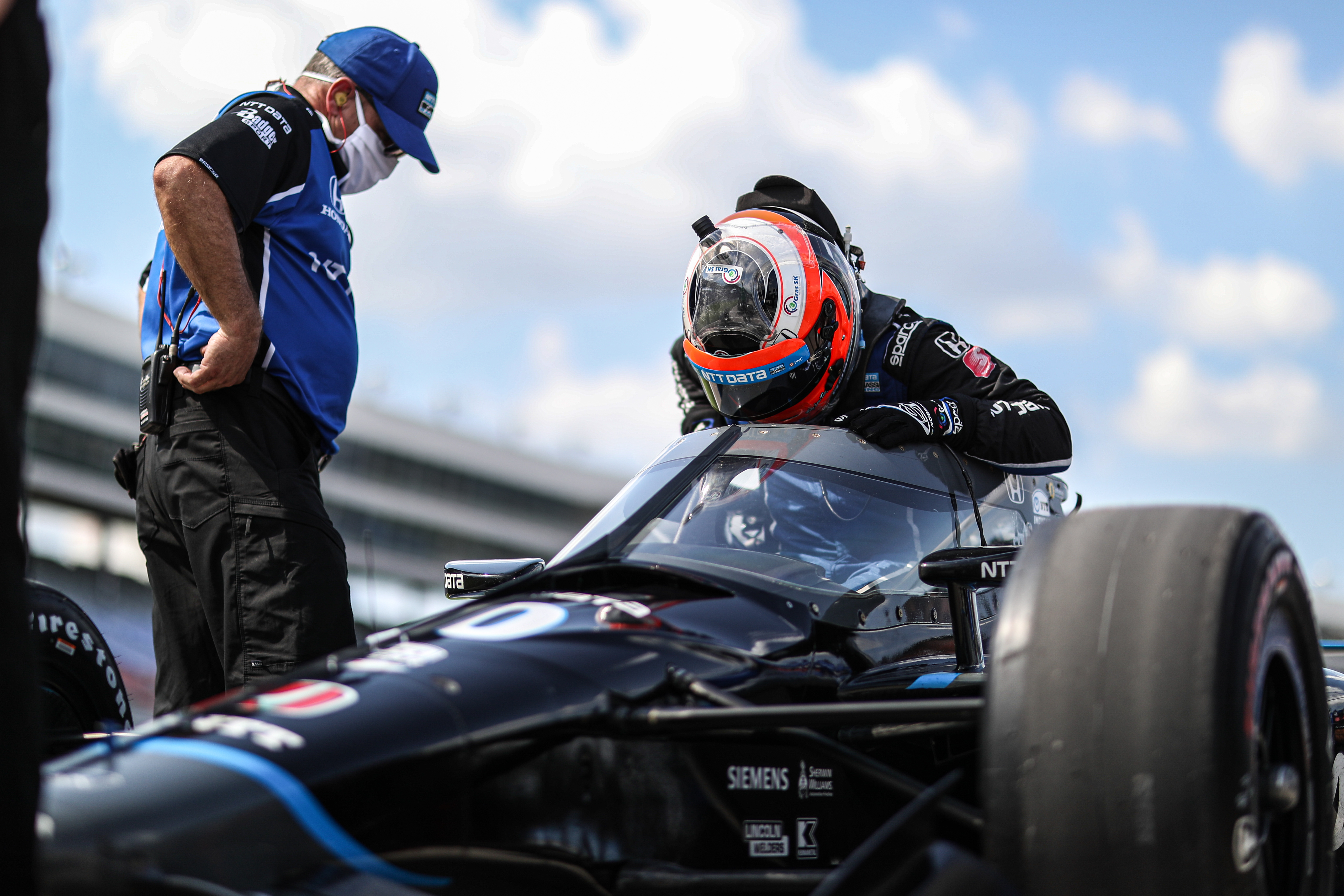 This was a tricky one. While Rosenqvist's race obviously ended in a crash which he took the blame for, he spent most of it giving five-time champion Ganassi team-mate Dixon a run for his money in the lead fight. That's hardly a 'nightmare' race, although the result definitely was.
Even more importantly, Rosenqvist proved he can be fast on ovals – which were both a struggle last year and a focus of his off-season attention.
So while crashing out of second place late on while trying to navigate lapped traffic was an overall negative outcome, the pace and what that pace means relative to last year is a very strong indicator indeed.
The reigning rookie of the year really does need to beat team-mate Dixon in a one-on-one fight soon after two losses – including a wheel-banging race finale at Mid-Ohio last year – but as Dixon acknowledged – "I knew these days would come where he's going to be knocking on the door pretty hard".
If the previous IndyCar seasons have proved anything, it's that consistency and top five or top 10 results are key, and one slipped away for Rosenqvist on Saturday. But with the right mindset – which he has – he'll be back on form and claiming that first IndyCar win soon.
Alexander Rossi
Pre-race problems continued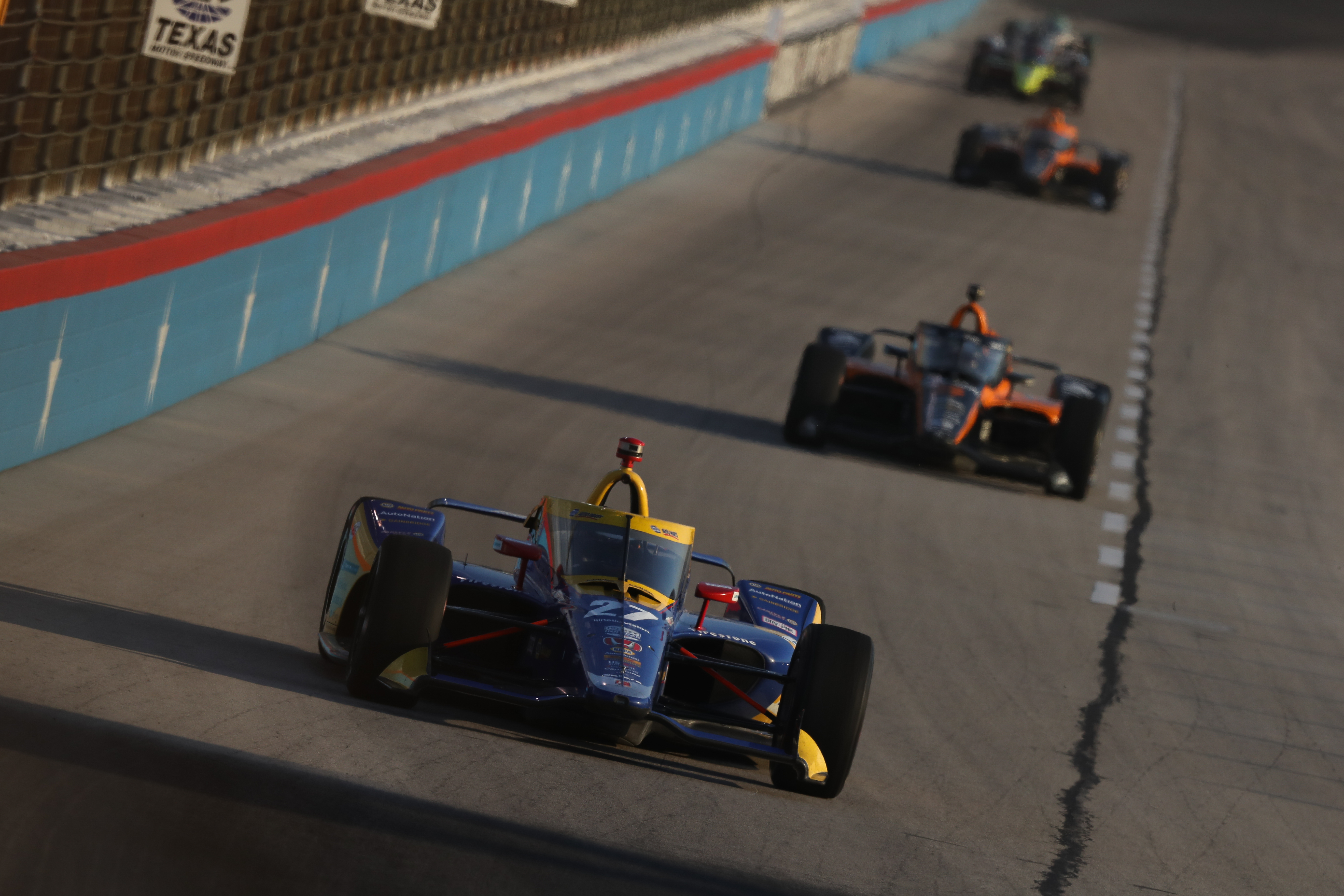 Having finished second at Texas last year, 15th has to be marked down as a nightmare for Rossi. Especially as, if you look at 2019, the top two in the championship had just three results each outside of the top eight.
However, Rossi had qualified conservatively and looked on course for a move through the pack, before he was on the end of the same ECU problem some of his other Honda drivers fell foul of too.
Then, when serving his drivethrough for the car being worked on in parc ferme conditions, his pitlane speed limiter malfunctioned – which meant, unlike team-mate Hunter-Reay, he went two laps down instead of just the one.
To recover to 15th might be seen as a positive with all of that happening, but it's a big blow to someone expecting to fight for the championship against the might of Penske and what could be a very formidable Ganassi line-up this year. Rossi is trying to go with the positives.
"From that point [going two laps down] our night was pretty much over, but we tried our best to salvage what we could," Rossi told NBC.
"The fact we ended up 15th was better than nothing, and I think the one takeaway is that the team did really well in pitlane. That was one of our big focuses in the off-season.
"This is a good step in the right direction, and we will be back in four weeks at Indy."
Rahal Letterman Lanigan Racing
Out of the hunt before the start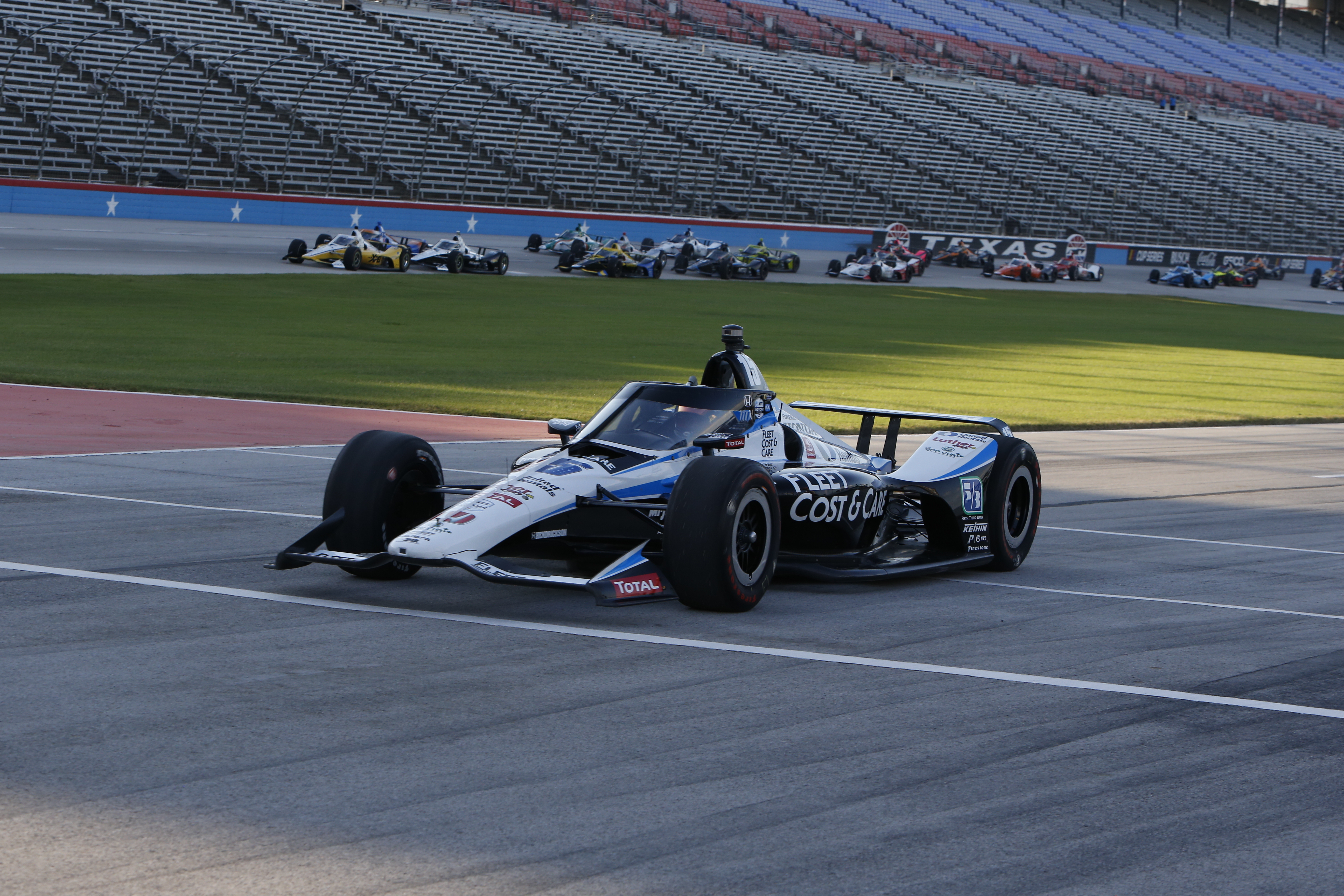 Takuma Sato has traditionally taken a slightly high line at Texas, but he seemed to approach Turn 1 in his Texas qualifying warm-up lap from space – and it showed. He spun almost immediately, crashed into the wall, and was unable to start the race due to the damage caused.
Then the team's sole remaining hope Graham Rahal was unable to take up his seventh place start at one of his best circuits as the Honda ECU issue struck him too.
He was immediately a lap down and could only fight back to 17th, citing unforced errors. Texas should have been one of the team's strongest tracks, but it turned into a nightmare.
Rinus VeeKay
Two crashes and an unimpressed boss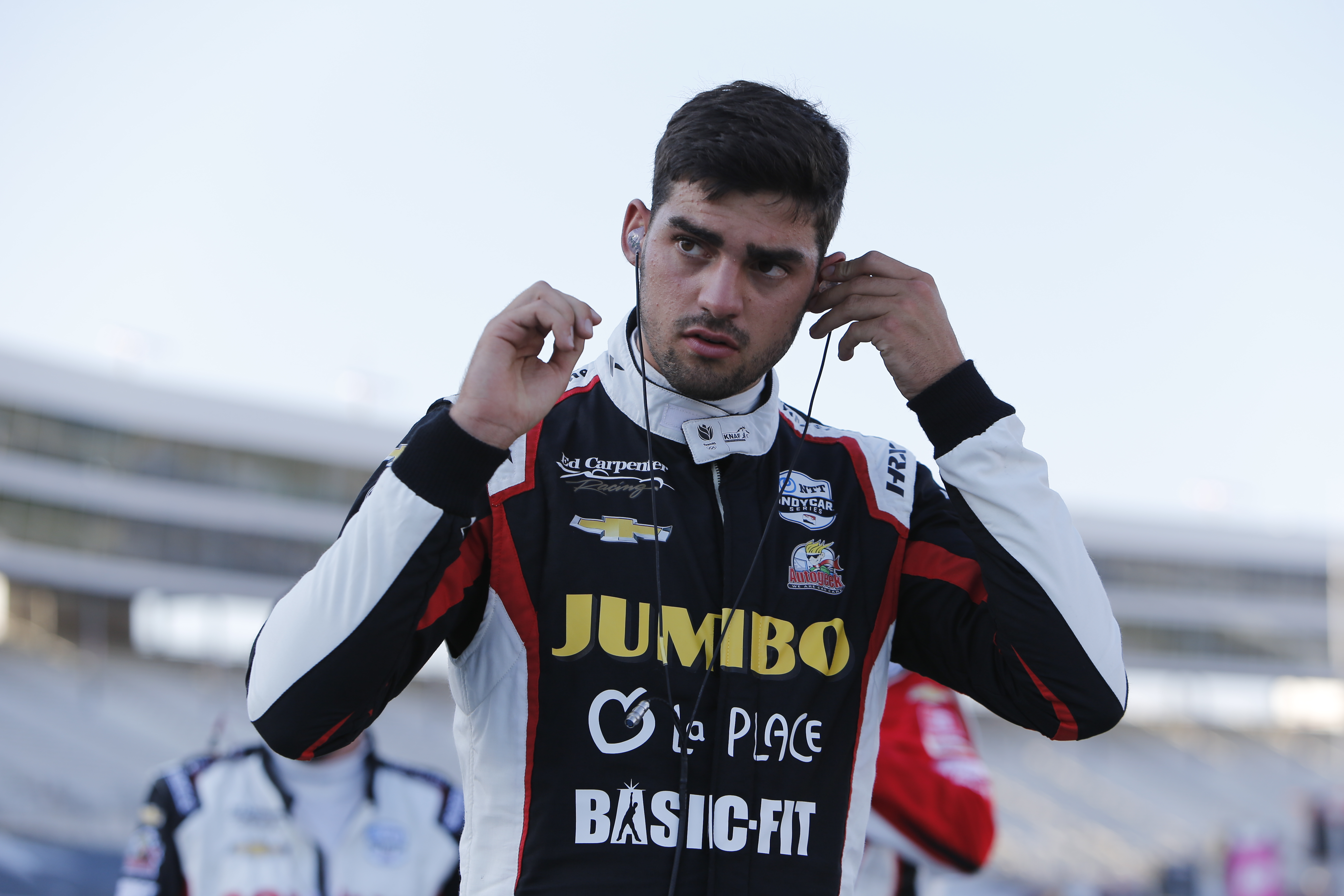 For how to approach a debut IndyCar weekend, read Oliver Askew or Alex Palou, not Rinus VeeKay. He crashed almost immediately in practice, missed qualifying and then ran too high up the racetrack and crashed in the race, collecting Palou who appeared to be on course for an impressive run.
Given VeeKay has raced on ovals in Indy Lights before, his approach was baffling.
After the race, team owner Ed Carpenter told NBC: "Everything I asked him to do, he didn't do.
"Yeah, we have a lot of work to do there."
Honourable mentions
Will Power had a troublesome evening with a right-rear missing from his car during a pitstop, which set him back.
But he always looked adrift of Penske team-mates Josef Newgarden and Simon Pagenaud, who were able to fight through handling difficulties to run up front. He also accused others of not following the 35-lap maximum stint on the tyres rule, which The Race is investigating.
Marcus Ericsson was the first driver to run in qualifying as a new entry in a third car for Ganassi, which was always going to be tricky with a green track.
But he moved his way up the order when it was tricky to pass on track and would have been a strong top 10 contender had he not had an issue where he couldn't take on fuel in the pits, and therefore ran out in the closing laps. The signs are good for an expanded Ganassi team and for Ericsson.