It's unusual to think that a five-time champion might need to prove himself. But for the past couple of years, the IndyCar rhetoric has been centred around its up and coming youngsters and rookies.
Whether that's the perennial second (or third) place man Alexander Rossi, now double-champion Josef Newgarden or even sophomores Felix Rosenqvist and Colton Herta: IndyCar loves a rookie, and loves the story of a crop of youngsters taking on the old guard.
So, maybe, just maybe, the 39-year-old Scott Dixon felt the need to lay down a gauntlet in the Texas season-opener last weekend. And boy did he do that and more.
The win came in trying circumstances in many ways for Dixon, and it should have been a lot more difficult.
Starting with last year, the Chip Ganassi Racing team's only real weakness was its oval form, but Dixon's wasn't really a pace issue – more getting to the end of the race in one piece on a decent strategy.
Over the off-season, the team made some pretty significant changes, drafting in Tom Cannon from Dale Coyne Racing to engineer Dixon as Chris Simmons – with Dixon since 2015 – moves into a leadership role having joined Ganassi at a similar time to Dixon in 2003.
Cannon scored a third-best average finish on ovals last year in the series with his driver Santino Ferrucci – behind Penske's Josef Newgarden and Simon Pagenaud. Ferrucci isn't always the easiest driver to engineer and manage, and Cannon really couldn't be getting a more opposite package in Dixon.
Ganassi doesn't often hire from outside if it doesn't have to, you only have to look at the average time each member of staff has served there to work that out.
It likes to prioritise its own working culture and promote those who are worthy from within. So hiring Cannon proves the team's dedication to finding what it was missing on ovals in 2019.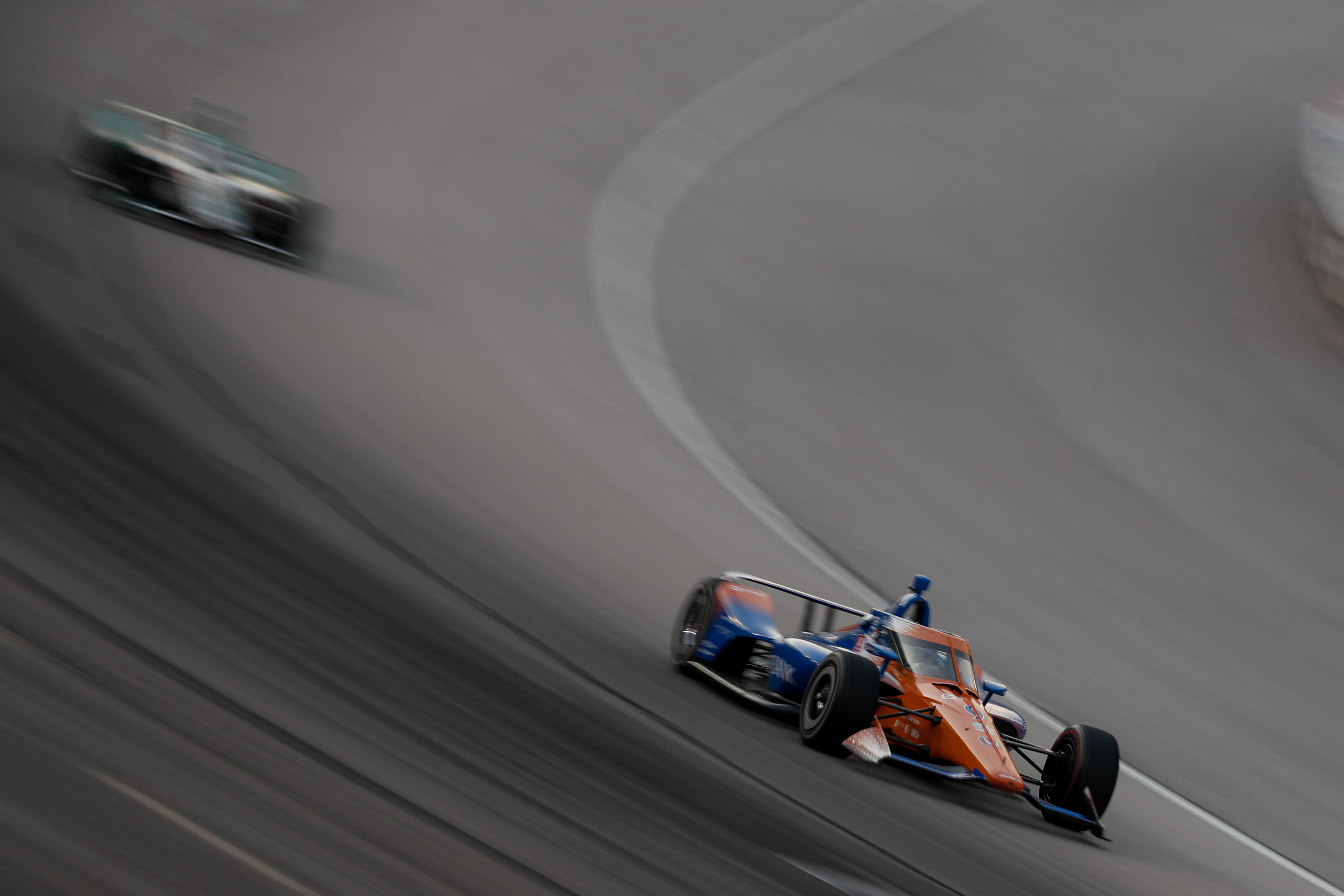 "It's definitely one of the focuses," said Dixon when asked by The Race before Texas about the quest for oval gains. "Texas, we were running second when we got into the accident towards the end [with Colton Herta] of the race [in 2019]. We were second. We had a mechanical failure at St Louis [Gateway] with the radiator leak.
"I think really our biggest downfall last year was Indianapolis. Our race pace was decent. We weren't just that good in traffic and qualifying was pretty horrendous.
Dixon was going in knowing he'd have to conquer them with a new engineering group. The continuity he had been able to rely on for so many years was gone
"We've worked a lot on our deficits from last year. With what we've been able to do with adding Marcus [Ericsson, new third car entry] to the fold has created a lot of opportunity with new people coming into the mix, plus more engineering staff from the Ford GT programme, which has been huge in the off-season to try to process some things, try to fix some of the issues.
"I guess we'll just have to wait and see. I think we've made some good progression. Having two great team-mates that have had some good miles on ovals to try to help the process of these short practice sessions, to get on top of it, it's going to be big for us as a whole.
"Lots of positives we see. We have to really wait till we get to the real world and get to the race, see how that plays out."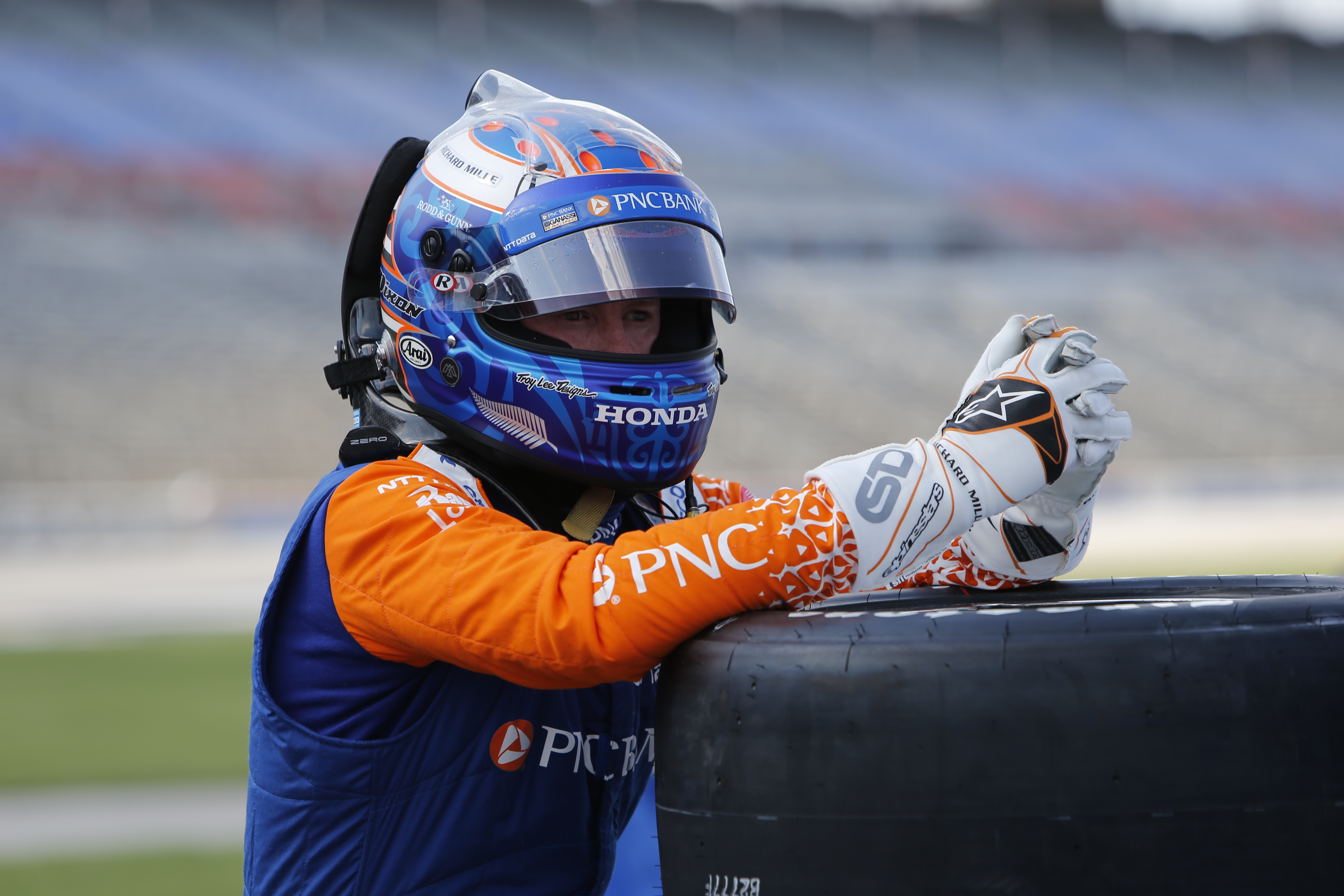 Although those new personnel – including ex-Formula 1 driver Ericsson who was strong on ovals in his rookie year in 2019 – should prove helpful, for Dixon the changes meant his continuity was out of the window heading into 2020, so there was already unknowns. Then the coronavirus outbreak happened, the season was delayed and the team had more time to get to know each other – via Zoom at least – and ponder the biggest challenges of the year.
Texas itself – once revealed as the IndyCar opener – would provide an enormous challenge, perhaps one of the biggest IndyCar has seen for years. An untested mix of tyres – which IndyCar felt the need to mandate a maximum stint length on such was the uncertainty over how they would perform with the heat and the aeroscreen – a one day format with little time for trial and error and to digest data, and how the new aeroscreen would change handling characteristics.
Yes, the latter problems were faced by all drivers. But Dixon was going in knowing he'd have to conquer them with a new engineering group. The continuity he had been able to rely on for so many years was gone.
However, whether it was intentional or not, it was clear as soon as Dixon got out on track he meant business. He topped the practice times despite all the uncertainty, and then was narrowly pipped by Josef Newgarden to pole with a late flier.
But, no race has ever been won in qualifying. Even at Monaco, and certainly not in an IndyCar race on an oval.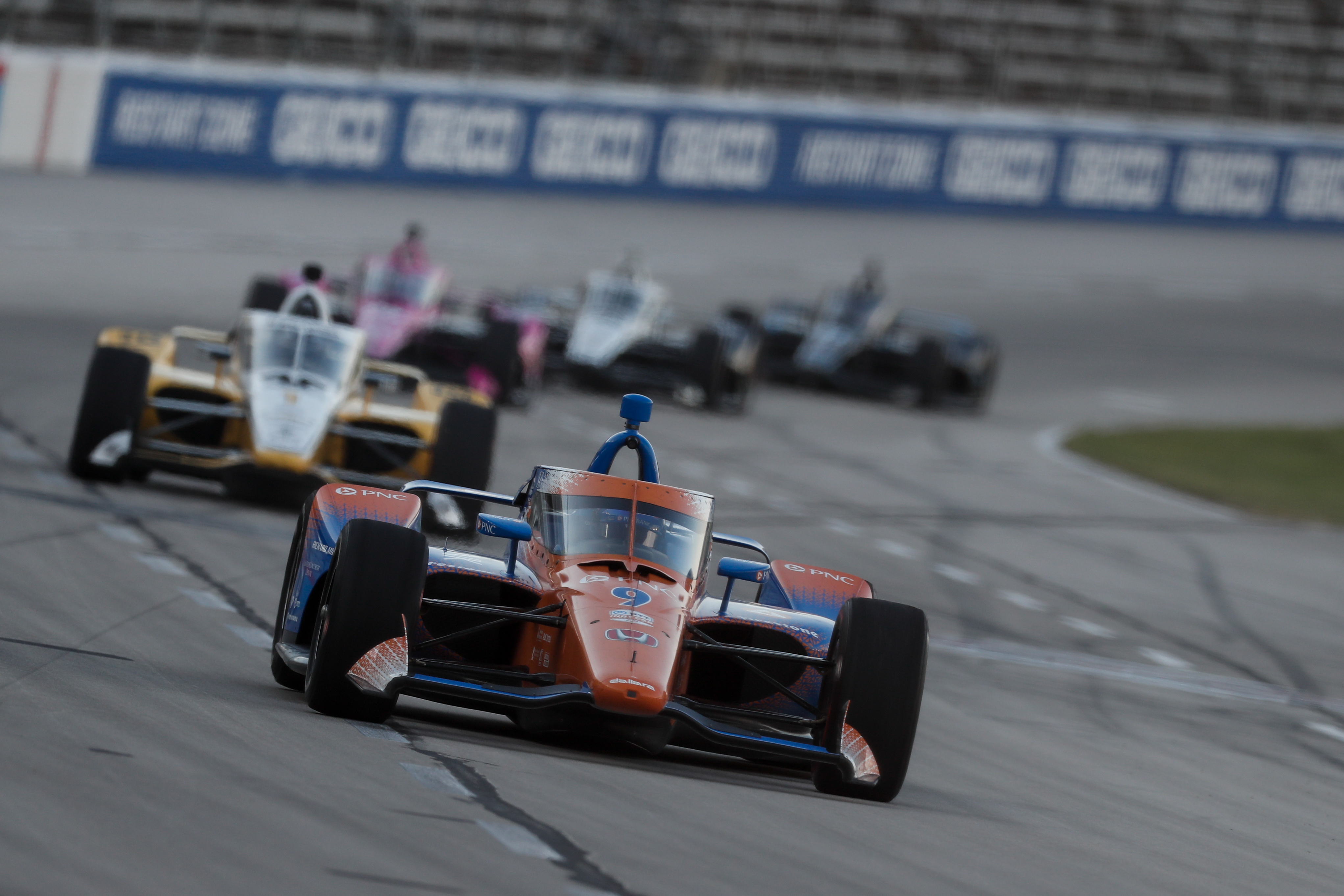 From the start of the race it was clear both Dixon had a strong package, and that Penske was going to struggle. Dixon ran close to Newgarden from the start but was visibly throttling-back on the straights and drafting up to the back of the Penske driver, before he made his move on lap 32 of 200.
The pitstops came shortly after and Dixon maintained the lead, but what appeared to be a dropped wheel nut in his second stop, under caution, relegated Dixon to third. That's when his hero moment came.
Quickly moving on to Newgarden's tail by overtaking team-mate Felix Rosenqvist, he set up for a pass.
Set in context, the track had been layered with a treatment to prepare for the upcoming NASCAR race, but for IndyCar it meant a slippy second grove higher up the track, cars hugging the apron down low. Takuma Sato proved just how slippy the high-line was when the ex-F1 driver crashed on the warm-up lap for his qualifying effort, smashing into the wall at speed.
When the machinery is correct, Dixon's still the best driver in the IndyCar field, despite all the talk of young hotshots, rookies and changing of the guard
At over 200mph – knowing his engineering team had changed, knowing the aeroscreen and its effects were new, knowing the tyres weren't optimal and most importantly knowing what had happened to Sato – on lap 91 Dixon went for it.
After a great run off Turns 3 and 4, Dixon eased onto Newgarden's tail. Knowing the highline was slippy, Newgarden fended off the inside and stuck to the track's white line. It was almost, a dare. Daring Dixon to try the outside, to trust his car, team, ability and the adhesion of the track.
Diving to the outside, it looked like Dixon had engaged some sort of hyperdrive mode as he rounded the leader and was back on the racing line by Turn 2, Newgarden seemingly only visible with a magnifying glass in the mirror. Dixon stormed away at the front of the field to the tune of eight and a half seconds before the next stops arrived.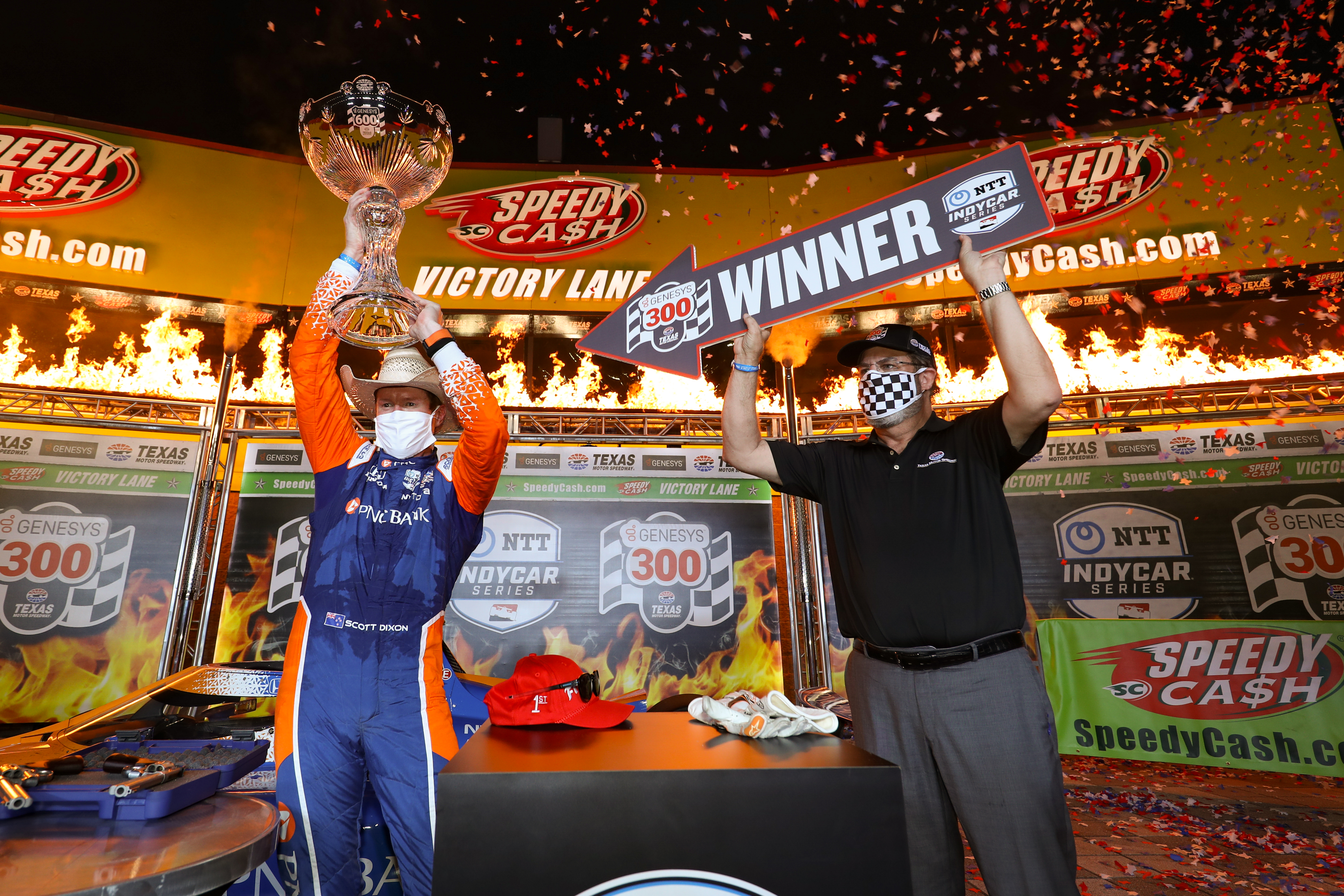 Asked to describe the move post-race, Newgarden said: "He was way better than me tonight. It's as simple as that. He had a good run, was able to stay pretty tight fresh on tyres. Honestly, tonight for me was a night of hanging on. I was doing everything I could just to try to stay up front.
"When he came up alongside me on the front straightaway there, it was not really much I could fight. He was coming with a head of steam. It would have been foolish for me to try to bury the car into Turn 1 and fight him. I think he was far enough ahead, he was going to pass me either way.
"It's one of those nights you just got to kind of swallow your pride. We knew we just weren't good enough tonight.
"Third place for us feels almost like a win tonight."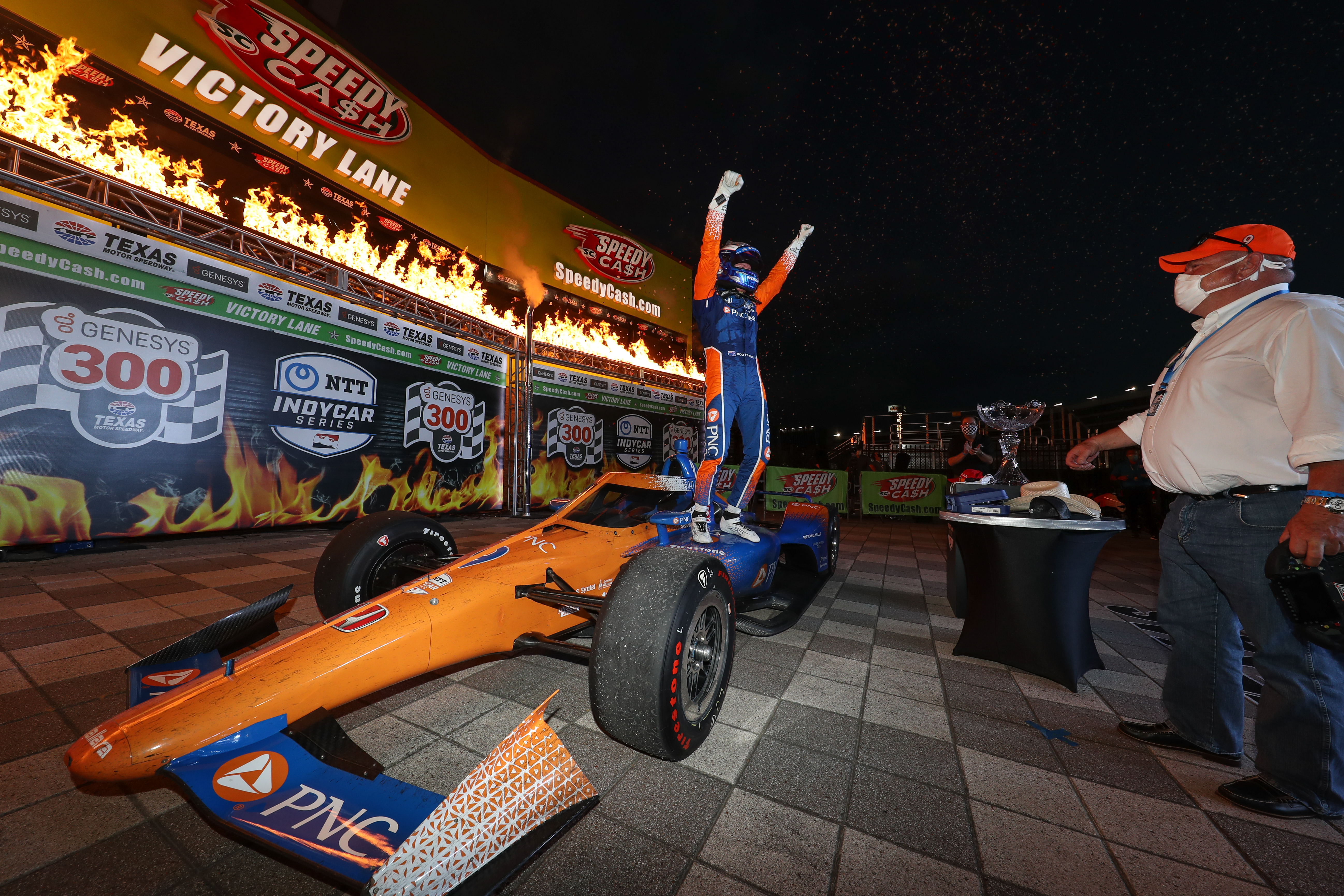 That's one of the reasons why Newgarden is a double-champion, and will win more titles. On a night where Rosenqvist had as good a car if not better than Dixon, he threw it away crashing trying to pass lapped traffic. Newgarden gets consistent top fives and it makes him very tough to beat.
But, if the Dixon that turned up at Texas decides to lever his authority further on the field in future races, they are in big trouble. Because when the machinery is correct, he's still the best driver in the IndyCar field, despite all the talk of young hotshots, rookies and changing of the guard. He had to deal with a host of lapped traffic and a late caution, but kept his cool to secure a brilliant win.
On lap 91 last weekend, Dixon reminded a few people of that innate ability.
If that wasn't a performance intentionally laying down the gauntlet, then the glove slipped and fell over the top of the aeroscreen. That would be much more Dixon-like. But the result is the same. Dixon has marked his territory. He wants the title back after last year's defeat, and if he can make Texas a regular occurrence, he'll achieve it – as he zeroes in on some of IndyCar's all-time records in the process.