This weekend the Porsche Esports Supercup starts its second season, with the prize fund having doubled to $200,000.
The championship features the quickest drivers on iRacing, with F1 driver Max Verstappen as one of the 40 drivers taking part.
One of the favourites to take the title this year is reigning champion Josh Rogers.
Last year he beat the likes of Max Benecke and Sebastian Job and won four races on his way to the title.
More impressively in the 20 races that took place, Rogers set the fastest lap in 10 of them.
"Winning the championship last year was incredibly tough, the championship came down to the very last race could have gone either way," Rogers told The Race.
"The field was insanely competitive and with the strength of the new drivers joining the championship this year I see it as being as hard as ever.
"Nevertheless though we will be pushing as hard as we can to make sure we can give ourselves the best opportunity to go back to back, but in a championship like this anything can, and will, happen."
Rogers racing career predates his time on sims as he started karting in his native Australia in 2007.
He had some degree of success, winning a couple of state championships and some races at a national level.
Whilst his real-world racing career came to an end, sim racing has, as he puts it, "filled this void for me and has become my main focus."
Therefore sim racing went from something fun to do on the side, to Rogers' his only form of racing and somewhat of a profession.
"I started sim racing back in 2014 initially with a group of mates from karting, mainly for some fun on the side of real racing but also as a tool to try and keep myself sharp when I couldn't be at the racetrack," Rogers recalls.
"Things have certainly changed since then though, taking things much more seriously with my focus being shifted almost entirely to sim racing.
"Initially I was quite into titles like Gran Turismo and the Codemasters' F1 games, but in terms of the online multiplayer aspect and the lack of laser scanned cars and tracks they just didn't quite make the cut compared to iRacing.
"Also mainly for me I'll go where the competition is, and for me, iRacing is where that's at.
"I feel the series on iRacing have the tightest margins in terms of speed between the drivers and that gives me a rush that no other sim can."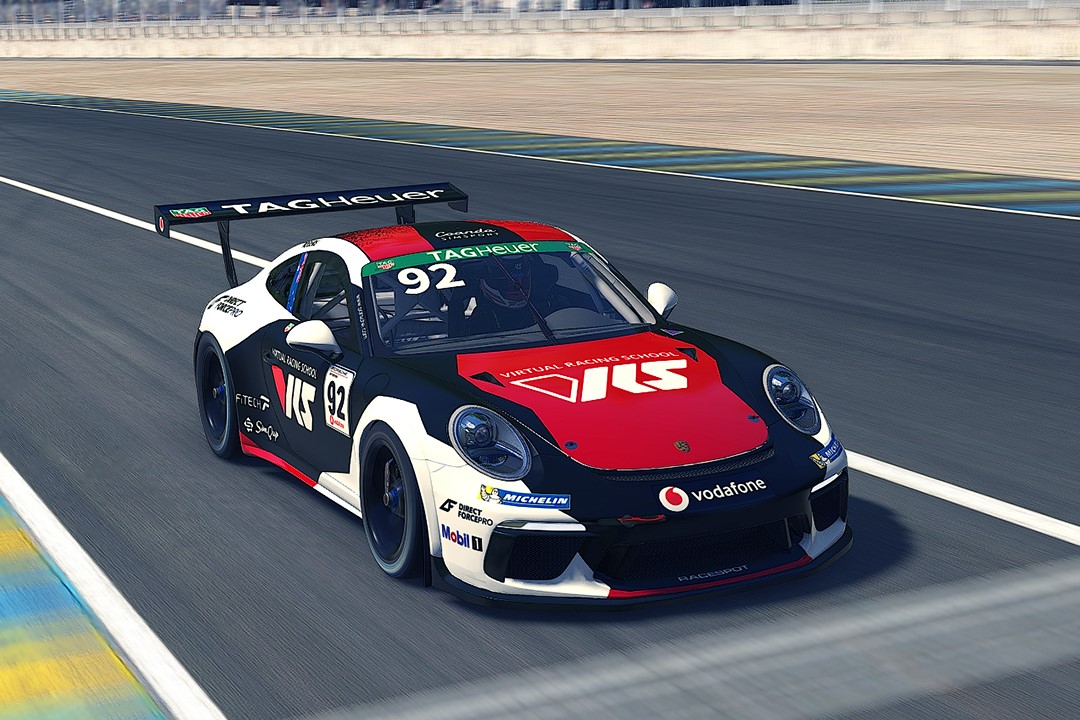 Outside of the Porsche Esports Supercup he's had other successes, all of which were on iRacing.
They include winning the Gfinity Supercars Eseries and the VRS GT iRacing World Championship in 2019.
His most recent major win was the iRacing 12 Hours of Sebring which he won alongside Coanda Simsport team-mate Mack Bakkum.
Rogers is one of a number of Coanda Simsport drivers who will be taking to the grid for the Porsche Esports Supercup and vying for their share of the prize money.
Whilst they may be championship rivals with one another they still all work together in between races, something that Rogers' cites as a major source of his development as a sim racer.
"Being part of Coanda is honestly a massive contributor to my improvement as a driver over the past season," Rogers said.
"Being able to compare to guys that are the best in what they do makes a massive impact.
"I often find myself always comparing data, seeing where I can improve or where my strengths are and trying to better myself as much as I can before race weekend.
"I always believe that the people you have around you is the most important key to success, you can never get the most out of yourself completely on your own so for me joining this team was the best decision I've made in my career thus far."
The first round of the Porsche Esports Supercup takes place on May 2 at Circuit Park Zandvoort.