Though the Las Vegas Grand Prix was another Max Verstappen/Red Bull win, the route there was much more complicated than usual.
And there was a spell where it looked like the Red Bull that had gone out in Q2 and broken its front wing on lap one would win the race.
That was typical of an event where grid positions ended up meaning little as chaos and strategic reactions to that chaos produced a thriller.
Here's our take on the stars and flops from it.
Winners
Charles Leclerc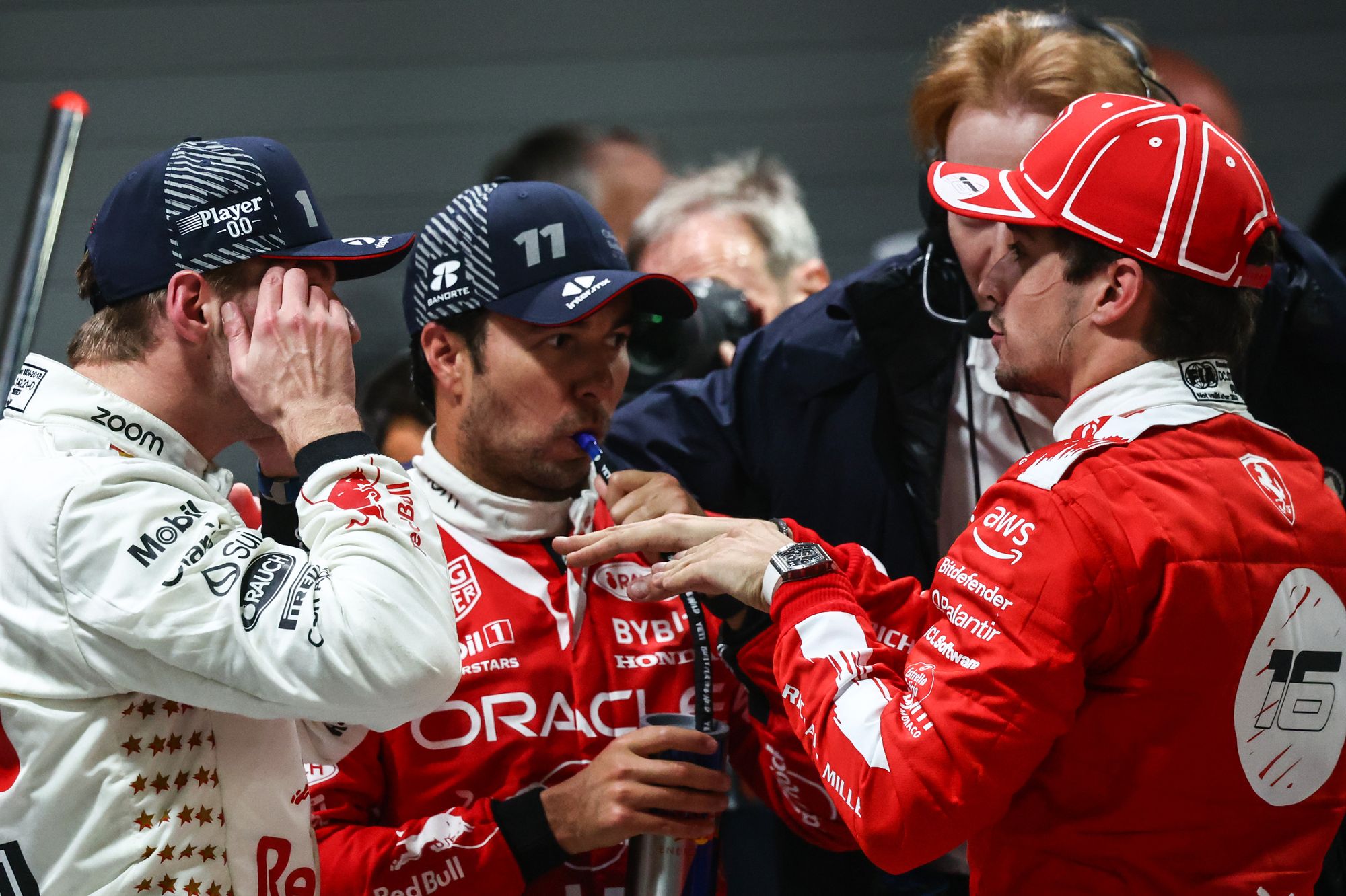 This was a defeat, of course. But how many people really, really expected anything else going into the grand prix given the usual trajectory of Ferrari and Red Bull's pace between qualifying and race performance?
So that's why second is actually a triumph. This should have been a Red Bull 1-2 once strategies fell Sergio Perez's way. It's to Leclerc's huge credit that it wasn't.
His never-say-die attitude all night was the biggest factor in making this race such an epic, and it was one of the finest drives of his F1 career so far. A second place that deserves to go down in F1 legend as being worth so much more. - Matt Beer
Max Verstappen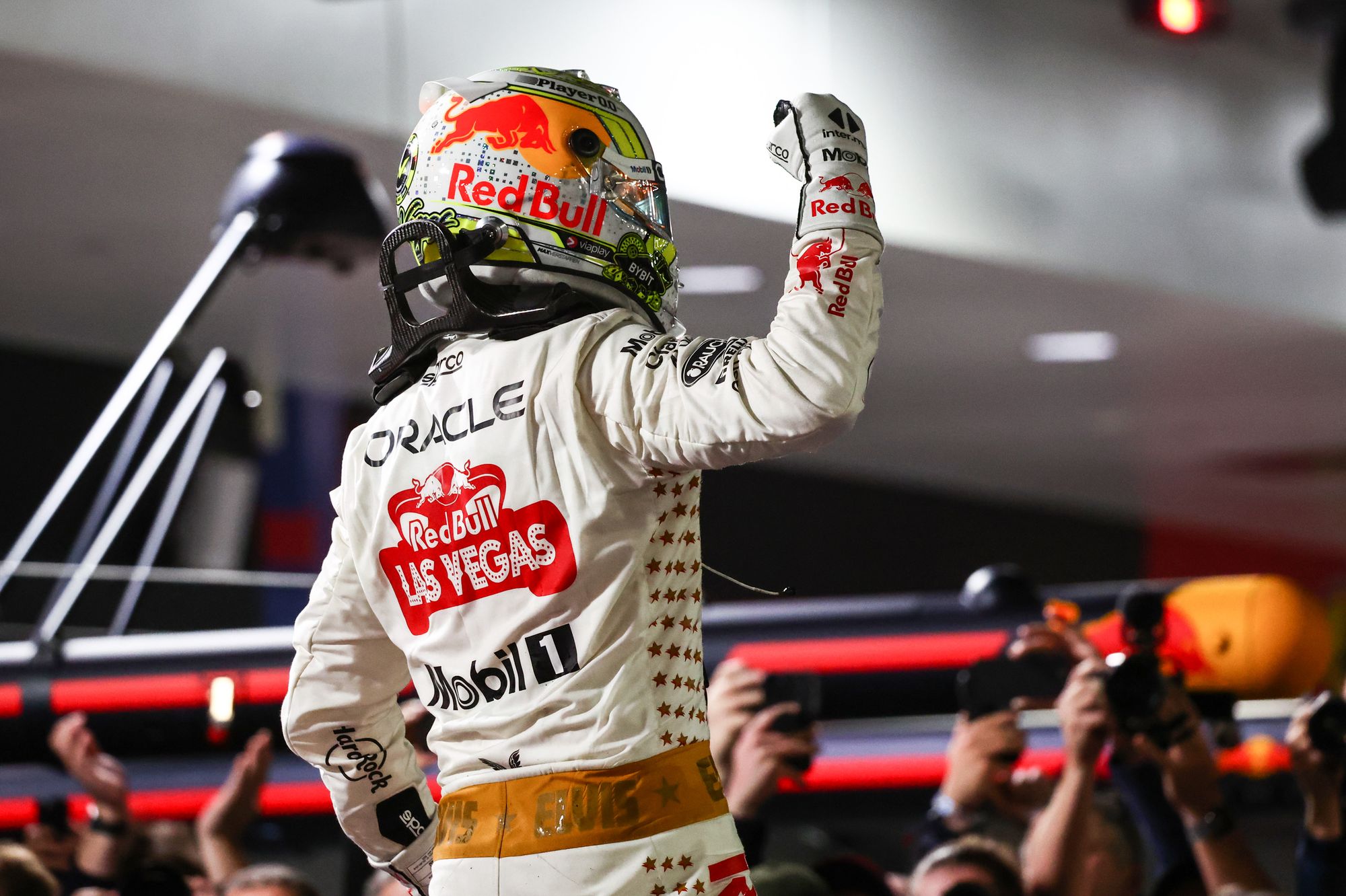 There were a lot of obstacles to Verstappen's 18th win of the season. Some self-inflicted. Mostly not, though.
Ferrari's genuine pace, Leclerc's superb racecraft, a penalty for first-corner cheekiness, damage from a tangle more George Russell's fault than Verstappen's - all overcome in style in the end.
Was it ironic that someone so unenthusiastic about the glitz element of the Vegas week won the race? Might that win have changed his feelings about it?
No on both counts.
Verstappen's take all week has been that he just wants to get on with pure racing as that's the bit he's here for. Saturday night was all about that.
Even if it did also feature an Elvis-themed race suit. - MB
Lance Stroll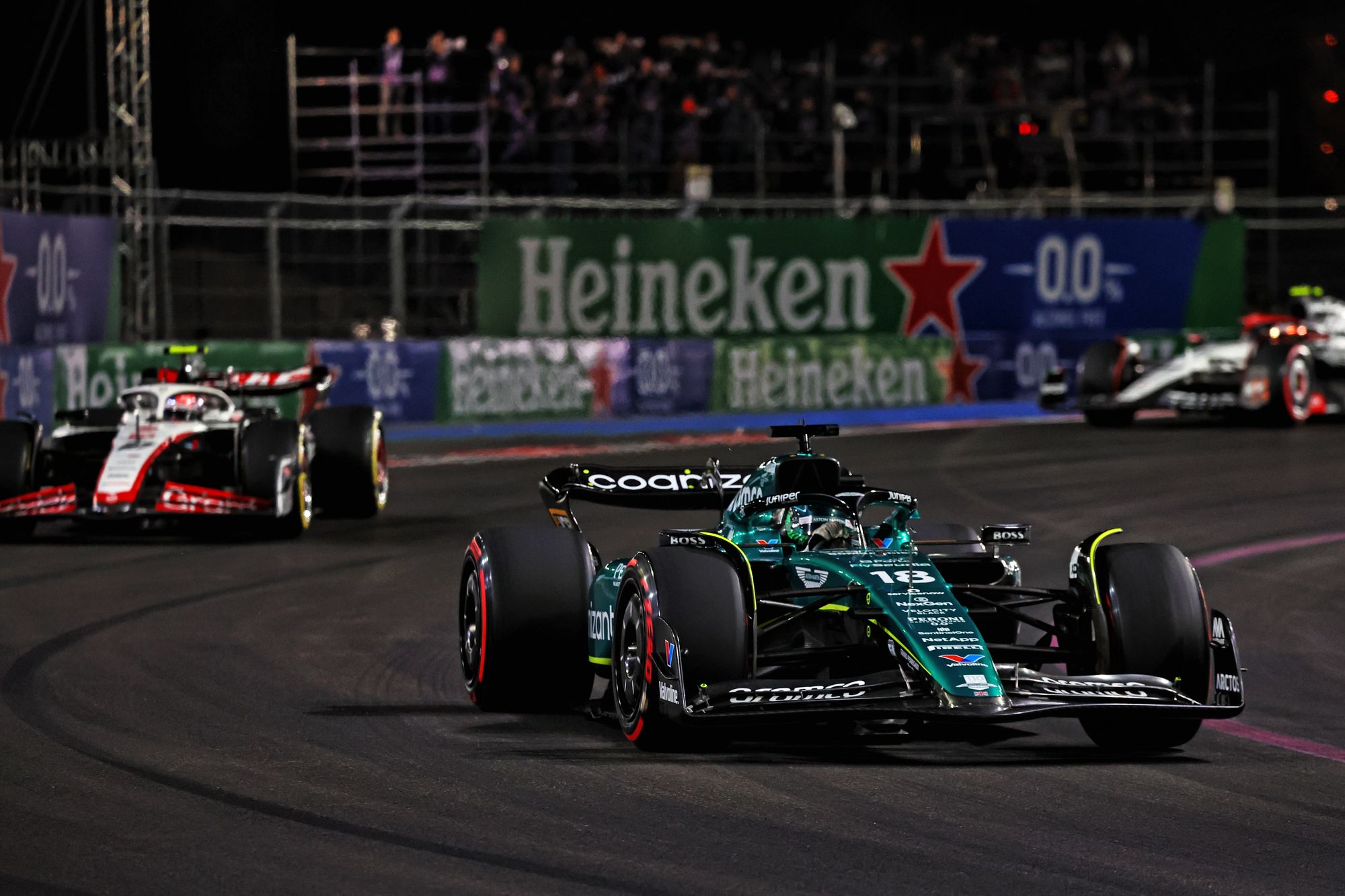 Having started 19th on the grid, Lance Stroll had a great opening lap, taking advantage of the chaos around him, and doing well to avoid others, to immediately propel himself up the order.
But that was only part of the job complete.
With the DRS proving to be a solid aid in enabling overtaking in Las Vegas, Stroll had to find strong pace to avoid falling backwards again, and he did.
It wasn't just the pace, though, his racecraft was on form too, overtaking both Alpines of Pierre Gasly and Esteban Ocon in the latter stages of the race to bring his car home fifth.
You have to rewind all the way back to near the start of the year to find a stronger result for Stroll, when he finished fourth in the Australian GP, proving just how good a race he had, especially considering his starting position.
Performances like this just might prove to those doubters that he really does have what it takes to cut it in F1. - Rob Hansford
Esteban Ocon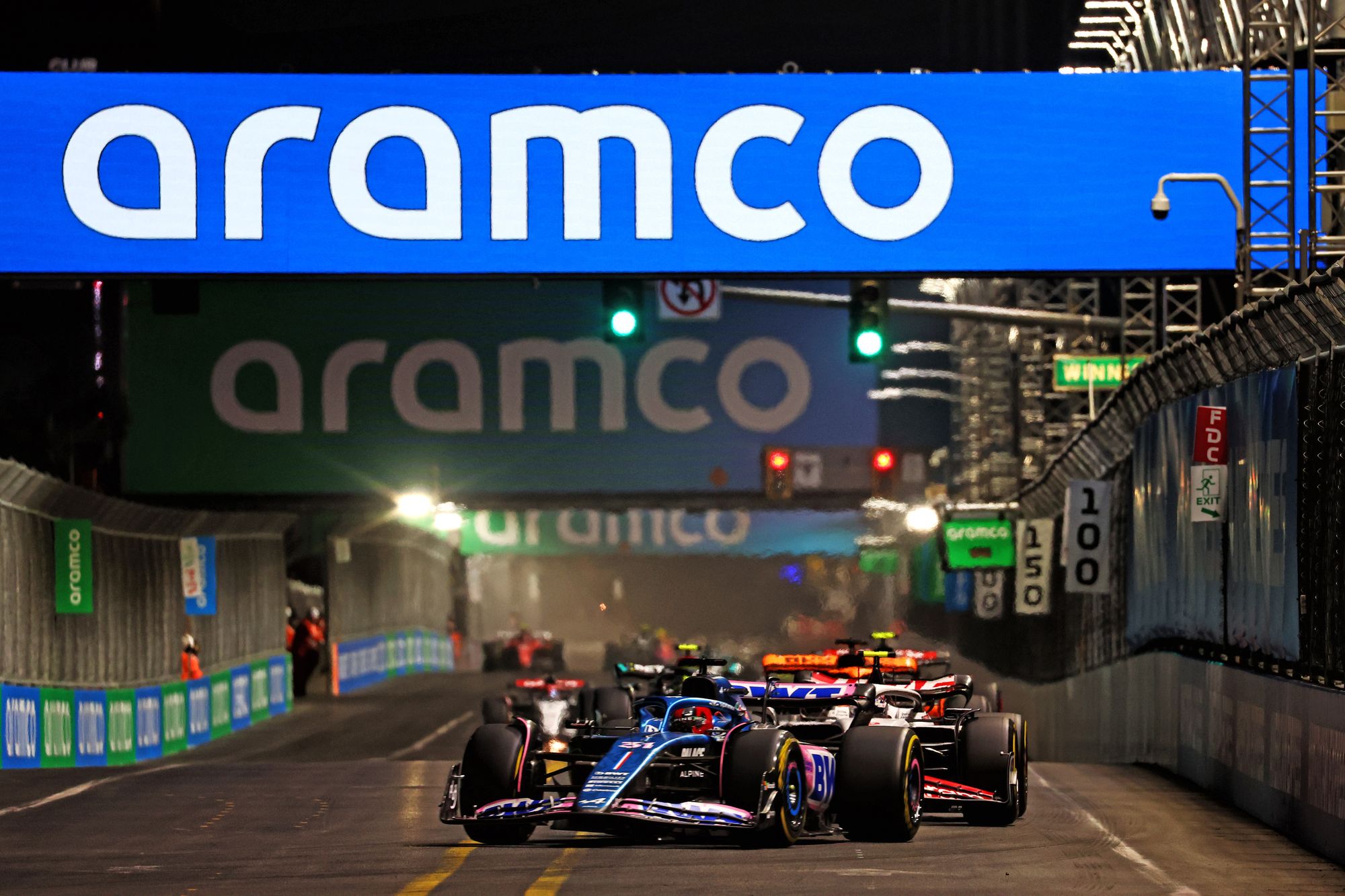 Pierre Gasly has more often than not been the stronger Alpine driver in the second half of 2023, as was indeed the case on qualifying day in Las Vegas.
Ocon was dumped out of Q1 after a "joke" of a mini-race with Verstappen on his final push lap.
But he recovered in style with a strong opening stint and good chaos avoidance that launched him back inside the top 10.
He extended his first stint well and that gave him better tyre life than Gasly. Judging by the broadcast there appeared to be some confusion over team orders but it was soon clear that Ocon was by far the faster Alpine driver.
While Gasly went backwards, Ocon held his own inside the top five and only lost fourth to George Russell on the final lap, a move Ocon welcomed with the knowledge that Russell had a five-second penalty that was always going to drop him back behind at the chequered flag.
That fourth place cuts Ocon's deficit to Gasly in the drivers' championship from 16 to four points, leaving it all to play for in Abu Dhabi. - Josh Suttill
Las Vegas GP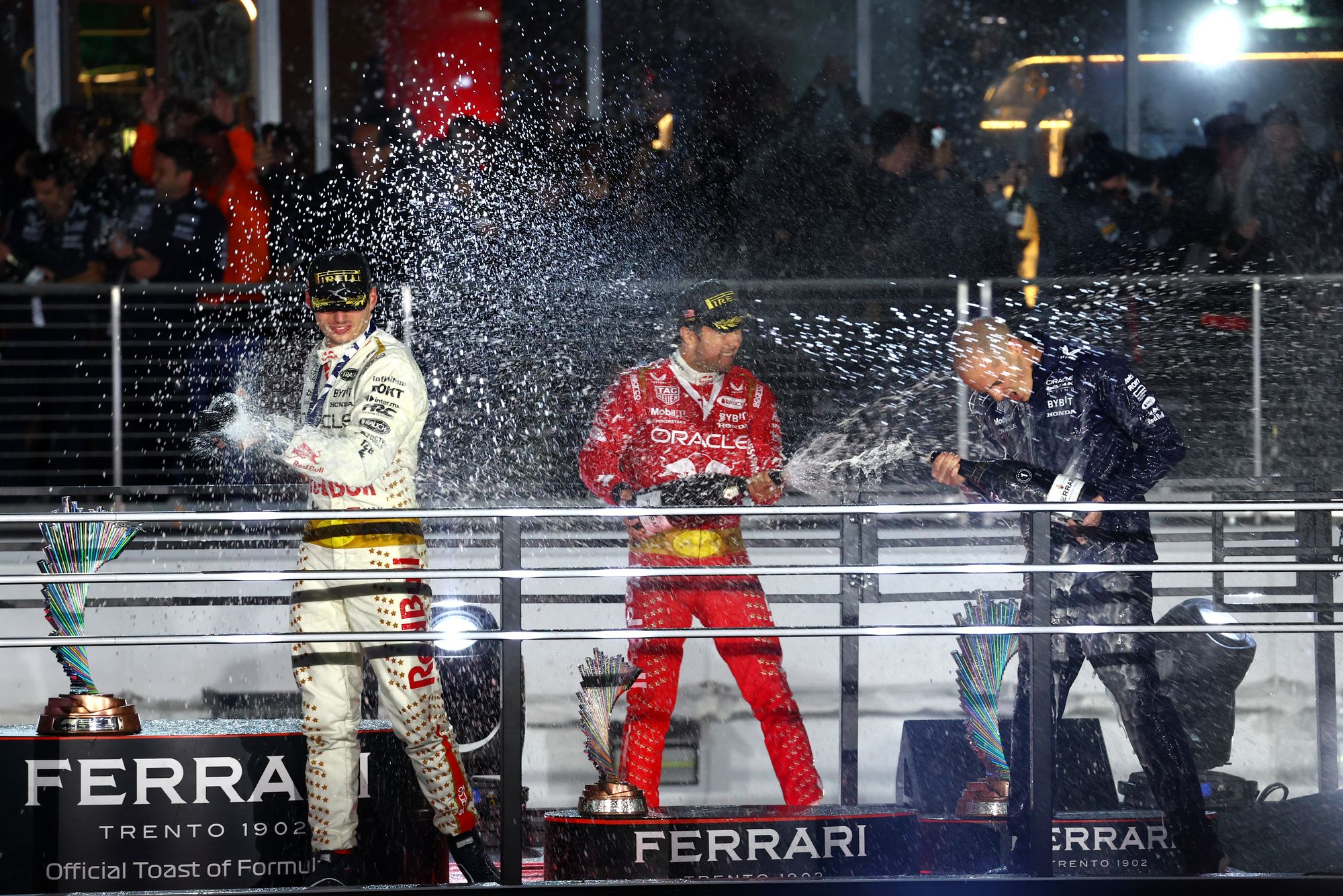 Everyone who said too big a deal was made of the Thursday problems because it would all be forgotten if the race was good had a point. But that also wasn't the point. Regardless of what followed, given the huge hype of the build-up such a disastrous first few hours of track (non-)action was a terrible look for F1.
But it's possible to both acknowledge that Thursday was bad and that the rest of the week was sensational, especially once the race began.
Plenty of passing, plenty of unexpected twists, and no more shambles. Welcome back to F1, Vegas. Please stay around for the long term this time. - MB
Losers
Mercedes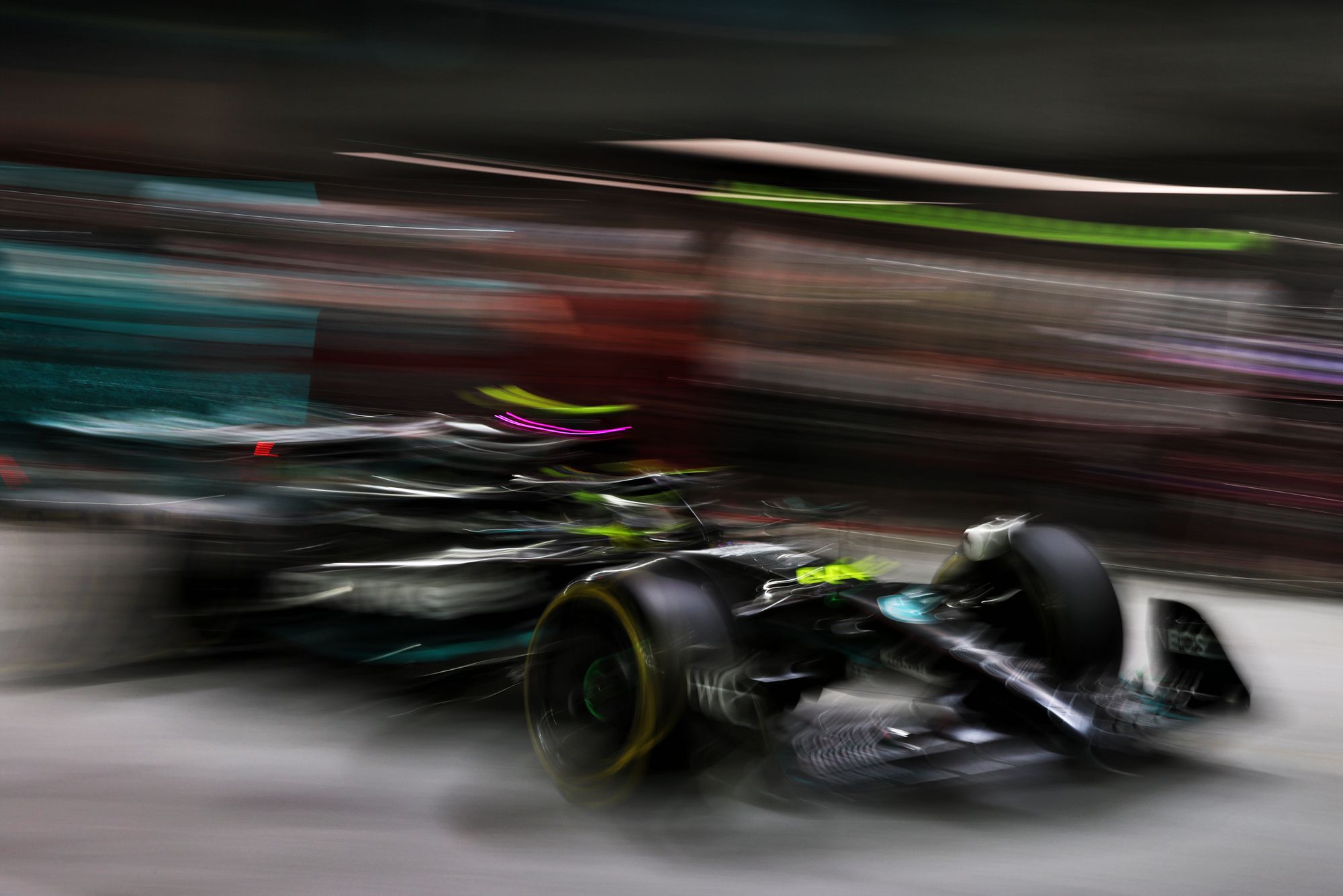 Once again when Red Bull wasn't at its strongest in 2023, Mercedes was nowhere near close enough to pick up the pieces.
Both its drivers were involved in clashes. Lewis Hamilton was caught up in the Turn 1 mess and then collided with Oscar Piastri later in the race while Russell clashed with Verstappen.
Hamilton/Piastri was a slam dunk racing incident, as was his opening lap contact, but Russell's clash was clumsy and deeply costly as dropping from fourth to eighth slashed his Saturday points haul by a third. Hamilton's puncture cost him that fourth place too.
It demolishes Mercedes' comfort margin in the fight for second with Ferrari and leaves just two points between them heading to Abu Dhabi. - JS
Fernando Alonso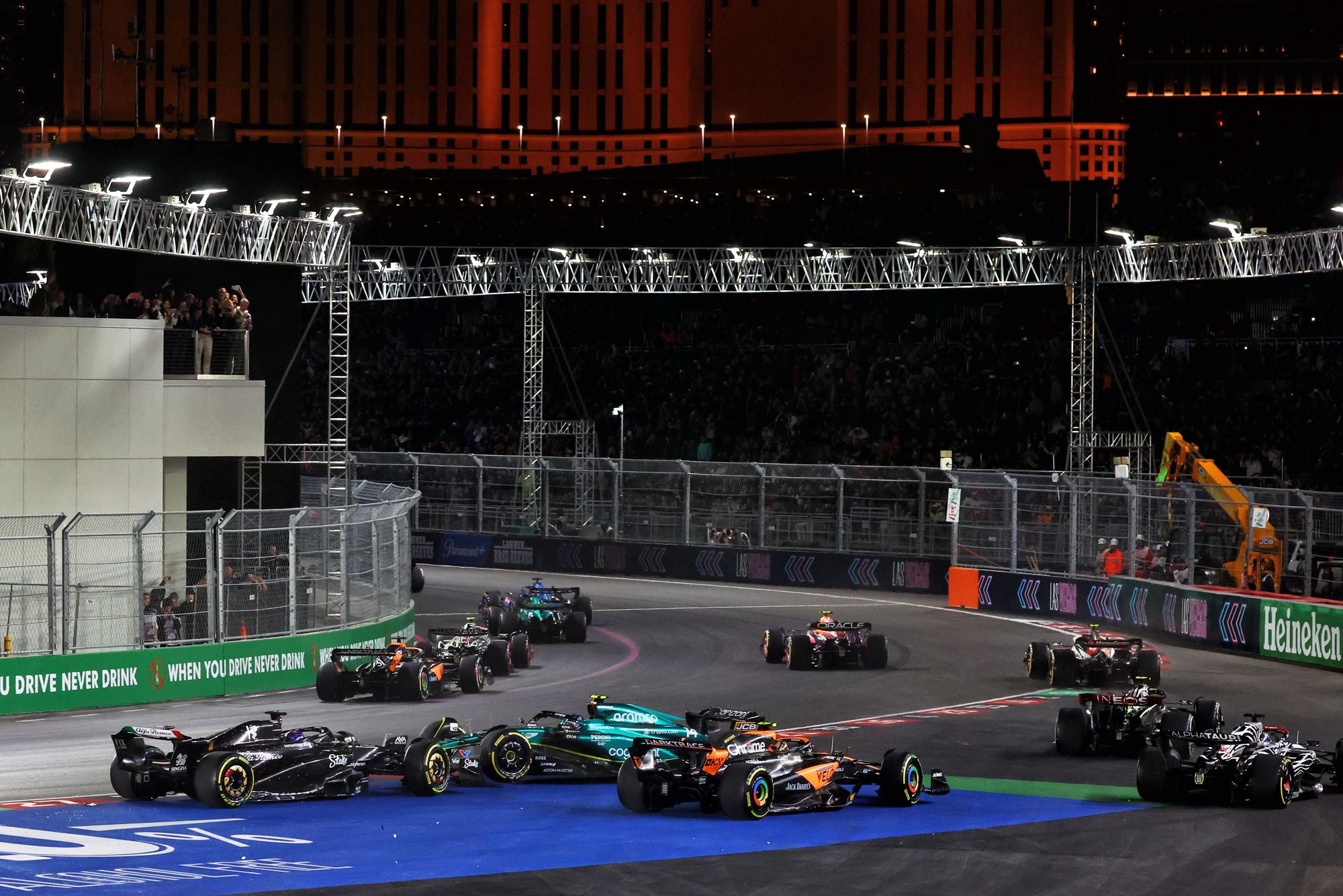 Alonso appeared to be just as confused as everyone watching over his uncharacteristic spin at Turn 1.
He mounted a decent recovery drive but unusually in 2023, he was thoroughly outshone by Aston Martin team-mate Stroll and a chance to further reduce McLaren's advantage in fourth in the constructors' championship went begging.
One to forget in an otherwise vintage year. - JS

Pierre Gasly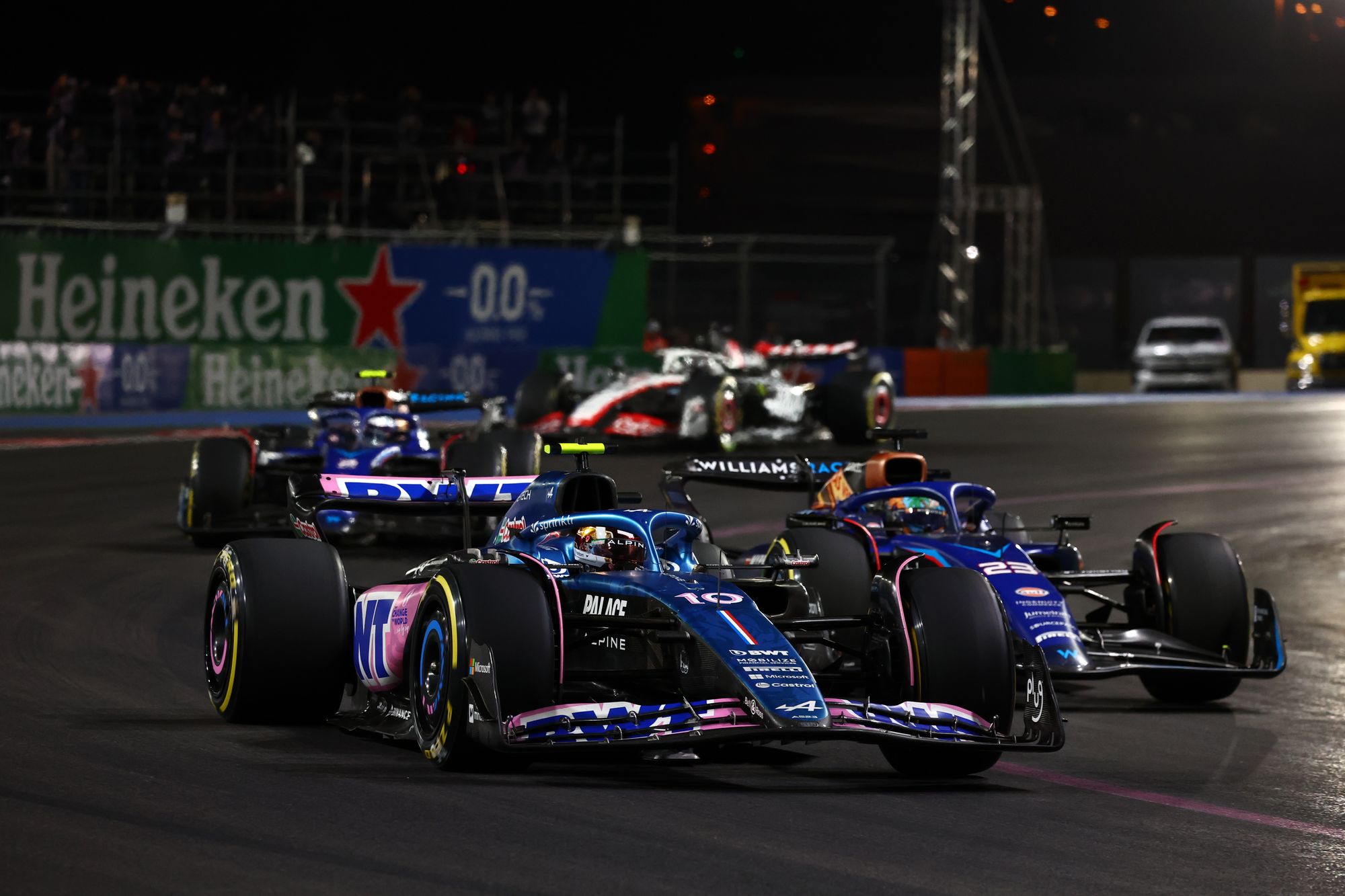 Gasly was the most visible manifestation of the drivers' fears over tyre graining. After just five or six laps he felt he grained his hard tyres and that set him up for a nightmare final stint.
He lost a potential fourth place finish and instead had to endure a "painful" slump down the order, finishing 11th from his best starting position of the year in fourth. - JS
Williams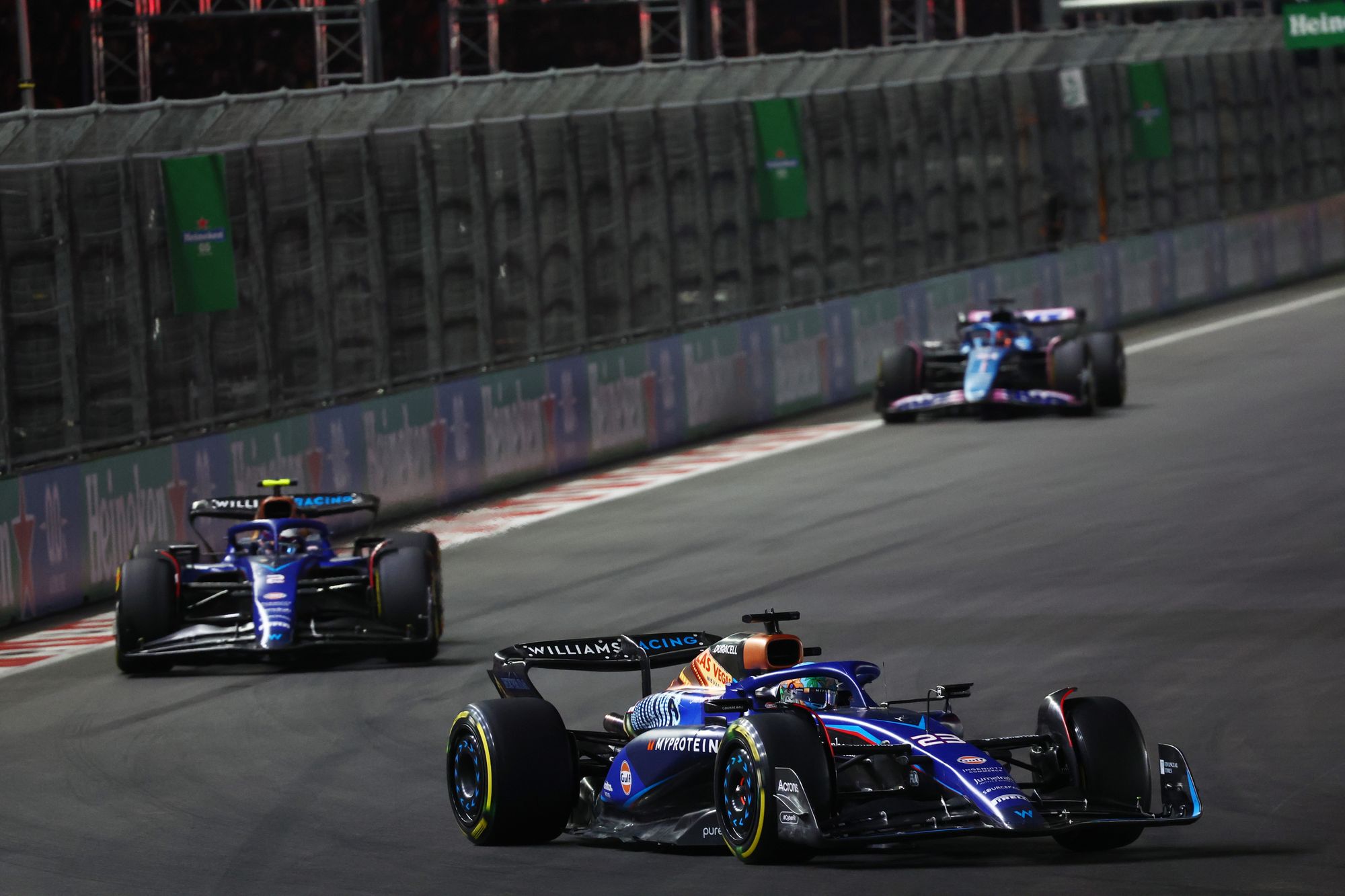 Starting from fifth and sixth, Williams had a chance to end the fight for seventh in the constructors'.
But there was no repeat of Alex Albon's usual 'control the pack' heroics from elsewhere.
He held on briefly to a points place but once Russell passed him the floodgates opened and he was soon shuffled out of the top 10.
Logan Sargeant's slide out of the points already occurred in the first stint as his initial Albon-matching pace disintegrated as the graining increased.
Williams still has a six-point advantage over AlphaTauri heading into Abu Dhabi, but it's going to be a whole lot more uncomfortably tense than it could have been if Williams picked up a few points here. - JS
McLaren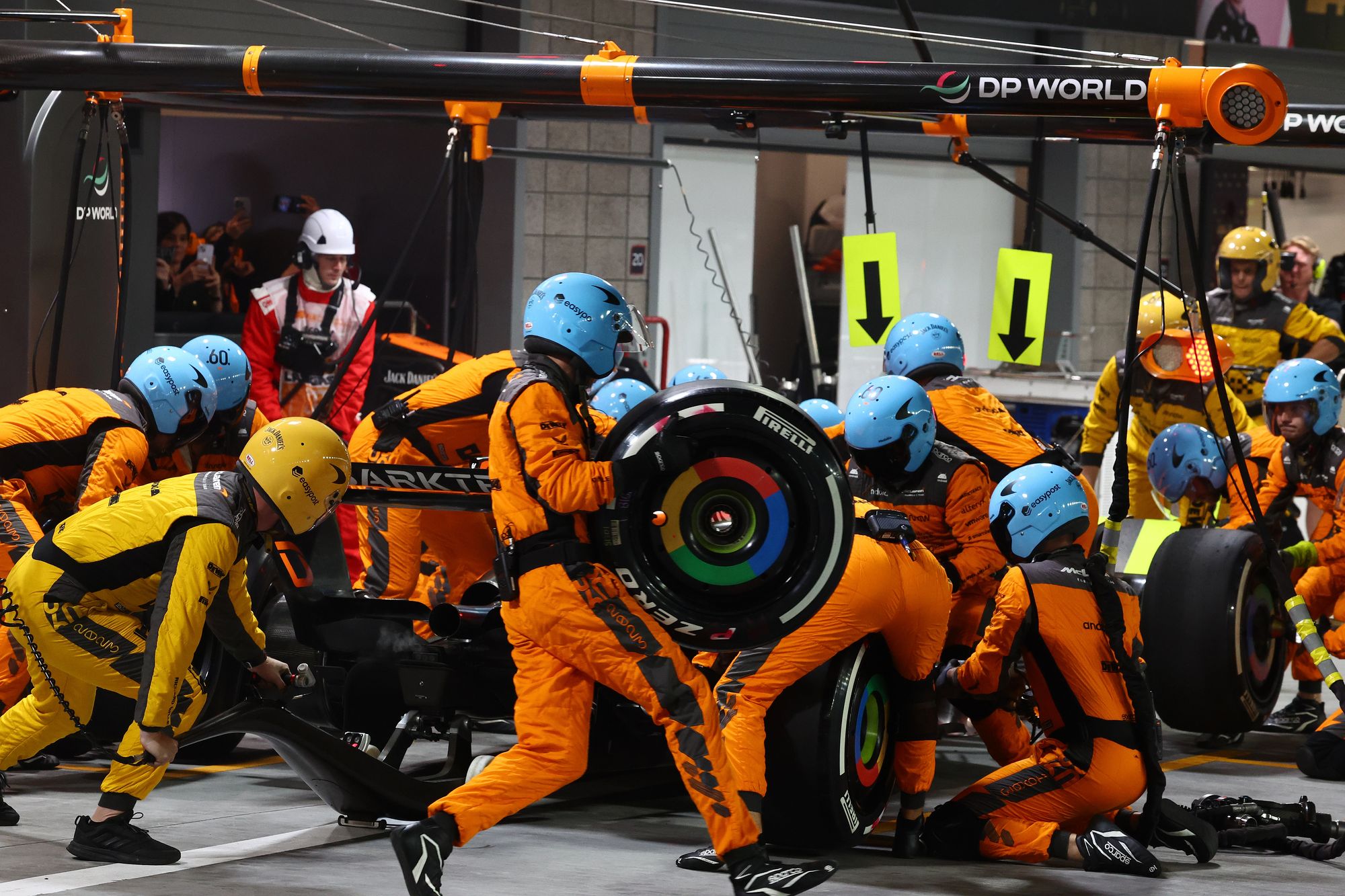 The Las Vegas Grand Prix weekend is one McLaren will quickly want to erase from its memory.
Failing to get either car out of Q1 was a disaster, especially considering there was a real opportunity to fight for victory going begging, and the race didn't get much better.
Lando Norris retired on the second lap in a hefty shunt which resulted in him heading to hospital for precautionary tests, but it's Piastri's night that will really hurt the team.
Piastri had a great race, and pulled some great overtakes to hustle his way up the order, especially as he was on older tyres with others around him pitting earlier. At one point he even set the fastest lap of the race, showing the underlying pace that was in the McLaren - as he'd insisted even after qualifying 19th.
But Piastri's strategy meant he had no option to pit with seven laps to go for a new set of mediums, and although he managed to recover to the final points paying position, you can't help but wonder how good this weekend could've been if McLaren got everything together when it really mattered. - RH
Valtteri Bottas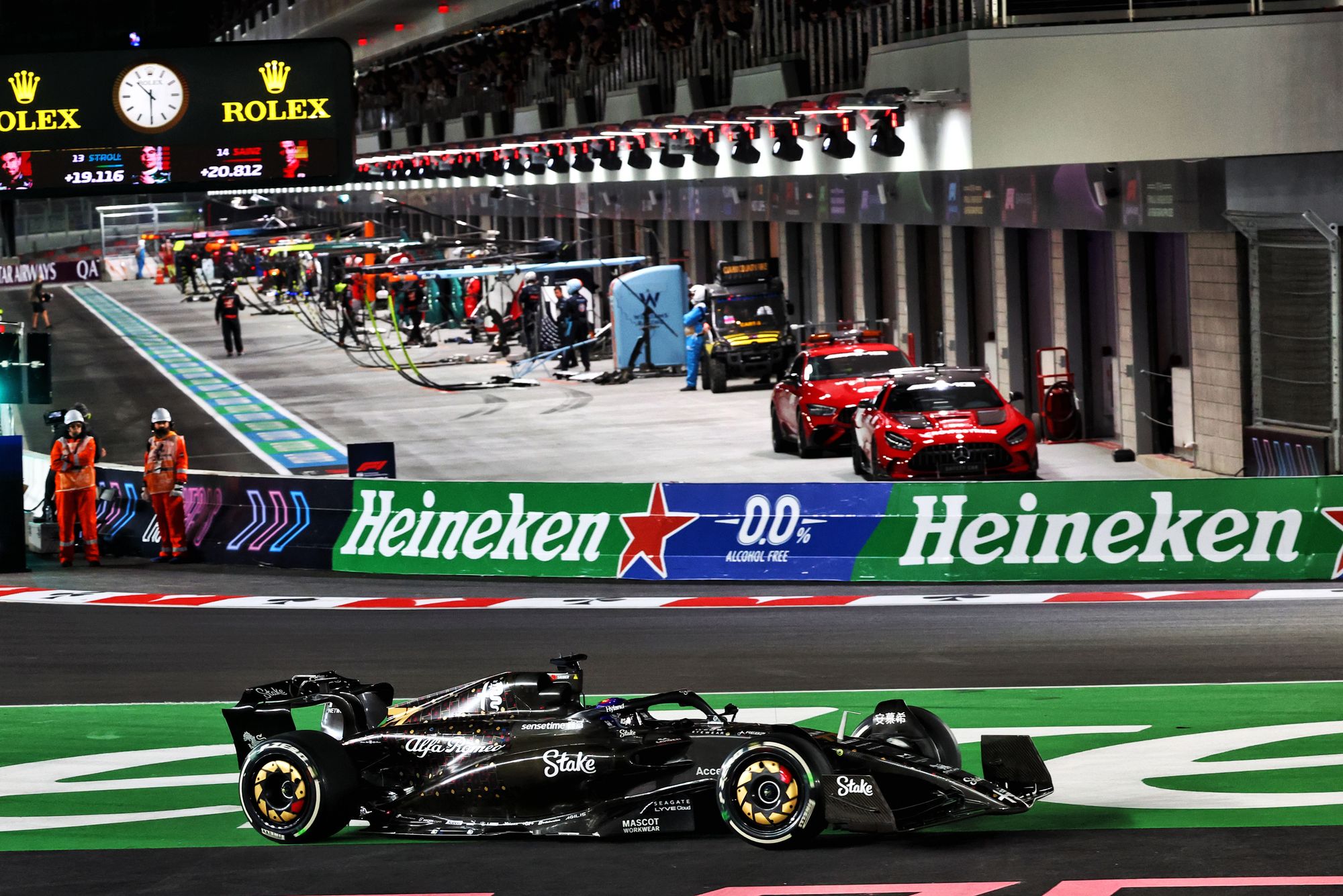 Aside from Williams, Alfa Romeo had the best chance to make some waves in the battle over seventh to 10th in the constructors' championship in Las Vegas.
OK, Haas had a car in Q3 too, but there's little expectation of Haas doing anything but go backwards in a race right now. And with AlphaTauri unusually off the pace, Valtteri Bottas's seventh place on the grid looked like it might be very useful.
Instead he was taken wide by a spinning Alonso at Turn 1, confronted with a face full of that Aston Martin pointed the wrong way and rear-ended by Perez too as he helplessly bumped into it.
He was last afterwards and still last of the cars running at the end, limping around with a damaged diffuser.
Bridging the five-point gap to AlphaTauri in Abu Dhabi next week will now be a big ask. - MB