After its false start on Thursday, Formula 1's return to Las Vegas produced a grand prix worthy of all the expectation and off-track spectacle.
It wasn't a smooth one, though - with Max Verstappen taking a bruising path to victory that included some controversial officiating calls.
Here are our writers' immediate thoughts on how the race panned out and what it means for F1.
RULES AND OFFICIALS LET A GREAT RACE DOWN
Gary Anderson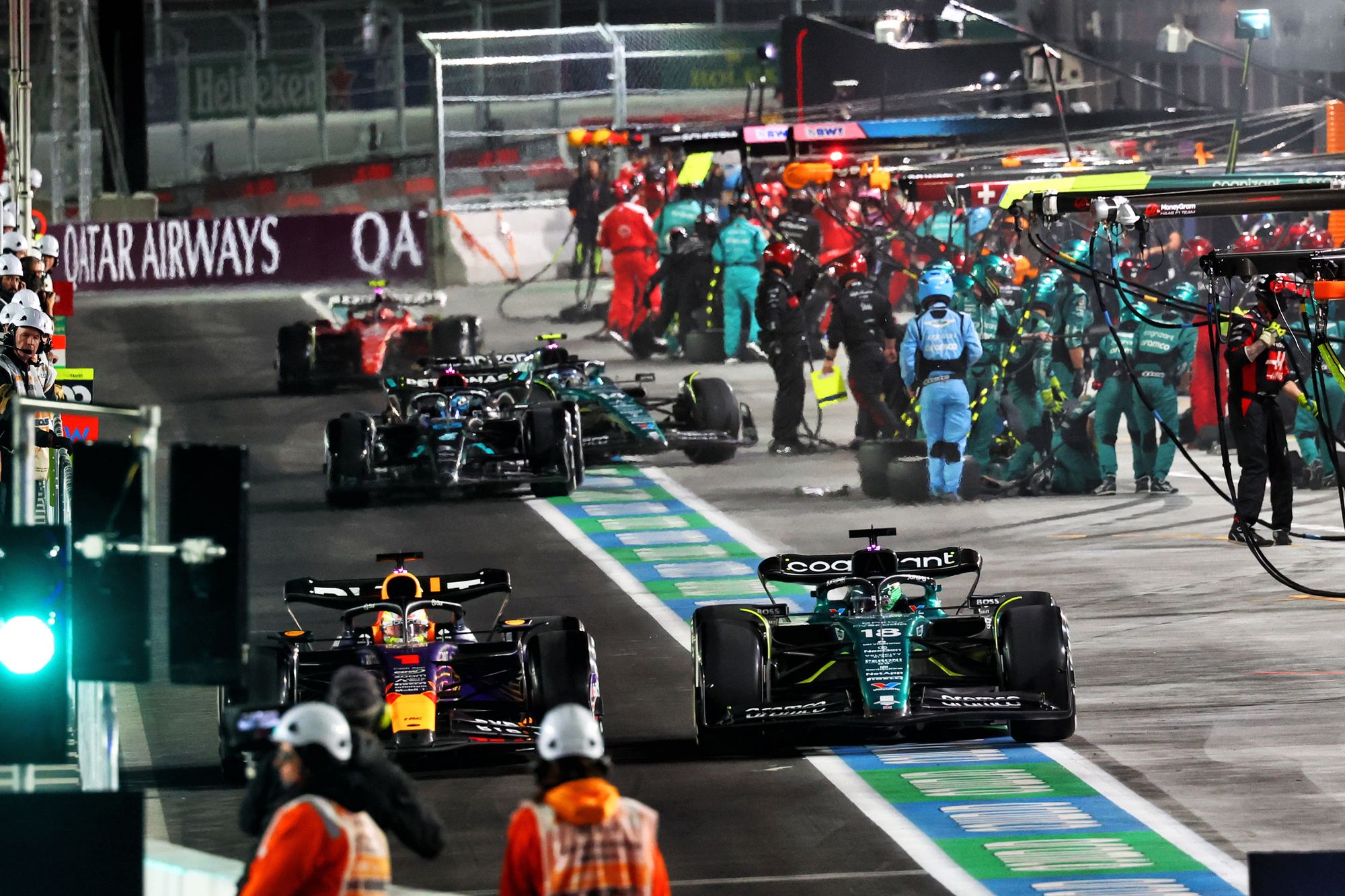 I have to say it was a good race from start to finish right through the field. It also showed how a mixed up running order after that first corner incident can spice up a race.
Overtaking was possible and it proved that this new track in Vegas justifies the glitz and glamour.
However the one thing that this weekend really showed is how poor the regulations and their implementation really are.
The Carlos Sainz situation of getting a 10 place penalty for damage which was no fault of his or Ferrari's was absurd.
And the fact you can push another car off at the first corner and take the lead - so potentially saving your tyres by not having to follow another car - get a five-second penalty for that indiscretion, damage your front wing in another accident, make a pitstop after getting that damage and leave the pits without changing that front wing so in effect as a team send your car back onto the track running in an illegal specification (because wing dimensions are prescribed in the rules), all confuses me.
Charles Leclerc really did deserve the fan-voted driver of the day award. I'm pretty sure he would swap it for the race win but nonetheless an excellent drive from him and during the first stint the Ferrari was looking after the tyres better than the Red Bull.
On top of that he really handled that drive in the cool-down car with Verstappen like the gentleman he is. It would have been very easy for him to spit the dummy.
Over this winter the FIA really needs to look at itself.
F1 is currently at a high point. On most occasions the teams and drivers are putting on a great show. But the governing body is getting left behind in how it implements its own rules.
Spectators and the viewers never really know how or why some penalties will be or are applied.
I think it's even worse than football and the VAR that we hear so many complaints about.
VEGAS SHOWED ITS TRUE POTENTIAL IN WEEK OF EXTREMES
Scott Mitchell-Malm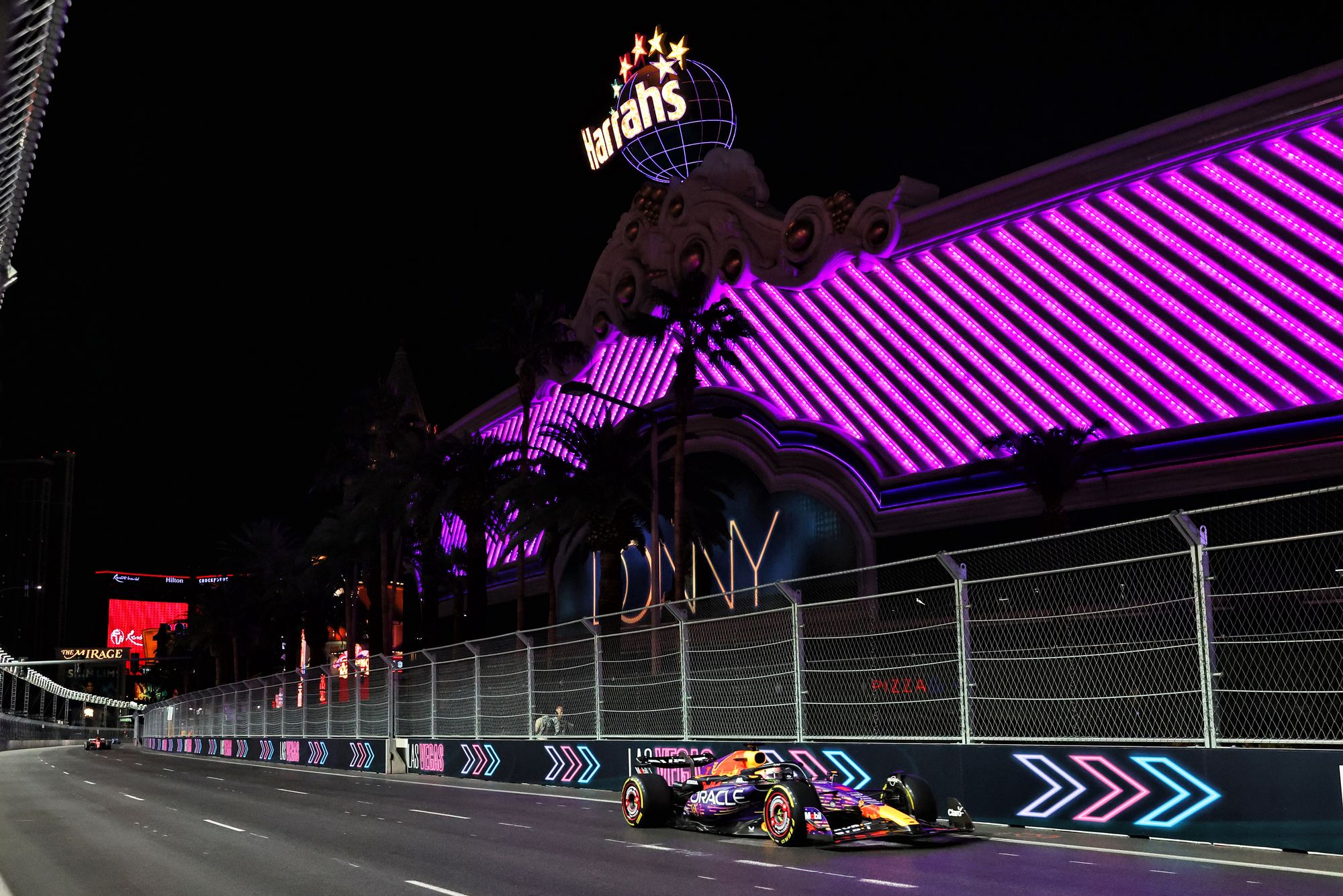 This was an outstanding grand prix, vindicating the underlying point that for all the problems and legitimate frustrations the event has real potential. And can work as a sporting spectacle too.
There are problems to resolve. This does not change that.
F1 must make amends with the jilted fans from Thursday, and understand what it got wrong with this event in terms of its communication and its tone.
It can also probably afford to tone down the biggest extremes with all the peripheral entertainment and a few gimmicks. The clunky car ride to the podium ceremony took a little momentum out of the usual post-race celebrations.
But the most memorable thing about this week, long term, is going to be the race itself. For the right reasons.
And after all the money spent, all the over-the-top hype, and all the controversy on Thursday, that is a huge win for F1.
LIVED UP TO THE HYPE - UNLIKE MIAMI
Glenn Freeman
When F1 hypes an event to the level it did with this one, all the arguments about glitz and glamour for the overall good and growth of the championship fall flat on their face if the on-track bit - which to many of us is still the whole point of this global phenomenon - doesn't deliver. Just look at Miami.
Fortunately, Las Vegas delivered on track too. There was plenty of action without it descending into a chaotic incident-packed farce, and overtaking looked easier than many drivers were predicting it would be.
Before the weekend my view was that all the off-track stuff around this race wasn't aimed at me, and nobody was forcing me to watch it, so it didn't bother me.
What would have bothered me was if by the end of the grand prix we all came away thinking the whole event was style over substance. I'm glad it wasn't.
If an event in the heart of one of the most famous cities in the world can help make F1 more popular, then as long as the racing is exciting on track, that's a win-win.
NOT THE RACE WE EXPECTED AT ALL
Rob Hansford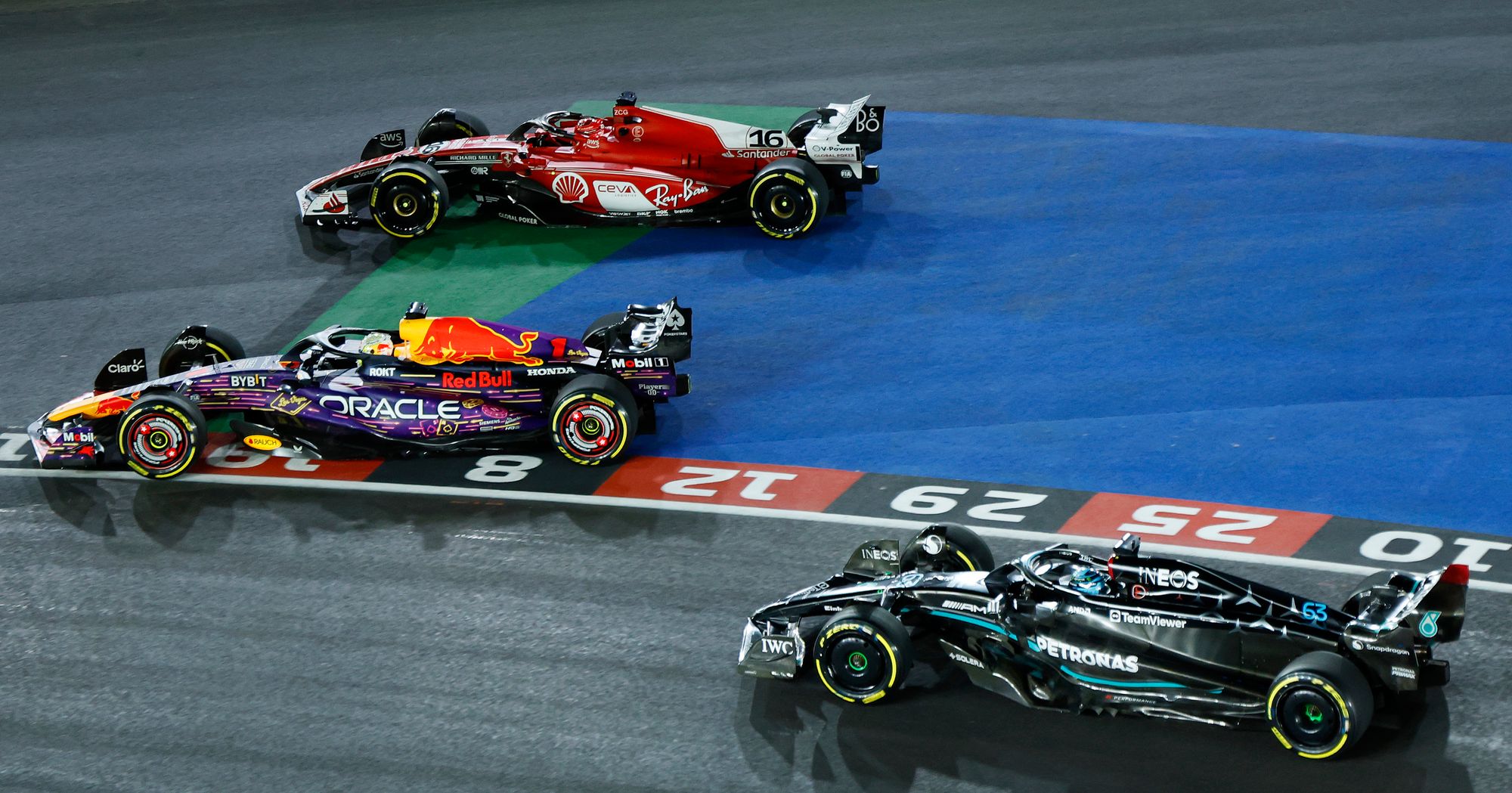 On Friday drivers were talking about how Saturday's grand prix was going to be one full of tyre management, with expectations of high degradation, and as a result, they felt racing could be difficult.
Well it's nice to know that F1 can still throw up surprises even in a year full of domination.
The degradation never reached levels anywhere near what teams felt might be the case and drivers were able to remain close and fight each other for the entire grand prix.
In the end - and with help from some great racing by Leclerc and Oscar Piastri to name just two - that resulted in one of the most entertaining F1 races for some time.
Vegas might have faced embarrassment and plenty of deserved criticism after FP1 on Thursday, but at the end of this race, it's having the last laugh.
And now we're all wondering why we were ever concerned about having a grand prix in Las Vegas after all.
VEGAS OWES LECLERC A FAVOUR
Matt Beer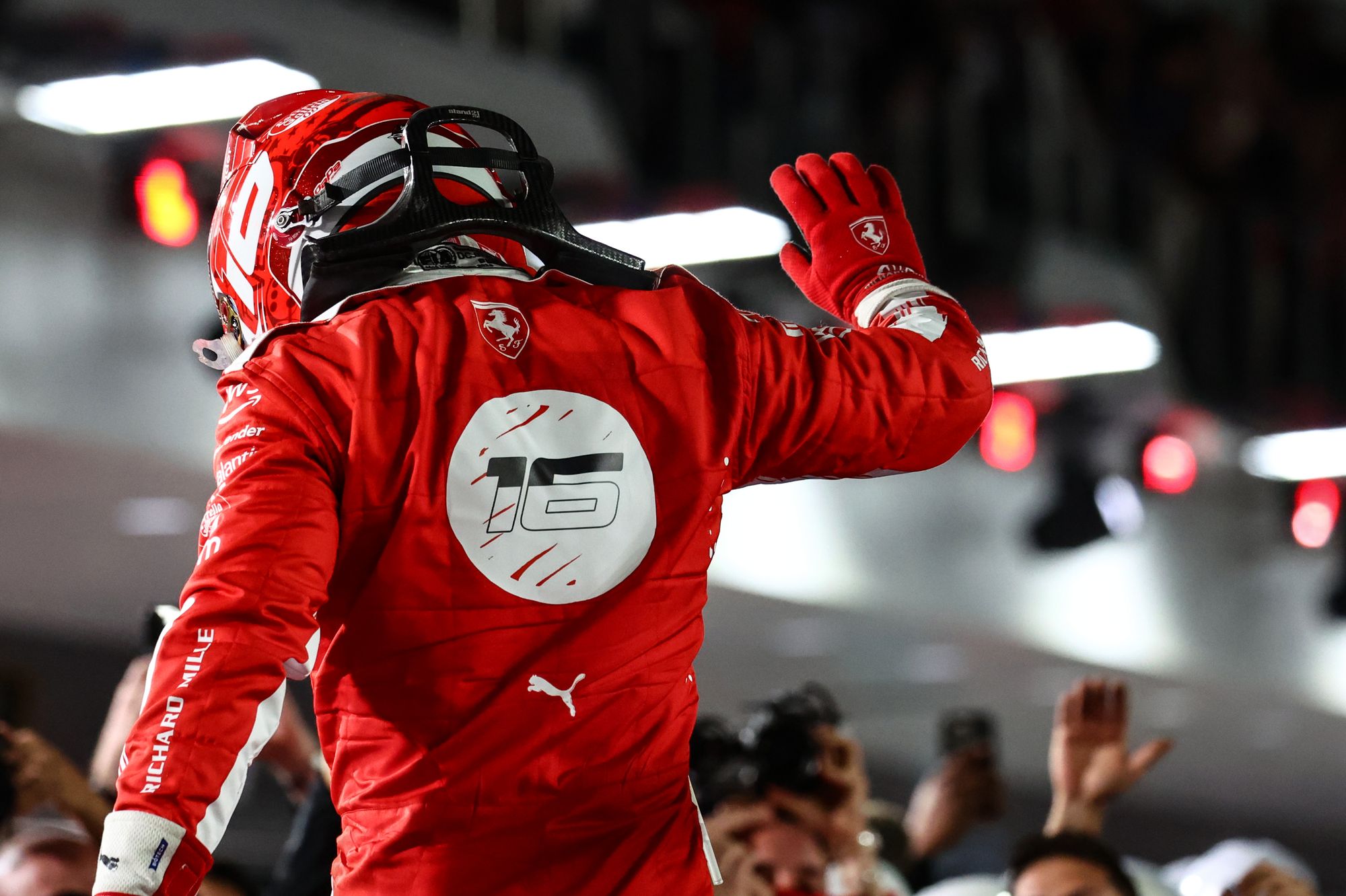 I was always pretty optimistic that a new street track full of unknowns, at the pressure-off end of this season, would create a really interesting and eventful race. And as long as Thursday's problems were solved on Thursday, I didn't think they'd taint the whole event at all either - which doesn't mean they didn't matter.
But take Leclerc's creativity in taking the fight back to Red Bull again and again and again, right down to the very last seconds, out of the event and it would've been merely great rather than absolutely sensational. We'd have been just talking about a great Verstappen recovery charge win, but one that always felt a bit more inevitable than it turned out in reality.
It would've been very easy for Leclerc and Ferrari to write off their victory chances once Verstappen was pulling away in the early laps and put all focus on making sure of second. And that would've probably meant a tame third behind Sergio Perez in the end.
Instead we got something absolutely glorious.