After all the hype and expectation, Formula 1's Las Vegas Grand Prix ran into immediate and embarrassing trouble when cars hit the track.
Huge damage to Carlos Sainz and Esteban Ocon's cars from a dislodged drain cover meant running was halted after just eight minutes and didn't resume until 2.30am local time for an extended practice two that began two and a half hours behind schedule, and after all the spectators had been asked to leave the circuit.
Here's what our writers made of the situation:
DIRE COMMUNICATION DISRESPECTED FANS
Edd Straw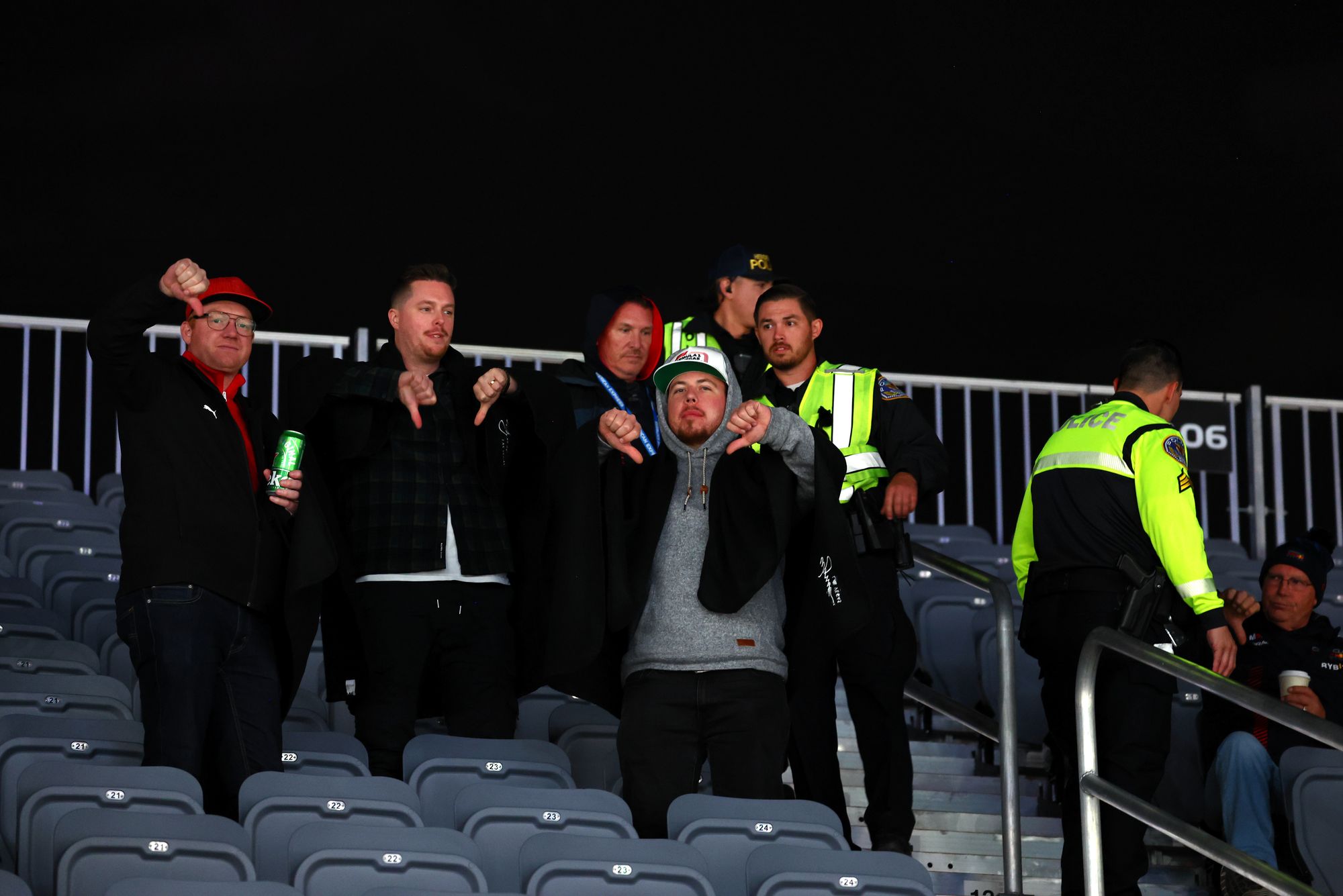 Those behind the Las Vegas Grand Prix have talked up the 'experiences' on offer for those who attend.
Unfortunately, today left a lot to be desired – but it wasn't the delays that were the main problem.
Things can go wrong at tracks like this and once the drain cover problem was detected, all that could be done was to implement repairs and try to get the delayed session up and running.
That was done well, so credit to F1 for making the second 90-minute session possible, but the real problem was the dire communication.
Put yourself in the position of someone with a grandstand ticket. The information about the possible restart was threadbare and the few who did hang around for hours in the hope of seeing some track running were unable to when it became clear that the security staff wouldn't be available to make that possible.
This possibility should have been made clearer earlier and will have infuriated those dedicated souls who had either hung about or returned to the track to watch. While the situation was a dynamic one, that's no excuse for the length of the silence.
F1 (as in Liberty Media) is the promoter of this event and wouldn't tolerate such poor treatment of fans from an independent race organiser.
But it has been so busy patting itself on the back for the admittedly remarkable achievement of making this event happen of late that it will probably just give itself a free pass on that. Everyone has been working really hard, who cares if we've stitched up those attending?
The rest of the weekend may well be a success, but those who turned up on Thursday will remember not just the problems, but the lack of respect shown to them through the information that was distributed. And that's bad for business.
SPORTING PROBLEMS KEEP BEING MISSED
Ben Anderson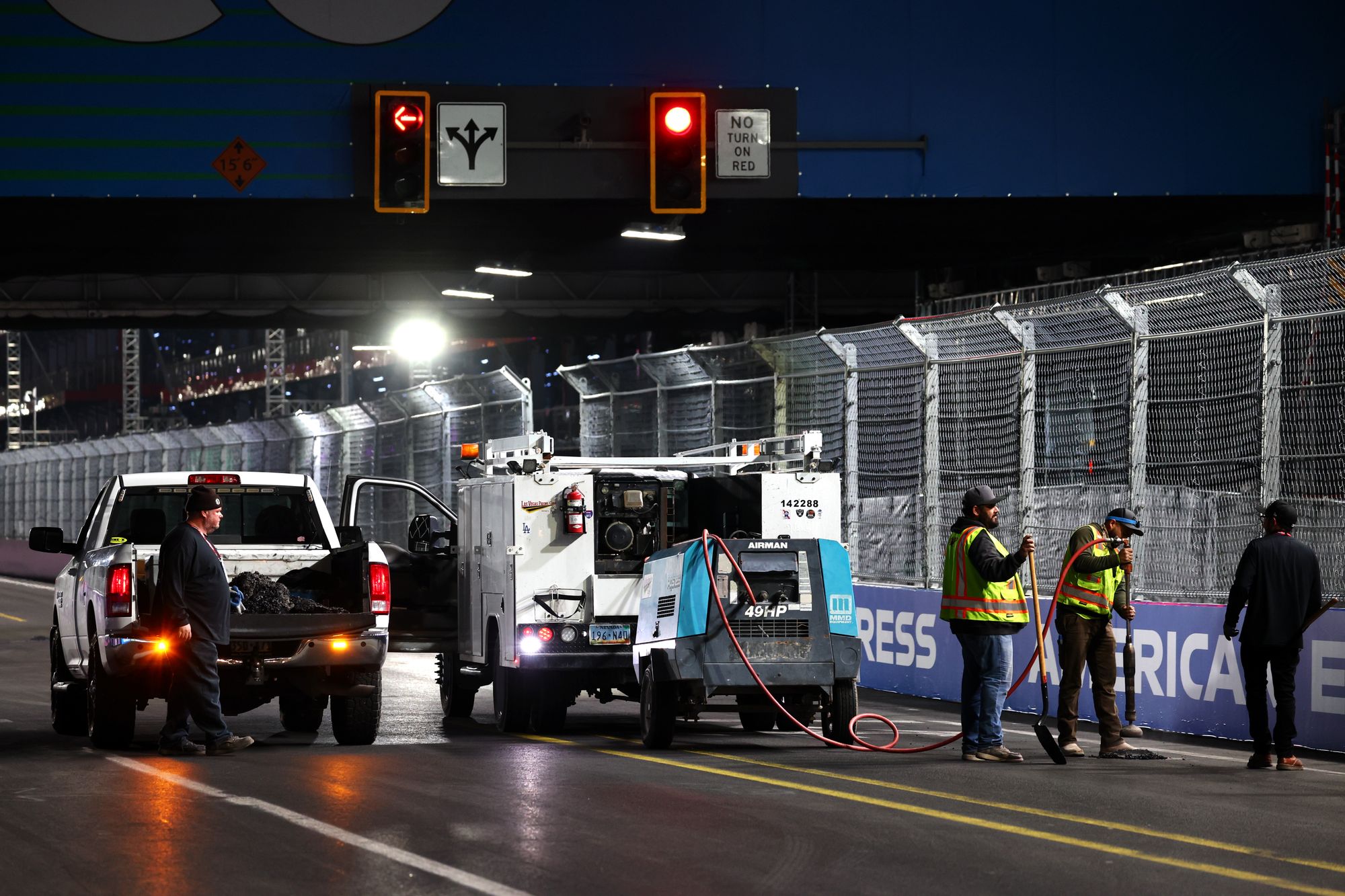 Obviously the farce that occurred on day one of track action in Vegas is an extremely uncomfortable look for F1 - especially given all the melodramatic hype and razzle dazzle in the build-up. Suddenly, Max Verstappen's "99% show, 1% sport" comments look spot-on.
Amid emotionally charged (let's blame the jet lag) outbursts from Fred Vasseur and Toto Wolff in the team principals' press conference, there was a concerted effort to try to separate the 'show' from the 'sporting side' and play down one having a negative impact on the other.
But it does look like there's been a failure to pay enough attention to the circuit itself and whether it was in suitable condition for F1 cars to run. Clearly, what happened to Sainz's Ferrari proves it wasn't even close to being suitable - but how was that situation allowed to happen in the first place?
Teething problems with brand new circuits aren't uncommon, but when so much of F1's commercial future is riding on Las Vegas being a runaway success, a situation where cars cannot run at all for safety reasons, and causing such long delays that all fans have to be sent home before any meaningful action can take place, is a massive own goal for Formula 1 as a whole.
Questions must surely now be asked of the FIA's track inspection process - something the late Charlie Whiting was known for undertaking diligently in advance of new events.
In the past two months we've had the Qatar kerbs debacle, the Austin CCTV debacle and now this. In each case you can point to the FIA and say 'why were you reactive rather than proactive in these situations?'.
In the past five races that's two major circuit safety issues and a significant regulatory policing failure.
Maybe these are all just freak occurrences, making the FIA an easy target, but the frequency is high enough that pressure will be exerted on the FIA to conduct thorough reviews and try to learn lessons.
For teams that are already known to be slightly wary of the FIA's capabilities to govern F1 properly since Whiting departed this earth, this latest high-profile setback will do nothing to ease their concerns.
WE'VE HAD PROOF THIS GP WASN'T FOR THE RACE-GOING FANS
Glenn Freeman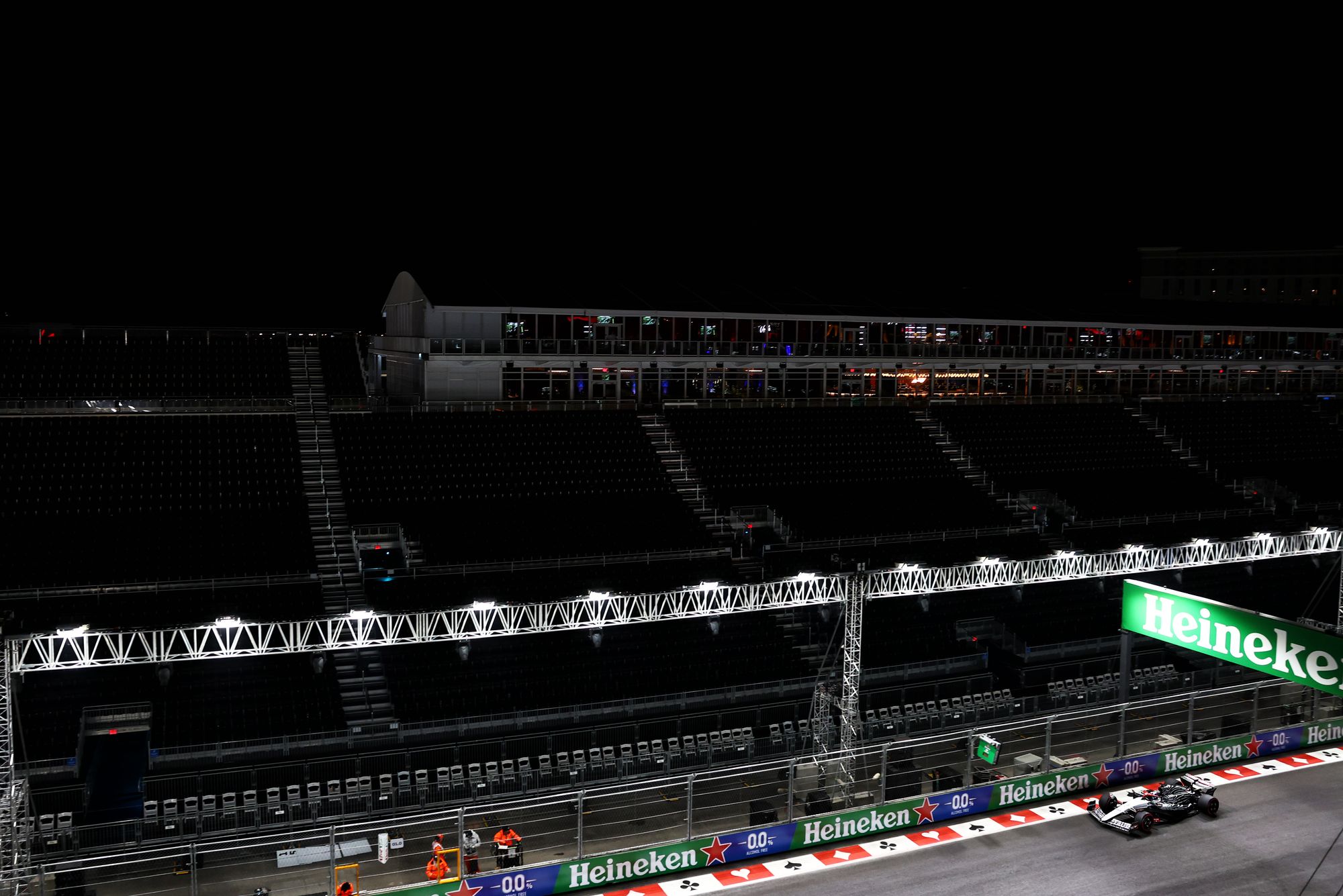 Unfortunately, Wolff's tirade in the press conference let slip something that many critics of this event felt beforehand, when he said missing FP1 was "nothing" because "nobody watches that in European time anyway".
There you have it. Confirmation, of sorts, that the race-going fans don't matter when it comes to this event.
Hopefully Toto's revised his opinion away from the pressure cooker of that press conference, where admittedly he was provoked by an interruption while trying to unconvincingly bat the saga off.
FP1 didn't matter because nobody was watching in Europe, according to Wolff. So how does he feel about the fans in attendance, paying a fortune to be at this event, who not only were denied a "nothing" first practice session, but were then sent packing (for what seem to be unfortunate-but-legitimate reasons) before the delayed FP2?
Millionaires implying that normal people don't really matter is never a good look. The fans deserve refunds and sincere apologies from F1, and an apology or at least a clarification from Wolff.
IF IT'S NOT SMOOTH FROM HERE IT WILL FEEL LIKE INDY 2005
Scott Mitchell-Malm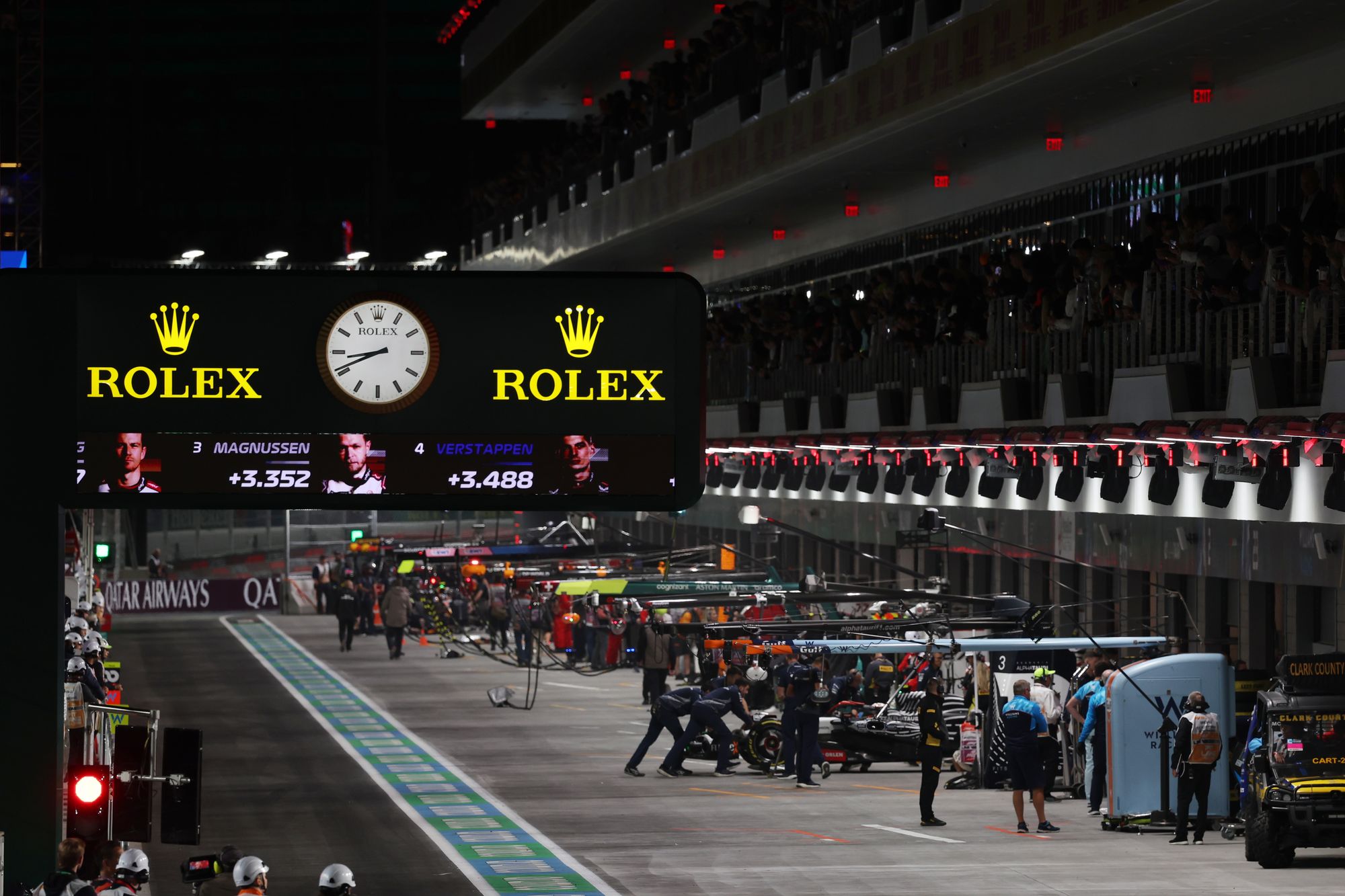 Formula 1's worst nightmare for the Las Vegas Grand Prix would have been no fans in the grandstands. In an odd way, that came to pass in second practice, rounding off a very punishing and damaging day for F1 and its big new event.
It was a sorry situation that fans were unable to watch FP2 because it was delayed so much that, for reasons believed to relate to the staffing of security personnel, ticket-holders had to vacate the circuit an hour before the session start. It was an awful return on fan investment, even for the cheapest of the three days' tickets.
From here, F1 desperately needs a smooth run. Wolff is partly right to suggest people will forget by tomorrow – but not everybody will. The jilted fans here won't, and why should they? Critics of the event won't either.
The volatile mix of nearly no running in FP1, massive delays and kicking fans out before FP2 got going puts F1 and the event in a vulnerable position.
It may already have done some real damage. Sending fans packing on Thursday may well have put them off returning, and those that were on single-day tickets will be leaving with a very sour taste in the mouth.
That cannot be changed now, although it can hopefully be met with deserved refunds. All F1 can do is hope for no big issues over the rest of the weekend and act to prevent them where possible.
I had the ghost of the 2005 United States Grand Prix in my head as this fiasco dragged out. This is nothing like as bad as the Indy farce was but the point is not to compare like-for-like, just to offer a warning. F1 wrecked its own reputation in the US nearly 20 years ago by turning fans off. It literally had to turn fans away on Thursday in Vegas.
The situation is still salvageable and there is time for this event to get closer to the standards expected of it – but it would be wrong and naive to suggest what has already gone wrong doesn't matter.
COMPREHENSIVE REFUNDS ARE A MUST
Josh Suttill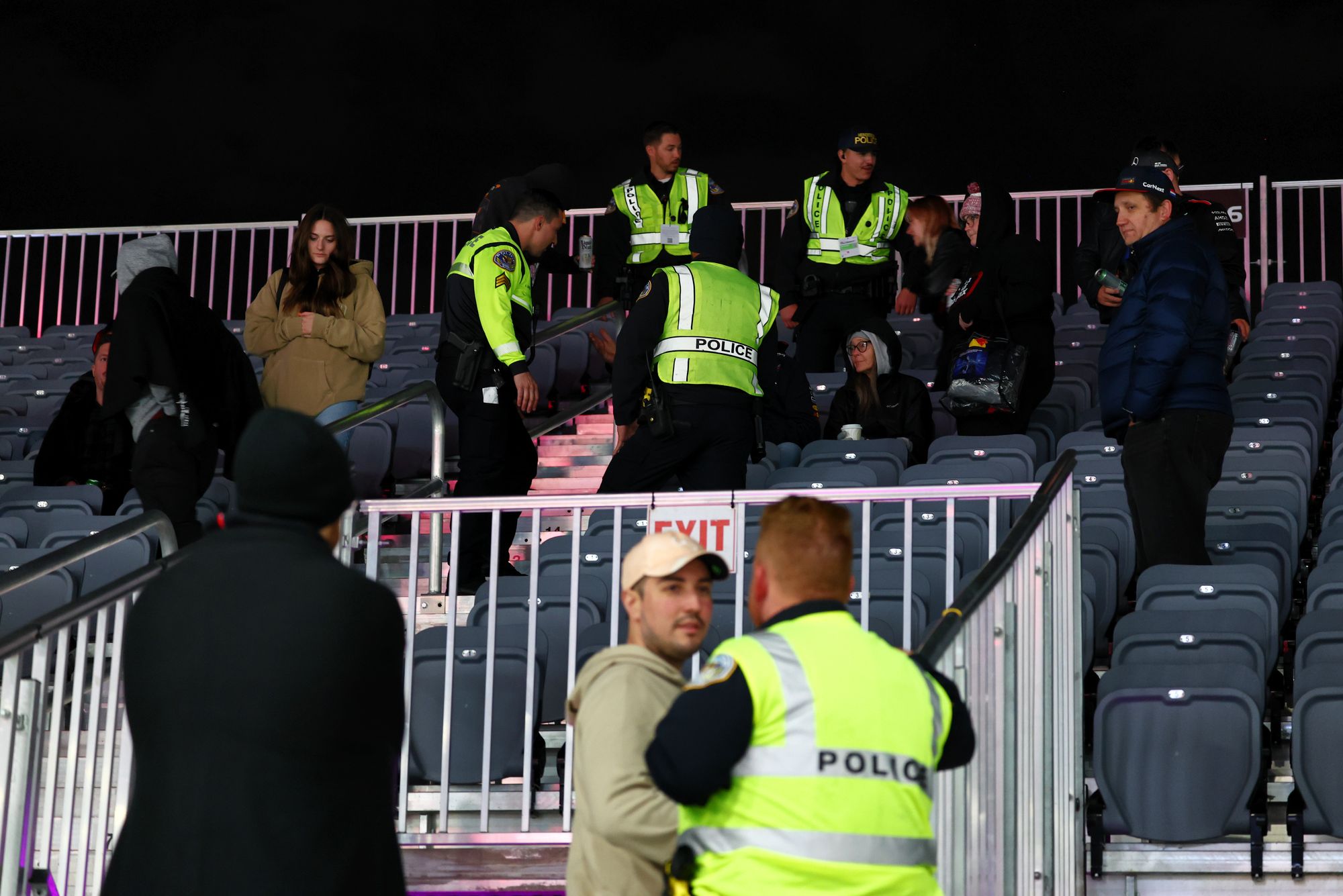 Every paying F1 fan turfed out of the Las Vegas Strip circuit in the early hours of Friday morning after only eight minutes of practice has to be comprehensively refunded for a farcical day (and night).
For many, this will be their first experience of F1. They shouldn't be allowed to walk away thinking that F1 believes this is acceptable or some will never come back.
The 'well there's the rest of the weekend' argument doesn't hold up when many will have purchased Thursday-only tickets. This was their only chance to watch F1 cars on track and even for those with all-weekend tickets they will understandably feel short-changed. This was not some freak weather occurrence after all.
Many will have also travelled hundreds or thousands of miles to get to the race and spent twice or even three times as much as their ticket price.
That's why I've called for 'comprehensive' refunds i.e refunds that go beyond the base price of the ticket. Even once in Vegas, fans spend a lot of money getting around the city as well as on food and water - especially when many were waiting until after midnight for FP2.
So after eye-watering amounts of money have gone into this race, it's time for what will be a very small fraction of that money to be returned to those whose hard-earned cash keeps this global circus spinning.
I HAVE A LOT OF SYMPATHY
Jack Benyon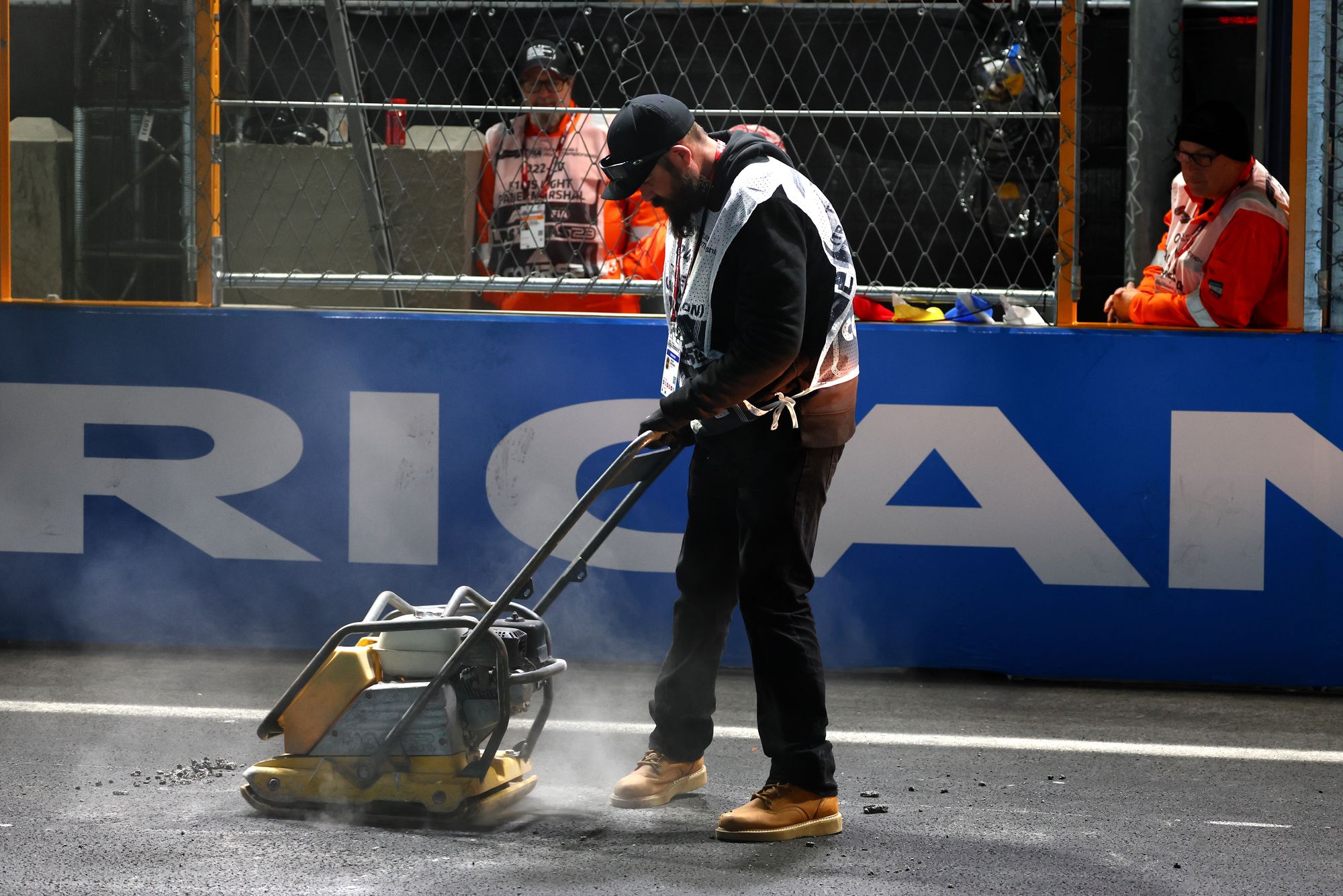 Manhole covers coming off because of failing concrete, security guards needing to satisfy working laws. Both things are relatively out of control of the organisers.
This is a terrible start for F1's Vegas race, but when you build up this much anticipation and excitement around a race, if anything goes wrong, this is the risk you run.
As American Editor at The Race, I've seen multiple new American street circuits launched in the last few years, the biggest being the NASCAR Chicago race that shut-down a large part of one of America's busiest and biggest cities. They all have issues with the surface, scheduling and usually other unforeseen things crop up.
It's rare so many issues happen at once and I have sympathy. Smaller series can get away with a sub-par opening race at a venue and I believe Vegas can too. I remember Baku destroying a Williams a few years back and no one really thinks of that now.
Having heavily sympathised, I am disappointed to see what I believe to be a very poor initial statement issued by the organisers.
It merely states known facts, and does little to appease or apologise for the problems the event has caused, especially for those at a cold track forced to vacate it in the middle of the night through no fault of their own.
There seems little other solution than to refund those fans. Problems like the manhole cover are relatively out of the organisers' control, but the crisis management is in it. And your paying customers as well as people watching from home deserve an apology for a clearly sub-par event day.
The problem with a street race is you have many non-permanent organisers and staff (unlike you would at a circuit) working on a temporary track that can't really be tested.
If you want the benefits of being close to an economic boom-town, and a cool place you can take a race close to fans, you have to accept the potential downsides of that too, as we've seen today.
Fans have a right to be angry and upset, but there needs to be a bit of understanding over the logistical hurdle a street race create compared to other races, too.
If these kind of things are happening two-five years down the line, that's the time to really question whether this race should be on the calendar.
DON'T FORGET THE SAFETY ELEMENT
Matt Beer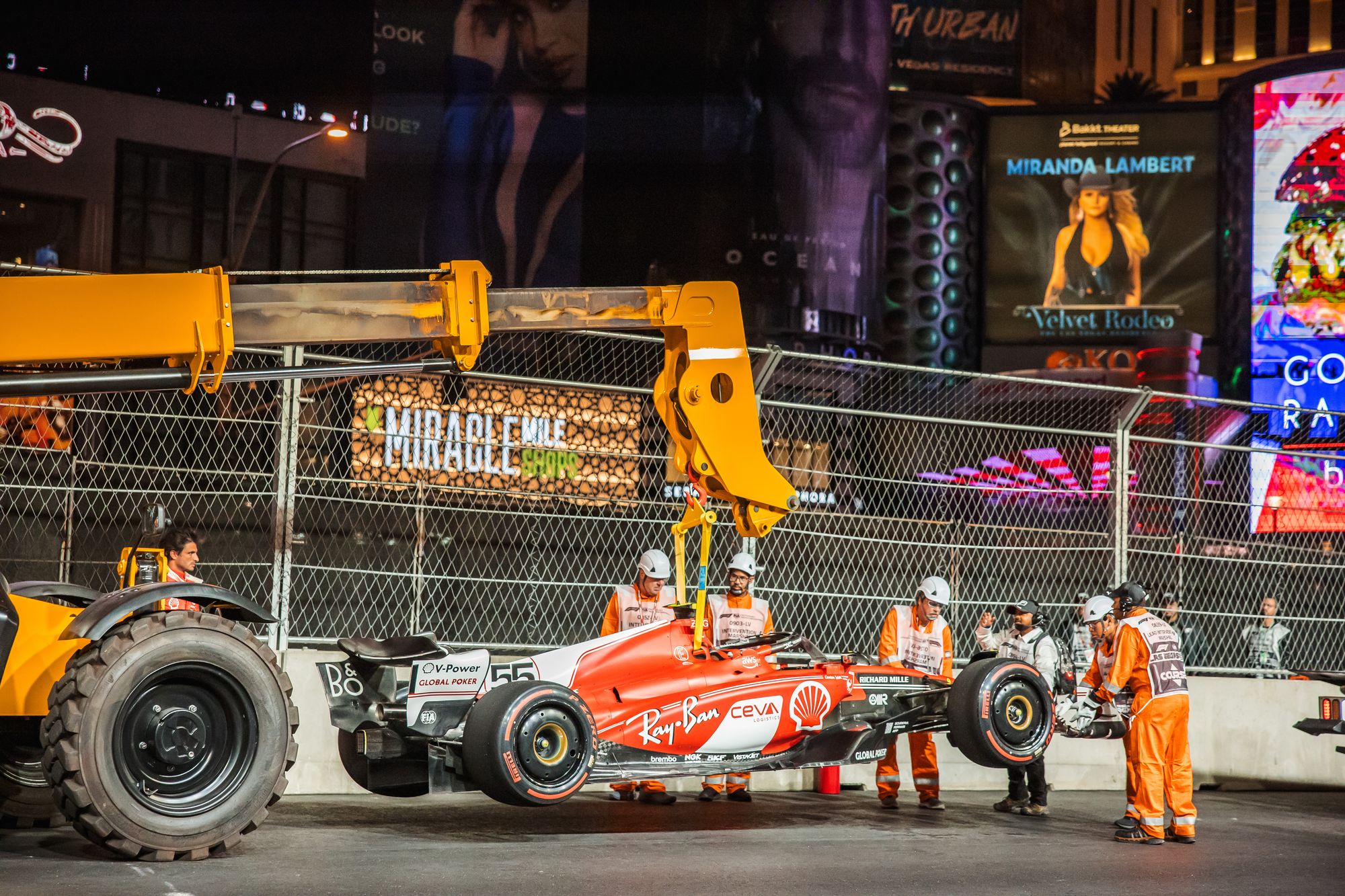 I do see where Wolff was coming from with his impassioned defence of F1 and the Vegas event, and I totally get Jack's point above about having to accept a degree of unexpected-event risk when a street circuit debuts.
It's nearly logistically impossible to trial a street track with a preparatory race meeting now, and the track problems that an F1 car might provoke are very different to anything else in motorsport too. Day one at any new street race should be approached with an awareness that it's essentially a live test for the circuit and plenty of schedule flexibility built in.
That's a fair compromise for being able to pull off a race at a really iconic and desirable location.
But while it's fine to shrug off opening day delays at new street tracks, can we stop implying that loose drain covers gouging chunks out of the world's safest racing cars is something that can be shrugged off too?
There was a strong vibe of 'this happens at street tracks' from F1 team bosses on Thursday night. Good on Fred Vasseur for making no secret of how upset he was at both the huge damage done to his team's car and, much more importantly, what could have happened to his driver.
Hopefully we're not too many years from loose drain covers at racetracks not being regarded with a casual 'yep, that can happen' shrug, but instead prompting a 'can't believe that used to happen in the past' shudder like so many of the 1970s dangers we're now glad are history.
Force majeure should be used here
Gary Anderson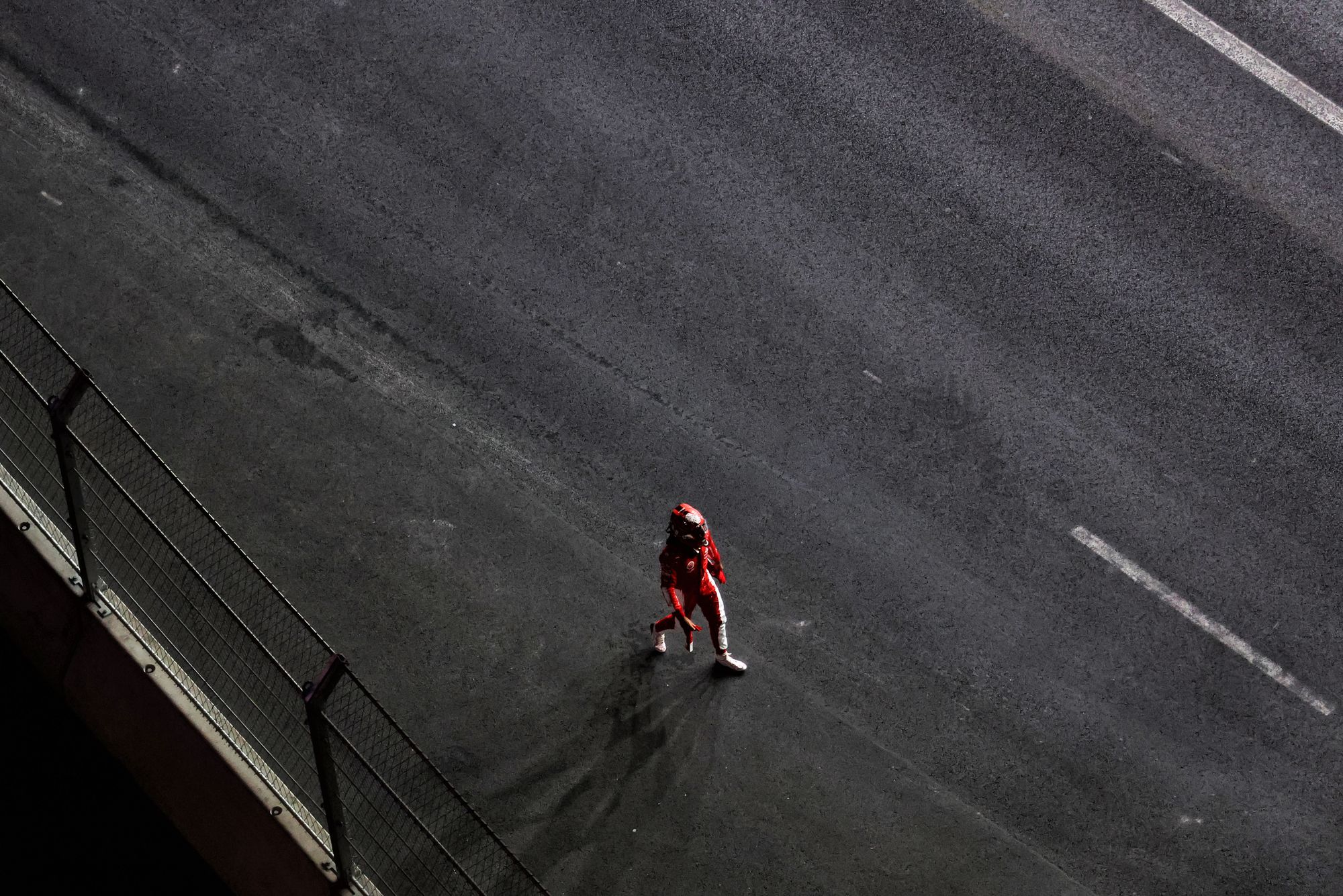 You can't turn the clock back so what has happened has happened and safety must come first.
If you look at Carlos Sainz's on board camera just before you see his car bounce you can see a patch on the tarmac that looks like where the cars were bottoming out.
If that did happen, then it could have very easily have sheared whatever bond there was between the metal water valve housing and the tarmac.
This would have meant it came loose and later on a tyre or simply the suction from below the car pulled it up enough for Ocon to hit the corner of it and pull it up even further, then someone saw it sitting up and the yellow was put out, Alonso saw it and swerved but Sainz didn't notice it and hit it even harder.
I said earlier in our live coverage about one of my F3 cars being destroyed in Macau in 1984 when a 40cm x 40cm manhole cover tore the bottom out of the chassis and was bent double when it got to the front of the engine.
Basically, the car exploded mid-track.
The session continued for another half hour until someone noticed this square black area on the track and the red flag was waved, our other driver Tommy Byrne commented later that he noticed that that area of the track surface had changed during the session but thought it was maybe oil from the damaged car so he straddled it.
Can you imagine if a wheel had dropped into it?
At least then the race and circuit organisers paid me something like £3,500 in compensation. Hopefully someone from the FIA who has overall control of the circuit license or Liberty Media will find a way to pass on some of their casino winnings to Ferrari and Alpine.
I think it's a bit absurd that Ferrari are getting a penalty for using a new battery pack, forget precedents or anything else the problem was NOT their fault.
Force majeure - big word, big meaning - but that would be my argument regarding any penalty from this track problem.