Carlos Sainz faces a minimum 10-place grid penalty for Formula 1's inaugural Las Vegas Grand Prix, despite Ferrari's best efforts to get the stewards to waive the sanction after the extraordinary incident that destroyed Sainz's car in first practice - and despite the stewards admitting they would've preferred not to penalise him.
Sainz struck a loose water valve inspection cover along the Strip, which caused FP1 to be abandoned and FP2 delayed by two-and-a-half hours.
Ferrari team principal Fred Vasseur was angered by both the extent of the damage and the potential danger his driver was exposed to, calling the debacle "unacceptable".
FIA technical delegate Jo Bauer reported to the stewards that Sainz's chassis, combustion engine, battery and control electronics unit were damaged "beyond repair" by the incident, in which a secondary impact related to the unusual bump Sainz's car suffered also damaged his seat.
Ferrari requested a "derogation" (exemption) from F1's sporting regulations to allow the battery to be replaced without penalty, but had this appeal thrown out reluctantly by the stewards, who said in their judgement they were "obliged" to apply the rules as written despite agreeing that Sainz's misfortune was "caused by highly unusual external circumstances".
In an unusual ruling, the stewards - including Garry Connelly and Derek Warwick - added: "The stewards note that if they had the authority to grant a derogation in what they consider in this case to be mitigating, unusual and unfortunate circumstances, they would have done so, however the regulations do not allow such action".
So Ferrari is faced with the prospect of accepting the grid penalty or opting to change more components and start Sainz from the pitlane.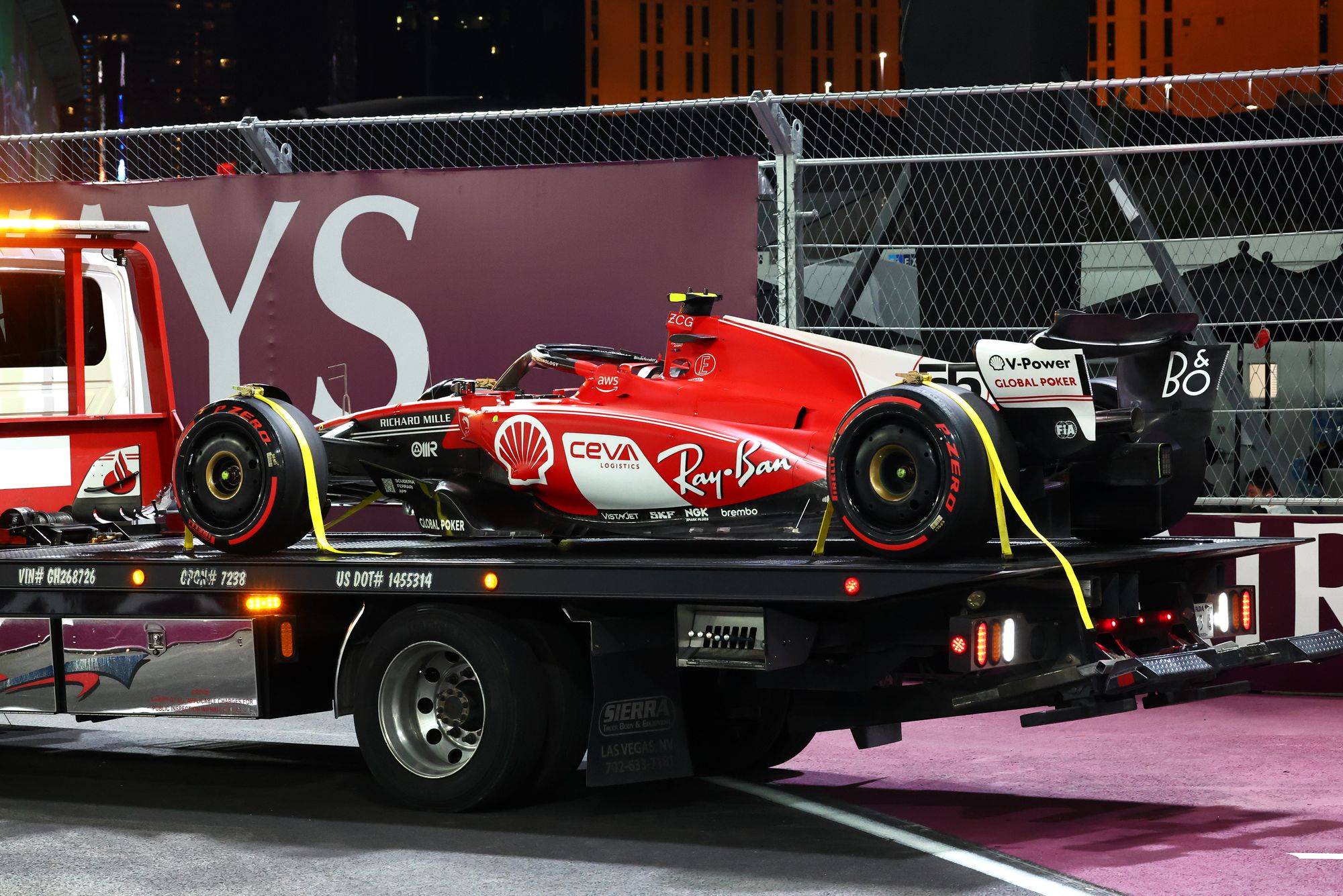 This will have only added to Vasseur's disgruntlement at an incident for which his Ferrari team is entirely blameless yet will have to spend "a fortune" to fix the damage done.
Esteban Ocon's Alpine was also damaged heavily after striking the same covering at a lower speed. The front of his car's floor was visibly damaged in the impact, which also heavily gouged the tub.
Ocon has also required a chassis change but his car looks to have been rebuilt without the need for any engine-related grid penalties.
Sainz criticises FIA over lack of force majeure
With FP2 finished, and with Sainz out of the car after a strong session which Ferrari topped, the Spaniard was able to discuss the FP1 incident.
He is clearly not happy that he is taking a penalty "for something that I have no fault and the team has no fault".
Sainz reckons the decision is part of a wider problem with the way rules are implemented in F1.
"What happened today for me is very clear example of how this sport can be improved in so many ways," added Sainz.
"This could clearly be applied as force majeure for me to not take a penalty. But some way there's always people or ways to make the situation worse for an individual and I think in this case it's my turn to pay the price."
He confirmed that the incident damaged his seat and that he "had a pretty big hit on my back and my neck".
Sainz had been able to rebound quickly - in part thanks to the "heroic" efforts of his crew, who prepared what was basically a new car in a matter of hours - to go second-quickest behind team-mate Charles Leclerc in FP2.