Renault's works Formula 1 team does not have a single remaining senior figure from when it first targeted becoming a regular race winner and title contender on its official return to the grid just seven years ago.
Since the early progress made in the first years (2016-2018) of Renault's return to F1, everything has changed: the project leader, the team boss, the technical director, the engine chief, and more besides.
The original five-year plan became a 100-race plan. The team was overhauled as Renault and has been overhauled since as Alpine. Now the "project" is into what's being called "phase two", there are yet more changes. Team principal Otmar Szafnauer and sporting director Alan Permane have left, a few weeks after CEO Laurent Rossi was replaced.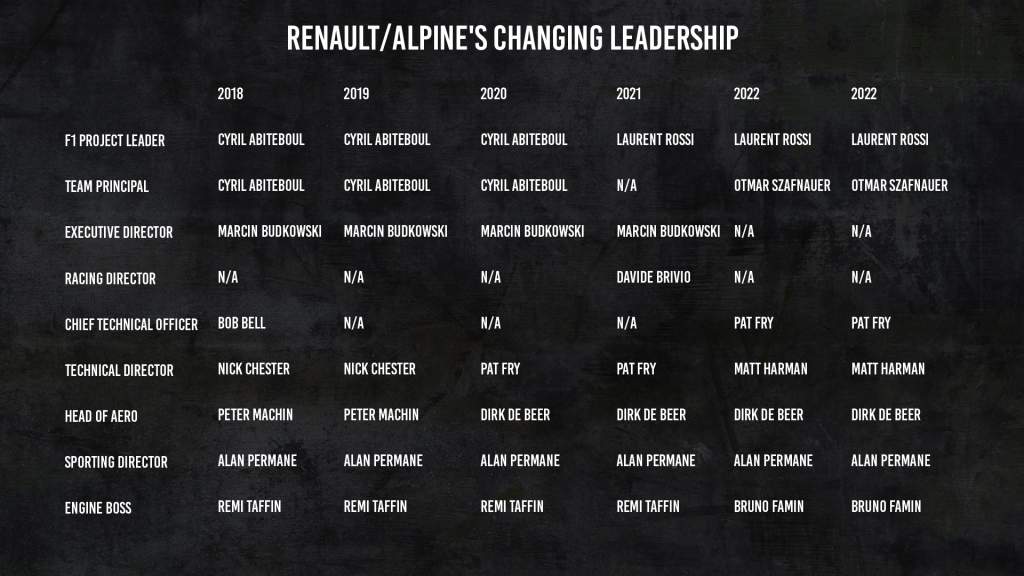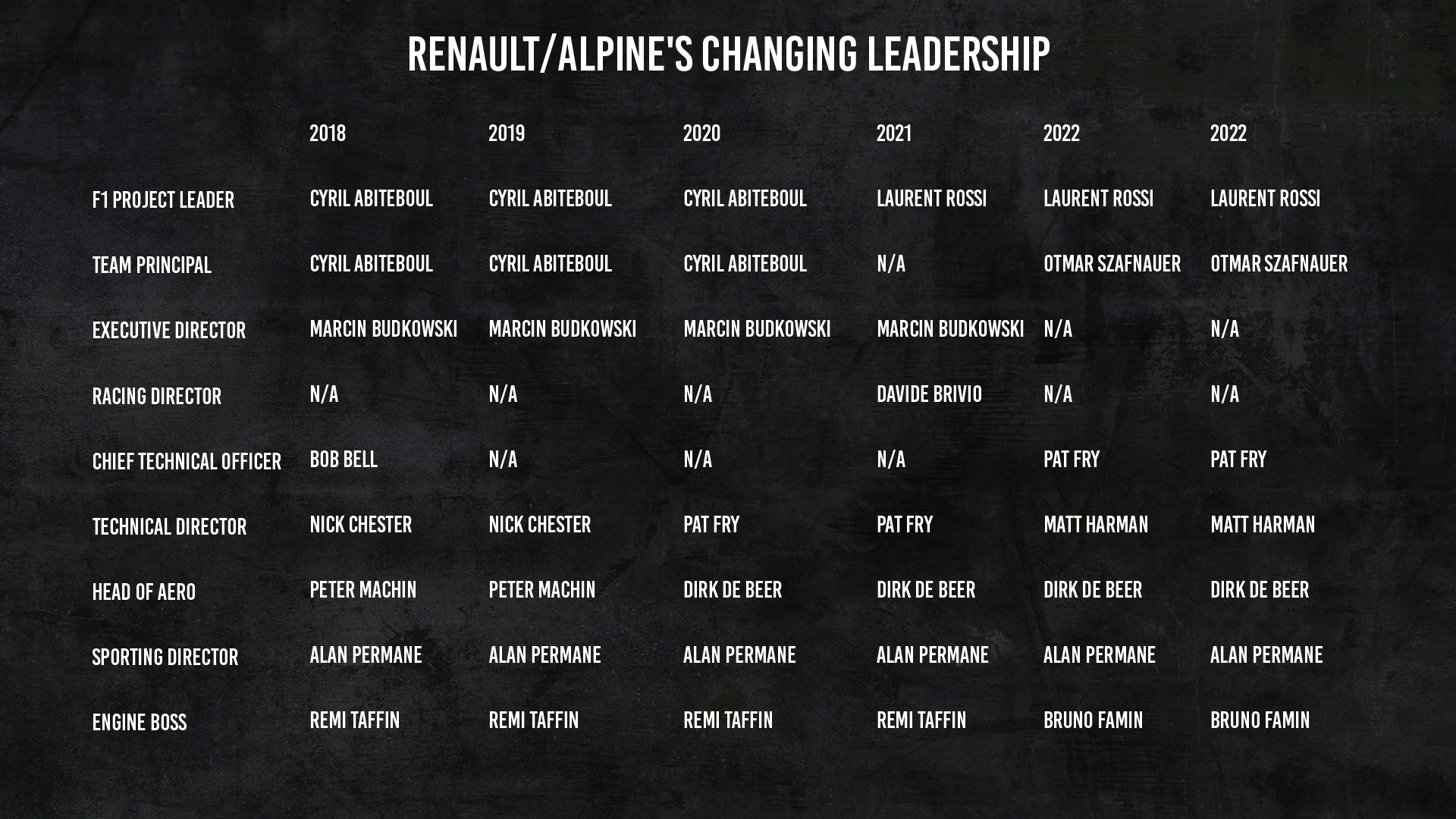 Vice president of motorsports Bruno Famin, who was given that position three weeks ago to lead the F1 project overall, took charge of the team on an interim basis following the dramatic changes announced during the Belgian Grand Prix just before the summer break.
But recent history has shown, time and again, that upheaval hasn't worked. Alpine and Renault need to provide compelling evidence this will be different.
WHY THIS CLEAROUT'S HAPPENED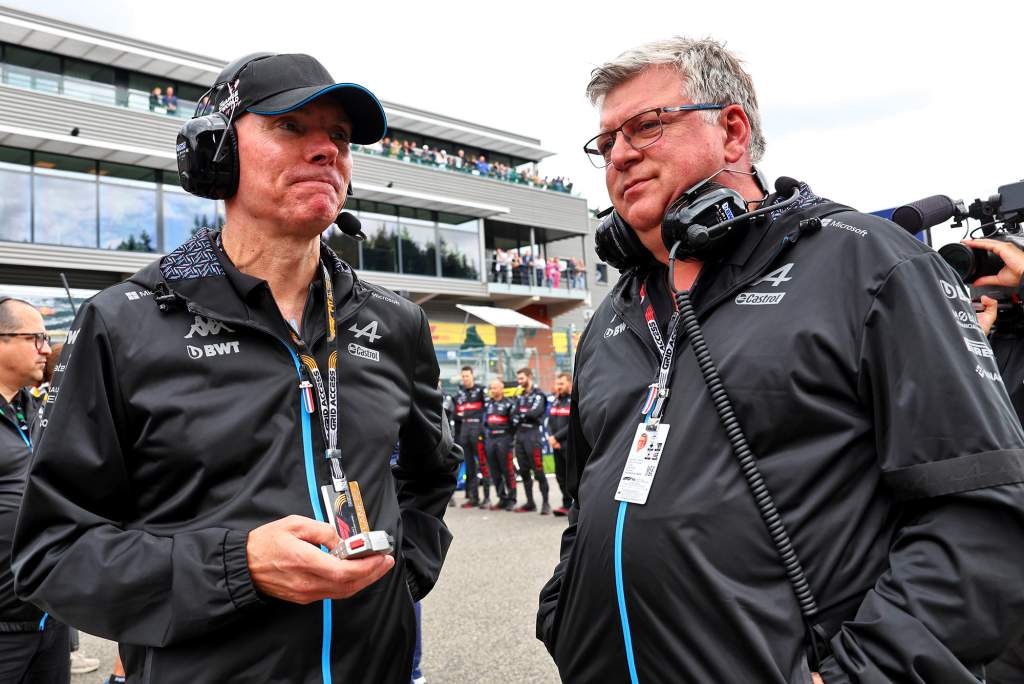 The most consistent line on why Alpine split with its team principal and long-serving sporting director last week, apart from the highly debatable claim it's a mutual decision, is that the two sides were not aligned.
Famin claimed they disagreed on "the timeline to reach the level of performance we are aiming for" and had a "different view of the way of doing it".
That sounds an awful lot like each side thinking the other was viewing the situation incorrectly. The Alpine hierarchy clearly wants to stick to its 100-race plan and make more progress in the meantime, and the message from the F1 team leadership at Enstone was that it was not being realistic.
The performance of Aston Martin and McLaren has contributed to this. Renault's leadership has looked at those teams making significant progress over a single winter (Aston Martin) and in-season (McLaren) respectively and expects the same from its works team, which is not where it expected to be and is not improving as quickly as hoped.
This has been bubbling away for a long time. The writing may have been on the wall since the Miami Grand Prix weekend in May, if not earlier, given that's when former CEO Rossi painted his team in a very negative light and put the onus on Szafnauer to fix things.
Famin, who only became Szafnauer's boss when named vice president of motorsports in July, indicated that Renault's ultimate chief Luca de Meo was involved in the drastic clearout announced last week because "it's a decision of the top management, of course".
That decision would have been brewing for several weeks and must have reached a boiling point at Spa. But the specific timeline is secondary to the simple fact that Alpine's leadership had split into two factions. They disagreed on the path the team needed to be on and parted company.
So, Famin insists Alpine never lost confidence in Szafnauer and Permane individually but the lack of alignment became an insurmountable hurdle.
Given the enduring failings of Enstone, Viry and the overall project, it is right to embrace change. But this is a programme that needs a root and branch review, not repeating hirings and firings at the very top.
And it is apparently not yet known what the team's new management should look like after these latest exits.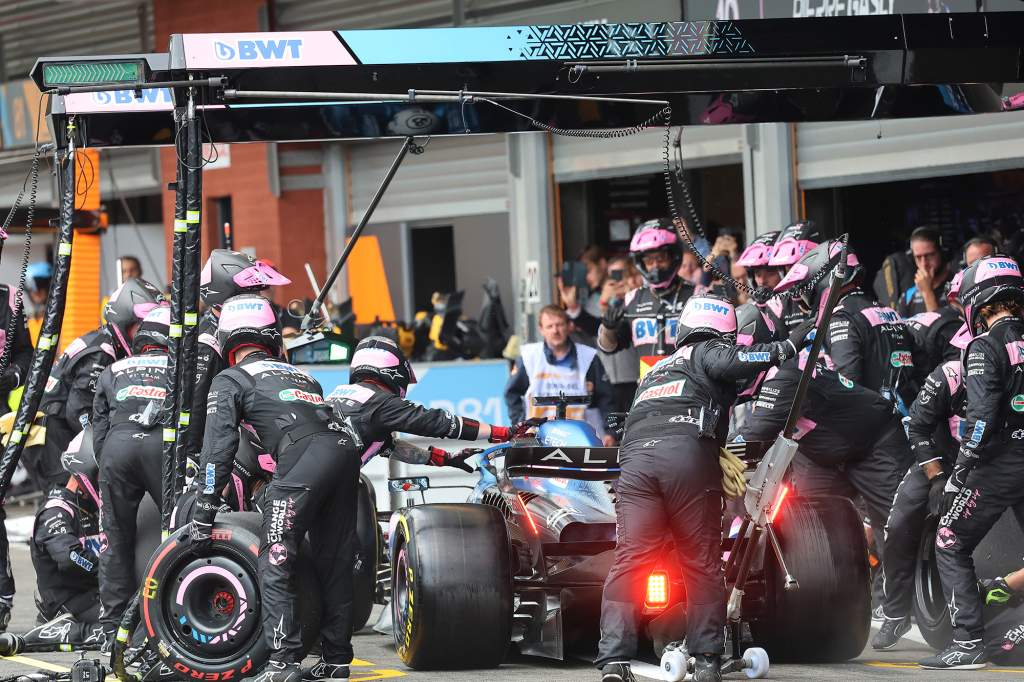 Famin's in temporary charge with Julian Rouse, the boss of Alpine's young driver programme, stepping in as interim sporting director. Ex-Ferrari boss Mattia Binotto has been linked with the team principal position long-term, but he's unlikely to go anywhere if he's not properly in charge, which he clearly wouldn't be in this set-up.
Famin hasn't ruled out just keeping the job full-time. He's even indicated the decision-makers need to work out what structure they want before they think of who to hire.
It suggests action has been taken in haste, and potentially a huge underestimation of what the team needs: clear, stable leadership devoid of boardroom politics and marketing noise just to satisfy shareholders.
'THE PROJECT'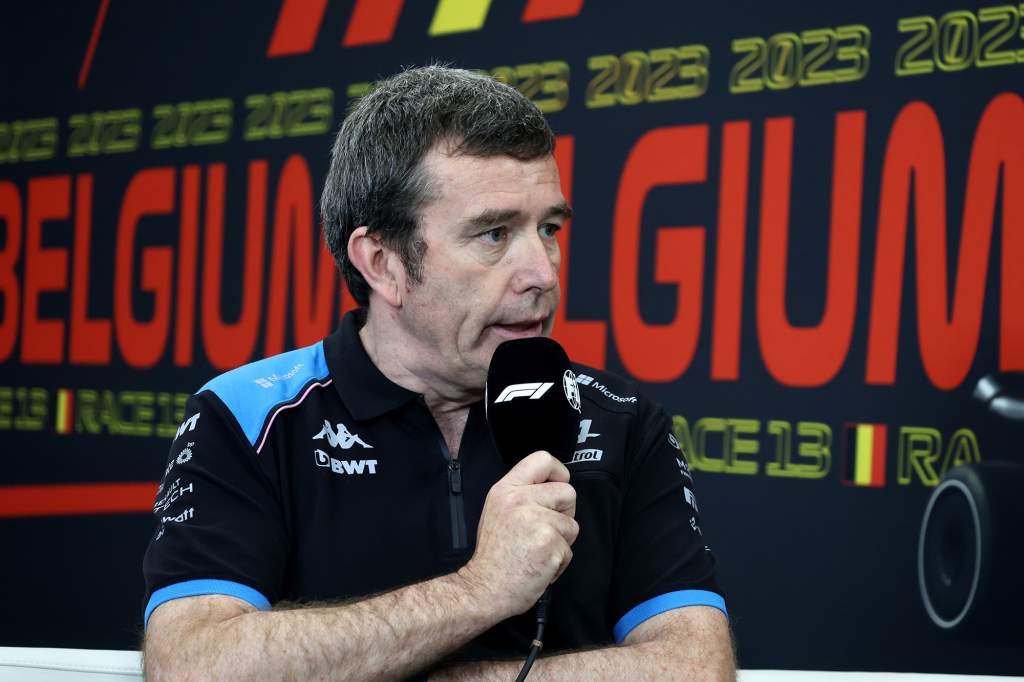 Across two answers in the Friday FIA press conference at Spa, which happened to follow immediately after the news about Szafnauer and Permane, Famin referenced the "project" eight times in two answers and 219 words.
In a later session that Alpine scheduled afterwards (but the majority of media were not allowed to attend) it is understood that word appeared another eight times across five answers.
"At Alpine we have a fascinating project, Alpine as a brand," Famin said.
"Two weeks ago we launched phase two of that project with a very ambitious plan for new road cars, for expansion and so on. What is really super-interesting for all of us is that project is based on motorsport programmes.
"The key one, of course, is Formula 1. It's really a great challenge to be part of this project. So, after phase two of the brand, we are going to phase two of the Formula 1 project.
"We have ambition as well, and we have decided to make some changes in order to go faster in reaching the level of performance we are aiming for."
That's a lot of words without offering much substance. Especially as the habit of overhauls and changes at the top of the team go back to before the Alpine rebrand, it happened when it was operating as the Renault team as well.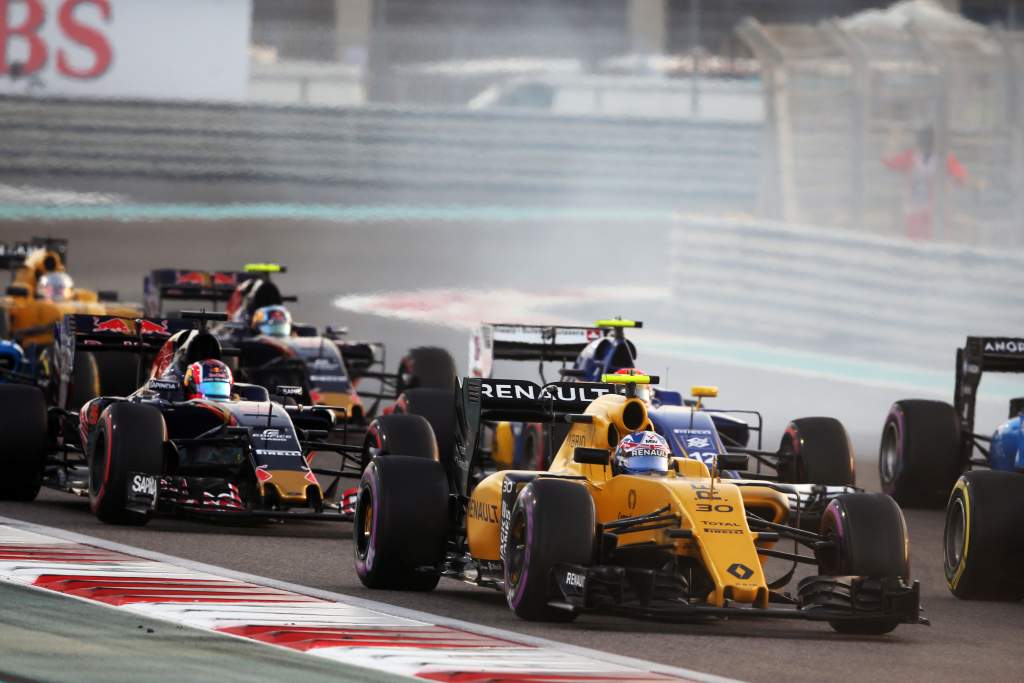 This level of upheaval or dysfunction has been long-standing. So, The Race asked Famin, why will it be different now? How will the team be run differently now to avoid that?
"What is important to us is the project," Famin replied.
"I think we have a clear project, a clear objective and it's not only the Formula 1 team that has a strategy, it's the full brand, and both are totally linked.
"I'm confident that we will make it work. I don't know what happened before. I think we are now launching phase two of the Alpine project, phase one started in '21.
"We improved a lot of things in Enstone and in Viry, we are moving the team forward and we will continue doing that."
The reference to the F1 team having a strategy is interesting because if there is one, Alpine will not share what it is. Which is very odd given the image being portrayed at present is that Alpine does not have a clear plan and has just been very reactive.
'The project' is being used to make the F1 team sound important and prioritised but it's the same project that's existed since the rebrand first occurred – broadly speaking, Renault's trying to build Alpine into a proper company and is using F1 to market it.
Simply declaring there's a project, repeating that it's very important and vaguely stating it's now in "phase two" doesn't give any guidance whatsoever about what will be done differently to escape the cycle of dysfunction and disappointment.
UNREALISTIC EXPECTATIONS?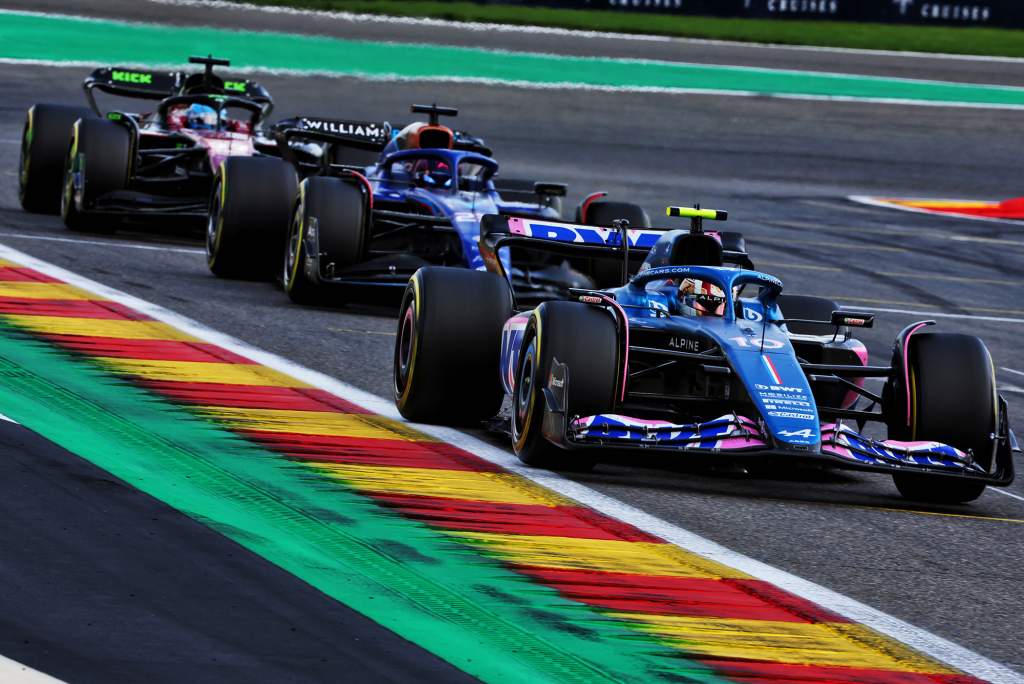 Where the Alpine rationale is most understandable is the sentiment that F1 is too competitive for a team to operate without 100% alignment across its leadership.
It's useless to continue in such circumstances. There's an argument it would just guarantee the same results – stability for the sake of consistently underwhelming.
Instead, Renault's rolling the dice on more dramatic changes facilitating progress. And rapid progress at that.
But given the fundamental disagreement over the timeline for recovery, there's a risk this just hints at more misaligned expectations and, to paraphrase Alain Prost's stinging criticism of Renault's overall mentality, either underestimating how difficult F1 is or overestimating the ability of those in management.
What is undeniable is that Alpine has underachieved so far. Its fall to sixth in the championship, and a distant sixth, is miles short of the lofty aim of repeating last year's fourth place but closer to third than fifth. Even if that was ultimately unrealistic, Renault's not wrong to consider this performance unacceptable. Alpine's been totally outgunned (yet again) in the midfield battle.
"The season so far does not match our expectation, clearly," said Famin.
"We were fourth last year, we know that the top three is very strong, but we were aiming to keep that fourth place and maybe fight a little bit for the third.
"We are not where we wanted."
That position cannot be criticised. What matters, though, is why Alpine's underachieved. Because this is not the first time Renault's works team has reached a good level and immediately regressed.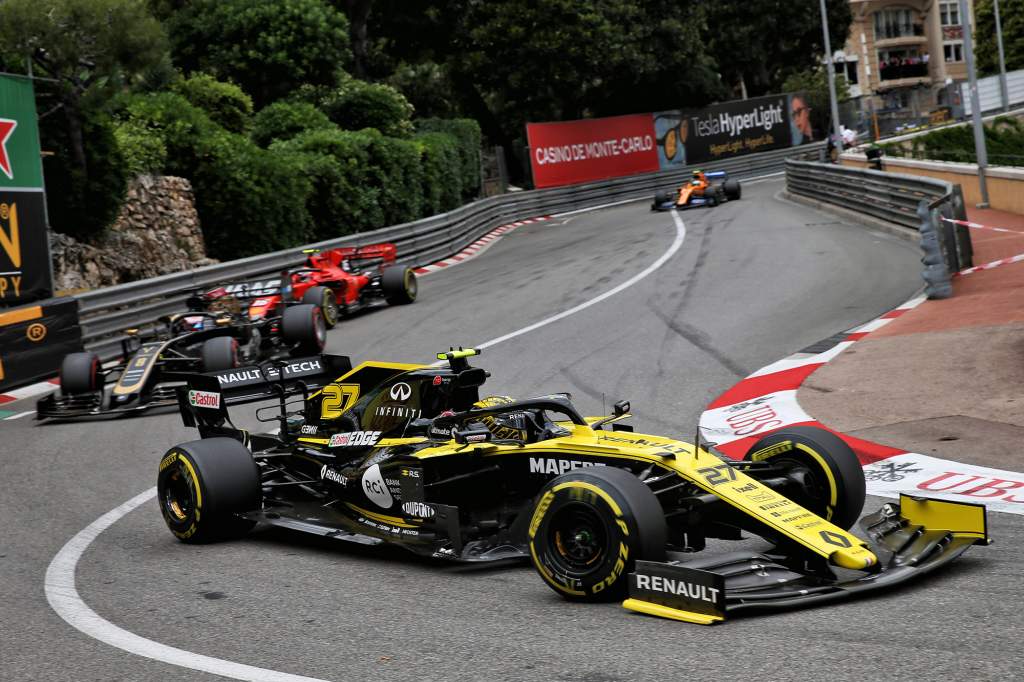 So, there is something within Enstone, Viry or both that puts a glass ceiling on its potential. And that is an obvious problem when Renault's expectations, according to Famin, "are to be able to fight for wins and for titles as soon as possible".
"Of course, the way is going to be a bit long, but the expectations are those," he said.
"The top teams are super strong. Everybody has more or less the same objective, and we know it's going to be difficult, but our expectations are those ones, really, to fight for titles."
For now, there's no more detail than that. We see clear problems without, externally, clear solutions.
The engine division that Famin took charge of last year has produced something that is underpowered enough that Alpine is pushing for agreement on equalising the performance of the four power units. The car has some vices. And now new leadership is being sought.
This team is arguably further than ever from its ultimate goal. It's certainly not closer. There are references to improving mindset and facilities, but nothing more than that. It seems to lack anything like the clarity of Aston Martin, McLaren or even Williams – other underachieving teams that have big ambitions like Alpine.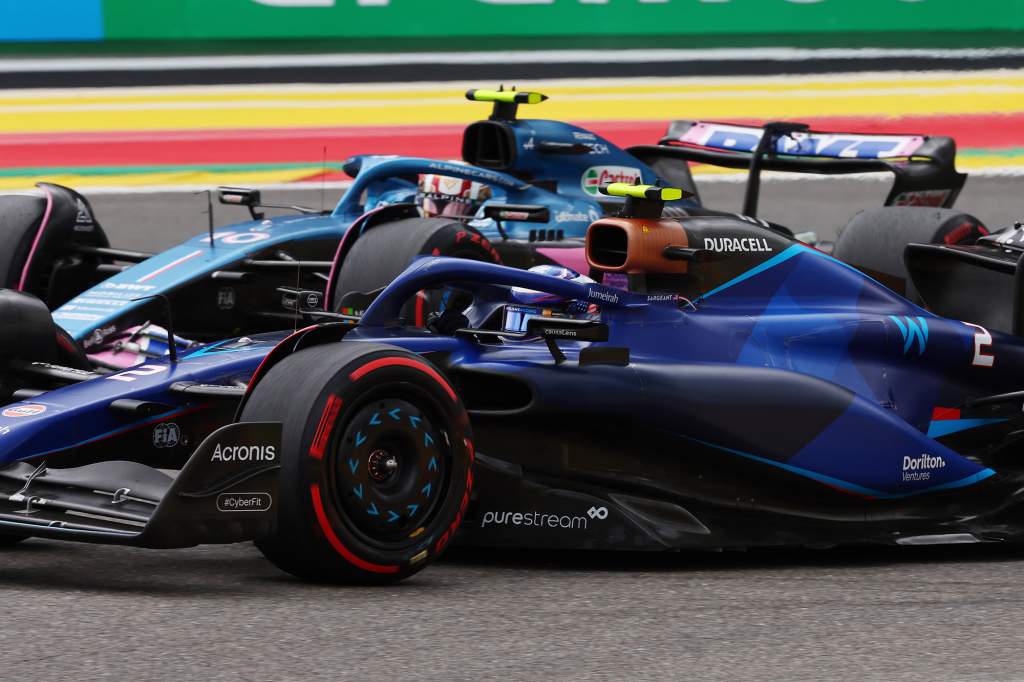 One thing Famin and his fellow chiefs need to be given is time, to assess the situation properly in a new role and try to identify root causes of the problems holding the team back. It would be unfair to judge his leadership before he's been given a reasonable opportunity to carry out that process.
But time is not something Renault has often afforded its F1 team. Although 2026, with new chassis and engine regulations, is being held up as the new holy grail, there will need to be tangible proof of progress before then.
"It's not going backwards, it's moving forwards," Famin insists.
"Of course, it's a lot of change. But it's an opportunity also, to have a new foundation, or to consolidate the foundation and to go farther and faster.
"We need to win, we aim for winning races and championships as soon as possible. We need to constantly improve our cars, the full package, from race to race, from year to year. And we know that it's not easy.
"We know that the change of regulation is generally a good milestone for changing the ranking.
"I think it's quite a reasonable target, but it will not be [done in one] step, it's improving constantly up to that."