From an instant win against his new team-mate one weekend to a long race stuck in the pack the next, Daniel Ricciardo's Formula 1 return has started with varied success.
Finishing 13th with a feeling that points were possible without a first-lap clash not of his making was, on balance, a clear win for Ricciardo in Hungary. To follow that up with a frustrating run to 16th in the Belgian Grand Prix was a dose of Ricciardo's new reality.
Driving for AlphaTauri, a team that can be a little hit and miss, in a car that has some shortcomings, makes it inevitable that there will be some tough weekends.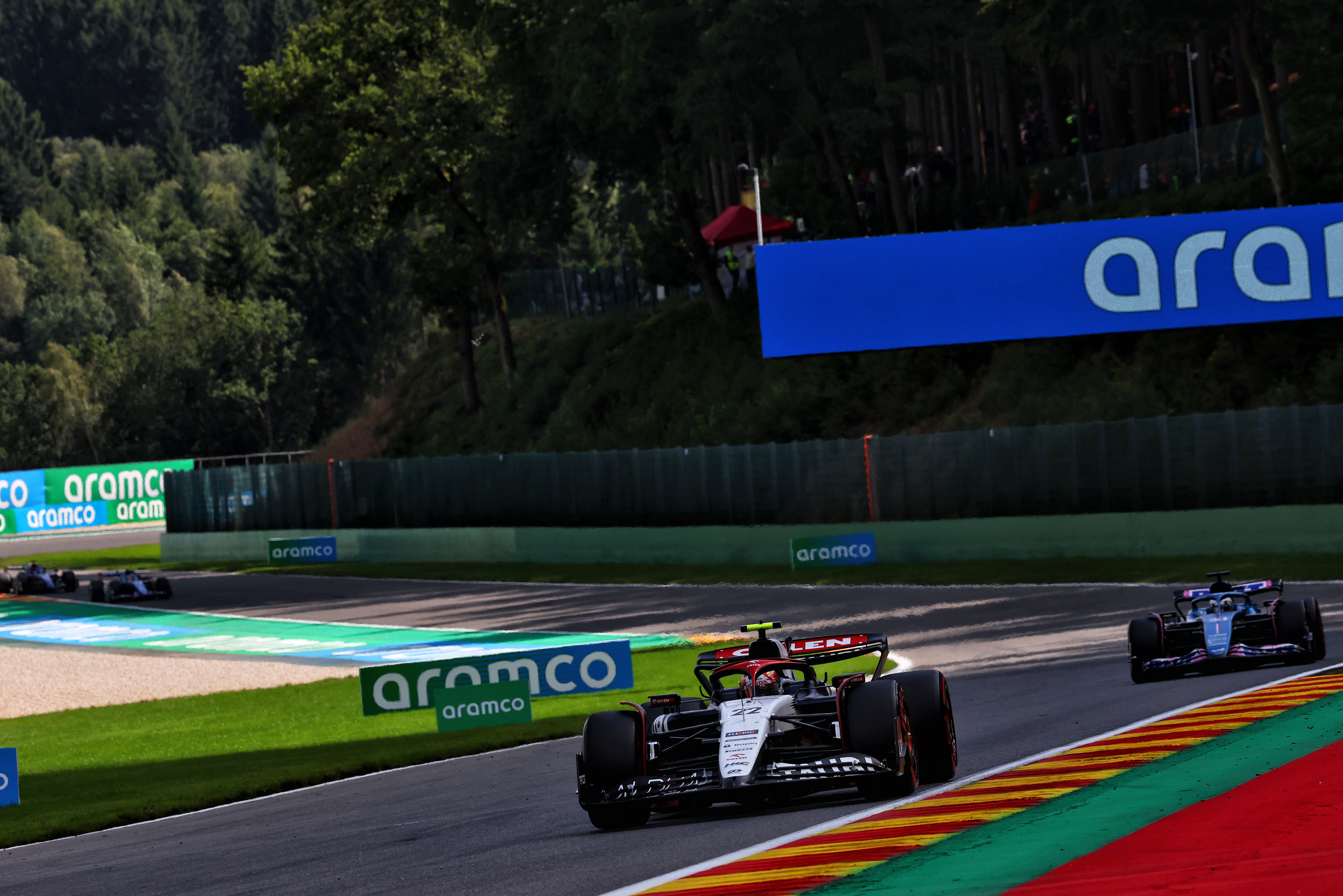 Even Yuki Tsunoda's impressive season so far has had a lot of long and ultimately fruitless races, regardless of how well he's performed. And Tsunoda, as his run to 10th in Belgium proved, really does offer a tough reference for Ricciardo to match.
The Belgian GP was always likely to be harder for Ricciardo given the demands of the circuit and circumstances like a sprint weekend format would not mask the AT04's weaknesses in the way the Hungaroring did. It would bring out more of the worst in the car, and challenge Ricciardo more.
It was still within that 'decent but frustrating' bracket. He wasn't quite as one with the car and it wasn't as complete a weekend as Hungary was, with Ricciardo messing up with a track limits offence in qualifying that condemned him to starting at the back.
Ricciardo's gut feeling post-race was that the team had "missed a little bit". He admitted that the short answer to whether the weaknesses of the car had been exposed more at Spa was "yes" but at the same time, "I didn't feel like the car was on".
"Even for the given downforce and all that, even with the new tyres, I felt we weren't really getting that peak out of it," Ricciardo felt.
"I wasn't really feeling it bite and load up so that's probably the thing that we'll try to understand where we missed.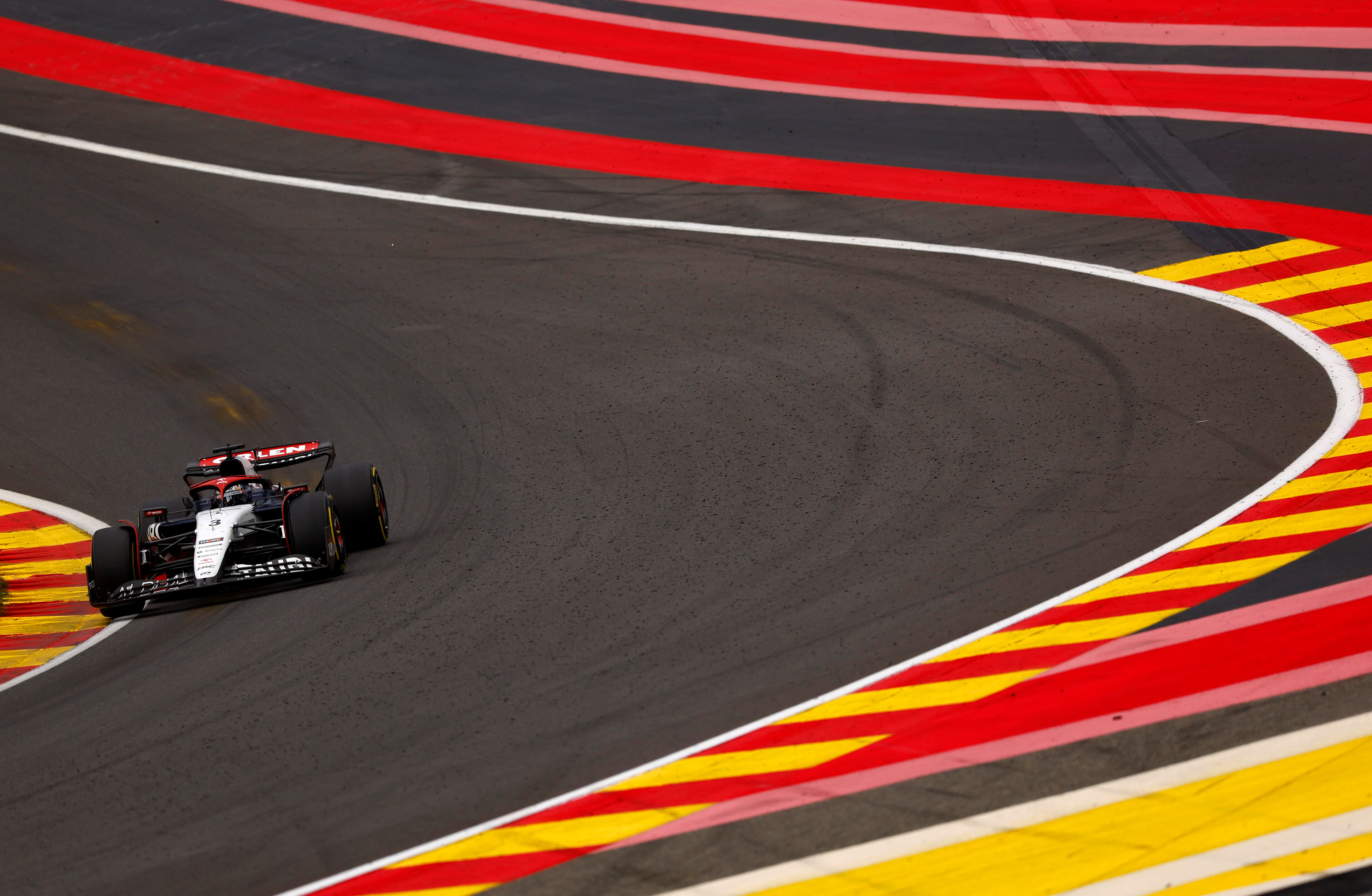 "It is lower grip, especially with the rain all weekend, the track felt green. It did feel like it was pretty average conditions. The race pace felt quite slow. All these things probably contribute.
"It's all learning. I'm always going to be quite harsh on myself but I shouldn't be expecting the world at the moment. Hopefully we get a few little answers."
Tsunoda doing so much better and grabbing a point might counter the 'this was the car, not Ricciardo' sentiment. Their different grid positions and different opening laps did set them up for very different races.
And as those races played out it was essentially a reversal of their fortunes from Hungary – this time Tsunoda was able to run at the car's maximum while Ricciardo was stuck. And being stuck meant that what Ricciardo struggled with became more pronounced.
An early similarity between this race and Ricciardo's comeback in Hungary was he found himself at the back of a train of cars, this time by virtue of his poor qualifying position rather than first-lap chaos, although he could easily have tripped up there as well as the backmarkers checked up encountering Oscar Piastri's wounded McLaren entering Eau Rouge.
He was last, so had nothing to lose pitting first. But a key difference to Hungary is that Ricciardo was not alone in his encouragement of an early pitstop to get free air. He was not the only car to do that, which meant he emerged not in free air, but behind Lando Norris and Kevin Magnussen – and a lap later more cars boxed.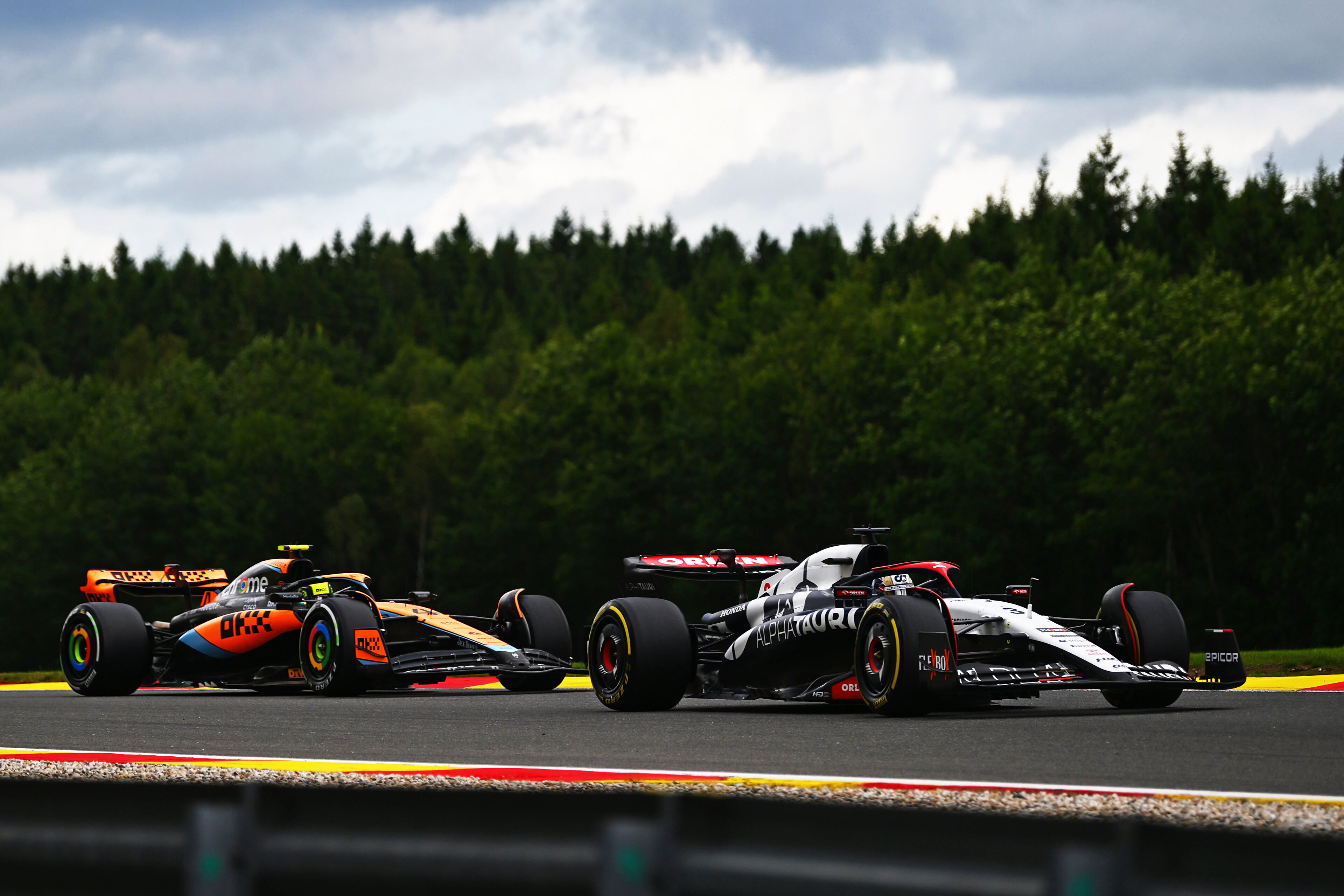 There was still a reasonable gain. He cleared both Alfa Romeos and gained a place on Carlos Sainz as the Ferrari needed a new front wing. And Ricciardo was able to get ahead of Norris, whose McLaren was super vulnerable on the straights. But there just was not enough time to make it work as effectively as Hungary and more tellingly he would not have had the pace to do much more anyway.
Ricciardo was reporting poor grip even in the first stint on softs and it didn't improve after switching to the medium tyres. The message "all the quicker stuff I've got no front…at low speed the rear's really weak" tells you all you need to know about the AlphaTauri when it isn't being aided by a grippy track surface, big wings and the softest available tyres. Hence the summary after the race that Ricciardo felt "quite limited".
"Even in clear air I was struggling a lot, all through the middle sector, the high-speed I was just washing, washing," said Ricciardo. "I was sliding and overheating really quickly.
"In clear air we didn't break away from the pack as much as we could have. And then it felt like they were able to get more out of their tyres early, so normally I was getting overtaken while we all had fresh tyres and when it settled, I'd have a bit better pace but stuck behind them.
"I don't want to be too discouraged of course. It was our only dry session all weekend so could be something simple with set-up, we went the wrong way and that's that.
"Just wish I could have been able to attack a bit more."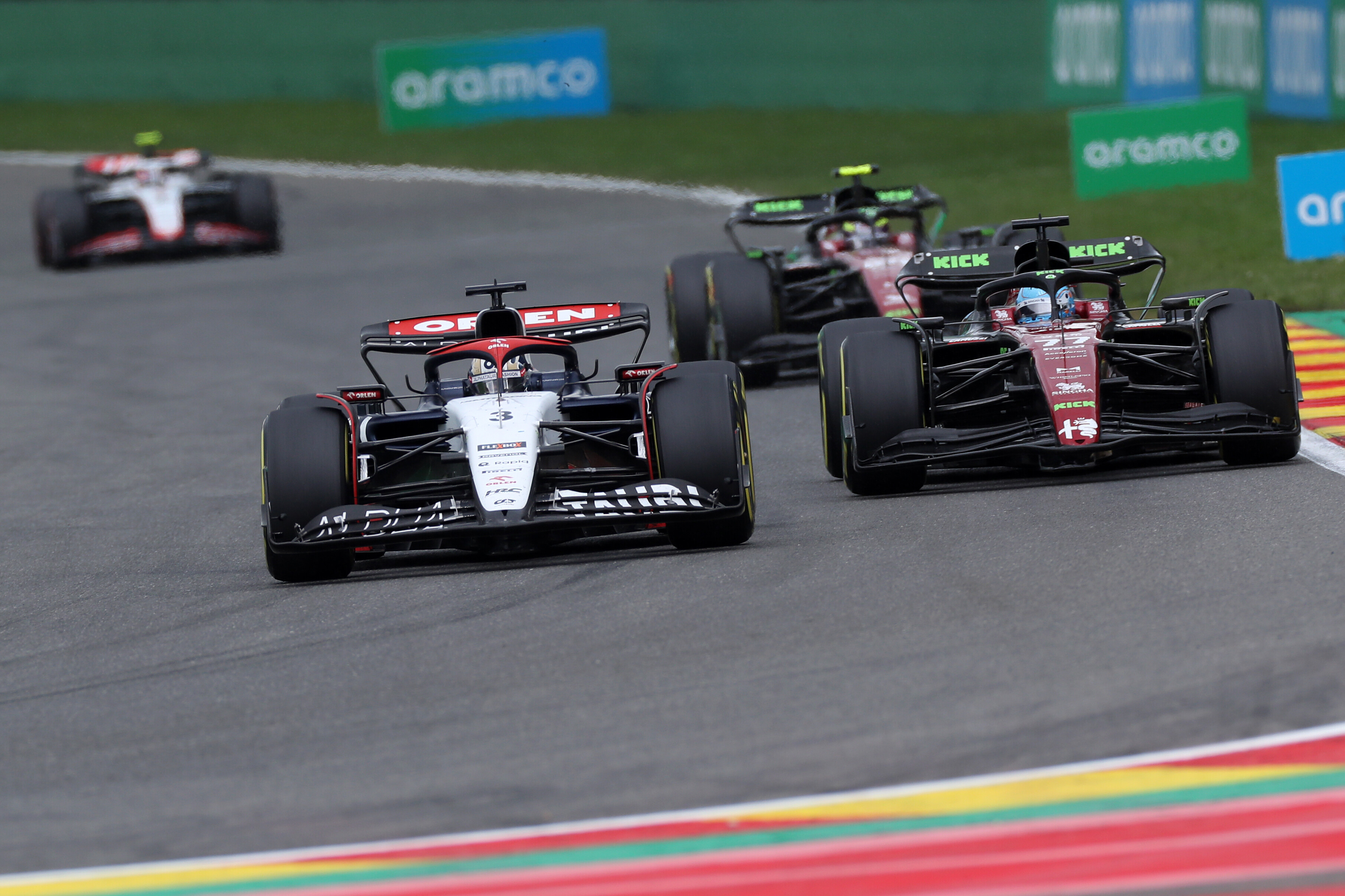 It was a very different conclusion to Hungary, where Ricciardo had been on the front foot.
Whether the root cause of some in-race struggles was a set-up misjudgement or the car itself is important to understand, and by now Ricciardo may well have the answers he was seeking after the race. And that answer might be that this was just the luck of the draw. A cleaner qualifying would have meant starting higher and running in a better part of the midfield.
The car was never likely to feel great. Sometimes Ricciardo didn't have a bit more pace to unleash. But in other phases of the grand prix he did. So there were crumbs of comfort to be found.
He was still very much 'glass half full' after the race, referencing that he'd been told "the few laps we got towards the end in clean air we were on a decent pace" – which was certainly true. The three laps after clearing Nico Hulkenberg's Haas at the end of the race, Ricciardo was setting competitive times in the midfield and was quicker than Tsunoda, who was pushing to hang onto his points finish.
At the end of a long stint (and a long race) it was at least encouraging. Which is all Ricciardo can ask for from AlphaTauri's weaker races.
The important thing will be riding out the lows without looking completely lost, and then proving he can hit the car's peaks. While race two of his comeback was more the former than the latter, even that has its benefits. Although Ricciardo admitted that's harder to see inside the car.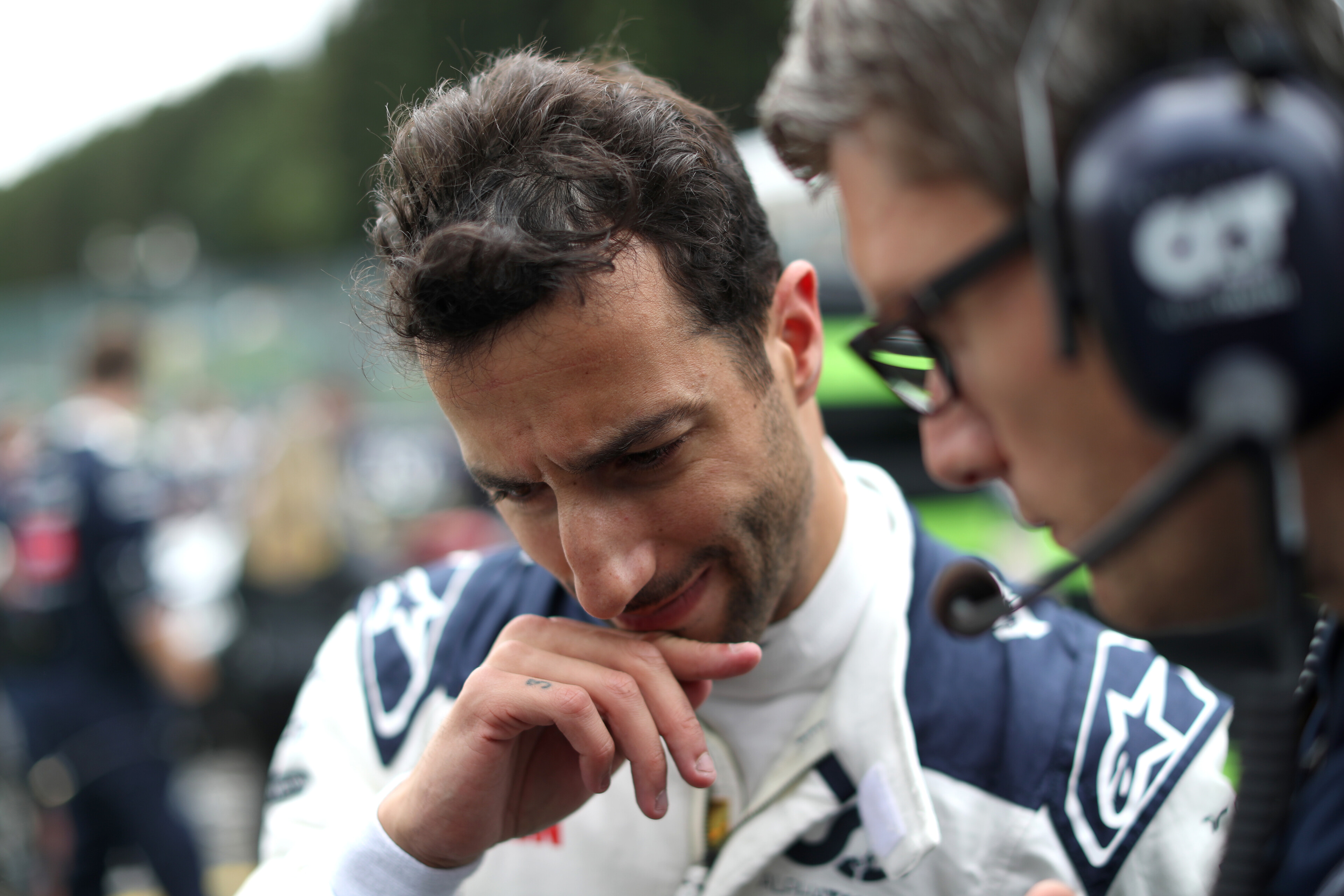 "15 minutes removed from the race, I already feel a little bit better," he said on Sunday in Belgium.
"It's just tough in a race when you're not really making progress. That's where you're like, 'Ahhh' and you're trying a few things and it doesn't work. You lock up or have a moment so you kind of just feel like, 'OK, maybe today's not the day'.
"Nine days ago I hadn't driven this car so when I put everything into perspective I think we're OK.
"It's probably not all that bad but now I'm back in the sport I've got a taste, and I want to make sure I'm kicking arse."